March 21 2012 at 8:57 pm
2 Comments
---
..
In church a few weeks ago, Peter Giglio shared the following words to encourage the church. We asked Peter if we could post them here for everyone's edification.
Psalm 92:12-14 – "The righteous flourish like the palm tree and grow like the cedar of Lebanon. They are planted in the house of the Lord, they flourish in the courts or our God. They still bear fruit in old age, they are ever full of sap and green."

I believe there are many here today who heard Robin's [Boisvert] prayer last week and were wondering if that was for you. You are entering a time in your life where you have more time on your hands and less demands. The children are older and have moved out. Your career has leveled out and you are beginning to think about retirement. You have stabilized financially and have extra money to spend or give. You are wondering what to do at this time of your life. You are wondering if it's time to just wind down and let the next generation take over.

I believe God would want to redirect you. I believe He would want you to know that He has been investing in you all your life and wants a return on his investment. He has placed gifts and talents in you that he has been developing all your life, and now is the time to use them for His kingdom and his purposes. Now is the time of fruitfulness. This should be the best time of your life. As a result of experiencing Gods faithfulness all your life, it would be fitting that the middle age and older folks be the ones that are the most passionate in worship, the most zealous for good works, the most generous in giving, the most evangelistic, have an increasing burden for the lost, have a desire to be senders or goers in missions, are the most outward-focused, and are the most forward thinking in the growth, health and mission of the church. This is a call for all those around 50 and older to go, do and be all that God wants you to be at this time in your life.
Share this on:
---
March 20 2012 at 5:15 pm
1 Comments
---
..
In cased you missed it, Braden Greer took a minute this past Sunday to describe the preaching plans for the foreseeable future. Here's what he shared (note his recommendation that we all set aside time to read Malachi this week):
This past Sunday Mark Mitchell wrapped up our How Church Works series with a message on Deacons. The Sunday after Easter, we will begin a one-and-a-half to two-year series on the Gospel of Matthew. But for the two Sundays prior to Easter, we are going to whet our appetite for the coming of the Messiah in Matthew by briefly examining the book of Malachi.
Malachi is the last book canonically in our Old Testament—meaning it's the last in the order of the Old Testament books—but it is likely the last book chronologically as well. Malachi anticipates the coming of another prophet like Elijah and a greater realization of God's promises.
But then after Malachi there was a 400+ year silence. There were no prophets. There was no Scripture written down for the people of God. Had God forgotten his people? Was he going to be faithful to his covenant promises?
Studying Malachi will help us place ourselves with the people of God as they waited for God's vindication of his great name.
And then after an Easter Sunday message on the resurrection, we will celebrate the awaited Messiah as proclaimed in the book of Matthew.
We did a brief study of Luke in 2006 and a study in Mark in early 2000, so it's been awhile since we've studied a gospel in depth together. One of the great themes in Matthew is that Jesus is the Christ—the promised Messiah who fulfills all of the Old Testament promises and ushers in the Kingdom of God as God's own unique Son. This is why we are studying Malachi first and then Matthew—to behold God's unique Son who fulfills all righteousness through his life, teaching, healing, and through his death and resurrection.
Please set aside time to read the book of Malachi this week in preparation for our study together. It's only four chapters, but I believe it will deepen our experience of Christ through his Word together.
Share this on:
---
March 19 2012 at 3:46 pm
1 Comments
---
..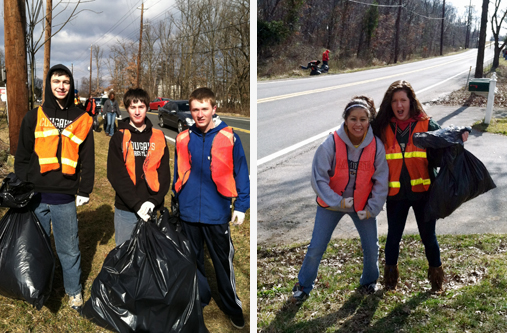 A few Saturdays ago, our 10:31 youth ministry picked up trash along Muncaster Mill Road, cleared junk from the curbs in local communities, and cleaned up brush and debris along the roads.
Thanks to the teens and their parents who gave up a Saturday morning to serve so humbly!
Share this on:
---
March 12 2012 at 7:17 pm
1 Comments
---
..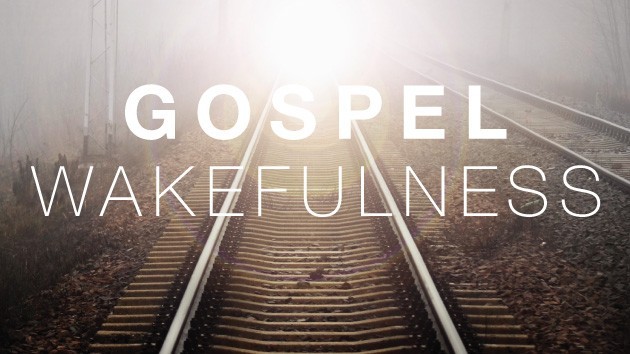 Singles pastor Kevin Rogers recently read a new book by Jared C. Wilson entitled Gospel Wakefulness
and wrote up this brief recommendation. The title will be available in the church bookstore this Sunday.
Have you grown up in church, but sometimes wonder what the fuss it all about? Do you have Christian friends who seem really excited about their faith, and wonder why it's not the same for you? Maybe you have a hard time understanding why you should do the things that you know you're expected to do as a Christian. Or maybe you remember a time when these things made sense, but right now you feel numb to what once animated your Christian life.
Many people, even true Christians, live with an awareness of the gospel but lack a depth of comprehension that floods their hearts and transforms their daily lives. Those are the people Jared Wilson is writing to in Gospel Wakefulness. With an inviting style and real life examples, Wilson presents ancient biblical truth in a way that captures the heart, and he shows how gospel reality transforms our lives when we are captivated by it as well. If you're struggling to see Jesus, this book will present him to you again on every page.
Share this on:
---
March 3 2012 at 3:46 pm
1 Comments
---
..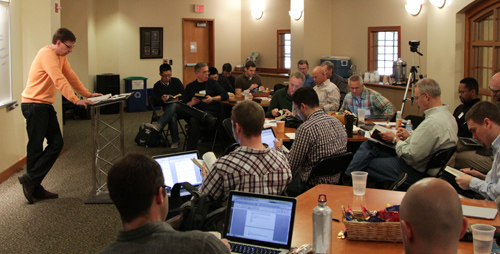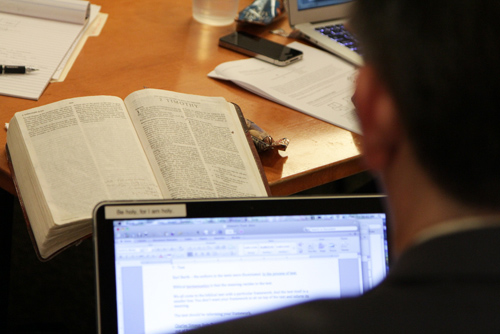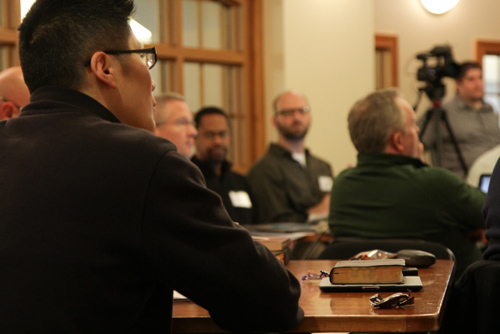 Thursday and Friday, most of our pastoral team, joined by pastors from the Arlington and Fairfax Sovereign Grace churches, participated in a hands-on preaching workshop led by David Helm and others from The Simeon Trust. Named after 18th century British evangelical preacher, Charles Simeon, the Trust has served for over a decade, equipping preachers through a series of workshops across the country.
David describes the mission of The Simeon Trust: "We are a one-trick pony. We do one thing. We try to help people increase their confidence and ability in handling God's word. So that's why we exist—to increase someone's confidence in the word of God and their ability to handle it well."
In addition to receiving instruction for interpreting and preaching Scripture effectively, the pastors worked in small groups for practical application. Each presented a prepared text and received feedback from his peers on how to hone his preaching skills. They also had an opportunity to hear expositions from Joshua Harris and Matt Maka and provide feedback.
Kenneth Maresco, who helped organize the event, said, "We were very excited to have The Simeon Trust in because the work of pastors is primarily Word work, and these men are committed to training pastors to handle Scripture rightly. The members of our pastoral team and brothers from Arlington and Fairfax are being inspired to work hard in the Word. It's refreshing once in a while to pull away and have this kind of training as a staff so that we can continually improve in our ability to serve the people of God."
Thankful for God's hand on the ministry, David states, "We used to do one of these [workshops] a year with about 30-40 people. Now we do 19. This year we expect over 800 pastors will go through it. So, a lot of churches are being positively influenced at a grass roots level."
Share this on:
---