April 30 2012 at 12:39 pm
6 Comments
---
..
Joshua Harris preached the third and final message of the "Never Give Up" series yesterday. He read from 1 Samuel 21:10-22:4 and Psalm 57, which look at one of the lowest moments in David's life, when he hid in the cave of Adullam. His message title was "David: Praising God in a Cave."

Joshua encouraged those of us who are new to David's story to learn more by reading, starting in 1 Samuel 16. He also recommended a book that's available in the church bookstore: David: Man of Prayer, Man of War. See Joshua's post on joshharris.com about why the book is so significant to him.
Sermon audio and an outline are available in the Resource Library.
Share this on:
---
April 26 2012 at 5:13 pm
0 Comments
---
..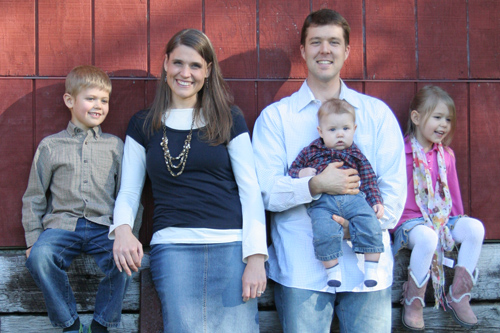 Keith Welton, pictured above with his wife Amanda and their children, has been Covenant Life's Ministry Team Director for the last two years and a member here for four years. This month he is transitioning to become a pastoral candidate. The term pastoral candidate describes a gifted and well-trained man who is in the final stages of pursuing a pastoral call, awaiting affirmation from the church. A pastoral candidate will do the work of a pastor under the supervision of another pastor while being evaluated by the pastoral team and awaiting affirmation from the church. In short, he will be seeking to provide a level of leadership, care, and gospel influence the way a proven pastor does, so in due time those around him can testify to and affirm his pastoral qualification.
Keith holds a Master of Divinity (M.Div.) from Reformed Theological Seminary, served as Academic Assistant to the Pastors College from 2008-2010, and has preached multiple times in Introducing God, Marketplace Ambassadors, Sunday Classes and other settings. He and his wife Amanda have been married for nine years and have three children: Isaac, Samantha, and Luke (6, 4, and 10 months).

It is our pleasure as a pastoral team to present Keith to the congregation as a candidate for pastoral ministry. We look forward to observing God's work in his life as a follower of Christ and a leader in the church in the coming season. Final steps in the process include Keith undergoing a formal evaluation and then being presented to the church as a candidate for affirmation, with opportunity for congregational feedback. This will be followed by a members meeting where the congregation will have the opportunity to affirm Keith as a pastor/elder. Finally, the pastors will pray for Keith on a Sunday morning confirming him as a pastor/elder in the church (I Timothy 5:22).
We invite you to pray for Keith and his family, that God would bless them with fruitful ministry and direct their path during this time of transition.
For your pastors,
Kenneth Maresco
Share this on:
---
April 23 2012 at 1:04 pm
0 Comments
---
..
In yesterday's message on Elijah, Joshua referenced several resources. Here's a slightly expanded list of sermons and books that will help you take a deeper look at Elijah:
Share this on:
---
April 20 2012 at 6:53 pm
0 Comments
---
..
The Board of Sovereign Grace Ministries announced yesterday that the Pastors College and ministry headquarters are being relocated from Gaithersburg to Louisville, Ky. We encourage you to read the announcement, where Sovereign Grace gives the background for this decision.
Even though we receive this news with a sense of loss, we thank God for Sovereign Grace and the good fruit the Lord has granted through our partnership. We want to express what a privilege it has been to see Sovereign Grace Ministries established and growing for the last 30 years right here alongside this local church. Sovereign Grace was birthed out of Covenant Life Church in 1982, giving our church family a unique opportunity to observe the grace of God in and through this ministry. It's brought joy to many Covenant Life members through the years to host and serve Pastors College students, host Sovereign Grace events like WorshipGod and Leadership Conferences, welcome guest teachers, and interact regularly with church planters taking the gospel across the nation and around the world. We are saddened that we will no longer be in close proximity to those on the Sovereign Grace staff making this transition, friends we love and have walked with for so long.
We would like to specifically thank all the Sovereign Grace leaders—C.J. Mahaney, Gary Ricucci, Jeff Purswell, Bob Kauflin, Tommy Hill and Paul Medler. We will miss these men and their families. They have invested their lives and gifts into this church in numerous ways. We are grateful for these dear friends, and we pray that this next chapter in their ministry is fruitful and effective for the cause of Christ. As these brothers and sisters make this transition, and Covenant Life continues in dialogue with Sovereign Grace about our partnership, let's fix our eyes on Jesus with thankfulness for his abundant mercy to us all.
"I thank my God in all my remembrance of you, always in every prayer of mine for you all making my prayer with joy, because of your partnership in the gospel from the first day until now. And I am sure of this, that he who began a good work in you will bring it to completion at the day of Jesus Christ." (Philippians 1:3-6 ESV)
The Pastors of Covenant Life Church
Share this on:
---
April 16 2012 at 3:39 pm
0 Comments
---
..
Joshua Harris began a three-week sermon series this Sunday called "Never Give Up." Preaching from 2 Timothy 1:8-18, he referenced verse 12 where the Apostle Paul says, "I am not ashamed because I know whom I have believed and I am convinced that he is able to guard what has been entrusted to me." Several people have requested the list of Scriptures Joshua gave that speak of the Jesus Paul believed:
• Jesus, in whom is the promise of life (2 Timothy 1:1)
• Jesus, full of grace, mercy and peace (2 Timothy 1:2)
• Jesus, risen from the dead (2 Timothy 2:8)
• Jesus, who will judge the living and the dead (2 Timothy 4:1)
• Jesus, who made himself nothing and became a servant (Philippians 2:6)
• Jesus, who is the image of the invisible God (Colossians 1:15)
• Jesus, who became sin for us (2 Corinthians 5:21)
• Jesus, who is the same yesterday, today and forever (Hebrews 13:8)
Sermon audio and an outline are available in the Resource Library.
Share this on:
---