June 30 2012 at 8:40 pm
0 Comments
---
..
We were blessed to get to speak with several new members and create a brief video of their remarks for New Members Sunday, June 24. We hope you'll be encouraged by hearing how Christ is at work in each of their lives.
Share this on:
---
June 30 2012 at 9:17 am
0 Comments
---
..
12:50 p.m. UPDATE: Electrical power was restored at the church mid-day. Tomorrow, we'll hold Sunday services as scheduled at both 9 and 11:30 a.m. Please join us!


Original post at 9:17 a.m.: The church building is currently on backup electrical power. Given the large number of outages in the region, it may take some time to restore power. If you have any kind of meeting scheduled at the church today, please contact the person who oversees the event.
We will post updates here as we have more information.
Links:
Washington Post Local Page
Share this on:
---
June 28 2012 at 9:00 pm
3 Comments
---
..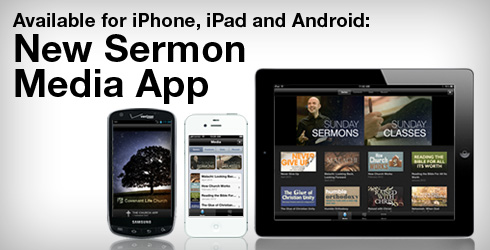 As Josh announced tonight at the Members Meeting, we have just released a new mobile app for both Apple and Android devices. The app is available in the iTunes app store and at Google Play.
The app works on iPhone, iPad Touch, iPad and Android smartphones and tablets. It features video of Sunday sermons (going back about a year-and-a half), and audio of Sunday sermons, Sunday classes, seminars and more. You can also browse this blog. We hope you'll enjoy sharing messages that encourage you with others via Facebook, Twitter or e-mail.
Covenant Life's preaching and teaching ministry is now much more accessible to a worldwide audience. Thank you for your giving that helped make it possible to create this resource!
Share this on:
---
June 25 2012 at 8:03 pm
0 Comments
---
..
Robin Boisvert preached on Sunday from Matthew 5:1-12, the very familiar opening of what we know as "The Sermon on the Mount." The passage contains Jesus' authoritative teaching about the way believers should live as members of the kingdom of heaven.
At the end of his message Robin shared this quote from "The Cost of Discipleship" by pastor, theologian and martyr, Dietrich Bonhoeffer:
Cheap grace is grace without discipleship, grace without the cross, grace without Jesus Christ, living and incarnate.

Costly grace is the treasure hidden in the field; for the sake of it a man will gladly go and sell all that he has. It is the pearl of great price to buy for which the merchant will sell all his goods. It is the kingly rule of Christ, for whose sake a man will pluck out the eye which causes him to stumble; it is the call of Jesus Christ at which the disciple leaves his nets and follows him.

Such grace is costly because it calls us to follow, and it is grace because it calls us to follow Jesus Christ. It is costly because it costs a man his life, and it is grace because it gives a man the only true life. It is costly because it condemns sin, and grace because it justifies the sinner. Above all, it is costly because it cost God the life of his Son: "ye were bought at a price," and what has cost God much cannot be cheap for us. Above all, it is grace because God did not reckon his Son too dear a price to pay for our life, but delivered him up for us.

Costly grace is the incarnation of God.
Robin also recommended the book, The Sermon on the Mount: Kingdom Life in a Fallen World, by Sinclair Ferguson. It's available in the church bookstore.
Audio and an outline are available in the Resource Library.
Share this on:
---
June 25 2012 at 4:08 pm
1 Comments
---
..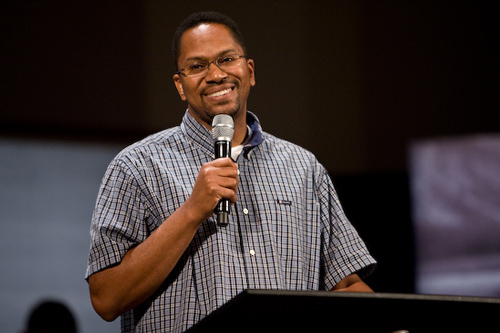 This coming Sunday, July 1, Mark Mitchell will give a brief message from Matthew 5:13-16, a passage where Jesus calls us to be "salt and light" to the world. We will also highlight several examples of ways that individuals in our church are living out this teaching in our community and throughout the world. Let's anticipate this time together with faith and prayer!
Share this on:
---
June 21 2012 at 8:43 am
0 Comments
---
..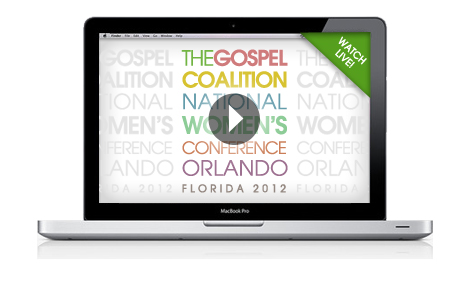 The Gospel Coalition National Women's Conference in Orlando is this weekend, and will be streamed live online starting tomorrow. Nearly 4,000 women from around the world will be attending this inaugural women's conference.
First up, at noon EDT on Friday will be Tim and Kathy Keller talking about "Marriage in Gospel Focus." The broadcast will feature every event through Sunday noon on the conference main stage, including all plenary sessions; workshops by Elyse Fitzpatrick, Carolyn Mahaney, and Lauren Chandler; and Focus Gatherings on parenting, urban ministry, pastors' wives, grief, and the church in Asia. Recorded interviews with many of the speakers and guests will be broadcast during breaks in the livestream schedule.
Enjoy!
Share this on:
---