July 27 2012 at 6:14 pm
0 Comments
---
..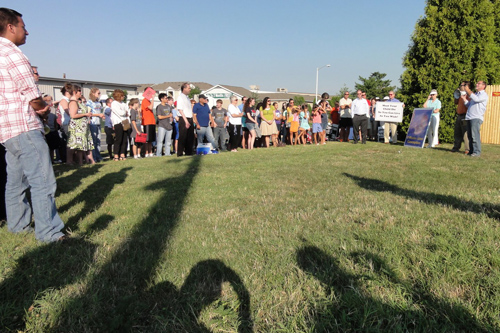 People gathered for prayer last summer along Wisteria Drive in Germantown
We asked Covenant Life member, Yvonne Wyzga, to write about her experience of volunteering to pray in Germantown:
Have you ever prayed for God to give you a heart of mercy? Tim Keller's book, "Ministries of Mercy," challenged and convicted my heart from the Prologue that retold the Good Samaritan story to the last page of how to practically incorporate mercy ministry into one's individual life and church life.

In the past, I had told myself that mercy was not my spiritual gifting, yet began to pray that God would change my heart to be more like his (Ps.103:8-10, Ex. 34:6). I had been guilty of avoiding mercy ministries out of fear: Fear of being overwhelmed by the needs of others and of losing control of my schedule. I could be OK with being merciful … if I had planned for it.

Over the years, my avoidance had led to a complacent and hardened heart when it came to the suffering of others. I had forgotten how spiritually poor, destitute and needy I was from God's perspective, although I was rich in health, material necessities and fruitful relationships.

The Lord reminded me of this in January 2011, when late-term abortions began in Germantown. About that time, a neighbor of a prayer partner invited our small prayer group to join other brothers and sisters in asking the Lord to shut down the abortion clinic. I agreed to go once to support this homeschooling mother of six in her weekly, uphill outreach to speak to suffering women, offering them alternatives to abortion. I thought I should not just pray for someone to "be warm and well fed" if there were additional resources God had given me to offer.

My planned one-time visit turned into most Monday mornings. God's Spirit helped this very reluctant person to go where I did not want to go! I was provoked each week by the other participants' dedication, commitment to prayer and rescue efforts.

Although I felt ill-equipped on that Tuesday in knowing what to say and do, I cautiously approached a 21-year-old woman who was crying at the corner near the clinic and learned she was waiting for someone to bring her "the rest of the [cash] money" to get an abortion. As I broached the conversation she said, "You are going to hate me." I assured her otherwise, and she spoke about her family and how they would reject her if they learned about the pregnancy. I attempted to share God's love for her, some available resources and pleaded that she consider the future consequences of her choice. After she allowed me to pray she walked away … abortion-bound.

As I sadly returned to my friend and those fervently praying, I became overwhelmed with unstoppable grief. My whole body began shaking as I heard myself crying audibly. I never had experienced anything like that before. I was powerless to help this young woman or the baby she carried, and all I could do was cry out to the Lord.

Will you join me and others in crying out for the Lord's mercy? He is listening. Since those cold January days of 2011, more than 60 women have chosen not to abort, an abortion-alternatives' site has opened nearby, state regulations have been enforced and Monday business at the abortion clinic has been reduced. Praise God!
Share this on:
---
July 23 2012 at 6:00 pm
4 Comments
---
..
As Christians, our mission is to make disciples of all nations. We're blessed to live in an area where approximately 30% of our residents were born in another country; so in a very real sense, the nations are right here on our doorstep. This is something we should celebrate and an opportunity we should seize in order to show Christ's love, pursue relationships and share the gospel.
To that end, we will be highlighting a different cultural group in our county every few months, so we can learn more about them and pray for our interactions with them.
This past Sunday, we highlighted the Salvadorans in our culture, many of whom attend our own church. We asked a member in our church, Oscar Pinto, to share a little about his culture:
After the service we passed out cards with simple prayer points to remind us all to pray for Salvadorans (more are available at the Welcome Center if you missed them). We can pray that:
more would come to know Christ
Salvadorans would experience freedom from fear through the gospel
those seeking employment would find steady work to provide for their families
Salvadorans would experience unity and overcome differences rooted in El Salvador's civil war
Share this on:
---
July 21 2012 at 11:47 pm
2 Comments
---
..
This past Sunday I was greatly encouraged by God's Word and how he is using it in the life of our church.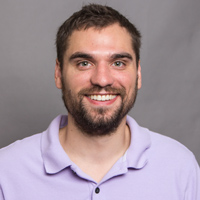 J.J. Pyche
On Sunday morning Joshua brought a strong word once again from our Matthew series and brought home the truth that Jesus is the fulfillment of all of Scripture. Downstairs the same morning and going hand with Josh's message was a Sunday class with seminary student and summer pastoral intern J.J. Pyche called "Christ: The Whole Story of Scripture." J.J.'s class is exploring passages of Scripture from Genesis to Revelation showing that Christ is the center of the story, a method of study called "Biblical Theology." I am excited for the coming weeks of the class as we understand more and more of the history of God revealing himself to humanity in both the Old and New Testaments.
If you want to join in, come out on Sundays July 22, 29, and August 5 at 11 a.m. in Classroom 156 (on the lower level).
Share this on:
---
July 14 2012 at 10:18 pm
1 Comments
---
..

Todd Keeler had this final report from Day 5 of Outreach Week:
God has been so kind to us to give us the gift of partnering as the body of Christ to take the gospel "across the street" and be a small part of spreading God's kingdom. It has been a great joy for me to work alongside so many youth and adults who love Jesus and have compassion for those who don't know him.
Some highlights:
• The site leaders (Emory Grove – Neal Stuckenschneider; Laytonia – Jacob Bozarth; Washington Square – Chris Maresco) did an outstanding job this week leading the youth as they loved and taught the kids.

• Matt Maka served behind the scenes all week long cutting trees, mowing grass, washing dishes and grilling hot dogs.

• Dave Brewer, Scott Hendricks, and Brandon Quinones also helped cut trees to help clean up the neighborhoods after the storm damage. This was a last-minute opportunity, and it really blessed the community.

• My wife LeAnne and her kitchen crew served behind the scenes planning, shopping and prepping to feed 80 people all week and 400 at two cookouts last night (may God send more to help with cookouts next year!)

• I am excited that we will have follow-up ministry opportunities in all three neighborhoods set for the rest of the summer and are planning for follow-up during the school year at four sites: Emory Grove, Laytonia, Washington Square, and South Lake Elementary School. This will provide an opportunity for over 100 people to be involved on a weekly basis.
We are grateful that favor in the community is growing, and more and more opportunities for gospel ministry are presenting themselves as God guides us step by step.
Share this on:
---
July 13 2012 at 3:45 pm
3 Comments
---
..

Here are photos from Thursday, day 4 of Local Missions Summer Outreach Week:
And a few brief comments from Outreach Week leader, Todd Keeler:
This year we are experiencing the highest level of attendance from neighborhood kids.
God has been bringing a wide range age range to our outreach (age 3 to 19). We are happy to see him bless us with meaningful conversations with the older teenagers in the neighboorhood. One of these teens came to a Bible study last night with some of the volunteers who invited him.
We are seeing kids be personally impacted by the Christ-centered lessons we teach on a daily basis. One 10-year-old girl was observed extending kindness towards other kids. When asked why she was doing this, she responded that she had been inspired by the example of Jesus as explained during the camp.
One mom in the neighborhood told the volunteers that she had never seen this many kids join a community activity. It is spectacular to know that adults in the community are affirming and commending our efforts.
Share this on:
---
July 12 2012 at 5:22 pm
0 Comments
---
..

Here are photos from Wednesday, day 3 of Local Missions Summer Outreach Week:
And here's the report from Outreach Week leader, Todd Keeler:
God is continuing to bring new kids to the camp every day, and the enthusiasm among the kids is growing.
We are realizing that many of the kids have deep emotional wounds and needs. Through our love, God is bringing these kids joy and a sense of being cared for in an individual way.
A teenage sister of one of the kids told our staff that her little brother frequently cries and is usually sad, but since he has been coming to the camp he is all smiles and laughter. It has been incredible to see God bring life into the lives of these kids this week.
Many kids have surprised us with their enthusiasm for memorizing Bible verses, and even the youngest kids are eagerly talking with the staff about Jesus and why he came. Memorizing scripture has prompted at least one of the kids to start reading the Bible.
Some of our volunteers visited an elderly community. The residents were genuinely appreciative of having people to talk to. They enjoyed a concert by the volunteers, clapping and singing along.
Share this on:
---