February 25 2013 at 10:44 am
1 Comments
---
..
Praise God for the opportunities he has given us to build relationships and share the love of Jesus Christ with neighbors from communities very close to Covenant Life. Here are three brief testimonies from members who are loving and serving families who live in Laytonia:
For the past three years, the Laytonia Girls Club has met in the summer months once a week. This year we decided to meet once a month on Saturdays ... throughout the year. Currently, we have 13 teenage girls and about five younger girls attending. We share the gospel through a testimony or short devotional with the older girls, and the younger girls will have Bible stories read to them along with a craft. We are grateful for this time with the girls and take every opportunity to interact with their moms when they come to pick them up. Through this interaction we have been able to invite them out to Iglesia Gracia Soberana. Gospel seeds are being planted with the girls and their moms.

A blessing to serve in Laytonia,
Sherly

—————————-

Having the ability to serve in the Laytonia Girls Club has been a wonderful blessing. There have been many countless little things, such as seeing the ladies who volunteer work in unison, seeing mothers connecting with them, and the generosity of time and finances of the women who volunteer. On a personal level, I have had the delight to connect with the younger gals, so much so that I get text messages and phone calls from them. These girls are the oldest in their families ... not that I can fill that gap fully or perfectly ... but I get a chance to walk with them in their lives. They just want to talk and be heard. I hope to grow in deeper relationship with these girls and be used by God to share the gospel. I have had a blast!

Zenith

—————————-

I feel honored to have the support of these moms and their families. They didn't know us when we began over three years ago, and they have trusted us to care for their girls during Girls Club. The moms love us; they have welcomed us as friends. I especially feel this now that they have allowed their younger daughters to participate! I feel blessed to give of my time and resources for these girls. My granddaughter looks forward to joining me on Saturdays. We have fun, and the truths of God as Creator and Savior are being taught. Seeds are being sown into their young hearts ... We want to welcome these girls as Jesus welcomes the children and blesses and loves them!

Love,
Mary
Share this on:
---
February 25 2013 at 9:27 am
1 Comments
---
..
Here's a recap of Sunday, February 24, to help us all remember and review:
We celebrated God's beauty and glory:
• Indescribable
• Explanation of our focus on God's greatness
• Glorious and Mighty
• Our God Reigns
• Behold Our God
• Scripture Reading: Revelation 4:6b, 8-11; 5:11-12
• Revelation Song
• Crown Him with Many Crowns
We welcomed guests and shared news in our church life:
• We prayed for our new mission team. This group of members, led by pastor Grant Layman, is helping us plan how we can participate in God's global mission.
We heard God's Word:
• Robin Boisvert preached a message titled Jesus Christ, Compassionate Lord from Matthew 9:18-34.
We responded and were sent into the world:
Resources for your Family and Care Group:
• Sermon Outline and Application Questions
• Kids in Discovery Land learned about Shadrach, Meshach and Abednego in the fiery furnace (Lesson 73 in Long Story Short) from Daniel 3.
• 12:13 students studied John 3:1-15: 1) why we must be born again, 2) what the new birth is, and 3) how we are born again.
Share this on:
---
February 19 2013 at 8:58 am
0 Comments
---
..
Here's a recap of Sunday, February 17, to help us all remember and review:
We celebrated the gospel:
• Holy, Holy, Holy
• O My Soul, Arise
• Communion – as communion was distributed, we had members read from 1 Peter 2:22-25: Philippians 2:6-11; Col 2:13-15; Heb 10:1-2a, 12-17 and Psalm 103:1-5, 8, 22
• Before the Throne
We remembered God's personal care for us through the gospel:
We welcomed guests and shared news in our church life.
We heard God's Word as Joshua Harris preached a message titled New Wine from Matthew 9:9-17.
We responded and were sent into the world:
Resources for your Family and Care Group:
• Sermon Outline and Application Questions
• Kids in Discovery Land learned about Nebuchadnezzar's Dream (Lesson 72 in Long Story Short) from Daniel 2:1-49.
• 12:13 students studied John 1:14-18: God became what we are to show us who he is.
Share this on:
---
February 8 2013 at 7:51 am
0 Comments
---
..

We hope you will be encouraged by reading this recent letter the Good Samaritan Advocates team received from a beneficiary of their services. Praise God for the difference this work is making in our community!
"I just want to tell you that because of you and the GSA team, it feels like heaven here on earth. Your sacrificial giving of your time and talent on a Saturday morning free of charge just to help people is very rare in this world. I was deeply touched by the passion and diligence that the team I was assigned to on January 19 put forth in handling my case. It felt like [these servants] were angelic beings! The prayers and everything they did for me availed so much, and miracles occurred in that room that day.
For several months I could not find a neurologist who participated in the insurance I had. This team found one, and I had an appointment with her on January 29. She did not order a bone scan, as she does not treat work injury cases, but she examined me for the ongoing neurological symptoms affecting me. May God do for you and the team as written in Matthew 25:31-40. Thank you so much for your labor of love for others."
GSA conducts clinics in Gaithersburg and Falls Church, Va. Visit the GSA website for more information.
Share this on:
---
February 8 2013 at 7:23 am
0 Comments
---
..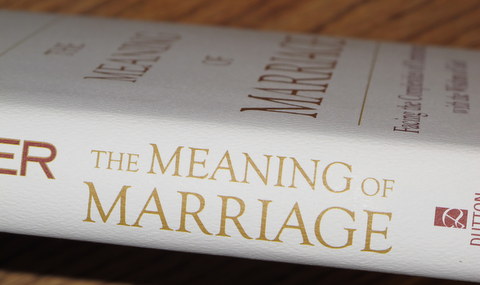 Here's a brief preview of The Meaning of Marriage: Facing the Complexities of Commitment with the Wisdom of God
, a book Josh will recommend this Sunday in church:
The author's own description: "This book is for those spouses who have discovered how challenging day-to-day marriage is and who are searching for practical resources to survive the sometimes overwhelming 'fiery trials' of matrimony and to grow through them ...This is a book for those who have experienced 'the honeymoon is over' and have fallen back to earth with a thud."
From a Covenant Life member: "My husband and I, in 37 years of marriage, have experienced more fiery trials than we care to remember! Keller's truthful, down to earth portrayal of modern day marriage has been incredibly refreshing and practically helpful. Keller doesn't just write about what marriage should look like ... He shares about real difficulties we live through everyday. As a result, we are experiencing genuine progress in our relationship.
If you are satisfied with a "drifting" marriage going nowhere, WARNING ... Don't read this book!"
Share this on:
---
February 6 2013 at 10:39 am
0 Comments
---
..
On Monday news reports were widely circulated about a Nevada man, Nathaniel Morales, who has been charged in Maryland with molesting boys during the 1980s. The reports contain allegations that this abuse occurred when Mr. Morales was a teacher, erroneously implying that he was a teacher at Covenant Life School. The reports fail to state that Mr. Morales, though a church member at the time, was never a pastor in Covenant Life Church nor a teacher in Covenant Life School. Rather, Mr. Morales was a teacher employed by an independent private school in Montgomery County not affiliated with Covenant Life Church or School.
Contrary to the impression left by the news reports, Covenant Life Church had no knowledge of such abuse until many years after the abuse when an adult who had been victimized as a child came forward.
The criminal matter described in these news reports is distinct from the civil lawsuit filed last October against Sovereign Grace Ministries, that was amended in January of this year to add Covenant Life Church as a defendant. The church will respond appropriately to the allegations in that pending lawsuit through the legal system.
Our church places a high priority on protecting children, and has had robust child protection practices and policies in place for many years. Our hearts and prayers continue to be with anyone affected by the trauma of sexual abuse. We pray that they will receive the healing, comfort and peace of Christ. And we continue to invite your prayers for all those involved in these matters.
Share this on:
---