January 7 2009 at 2:36 pm
1 Comments
---
Here's a clip from "Don't Worry…Seek the Kingdom," the second message of our two-part series, "The Good Recession." Audio of the full message is available here.
---
January 7 2009 at 10:30 am
0 Comments
---
Here's the latest from Uganda, sent by Kelly Hydoski:
Tuesday:

The team began the day by serving at the regional youth conference until about
4 p.m. During that time, about two-thirds of the team were also deployed into the villages to do evangelistic outreaches (included preaching, serving, interacting with the community, etc.). Then, the team concluded the day from 4-7 p.m. with an evangelistic "crusade" where they set up in the middle of a village; there is preaching and much opportunity to serve amongst those who come. Isaac said that the team is doing a GREAT job! He is so encouraged. Many people have dedicated their lives to the Lord, and there have also been many occasions where the saints in Uganda have been ministered to as well!

The above format is the rough schedule that the team will be following from Wednesday through Friday. I will keep you posted. :)

As for health updates, Dan Calderone is doing/feeling well!!! The remainder of the team is also in good health, with the exception of Isaac. He has continued to get a little worse. He was going to bed, hoping rest will help, when I spoke with him earlier today (about 9:30 p.m. their time, I think?). I have contacted his doctor to get some treatment suggestions to pass on when I next speak with Isaac. Please keep him in your prayers for healing. :)

We serve a merciful and gracious God! Praise to Him for the lives that are being transformed right now as these wonderful servants emulate their Savior!
---
January 6 2009 at 5:33 pm
1 Comments
---

A snapshot of the team as they prepare to depart for Uganda

Thank you for praying. The team has arrived in Kiburara and has begun to serve there. Kelly Hydoski (wife of Isaac, the pastor leading the trip) sent us this update this morning:
I spoke with Isaac around midnight (which is about 8 a.m. their time). They had a great first day of ministry They did an evangelistic outreach and were able to tour the three well sites that had been built since last year; Isaac said it was such a joy to see the children drinking clean water!

When we spoke, they were about to begin their "Tuesday" by going to serve at the regional youth conference (ages ranging up to 30, I believe) that Moses [the pastor in Kiburara] is leading. The team will be assisting with this for the next four days…so please continue to pray for fruit and opportunities to bless and spread the good news of the gospel! I know there are divine appointments awaiting!

Moses is anticipating around 1000+ attendees this year, and many people walk for a day or more to attend!

As for the team, most are still in excellent health. Two prayer requests have emerged: 1) Dan Calderone had a slight fever the previous day and went back to the guesthouse (where they are staying) to rest for a few hours; please pray for quick healing and return to full health! 2) Isaac has come down with a sore throat…and he will be preaching twice a day at the conference; please pray for quick healing and strength to do God's work…and specifically that he won't lose his voice! :)

I will write again with more information as I get it. I am so grateful we get to pray together for these humble servants as they lay down their lives for Him!!!

—Kelly H.
---
January 5 2009 at 4:00 am
5 Comments
---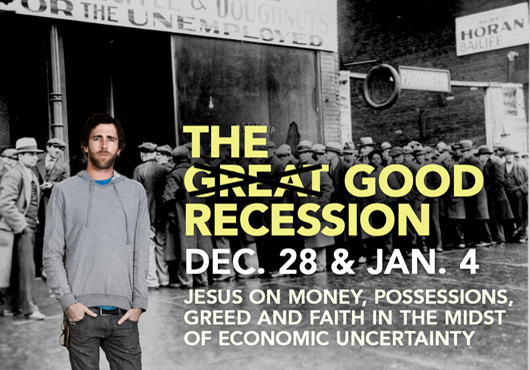 Yesterday I preached the second message in this two-part series called "The Good Recession." In last week's message, I asked the question, "How should Christians who believe in a sovereign God think about these times—how can God use a bad economy for our spiritual good?" This week I continued with four more ways this can happen:
1. If it helps us reset our definition of "need."
2. If it makes us more aware of our helplessness and God's faithful provision.
3. If it helps us see that only King Jesus and His kingdom are worth living for.
4. If it encourages us to lay up our treasures in heaven.
You can listen online or download the message here.
Below are a few are questions I shared at the end of my message that should help you apply it.
1. How are you being anxious?
2. Where is your definition of "need" wrong?
3. Where is greed or worry distracting you from seeking the kingdom?
4. How could you use your resources to be rich toward God's concerns?
---
January 3 2009 at 11:53 am
0 Comments
---
Tomorrow I will be preaching the second message in a two-part series, "The Good Recession." Last week we considered how Christians who believe in a sovereign God should think about these uncertain economic times, and tomorrow the focus will be Luke 12:22-34 where Jesus tells us why we shouldn't be anxious about our needs.
Judah Groveman (pictured above playing cello last Sunday with his brothers, Israel, Abe and Daniel) will lead our singing, and we'll be praying for some members of an upcoming medical mission trip to India.
---
December 31 2008 at 11:24 am
2 Comments
---
Last Sunday we prayed for the team of 22 young men and women who leave this Friday for the village of Kiburara in western-most Uganda. The team will serve our friend, Pastor Moses, and his church through Jan. 14, preaching the gospel at outreach gatherings and leading a youth conference for about 700 youth and singles.
When a similar team from Covenant Life visited Kibuara last year, many heard and received the gospel, and two small village churches were planted in the days following the trip. The team returned to Gaithersburg with news of the dire need for clean drinking water, and the singles of our church proceeded to raise over $40,000 to build three wells (in partnership with Covenant Mercies). These wells now provide clean water to over 3000 people. The money also helped with a building project and the purchase of a portable sound system.
The team has asked us to pray that:
• Many people will hear of and believe in Christ
• the team will proclaim and demonstrate the gospel with boldness, humility and wisdom
• the team will be sensitive to, and obedient to, the Holy Spirit
• God will give them many divine appointments
• the church members and Pastor Moses would be encouraged and strengthened by the team
• the team will have a significant impact on the youth attending the conference
• the team will be characterized by joy, humility, prayer and service
• the team will be protected from any harm, whether spiritual or physical
Let's regularly lift up our brothers and sisters over the next two weeks as they serve our sister church in Uganda.
---