September 29 2015 at 4:07 pm
0 Comments
---

"The Lord your God is in your midst,
a mighty one who will save;
he will rejoice over you with gladness;
he will quiet you by his love;
he will exult over you with loud singing."
Last Sunday we had the privilege of hearing from Sam Storms who blessed us with a very encouraging reminder of just how much God takes delight in His children. Drawing from Zephaniah 3:17, Sam taught that God's love for his children is so strong that he literally sings over us.
For those looking to dig deeper into the theme, Sam has authored a book-length version of his message entitled, The Singing God: Feel the Passion God Has for You ... Just the Way You Are. You can pick up a copy at the bookstore on Sunday, or on Amazon.
Book Description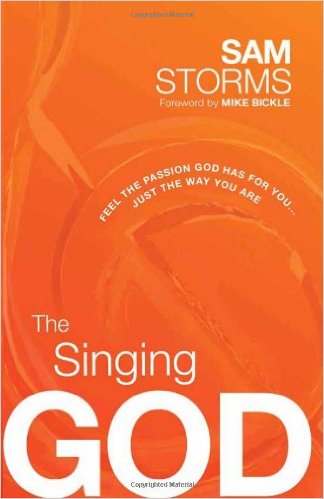 God loves us. With all our faults and failures, with all the secret sins no one else knows about. In fact, He rejoices over us so much that He breaks out in inexpressible joy and song as He thinks about us.

"The Lord your God is in your midst, a mighty one who will save; he will rejoice over you with gladness; he will quiet you by his love; he will exult over you with loud singing." —Zephaniah 3:17

That's how God feels about you! He looks at you, He thinks of you ... and He sings for joy!

In "The Singing God" Sam Storms explores God's immeasurable love for His children. You don't need to be different; you don't need to be better. You just need to know that God loves you just the way you are now ... today. When you truly believe this, you will find the strength and incentive to fight sin, experience freedom from shame, and walk in the fullness of all that God desires for you.
Share this on:
---
September 28 2015 at 2:38 pm
0 Comments
---
Below is the text of Mark Mitchell's update from Sunday morning, September 27. Church members: For the meeting schedule over the next two weeks and to submit comments or questions, see covlife.org/lpsearch.
Good morning, everyone.
This past Thursday through Saturday the elders met together on our fall retreat to consider the Search Team's recommendations and written report on the Lead Pastor search process and to discuss next steps.
Many of you were praying for us. Many of you were even fasting on our behalf. And there's just no way that we can thank you enough. We believe God heard and answered your prayers. Our conversations, our times of seeking the Lord, were marked by faith, unity, a fruitful discussion together, and a wonderful sense of God's peace—and we know that is in no small part due to your prayers. So on behalf of all the elders we want to say, thank you.
Here's the update: the 11 person Search Team made up of eight members and three elders met from April through September, and after many, many hours given to prayer, gathering input from the congregation, viewing resumes, conducting interviews and listening to sermons, the search team has recommended P.J. Smyth to the Board of Elders for the role of Lead Pastor.
[Applause] Very appropriate. P.J. would be blessed by your enthusiastic reponse.
After much discussion and prayerful consideration, the Board of Elders enthuiastically believes that P.J. should be our next Lead Pastor. We believe that God has been directing our path over these last few months and has provided this man as a gift to our church. As we've gotten to know P.J., we believe his godly character, his pronounced humility, his leadership gifting, and proven fruitfulness in ministry make him an excellent choice as Lead Pastor to serve our congregation, Covenant Life Church, for the foreseeable future.
He's aligned with our doctrine and values, committed to team and accountability, he is eager to grow and learn from us, and he passionately loves Jesus, His church and His mission—and as the Board of Elders we heartily commend him to you, the congregation.
So where do we go from here?
The process is not over. There are additional steps that need to take place involving the Smyths, congregational affirmation, and further opportunities for your participation as members.
First, the Smyths: The Elders had a brief conversation with P.J. and Ashley yesterday, via FaceTime, where we formally invited P.J. to consider being our Lead Pastor. And it was moving to see how P.J. and Ashley received that invitation. They were humbled and excited and really filled with anticipation for the next step. They plan to formally repond to us by next Sunday, so please be in prayer for the Smyth family in what will no doubt be a very emotional week for them as they process this with their elders and with their congregation.
Second, if the Smyths accept our invitation, a congregational vote of affirmation is necessary in order for this decision to be finalized. Due to issues relating to immigration, the earliest that this can take place is still months away. And the earliest the Smyths could arrive would be somewhere between January and April of next year.
Finally, we recognize that you will need time as a congregation to hear more from the Search Team and the elders and to engage more with P.J. as our Lead Pastor candidate. We're excited about walking through these next steps with you. So we've got a few meetings planned, and I want to fill you in on those at this time:
Next Sunday, October 4 [during the morning service], you'll hear from Pat Ennis, the Chairman of the Search Team, and he will explain more about the process the Search Team followed leading up to their recommendation. And I'll follow that with a brief report on the elders' perspective on P.J. and his candidacy, including his role in the Advance network of churches.

Then on Sunday, October 11, in the evening [6 p.m.], we'll have a Members Meeting where Search Team members and elders will share more detailed information and address your questions. We'll provide a mechanism for you to submit questions prior to that meeting. [The page with the meeting schedule and form for submitting comments and questions is found at covlife.org/lpsearch]

Finally, P.J. informed us on our retreat that he is available to come and be with us Tuesday evening, October 13 [7:30 p.m.]; so we've extended an invitation for him to come. We thought this would be a great opportunity for you to get to know him better and hear more directly from him regarding many issues I'm sure you have on your mind. We've got this information here on the screen; we'll also get it out to you via the Quick Read this upcoming week. I'll probably communicate it again in the Friday Update, so if you don't have a moment to jot these things down, that's ok; you'll hear more later on.
This has been just a brief update, so I understand if many of you still have questions. We want to invite you to seek out the elders. We are eager to have conversation with you if that would serve you to any degree. But we especially hope that you'll participate in these upcoming meetings that have been planned, because there's much more information to be shared there, that we think you'll find it to be very helpful.
Here's my final thought: some of you, as we've just experienced, are very, very excited about this news. But we also understand that there are some who still have many questions, perhaps about the process, about a variety of different things, and so you're maybe a bit more cautious and guarded. We're a local church made up of diverse people, so a variety of perspectives is understandable and to be expected.

I want to exort all of us, no matter where we are, to keep our eyes fixed on Jesus Christ, the Author and Perfector of our faith, and the Sovereign Head of His church. And let's look to Him with eyes of faith and continue to pray as He taught us to pray: "Hallowed be your name, your kingdom come, your will be done." We want to maintain that heart, that posture over next several weeks and months as we move towards finalizing this decision.
I want to leave you with these encouraging words from Psalm 33:
"The counsel of the LORD stands forever, the plans of his heart to all generations. Blessed is the nation whose God is the LORD, the people whom he has chosen as his heritage! Behold, the eye of the LORD is on those who fear him, on those who hope in his steadfast love, Our soul waits for the LORD; he is our help and our shield. For our heart is glad in him, because we trust in his holy name. Let your steadfast love, O LORD, be upon us, even as we hope in you." (Psalm 33:11-22 ESV)
Amen.
Share this on:
---
September 22 2015 at 2:50 pm
0 Comments
---
Here's Kevin Rogers' update from Sunday on the Lead Pastor Search. Note that he invites us to pray along with the elders this Thursday evening as they are on retreat. Thursday evening is the start of the retreat and a particular time when the elders will be seeking the Lord together for wisdom and direction.
Transcript:
Before Greg comes to preach I want to take just a moment this morning to update you on where we are on the Lead Pastor Search.
Hopefully you've seen Mark's recent emails the last couple of weeks where he's been able to share more information about this, but after months of surveys and listening to the congregation, interviews, and prayer and debate among themselves, the Lead Pastor Search Team submitted, last week, their report to the Elders.
I'm sure it goes without saying that this is an incredibly significant time for us as a church. We are so grateful as elders for how seriously you've taken this. We've received many good questions and input from you—we're very, very grateful for that.
Well, just as the catechism question reminded us earlier, I'm so grateful that we're not alone at this significant time in our church history. It's so good to know that God is with us. I don't know about you, church, but there have been times throughout this process, for me, I've been tempted to be anxious about this. It's kept me up at night a couple times just thinking through, ok, what are the different parameters? What are the things that could happen? Who might we get? What will it be like on the other side of all this? Taking this process very seriously is extremely important, and we want to do that, absolutely.
But we would be terribly misguided if we walked through this process without involving the God of the Universe and the Head of our Church deeply in it. Amen?
The Search Team has prayed throughout this process, and this coming week, the Elders, in God's providence, have a retreat coming up. We're grateful that this report has come just before our retreat, and we're going to be taking several days to process the report for ourselves and really seek to entrust this to the Lord.
And so church, I want to ask you if you would consider praying with us Thursday evening, in particular, if you want to note that. That's a particular time when we're going to be seeking the Lord together for this next step. Please be praying with us Thursday night as we seek the Lord for God to appoint the man that He has for this role.
On October 4, we're planning to share more detail with you about the Search Team's process and what we believe the Lord is saying the next steps are, so you can anticipate that.
Share this on:
---
September 15 2015 at 10:04 am
0 Comments
---
Listen as Dennis Casteneda shares his testimony of God's transformative work in his life, and his call to start and lead the Every Day is Christmas ministry.
Learn more about Dennis' ministry Every Day is Christmas.
Share this on:
---
August 18 2015 at 9:14 am
1 Comments
---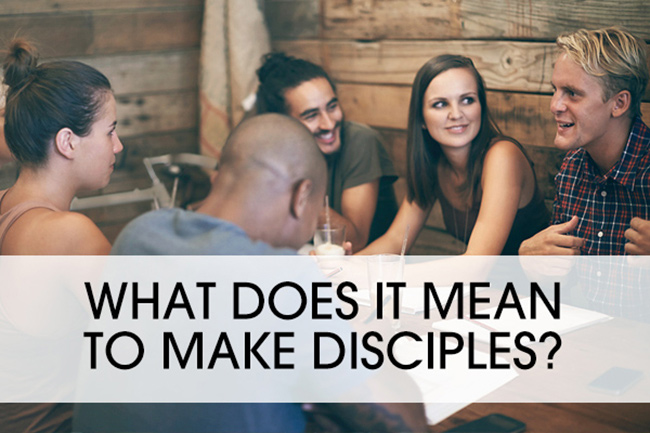 This post is shared courtesy of Keith Welton's blog "Everyday Truth." He shares his reflections on Scripture and other helpful topics there regularly.
At the end of the Gospel of Matthew, the resurrected Jesus Christ commissions his disciples to go and make disciples of all nations. Jesus has walked with, slept with, eaten with and lived with his disciples, instructing them how to follow God in every part of life, and now his commission seems to imply his disciples should go and do the same thing he has done.

This can raise the question of what it means to make disciples. Does it mean we gather a group of followers to live with and instruct them as though we have all the answers to everything in life? This no doubt puts a lot of pressure on us and could get awkward when our friends move into the living room to "be discipled!" If so, we may need a better understanding what it means to make disciples—or maybe a bigger living room.
A disciple is someone who has devoted themselves to learning a trade. This certainly helps explain what the disciples were doing with Jesus. They were learning in order to teach others. The word disciple (mathetes) is seldom used outside the Gospels and Acts. The Theological Dictionary of the New Testament has an outstanding article on this word that better fills out what a disciple is and does. I will borrow from it here. It connects the word "disciple" to the word for "learn" or "teach." This in turn connects discipleship to a theme occurring throughout the Scriptures. We see it in verses like:
Deuteronomy 4:10: "... how on the day that you stood before the LORD your God at Horeb, the LORD said to me, 'Gather the people to me, that I may let them hear my words, so that they may learn to fear me all the days that they live on the earth, and that they may teach their children so.'"
Deuteronomy 5:1: "And Moses summoned all Israel and said to them, 'Hear, O Israel, the statutes and the rules that I speak in your hearing today, and you shall learn them and be careful to do them.'"
Psalm 119:12: "Blessed are you, O LORD; teach me your statutes!"
In the Old Testament there is a constant repetition of the importance of learning the Scriptures to know and serve God. This is what every believer is to do. The article summarizes saying "disciple" is used:
"...exclusively of one who gives himself (as a learner) to Scripture. The intention in the Old Testament is that the pious Jew would occupy themselves in the Torah and its exposition and application so that they can and will do what is right in a given situation."
This is helpful because it shows that the goal of our discipleship is not to have others follow us and what we do, but for them to know the Word so they can rightly apply it in their lives and situations.
To further make this point the article shows that in the Old Testament there are few examples of people doing what Jesus did with his disciples. Joshua is with Moses constantly, but you don't see this relationship with other figures—not with David, Isaiah, or any other kings or prophets.

The article also points out all the great figures in the Old Testament never try to "interpose themselves as a factor of independent worth in the dialogue between God and his people." They never speak on their own account, they never fight for their own persons. God has given them knowledge of his will and put his word on their lips. They are stewards who pass on what they have received as that which has been received, not as though it comes from themselves. Their commitment is to God and not to themselves or to other men, no matter how profound a vision they may have had.
---
The messengers always point to the Lord and never stand in independent worth. They direct people to follow the words of God and not to themselves or their own ideas.
---
The messengers always point to the Lord and never stand in independent worth. They direct people to follow the words of God and not to themselves or their own ideas. This helps us understand discipleship so we better recognize the unique time Jesus' disciples were in. The disciples were those who attached themselves to Jesus as their Master. They were in a unique time of redemptive history and had a unique relationship to Jesus. They model how we relate to Jesus and are not the model of how we disciple others.
Our call as disciples is to cling to Jesus. He is our Master, Teacher, Lord. We are looking to him. Seeking to learn from him and have our minds renewed by him. Our wills bent toward his will. Our hearts in love with what he loves. Our call to make disciples is to point others to Jesus and to his words. Making disciples means helping others know him, love him, and follow him. This seems to be what Paul had in mind in 1 Corinthians 11:1 when he said, "Follow my example, as I follow the example of Christ."
---
It's as though Paul wanted to be a window. Windows are not great because of what they look like but what they allow you to see. Windows are there for people to see through to something else.
---
It's as though Paul wanted to be a window. Windows are not great because of what they look like but what they allow you to see. Windows are there for people to see through to something else. Paul is saying his example was only as good as it allows others to see Jesus. This is what our life is to be like too. We want to be windows that allow others to see Jesus. We want them to see the guidance, forgiveness, and hope that are in Christ. This is what discipleship points people to, and it removes the pressure from us. We don't have to have the answers to everything in life. We are simply trying to point other to the one who does.
Share this on:
---
July 21 2015 at 9:16 am
0 Comments
---
God has blessed the last two days of Joy Camp tremendously. On Thursday evening we had our traditional site cookouts at Laytonia and Johnson's Park. We cooked hundreds of hot dogs and were able to interact with the campers and many of their families. At the Laytonia cookout the campers were even able to come up and share the "Gospel Chant" they had been learning all week.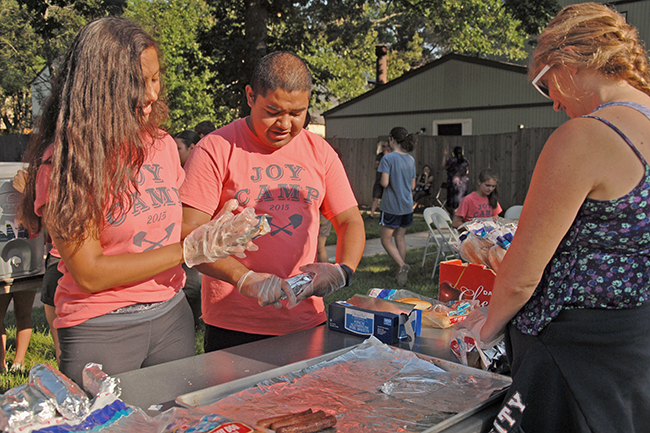 Friday was our last day with the campers. At South Lake they had a brief ceremony to celebrate the end of the week since they didn't have a cookout. Parents were invited, and we called each camper by name to receive their Bible and camp t-shirt.
Friday was also our last day together as a team. We took time in the evening to recount God's faithfulness by singing, listening to a short teaching, and hearing about how God worked at the different sites.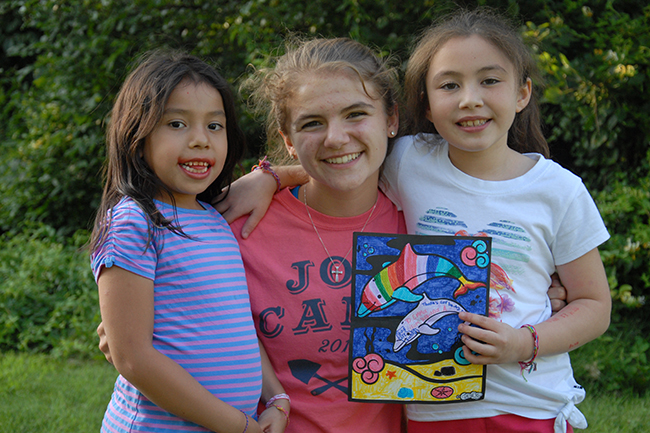 Johnson Park
Because renovations going on at Washington Square and Emory Grove, we weren't sure how many kids would show up to camp. The leaders visited surrounding neighborhoods on Saturday and handed out flyers to tell people about camp. By the end of the week we were up to 54 kids.
During one-on-one time one of the youth was explaining to a camper that in all the Bible stories throughout the week, each person had faith and God loved them. The camper responded, "Wait, God loves us? What if you don't love God back?" So our volunteer was able to explain the gospel to him.
Laytonia
We averaged between 40 and 50 campers.
Many campers at Laytonia have professed faith throughout the years, so it is encouraging to go back and remind them of truth.
Many of the campers have reached their middle school and high school years and have been coming since the beginning of Joy Camp. The experience is geared for younger kids, but by the second and third day the older kids were able to jump in and participate.
Laytonia has a very diverse group of kids, but it's a tight-knit community with a strong sense of love.

South Lake
Because this site is an elementary school, our youth went into different classrooms and helped with summer school classes.
We heard one first-time camper ask his friend, "Hey, do you believe in God?"
Even some of the high school students expressed an interest in coming back next year to Joy Camp, not as campers but as volunteers.
Many kids expressed that this was their favorite week of the whole year.
During the upcoming school year we are going to partner with the school's English for Speakers of Other Languages (ESOL) program by providing child care and mini Joy Camps. God is working in unique ways here at South Lake, so please continue to pray for us.
Overall, all of the leaders were encouraged by the youth who have grown up in the church their whole life and are very familiar with the gospel. But seeing them fully invested and being able to apply that knowledge to local missions was incredible. Our group demonstrated love toward each other as well as the campers and grew in unity. Many of the rising freshmen also stepped out of their comfort zones and were bold and courageous in sharing the gospel this week.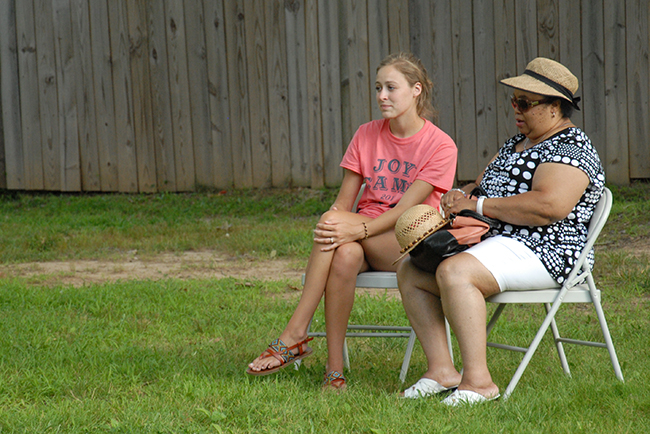 Now that Joy Camp is done, pray for each of the families and campers. Pray that they would be reminded of the gospel daily as they look at their Bibles and camp t-shirts. Pray that they would be able to share what they learned at camp with others in their community. Pray for the different churches in our area and around the world. Pray that they would send more laborers for the harvest and that the gospel message would go forth. The same Holy Spirit who helped us this week understand that faith in God's promises leads to courageous obedience, is the same Spirit working throughout the entire world.
We are looking to do follow-up ministry throughout the year. Here are some ways to get involved:
South Lake
-Monday nights (starting September 28), 6:30 p.m. - 8:30 p.m.
-Fun, games, Bible study, friendship and help with homework
-To sign up, email Travis Earles
Laytonia
-Saturday, August 15, 10 a.m. - noon, at the Laytonia Community Center
-Fun, games and Bible study
-To volunteer, email Carlos.
Johnson's Park
-Saturday, July 25 and August 15, 10:30 a.m. - noon, at the Emory Grove Playground
-Fun, games and Bible study
-To volunteer, email Neal Stuckenschneider.
Lastly, we want to thank you for praying for us. This week could not have happened without you interceding for us. We are grateful for you!
Share this on:
---