December 15 2014 at 2:46 pm
0 Comments
---
On Sunday we introduced the nine candidates who have been nominated to serve as non-staff elders. In the above video, Mark Mitchell describes the process that led up to this point and the steps that will lead up to a congregational vote of affirmation, followed by installation of the affirmed candidates as elders.
To get to know the candidates better, see their biographies and photos of them and their families. Video interviews with each candidate will be available online on December 21.
Share this on:
---
December 8 2014 at 1:25 pm
1 Comments
---
The video above is the announcement Mark Mitchell shared with the congregation on Sunday about recent staff layoffs due to budget constraints, followed by remarks from Joshua Harris. Below is the text of Mark's remarks.
Two days ago I sent a letter to the church as a follow up on our budget situation and the need to layoff two pastors. I indicated in the letter that with great sadness, the two pastors who have been laid off are Joe Lee and Isaac Hydoski.
It's very possible that some of you are hearing this for the first time. If so, I regret that this has to be the case this morning. I know how difficult it has been for many to receive this news before now so I can only imagine the challenge if you're hearing this for the first time.
This is sad news for all of us. These men are beloved pastors, friends, and co-laborers who have served this church faithfully for over a decade. We're very saddened to see them go. When Josh and I met with each of them to give them the news, it was by far the hardest thing I've had to prepare for and do since becoming the Executive Pastor.
Their last day on staff will be January 15. Because Isaac and Joe have served for 12 years, they will each receive 12 weeks of severance pay according to our policy. In the meantime, we're discussing as pastors how to best redistribute their responsibilities among the remaining staff.
These are godly men and as such they've received this news with faith in the Lord, but there is also an understandable measure of sadness because they love this church so much and have loved serving as pastors. Please pray for them, their wives, and their children during this difficult time. Pray that the Lord would comfort and strengthen them and make clear what their next steps should be. And as you see them, please don't hesitate to encourage them and express your love.
Some of you have written me directly to tell me how difficult this is for you. I'm especially sympathetic for those in our singles ministry who just recently had to say goodbye to Braden and now are faced with Isaac's departure as well. I know this has to be particularly painful for you. There is a ONE meeting already on the schedule for Saturday, Dec 13th. We'll take time during this meeting to talk with you and hear from you about these decisions.
We love these men and their families and want to do our very best to show that during their remaining time on staff here. And we love you and understand how difficult this is for you as well. I want to encourage us with these words from Lamentations 3:
Lamentations 3:17–33
my soul is bereft of peace;
I have forgotten what happiness is;
so I say, "My endurance has perished;
so has my hope from the LORD."
Remember my affliction and my wanderings,
the wormwood and the gall!
My soul continually remembers it
and is bowed down within me.
But this I call to mind,
and therefore I have hope:
The steadfast love of the LORD never ceases;
his mercies never come to an end;
they are new every morning;
great is your faithfulness.
"The LORD is my portion," says my soul,
"therefore I will hope in him."
The LORD is good to those who wait for him,
to the soul who seeks him.
It is good that one should wait quietly
for the salvation of the LORD.
It is good for a man that he bear
the yoke in his youth.
… the Lord will not
cast off forever,
but, though he cause grief, he will have compassion
according to the abundance of his steadfast love;
for he does not afflict from his heart
or grieve the children of men.
Please join me as I take a moment now to pray.
(Mark prayed for Joe, Isaac and their families, for all those saddened by the news, and for clear guidance and strength from the Lord as Joe and Isaac make plans for the future.)
Share this on:
---
November 24 2014 at 4:07 pm
0 Comments
---


This month we've sought to grow in our understanding of the priority of the church and the foundational values of loving, serving and giving as we live together in Christian community.

Take time to re-listen or listen for the first time if you missed a message: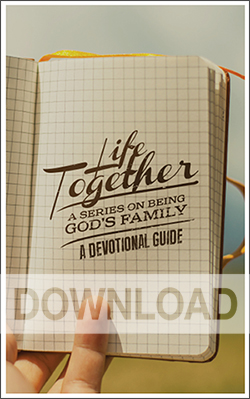 Life Together as the Church
Love One Another
Serving One Another
Giving
Also, don't forget the Life Together Devotional Guide full of ideas to help you draw out the meaning of the biblical text, spark application and discussion, and provide ways to talk about these truths with children at home.
We hope you enjoy the above photos submitted by some of our care groups. If you haven't captured your "care group selfie" yet, it's not too late! We'll be continuing to post photos in The Weekly and elsewhere as we receive them.
Share this on:
---
August 19 2014 at 8:59 am
0 Comments
---
Jesus had a busy, difficult life.
From the moment he was baptized and stepped into the public eye, the Messiah rarely had any time alone. If he wasn't teaching huge crowds or performing amazing miracles, he was spending time with his disciples or dealing with constant attacks from Israel's hateful, faithless religious leaders.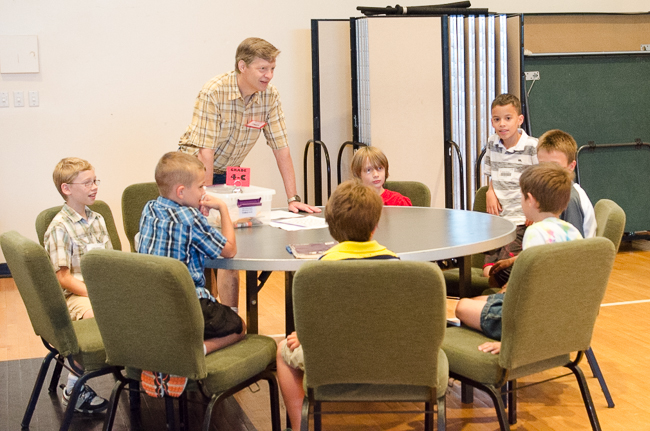 But Jesus always made time for children. Consider the accounts of Matthew 19 and Mark 10. In the latter stages of his earthly ministry, Jesus left his home area of Galilee, traveled south into Judea and crossed the Jordan River. Large crowds followed him, wanting to hear his powerful words and see his remarkable healings.
Then the Pharisees showed up. These hypocritical leaders and Old Testament law experts were always trying to trap Jesus in his words. On this day, they tested him with a random question about the lawfulness of divorce.
After a lengthy, contentious conversation—and then a follow-up discussion with his slow-to-understand disciples—it would've been perfectly understandable for Jesus to want some time alone. But then people began bringing little children and infants to Jesus so he could bless them. Jesus' disciples tried to shoo the children away. They considered the kids a nuisance.
But Jesus rebuked his disciples and then spoke some of the most beautiful words in Scripture: "Let the little children come to me and do not hinder them, for to such belongs the kingdom of heaven" (Matt. 19:14). Then he gently laid his hands on them and blessed them.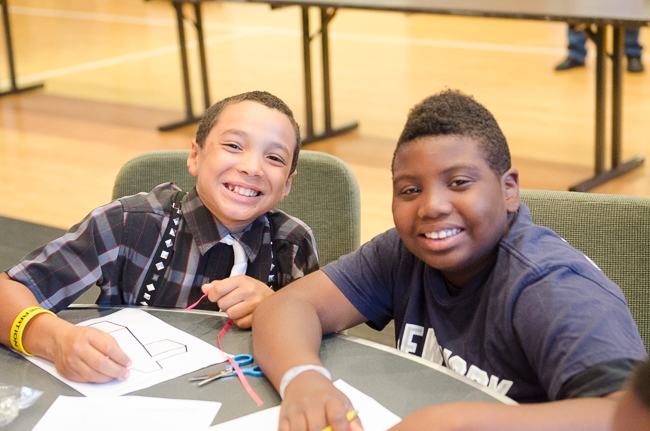 Jesus clearly loves children and places a high value on them. His heart toward children reflects the intimate care God the Father shows for each individual life (Ps. 139:13-16). He used children as an example of the simple faith and humility that Christians are to emulate. And he issued a stern warning to anyone who would harm a child (Matt. 18:6).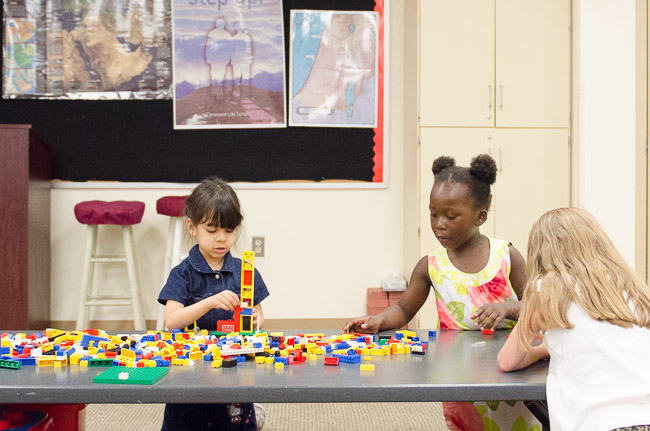 Jesus' joy around little ones is instructive. If the eternal, all-powerful Son of God has a tender heart for children, we should, too. As a member of Covenant Life, one of the greatest ways you can mirror the Savior's love for children is by serving in Discovery Land. Jesus didn't let busyness and other responsibilities keep him from loving the next generation, and neither should we!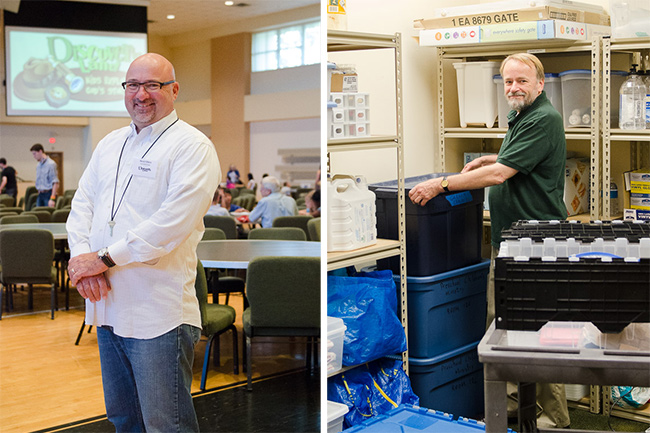 No matter what your spiritual gifts are, there's likely a place for you in Discovery Land. Visit the website for a list of available positions. We still have a great need for volunteers in most of our departments.
There is great joy in caring for little ones and teaching them about the Savior! But don't just take our word for it. Here are a few testimonials from some current volunteers:
"I appreciate serving on the Safety-Security team for the joy it brings, to know you are serving the children, the church and the Lord in a practical way. It seems to be comforting to the parents to know we are there to help protect the children, to give directions or be helpful in other ways as needed." —Scott Bates, Safety-Security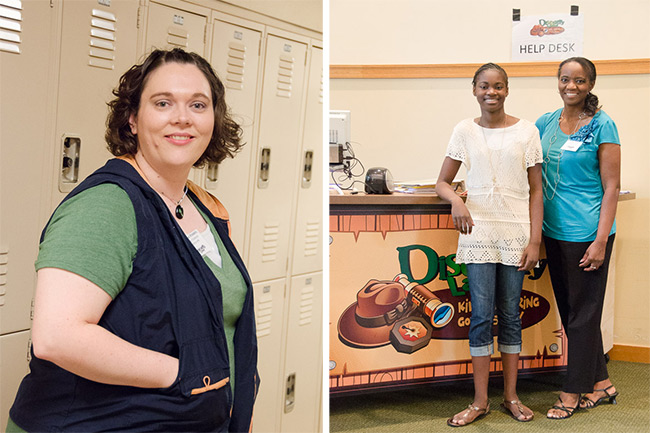 "Serving in Discovery Land worship is awesome! When the kids first come in at age 2, it's just blank stares (and some crying), but by the end of the year, many of the kids sing along and with enthusiasm. It's been a blessing to watch these kids grow and develop a joy for praising God!" —Paul Kim, Traveling Worshipper in Discover (ages 2-3)
"Serving in Discovery Land has strengthened my faith to overcome my weaknesses. I have learned how to humble myself (e.g. listen more than speak), be patient and show compassion towards the little ones in different situations. Serving with kids is a wonderful experience!" —Kartika Dougherty, Adventure (1st-5th grade)
To sign up to serve, please contact .(JavaScript must be enabled to view this email address). Don't let this opportunity pass you by. There is much joy in letting the little children come to Jesus!
Share this on:
---
August 11 2014 at 1:23 pm
1 Comments
---
At 7:30 every Sunday morning — as plenty of folks are hitting the snooze button and the low-lying sun is still casting long shadows across dewy fields — the ceiling lights flicker on in the Events Center at Covenant Life Church. The first Discovery Land volunteer has arrived.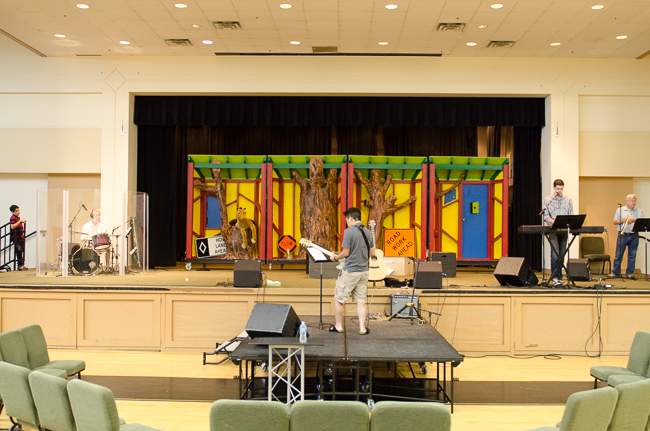 With the service still 2½ hours away, one of four monthly band leaders starts preparing for the day. Soon, the other band members join him, and the group begins preparing their equipment to lead 150 bouncy 1st-5th graders in live, loud worship music in the Adventure class later that morning. After they get in tune, lyrics, drumbeats and guitar rhythms begin to fill the air.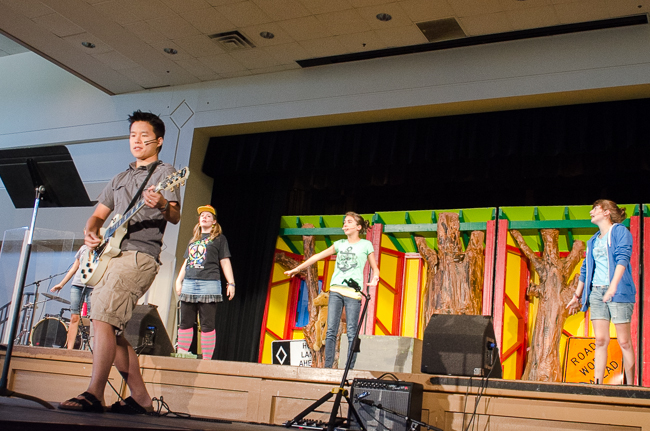 Discovery Land is the largest ministry, by far, at Covenant Life. Each week, 300-350 children ages 0 through 5th grade enter its classrooms. It takes 600-plus volunteers — roughly 150 per week — to staff the 16 childcare rooms on two floors and the many other departments within children's ministry. In military terms, a battalion of Christian soldiers is needed to effectively care for the precious little ones of Covenant Life!
And it all starts early each week — much earlier than Sunday, in fact. Midweek, there are volunteers who launder nursery smocks, purchase supplies at Sam's Club, plan lessons, select worship songs that fit the weekly teaching theme, create small group activities, write Tree House Gang scripts, direct Saturday evening Tree House Gang rehearsals, send out informative e-mails, and much more.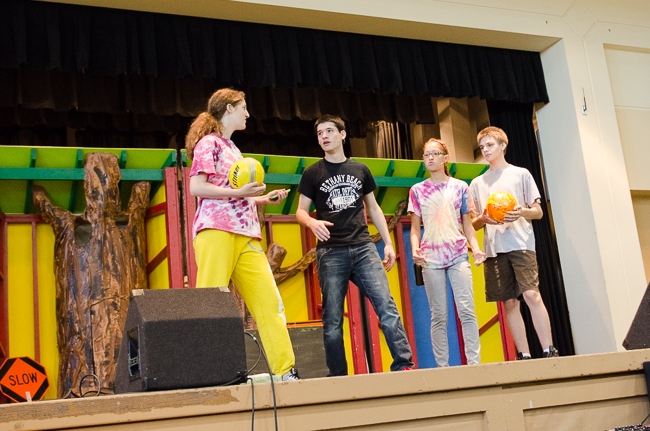 Back to Sundays … As the band sets up onstage in the Events Center, a small group of singers warms up their vocal cords in the Discovery Land office. Before long, they'll join the Adventure band to rehearse that day's four-song set.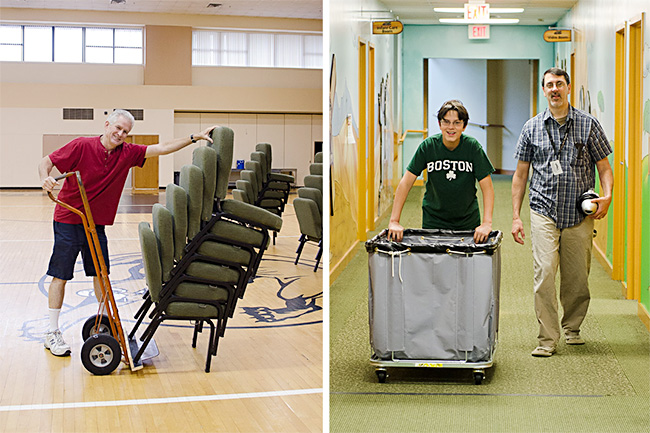 By 8 a.m., as rehearsal music echoes throughout the building, the supply team buzzes through the hallways. This amazing team of truly behind-the-scenes servants makes sure each Discovery Land classroom is stocked with all the necessary supplies — everything from diapers to saltine crackers to coloring sheets to double-A batteries for bubble-blowing machines.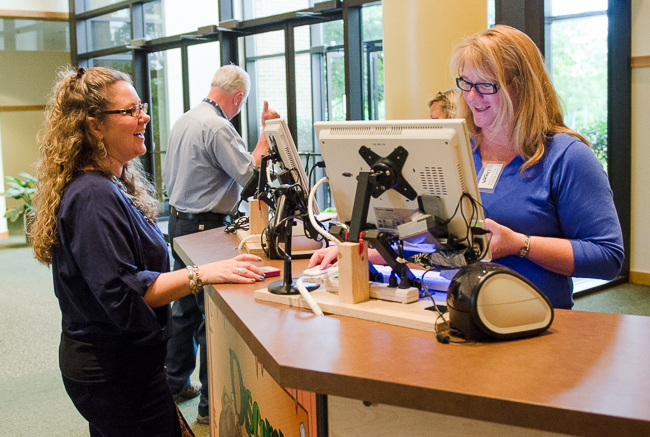 By 9 a.m., the building is really humming. The church's IT team is powering up all the automated child nametag printing stations and check-in machines. Welcome center volunteers have arrived in advance of the day's first families. And the Events Center is in full swing, with the worship team making way for a final Tree House Gang rehearsal and tech volunteers diligently keeping track of microphones, sound levels, and other audio/visual needs, etc.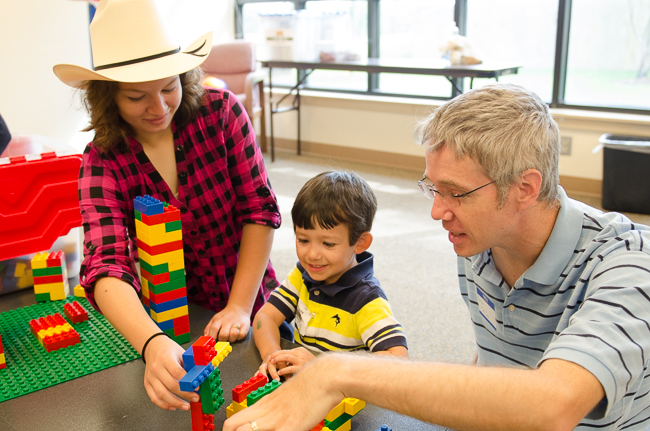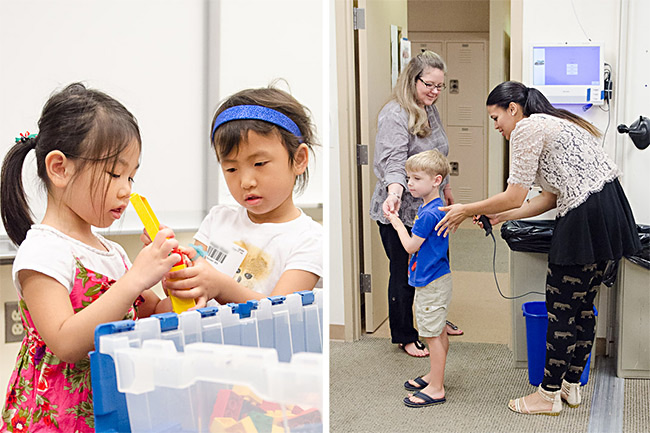 Shortly after 9:30, most volunteers have arrived. Adventure's doors are already open to accommodate the large influx of children it receives. Elsewhere, toys are being set out, baby gates are being locked in place, coordinators are meeting with their staff, last-minute preparations are being made and prayers are being lifted up all over the building for God to protect the children and let his Word be proclaimed in clear, powerful ways.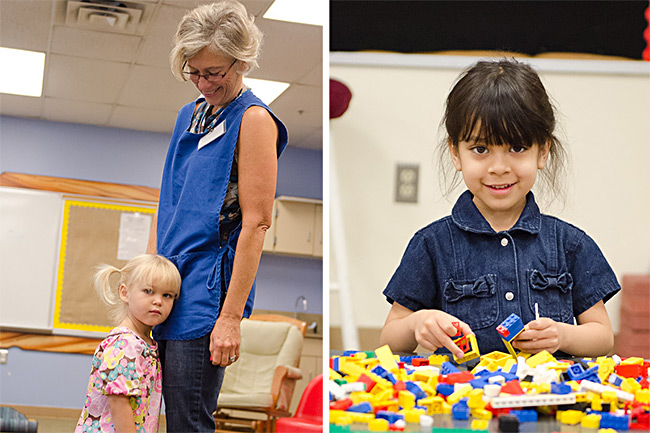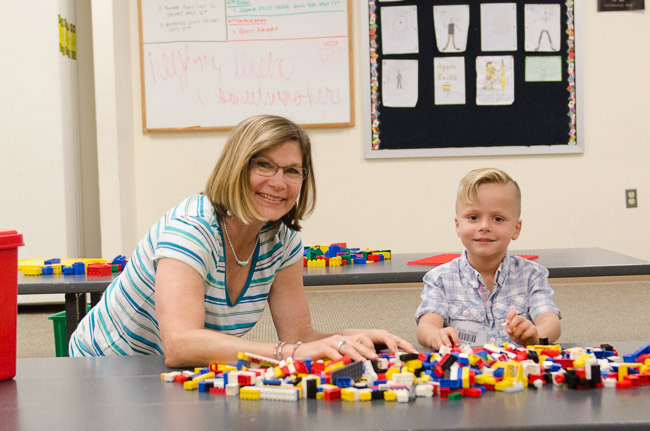 Before the very first child steps foot in class, scores of faithful servants have already been a shining example of 1 Peter 4:10-11: "As each has received a gift, use it to serve one another, as good stewards of God's varied grace: whoever speaks, as one who speaks oracles of God; whoever serves, as one who serves by the strength that God supplies—in order that in everything God may be glorified through Jesus Christ. To him belong glory and dominion forever and ever. Amen."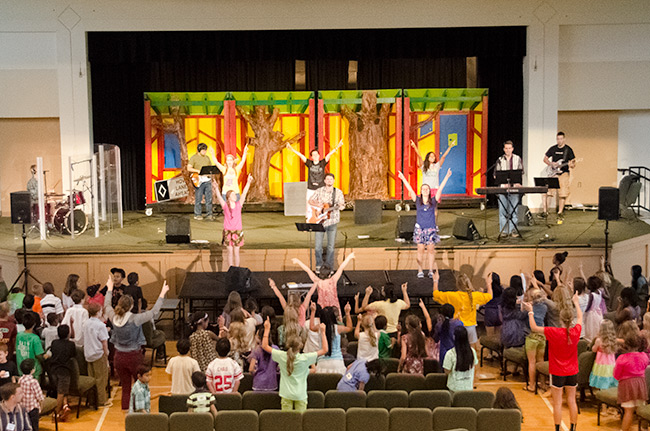 If you'd like to be part of this exciting ministry that directly affects the next generation with the life-changing gospel of Jesus Christ, please contact .(JavaScript must be enabled to view this email address) to sign up today!
Our new serving year starts Sept. 7, and we'd love for you to experience the joy that comes with serving the kids in Discovery Land.
Photo credit: Pam Wilbur
Share this on:
---
July 21 2014 at 2:13 pm
0 Comments
---
Worthy14 is our high school ministry's annual summer retreat where we get away from our normal surroundings and the busyness of life.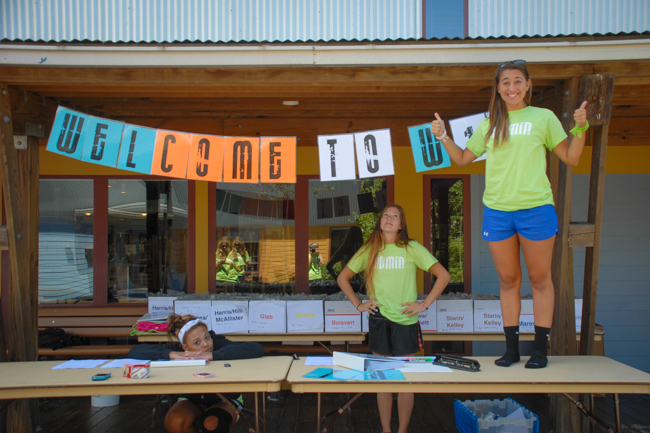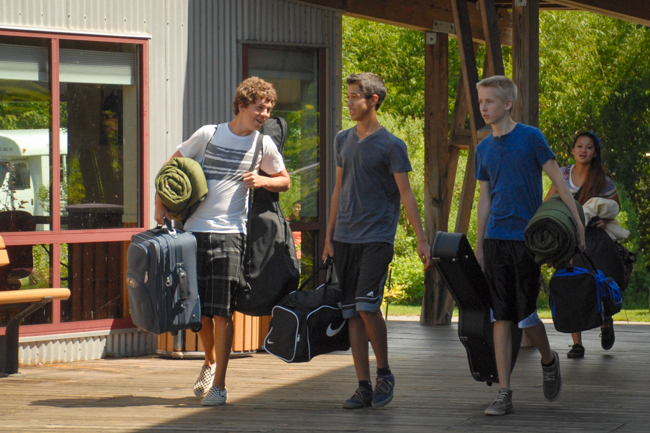 A Worthy13 camper: "At the retreats, talking about God is a natural thing, and I loved being able to bring up the Lord in conversation with my friends, whether we were playing pool or walking on the beach… the atmosphere is so spiritually rich."
"The incredible opportunity to grow closer to God by focusing on Him and spending time with His people at the retreats is not to be passed up."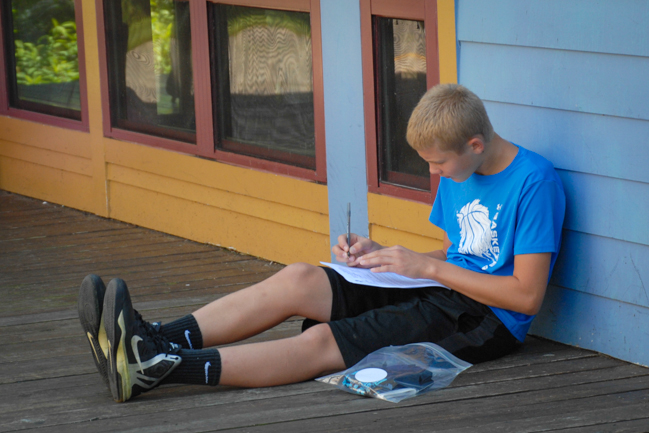 This year, we will be taking time to look at the question, "How will my life change if I actually believe the Bible is absolutely true?"
Each year God meets us in incredible ways through times of worship and teaching, lots of games and times of fellowship throughout the day as we seek His face together.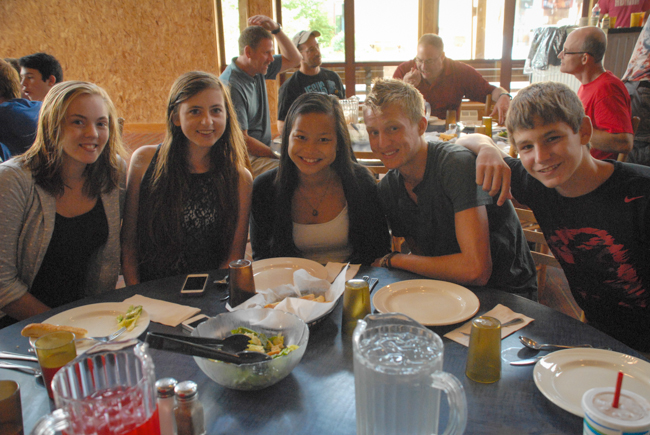 Hip Hop Artist and Speaker, Brian Davis, is coming this year, and will be teaching us along with Jon Smith, Joshua Harris, and of course, Dave Brewer.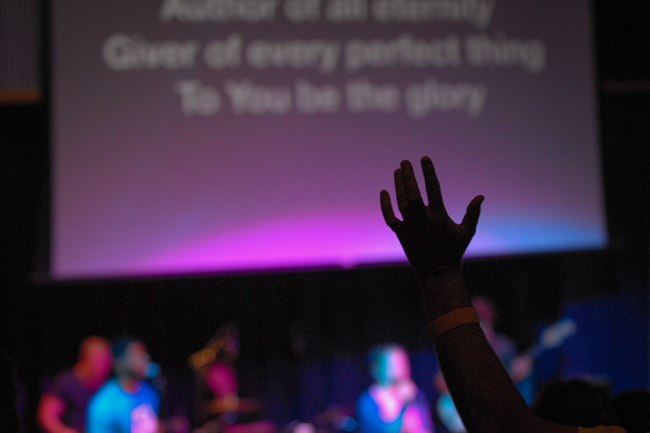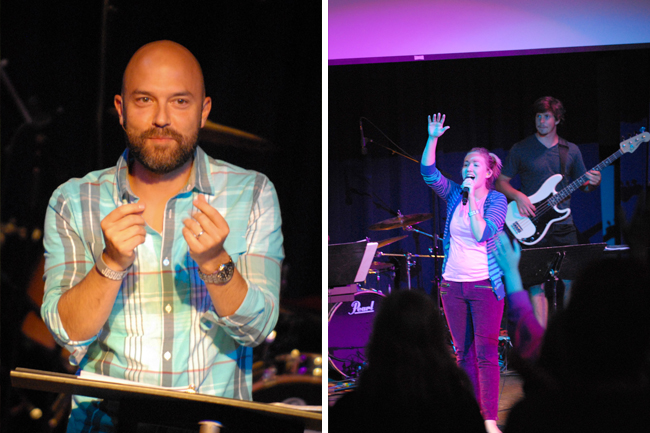 As you've probably heard in their baptism testimonies, every year teens come back with a renewed love for God and excitement for learning about him and loving him more.

We are all about having a good time at Worthy, and you can be sure that you will come away from with awesome memories! We want you to join us, both to have a ton of fun and to be changed for God's glory.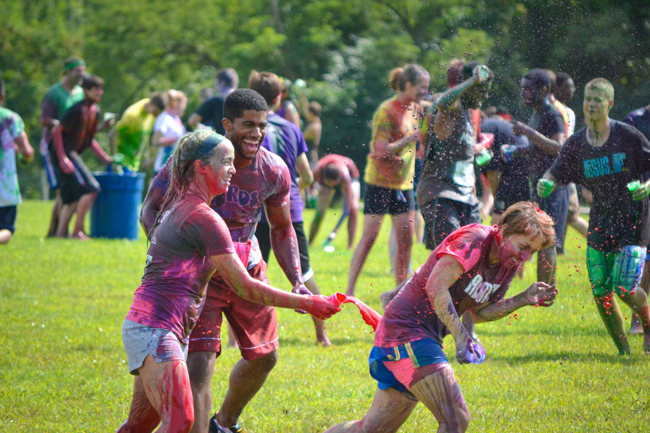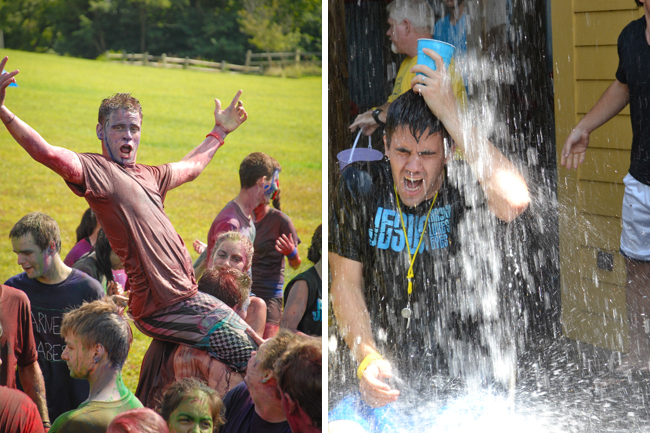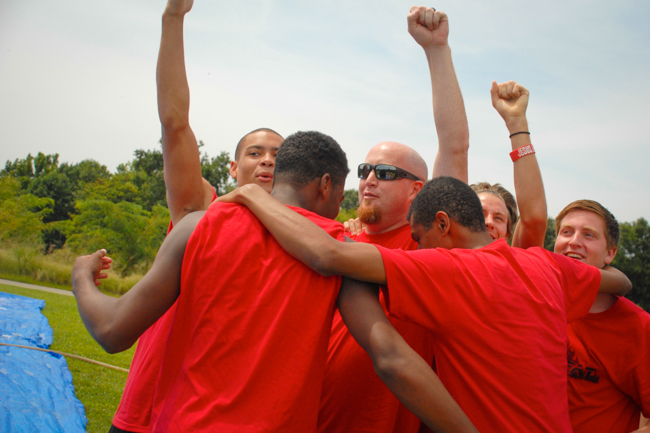 Families that are just visiting Covenant Life or have been attending church but not participating in the youth ministry are welcome to attend.
Registration is open and scholarships are available for those in need of financial assistance. We don't want anyone to be turned away because of the cost.
For more information, please call the church office, or e-mail .(JavaScript must be enabled to view this email address).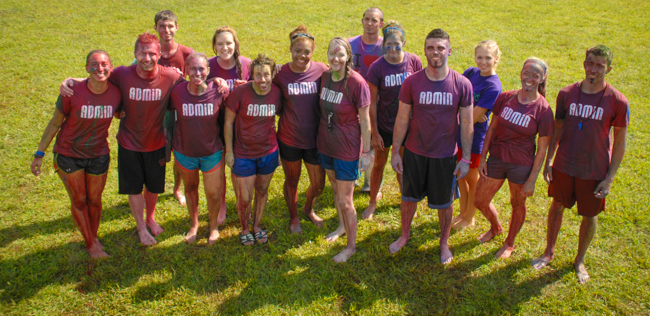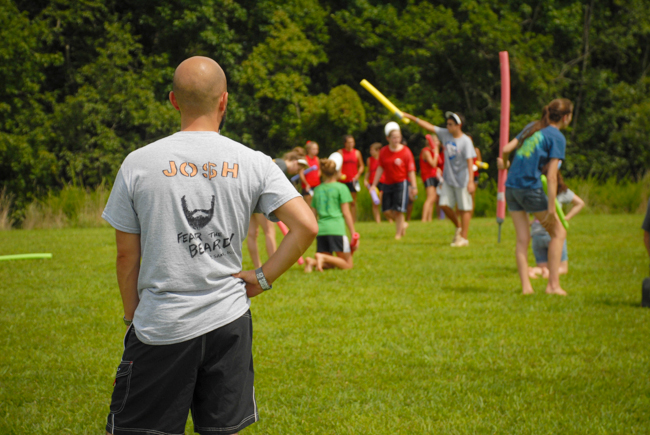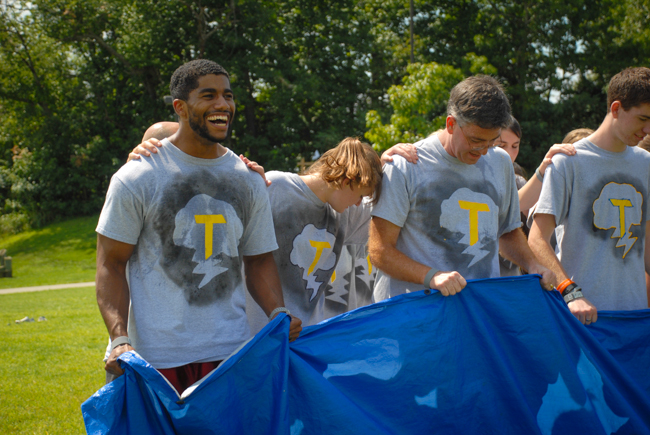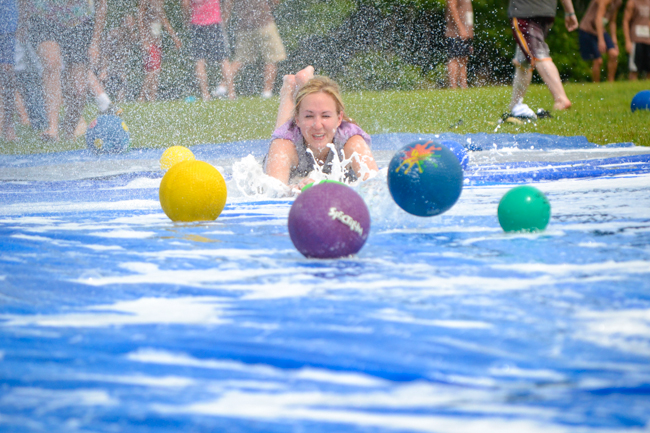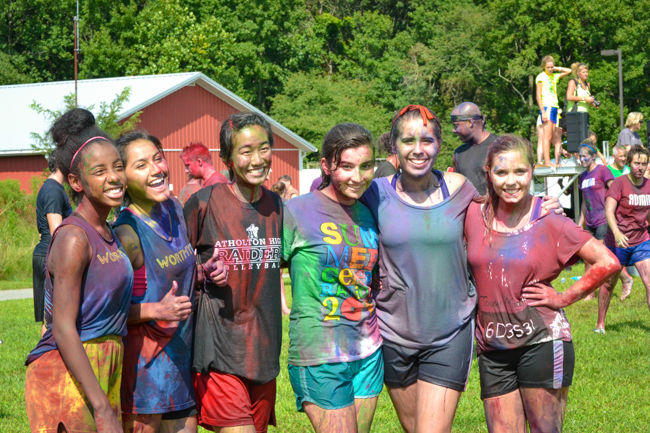 Share this on:
---