May 19 2015 at 4:36 pm
0 Comments
---
To help friends near and far share the day with others, here's the recording of Sunday's program to thank Joshua Harris and family plus a slideshow of photos from the program and reception. Enjoy!
We invite everyone to keep the Harris Family in your prayers as they prepare to move to British Columbia. Here are their requests:
For the Lord to lead us to the right church. And give us real friendships and community.
That our kids would get settled in their new schools, make good friends and grow in their love for God and each other.
That Josh would learn and be stretched through his classes at Regent.
That Shannon would find opportunities to use and develop her gifts in new ways.
That we would learn to rest, wait on the Lord and trust him in a season of uncertainty.
That God would use us to bless the city of Vancouver in some small way and demonstrate the love of Christ to our neighbors.
Share this on:
---
February 20 2015 at 3:52 pm
3 Comments
---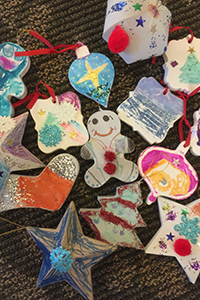 In 2013, Discovery Land changed the format some in the Adventure class (1st-5th grade) and implemented small group table time for the last 20-30 minutes of class each week. The goal was to provide the kids a more personal, hands-on time to interact with that day's lesson through questions, crafts, activities, etc.
That first year (2013-14), a team of 4-5 wonderful volunteer ladies created each week's activities midweek and implemented them on Sundays. It became clear that this was too large a load for volunteers (typically, busy moms with young kids). So we hired Cara Wilcox in October 2014 as our part-time small group planning coordinator. Since then, Cara has made me look brilliant as a hiring manager :)! She has brought fantastic enthusiasm, dedication and imagination to her role. Here are some recent examples of her creativity and outside-the-box thinking: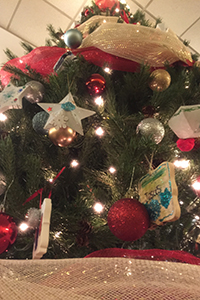 1. To supplement a lesson on being made in the image of God, we rearranged the class schedule so the kids could make thumb imprints on pliable polymer clay discs after the first teaching segment. Then we baked all the discs in the kitchen ovens to harden them while the rest of class went on, allowing the kids to take home their imprint necklaces at the end of class.

2. To supplement a lesson on creation, Cara collected dozens of nature magazines and assigned various small group tables to cut out pictures that represented the amazing variety and beauty of God's creation. Then the kids glued the pictures onto a huge collage sheet that we displayed for kids and parents the following Sunday.

3. To supplement a lesson on the Trinity, Cara had the kids make a simple, yet very effective, Trinity diagram and Trinity pyramid to help kids grasp the difficult three-in-one concept.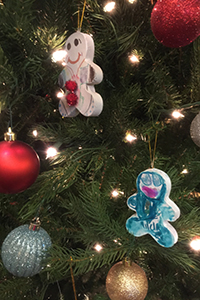 I think the 1st-5th grade class has always offered lots of fun, unique learning experiences for kids. But when I consider where the class was two years ago and where it is today (making and baking 150 polymer clay necklaces in class to illustrate "being made in God's image," I am so excited about the level of hands-on activities that the kids are enjoying to help reinforce the teaching they're hearing from God's Word! Cara, Becky Ferleman, our four once-a-month volunteers who implement Cara's plans each week (Jessica Kendal, Charlotte Deibel, Angela Patarozzi and Dienny Hooper) and many other volunteers have all done a great job in making small group activities happen each week!
—Josh Cooley
Discovery Land Director
Share this on:
---
February 18 2015 at 10:43 am
2 Comments
---
Written with contributions from Beth, Rebecca Duberstein, Valori Maresco, and Sarah Stogsdill. Photos by Pam, Hannah Moore, and Hannah Stogsdill.
If you happened to walk into the church building last Saturday, you were couldn't help but notice the Women's Mission Teahouse, a true cross-cultural experience for the ladies of our church. Beth Kraatz and Hannah Stogsdill led the team that transformed the lobby into a Central Asian Teahouse.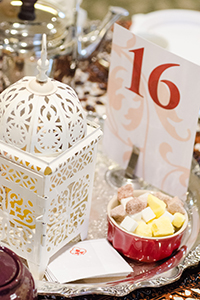 The church lobby was dressed with vibrant colors of tablecloths, oriental rugs, floor pillows, more than 50 teapots and hundreds of teacups, all volunteered by different ladies in the church. It was apparent this event was a labor of love for so many. Close to 200 women gathered and lounged around low tables set with a variety of teas and treats including Turkish Delight, dried fruit, almonds, and pastries. The mismatched china was a perfect reminder of the many different homes that had contributed to make it special. Hannah Stogsdill used her artistic eye to combine all these elements to create a beautiful, inviting space in the lobby for learning and fellowship.
---
"I was blown away by the sense of community I experienced as the women of Covenant Life came together to share their teapots, delicious food, sweet fellowship and prayers." —Beth
---
On the morning of the event, the lobby was bustling with ladies of all ages who had arrived early to help. They were filling teapots, stocking hor d'oeuvres, arranging the potluck dishes on the tables. You could feel their excitement and their ownership of the event.
After a time of worship, a missionary from Central Asia, shared about the many challenges facing the Muslim women she knows in the region where she and her husband live and work, and then led us as we prayed together for God to work in the lives of the women of Central Asia.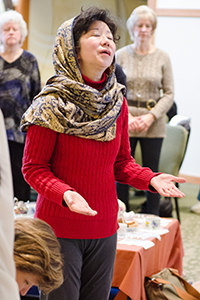 Following the talk, a magnificent buffet lunch of regional foods was waiting, and while eating, we heard about the experiences of the worship team who had recently traveled to Central Asia.
---
"The ladies also enthusiastically answered the call to contribute to the potluck lunch. Covenant Life Church is full of good cooks! Nine tables were practically sagging under the weight of the appetizers, entrees, and desserts these ladies brought. Every dish was unique and so tasty! —Rebecca
---
The testimony of the missionary from Central Asia provoked hearts as she shared about the challenges the women of Central Asia face, but many were encouraged knowing they could help by praying for them. The ladies were also reminded of the number of unreached internationals right here in Gaithersburg, and the opportunity to reach out by extending kindness and hospitality to the unreached in this area.
---
"It was a beautiful environment that fostered fellowship and gave us a glimpse of another culture. Interacting with the ladies there was so uplifting and inspiring to me. The Lord deeply met me during the extended prayer time and I walked away with fresh conviction to pursue evangelism." —Sarah
---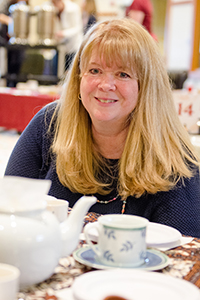 The atmosphere helped the ladies to lift their eyes and see the fields that are ripe for harvest in the community around us. Not everyone can or will go to these fields like the missionaries who spoke, but we can all take part in reaching the unreached. We can pray for those who are far off and about how we can reach the multitudes that God has brought to our front door!
---
"I left both refreshed by a sense of rich community at CLC, and excited to see how God can use that community to extend the good news of Jesus Christ to those who do not know him." —Rebecca
---
The time ended with another talk by a missionary with Global Gates, an organization working to bring the gospel to internationals in our own country. She shared about the amazing opportunity we have to reach women from unreached people groups right here in our community and ended by giving us ideas on how we could be more aware of opportunities around us.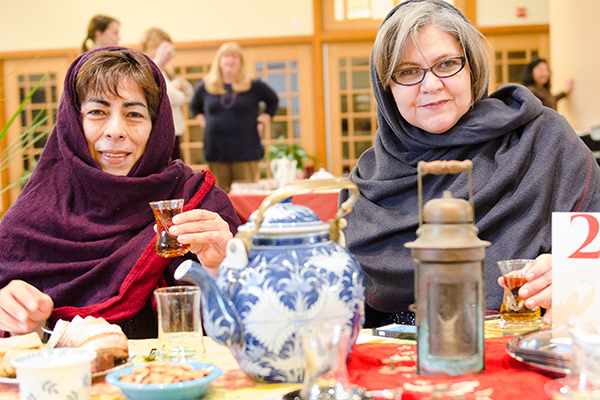 We are so grateful for how the Lord worked through the teahouse! He lit new fires of faith and boldness to reach out and pray for the lost around us, so that all "may believe that Jesus is the Messiah, the Son of God, and that by believing [all] may have life in his name." —John 20:31
Share this on:
---
February 18 2015 at 6:35 am
0 Comments
---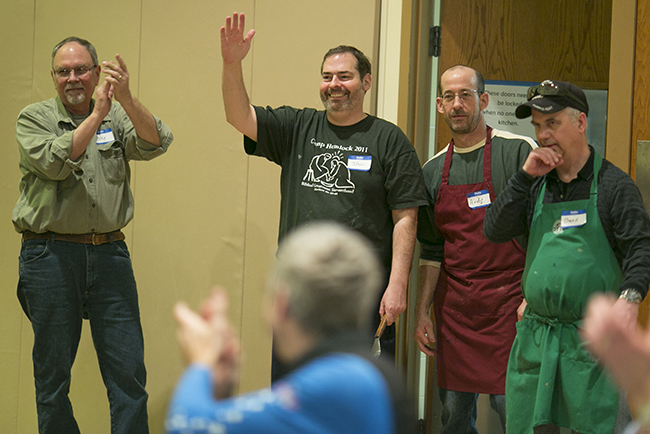 Joe Moorman led the team of men that cooked nine gallons of pancake batter, 60 pounds of bacon, and 560 eggs for the men's gathering on Saturday, February 7. Joe sent us this report honoring their work, and we wanted you to join us in thanking these servants.
If you're interested in joining these men and serving at events like the Men's Gathering, consider joining the Events Team.
I'm very grateful for each of these men, for their level of commitment to the event and how hard they worked, particularly when it looked like we were going to run out of pancakes.
It is a real sacrifice for them to give up most of their Saturday (and some of their Friday night) to serve, and to walk away completely exhausted, with pain in their back and feet. Many of these guys come back again, and again to serve at these big events. It is all of God's abundant grace that he would place on their hearts a desire to spend their lives and strength so generously in this way, when they could be with their families or just resting after a long work week.
---

"I would encourage anyone who feels like they are lonely, isolated or discouraged to actively and prayerfully seek a place where they can serve in this church. The ceaseless outpouring of grace that you experience in the midst of serving far exceeds the cost of your time, talents and efforts."
—Joe Moorman
---
I can tell you with certainty, that serving in this church is singular privilege, and is good for your soul. You experience the grace of deep fellowship, camaraderie and love for the people you serve with, as well as the people you serve. Here are some of the ways these men served sacrificially: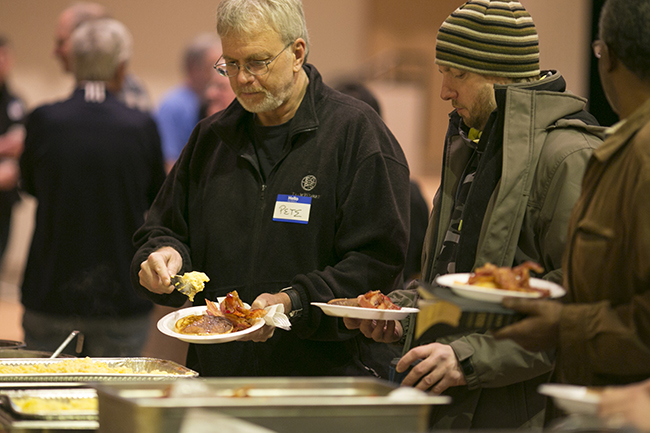 Andy McPhillips - Andy served on Saturday morning and helped in various ways with the bacon prep, the display setup, water and orange juice, and he tirelessly washed dishes during the morning and for more than 2 hours after the event. Because of the bacon there were over 20 greasy bakers sheets that needed to be scraped of fat and hand washed. So, Andy's contributions were invaluable.
John McSweeney - John served on Friday night, helping to prepare multiple buckets of pancake batter and scrambled eggs mix. He also came on Saturday morning and helped to prepare 2 more buckets of pancake batter when it was evident we were short on batter, and he stayed to the end to help with cleanup.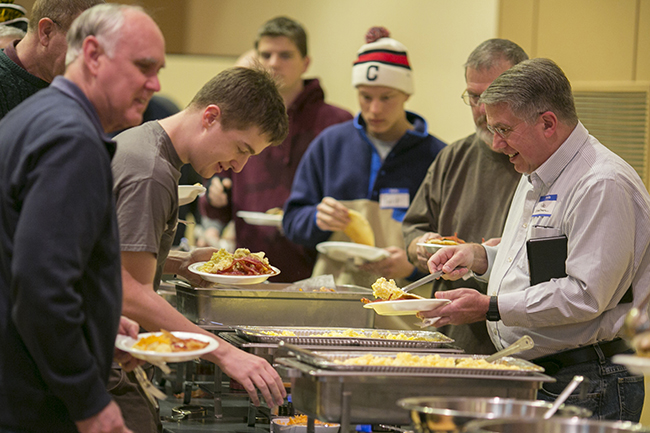 Jim Jones - Like John, Jim also served on Friday night, helping to prepare multiple buckets of pancake batter and scrambled eggs mix. He also came on Saturday morning and managed the preparation of the bacon (a greasy job!) from start (around 6 a.m.) to finish (around 9 a.m.) and stayed an hour after the event to help clean. Jim is the kind of guy that you can count on again and again to show up and joyfully serve.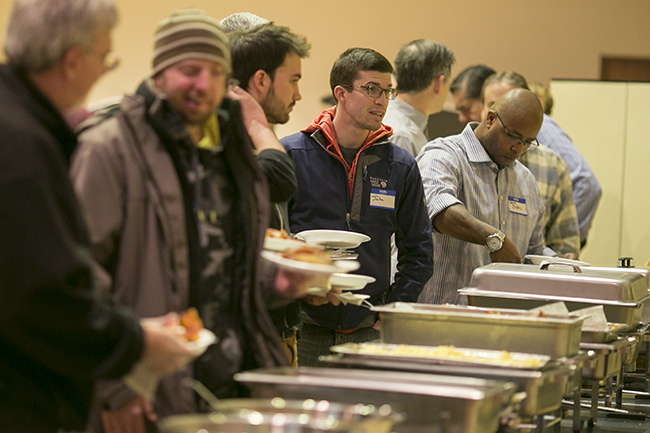 Bob Sardelli and Brad Baxter - Bob and Brad came in on Saturday and managed the pancake preparation from the time that they came in (at 6 a.m.) all the way through the end of the batter (around 9:15 a.m.). Both men stayed late to help clean up.
Lou Stavely was very helpful in setting up the display tables, fruit baskets, coffee sugar and creamer, and getting the coffee started on time and fully deployed. He also worked with Jim breaking open boxes of bacon, putting the bacon on parchment and bakers sheets for Jim (another really greasy job).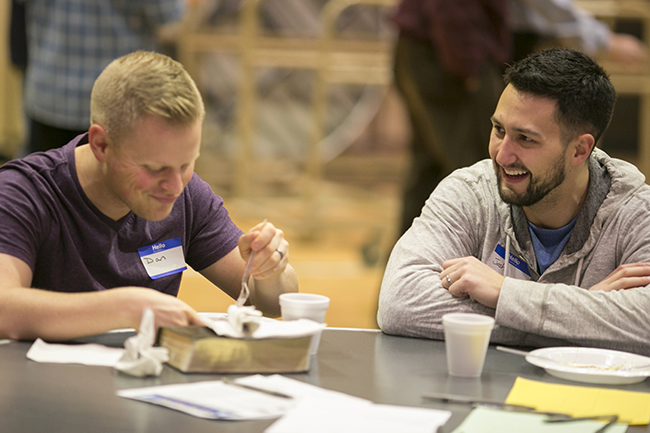 I would encourage anyone who feels like they are lonely, isolated or discouraged to actively and prayerfully seek a place where they can serve in this church. The ceaseless outpouring of grace that you experience in the midst of serving far exceeds the cost of your time, talents and efforts.
If you're interested in joining these men and serving at events like the Men's Gathering, consider joining the Events Team.
Share this on:
---
January 25 2015 at 12:48 pm
14 Comments
---
This post contains the video and text of Joshua Harris' and Mark Mitchell's remarks from Sunday, January 25. Media outlets and others who would like a synopsis: Please see the statement from the Covenant Life elders about Joshua's transition.
Text of Message by Joshua Harris
Covenant Life Church, you are beloved by God. Don't ever forget that. You are not just loved by God, you are greatly loved by God in Christ! And I love you, too. I'm so grateful for you.
I want to start by reading a passage from Matthew chapter 4. It's the story of when Jesus called his first disciples…
Now as Jesus was walking by the Sea of Galilee, He saw two brothers, Simon who was called Peter, and Andrew his brother, casting a net into the sea; for they were fishermen. And He said to them, "Follow Me, and I will make you fishers of men." Immediately they left their nets and followed Him. Going on from there He saw two other brothers, James the son of Zebedee, and John his brother, in the boat with Zebedee their father, mending their nets; and He called them. Immediately they left the boat and their father, and followed Him. —Matthew 4:28-22
I love the simplicity of this story. Being a disciple of Jesus means you follow him. Jesus calls, you go. Leave your boat, leave your father and follow.
Today is not a typical Sunday. I won't be giving a typical message. Instead, I have some important news to share with you about how Jesus is calling me to follow him. So today will be part announcement, part story, and part sharing from God's Word.
Announcement
So I'm going to cut to the chase and start with the announcement: My big news is that later this spring I'm going to step down from my role as lead pastor so that I can go to seminary. The school I'll be attending is called Regent College, and it's on the West Coast in Vancouver, B.C. My plan is to attend for at least a year with a good possibility that I will stay a second year to pursue a masters degree.
Obviously, this is a huge decision and it has significant ramifications for my family and for our church. It has not been an easy decision for me to make. It's been heart wrenching, and there has been much prayer, much counsel and much discussion. In a few minutes, I want to share the story of how I came to this decision, but the bottom line is that I believe Jesus is calling me to do this.
I think he stills calls people to drop their nets and follow him.
I don't know all that the future holds, but I know that Jesus is leading me into a season of recalibration as a leader. I believe my Master wants me to turn aside for a time of study and training.
The Story
So how did I get here? I want to take a moment to share a little bit of the journey that God has had me on—not just the last year but over the past 23 years.
F. Scott Fitzgerald wrote a short story called "The Curious Case of Benjamin Button." (Maybe you saw the movie starring Brad Pitt). It's about a man who ages in reverse—he is born old and with each passing day becomes younger.
In reflecting on my own story, I can't help but think that I have lived a sort of backwards life. Without meaning to, I have experienced life out of the normal order and sequence of events.
At the end of last year I turned 40 years old. Yet it is only now that I am going to school. I haven't completed any post-graduate study. I don't even have an undergraduate degree. In fact, I have never attended a formal school full-time in my life.
I've been on a unique educational path my whole life. For the first 17 years of my life I was homeschooled by my mother. My father was a well-known homeschool advocate who traveled the country teaching parents the biblical principles for and advantages of home education. I was "Exhibit A" of my dad's philosophy that you could learn by doing, be directed in study by your delights and succeed outside of the "system."
At age 17, when most kids my age were going off to college, I started a ministry called New Attitude. I began publishing a magazine and putting on conferences for teenagers. I felt a clear sense of calling from God to speak to my generation and call them to a passionate pursuit of God. When I was 21, I wrote my first book, which met with a good deal of success.
That's when I met C.J. Mahaney, who was the previous Senior Pastor of our church. In C.J. I found someone who understood me and who was willing to train me. He was a charismatic pastor (in all senses of the word) who pastored a mega-church, led a national network of churches, and embraced both reformed theology and charismatic practice.
Like me, C.J. got his start on the conference circuit before becoming a pastor. Like me he had never received formal theological training, and the group of churches he led, which grew out of the Jesus Movement in the 1970s, at that time didn't place a high value on seminary training. So instead of attending seminary before becoming a pastor, I moved into C.J.'s basement, worked as an intern in the church, traveled the country with him and began preaching. It was on the job training and I soaked up everything C.J. taught me.
Seven years after I arrived at the church, I was set in as the hand-picked replacement for C.J. I was 30 years old, with no formal theological training and no formal training in organizational leadership, and I was the Senior Pastor of a 3,000 member church. That my friends is a crazy, backwards life!
The plan was for me to be the pastor of Covenant Life with C.J. as the apostle over our church and our movement. I'm not going to go into the story of how that plan got derailed. But suffice it to say there were serious flaws in this structure and from the earliest moments of my tenure as Lead Pastor there was tension and great difficulty behind the scenes.
I recount this story not to criticize C.J. We've all learned a lot and would do certain things differently now. I want you to know I'm grateful for the way God used C.J. to lay the foundations of this church in the gospel. We've had our disagreements, but I never want to forget all the ways God has used him to be a blessing.
Two weeks ago I shared a sermon about the life of Joseph from Genesis 50. That was a very personal message for me. It is a great comfort to know that God uses difficulties for his glory and our good. So I don't look back with regret on how things have worked out. I see the hand of God.
If I had been seminary trained with established convictions about church polity, pastoral leadership and other topics, I don't think I would have been chosen to lead our church. (I might not have accepted the job!) But I believe that it was God's purpose for me. I think it was God's will for me to lead Covenant Life over the past 10 years—through all the challenges that we've faced. I don't regret that for one minute.
And even though these past four years in particular have been painful and difficult, I believe that everything—stepping away from Sovereign Grace, the pruning of our church, strained relationships and even the lawsuit—has all been used by God to refine us. God has used it for good.
We have needed to repent and change in many ways and that is an ongoing process. God is a good Father and he disciplines those he loves. Boy, he must love us something fierce!
But really … can anyone look at the crazy sequence of events that we've faced and not say, "God is doing something!" I know our heads are spinning. I know it feels like too much. But God is transforming so much. We're like an overweight guy who goes to the gym. It feels like the trainer is killing us, but we're actually just getting healthy. It might be painful and we might ache, but this is the road to good health.
People can look at the last few years and say, "It's so sad that Covenant Life has gotten smaller." I don't view it that way. God's kingdom hasn't gotten smaller. I think he's been scattering us for the sake of kingdom advance. New churches have been started. And I say God bless and grow every one of them. And there are hundreds of former members who are attending other established churches across this county. And I say, "Lord, use them to bless and grow those churches and give us all a kingdom mindset that yearns for the glory of your name alone in this city!"
God is doing something wonderful. But it's been hard because the change isn't fast enough for some people and it's too much for others. But at the end of the day, our Father is transforming and refining his beloved children.
He doesn't waste these kinds of challenges on his kids.
He's redeeming and healing. He's changing wrong thinking. He's forcing us to clarify vision. He's pushing us out into our community. He's giving us a heart for the nations. He's unleashing members to lead ministry. He's teaching us how to work together as members and leaders.
Think about this: Last week for the first time in our history we voted to affirm our elders. Do you realize what a step forward that is? Ten years ago I was made the new Senior Pastor, and you had no say in that. Zero input. No, we've not arrived yet, but we've come a long way. And God is still at work.
Personal Story
But here's where my personal story intersects with the story of our church. This is what I'm realizing: I need to hear clearly from Jesus about his purpose for me. Losing my mom a few years ago and turning 40 has been a gut check for me. I'm asking, "What does it mean for me to be faithful to God's purpose for me in the remaining years I have?"
I'm realizing that everything that I've learned about leadership, pastoral ministry, and much of the Christian life has been in one context. It's all been here. While I'm grateful for some of that, there is a lot that I've realized needs to be evaluated and changed (and that's hard to do while you're leading). I've been trying to grow and change, but there's a lot of muscle-memory when it comes to leadership. I believe that to be fruitful for the next stretch of my ministry, I need to step away from the responsibility of leadership and learn in a different context.
I love this church so much, but it's not enough for me to just keep serving in this role because it's what people expect. I've had many people over the years tell me what God's purpose for my life is. But I'm learning that only Jesus can place a call on my life. I can't live someone else's plan for my life. I can't even live my plan for my life. I need to live Jesus's plan for my life.
In the last four months I've been doing a lot of soul searching. I've been asking questions that I haven't asked in a long time: What are my best gifts, and am I stewarding them well? Who has God called me to be? What do I actually want to do? What desires has God placed in my heart? And am I best suited for the role that I'm in?
All this has led me to the decision to make this change at this time. It breaks my heart because I love you, and I don't want to hurt or disappoint you. But the challenges of the last few years have left me drained spiritually and emotionally. I've realized that to press forward right now would be a disservice to my own soul and ultimately to the church I love.

I'm convinced that to be faithful and fruitful for the long haul, I need a season of recalibration. I need a time of retooling and training. I've been in public ministry for 23 years, I've been on staff here for 17 years and have served as lead pastor for 10 years. In that time I've never set aside time for focused study. I need a season of being poured into, a time of interacting with different thoughts and ideas, a time of gaining perspective and fresh vision.
I realize that some people will think this is the worst possible time for me to make this change because of all that we've been through as a church. And I understand that. And it's something that I've wrestled with.
What I want you to hear is that I don't just think this is the right decision and timing for me. I believe it's best for our church overall.
Now is a time for healing, for rebuilding, for alignment of vision, for clear leadership and for moving forward. But because of all that God has been doing in me internally, I know I'm not the person to lead this rebuilding. I believe God can provide someone well suited for this good task.

Dialogue with the Elders
I want you to hear the counsel that I've already given the elders. This will be their decision to make, but my encouragement is to pursue a seasoned, godly pastor from outside of Covenant Life and Sovereign Grace circles. Just as I need a season of recalibration, I believe our church would benefit from someone bringing fresh insights and fresh perspective. I want this for the members of this church, but I also want this for our pastoral team. These men have been so faithful through so many challenges, and I'm jealous for them to be cared for and led by someone with fresh legs who isn't carrying the burdens of the last few years.
Together as elders we've made the decision to begin a thorough search process that will involve the congregation for finding a new permanent lead pastor. Obviously this will be a lengthier process. But in the meantime we're going to pursue more quickly a man who can step in as an interim teaching pastor. Again, I believe our church would benefit from someone who can come and minister grace to this church as he teaches God's Word. A main part of my work over the next few months will be participating in the process of finding this man. Please join me in praying for God to provide.
I want to say a word about the elders of our church. I want you to know how much I love and support these men. They are my dear brothers. They love Jesus and his people and are going to keep building this church on the truth of his Word. They are good gospel-men—full of wisdom and the Holy Spirit. You're going to be well served. And I'm excited to see how God is providing more elders in the men who have been nominated to be non-staff elders. I want you to know I voted to affirm every one of them. I am confident God is going to use this group of faithful, godly elders to lead Covenant Life forward.
The elders have loved me and my family through this season. Last summer during a real low point, they sent Shannon and me away to receive counseling—something that greatly served us. They have expressed their support of us, and they have told us over and over that they want us here at Covenant Life.
And most meaningfully, they have expressed their support of us following the call of God. And that has been an incredible blessing to us.
Key Scriptures
I want to take some time to briefly share a few a passages from Scripture that have been shaping, guiding verses for me in this season.
Matthew 4:19 "Follow Me"
Jesus said, "Follow me," and the first disciples left everything and followed. It's hard to explain, but that's what I feel is happening for me. It's scary and exhilarating all at the same time.
Up until six months ago I had literally never considered doing anything but being the pastor here. I had my life neatly planned out. So my first response to Jesus calling me was, "I can't follow you, I'm a pastor!", Isn't that a great response to the Lord of heaven and earth? "You can't change the plan."
Friends, Jesus is Lord. He isn't bound by our neat plans. He isn't impressed by our neat plans. He will have his way. No matter how long we've been a Christian we should all be ready for him to redirect and upset our plans for his bigger purposes.
Galatians 1:17-18 – "After Three Years"
Another verse that has stood out to me is Galatians 1:17-18 where the Apostle Paul tells the story of his conversion. It's a short biographical detail. He says, "I went immediately into Arabia and later returned to Damascus. Then after three years I went up to Jerusalem to get acquainted with Peter." (NIV)
I often forget this about the Apostle Paul's story but after he was converted he took time away—time in the desert—to prepare for God's call on his life.
Even with all his knowledge of the Old Testament and training he went into the desert for three years to learn directly from Jesus before he launched into his apostolic work. I've been in some form of ministry for 23 years but I've never set aside time for focused study and I think that's been a weakness in my ministry.
I'm not Paul, but in the days ahead I believe God wants to use me in new ways to speak to this generation. He's giving me a heart to influence the broader body of Christ and the broader culture. I don't know all that will entail—but I believe I need to begin with a time of preparation.
I read a quote by Abraham Lincoln that challenged me. He said, "If I had eight hours to cut down a tree I'd spend six hours sharpening my ax." I believe Jesus is calling me to do some ax sharpening.
Isaiah 30:15 "Returning and Rest…"
Another theme verse for me has been Isaiah 30:15 that says, "In returning and rest you shall be saved; in quietness and in trust shall be your strength." I believe God is leading me into a transitional season marked by "returning, rest, quietness and trust."
I want to reflect on each of these words:
Returning: The word can also be translated "repentance". I love what that tells us about repentance. It's always a turning back to God—a turn back to relationship and intimacy. I believe God wants me to return to my first love. In some cases to repent of wrong ways of thinking.
Most importantly to find my sense of passion and identity in him alone—even before my work and ministry position. I need to turn away from living someone else's story and embrace his unique purpose for my life.
Rest: School is going to be work, but overall I think this is a season of rest for me and my family. This is like a Sabbath year for us. It's a time to rest from the demands of senior leadership.
I've been in the grind of hyper-speed ministry and leadership and crisis-management for a long time. And it's taken a toll on my soul and my family. I need this rest in order to continue to be fruitful.
Quietness: Quietness is not easy for a preacher. We like to talk. But part of knowing God and having faith in him is realizing that our busy activity and words are not the answer. Lamentations 3:26 says, "It is good that one should wait quietly for the salvation of the Lord." I believe God is calling me to learn to be still, to quiet my heart before him and trust in his provision for my future.
Trust: Rest and quietness are both expressions of trust. Making a change like this takes a good deal of trust. I don't know what is on the other side of this season of study. I'm needing to trust God financially, for my family and for my future.
But the biggest area that I've needed to trust the Lord is in regard to the church that I love. It's been hard for me to consider going because I don't want to cause more disruption and challenge for our church.
But God has given me a great sense of peace and trust that he alone can carry Covenant Life. But it's even more than that. I believe that as I surrender to his purpose, as I let go, he is going to accomplish a purpose that he can't with me in this role. There are places he wants to take Covenant Life that I can't lead in.
He wants to use other men. I need to entrust this church to the Lord. I know he will be faithful.
Conclusion
Mark is going to come in a few minutes and share on behalf of the elders. Please pray for and love and support this man. He's working so diligently.
A few more side notes before I close…
First, I want to ask you to use this moment to press toward the Lord in prayer. Next month I want to call us to a focused season of prayer and fasting—asking the Lord to provide what our church needs, to build us into him and to continue his good work of reformation in our midst. Church, I want to challenge you to be who you are: you are the body of Christ. Our church is not about one man, or about the pastors. Our hope is Jesus. People have said to me, "People will leave if you leave." I just want to say, please don't do that without seeking the Lord. I hope you'll stay. Please don't make your decisions about any church based on one man. I want to ask all of us to join together in waiting on the Lord and seeing how he wants to use this moment for his greater purposes in our midst.
Second, there are going to be a million opinions about all this. Everyone is going to become a commentator and expert. And then people are going to just plain make up things. Please don't help spread drama. I'm not being pushed out of my position. I'm making this choice. I'm not leaving because of disagreements. So if you have a question come ask me or one of the elders. We're happy to answer your questions. Please don't speculate or pass on rumors. Let's spend commit ourselves to prayer.
Third, I understand it's going to take time to process this. I invite your thoughts. It's okay if you disagree with me. It's okay if you're upset with me. I pray that you'll come to a place of being able to support and bless me as I follow what I believe Jesus is calling me to. And if you're happy that I'm going please just pretend that you're sad.
Practical Answers to Questions…
First question: Why Regent? We love Regent's vision to train all Christians (not just pastors) to integrate faith with all of life—the marketplace, the arts and culture. We like the fact that it's not a denominational school—Christians from all over the world and from many different church backgrounds and vocations come to study there. We want to be an environment where we'll be exposed to many diverse perspectives and viewpoints. Regent has been shaped by men like J.I. Packer, James Houston and Eugene Peterson who we deeply respect. And good friends of ours attended Regent and described it as a place that helps people discover their identity in Christ apart from what they do vocationally—and that's very appealing to me.
Second question: When are we moving? Our family's plan is to move in June. So I'll be serving on staff through mid-April but here in our church community through June. (Josh Cooley has informed that I have 17 years of Discovery Land volunteering to make up for!) But through mid-April I'll be working closely with our teaching team and leadership team to make the transition smooth. I'll be here on Sundays, but much of what I'll be doing will be behind the scenes helping with the search process for the interim teaching pastor. I'll be working with the elders to make this transition as smooth as possible.
Covenant Life, I am so grateful for you. This is such a bittersweet moment for me and Shannon. We love you! God has given me such a deep affection for you, and that will never change. And we want to keep strong ties of friendship and gospel-camaraderie for years to come. We want to stay connected.
I realize this is challenging and that a change like this is difficult. But I also believe so strongly that God is in this. Jesus is the Good Shepherd, he is the Chief Shepherd of Covenant Life. Let's rest in his care and let's continue to follow him.
---
---
Remarks by Mark Mitchell on Behalf of the Elders
Dear friends, I'm just going to share a few things on behalf of the elders, but the first thing I just want to acknowledge is ... There are probably a wide variety of feelings out there right now. Some may be feeling shock or a sense of disbelief, an appropriate sadness because of what you've heard this morning, and we just want you to know that we understand. You know, the vast majority of you came in not expecting to hear this news ... and the pastors have had time to interact with Josh ... we've spent quite a bit of time just praying together and talking together. So we've had time to process our own emotions in this, and we know it's going to take time for you as well.
Josh is our dear friend and brother. We love him and his family very, very much. He has invested in our church for 17 years, and for 10 as our Lead Pastor, and we are immensely grateful to God for him and his ministry.
• He's taught us, he's cared for us, he's nourished us from God's Word on countless occasions. Josh has been delighted to share not only the gospel of Jesus Christ with us, he's shared his very life with us. He's been humble, he's been real, he's been so relatable. You know ... Josh, as we all know, has a way of preaching and interacting that just makes it feel like he can connect with anyone. And we've so, so appreciated that.

• His pronounced gifts of writing and teaching have been used by the Lord to bless countless believers throughout the world. 
What a blessing it's been for us to have him week after week as our Lead Pastor.

• Under the headship of Jesus Christ, he has led us as a congregation with courage, humility, great compassion and perseverance. He has lovingly guided us through the difficult challenges of the last few years as a skillful shepherd. We all owe him a debt of gratitude. He's been a gracious gift from the Lord to us all!
So we're going to miss him. We're going to miss him dearly.
For the last 17 years, the Lord has entrusted him to us—to befriend him, learn from him and serve together with him in the ministry of the gospel. Now it's our privilege to entrust him and his family back to the Lord. As much as we all want him to stay, he's not ours to keep. Our heavenly Father and sovereign Lord is calling him to move on to his next post.
It's clear to Josh and it's become clear to the elders that the Lord Jesus is calling him into a season of training and equipping in a different context. And we want you to know that all the elders fully support Josh as he's seeking to follow Jesus Christ. He has our full blessing, affection, prayers, and support as he leaves to attend seminary. We've spent many hours in conversation with him and, as we've prayed individually and together, we believe our faithful, and sovereign Lord is orchestrating these changes for his glory and our good. Though it's sad for us, both Josh and the entire team of elders are confident that this is God's good and loving plan for the Harris's and for Covenant Life Church.
We really do believe the promise of Romans 8:28 that for those who love God, all things work together for good. We can be honest. It doesn't feel good, certainly not at this moment. And it may take us some time to see the genuine good that the Lord means to bring about, but he is faithful to his promises and he's faithful to us as his covenant people. So let's trust him. Let's trust that the Lord will care for us as we process this transition together and let's trust that he has good plans for the future of Covenant Life. Jesus is the head of this church. We are his body. And though we don't understand all his ways, we do believe he is leading and guiding us as our good Shepherd.
In the Lord's providence, next week we'll be installing nine non-staff elders and one staff elder to join our pastoral team. These men are a gift from God to help lead Covenant Life at this unique time in our church history. They are godly men, who are full of the Spirit and wisdom and I'm eager to have them join the Board of Elders as we serve you. And I want to say something about our current pastoral team.
These men love you with all your hearts. They pray for you regularly, they carry you on their hearts, and they're dedicated to serving you. Make no mistake. We are weak, fallible men. In light of the last few years, we don't have to convince you of that. Therefore, our ultimate hope can't be in men – not in a lead pastor or a team of pastors. Our hope must be in our gracious and sovereign God whose steadfast love for us never changes.
Josh's Transition
As Josh has said, he is not sure what the Lord has in store for him after he attends Regent College. We want to pray as the Lord has taught us, "Your kingdom come. Your will be done." Regardless of how the Lord chooses to use Josh in his kingdom, we look forward to maintaining our relationship with him and benefitting from his ministry, as the Lord leads.
In the meantime, Josh is still here. He'll continue to preach and serve as our Lead Pastor until about mid-April. He and I will continue to work closely together with the elders, to lead the church forward. Josh's strong desire is to finish well and to do all he can to love and serve Covenant Life as he prepares to transition to seminary. I so commend him for that.
After April, he and his family will continue to attend Covenant Life until they relocate sometime in June. So we still have plenty of time to interact with him. And we'll make sure that as a congregation, we have an appropriate occasion to send him off.
Future Leadership
Regarding the future leadership of Covenant Life, we're going to do two things:
First, we've put together a plan to establish a Lead Pastor Search Team. This team will be made up of staff and non-staff elders, as well as other members of the congregation, both men and women. The Search Team will meet with groups of members of the church for input and they will assist the elders in finding and assessing potential candidates. We anticipate the Search Team will begin meeting in March, so they can benefit from Josh's input before he leaves. We'll share more with you about this later this week.
Second, as Josh mentioned, we're going to begin right away to seek the Lord for an Interim Teaching Pastor and Josh will play a significant role in this. Our plan is to connect with a number of pastors and leaders in the body of Christ to seek their help in identifying potential candidates. We trust that as we seek the Lord together as a church family, he'll provide the right person at the right time to meet our needs.
Immediate Priorities: Pastoral Care and Prayer
Going forward, we have two immediate priorities – to care for one another and to seek the Lord in prayer together.
Starting this week, the pastoral team will be reaching out to connect with as many of you as we possibly can. We'll be visiting care groups, setting up times to meet with you and providing other contexts to talk and pray.
Second, as Josh mentioned, we're going to begin a focused season of praying together as a church family. As we humble ourselves and seek the Lord together, we believe he's going to meet us with his wisdom, guidance, power and grace. We look forward to seeing what the Lord's going to do as we seek him together.
Conclusion
In just a moment we're going to turn our attention to the Lord in song. But before we do, let me close with these words from Lamentations 3.
Lamentations 3:24–25, 32 (ESV)
24 – "The LORD is my portion," says my soul, "therefore I will hope in him."
25 – "The LORD is good to those who wait for him, to the soul who seeks him."
32 – "… though he cause grief, he will have compassion according to the abundance of his steadfast love"
[A pastoral prayer by Robin Boisvert and congregational singing followed.]
Media outlets and others who would like a synopsis: Please see the statement from the Covenant Life elders about Joshua's transition.
Share this on:
---
January 25 2015 at 11:45 am
3 Comments
---
News Release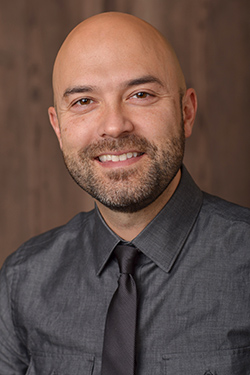 During Sunday services at Covenant Life Church this morning, Joshua Harris announced that later this spring he will step down from his role as lead pastor of Covenant Life Church in order to attend seminary at Regent College in Vancouver, B.C. Currently, he plans to study at Regent for at least a year.
As preparation for fruitfulness in the next years of his ministry, Joshua believes he needs to step away from the responsibilities of senior leadership and seek to grow through formal studies.
As the elders of Covenant Life, we wholeheartedly support Joshua in this decision. We are excited for him and the ministry opportunities we expect God will open for him. He has served the people of Covenant Life with faithfulness and distinction for 17 years, always pointing us to the glory of God revealed in the gospel of Jesus Christ. Therefore, our unbridled enthusiasm for Joshua's future is mixed with a deep sense of loss and sadness to see him go.
Joshua will be actively involved here through mid-April in his roles as elder and preacher and will then continue to participate in Covenant Life as a member until he relocates in June. He will go west with the love and blessing of the elders and congregation of Covenant Life. We look forward to maintaining our relationship so that we can continue to partner as the Lord leads.
The Elders of Covenant Life Church
Full video and text of Joshua's remarks are available here on the blog.
Share this on:
---