August 19 2014 at 8:59 am
0 Comments
---
Jesus had a busy, difficult life.
From the moment he was baptized and stepped into the public eye, the Messiah rarely had any time alone. If he wasn't teaching huge crowds or performing amazing miracles, he was spending time with his disciples or dealing with constant attacks from Israel's hateful, faithless religious leaders.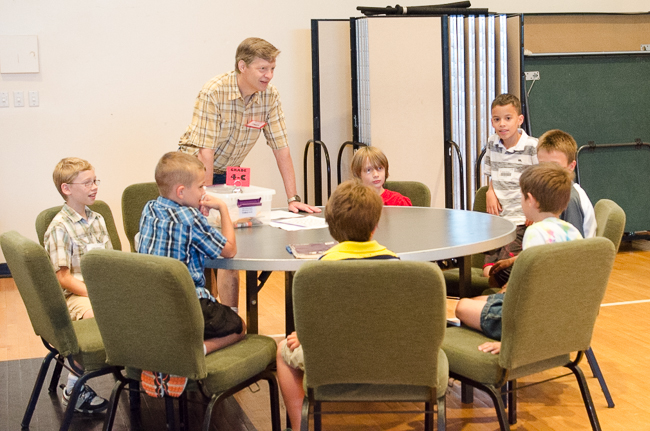 But Jesus always made time for children. Consider the accounts of Matthew 19 and Mark 10. In the latter stages of his earthly ministry, Jesus left his home area of Galilee, traveled south into Judea and crossed the Jordan River. Large crowds followed him, wanting to hear his powerful words and see his remarkable healings.
Then the Pharisees showed up. These hypocritical leaders and Old Testament law experts were always trying to trap Jesus in his words. On this day, they tested him with a random question about the lawfulness of divorce.
After a lengthy, contentious conversation—and then a follow-up discussion with his slow-to-understand disciples—it would've been perfectly understandable for Jesus to want some time alone. But then people began bringing little children and infants to Jesus so he could bless them. Jesus' disciples tried to shoo the children away. They considered the kids a nuisance.
But Jesus rebuked his disciples and then spoke some of the most beautiful words in Scripture: "Let the little children come to me and do not hinder them, for to such belongs the kingdom of heaven" (Matt. 19:14). Then he gently laid his hands on them and blessed them.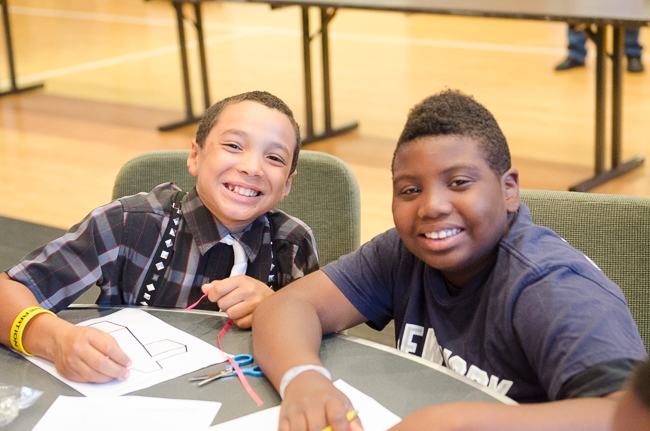 Jesus clearly loves children and places a high value on them. His heart toward children reflects the intimate care God the Father shows for each individual life (Ps. 139:13-16). He used children as an example of the simple faith and humility that Christians are to emulate. And he issued a stern warning to anyone who would harm a child (Matt. 18:6).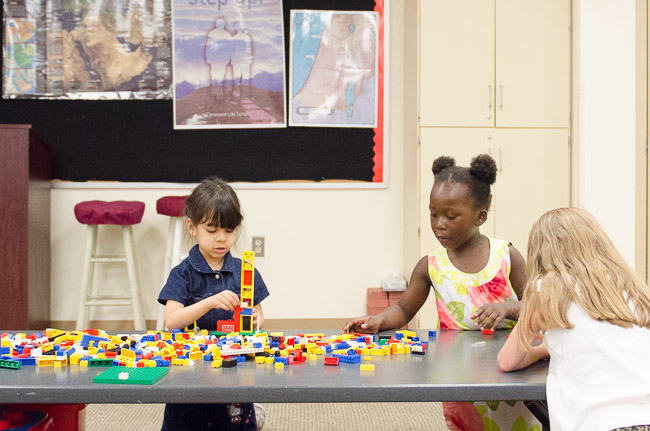 Jesus' joy around little ones is instructive. If the eternal, all-powerful Son of God has a tender heart for children, we should, too. As a member of Covenant Life, one of the greatest ways you can mirror the Savior's love for children is by serving in Discovery Land. Jesus didn't let busyness and other responsibilities keep him from loving the next generation, and neither should we!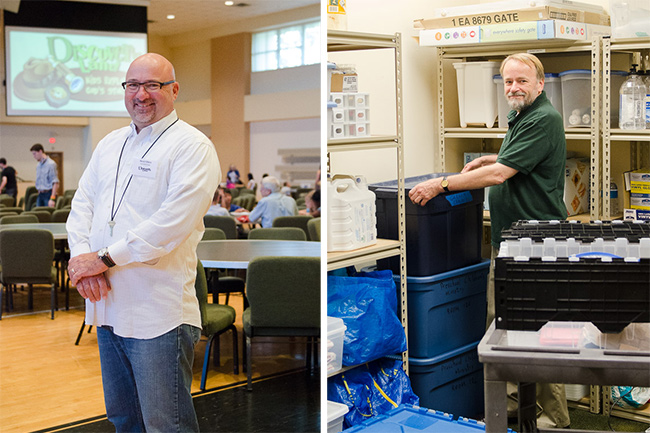 No matter what your spiritual gifts are, there's likely a place for you in Discovery Land. Visit the website for a list of available positions. We still have a great need for volunteers in most of our departments.
There is great joy in caring for little ones and teaching them about the Savior! But don't just take our word for it. Here are a few testimonials from some current volunteers:
"I appreciate serving on the Safety-Security team for the joy it brings, to know you are serving the children, the church and the Lord in a practical way. It seems to be comforting to the parents to know we are there to help protect the children, to give directions or be helpful in other ways as needed." —Scott Bates, Safety-Security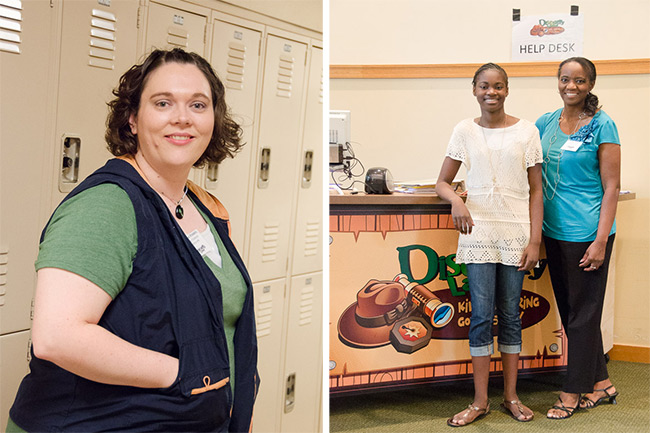 "Serving in Discovery Land worship is awesome! When the kids first come in at age 2, it's just blank stares (and some crying), but by the end of the year, many of the kids sing along and with enthusiasm. It's been a blessing to watch these kids grow and develop a joy for praising God!" —Paul Kim, Traveling Worshipper in Discover (ages 2-3)
"Serving in Discovery Land has strengthened my faith to overcome my weaknesses. I have learned how to humble myself (e.g. listen more than speak), be patient and show compassion towards the little ones in different situations. Serving with kids is a wonderful experience!" —Kartika Dougherty, Adventure (1st-5th grade)
To sign up to serve, please contact .(JavaScript must be enabled to view this email address). Don't let this opportunity pass you by. There is much joy in letting the little children come to Jesus!
Share this on:
---
August 11 2014 at 1:23 pm
1 Comments
---
At 7:30 every Sunday morning — as plenty of folks are hitting the snooze button and the low-lying sun is still casting long shadows across dewy fields — the ceiling lights flicker on in the Events Center at Covenant Life Church. The first Discovery Land volunteer has arrived.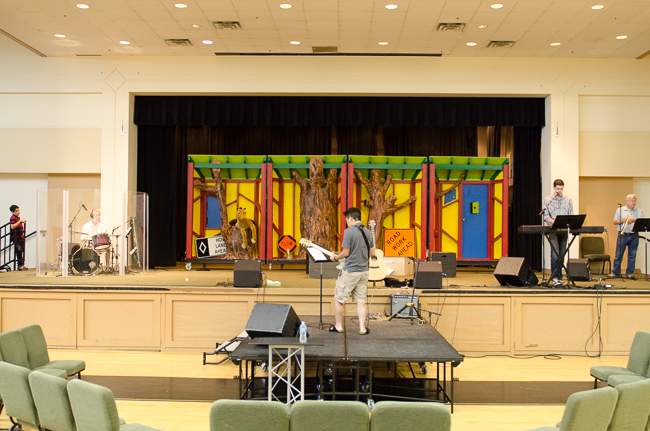 With the service still 2½ hours away, one of four monthly band leaders starts preparing for the day. Soon, the other band members join him, and the group begins preparing their equipment to lead 150 bouncy 1st-5th graders in live, loud worship music in the Adventure class later that morning. After they get in tune, lyrics, drumbeats and guitar rhythms begin to fill the air.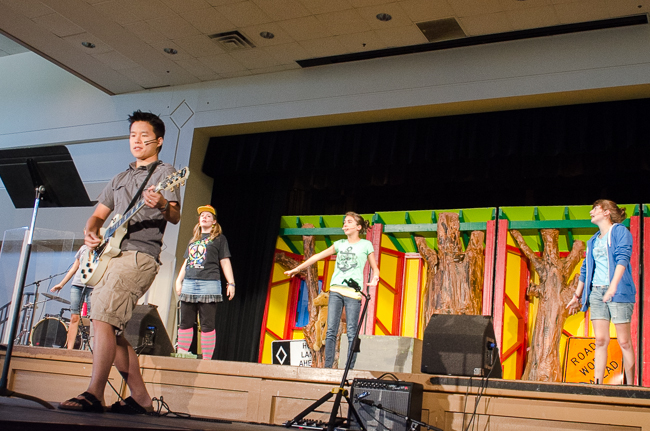 Discovery Land is the largest ministry, by far, at Covenant Life. Each week, 300-350 children ages 0 through 5th grade enter its classrooms. It takes 600-plus volunteers — roughly 150 per week — to staff the 16 childcare rooms on two floors and the many other departments within children's ministry. In military terms, a battalion of Christian soldiers is needed to effectively care for the precious little ones of Covenant Life!
And it all starts early each week — much earlier than Sunday, in fact. Midweek, there are volunteers who launder nursery smocks, purchase supplies at Sam's Club, plan lessons, select worship songs that fit the weekly teaching theme, create small group activities, write Tree House Gang scripts, direct Saturday evening Tree House Gang rehearsals, send out informative e-mails, and much more.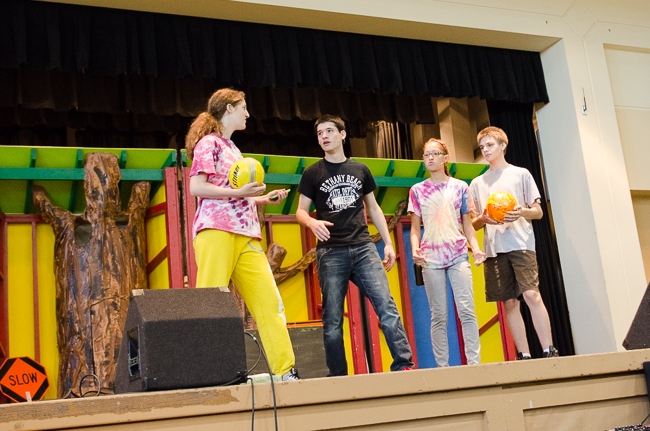 Back to Sundays … As the band sets up onstage in the Events Center, a small group of singers warms up their vocal cords in the Discovery Land office. Before long, they'll join the Adventure band to rehearse that day's four-song set.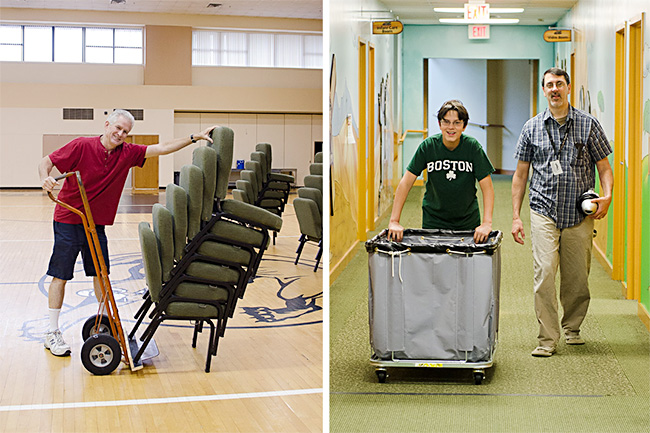 By 8 a.m., as rehearsal music echoes throughout the building, the supply team buzzes through the hallways. This amazing team of truly behind-the-scenes servants makes sure each Discovery Land classroom is stocked with all the necessary supplies — everything from diapers to saltine crackers to coloring sheets to double-A batteries for bubble-blowing machines.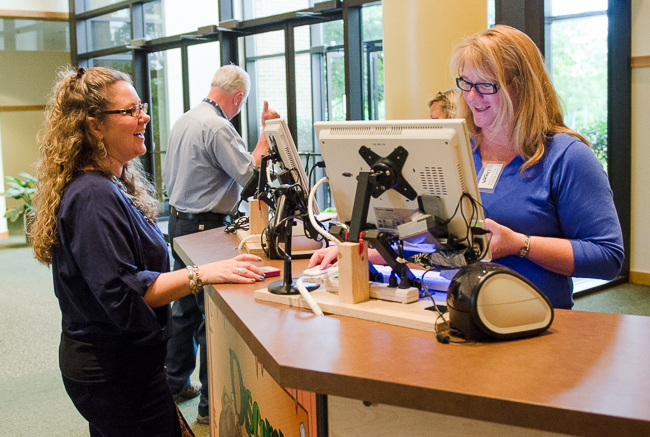 By 9 a.m., the building is really humming. The church's IT team is powering up all the automated child nametag printing stations and check-in machines. Welcome center volunteers have arrived in advance of the day's first families. And the Events Center is in full swing, with the worship team making way for a final Tree House Gang rehearsal and tech volunteers diligently keeping track of microphones, sound levels, and other audio/visual needs, etc.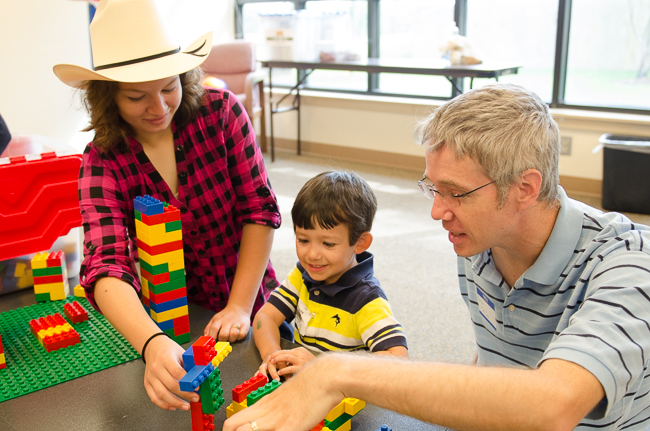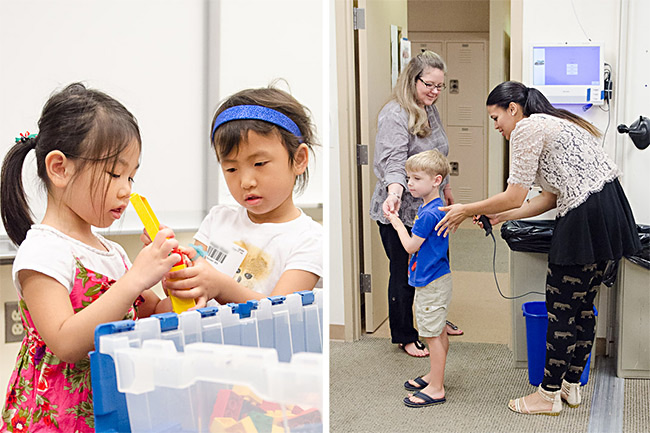 Shortly after 9:30, most volunteers have arrived. Adventure's doors are already open to accommodate the large influx of children it receives. Elsewhere, toys are being set out, baby gates are being locked in place, coordinators are meeting with their staff, last-minute preparations are being made and prayers are being lifted up all over the building for God to protect the children and let his Word be proclaimed in clear, powerful ways.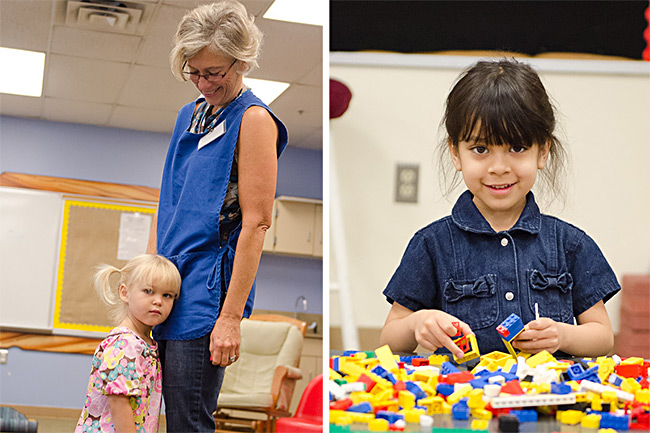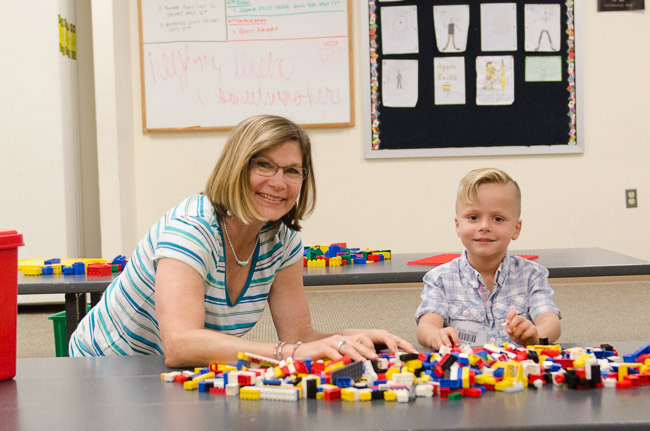 Before the very first child steps foot in class, scores of faithful servants have already been a shining example of 1 Peter 4:10-11: "As each has received a gift, use it to serve one another, as good stewards of God's varied grace: whoever speaks, as one who speaks oracles of God; whoever serves, as one who serves by the strength that God supplies—in order that in everything God may be glorified through Jesus Christ. To him belong glory and dominion forever and ever. Amen."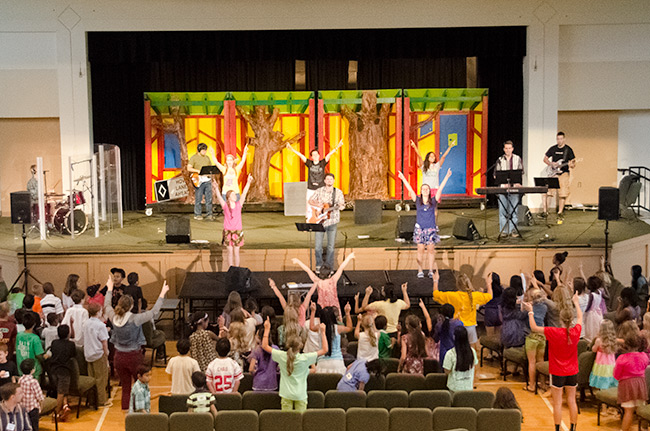 If you'd like to be part of this exciting ministry that directly affects the next generation with the life-changing gospel of Jesus Christ, please contact .(JavaScript must be enabled to view this email address) to sign up today!
Our new serving year starts Sept. 7, and we'd love for you to experience the joy that comes with serving the kids in Discovery Land.
Photo credit: Pam Wilbur
Share this on:
---
July 21 2014 at 2:13 pm
0 Comments
---
Worthy14 is our high school ministry's annual summer retreat where we get away from our normal surroundings and the busyness of life.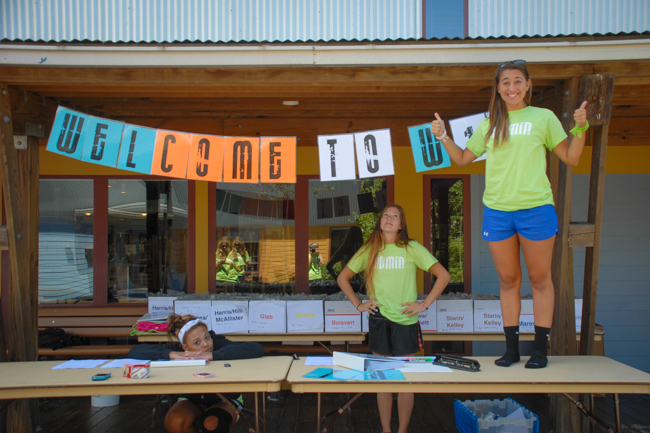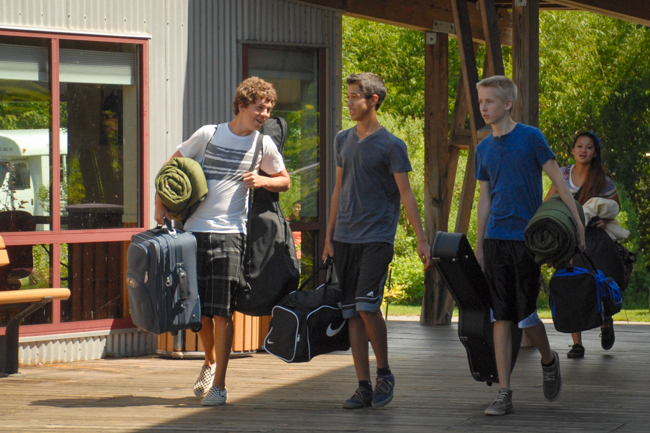 A Worthy13 camper: "At the retreats, talking about God is a natural thing, and I loved being able to bring up the Lord in conversation with my friends, whether we were playing pool or walking on the beach… the atmosphere is so spiritually rich."
"The incredible opportunity to grow closer to God by focusing on Him and spending time with His people at the retreats is not to be passed up."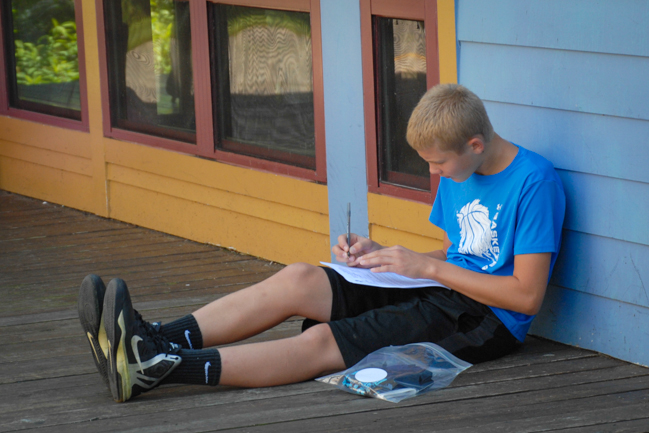 This year, we will be taking time to look at the question, "How will my life change if I actually believe the Bible is absolutely true?"
Each year God meets us in incredible ways through times of worship and teaching, lots of games and times of fellowship throughout the day as we seek His face together.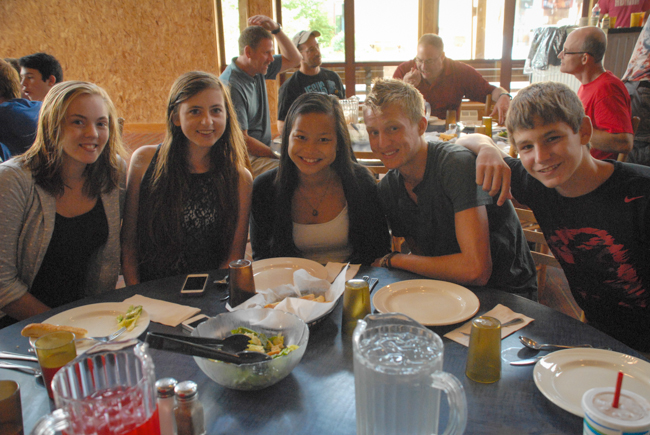 Hip Hop Artist and Speaker, Brian Davis, is coming this year, and will be teaching us along with Jon Smith, Joshua Harris, and of course, Dave Brewer.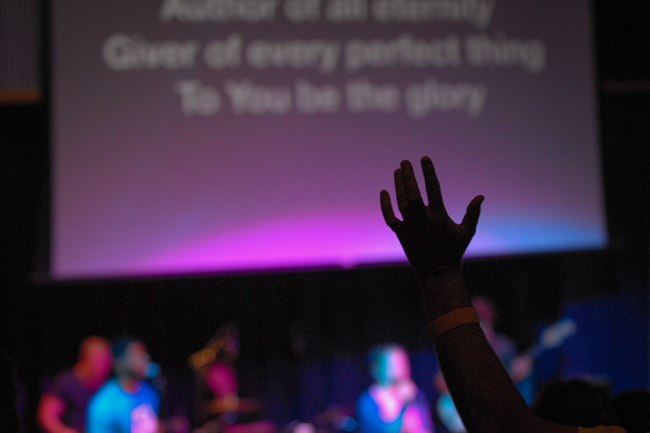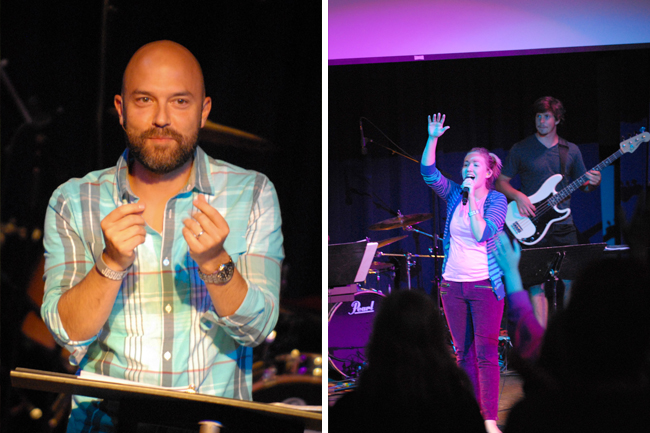 As you've probably heard in their baptism testimonies, every year teens come back with a renewed love for God and excitement for learning about him and loving him more.

We are all about having a good time at Worthy, and you can be sure that you will come away from with awesome memories! We want you to join us, both to have a ton of fun and to be changed for God's glory.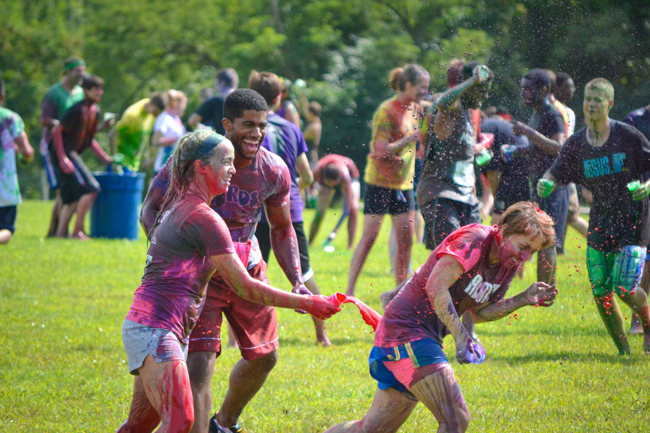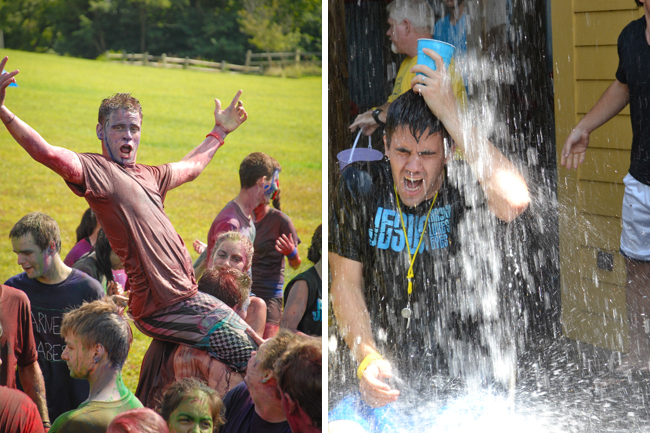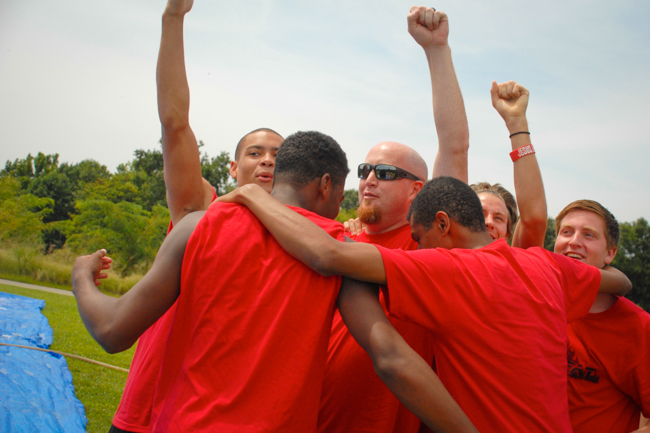 Families that are just visiting Covenant Life or have been attending church but not participating in the youth ministry are welcome to attend.
Registration is open and scholarships are available for those in need of financial assistance. We don't want anyone to be turned away because of the cost.
For more information, please call the church office, or e-mail .(JavaScript must be enabled to view this email address).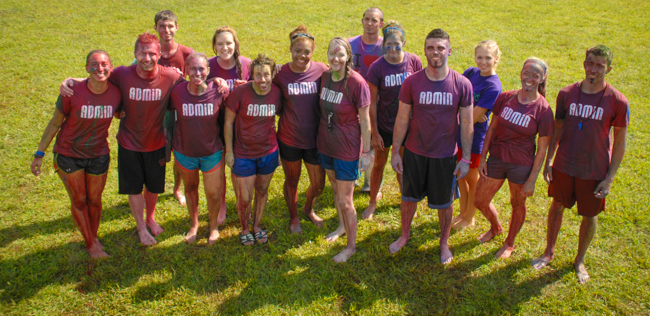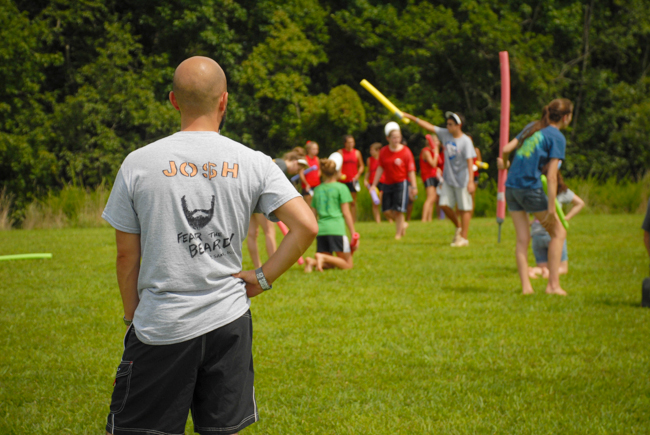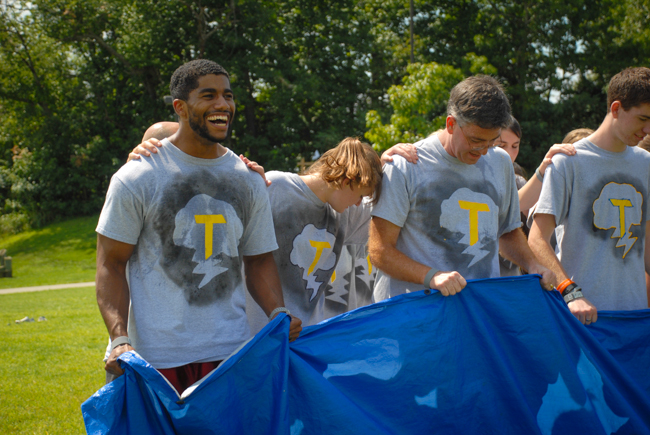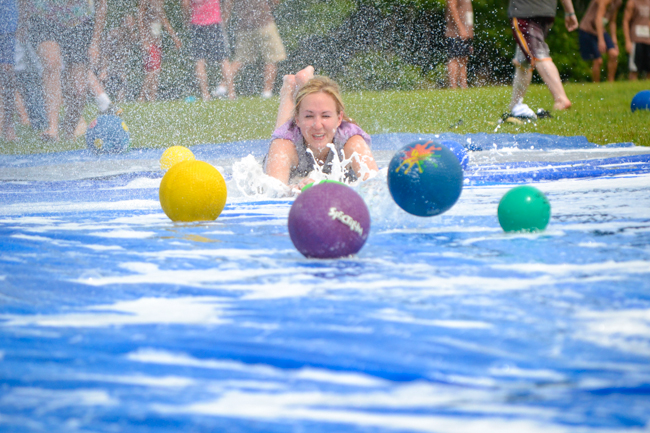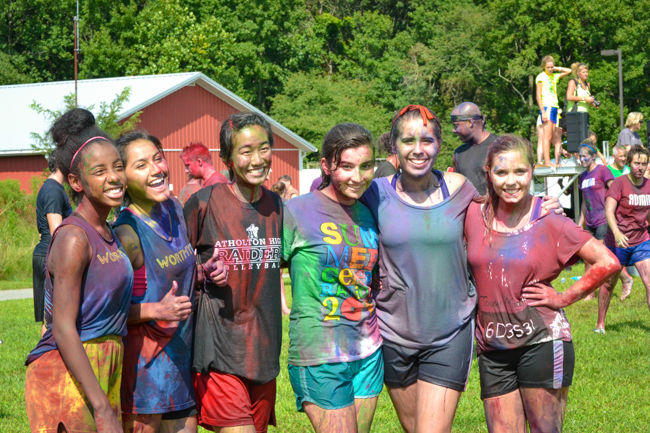 Share this on:
---
July 14 2014 at 3:06 pm
0 Comments
---
"The simple generosity of Covenant Life opening their building has left a huge ripple effect for the ministry, Fellowship of Christian Athletes, and people coming to know Christ around the globe," said Maryland State Director of Fellowship of Christian Athletes (FCA) Mark Stephens, after another successful FCA sports camp at Covenant Life this past June.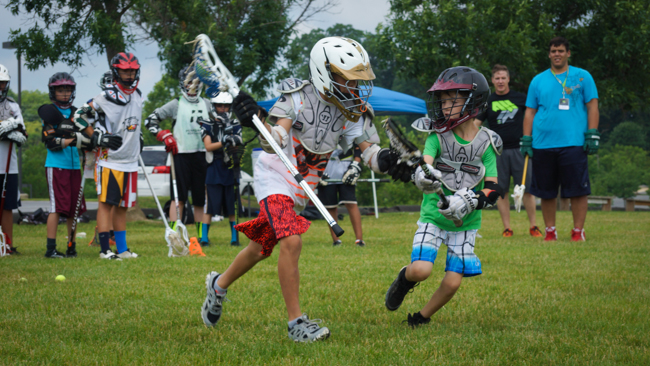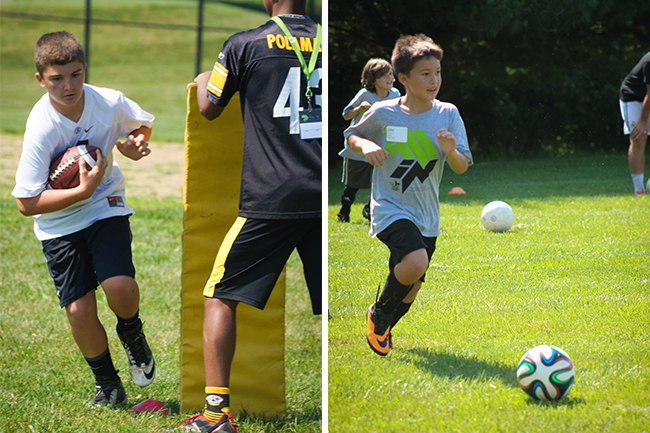 If you happened to be at the church during the week, you would have seen hustling lacrosse sticks and whizzing footballs in the fields, soaring volleyballs and squeaking basketball shoes in the gyms, and teetering cartwheels and running flips in the lobby. At this "All In" Power Camp, about 200 eight to thirteen year-olds, 50 high school small group "huddle" leaders, and 50 adults participated.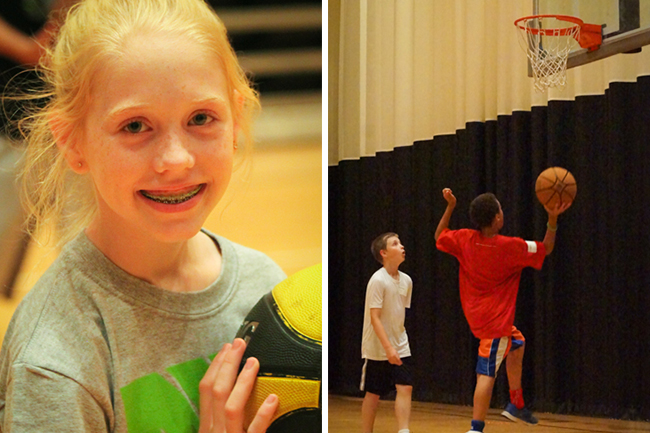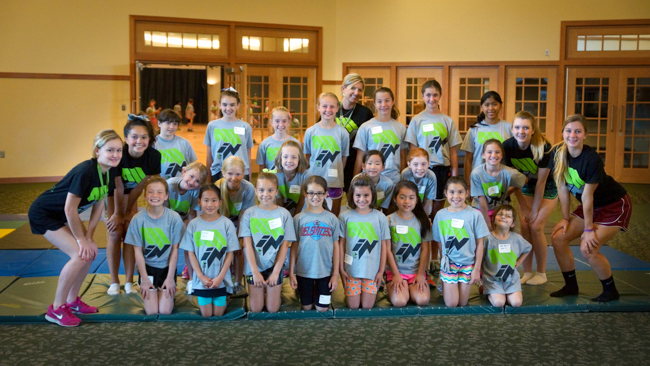 Four people from Laos, Singapore, and Korea also came to observe, learn, and be trained to lead these camps in their own countries.
"These guys are pumped up. They are really going to go back and do something. There's gonna be an incredible ripple effect from this camp," Stephens shared. "This FCA camp at Covenant Life Church is a model for the world."
A Vietnamese sports ministry leader came out to shadow Stephens a couple years ago and went on to lead two FCA camps in Taiwan and two in Vietnam. Since then, others have come for training: Reon from Singapore, Philip from Malaysia, and Suttisak from Thailand.
"Vietnamese kids left by the wayside that no one was going to interact with, kids who get one bowl of rice a day and have only the t-shirt on their back, were shown the love of Christ through sports," Stephens shared.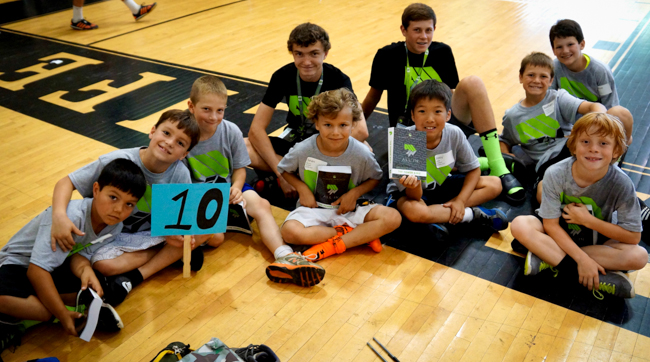 "I was a pastor for 15 years," Stephens said. "Sometimes as a church you think, 'Oh, we'll be nice and loan someone our building and not charge rent. We'll do a good deed.' This church has no idea the positive impact that it has made on this community and worldwide by their generosity of opening their doors. "
He shared that the hundreds of people who have come through Covenant Life's doors for FCA camps have nothing but positive things to say about this church.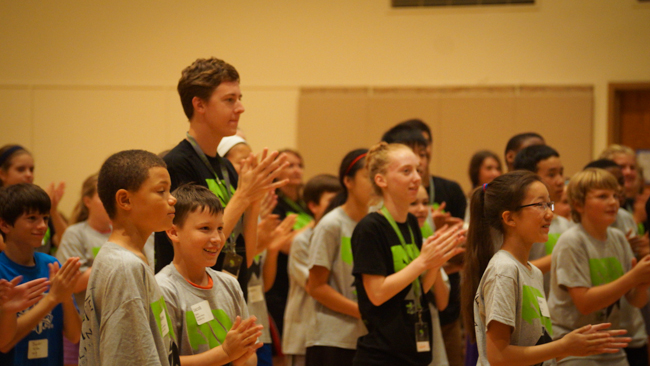 "Whether it's the location, or the kindness, or how the staff works with us, it just keeps getting better… I'm forever grateful for the partnership that we have with Covenant Life and how they've supported us," Stephens said. "I consider them friends, not just partners."
"It's been incredible to be here," said camp director Hannah Cheung. "Churches don't usually have three gyms and a couple fields. The facility has been perfect for the camp. It's the smoothest camp I've done in six years."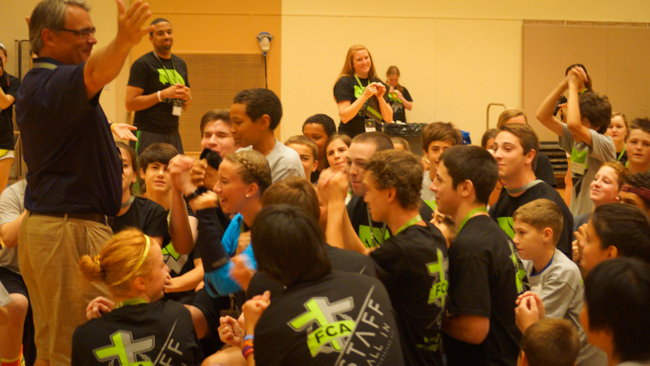 The Laos pastor explained that in Laos, where 98% of the seven million people are Buddhist, "the problem is getting the people to come to the church—they will not come." He is a part of the 2%.
While there are camps all across America, he has never seen a camp in Laos. His kids never attended camps. They're not a part of the culture. He said, "So, we are trying to find new ways to share the good news. To do a sports camp is one of best ways. When we ask people to come to play soccer, they come. That's why I came here. To learn, see, and experience the camp and how they do it here."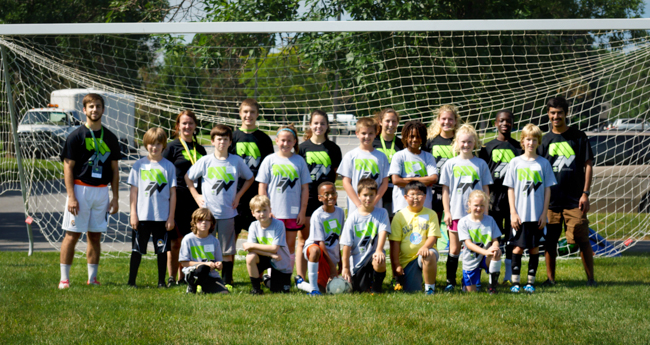 When he heard about FCA, he was excited. "You can share the good news to the non-believer and build the relationship between the kids and God through the sports camp, so it's a very powerful way to do a camp to reach the people, to share Christ, and to build up the faith of a believer."
"Please pray for us," he said. " We would love to have sports ministry in all 700 hundred churches to reach out to the young generation."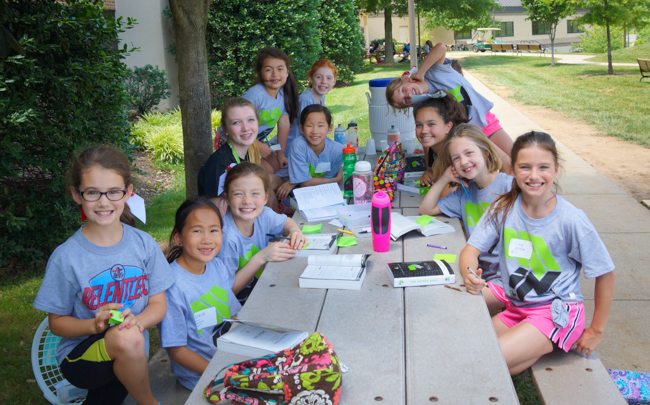 In Korea, when it comes to sports, "We are a top down, Olympian level, high profile level," explained Korean FCA director, Olympian Committee member, and Taekwondo master Hyung don Jung (Lion is his English name).
When he returns from observing this camp, Lion hopes to focus on high school level athletes. He has sensed discouragement in sports for young people who are not interested in high profile achievement. He wants to encourage them to come together and play.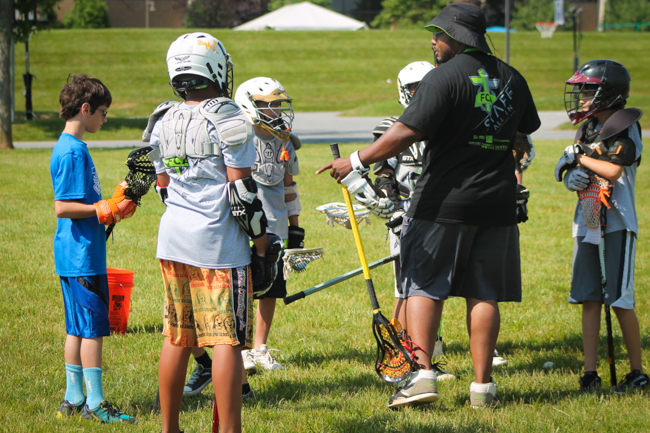 "FCA is an important thing. They really love Christ," Lion said. "Your church is doing great things. Nationality, race, everything is overcome for the sake of the kingdom. Everyone is for the same kingdom here. It will be a great influence on the next generation."
Stephens shared how after the first day, a mom and son were walking out when she asked how his day was, he said, "Mom, I love this camp."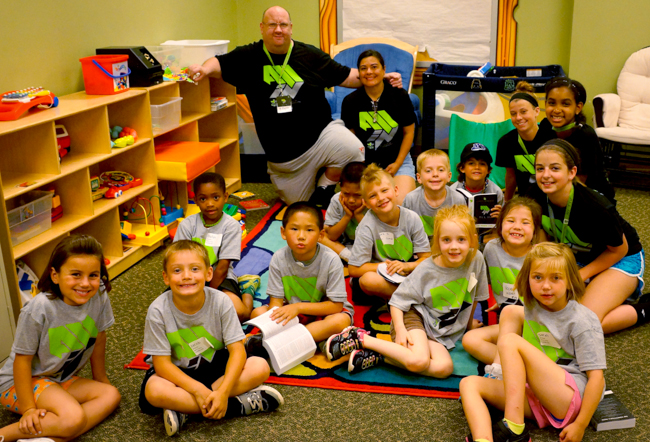 "That's what we want," Stephens said, tearing up. "We want kids to keep coming back. They're gonna come back if they love it, and they'll love it if they get loved."
"All for the glory of God. That's the important thing," Lion said. " 'All In' for the kingdom."
Photo Credit - MOCO FCA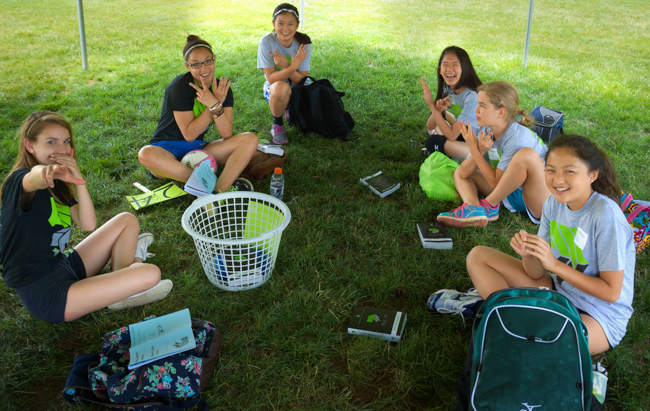 Share this on:
---
July 14 2014 at 1:17 pm
0 Comments
---
Here is the presentation Dave Brewer gave on Sunday explaining the vision for our Student Life Team.
Good morning church!
My name is Dave, and I oversee all the ministries at CLC that minister to students. There are four different ministries that do this, Discovery Land led by Josh Cooley which serves children from birth till 5th grade, 12:13, our middle school ministry, 10:31, our high school ministry, and our college ministry led by Kevin Rogers.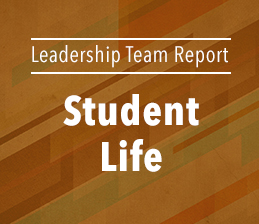 Until now, these ministries have largely been isolated from each other. But now, they have been organized under a dedicated student life ministry that will coordinate and harmonize the ministries in vision and teaching plans. Overall, all of the ministries of student life exist to see the next generation of our church worshipping God, loving one another and making disciples of Jesus Christ. We want to partner with parents in age-appropriate ways to see every student loving God and thriving in their relationship with God.
One of the benefits to having a Student Life ministry is that we can ensure that students who go through these ministries are trained in God's Word and equipped to engage our culture in order to fulfill the great commission. Beginning in Discovery Land, our students will learn the storyline of the Bible through the weekly teaching of both OT and NT stories. Then in the 12:13 middle school ministry, students will be introduced to systematic theology through topical teaching from the Word and issues specifically related to their season of life. A systematic teaching approach will continue through the 10:31 high school ministry and into college, with a focus on Bible teaching that specifically targets challenges that students are facing.
This past year, many of you have helped evaluate our student ministries through conversations, emails, and focus groups, (which we will continue to do throughout the coming year). The main thing the evaluation revealed was that we haven't focused enough of our ministry resources on the students of our church. We heard you and we agree. Reaching the next generation is an important area to families and to the future health of our church…and we have to make a change.
The demographic of our student ministries has changed quite a bit from past years. In addition, our students are growing up in a world that is very different than the world most of us grew up in. Our students have a real enemy who is hard at work, and our students are getting assaulted with lies from the world. Technology has radically changed the age in which our kids are being introduced to topics in the world. Things that used to be high school topics, are now middle school or even elementary school topics. More than ever, the church needs to be the church for these kids and work together, with parents, to reach the next generation.
We want our students falling in love with Christ and being won as disciples of Christ through the love that God has for them and the life of eternal joy in Christ. The answer isn't revolutionary. We do this by teaching and studying the word of God and building community around the Word of God, firmly believing that it is the Word of God that does the work of God in the people of God.
We want to do more to reach students through teaching the Word of God and building community… in that light, here are the things we are doing. First on the list is hiring a new youth pastor, who will focus on middle and high school ministries. In assessing the need for this position, we do not believe that the right person for this position is currently on staff, so I will be advertising this position both inside and outside of CLC. I plan on involving some parents in the selection process to ensure that we will hire the best candidate for our students. This new position will focus on building up the 12:13 middle school ministry with teaching, events, and creating opportunities for fellowship between students in the ministry and between parents and their teens. He will also work with with 10:31 high school ministry by teaching some classes and equipping our students with worldview topics they will face in school, college and beyond. I will continue to work with 10:31 while I also oversee Student Life ministries as a whole.
Regarding college ministry, Kevin Rogers (aka: Mr. Rogers…duly named for his extensive cardigan sweater collection), will focus solely on ministering to college students and those who are college age. This is a ministry that has historically been part of the 20/30-something season life. However, we're making this change so that Kevin can focus his full attention on the community of our college age students in our church - both those who remain local and those who go away for college. We know there is more we can do to minister the Word and build community for our college students through events and relationships and this is an important change for us.
Discovery Land is our children's ministry for kids birth through 5th grade, and it will continue to be led by Josh Cooley. We are blessed as a church to have our children led by Captain Cooley. This past year we changed the format of this ministry – again, in large part because of the input we received from you. In the Adventure Class for 1-5th graders we implemented small "table groups" and this has been well received so we are going to continue this again next year and make improvements as we do. We will keep looking to make improvements in our program for all the Discovery Land classes.
As the Student Life Pastor, I'm updating the church on these very important ministries and asking you for two things. First, please be praying for the students of CLC, from K-college, that they would grow to love Christ and impact the world with the good news of Jesus. They need your prayers! Second, please consider ways you can play a part in ministering to the next generation. If you can only pray, that's great. But we need a lot of help to improve these ministries. Here are some other specific ways we need help this coming school year. In Discovery Land, we need volunteers who are interested in leading table time discussions with elementary students. In our 12:13 middle school ministry, we need all the parents of 12:13 students to see their vital role in discipleship, and to partner together with us to help lead 12:13 and be engaged in small group discussions at our middle school meetings. In our 10:31 high school ministry, I'm looking for people who want to minister the word to high schoolers through leading and participating in high school Bible studies. Please contact me if you are able to help in any of these ways.
CLC has always been a place where the next generation is valued. I have always loved that about our church, and I love the foundations our church has built Student Ministries upon. However, in this transitional season where we are looking for help from the church to minister to our students in a greater way through Bible study, Bible teaching, and building community together.
With the establishing of the Student Life ministry, I believe now is the time to stop looking back, and to move forward as a church ministering the Word of God to the students of CLC and building a love for the Lord and His church in these students hearts. Our confidence isn't in a program, or a ministry structure. Our confidence is in the Word of God to do the work of God in the people of God. It is God that promises to our all our students that "he who began a good work in you will bring it to completion at the day of Jesus Christ."
Share this on:
---
July 14 2014 at 10:34 am
0 Comments
---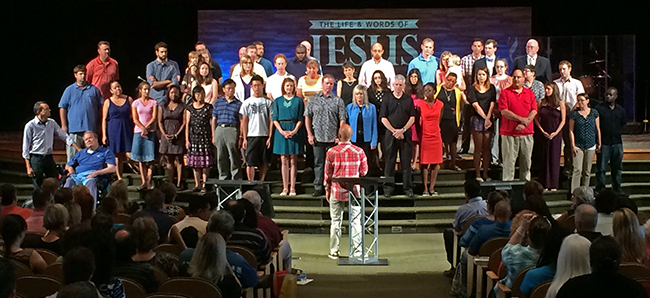 We were thrilled to welcome 77 new members to the church family on Sunday. Each member has clearly expressed their faith in the death of Jesus Christ for their sins, making them our brothers and sisters, and members of our spiritual family. They have also completed our Starting Point class where they learned Covenant Life's doctrinal convictions, met with a pastor, and signed our church's membership agreement, committing to join us in our mission to worship God, love each other, and make disciples.

What else should you know about them?
• Our new members have come to us from 11 countries including: Ecuador, Egypt, England, Ethiopia, Guatemala, Kenya, Malaysia, Puerto Rico, Russia, Taiwan and the United Kingdom.
• There is a 51-year range in the ages of our new members—from 18 to 69.
• The newest believer among our new members was converted just this year; another has known the Savior for almost 62 years.

To new members:
We respect you and honor you for your decision to make the local church a priority. We believe this is what God's Word calls every Christian to do. We believe that God has good in store for you here, grace that will lead to your spiritual maturity. We encourage you to receive the work of the Holy Spirit in your life through the church's teaching and fellowship with us. We also need you to take your place in this church. We need your gifts. We need you to participate through prayer and serving.
As a church, we commit to love and care for you according to God's Word, and we look forward to being blessed by God through you and through watching your growth in godliness.

To congregation:
Thank you for forward-looking faith! Thank you for living the Christian faith in a compelling way. Thank you for giving over the years so that these brothers and sisters can be here today.
Share this on:
---