July 11 2016 at 12:18 pm
0 Comments
---
Apply to serve in Discovery Land online.
Good morning. Let me first start off by saying thank you to everyone that filled out an application and dedicated their time to serving in DL this September. I greatly appreciate you volunteering, and I wanted the current volunteers that have been working this past year to be encouraged as well. Thank you, it is truly making a difference in these kids, my kids, lives. Just last week I was teaching the main session for the 1st -5th graders and was prompted by the curriculum to quiz everyone through the use of a game. So, I set up the game and began to ask these questions to the crowd to respond with a true or false answer. Let me just read these off: Not only did I get the right answer from the children, they resoundingly gave the corrected answers to the false questions! This blessed me greatly. Not only that but my 4 year old girl is starting to retell the story of Saul and king David and how they obeyed or disobeyed God. This was an amazing set up for me to take the conversation to Jesus and present the gospel. That is so important to me. So thank you to all who have served and brought all the children into contact with the gospel and Jesus.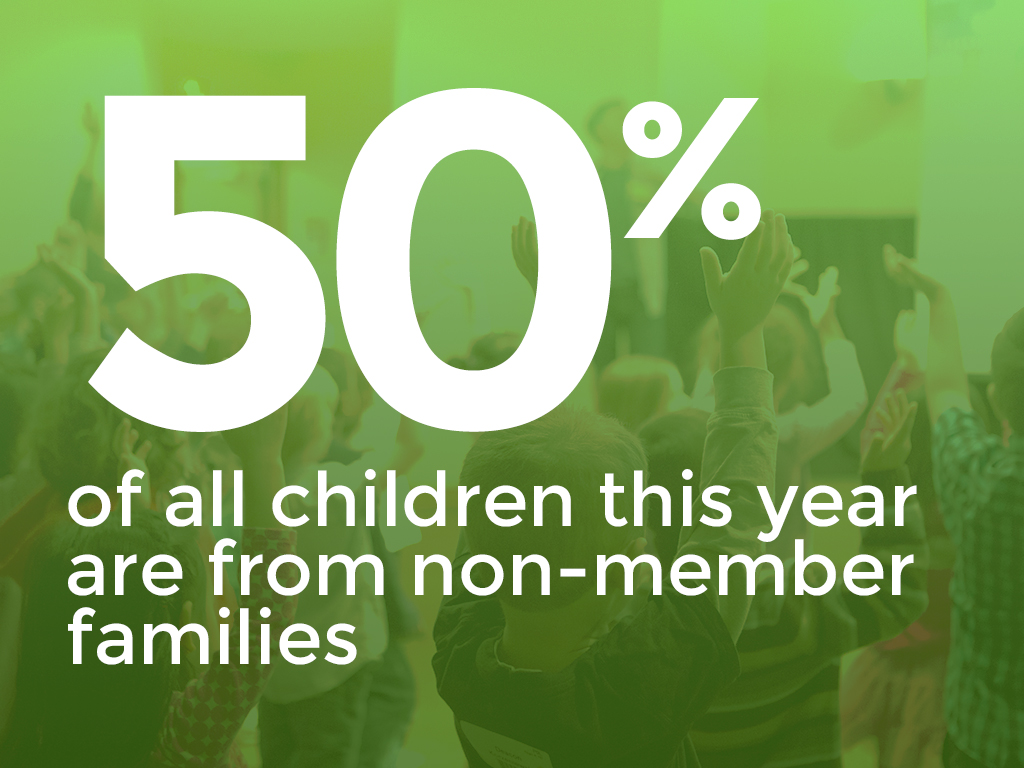 It is because of stories like these that I believe what we are doing in DL is a good thing for our church and for the people that walk through the door on Sunday morning that are not members. The gospel is being taught. Here is a number that I thought is important to share; did you know that around 50% of all the children that went to DL this past year were in fact children of guests. So it is not just about serving ourselves, we are a front where the gospel is being shared to people visiting our church.
So, I wanted to give everyone a progress update on current commitments to make all this happen again next year. We are currently around 35% of volunteers we need to keep the lights on and the programs running back there. We need 400 volunteers and or we are looking at downsizing by the end of July. Its July because we would need to redesign the ministry to ensure the safety and effectiveness. So if you holding on to your application please turn that in to help us avoid downsizing the program. Just to give you some perspective of how big of a ministry it is, if you would take a look at this section of the congregation. This section represents around 400 people. That is the average of people that occupy DL right now. On average we have 300 children and 75-100 adults back there every Sunday.
That is why we need you to consider signing up. And just so we are clear, bulk of people that have already signed up to serve are parents with kids. The gap that we are experiencing needs to be filled with singles; it needs to be filled with empty nesters; it needs to be filled with seniors; it needs to be filled with young married couples. This is our need. We need you to volunteer to serve one Sunday a month for the next year starting September to ensure these stories and gospel opportunities keep going. Our church is and will be a place where young families can come to hear about Jesus and feel served.
Will you consider? Thank you.
Share this on:
---
July 6 2016 at 9:18 am
0 Comments
---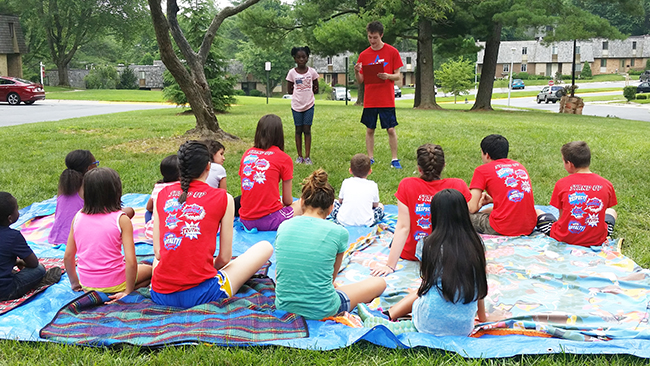 By the end of JOY Camp approximately 70 kids heard the Gospel. Some of these kids have been coming to camp every year since it began, some came for the first time this year. But all had Gospel seeds planted this week.
At the beginning of the week the kids had a difficult time opening up to the youth during one-on-one partner time, and tended to get off topic. But by the end of the week, kids were opening up, asking deep questions about Jesus and the Gospel, and taking in every second of what they were learning. Some youth were able to remind kids of the Gospel and pray with them to receive forgiveness. Other youth watched as kids prayed silently and trusted that God was working.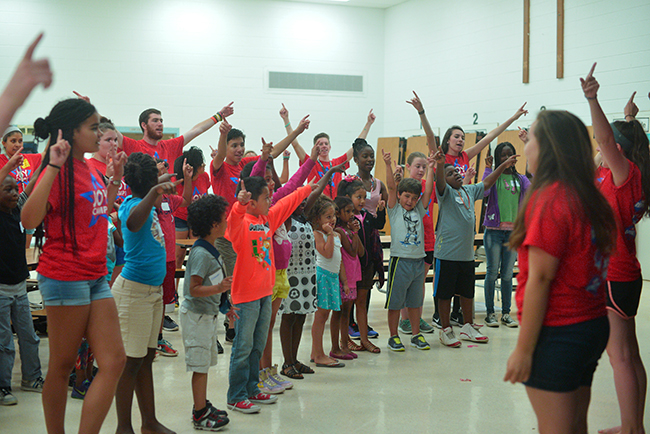 JOY Camp is more than just a one week a year vacation bible school. The kids we encounter this week cherish every moment we spend with them and eagerly await the following summer. They love the little things that the youth do with them. From making friendship bracelets, to playing board games, to giving endless piggy-back rides, to participating in all the crazy dance moves for worship, the kids are shown the love of Christ and realize the youth aren't "too cool" to hang out with them. One kid, during one-on-one partner time, said that when she grew up she wanted to be just like the CLC youth volunteer and wanted to work at JOY Camp.
The Gospel impact we make during this week is wonderful, but what if we could make that impact all year long? Here are some ways where CLC is currently involved in making a Gospel impact in our community.
The ESOL Ministry at South Lake Elementary School – offering English classes to reach the nations with the gospel
JOY Club - provides child-care for the ESOL ministry and serves as a follow up to JOY Camp
Laytonia Girls Club - Crafts and devotionals for community girls ages 5-15
If you would like to get involved in any of these outreaches, please contact Todd Keeler. Thank you for praying for us this week.
Share this on:
---
June 21 2016 at 12:46 pm
1 Comments
---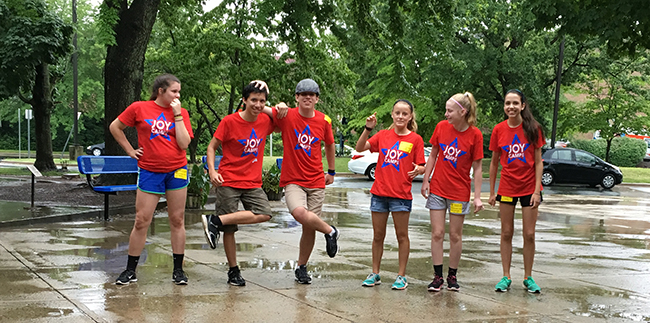 This week about 50 youth and adults from Covenant Life Church are immersed in a community mission "trip" called JOY Camp. The three sites are Laytonia (across the street from the church), nearby Camp Hill Apartments (a few minutes down Washington Grove Road), and South Lake Elementary School (near Lake Forest Mall).

We meet together at the church everyday to pray, worship, study God's Word, share meals, plan for the day, and go out into the community to provide a free Christian day camp.
JOY Camp is an informal Vacation Bible School with the purpose of sharing the love and truth of Christ through songs, crafts, skits, Bible teaching, Scripture memory, one­-on-one conversation, and friendship. Our theme for this year is STAND UP! As we teach lessons from the book of Daniel, we will share the gospel with the kids and teach them that we can have courage to stand up for what's right because of who Christ is and what He has done.
We would love for you to join us in this mission by praying for:
Our team, that we would be good ambassadors for Christ and for strength to persevere;
T

he gospel to continue to spread in our community;

Ask God if He wants YOU to get involved with some of the on­going ministries in our community

The ESOL ministry at South Lake Elementary School – offering English classes to reach the nations with the gospel
JOY Club ­provides child­care for the ESOL ministry and serves as a follow up to JOY Camp, so the relationships we form this coming week can continue.
Thanks so much for partnering with us in prayer!
—Andi Alonso (on behalf of the Joy Camp team)
Share this on:
---
May 17 2016 at 3:38 pm
0 Comments
---
On Sunday, P.J. Smyth interviewed Montgomery County Executive Ike Leggett who shared about his journey from abject poverty in Louisiana, to college, law school, and ultimately, public service. Ike offered warm words of encouragement for getting involved in serving those in need in our community.
Share this on:
---
March 7 2016 at 12:38 pm
1 Comments
---

I do a number of classes that introduce people to the Christian faith. Many who attend are not just exploring Christianity but religion in general. A regular question that comes up is: "How do I know what religion is the true religion?"
This is a hard question to answer because I know an answer loaded with Bible verses will not work. I try to give an objective answer and so here is what I often say.
First: Consider the place of personal satisfaction.
What gives you peace, comfort, and fulfillment? I start here because this is perhaps what draws most people to search for religion. People have a sense they were created for something, they have a sense they are not as happy as they should be. It is often the lack of peace, comfort, and answers to life that caused them to search for deeper answers.
Does this religion give suitable answers to why we lack peace, comfort, happiness? It's not enough to give joy and hope but does the reason for why these things are not present really make sense. This side of our personal satisfaction and existence is an important one to look at but it is also a category that often gets elevated too high. True peace and comfort do not come from themselves but is often a byproduct of other things.
Second: Consider the normative or authoritative basis of that religion.
This focuses on the basis of its beliefs as well as the rightness of those beliefs. Religions give explanations for how to find happiness, peace, truth, life, and much more. These explanations should be examined. Anyone can make claims, but what is the justification of those claims? I can say I am a world class athlete but is there any justification to believe that? The basis for the claims of the religion should be grounded in truth. If they are based on fable or musings that either are not true or do not have a basis then they are not worth trusting.
The rightness of the claims, commands, and justification should also be examined. Does the religion speak of rules and commands that are right and just? Religion gives a way of viewing the world and of knowing what is right and wrong. These things should make sense of the world and accord with what is right, good and true. If it gives commands that are morally wrong, how can we submit to it or trust in it?
The rightness of religion can be hard to judge. We all sometimes look at true facts and refuse to accept them. Our failure to acknowledge such facts does not negate their truthfulness. After all, the truth is true by itself and not because we recognize it. So certainly the true religion must be true even if we do not recognize it. And if we are not following the truth then it only makes sense our judgment of it will develop as we experience it. This is why a search for truth often results in a change of our own standards.
The aspect of the authority or justification is important because a religion based on falsities can not provide peace. Imagine if you were in a building that is structurally unsound. You feel it swaying in the air and the floor shaking under you. You could try to have all the inward peace you want but if the foundation is not secure there is no inward peace. The same is true of religion. If its basis is not true there can be no peace, comfort, etc.
Third: Religion should illuminate the situation we are in.
It ought to be satisfying when applied and lived. The true religion must make sense of our situation and shed light on how to live and act rightly. This can in part be a way we judge the truthfulness of it. True religion ought to make clear the right and wrong way to do things. If it doesn't illuminate these, how helpful is it? If it doesn't shed light on how to live and how the world works, then why would we believe its claims about God?
It ought to instruct what leads to happiness and peace. It ought to inform what is good and evil and also what is good and gooder. It ought to direct how we think, live, and feel. Here we see how the personal satisfaction and objective basis come together in how we live practically. If it is true then it ought to lead to a life that is desirable. If people are living according to the true God and in harmony with his plan and experiencing peace and joy then there should be something attractive about their life. We should see people, husbands, wives, children, workers, students, and so on knowledgeable about life and enjoying it.
And last...
If we want peace with God in our life then the true religion must instruct in how God is at the center of all we think, do, speak and feel. If we want his peace and comfort in every moment then there ought to be a way to experience his rule, guidance, and presence in all we do. The true religion must be personally satisfying, objectively true and circumstantially illuminating in all we do. It should give a view of all of life that is coherent and satisfying.
These are some reasons for determining the true religion. There are many others but these broad categories that you and your unbelieving friends or neighbors may find helpful.
This post is shared courtesy of Keith Welton's blog "Everyday Truth." He shares his reflections on Scripture and other helpful topics there regularly.
Share this on:
---
January 19 2016 at 12:43 pm
0 Comments
---
On Sunday, P.J. Smyth presented his 2016 "Outward Living Plan" to encourage us to make friends, build relationships with our co-workers, acquaintances and neighbors.
Download a PDF of the Outward Living Plan
Download the youth version of the Outward Living Plan
Step 1: Make Genuine Friends with Unbelievers
Think relatives, neighbors, colleagues, those with shared interests in your current rhythm of life. God has placed you!
Prioritize a few people and make it your aim to become a brilliant friend.
Pray for them.
No friends? Think about rhythms of life:
a) Gym, hairdresser, out walking, etc.
b) Hobby: running club / walking club / dog / kids sports team
c) Meals: 21 per week
Step 2: Naturally Engage on Spiritual Things
Let these friends know you are a Christian, in a natural, unforced way.
Live an attractive, authentic life, not perfect, but not high maintenance.
Be honest about your struggles: don't hold out Christianity as a self-improvement scheme. Share how your faith helps you.
Listen to your friend's problems; maybe offer to pray for them.
Ask about their faith, and just listen. You might say, "Are you a person of faith? What does that look like for you?" If they say, "I don't believe in God" say, "Tell me more about that" Don't show disapproval if you disagree with what they believe. Ask questions and listen with interest. This is what friends do! It is also an expression of love, respect and humility, and it will help you understand them better. It may also mean that in due course they are more open to hearing your view of faith.
Step 3: Draw people into your church community
Informally socially, or more formally socially, e.g., interest groups (book club, sport)
Can freeload on others' friendships. Fish as a team.
Step 4: Personal and Public Proclamation
Personal: Prepare and use personal tools:
a) Personal testimony: 30 sec and 3 min versions. Keep it real. Share how your faith helps you; e.g., stress, fear, drivenness.
b) Learn 2-4 ways to frame the Gospel
c) A stash of resources to give: "This helped me.", "I would be interested to see what you think of this."
Public: Think what's first: Social action or Introducing God course? Sunday? Particular preacher or series?
Our 2016 Goals
Invite at least one unbeliever to our Easter Service. (i.e. "A tradition we have is to go to church on Easter and then eat together, and we would love you to join us.", "Kids have a blast.", "We've got this new pommie pastor who I am still working out; would love your perspective.")
Have a couple of friendships developing nicely by the fall. This gives our church a chance to gear up in a few areas.
Download a PDF of the Outward Living Plan
Download the youth version of the Outward Living Plan
Share this on:
---