March 17 2015 at 9:42 am
3 Comments
---

Pursuing Persians
by Almasih Kahdost
What he said caused my eyes to well up. It wasn't anything dramatic per se, but still I found tears coming to my eyes and a smile landing on my face. What he said was precipitated by a question.
"How often do you go back to visit your home country?"
He stumbled a little, calculating how best to answer. He finally said something to the effect of, "It's not really safe for me to return. You see, I'm a Christian and…"
That's when the tears came.
I almost cried because my new friend is from Iran and I have been praying for his people for years now. But my tears weren't because he can't safely return to his country. Nor were they for the fact that his relationship with his mother took a dramatic turn for the worse because of his decision to follow Jesus. While those things were indeed sad, my tears were tears of joy.
FREED FROM A REPRESSIVE REGIME
It made me immensely happy to hear that this Persian brother had escaped the oppression of an evil regime and was coming to enjoy new freedoms he'd not previously experienced. Whereas before he had been the subject of repressive tyranny, now he was out from under the thumb of his captor, free.
His story is mine. While I'm not from Iran, he and I both responded to Jesus' proclamation of freedom to the prisoners and were thereafter set free from oppression (Luke 4:18). Both he and I had been blinded by the god of this world (2 Corinthians 4:4), and were in fact following him (Ephesians 2:2). But now we're both free.
CAN'T SHARE OVER THERE
Of course, not all Persians are like my friend. Many are still in captivity to sin, lost in darkness (like anyone else outside of Christ). But what sets Persians who've moved to the States apart from your typical been-here-for-generations American is that they have had little opportunity to hear the gospel. In fact, according to the self-styled Iranian Christian News Agency, Mohabat News, Iranian president Rouhani's Advisor on Ethnic and Religious Minorities' Affairs has said that "...no one has the right to promote his or her faith…it is not acceptable, for instance, for a Christian to invite a Muslim to Christianity." (Incidentally, Iran has one of the fastest growing Christian populations in the world, albeit underground). While Advisor Younesi does say, "...everyone is free to practice his or her faith…" he seems to not grasp that inviting others to Christianity is part and parcel of practicing our faith.
WON'T SHARE OVER HERE
As believers, sharing our faith is non-negotiable and as Americans it is a privilege to be able to do it without fear of imprisonment (or worse). But many American believers won't do it. Too busy or scared or something. Yet the Persian people at our office, in our neighborhoods, or who we bump into at Starbucks are now in an environment where they can freely listen and respond to the gospel. Could it be that God has dispersed Persians to countries where evangelism is legal "...so that they would seek him and perhaps reach out for him and find him" (Acts 17:27)?
BUT I DON'T KNOW ANY PERSIANS
Of the 25,000-plus Iranian-born residents in the Baltimore/DC area, over 8,000 are in Montgomery County. Chances are you've met some, maybe even without realizing it. If you don't know any, why not change that and learn about their culture? One way to do this would be to head to Black Hill Regional Park in Germantown on April 12 for Sizdah Be-dar. (A similar event will be held at Bull Run Park in Centerville on April 5). On these days thousands of Persians will enjoy spending time with friends, families and maybe even people they've just met. (Hint: that's you!)
You can also meet some Persian folk around town AND get some really great food at the same time. Check out Caspian House of Kabob or Moby Dick, both in the Kentlands. Very warm, friendly staff and incredible food. Yekta in Rockville is wonderful as well. You can also stop by a couple of Persian stores (Caravan Deli or Potomac Gourmet) and meet folks there.
Persian's ancient culture and history has much to offer and the high value placed on hospitality is something many many western Christians could learn from. That being said, we believers have something to offer non-believing Iranians; that is Christ Jesus, who lived, died and rose again to redeem those from every nation.
"Almasih Kahdost" is a long-time friend of Covenant Life who desires to see the nations come to Christ. Though preferring to publish anonymously, Almasih Kadost welcomes your comments below.
See all the posts in this series.
Share this on:
---
February 17 2015 at 1:34 pm
1 Comments
---

One Way to Share God's Plan with Muslims
by Almasih Kahdost
Sitting barefoot in a sportsplex in Maryland, wearing traditional Pakistani attire given to me, I was enveloped by the chant of Allahu akbar, droning continuously. I watched as Muslims of various sizes, shapes and ethnicities assembled themselves in neat rows preparing for prayer; men filling the front of the field, women, the back. Once all (save one) gave praise to Allah while performing the various salat prayer positions, an imam taught that one lesson learned during the fast of Ramadan is gratitude. By denying oneself food during the daylight hours, a person is more grateful for it come evening. Having been fasting for my Muslim friends during this month myself, I learned this lesson firsthand and was grateful Ramadaan had come to a close.
As my Muslim friend and I left the sportsplex, I referred back to the imam's message, asking for what my friend was most grateful. After listening, I shared my own thoughts, saying I was most grateful for qurbani; that is, blood sacrifice. I related how a sacrifice was provided for Adam and Hawa (Eve) to cover their shame when they had sinned in the garden. I reminded my friend how when Ibrahim's (Abraham's) son was in need of a sacrifice, it was divinely provided. I continued that Musa (Moses) was inspired to order atoning sacrifices for the sins of the people and that many years later, the prophet Isaiah foretold the coming masih (messiah) Who would Himself become qurbani in the place of His people, taking their shame. Then I related that the prophet Yahya (John the Baptist) pointed at Isa (Jesus) and calling him, "the Lamb of God who takes away the sins of the world."
"Why do you think Yahya called Isa a lamb," I asked.
"I don't know."
I told my friend that prior to his death Isa had alerted his followers that He would lay down His life as a qurbani to set people free (Mark 10:45). Isa's subjection to public shame was all a part of Allah's loving plan to take away the sin and shame of His people. Just as He performed qurbani for Adam and Hawa to cover their shame, and just as He provided an animal for Ibrahim's son, and just as He told Musa the way of qurbani for the forgiveness His people's sin, now, in the death and resurrection of Isa, Allah was providing the ultimate qurbani - the ultimate sacrifice for sin. The shame and punishment that we deserved was laid upon Isa as a part of God's loving plan to restore honor to His people.
My friend didn't submit to Christ that day and is still a Muslim. We have had the family to our home and they have had us over as well. We have prayed in Isa's name for the healing for their children. We've helped them with English and with transportation. I still make visits from time to time. We continue to pray regularly for this family.
These dear people represent one of many Muslim families in our area who can be reached with the love of Christ. Please consider how you can extend love and friendship to the people God has brought here. Amidst headlines filled by the likes of ISIS et al, it is too convenient to lump your neighbor in with them. If you begin to pray and ask God for inroads and share your life with your Muslim co-workers, neighbors and friends, you might be surprised at the laid opportunities before you.
"Almasih Kahdost" is a long-time friend of Covenant Life who desires to see the nations come to Christ. Though preferring to publish anonymously, Almasih Kadost welcomes your comments below.
See all the posts in this series.
Share this on:
---
February 4 2015 at 10:20 am
0 Comments
---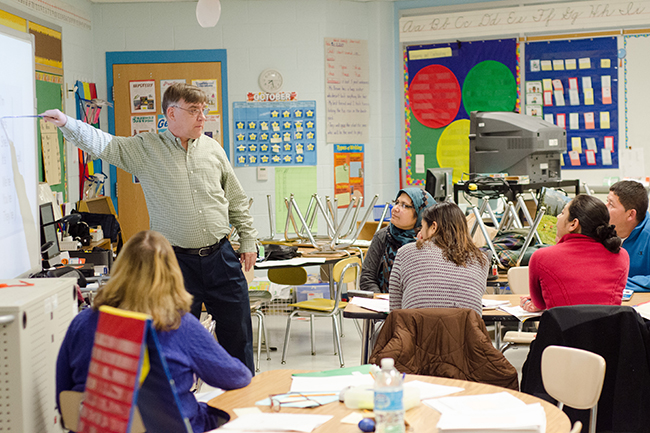 Covenant Life members are taking the gospel to the nations right here in Gaithersburg!
More than 22 members are diligently working in the ESOL (English for Speakers of Other Languages) ministry. Classes are held on Monday nights in the fall and spring at South Lake Elementary School.
The program at South Lake currently hosts over 30 students from 17 different countries who speak seven different languages at home. Four class levels are offered, from Beginners 1 (no English language ability) to Advanced.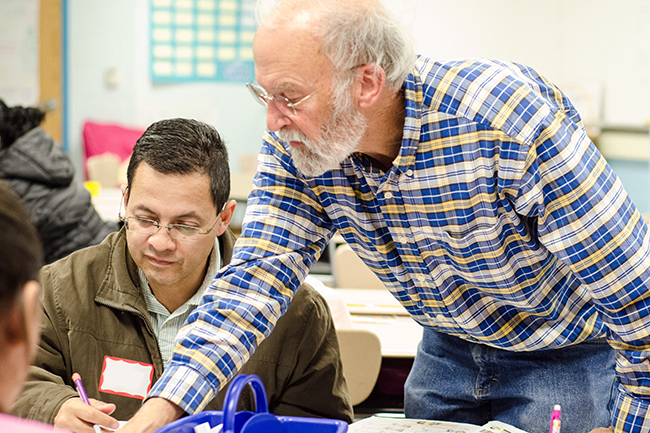 This is the third year that volunteers have been serving at South Lake. Most of the students in the ESOL classes are parents of elementary school students that attend South Lake and live in the townhouses and apartment buildings that surround the school. The ESOL teachers and assistants have had excellent support from the administration at South Lake, as many of children attending the school do not speak English at home, and our English language classes provide an important service to the community.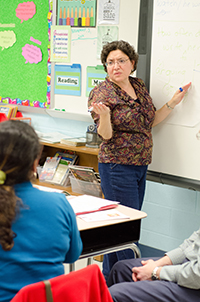 Each week volunteers present Scripture verses from the Two Ways to Live tract as part of the curriculum. God has given volunteers the opportunity to pray with students about their day-to-day struggles.
Advanced class teacher Geney Harvey and her husband Tim had the opportunity to pray with two students who were in need of a job, and God has answered these prayers.
Volunteers even organized Thanksgiving and Christmas parties to provide time outside the classroom to build relationships and give an opportunity for a clear and straightforward presentation of the gospel.
Several volunteers went the extra mile by serving a Chinese couple when they were visiting the U.S. for a year. To expand their skills and exposure to American culture, they took them to the grocery store, the county fair and on excursions to area landmarks. Thanks to their faithful investment in that relationship, the husband came to know the Lord.
Prayer Needs
- Please pray that the students needs would be met, and that they would understand that their ultimate need is Jesus. Many students have financial, work or family needs, and would benefit from our prayers.
- Please pray for enough volunteers for the spring semester of classes at South Lake Elementary.
- Please pray for additional volunteers to join the leadership team.
E-mail the ESOL Team to get involved, or contact LINK.
Share this on:
---
November 10 2014 at 9:04 am
0 Comments
---

Alone in a Strange Land
"My neighbor will talk to his dog, but he will not even say 'hello' to me."
As I sat in the living room of my new friend from India (we'll call him Rohit), the rawness of those words saddened me. Having lived in the United States for one year, working eighty hours a week, Rohit has yet to meet his neighbors or to have them even speak to him.
Just for a second, let's try to put ourselves in his shoes.
Imagine moving to a country where the social norms and mores were as foreign as the language. Your nice white collar job has been replaced by one with twice the hours and three times the physical demand; so much so that you have lost 40 pounds and need to live with another family to make ends meet. Though the weight loss might be nice, laboring on your feet 80 hours a week has exhausted you such that your few moments of family time are spent trying to rest for the next day. Then imagine getting suspended from one of your jobs because an act of hospitality (perfectly acceptable in your home country) is interpreted as something intolerable in this strange new land. Imagine that the holiday in which your family celebrates the triumph of light over darkness is overshadowed by a macabre night of vampires, blood, ghosts and children(!) dressed as such demanding candy as they incessantly ring your doorbell.
That is a taste of my friend's first year here.
God's Take On It
Long ago, God's people were told to look out for folks who were experiencing the above anxieties. He told his people to be proactive about caring for these folks and said:
"When a stranger sojourns with you in your land, you shall not do him wrong. You shall treat the stranger who sojourns with you as the native among you, and you shall love him as yourself, for you were strangers in the land of Egypt: I am the LORD your God."(Leviticus 19:33,34)
Now, before the devil whispers to you, "That was the old covenant. You're now in the new, no longer bound to such inconveniences," ask yourself if you've heard someone—a carpenter's son, perhaps—who said something very similar. Something like, "You shall love your neighbor as yourself." When Yahweh told the Israelites to treat the foreigner with kindness, he argued that they should do so because they too were once strangers in a foreign land. "Love your neighbors like you would want to be loved. Treat them like you would want to be treated. You remember how tough it was being in Egypt, right?"
Opportunity
With the holidays upon us, please consider reaching out to people like these in your relational network by inviting them into your home. It is a perfect opportunity to (1) show the love of Christ in action and (2) to tell of the love of Christ in word by explaining what you're thankful for, and/or why we celebrate Jesus' birth.
In working with international students and visiting scholars, I found myself constantly receiving gifts—ties, keychains and other assorted mementos—as a means of thanking me for teaching them English and/or the Bible. These giveaways were all clearly from the homelands of these dear people who had taken the time to pack their bags full of gifts for people who would invite them to their homes. More than once I heard stories of students returning home with the same gifts they had purchased in their country because no invitation had been extended.
Let's seize the opportunity of the holidays to give these folks reason to empty the tchotchkes from their suitcases. May we treat our international neighbors better than we do our pets.
"Almasih Kahdost" is a long-time friend of CLC who desires to see the nations come to Christ. Though preferring to publish anonymously, Almasih Kadost welcomes your comments here.
See all the posts in this series.
Share this on:
---
November 9 2014 at 9:00 am
0 Comments
---

The Light Shines in Darkness
Question: What holiday is nearly eclipsed by Halloween every year? If you said "Thanksgiving" you get credit because costumes and candy are more heavily marketed than turkeys. But your credit is only partial because that's not the answer I was looking for!
For Hindus in the U.S., the holiday Diwali (commonly known as "the festival of lights") often falls in October and, predictably, receives little attention compared to Halloween, a holiday of darkness if there ever was one.
Sometimes called Dipawali, this five-day holiday can mean various things to the diverse groups (Hindus, Jains, Sikhs and others) who observe it. Many see this as a celebration of the Hindu deity Krishna defeating the demon Narakasura. Others emphasize the defeat of Ravana (another demon) by the god-man Rama.
Differing interpretations notwithstanding, most at least see Diwali as a time to celebrate good's triumph over evil or light's victory over darkness. I think this is where we can humbly bring something to the conversation.
A Bridge
Do you have friends who might have recently celebrated Diwali? (This year it fell roughly between October 19 - 25). If so, consider asking them about it. Ask, "Do you celebrate Diwali? How was it this year?" Honestly listen and learn. Humbly ask for them to explain the holiday's significance to you. If they don't mention it, ask for them to explain what role "light" plays in the holiday.
After engaging them about the "festival of lights", let them know you too believe that "...the light shines in darkness, but the darkness has not overcome it" (John 1:5). But tell them Jesus identified Himself as this light saying, "I am the light of the world. Whoever follows me will not walk in darkness but will have the light of life" (John 8:12). Tell them that Jesus made another bold claim when He said, "I am the Way, the Truth and the Life. No one comes to the Father except through me"(John 14:6).
Later in this or another conversation, you may wish to ask more questions as to what they believe happens to a person when they die and what role karma plays. (Karma means action or deeds). Responses frequently lean towards good karma outweighing bad for a favorable post-death outcome. Consider asking how much good karma is enough? Humbly share with them Jesus' affirmation of good deeds, but that he taught what was most important was believing in Him (John 6:29). Let them know that Jesus had nothing but good karma and that He is both willing and powerful enough to remove your bad karma and give you his good.
More more could be said than can fit in a small article like this, but the above hopefully will get you started. Remember to be a genuine friend and frequently share what the Lord is doing in your life. Pray for your friend. They've been blinded by the god of this world, just as you once were. Pray that the Light of the World will shine in their dark prison to deliver them.
In closing, remember this: The self-identified Light of the World called you the light of the world, too (Matt. 5:13-16). Shine your light amongst the nations, brothers and sisters.
Additional resources:
• "Jesus Among Other Gods" by Ravi Zacharias
• "Sharing Your Faith with a Hindu" by Madasamy Thirumalai
"Almasih Kahdost" is a long-time friend of CLC who desires to see the nations come to Christ. Though preferring to publish anonymously, Almasih Kadost welcomes your comments here.
See all the posts in this series.
Share this on:
---
November 6 2014 at 8:57 am
0 Comments
---

For years, my job required that I commute from Maryland to Virginia. As such, I joined thousands of other locals in experiencing the daily joy (read "horror") of crossing the American Legion Bridge. I'm sad to say that I came to view that bridge as a real force of evil until I realized its absence would create a far less desirable alternative: no way of getting across. Bridges, I came to see, are good.
In many ways, Muslims and Christians seem to be on opposite sides with no common ground between them. Indeed our differences are many and pronounced. Take, for example, the fact that Christians believe Jesus to have been crucified (1 Peter 2:24), while Muslims object that it was only made to appear so (an-Nisa (4) 157*).
It seems the bridge is out.
But is it?
October 4 and 5 mark an opportunity for Christ-followers to build a bridge of conversation with our Muslim friends. The Islamic calendar calls these days Eid al-Adha, which is Arabic for Festival of the Sacrifice. This time commemorates Abraham's willingness to sacrifice his son. (as-Saaffat (37) 100-107)
So there is some common ground amidst all of the differences between us. Along with Christians, Muslims also believe in Abraham, Adam and Eve, Moses, John the Baptist, Jesus the Messiah and more (Ibrahim, Adam and Hawa, Musa, Yahya, and Isa al-Masih, respectively).
Begin to build a bridge to your Muslim friends by asking them about this holiday. Typically, it is westerners who are uncomfortable discussing religion, so don't shy away from bringing it up. Remember to come as a learner and not one who is going to set them straight. Dialogue rarely occurs this way. Ask them about the story behind the holiday, how they will celebrate and with whom.
After your friend has explained to you the story of Abraham's near-sacrifice of his son, you can segue into telling them that true followers of Isa (Jesus) also believe in sacrifice. We believe in the Taurat (the Torah) which tells the story of Ibrahim, and we too believe God provided a sacrifice to take the place of Ibrahim's son as does the Qur'an (as-Saffat (37) 107).
Tell your friends that God has used sacrifice throughout history. Tell them how God used sacrifice to cover the shame of Adam and Hawa's sin (Gen. 3:21). Tell them how God used the prophet Musa to instruct the people to bring sacrifices for the forgiveness of sins (Lev. 4). Tell them how, through the prophet Isaiah, God foretold of the coming masih (Messiah) who himself would be a sacrifice. Tell them how the prophet Yahya (John the Baptist) identified Isa, as "the Lamb of God who takes away the sin of the world." Why would Yahya call him a lamb? Tell them that Isa said he would lay down his own sinless life as a sacrifice for the sins of his people (Mark 8:31, 9:30-32, Matt. 20:17-19). Explain to them that it was not a dishonorable death for a prophet, but the most honorable thing anyone could do for another.
Reach out a hand to your neighbor by asking them about Eid al-Adha this year. Dialogue with them about their beliefs and share with them yours.
Bridges to your friends exist. By God's grace, look for them and cross them. Doing so embodies the heart of Jesus who crossed (pun intended) the ultimate bridge to reach us.
*Unlike the Bible, the Qur'an is not a compilation of books, so when citations are used, the numbers refer to a sura (chapter) and verse (ayah). Another distinction is that the suras are more widely known by their names rather than numbers. Hence "an-Nisa (4) 157" means "verse 157 of the fourth chapter, which is called an-Nisa."
"Almasih Kahdost" is a long-time friend of CLC who desires to see the nations come to Christ. Though preferring to publish anonymously, Almasih Kadost welcomes your comments here.
See all the posts in this series.
Share this on:
---