July 21 2014 at 2:13 pm
0 Comments
---
Worthy14 is our high school ministry's annual summer retreat where we get away from our normal surroundings and the busyness of life.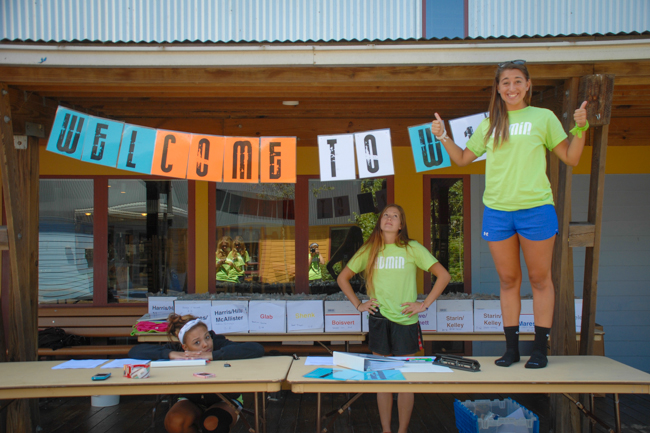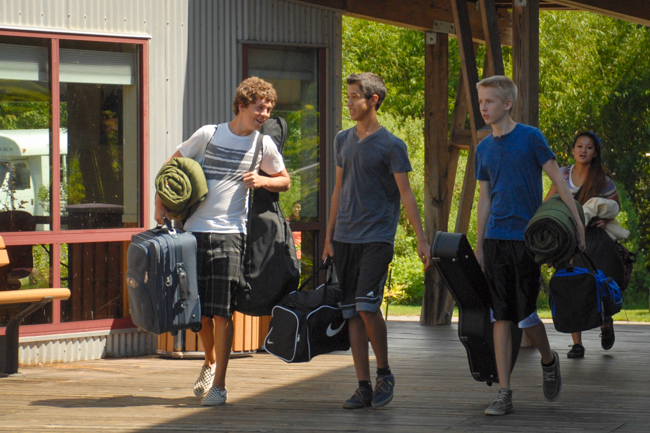 A Worthy13 camper: "At the retreats, talking about God is a natural thing, and I loved being able to bring up the Lord in conversation with my friends, whether we were playing pool or walking on the beach… the atmosphere is so spiritually rich."
"The incredible opportunity to grow closer to God by focusing on Him and spending time with His people at the retreats is not to be passed up."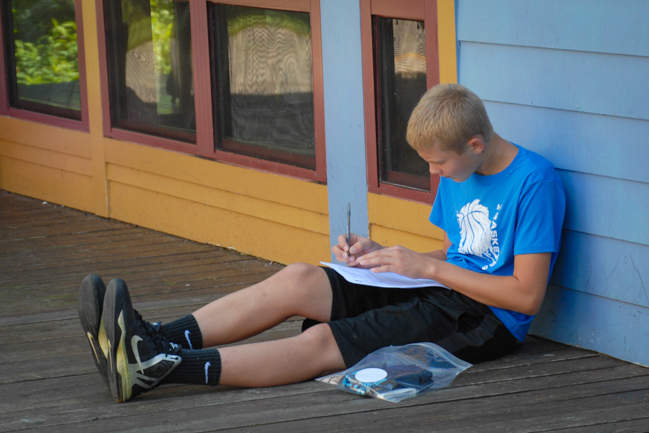 This year, we will be taking time to look at the question, "How will my life change if I actually believe the Bible is absolutely true?"
Each year God meets us in incredible ways through times of worship and teaching, lots of games and times of fellowship throughout the day as we seek His face together.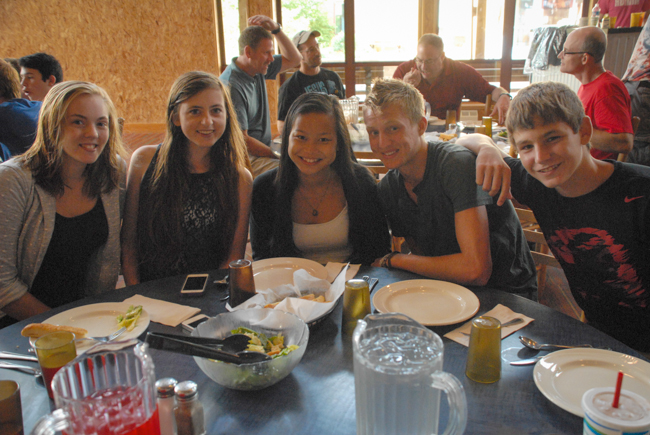 Hip Hop Artist and Speaker, Brian Davis, is coming this year, and will be teaching us along with Jon Smith, Joshua Harris, and of course, Dave Brewer.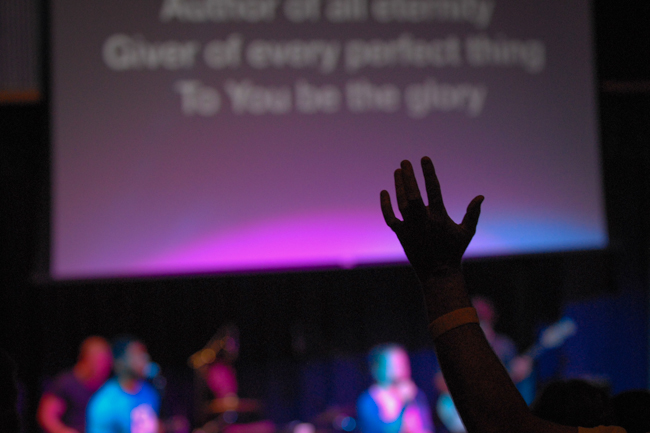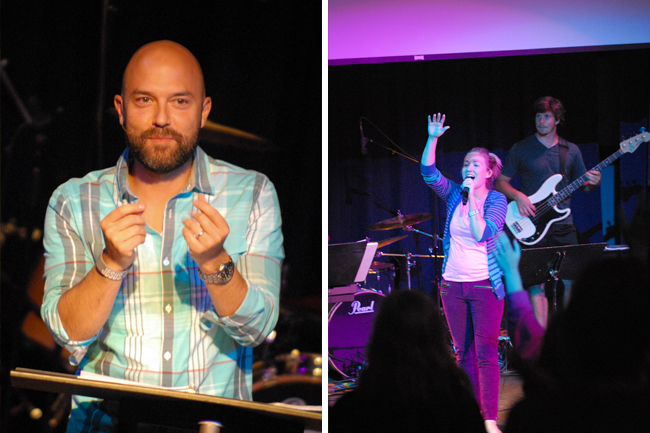 As you've probably heard in teens' baptism testimonies, every year teens come back with a renewed love for God and excitement for learning about him and loving him more.

We are all about having a good time at Worthy, and you can be sure that you will come away from with awesome memories! We want you to join us, both to have a ton of fun and to be changed for God's glory.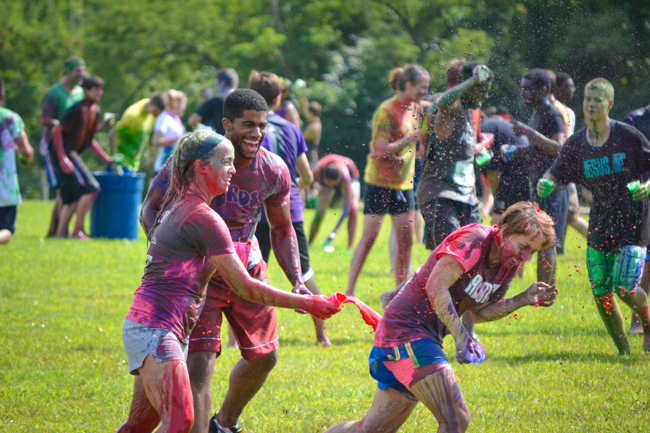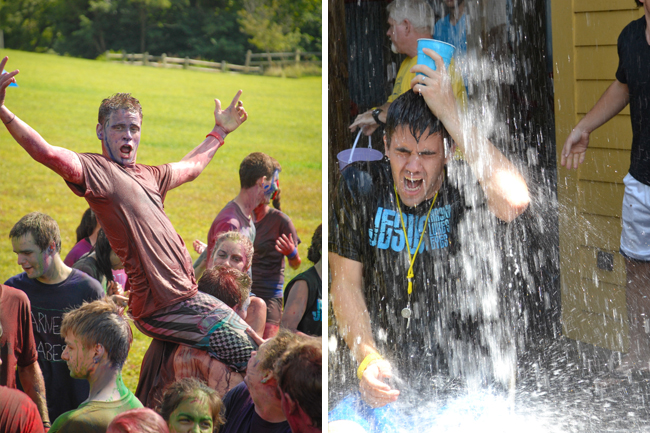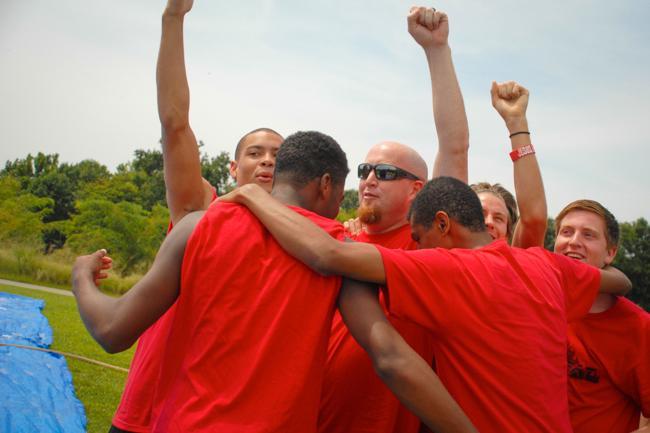 Families that are just visiting Covenant Life or have been attending church but not participating in the youth ministry are welcome to attend.
Registration is open and there are scholarships available for those in need of financial assistance. We don't want anyone to be turned away because of the price of the retreat.
For more information, please call the church office, or e-mail .(JavaScript must be enabled to view this email address).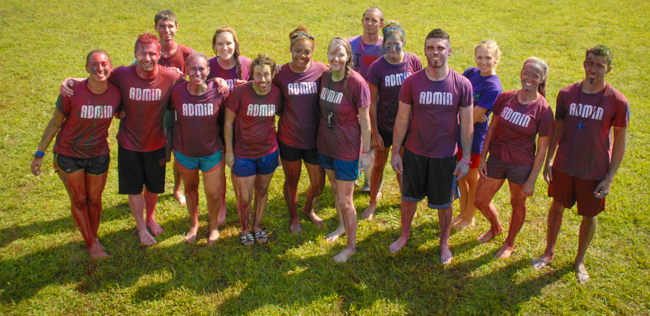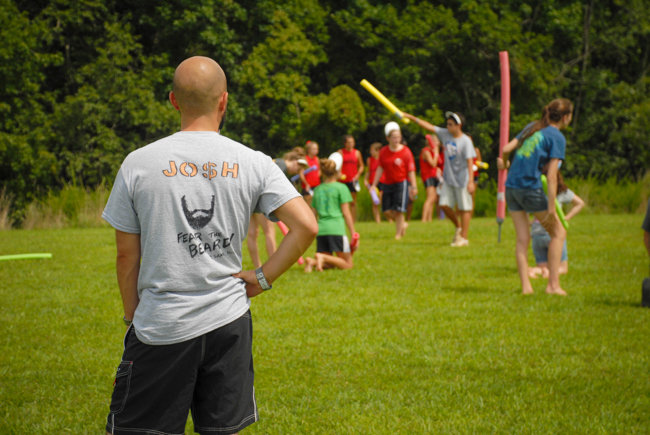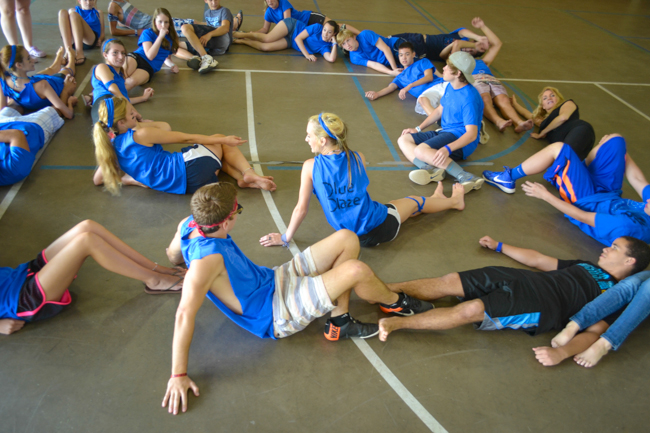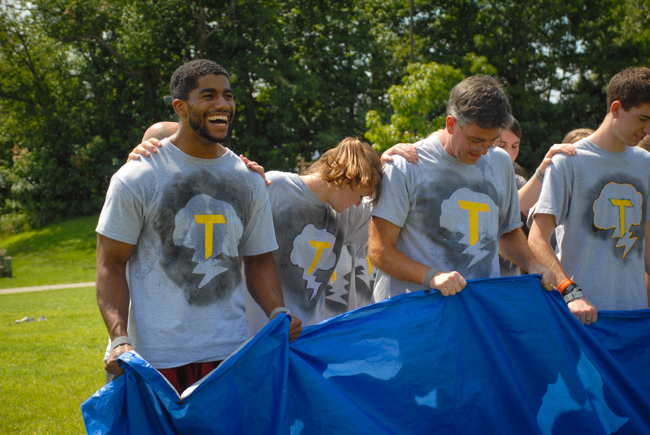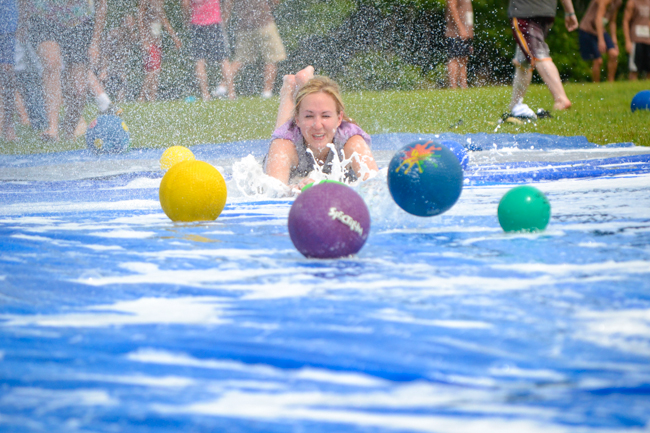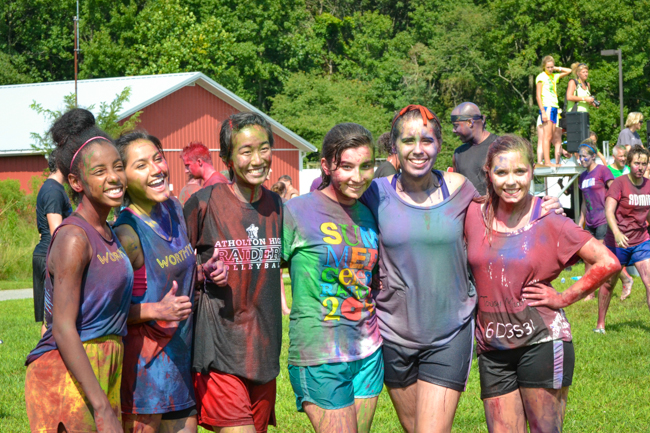 Share this on:
---
July 14 2014 at 3:06 pm
0 Comments
---
"The simple generosity of Covenant Life opening their building has left a huge ripple effect for the ministry, Fellowship of Christian Athletes, and people coming to know Christ around the globe," said Maryland State Director of Fellowship of Christian Athletes (FCA) Mark Stephens, after another successful FCA sports camp at Covenant Life this past June.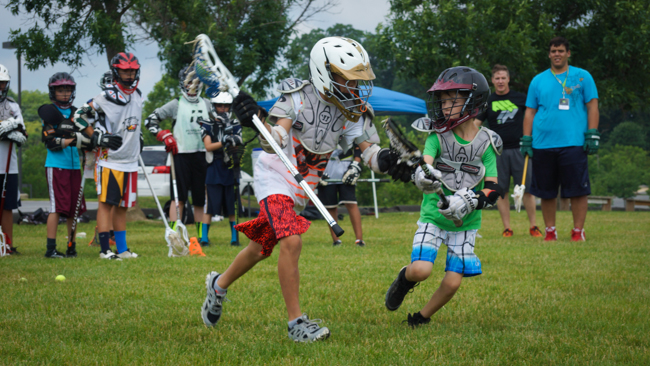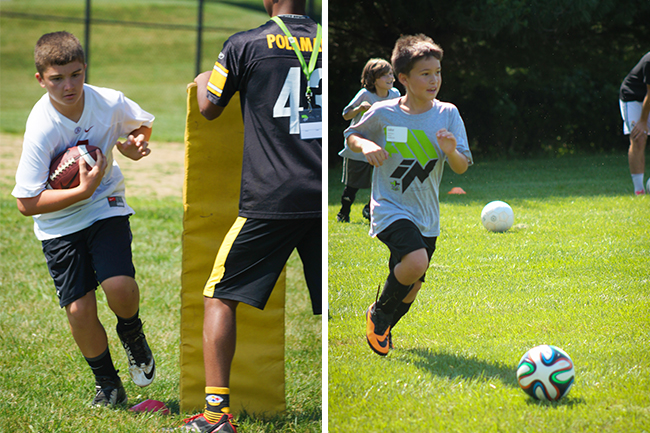 If you happened to be at the church during the week, you would have seen hustling lacrosse sticks and whizzing footballs in the fields, soaring volleyballs and squeaking basketball shoes in the gyms, and teetering cartwheels and running flips in the lobby. At this "All In" Power Camp, about 200 eight to thirteen year-olds, 50 high school small group "huddle" leaders, and 50 adults participated.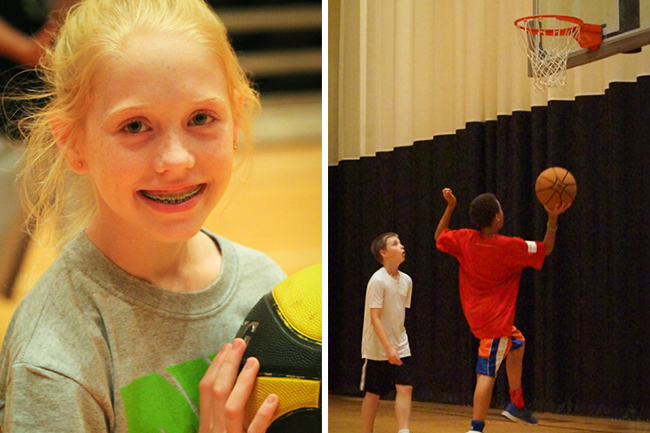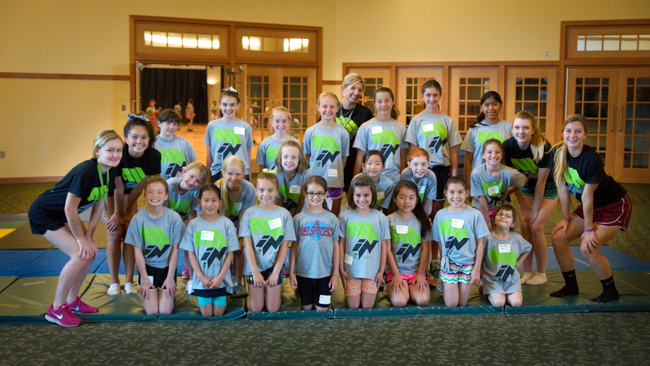 Four people from Laos, Singapore, and Korea also came to observe, learn, and be trained to lead these camps in their own countries.
"These guys are pumped up. They are really going to go back and do something. There's gonna be an incredible ripple effect from this camp," Stephens shared. "This FCA camp at Covenant Life Church is a model for the world."
A Vietnamese sports ministry leader came out to shadow Stephens a couple years ago and went on to lead two FCA camps in Taiwan and two in Vietnam. Since then, others have come for training: Reon from Singapore, Philip from Malaysia, and Suttisak from Thailand.
"Vietnamese kids left by the wayside that no one was going to interact with, kids who get one bowl of rice a day and have only the t-shirt on their back, were shown the love of Christ through sports," Stephens shared.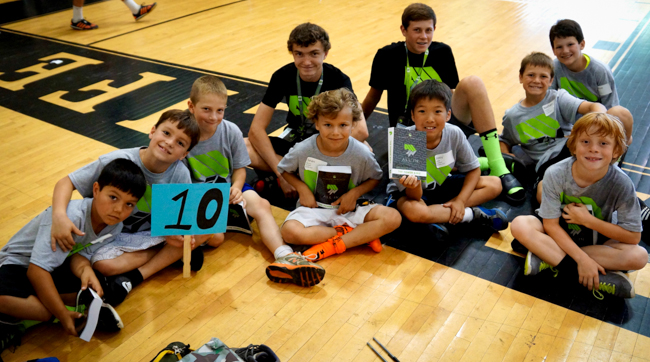 "I was a pastor for 15 years," Stephens said. "Sometimes as a church you think, 'Oh, we'll be nice and loan someone our building and not charge rent. We'll do a good deed.' This church has no idea the positive impact that it has made on this community and worldwide by their generosity of opening their doors. "
He shared that the hundreds of people who have come through Covenant Life's doors for FCA camps have nothing but positive things to say about this church.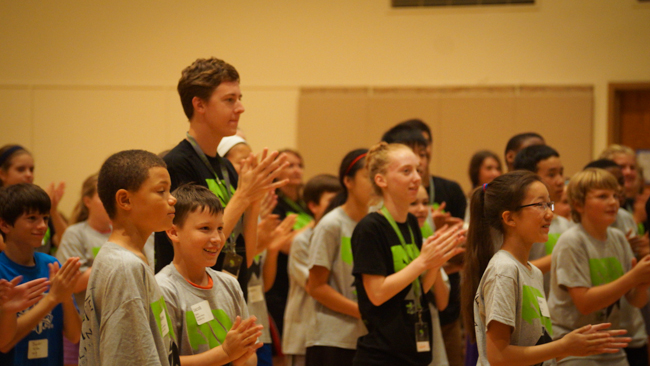 "Whether it's the location, or the kindness, or how the staff works with us, it just keeps getting better… I'm forever grateful for the partnership that we have with Covenant Life and how they've supported us," Stephens said. "I consider them friends, not just partners."
"It's been incredible to be here," said camp director Hannah Cheung. "Churches don't usually have three gyms and a couple fields. The facility has been perfect for the camp. It's the smoothest camp I've done in six years."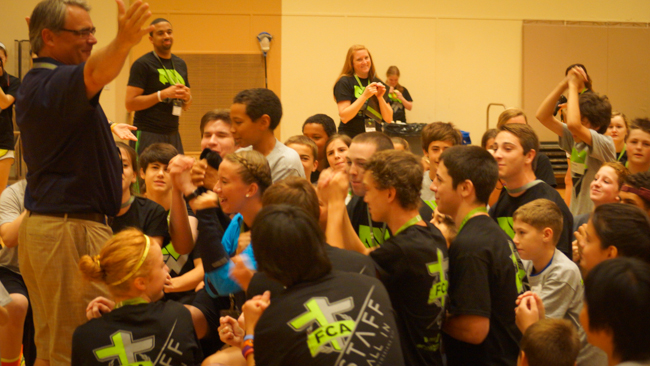 The Laos pastor explained that in Laos, where 98% of the seven million people are Buddhist, "the problem is getting the people to come to the church—they will not come." He is a part of the 2%.
While there are camps all across America, he has never seen a camp in Laos. His kids never attended camps. They're not a part of the culture. He said, "So, we are trying to find new ways to share the good news. To do a sports camp is one of best ways. When we ask people to come to play soccer, they come. That's why I came here. To learn, see, and experience the camp and how they do it here."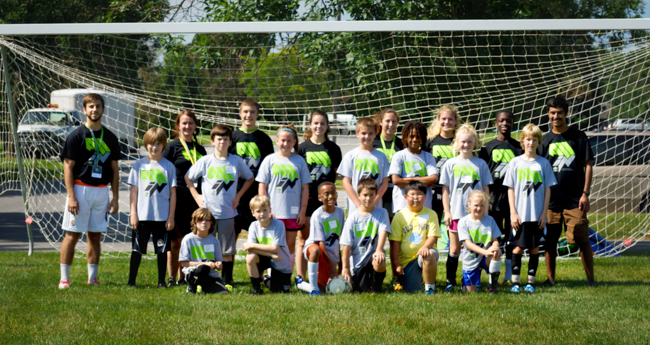 When he heard about FCA, he was excited. "You can share the good news to the non-believer and build the relationship between the kids and God through the sports camp, so it's a very powerful way to do a camp to reach the people, to share Christ, and to build up the faith of a believer."
"Please pray for us," he said. " We would love to have sports ministry in all 700 hundred churches to reach out to the young generation."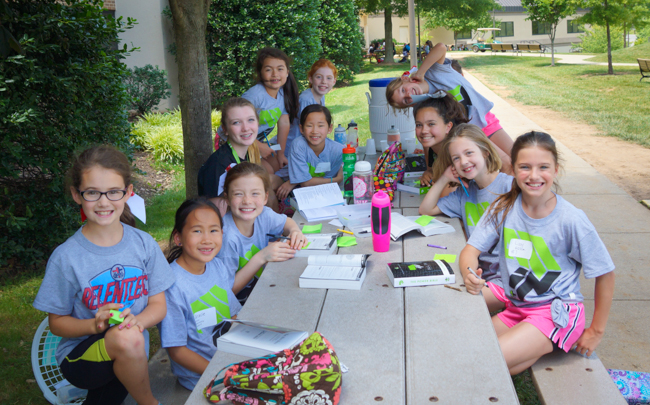 In Korea, when it comes to sports, "We are a top down, Olympian level, high profile level," explained Korean FCA director, Olympian Committee member, and Taekwondo master Hyung don Jung (Lion is his English name).
When he returns from observing this camp, Lion hopes to focus on high school level athletes. He has sensed discouragement in sports for young people who are not interested in high profile achievement. He wants to encourage them to come together and play.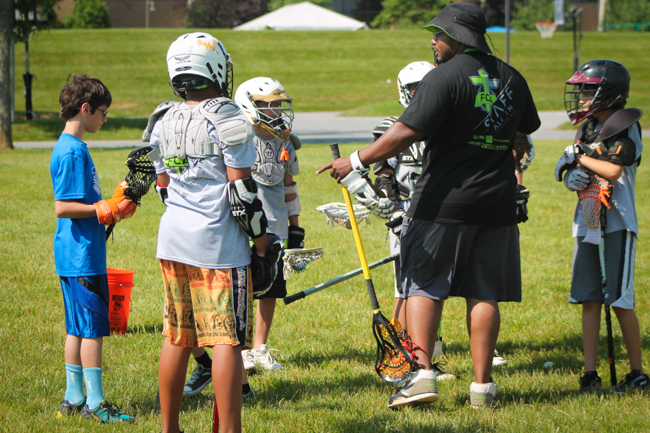 "FCA is an important thing. They really love Christ," Lion said. "Your church is doing great things. Nationality, race, everything is overcome for the sake of the kingdom. Everyone is for the same kingdom here. It will be a great influence on the next generation."
Stephens shared how after the first day, a mom and son were walking out when she asked how his day was, he said, "Mom, I love this camp."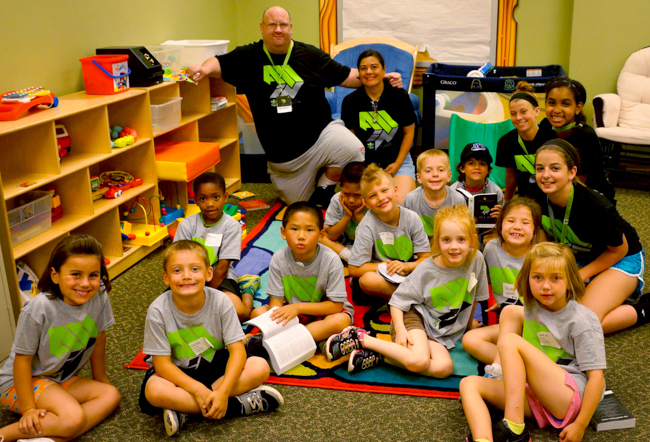 "That's what we want," Stephens said, tearing up. "We want kids to keep coming back. They're gonna come back if they love it, and they'll love it if they get loved."
"All for the glory of God. That's the important thing," Lion said. " 'All In' for the kingdom."
Photo Credit - MOCO FCA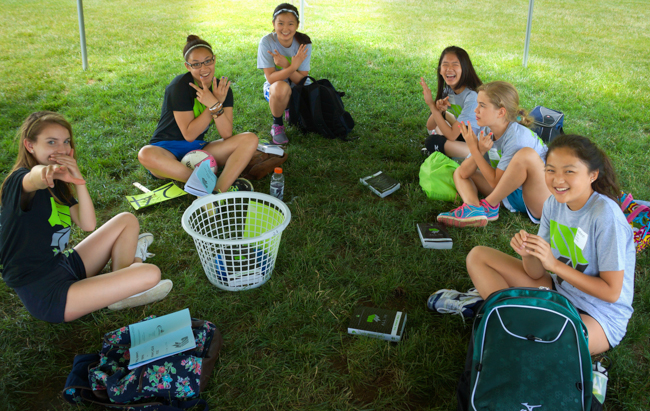 Share this on:
---
June 30 2014 at 12:24 pm
1 Comments
---
"Today was the first time I've been in a church for over 50 years," shared an elderly Forest Oak Towers resident during a Senior Saints luncheon at Covenant Life Church.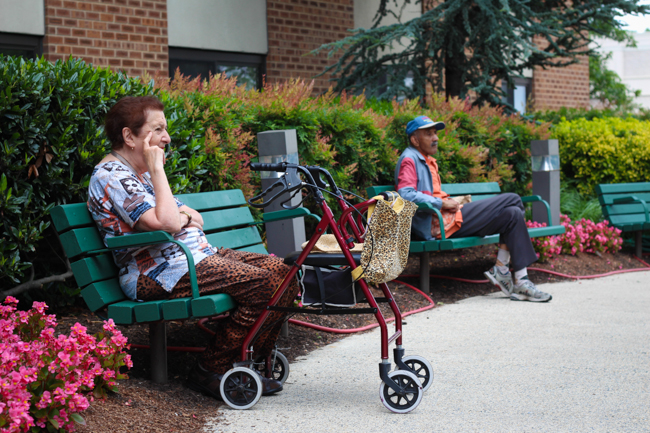 When she and her husband emigrated from Europe to the U.S. during World War II, they arrived penniless, having entrusted all their financial assets to "Christians" who had promised to send their money ahead for them. The funds never arrived, and so the couple grew embittered and distanced themselves from the Christian church.
Now years later, as a result of the weekly lunches spent with Covenant Life members in the Forest Oaks cafeteria, she felt comfortable attending the luncheon held at the church. Afterwards, she shared how very blessed she was to be there, hear Robin Boisvert's message, experience the kindness of those attending, and be treated so lovingly. She wants to return.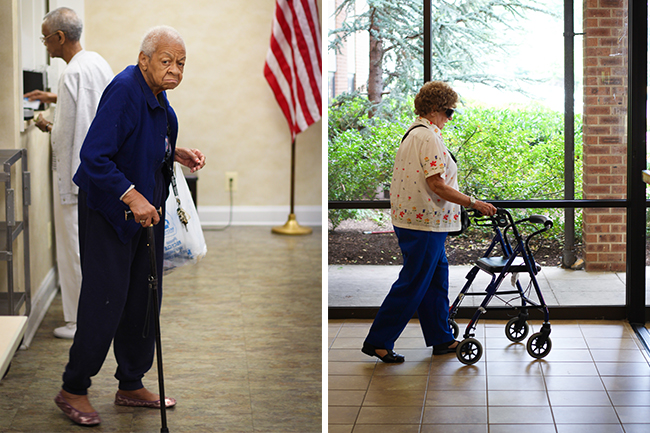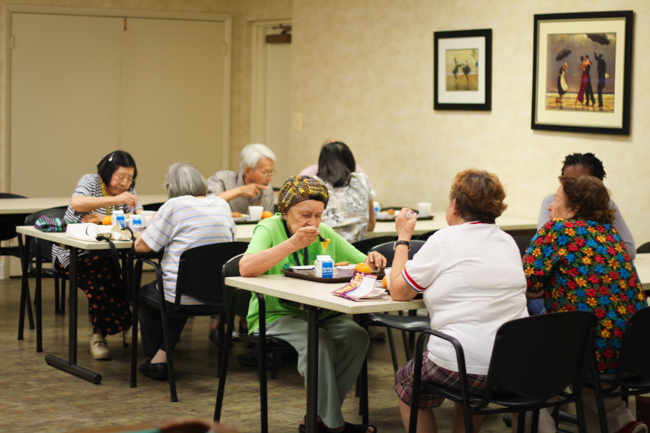 This is only one of many life stories at Forest Oak Towers, a 175-apartment complex on Odendhal Avenue in Gaithersburg for 220 residents with an average age of 73.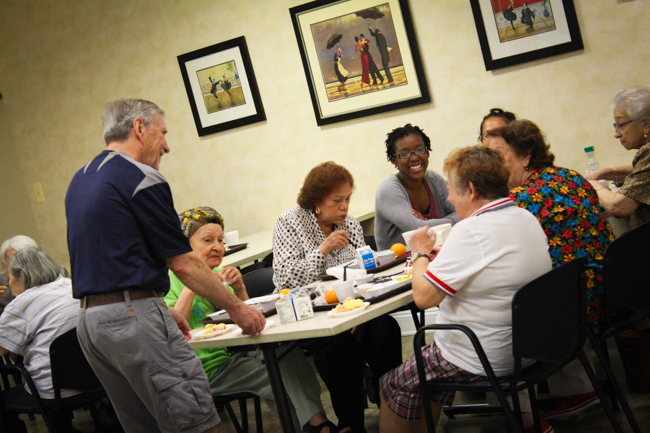 For the past two years, Covenant Life members Drew Garfield, Dennis Cook, Bob Merryman and others have been spending their Wednesday lunch hour with the residents. Recently, they started a monthly Bible Study, requested by residents.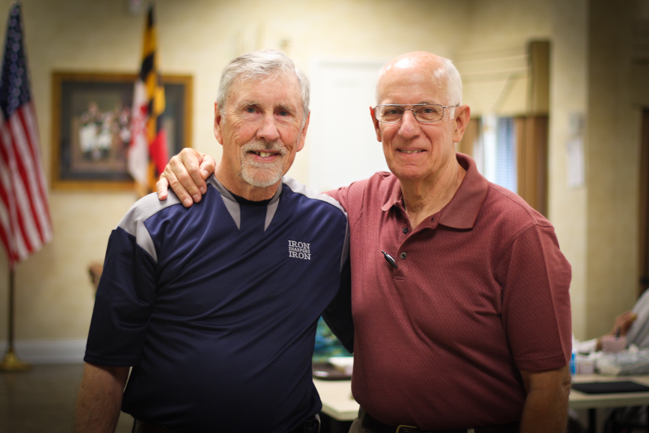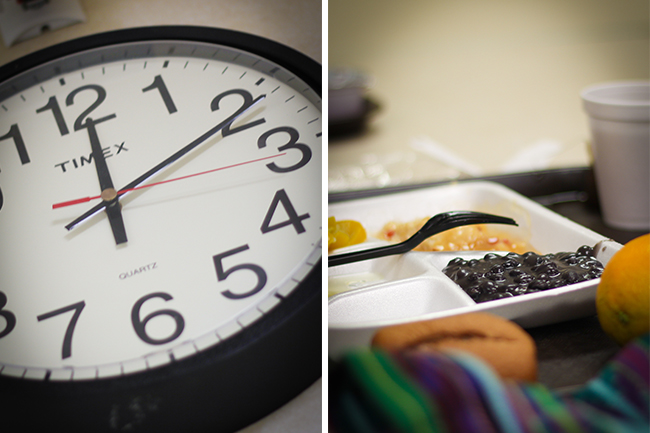 "Our goal is to share the love of Christ through fellowship and friendship," Bob shared. Their hope is to present the gospel of Jesus Christ, encourage faith in Christ, and see the Holy Spirit at work in their lives.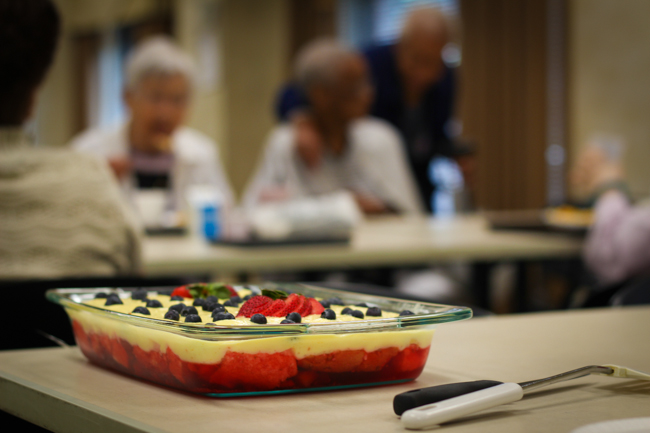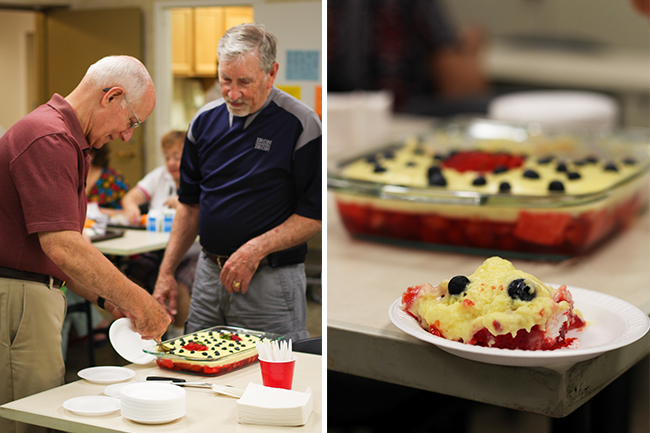 "I get a queasy feeling in the pit of my stomach at the prospect of approaching strangers," Dennis said, "At first, I felt very uncomfortable, wondering if I had anything to offer."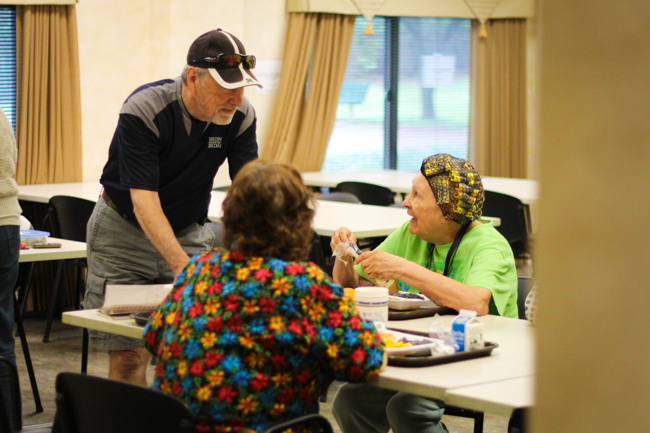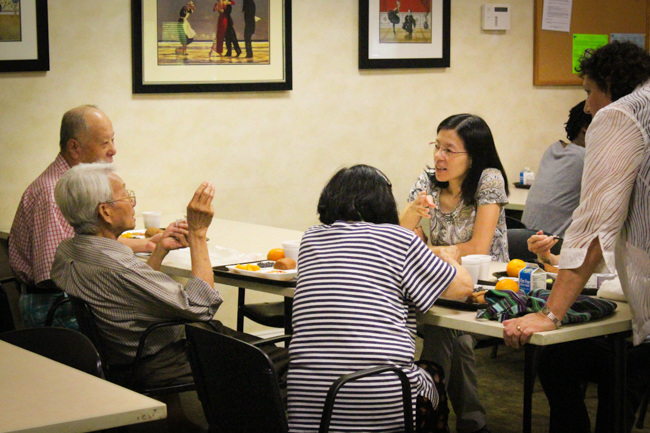 They have come alongside residents as friends, heard about their lives, shared about their own, prayed with them through sickness and hardship, and even helped with practical needs like hanging a picture or moving light furniture.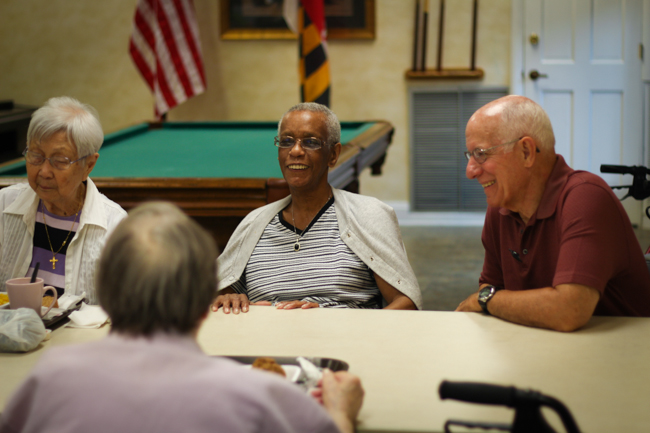 "We have learned that the regular visits residents can depend on foster relationships," Dennis shared. "We have been told that even if we don't hear it, we are appreciated, even expected, so please don't stop coming."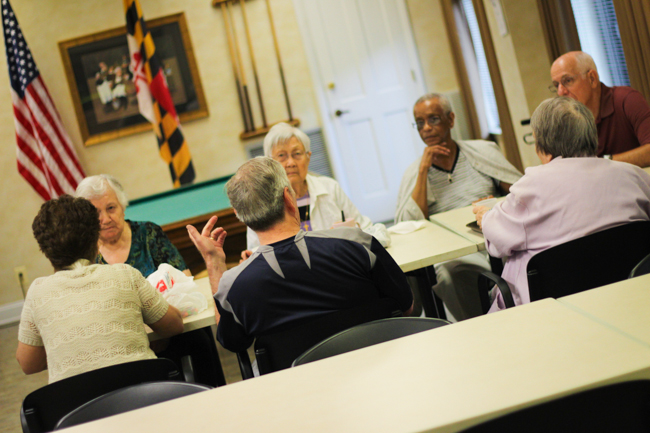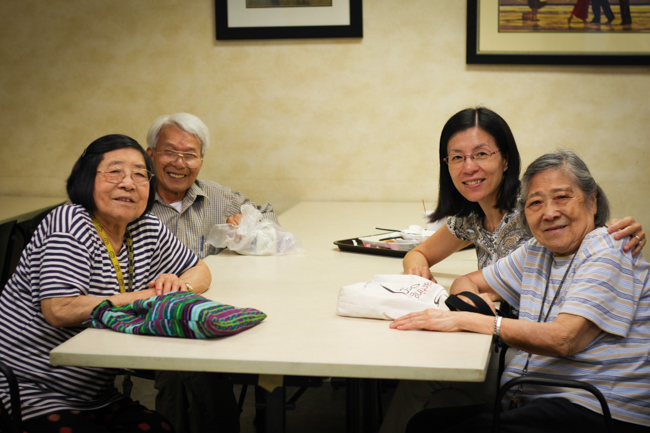 Bob and Dennis describe the residents as "quite a bunch of characters." Nelson loves to sing Karaoke, Luce-Marie honestly shares about life, and Matilde helps where she sees needs.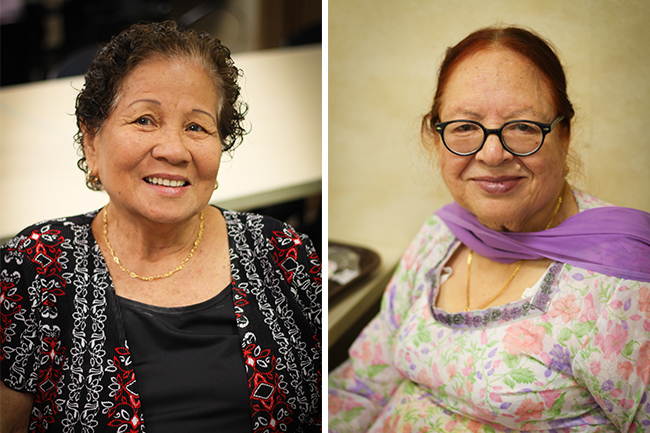 Nancy is a chatterbox and writes poems. Alice offers care-giving counsel and asks after their wives. and Irma chases them down to give them hugs. Margarit loves classical music, opera, and ballet and takes care of Vartouhi.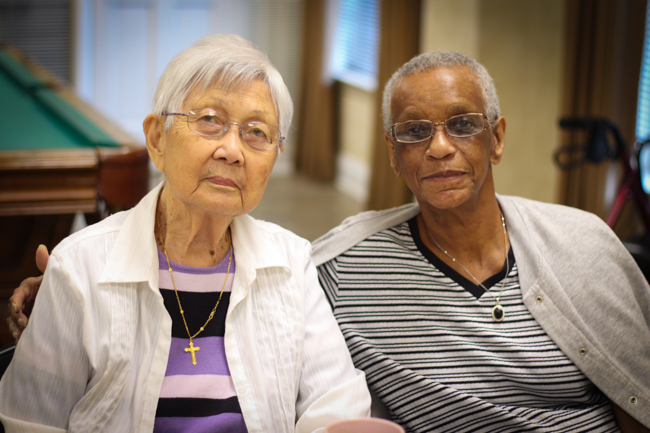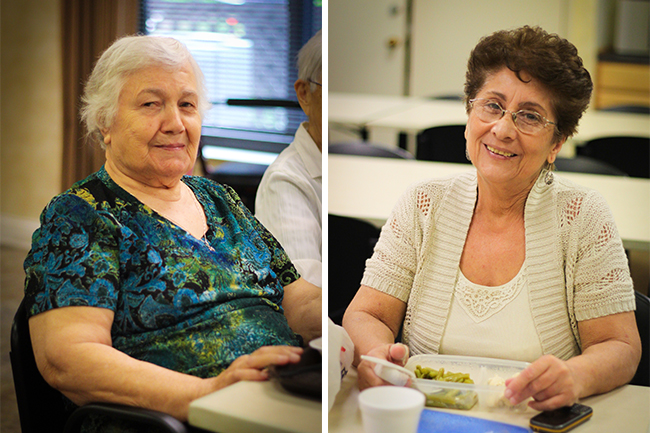 Sisters Bessie and Flo challenge them to crossword puzzles, and Don sparks deep conversation through his honest questions about God.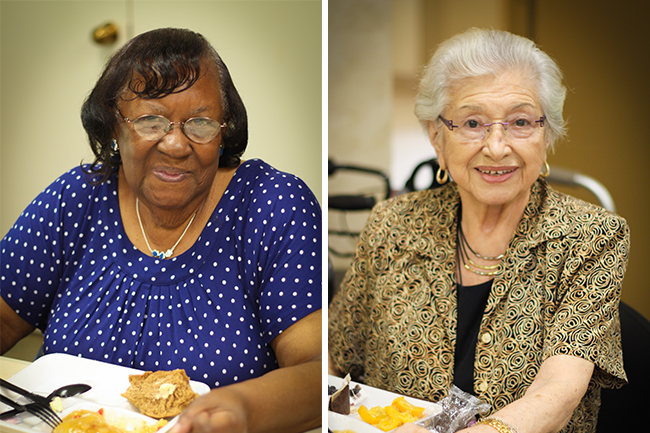 Nettlie loves Jesus and wears her "I love Jesus" lanyard all the time. Sisters Mrs. Tsui and Mrs. Chang can't speak English, but they wave and Mr. Tong gives thumbs-up.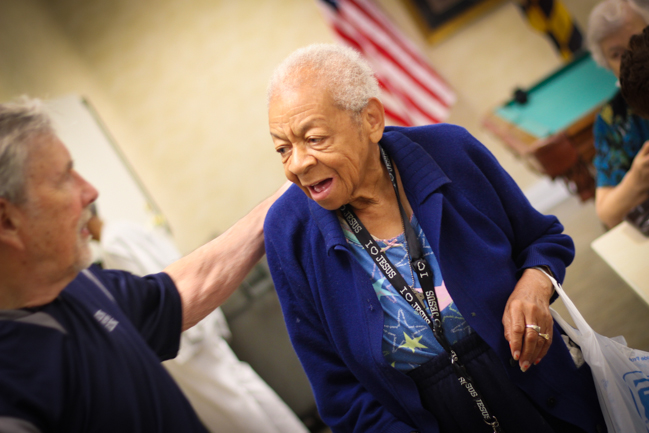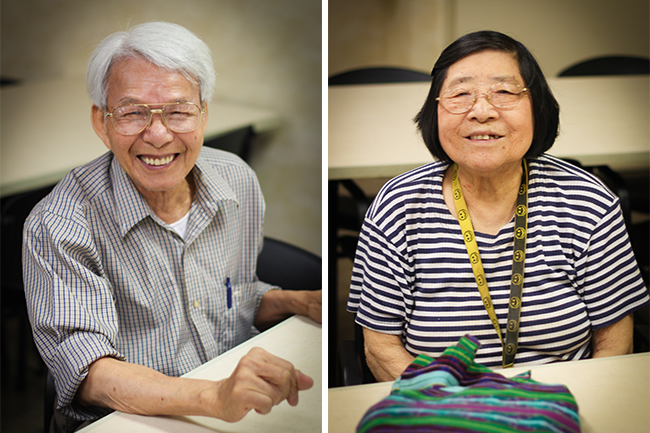 "If you see me fightin' with a bear, don't worry about me, help the bear," says Olivia who crochets baby outfits. Penny and Al are pals and greet everyone in the mailroom when they come to check for letters.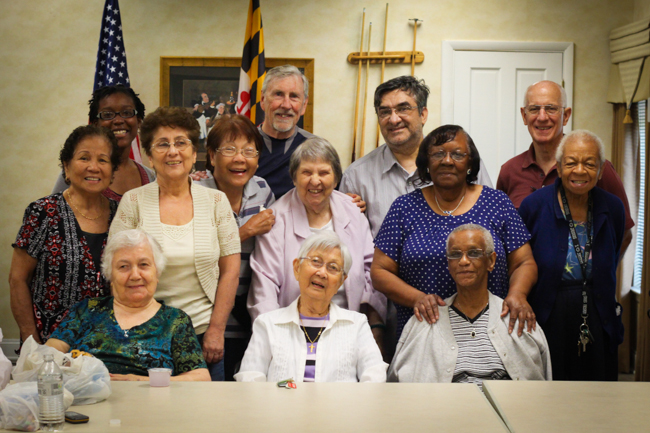 "This experience is probably serving me more than anyone is being served by me," Dennis shared. "We are grateful to have the privilege to serve an awesome God," Bob said.
Photo Credit: Betsy Reich
Share this on:
---
January 16 2013 at 4:05 pm
0 Comments
---
Dear Church,

We're writing to update you on a new development in the legal process that began unfolding last fall. The lawsuit that was filed in October has been amended. It now names our church and our school as defendants. In addition it alleges sexual abuse by an unnamed "pastor and teacher" and "children's ministry worker" (though it does not make clear what institution these persons are connected with nor when the events allegedly occurred).

We're currently working with legal counsel to investigate these allegations. But our counsel has confirmed with counsel for the Plaintiffs that these unnamed persons are not current employees of the school or pastors at the church.

It will take time for us to review and investigate these new allegations. We ask for your patience—it's very likely that this is going to be a lengthy process. Please continue to pray.

We are sickened by the thought of such abuse—sexual abuse in any form is evil and unconscionable. We are grieved by these allegations. We also recognize that we don't have all the facts. We would encourage everyone to withhold judgment until an appropriate legal process can be completed.

We want you to know our commitment is to do what is right before the Lord throughout this process. We want justice and truth to prevail—whether this indicts past actions or vindicates them. If wrong has been done, we want that to be revealed and for there to be appropriate accountability. We also know that it is possible for people to be wrongly accused, and so we pray that God will protect anyone from inaccurate or distorted or false accusations.

Please join us in praying for God's will to be done and for our church to walk through this difficult process in a manner that demonstrates our hope and trust are in him. Let us pray that this testing will make us more dependent on God, more compassionate to the hurting, and more effective in sharing the love and tender care of Jesus Christ with others.
"God is our refuge and strength, a very present help in trouble." (Psalm 46:1 ESV)

Sincerely,

The Pastors of Covenant Life
Comments are turned off for this post.
Share this on:
---
November 3 2012 at 11:10 pm
2 Comments
---

Dear friends,
Many of you have seen and heard of the difficulties of our neighbors in New York and New Jersey in the wake of Hurricane Sandy. In response to the needs of the people in these areas, one of the members of Covenant Life Church is planning to send a truck and trailer with food and supplies in an effort to bring some relief.
What you can bring:
- cases of water
- non-perishable food
- cans of soup, chicken, tuna
- diapers
- packaged food, crackers
- toilet paper
- blankets
- jackets and coats, shirts, and other clothing
- flashlights
- batteries
- candles
Where to drop:
- the big red trailer in the church parking lot
When:
- Sunday Morning before and after both services (11/4)
- Before and after the Members Meeting Sunday night (11/4, 6 p.m.)
- Monday morning (before 9 a.m.)
The supplies will be transported on Monday (11/5) to distribution points and communities that are in need. Please pray for the safety of those involved, and that the Lord will lead this effort for his glory.
Thank you for prayerfully participating in serving our neighbors,
Joshua Harris
on behalf of the pastoral team
Share this on:
---
June 11 2012 at 7:01 pm
2 Comments
---
In his message yesterday Joshua Harris reminded us that Christians need to think carefully about what it means to love our neighbors as we take a stand on the issue of so-called same-sex "marriage."
Mark Mitchell has compiled a list of helpful articles and videos that speak to this subject:
On the church's response to homosexuality and same-sex "marriage":


On the definition of marriage:


Sherif Girgis, Robert George and Ryan T. Anderson, "What is Marriage?" Social Science Research Network

On the important connection between marriage and children:


On biological tendencies toward homosexuality
Look for audio and an outline of Joshua's message in the Resource Library.
Share this on:
---