March 23 2015 at 9:03 am
0 Comments
---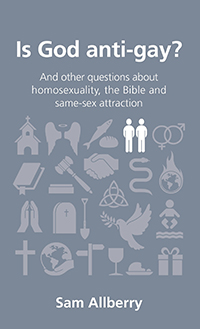 Shifts in our culture related to homosexuality have raised significant questions for Christians that are are now a part of everyday life. What do I do when someone close to me tells me they experience sam-sex attraction? How do I relate to people at my job, in my neighborhood, or in my family in a God-honoring way who are homosexual? What does the Bible really say about all this?
Once you get past the awkward title, Is God Anti-Gay? is a brief, thoroughly Biblical and practical guide to understanding Homosexuality. The author, Sam Allberry, is a British pastor and author who has experienced same-sex attraction himself and has a burden to help the church with this issue.
For more information, check out Tim Keller's review of Allberry's book, as well as another related (and recommended) book from the Gospel Coalition.
Share this on:
---
March 19 2015 at 9:48 am
0 Comments
---
This post is shared courtesy of Keith Welton's blog "Everyday Truth." He shares his reflections on Scripture and other helpful topics regularly.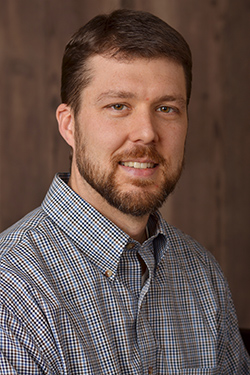 Psalm 145 is a song that rejoices in the greatness of God. It exhorts us to consider the Lord's incredible goodness and to voice our gratitude for his great works. If you are looking for a passage of Scripture to memorize, it is a great place to go. Meditating on the goodness and greatness of God can transform joyless attitudes and inspire faith where we lack it. Matthew Henry's commentary is excellent in expositing the meaning of the psalm. Here are some outstanding excerpts:
On the psalmist saying, "Everyday I will bless you and praise your name forever and ever" Henry says:
"No day must pass, though ever so busy a day, though ever so sorrowful a day, without praising God. We ought to reckon it the most needful of our daily employments, and the most delightful of our daily comforts. God is every day blessing us, doing well for us; there is therefore reason that we should be every day blessing him, speaking well of him."
The psalm mentions the Lord's greatness being unsearchable or unfathomable. Here David does not mean that we cannot know God. Clearly we can know God because he reveals himself to us, but what he means is that we will never grasp all of God's greatness. Henry says about this greatness:
"We must declare, Great is the Lord, his presence infinite, his power irresistible, his brightness insupportable, his majesty awful, his dominion boundless, and his sovereignty incontestable; and therefore there is no dispute, but great is the Lord, and, if great, then greatly to be praised, with all that is within us, to the utmost of our power, and with all the circumstances of solemnity imaginable. His greatness indeed cannot be comprehended, for it is unsearchable; who can conceive or express how great God is? But then it is so much the more to be praised. When we cannot, by searching, find the bottom, we must sit down at the brink, and adore the depth,"
And finally in conclusion of the psalm Henry astutely picks up how the concluding verse does not end the praise of God but rather encourages the continued blessing of God's great name:
"When we have said what we can, in praising God, still there is more to be said, and therefore we must not only begin our thanksgivings with this purpose, as he did (v. 1), but conclude them with it, as he does here, because we shall presently have occasion to begin again. As the end of one mercy is the beginning of another, so should the end of one thanksgiving be. While I have breath to draw, my mouth shall still speak God's praises. 2. With a call to others to do so too: Let all flesh, all mankind, bless his holy name for ever and ever."
Share this on:
---
February 23 2015 at 9:47 am
0 Comments
---
Review of Biblical Christian Ethics (David Clyde Jones)
By Robin Boisvert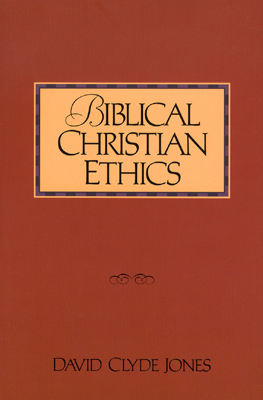 We can be grateful for our church's emphasis on the gospel of grace. It has been said that the only thing we contribute to our salvation is our sin. But once we're saved by grace does it matter how we live? It certainly does. We are not only saved by grace, but grace trains us, teaches us, instructs us.
"For the grace of God has appeared, bringing salvation for all people, training us to renounce ungodliness and worldly passions, and to live self-controlled, upright, and godly lives in the present age, waiting for our blessed hope, the appearing of the glory of our great God and Savior Jesus Christ." (emphasis added) Titus 2.11-13.
Biblical Christian Ethics is a book that covers the important area of how we live our lives in light of the gospel. David Clyde Jones does an excellent job in this brief (but not superficial) volume explaining how the Christian life is to conform to God's will revealed in the Bible.
Are you interested in knowing:
—How the 10 Commandments are relevant to our lives today
—What legalism really is (many use this word without understanding it)
—How love, grace and law work together—are they friends or enemies?
—How to think about resolving difficult moral and ethical conflicts
—How to understand and apply biblical principles to questions of divorce and remarriage
This is not a book that will tell you what to do, but a book that will teach you how to think about living the Christian life to the glory of God in the light of biblical truth. I highly recommend it.
Level of difficulty—moderate; takes some effort and generously repays it.
Read reviews of previous books of the month.
Share this on:
---
February 4 2015 at 10:20 am
0 Comments
---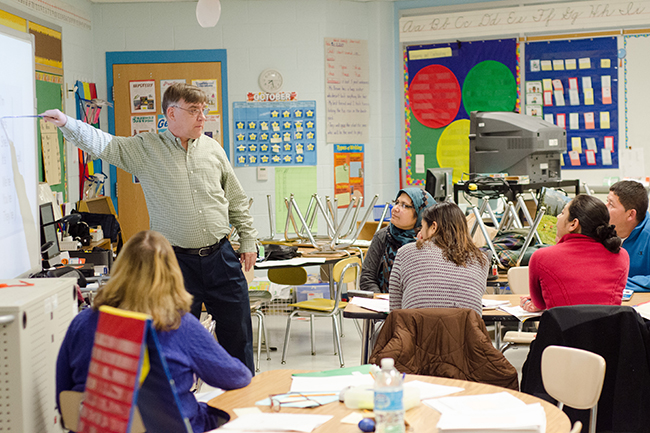 Covenant Life members are taking the gospel to the nations right here in Gaithersburg!
More than 22 members are diligently working in the ESOL (English for Speakers of Other Languages) ministry. Classes are held on Monday nights in the fall and spring at South Lake Elementary School.
The program at South Lake currently hosts over 30 students from 17 different countries who speak seven different languages at home. Four class levels are offered, from Beginners 1 (no English language ability) to Advanced.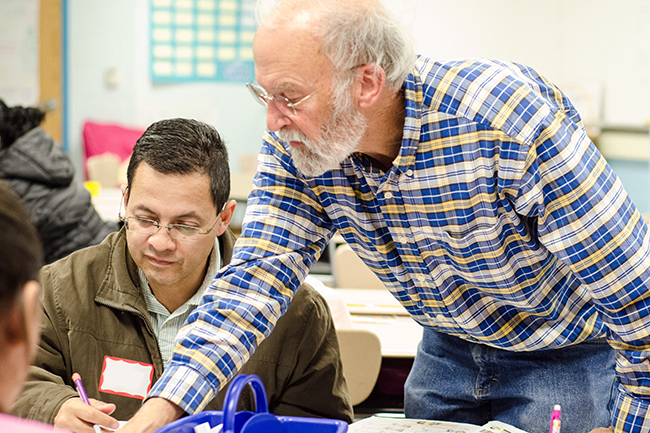 This is the third year that volunteers have been serving at South Lake. Most of the students in the ESOL classes are parents of elementary school students that attend South Lake and live in the townhouses and apartment buildings that surround the school. The ESOL teachers and assistants have had excellent support from the administration at South Lake, as many of children attending the school do not speak English at home, and our English language classes provide an important service to the community.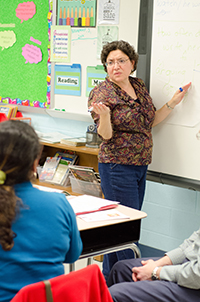 Each week volunteers present Scripture verses from the Two Ways to Live tract as part of the curriculum. God has given volunteers the opportunity to pray with students about their day-to-day struggles.
Advanced class teacher Geney Harvey and her husband Tim had the opportunity to pray with two students who were in need of a job, and God has answered these prayers.
Volunteers even organized Thanksgiving and Christmas parties to provide time outside the classroom to build relationships and give an opportunity for a clear and straightforward presentation of the gospel.
Several volunteers went the extra mile by serving a Chinese couple when they were visiting the U.S. for a year. To expand their skills and exposure to American culture, they took them to the grocery store, the county fair and on excursions to area landmarks. Thanks to their faithful investment in that relationship, the husband came to know the Lord.
Prayer Needs
- Please pray that the students needs would be met, and that they would understand that their ultimate need is Jesus. Many students have financial, work or family needs, and would benefit from our prayers.
- Please pray for enough volunteers for the spring semester of classes at South Lake Elementary.
- Please pray for additional volunteers to join the leadership team.
E-mail the ESOL Team to get involved, or contact LINK.
Share this on:
---
July 14 2014 at 3:06 pm
0 Comments
---
"The simple generosity of Covenant Life opening their building has left a huge ripple effect for the ministry, Fellowship of Christian Athletes, and people coming to know Christ around the globe," said Maryland State Director of Fellowship of Christian Athletes (FCA) Mark Stephens, after another successful FCA sports camp at Covenant Life this past June.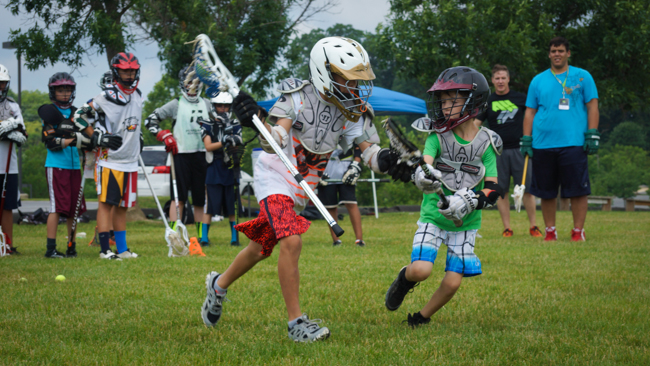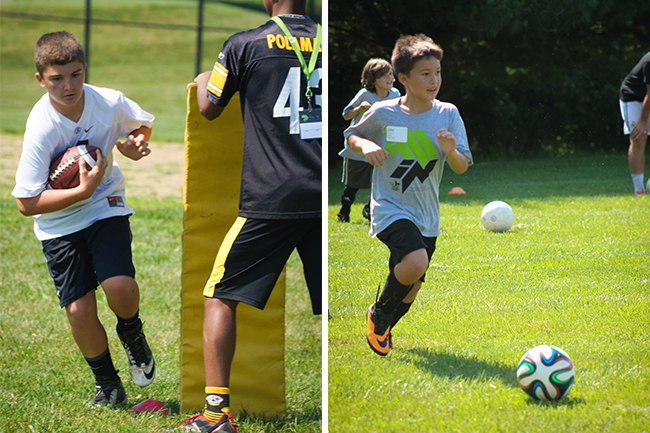 If you happened to be at the church during the week, you would have seen hustling lacrosse sticks and whizzing footballs in the fields, soaring volleyballs and squeaking basketball shoes in the gyms, and teetering cartwheels and running flips in the lobby. At this "All In" Power Camp, about 200 eight to thirteen year-olds, 50 high school small group "huddle" leaders, and 50 adults participated.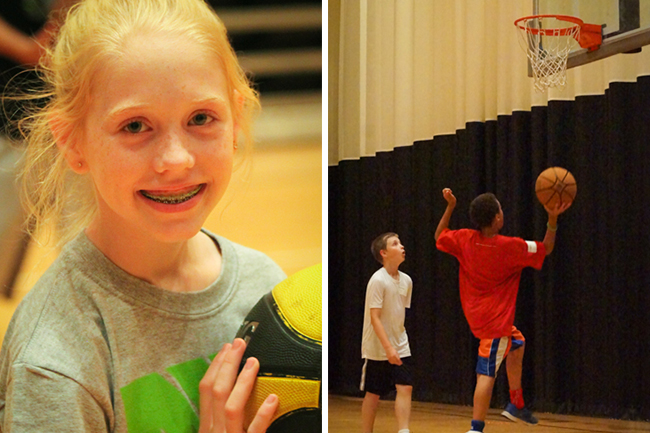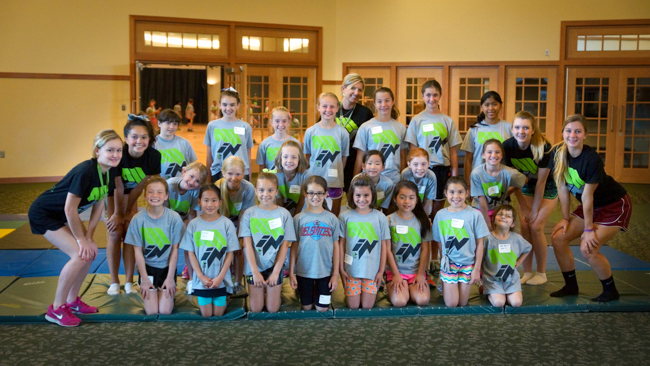 Four people from Laos, Singapore, and Korea also came to observe, learn, and be trained to lead these camps in their own countries.
"These guys are pumped up. They are really going to go back and do something. There's gonna be an incredible ripple effect from this camp," Stephens shared. "This FCA camp at Covenant Life Church is a model for the world."
A Vietnamese sports ministry leader came out to shadow Stephens a couple years ago and went on to lead two FCA camps in Taiwan and two in Vietnam. Since then, others have come for training: Reon from Singapore, Philip from Malaysia, and Suttisak from Thailand.
"Vietnamese kids left by the wayside that no one was going to interact with, kids who get one bowl of rice a day and have only the t-shirt on their back, were shown the love of Christ through sports," Stephens shared.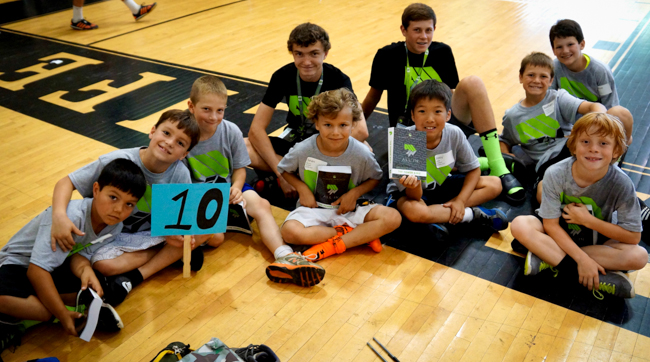 "I was a pastor for 15 years," Stephens said. "Sometimes as a church you think, 'Oh, we'll be nice and loan someone our building and not charge rent. We'll do a good deed.' This church has no idea the positive impact that it has made on this community and worldwide by their generosity of opening their doors. "
He shared that the hundreds of people who have come through Covenant Life's doors for FCA camps have nothing but positive things to say about this church.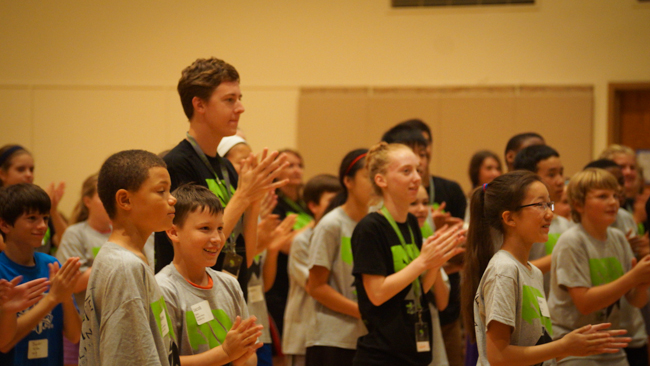 "Whether it's the location, or the kindness, or how the staff works with us, it just keeps getting better… I'm forever grateful for the partnership that we have with Covenant Life and how they've supported us," Stephens said. "I consider them friends, not just partners."
"It's been incredible to be here," said camp director Hannah Cheung. "Churches don't usually have three gyms and a couple fields. The facility has been perfect for the camp. It's the smoothest camp I've done in six years."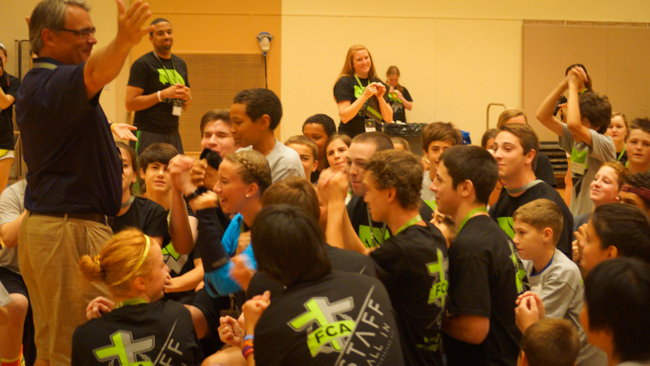 The Laos pastor explained that in Laos, where 98% of the seven million people are Buddhist, "the problem is getting the people to come to the church—they will not come." He is a part of the 2%.
While there are camps all across America, he has never seen a camp in Laos. His kids never attended camps. They're not a part of the culture. He said, "So, we are trying to find new ways to share the good news. To do a sports camp is one of best ways. When we ask people to come to play soccer, they come. That's why I came here. To learn, see, and experience the camp and how they do it here."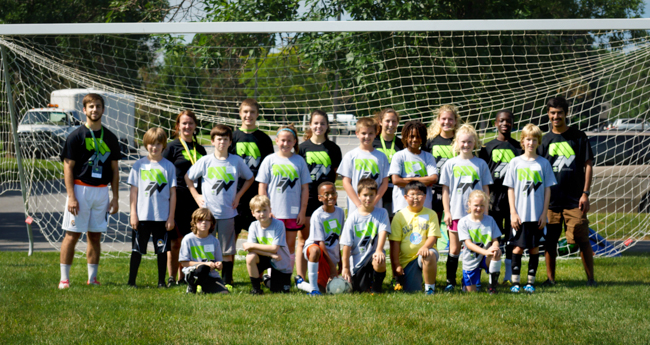 When he heard about FCA, he was excited. "You can share the good news to the non-believer and build the relationship between the kids and God through the sports camp, so it's a very powerful way to do a camp to reach the people, to share Christ, and to build up the faith of a believer."
"Please pray for us," he said. " We would love to have sports ministry in all 700 hundred churches to reach out to the young generation."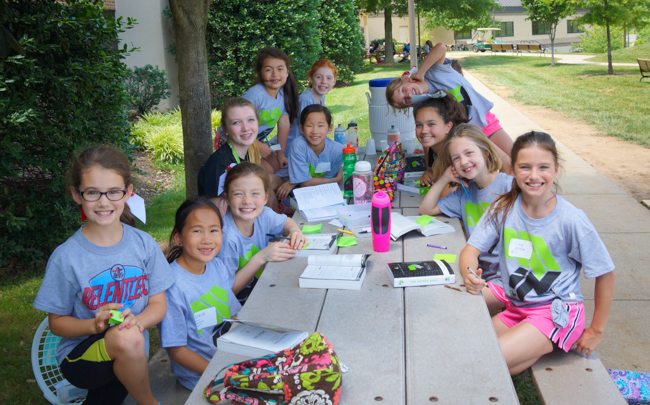 In Korea, when it comes to sports, "We are a top down, Olympian level, high profile level," explained Korean FCA director, Olympian Committee member, and Taekwondo master Hyung don Jung (Lion is his English name).
When he returns from observing this camp, Lion hopes to focus on high school level athletes. He has sensed discouragement in sports for young people who are not interested in high profile achievement. He wants to encourage them to come together and play.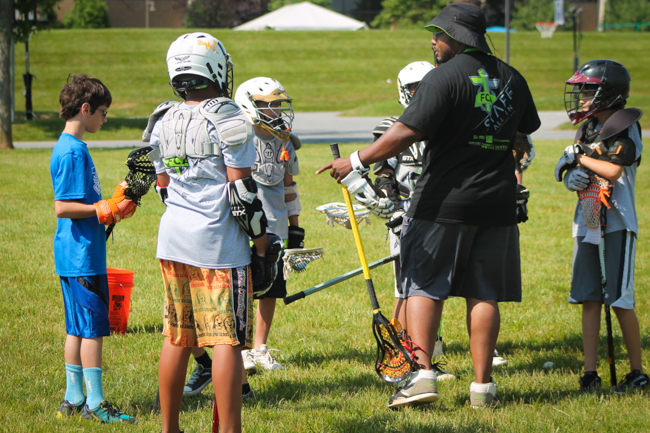 "FCA is an important thing. They really love Christ," Lion said. "Your church is doing great things. Nationality, race, everything is overcome for the sake of the kingdom. Everyone is for the same kingdom here. It will be a great influence on the next generation."
Stephens shared how after the first day, a mom and son were walking out when she asked how his day was, he said, "Mom, I love this camp."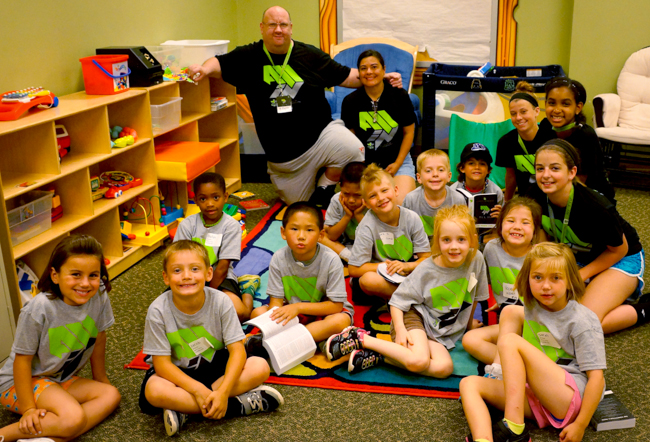 "That's what we want," Stephens said, tearing up. "We want kids to keep coming back. They're gonna come back if they love it, and they'll love it if they get loved."
"All for the glory of God. That's the important thing," Lion said. " 'All In' for the kingdom."
Photo Credit - MOCO FCA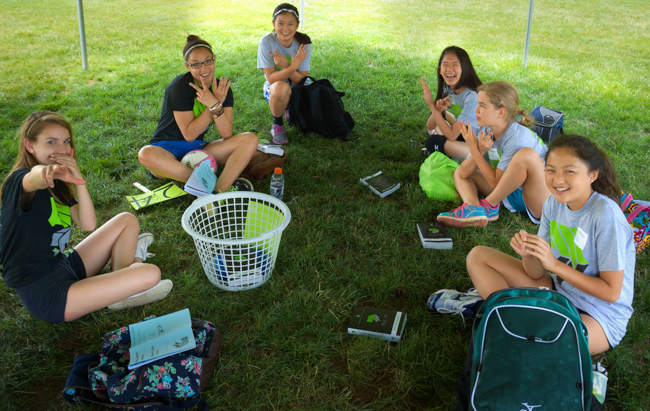 Share this on:
---
June 9 2014 at 4:02 pm
4 Comments
---
Jenn Harvey leads the church's English for Speaker's of Other Languages (ESOL) Ministry, re-launched just over a year ago. Here is an exciting report she shared, just one of the ways God is at work in our community: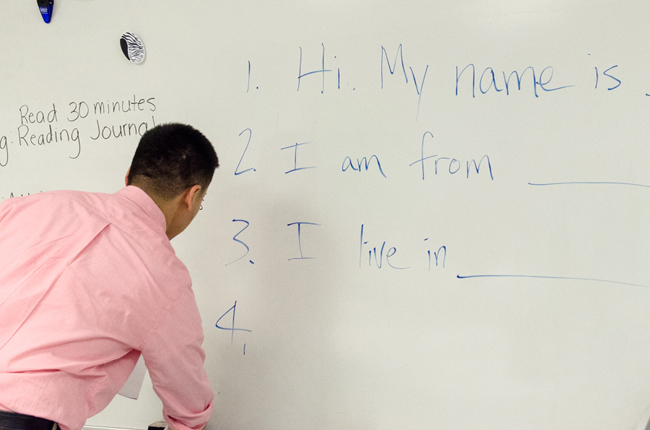 Last April we held an Easter celebration at one of the sites where we offer adult English classes, South Lake Elementary School. Despite pouring rain that evening, close to 30 students and their families came out and were able to hear the gospel clearly proclaimed, as well as have a chance to deepen friendships with the volunteer teachers from Covenant Life.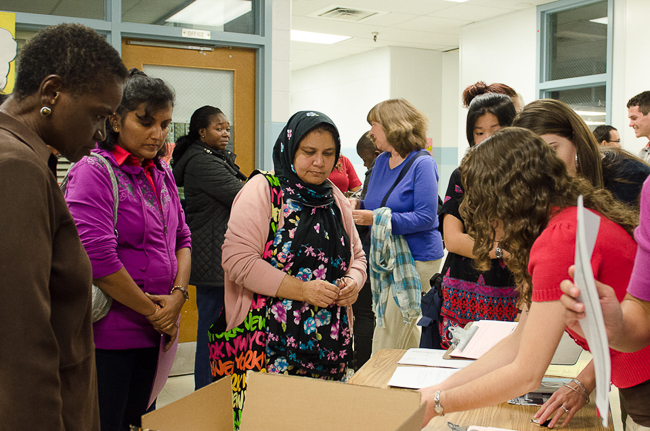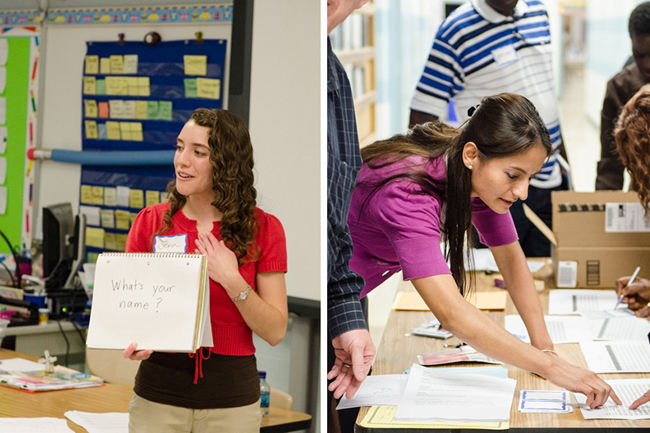 After reading 1 Peter 3:18 together in seven different languages, a short skit portraying how Christ cleansed us by taking our sins upon himself was presented. The evening ended with everyone sharing food from their countries that the students and teachers had brought.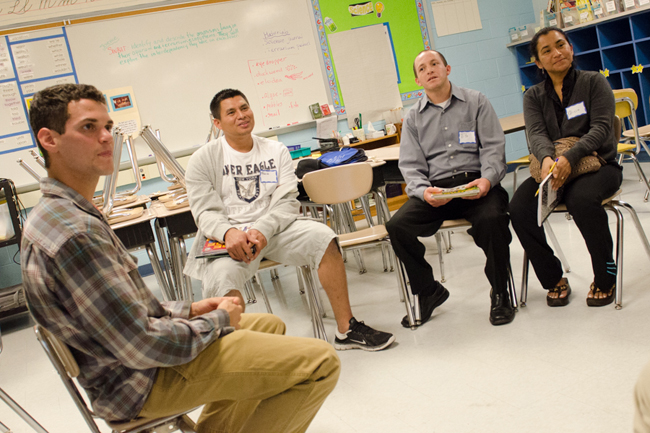 During that time, many new connections were made and existing friendships strengthened. I had the opportunity to talk with a Muslim student from Bangladesh and her high-school-aged daughter, and share at length with her daughter about the effect that having a relationship with God has had on my life.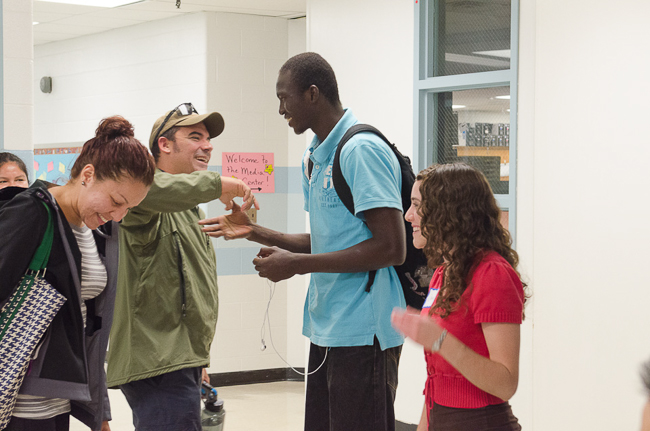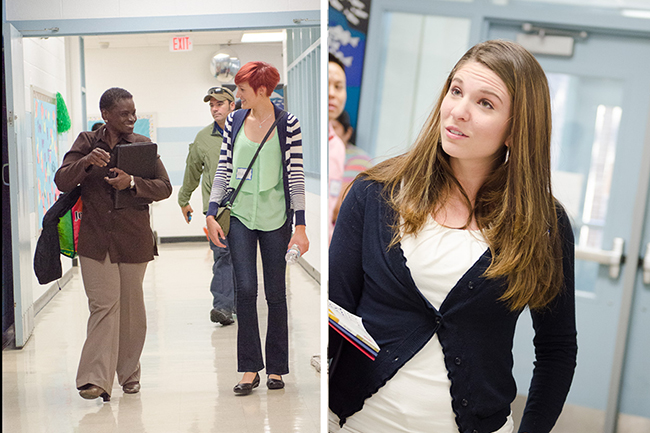 Here is another testimony from that night shared by Geney Harvey, another ESOL teacher:
On Monday night, as everyone was lining up to get food, I looked around for someone to chat with and saw an African woman by herself.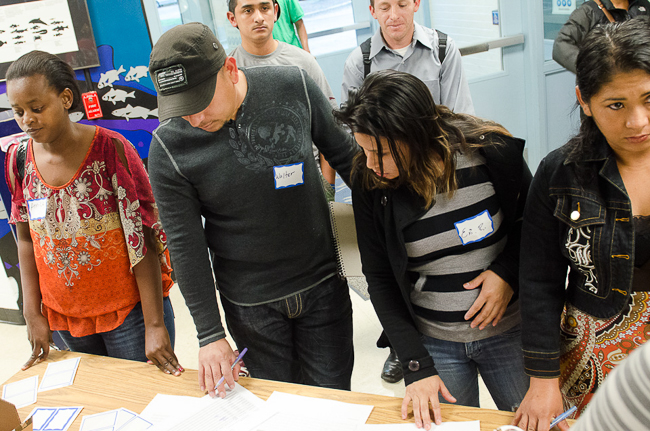 I went over and introduced myself and as we began to talk, it became clear that she had very minimal English skills. I asked if she spoke French and when she said yes, I began to try to talk with her with my limited French.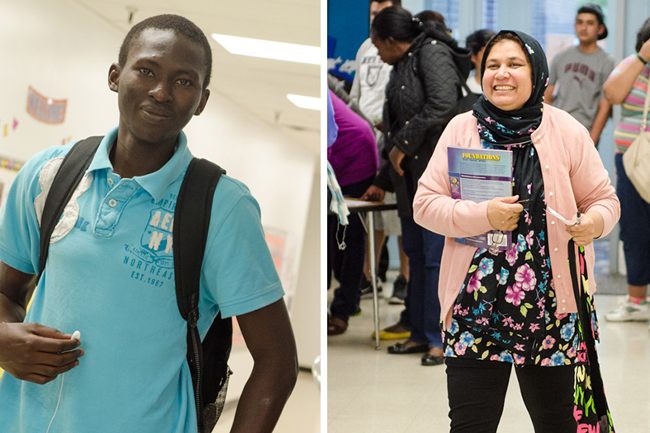 The Lord helped us to communicate and in the course of the conversation she told me that this was her first night attending and that she has been in the U.S. for 10 months and still has not found a job. She was very discouraged and was very concerned about how she was going to keep on providing for herself and her four children.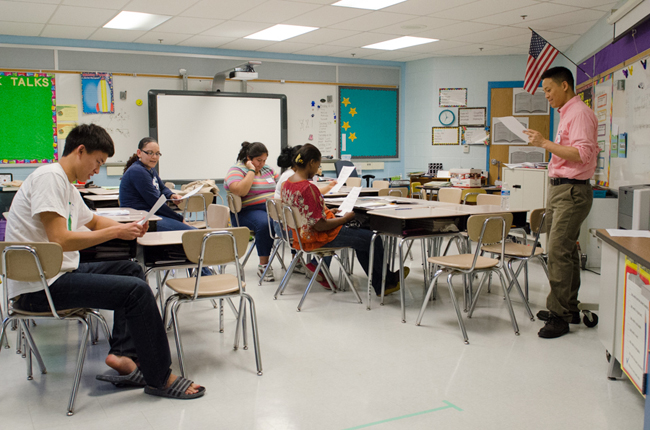 I told her how some of us prayed for one of the other students in my class (who is also from Africa) to find a job and that last week the Lord provided one for him. I asked if I could pray for her, and she very willingly agreed and acknowledged that only God could really help her.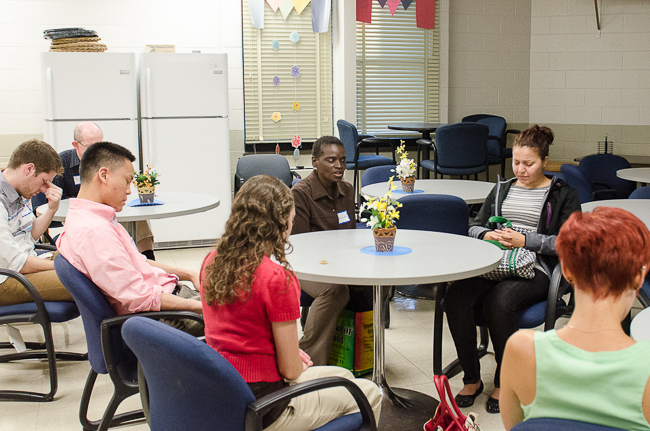 I prayed for her, and it seemed that it encouraged her just to have someone show that they cared. Could you all join me in praying that the Lord would provide a job for her and that he would use this difficulty in her life to draw her to himself?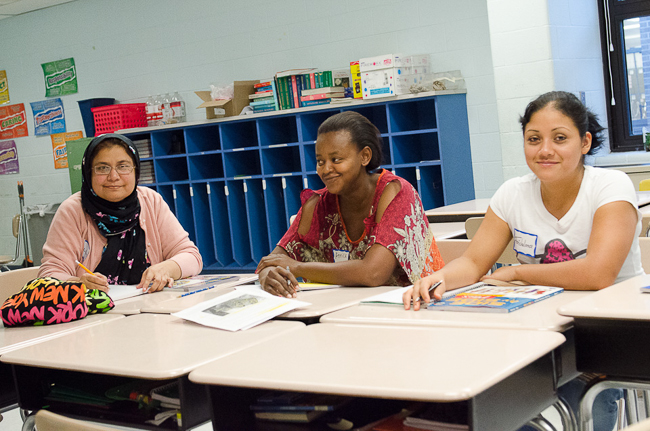 Thank you for partnering with us in praying for the gospel to reach every tribe, language, people, and nation through the ESOL ministry!
Find out more about us and how you can get involved at the ESOL LINK page.
photo credit: Pam Wilbur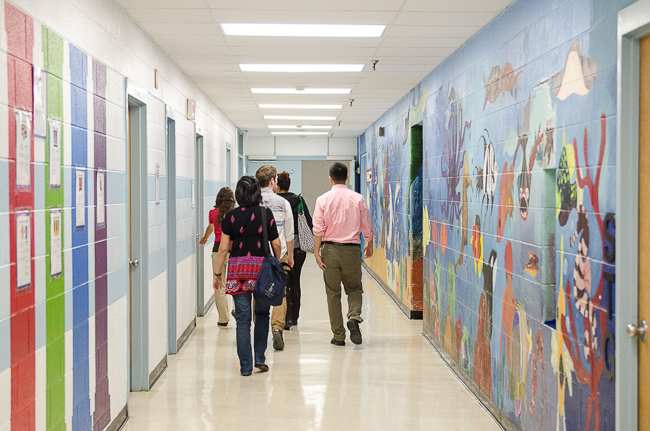 Share this on:
---