July 26 2016 at 12:04 pm
0 Comments
---

On the Return of the Lord
by Robin Boisvert
William Miller was an unlikely sort to figure in one of the most bizarre episodes of American church history. This self-educated farmer and veteran of the War of 1812 had long been fascinated by the dates and times in Scripture. Based upon his calculations, he came to the conclusion that Jesus Christ would return sometime between March 21, 1843 and March 21, 1844. The message was widely promoted, including front-page coverage in the New York Tribune.[1] A movement grew around Miller's teaching that numbered one hundred thousand followers who waited expectantly for the Lord's second coming. But when the outside date came and passed uneventfully there was disappointment and confusion.
Only slightly daunted however, the leaders put forth a new date--October 22, 1844. Amazingly, this produced an even greater swell of excitement as Millerites quit their jobs, sold businesses, abandoned property and even confessed to unsolved crimes.[2]
But on the supposed day of the second advent, again nothing happened. Nothing except some extravagant human attempts to participate in the parousia. Many of the faithful were seized with a desire to jump into the air. Others "donned white muslin 'ascension robes' and headed for hilltops—or at least rooftops—expecting to be 'taken up' by angels to join the Lord.… One man put on turkey wings, got up in a tree and prayed that the Lord would take him up. He tried to fly, fell, and broke his arm.'"[3]
What could cause people to act in such an extraordinary manner? I think there was an intense longing to be with the Lord. And it seems there was an equally strong desire to be ready for His return. What true Christian can fault these hopes? But while we can commend their sincerity we must admit something went very wrong.
~~~~~~~~~~~~~~~~~~~~~~~
Eighteen hundred years earlier, the young Thessalonian Church was anxious. In the brief time he was with them, the Apostle Paul had taught them about the return of Jesus Christ. But then persecution forced him out of their city and their incomplete understanding of Christ's coming had left them in confusion. When would He appear? Would they be ready for this great event? How could they prepare for it? And what about those of their number who had died in the interim? Would they miss out on the Lord's royal return?
The Thessalonians had a super-heated eschatology. With regard to the Second Coming, they were all wound up with no place to go. And in addition to the anxious, there were the careless—those living undisciplined lives. After all, they reasoned, if the Lord is about to return why bog down in the everyday responsibilities of life? If Jesus is about to come back, why worry? Why work? Why plan for the future?
In the Thessalonian correspondence, Paul attempts to set the church straight on these and other pressing matters. What he wrote then is just as appropriate a corrective for our day as it was in the 1st Century.
~~~~~~~~~~~~~~~~~~~~~~~~~~~~~~~
The end-times. What a fascinating and provocative theme! So many different and sincerely held opinions! Yet, what binds all true Christians together on the subject is this one fact—Jesus Christ will come again. He will return personally, physically and with great glory. It will be visible and triumphant. Like the lightning that flashes from the west to the east, so shall be the coming of the Son of Man. Every eye shall see Him. And while that day will be an unmitigated disaster for those who are not ready, it will fulfill the deepest desires of those who long for His appearing, for we shall see Him as He is and we shall always be with Him.
Now, brothers, about times and dates we do not need to write to you, for you know very well that the day of the Lord will come like a thief in the night. While people are saying, "Peace and safety," destruction will come on them suddenly, as labor pains on a pregnant woman, and they will not escape. But you, brothers, are not in darkness so that this day should surprise you like a thief. You are all sons of the light and sons of the day. We do not belong to the night or to the darkness. So then, let us not be like others, who are asleep, but let us be alert and self-controlled. For those who sleep, sleep at night, and those who get drunk, get drunk at night. But since we belong to the day, let us be self-controlled, putting on faith and love as a breastplate, and the hope of salvation as a helmet. For God did not appoint us to suffer wrath but to receive salvation through our Lord Jesus Christ. He died for us so that, whether we are awake or asleep, we may live together with Him. Therefore, encourage one another and build each other up, just as in fact you are doing. (1 Thessalonians 5.1-11)
This passage can help us prepare for Christ's return.
How to Prepare
Know This—No One Knows. It's not a matter of dates and details.
The Thessalonians wanted to be prepared. That's a good thing. But they thought preparation meant finding out just when He was coming back. "Paul, just tell us when and we'll take it from there."
But knowing the time is not the solution to the problem of how to be prepared.
"Now, brothers, about times and dates we do not need to write to you" (1 Thessalonians 5.1).
Why not?

Well, first of all, no one knows the time or the date. Nobody knows, nobody can know.

No one knows about that day or hour, not even the angels in heaven, nor the Son, but only the Father (Mark 13.32). Jesus made that statement with regard to his human nature while on earth. And in response to a later question from his disciples, He also said, "It is not for you to know the times or dates the Father has set by His own authority" (Acts 1.6,7).

Nobody knows, nobody can know. But that doesn't seem to stop people from setting dates. It didn't stop William Miller.
In the more recent past, a well-known and basically sound Christian radio teacher became the subject of much controversy when he predicted the Lord would return in October or November 1994. He knew the verses just quoted which show it is impossible to know the day or the hour, but said that it doesn't mean you can't know the month or the year!
Because of his folly, advance planning for the ministry was curtailed (why plan for the future when there will be no future?) and opportunities to promote the work were lost. Those working with him for the spread of the gospel were frustrated.
Besides it being impossible to know the time of Christ's return, knowing or thinking that you know still would not help. This is because those interested in dates and minute detail are mostly interested in material preparation.
Such folks "prepare" by heading for the hills or by stockpiling de-hydrated food. In our own day people have quit good jobs, stopped paying taxes and acted in other irresponsible ways because of wrong-headed views on the end times. Historically, when people have presumed to know the time of the Lord's return, it has led them to act in ways that reflect poorly on the Christian faith. I have known otherwise reasonable people who have gotten questionable ideas about the last days into their heads and as a result have become dogmatic about debatable details.
As another case in point, Israel became a nation again in 1948. This is admittedly an amazing and significant event. But it has become common to connect with this Jesus' statement in Matthew 24:34, "… this generation (understood as the generation that witnesses the rebirth of Israel) will not pass away until all these things have happened" (i.e. Christ's return). If a generation is considered to be 40 years and we add it to 1948, the result is, wow, 1988! So a booklet was extensively distributed in the 1980's titled, "88 Reasons Why The Rapture Will Occur In 1988." But it didn't.
If 1988 was thought by many to be the date, how about the year 2000? You know- Y2K? It was a nice round number. Sounded like a great time for Jesus to return. But He didn't.
We Can Expect Jesus' Return To Be Unexpected
Paul gives two metaphors to explain this. First, he says Jesus' return will be like a thief in the night (1 Thessalonians 5:2). Such an appearance will be sudden and unexpected. Burglars do not announce their arrival. "I'll be over around1 a.m. Could you leave the window open?"
Some have misunderstood this metaphor to mean that Jesus is going to steal away His church in a secret rapture. The idea is that the coming of the Lord will be in two stages. First, Jesus will return secretly for His saints and then seven years later after the great tribulation He will return with His saints. This is the eschatology espoused in the popular "Left Behind" novels. But the language employed just a few verses earlier in 1 Thessalonians 4:16 (For the Lord himself will descend from heaven with a cry of command, with the voice of the archangel, and with the sound of the trumpet of God) indicates that His return will be anything but secret. No, Paul wants us to understand that Jesus' return will be unexpected but not clandestine.
The next figure he uses is slightly different--labor pains coming upon a pregnant woman. This is sudden and unavoidable but not entirely unexpected. At the onset of labor the inevitable has begun, the top of the roller coaster has been reached and there is no way to avoid what is coming. The pain will not end till the child is delivered.
But notice that this figure of speech refers to the "people" in 1 Thessalonians 5:3. While these people are saying, "peace and safety," destruction will come on them suddenly as labor pains on a pregnant woman, with no possibility of escape. "Peace and safety," is the mantra of the arrogant and self-deceived. They are the ones who tell themselves all is well. They are secure and in control. They are not expecting God to invade their world.
The next verse ( 1 Thessalonians 5:4) contrasts sharply. "But you, brothers, are not in darkness so that this day should surprise you like a thief." No, we know a day of judgment is coming.
The verses that follow further clarify the profound difference between Christian believers and the ones who have rejected Christ.
The first are sons of light, sons of the day, that is, Christians. For them, the day of the Lord will not be a day of sudden destruction. That day will not come like a thief. They will not be frightened by His return. Rather, they will be thrilled!
But the others are those belonging to the night, to darkness, to drunkenness and to sleep. For them that day will be sudden and unexpected. It will be with unavoidable destruction stemming from the righteous judgment of the Lord. The judgment is certain. There will be no circumventing it, no getting around it. And there will be no delay. No opportunity to take care of neglected business. Things are hurtling toward a conclusion.
Our Part—Preparation of the Heart
But Paul doesn't end the discussion there. He exhorts the Thessalonian believers who are sons of light and sons of the day, to live lives that are in keeping with that description. The true preparation for the Lord's return involves our character. For Paul, ethics and eschatology are always linked.
"Be alert, be self-controlled," he says (5:6). And he repeats himself (5:8), "Be self-controlled, putting on faith and love as a breastplate, and the hope of salvation as a helmet."
The armor Paul is talking about would fortify the Thessalonians who were facing persecution and tribulation. Self-control, faith, hope and love are character qualities that would enable them to represent the Lord whose appearing they longed for.
So we need to be sober and self-controlled and alert. This is how we prepare for the coming of the Lord! Through the development of godly character!
Some of the Thessalonians were afraid of the day of the Lord. Paul tells them in verse 9, "For God did not appoint (ordain/destine) us to suffer wrath but to receive salvation through our Lord Jesus Christ." God has a destiny for us and it is not that we should suffer wrath but that we receive salvation through our Lord Jesus. This is because He died for us. He died for us so that, whether we are awake or asleep, we may live together with Him (5:10).
These are the gospel facts. God did not appoint us to suffer wrath. God did appoint us to receive salvation. Jesus died for us. That is, He died to pay the penalty our sins deserved. Our life is entirely due to His death.[4] He died our death that we might live His life. "…so that whether awake (alive) or asleep (dead) we may live together with Him" (5:10).
God's will is that we be with Him. The desire of the Millerites, the longing of the Thessalonians and the hope of all Christians is to be with Him. And the greatest preparation for His arrival is to live for Him right now as though He had already returned.
[1] Mark Noll, A History of Christianity in the United States and Canada, Eerdman's Publishing Company, Grand Rapids, MI, 1992, p. 193.
[2]Russell Chandler, Doomsday, The End of the World—A View Through Time, Servant Publications, Ann Arbor, MI, 1993, p. 82.
[3] Ibid.
[4] John R.W. Stott, The Gospel and the End of Time, InterVarsity Press, Downers Grove, IL, 1991, p. 113.
Share this on:
---
May 23 2016 at 3:09 pm
0 Comments
---
Finishing Our Course With Joy
By J.I. Packer
It is one thing to be wise and another to be old and wise. J.I. Packer is the latter. He will be 90 in July. His physical eyesight is failing, but not the eyes of his heart. He issues a call to arms for senior saints and anyone else who will listen.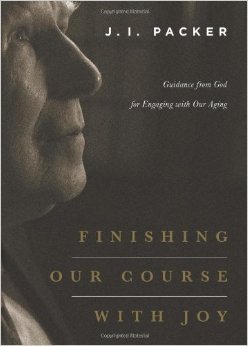 As many of us "live through the elongated aging process that modern medical services bestow upon us …" we find ourselves beckoned to ease up, kick back and in various ways retire from the Christian grace of zeal. But there is much we can and should do if we disentangle ourselves from the spirit of the age and engage the Spirit of LORD.
In this brief book (100 pages) Packer asks seniors to lead by example. Younger eyes are watching, knowing intuitively that if God is good to them they will one day be seniors themselves. Will they look forward to the ripeness of old age or be in dread of it? That may depend on you and me. God's grace is sufficient in all our weaknesses, including that of old age. But there are also strengths, great strengths that older saints possess and can pass on to next generation. Another worthwhile book from the pen of J.I. Packer.
Rated outstanding for all ages, including those under 18!
Review by Robin Boisvert
Share this on:
---
May 2 2016 at 2:58 pm
3 Comments
---

By Vern S. Poythress
Book review by Robin Boisvert
Okay, so it's not the most scintillating title. But it is a very helpful book. Dispensational Theology is a very pervasive theological system influencing many who may not even have heard of it. In its popular form it underlies the eschatology (doctrine of the end times) of The Late, Great Planet Earth by Hal Lindsey and the Left Behind novels by Tim LaHaye.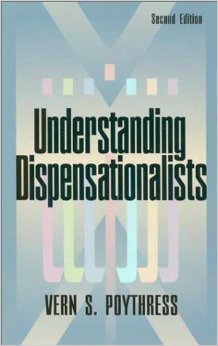 The characteristic feature of dispensationalism is the idea that God has two distinct peoples—His natural people, Israel, and His spiritual people, the Church. These are traveling along parallel but separate paths to their ultimate destinies.
At times I've heard our church criticized for teaching 'replacement theology'—the idea that the church has replaced Israel. Is that true? Or is it 'inclusion theology'— that God's promises to Abraham (Israel) have, through Christ, been opened up to include Gentiles (cf. Genesis 12:3; Ephesians 2:11-22).
Just how do Israel and the Church relate? What does it mean to interpret Scripture literally? Do Old Testament prophecies have more than one fulfillment? Tune in to this book to find out.
Poythress writes from the perspective of Covenant Theology but he is a sympathetic critic, always irenic and always searching for common ground. I've read this book twice in the last year and found it very helpful.
Share this on:
---
April 18 2016 at 12:56 pm
0 Comments
---

Shared courtesy of Keith Welton's blog "Everyday Truth."
We all want to grow more mature and deeper in our walk with God, but often we just don't see the fruit that we would like. The Puritan minister Thomas Boston has some great tips for understanding growth.
Boston first points out "the righteous shall flourish like the palm tree: he shall grow like a cedar of Lebanon (Psalm 42:12). Using the image of a tree growing he gives the following helpful instructions.
If all true Christians are growing ones; what do we say of those who instead of growing, are going back? I answer, there is a great difference between the Christian growing simply and his growing at all times. All true Christians do grow, but I do not say they grow at all times. A tree that has life and nourishment, grows to its perfection, yet it is not always growing; it grows not in the winter. Christians also have their winters, wherein the influence of grace, necessary for growth, are ceased... but they revive again, when the winter is over, and the Son of righteousness returns to them with his warm influence.
Boston also give two tips to those who mistakenly measure their growth by 1) their present feeling and 2) their growth in the top and not the root. To these he says,
1) Those judging by their present feeling. They observe themselves and cannot perceive themselves to be growing: But there is no reason to conclude they are not growing. Should one fix his eye so steadfastly on the sun running its race, or on a growing tree, he would not perceive the sun moving nor the tree growing. But if he compares the tree as it now is, with what it was some years ago, and consider the place in the heavens, where the sun was in the morning; he will certainly perceive the tree grown and the sun moved.

2) Those measuring their growth by advances in the top only not of the root. Though a man be not growing taller, he may be growing stronger. If a tree be taking with the ground, fixing itself in the earth, and spreading out its root; it is certainly growing, although it be nothing taller than formerly. So also a Christian may want the sweet consolation and flashes of affection, which sometimes he has had, yet if he is growing in humility, self denial, and sense of needy dependence on Christ he is a growing Christian.
We may have seasons where we are not growing as we might hope or think, but sometimes there is a deep internal work going on. Maybe we are growing stronger in convictions or spreading roots deeper. Those may be the winters that precede the growing season and the harvest. Don't be discouraged by them!
This post is shared courtesy of Keith Welton's blog "Everyday Truth." He shares his reflections on Scripture and other helpful topics there regularly.
Share this on:
---
December 23 2015 at 4:45 pm
1 Comments
---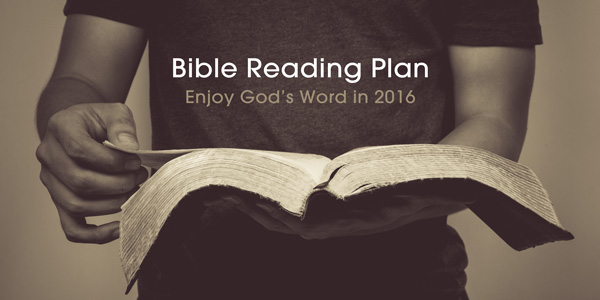 A Defined Schedule
As we like to share each year around this time, Scripture reading—the steady intake of God's Word—is pivotal to the stability and growth of every Christian. Reading the Bible according to a defined schedule is an option that helps many people. Like the physical necessities of our lives, spiritual needs require a proactive plan. As John Piper has said, "Nothing but the simplest impulses gets accomplished without some forethought which we call a plan."
For 2016, we will be highlighting the M'Cheyne One-Year Reading Plan available at esvbible.org, The Gospel Coalition and elsewhere. The plan's author is Robert Murray M'Cheyne, an early 19th century pastor and preacher in Scotland. More about M'Cheyne here.
Devotionals by D.A. Carson
To complement use of the M'Cheyne plan, D.A. Carson has penned two devotional volumes called "For the Love of God" with daily meditations on the readings. Both books are available as PDFs (vol. 1 and vol. 2), in our church bookstore, and at Amazon (vol. 1 and vol. 2). Carson suggests tackling two of the four M'Cheyne readings each day, which will take you through the New Testament and Psalms in a year and the Old Testament in two years.
The Readings
We have published the list of 2016 readings as a PDF. They are what M'Cheyne called the "Family" readings. You'll also find the list of readings for the week each Sunday in our bulletin (The Weekly).
—Don Nalle
Share this on:
---
September 29 2015 at 4:07 pm
0 Comments
---

"The Lord your God is in your midst,
a mighty one who will save;
he will rejoice over you with gladness;
he will quiet you by his love;
he will exult over you with loud singing."
Last Sunday we had the privilege of hearing from Sam Storms who blessed us with a very encouraging reminder of just how much God takes delight in His children. Drawing from Zephaniah 3:17, Sam taught that God's love for his children is so strong that he literally sings over us.
For those looking to dig deeper into the theme, Sam has authored a book-length version of his message entitled, The Singing God: Feel the Passion God Has for You ... Just the Way You Are. You can pick up a copy at the bookstore on Sunday, or on Amazon.
Book Description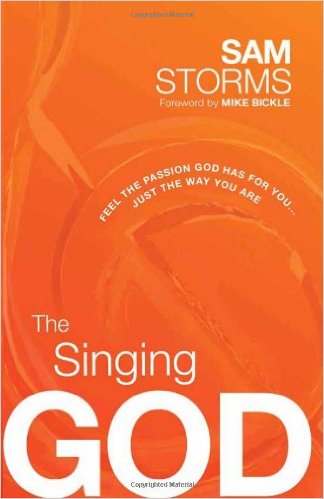 God loves us. With all our faults and failures, with all the secret sins no one else knows about. In fact, He rejoices over us so much that He breaks out in inexpressible joy and song as He thinks about us.

"The Lord your God is in your midst, a mighty one who will save; he will rejoice over you with gladness; he will quiet you by his love; he will exult over you with loud singing." —Zephaniah 3:17

That's how God feels about you! He looks at you, He thinks of you ... and He sings for joy!

In "The Singing God" Sam Storms explores God's immeasurable love for His children. You don't need to be different; you don't need to be better. You just need to know that God loves you just the way you are now ... today. When you truly believe this, you will find the strength and incentive to fight sin, experience freedom from shame, and walk in the fullness of all that God desires for you.
Share this on:
---