August 22 2014 at 9:45 am
0 Comments
---

More information about the year-long, 2-A-DAY reading plan, including the readings schedule, can be found on the 2-A-DAY page.
FRIDAY, AUGUST 22 | Joshua 5
By Jessica Kendal

Praise God for a second crossing through the waters! In Joshua 5, the Israelites had finally begun their transition into the "promised land." God in His kindness showed them His might once again as the waters of the Jordan piled up and His people walked through on dry ground. But even while the Lord was melting away the resistance of many enemies, there is still a battle on the horizon: Jericho. Walls that seem unbreakable, and yet God is calling them to move forward in confidence. How? What can prepare a person—or a people—for this sort of conquest?
Consecration—and even a renewing of the Covenant! (vs. 1-9) God's people had been wandering in the wilderness so long, even the physical marks of their covenant with Him had all but disappeared. The Lord commands that the new generation be circumcised, starting fresh and rolling away the "reproach of Egypt." What is the Lord asking you to cut away today, so that you can renew your love for Him and start fresh?
Remembering His Faithfulness (vs. 10-12) In God's perfect timing, following the renewal of their covenant with the Lord, it was time to celebrate the Passover. In doing this, the Lord also began to show His people His new provision for them: the "fruit" of the land, no longer the provision of manna. Remembering His faithfulness is crucial to having the strength for spiritual battle and opens our eyes to new things He'd like to do. What might God want you to remember about Him as you face your battles of today?
Choosing God's Side (vs. 13-15) I once read that our gut reaction is often the same as Joshua's, faced with the "commander of the army of the LORD"—we blindly approach Him and ask if He's on our side, or not?? But what God really wants is to know if we are on HIS side! To do this, we've got to recognize who He really is. When Joshua realized who he was actually talking to, he fell on his face, and asked what was required of him! The reply? "Take off your sandals…for the place where you are standing is holy." Friends, in Jesus Christ, we walk on holy ground every day! Remind yourself of His astonishing holiness and greatness. How can you choose to be on God's side today, rather than asking if He's on your side?
Lord, we pray today for grace to see You for who You really are. You know that we are facing battles that seem too big to fight—but if YOU are our Commander, no walls are too high. Help us ask what You require of us, and give us confidence in Your strength, not ours. We love You, Jesus, and pray this in Your precious Name!

THURSDAY, AUGUST 21 | Joshua 4 and Matthew 24
What God Does and What He Says Will Stand Forever
By Rhoda Dixon
"For the LORD your God dried up the waters of the Jordan for you until you passed over, as the LORD your God did to the Red Sea, which he dried up for us until we passed over, so that all the peoples of the earth may know that the hand of the LORD is mighty, that you may fear the LORD your God forever." (Joshua 4:23-24)
"Heaven and earth will pass away, but my words will not pass away." (Matthew 24:35)
The instruction from God to Joshua to the people regarding the setting up of the memorial stones are to direct God's people to remember always what God has done for them. His mighty act in this moment in leading them safely through the Jordan is part of a greater work of His enduring mercy and faithfulness to His people. The instructions are to accomplish a work in God's people in two ways: The command to build the memorial stones and the crossing of the Jordan are to build faith just prior to their entering the land He has promised. And these stones are to direct their hearts to worship and trust God always.
While the stones were to be a reminder to God's people of what God has done, Jesus provides words of comfort in the midst of great difficulty and suffering detailed in Matthew 24. Both the fall of Jerusalem and the end times are being described here, but with His words and life Jesus provides hope for all who know Him. Jesus Himself is the answer to the difficulties and anguish, and His words of life and salvation will never pass away. Throughout history the Lord has preserved His church, and at the end of time His people will be with Him, in the place He has provided in His presence for them for all of eternity—the eternal rest that is the ultimate fulfillment of the promised land we will read about in Joshua. As God's people, we can remember all our God has done, finding rest in knowing that our Lord's words provide everlasting hope.
As He led His people through the Jordan, He will be faithful to lead and remain with His people, leading them through the end of time, until we are finally in our promised Home with Him forever.
Dear Lord, I thank You because You always lead and guard Your people. You who is in control over creation, time and all that has been and what will come ahead; You alone are our hope in every step, today and forever.
Sometimes mid scenes of deepest gloom,
Sometimes when Eden's bowers bloom,
By waters still, over troubled sea,
Still 'tis His hand that leadeth me.
He leadeth me, He leadeth me,
By His own hand He leadeth me;
His faithful follower I would be,
For by His hand He leadeth me. (Joseph H. Gilmore, 1862)

WEDNESDAY, AUGUST 20 | Joshua 3 and Matthew 23
By William Li
Matthew 23: Then Jesus said to the crowds and to his disciples, 2 "The scribes and the Pharisees sit on Moses' seat, 3 so do and observe whatever they tell you, but not the works they do. For they preach, but do not practice.
The nation of Israel was truly in dark times during this era of their history. Politically, their homeland was ruled by Rome. Religiously, the people were being lead by false guides. With no good shepherds in the community, Jesus gives us some words of wisdom in this passage. He points people to follow the teaching of the Pharisees despite being hypocrites.
Consider the question, how can a person distinguish if something a hypocrite said was true? If we disregarded everything any hypocrite said, we would have to discard everything every man has ever said. For we all falter and fall short at some point as a result of the Fall. The question then becomes, in a world of hypocrites, how can I seek truth?
As Christians we are called to be faithful to God rather than a person. Often times it is difficult to distinguish truth from falsehood when words and actions do not line up. Jesus teaches us that even a hypocrite can teach us truths. However Jesus was able to live a life free of hypocrisy. He is the living embodiment of truth and righteousness. Only in His life was truth and personhood fully unified.
13 "But woe to you, scribes and Pharisees, hypocrites! For you shut the kingdom of heaven in people's faces. For you neither enter yourselves nor allow those who would enter to go in.[d] 15 Woe to you, scribes and Pharisees, hypocrites! For you travel across sea and land to make a single proselyte, and when he becomes a proselyte, you make him twice as much a child of hell as yourselves.
The Pharisees were a group that had more access to the Word of God than the rest of the population. But instead of leading people into the Kingdom of Heaven, they were putting obstacles in their way. Hypocrisy is one of the biggest obstacles the Israelites had to overcome in order to seek God during this time. My encouragement to anyone who wants to see a true life, untainted by hypocrisy is to study the life of Jesus. It wasn't just the fact that Jesus said the truth but that He was Truth itself.
Joshua 3
The Lord said to Joshua, "Today I will begin to exalt you in the sight of all Israel, that they may know that, as I was with Moses, so I will be with you. 8 And as for you, command the priests who bear the Ark of the Covenant, 'When you come to the brink of the waters of the Jordan, you shall stand still in the Jordan.'" 9 And Joshua said to the people of Israel, "Come here and listen to the words of the Lord your God." 10 And Joshua said, "Here is how you shall know that the living God is among you and that he will without fail drive out from before you the Canaanites, the Hittites, the Hivites, the Perizzites, the Girgashites, the Amorites, and the Jebusites. 11 Behold, the ark of the covenant of the Lord of all the earth is passing over before you into the Jordan. 12 Now therefore take twelve men from the tribes of Israel, from each tribe a man. 13 And when the soles of the feet of the priests bearing the ark of the Lord, the Lord of all the earth, shall rest in the waters of the Jordan, the waters of the Jordan shall be cut off from flowing, and the waters coming down from above shall stand in one heap."
When God lead the people out of Egypt using Moses he opened the Red Sea allowing the people to walk across on dry land. But Moses sinned and was forbidden to cross over to the Promised Land. So Joshua was now commanded to lead the Israelites. God invokes the same miracle except now it is over the Jordon instead of the Red Sea.
In Numbers 14 Joshua and Caleb were sent to the land of Canaan to survey the land. Many spies were sent out but only Joshua and Caleb trusted the Lord would give the Israelites the land. All of the other spies came back reporting how it was impossible to go against the people of Canaan. When the Israelites heard the report from the spies they were ready to stone Moses for leading them there.
Joshua had great faith to follow the Lord. Not grumbling or rebelling against the Lord who intended to do good to him and his countrymen. It is fitting that Joshua become the leader of the Israelites and be the one to take his people over to the Promised Land. He had become God's chosen instrument to deliver His people.
How many times have we grumbled in our hearts against the Lord? We ask for blessings but not hardships. But the Bible teaches us that God uses both to sharpen and shape us, for we are all clay in the potter's hand. Joshua demonstrates how important it is to trust God in all situations. Joshua trusted God in the 40 years in the desert enduring the trials with patience. In that time of faithfully trusting God, he was molded to become one of the greatest leaders in Biblical history.

TUESDAY, AUGUST 19 | Joshua 2 and Matthew 22
by Tim Harvey
"…for the LORD your God, He is God in heaven above and on earth beneath." – Joshua 2:11
"Go therefore to the main highways, and as many as you find there, invite to the wedding feast." - Matt. 22:9
If there was ever someone gathered in by God's grace from off the highways of life, it was Rahab. Consider her spiritual résumé: a pagan and also a prostitute perhaps associated with one of the idolatrous fertility cults of ancient Canaan. No hint that she was a sincere seeker of truth along the same lines as the magi who visited Jesus, nor an exemplar of righteous living like the Roman centurion Cornelius in Acts 10. Yet in biblical history Rahab is well-known as one of the heroes of the faith, commended by the writer of Hebrews (Heb. 11:31) and by James (James 2:25), and an ancestor of David and Christ Himself (Matt. 1:5). How could this happen? Is Rahab just another example of the mystery of God's providence, or do we have something to learn from her life and example?
I believe the answer is yes on both counts. Certainly no one – no matter how well taught in the Scriptures or how righteous in their living – is saved apart from God's sovereign call. The fact that He would choose someone like Rahab is a dramatic reminder that we are all saved by grace and grace alone.
But Rahab's words in verses 8-13 illuminate the work that God was doing in her life, and I believe offer us guidance on how we ought to pray for His work in our lives and the lives of others. Rahab did not have any more information than other people in Jericho – the news of the Israelites' amazing military victories and the power of their God were obviously common knowledge. But Rahab, through God's provident work, was given eyes to see through these mere events to perceive the God who was behind them. Her words reveal an astonishing grasp of who God is and what He was doing through the events that had so stirred the region. In marked contrast to the Pharisees of Jesus' day, she was given "eyes to see and ears to hear," and she did not hesitate to act on what she had seen.
I want to have the same eyes of faith that Rahab had! I want to see, as Rahab did, my circumstances and the world around me in light of who God is and His eternal purposes. And I want the same for those around me who walk in spiritual blindness. That's why I am praying earnestly for God to do this kind of work that only He can do.

MONDAY, AUGUST 18 | Joshua 1 and Matthew 21
Towards Wonderland
by Jose Troche
It had been a long and tedious journey for the people of God. Several years wandering in the desert, doubting, rebelling, and sinning against the LORD. He had so mightily delivered them from dreadful slavery to lead them into wonderland, a place of indescribable fruitfulness, prosperity, peace and rest. The type of place where all human beings deeply long to be.
We read in Joshua 1 about God declaring that no man will stand against Joshua, because the Almighty himself will be on his side. God had chosen Joshua to be the successor of Moses, and to lead his people into the land that he had promised to Abraham several centuries before. The Hebrew name Joshua means "Yahweh saves", and in a real sense that is what God was going to do through Joshua: to save his people from his enemies as they conquered the land.
We also read that God calls Joshua to be careful to do according to all the law, without turning to the right hand or to the left, and not allowing it to depart from his mouth, but rather meditating on it day and night so that he may have good success and prosperity wherever he would go (v. 7). His triumph depended on his careful observance of the law. The standard for him was high because he was a representative of his people; as Moses' successor, he was also a mediator between God and men.
Although deep knowledge of the law is very important, it is not sufficient, as we learn in Matthew 21:18-46. The Pharisees and chief priests were a respected religious group in the time of Jesus. They knew the law inside out, and they thought they obeyed it. But Jesus assessment was different. In that passage, Jesus curses a fruitless fig tree. Later, he tells a parable where he compares the religious leaders to children that do not do the will of their father. Finally, he states his judgment announcing that the kingdom of God will be taken away from them and given to a people producing fruits.
So here is the dilemma. God offers good success as long as the law is perfectly obeyed and fruit is produced. But who can do that? Who can act according to the law, without going to the right of to the left, meditating on it day and night?
It turns out that there is another man with the same name as Joshua and with a similar mission. Jesus is the Greek equivalent of the Hebrew name Joshua. And we read in Matthew 1:21 that Jesus received that name because he would "save" his people from their sins. As important as Joshua was in the history of Israel, he was really pointing to a greater representative, mediator and Savior. He was pointing to Jesus, who magnificently makes honor to his name as we contemplate how "Yahweh saves" his people through him. He is the only one who perfectly obeyed the law. He is the one who triumphantly and ultimately will lead his beloved to wonderland.
Share this on:
---
July 25 2014 at 7:02 am
1 Comments
---

More information about the year-long, 2-A-DAY reading plan, including the readings schedule, can be found on the 2-A-DAY page.
Reflections on Exodus 25
By Jessica Kendal
Our God is In the Details
In Exodus 25 the Lord lays out, in great detail, instructions for building His Holy Place among His people. While I wondered, initially, what blue and purple thread would mean to a believer in Jesus Christ—He's torn the curtain now, after all—I think part of the beauty in these details is God showing us how to worship Him. Here are just a few things to pull from this chapter:
1. Praise God that we can worship through cheerful giving and contribution to His works and His "house"! (vs. 2)
2. Praise God that He is the Holy of Holies, and he alone sits on the mercy seat! (vs. 22)
3. Praise God that He is our Bread of Life, and that He commands us in love to come before him regularly! (vs. 30)
4. Praise God that He is our Lampstand, the Light of the World, piercing the darkness! (vs. 37)
5. And lastly, Praise God that He knows us so well that He gives reminders to follow His instructions—may we not be tempted to adjust or embellish what He has said! (vs. 40)
Lord, we thank you today that You are still our God of details today. Please help us worship and trust You more with the details of our lives, give to you cheerfully, and follow Your Word exactly! In Jesus' name we pray, Amen!

Reflection on Matthew 5
By Art & Jeannie Shenk
Matt 5:43 - 48 contains a snapshot of a brief but penetrating Q&A session conducted by Jesus with his disciples:
"You have heard that it was said, 'You shall love your neighbor and hate your enemy.' But I say to you, Love your enemies and pray for those who persecute you… For if you love those who love you, what reward do you have? Do not even the tax collectors do the same? And if you greet only your brothers, what more are you doing than others? Do not even the Gentiles do the same? You therefore must be perfect, as your heavenly Father is perfect."
What is the conclusion on how we are to live with others? We are to love and pray for others even our enemies or those who give us a hard time.
And "We MUST BE PERFECT, as our heavenly Father is perfect" in doing this. How can we possibly achieve this manner of living with others especially since the rest of Matthew 5 includes an avalanche of other holy standards for living?
I find Charles Spurgeon's perspective on "perfect living" helpful taken from A Call to Holy Living.
The regenerate never rebel against any precept, saying, "This, is too pure;" on the contrary, our new-born nature is enamoured of its holiness, and we cry, "Thy word is very pure, therefore thy servant loveth it. O that my ways were directed to keep thy statutes.
Let's live in the good of Spurgeon's prayer for us: "My desire, this morning, is to insist upon the precepts which tend to holiness, and I pray the Holy Spirit to excite desires after a high degree of purity in all believing hearts."
Reflection on Exodus 24 and Matthew 4
By Rhoda Dixon
I Need His Words Most.
Then he took the Book of the Covenant and read it in the hearing of the people. And they said, "All that the Lord has spoken we will do, and we will be obedient." —Exodus 24:7
The words of God and the covenant would set the people of Israel apart as unto to the Lord. These words would direct every area of their lives, as ones who belonged to God, and they were to speak of who He is to each generation.
But he answered, "It is written, "'Man shall not live by bread alone, but by every word that comes from the mouth of God.'" —Matthew 4:4
More than what is temporal, what I need most are God's very words, and the One who is the Living Word. For only His words bring hope to my days, light to my circumstances, and eternal life. His words remind me of His faithfulness throughout time and all He has done for His people; they speak of His gospel and eternal kingdom.
In Exodus 24, God in His mercy had come near to the people, and they were to obey Him. And then in Matthew 4, God the Son had come near, with the call to follow Him.
Dear Lord, as Your people, we thank You for coming near to us, and for all You have spoken. Your words are truth, salvation and life. All that we are belongs to You, and we will obey You, and we will follow You.
WEDNESDAY, JULY 23 | Exodus 23 and Matthew 3
Reflection on Exodus 23
By Eryk Zimmerman
"Little by little I will drive them out from before you, until you have increased and possess the land." (Exodus 23:30)
Little by little, more and more, Christ is transforming our souls. His work is patient, because we are slow to understand and every area of life must conform to the Way. Every rebellious part of ourselves will be conquered by the renewing of our minds in our knowledge of Him. And then at last, there is only our love for Jesus.
We can also be corrupted little by little. It's not a great crime that tempts us, but by committing many petty crimes our consciences are seared. It's not one heroic test that we are called to endure. It's the many small things that we have to bear patiently until our will is strong and our minds are peaceful.
"I will drive them out". Thank You, Jesus! Only Your goodness and love can purge our sins and heal our wounded souls. It is Your strength that makes us strong, and the life You give is everlasting.
Reflections on Exodus 22 and Matthew 2
By Tim Harvey
I have to admit I've often wished for the same kind of clear, unmistakable divine guidance like that Joseph experienced four times (four times!) during the events described in Matthew 1 and 2, and the divine guidance given to the magi through the star and their dream about avoiding Herod on the return trip.
Wouldn't it be so much easier to follow God's will if the occasional angel would appear in a dream and give me some specific instructions? Or how about the Old Testament Israelites – seems to me like they had it easy in some respects, too. Sure, there were a lot of laws to keep up with (as Exodus 22 illustrates), and a pretty complicated system of sacrifices, but as long as you were diligent and kept up with all those things, you were sure to experience God's blessing, right? Just check off all the things on your Daily Laws Checklist and God would be happy. Just wait for an angel to appear and follow his instructions. Why can't things be like that for us today?
When I think about it more closely I realize my desire for more "direct" divine guidance surfaces when I forget the rest of the story that is beginning in Matthew 2. l wish for a Righteousness Checklist (which the Old Testament law was never intended to be) that I could keep on my own and thereby take some credit for my own salvation – forgetting the far better and more perfect plan that God set in place through Christ. I want God to tell me what to do in a specific and unmistakable way because I'm afraid I'll somehow "miss" His will and purpose for my life – and yet His plan carried on despite the wrath of Herod and its horrible results. How could He not be sovereign over my mistakes and missteps and even my sins? And I want an amazing experience of God's unmistakable presence because I am prone to doubt He is really with me and cares for me – and yet His very name is "God With Us" and He came specifically so that my sins could be paid for and I could be adopted into His family. How could I ask for a better reminder of His love?
My prayer: Lord, help me to remember how deeply you love and care for me. Your promises are enough for me. Your Word and your Spirit and your people supply all the wisdom and guidance I need. Help me to rest in that truth more and more every day.
Reflections on Matthew 1
By Jose Troche
As I meditate on the first chapter of Matthew, I am blown away by its content and the cosmic repercussions of its announcement. It starts by compressing millennia of history that covers virtually the entire Old Testament from Genesis 12 and forward, and ends by describing the supernatural conception and birth of the very Son of God.
These are the opening words of Matthew: "The book of the genealogy of Jesus Christ, the son of David, the son of Abraham." The first page of the New Testament makes it crystal clear who is the main character of the divine plot: Jesus, the Christ, whose lineage is unwound in the following verses (1:1-17).
The way I wrestle, trying to comprehend with my limited mind this most amazing genealogy, is by imagining myself reading to my kids the Big Picture Story Bible. We start almost at its beginning reading about God promising Abraham to make of him a great nation and in him blessing all the families of the earth.
Years went by and Abraham was still without a son. However, God remained faithful to his promise and miraculously brought forward the birth of his son Isaac. Then we read about Isaac's son, Jacob, who in turn had twelve sons, including Judah. As we rapidly flip the pages, the promise of God is fulfilled generation after generation.
Then we read about David and God promising to raise up out of him a son whose kingdom will be forever (2 Samuel 7:12-13). But, because of the disobedience of his descendants, the kingdom is divided and people are scattered and deported. And yet God remains true to his word. He starts bringing his people back together. But, they are still waiting for the eternal King who will be a blessing to all nations.
After the perplexing silence of the intertestamental period, God speaks again, moving his plan forward, as he remains immutable in his faithfulness. And now the birth of Jesus takes place (1:18). Although, we can trace back his origins, there is something that absolutely separates him from the rest of the human race: his genetic makeup is divine! Everyone is born of the union of a man with a women, but not Jesus. No human male participated in his conception. That which was conceived in Mary was from the Holy Spirit (1:20).
The glorious and majestic God took human form and was born in the likeness of men, getting near his people like never before. He is marvelously indeed "God with us"! (1:23) and he was called Jesus (from the Hebrew name Yeshua, which means "Yahweh saves"1), for he will save his people from their sins (1:21). Jesus is the ultimate fulfillment of God's promises to Abraham and David. In this son of Abraham all the nations are blessed as they are offered salvation from their sins. And after conquering sin, Jesus, the son of David, has been crown as King forever. Alleluia!
1ESV Study Bible
Share this on:
---
July 7 2014 at 10:38 am
0 Comments
---

We're excited to share a reflection we received from Art & Jeannie Shenk on the 2-a-Day readings for July 4. As fellow believers let's help each other dwell on the Word of God.
"I appeal to you therefore, brothers, by the mercies of God, to present your bodies as a living sacrifice, holy and acceptable to God, which is your spiritual worship. Do not be conformed to this world, but be transformed by the renewal of your mind, that by testing you may discern what is the will of God, what is good and acceptable and perfect."
I love Paul's passionate appeal to us to be "living sacrifices":
I invite you to join me TODAY by devoting yourself to being transformed (present tense). It starts by renewing your mind, engaging by faith to consider and apply the words of spirit and life found in God's word to everything you do. Why? One reason is by doing this, we will push back against the temptations and enticements of the world to live for self rather than God. And why should we do this? To test and prove that God's will is in fact the only way to live that is good and acceptable and perfect and in the end will be far better than anything the world has to offer for God's glory and our best good.
The above was inspired by reading a post of John Piper's sermon entitled All of Life as Worship in which he answers the question "how do you present your bodies to God as sacrifices?" as follows:
"I think the best answer is to see the connection between verses 1 and 2. My suggestion is that verse 2 is the realistic explanation of the more symbolic verse 1. Verse 1 talks about sacrifices and worship. Verse 2 talks about your mind being renewed and doing the will of God….use your renewed mind to prove what is the will of God, what is good, acceptable and perfect." -John Piper
Have you ever thought about what it would be like to be Moses being told by God to bring plague after plague, a total of 10 plagues on Egypt before Pharaoh finally gave in to set the Israelites free? Moses must have felt some compassion toward those being afflicted but must have been sobered by Pharoah's hard heart, obstinacy and pride in the face of the severity of God's judgment over and over again. Lesson learned? As Charles Spurgeon puts it, "God would stamp the early history of Israel with the deep impression of his Godhead. His overthrow of the proud Egyptian king should let Israel know in the very beginning how great a God had chosen her to be his own peculiar portion."
What God did was designed to set Israel free, yes, but more importantly to magnify his name for generations:
"Then the LORD said to Moses, 'Go in to Pharaoh, for I have hardened his heart and the heart of his servants, that I may show these signs of mine among them, and that you may tell in the hearing of your son and of your grandson how I have dealt harshly with the Egyptians and what signs I have done among them, that you may know that I am the LORD.'" (Exodus 10: 1-2)
Mathew Henry says of this passage:
"The ten plagues of Egypt must be inflicted, that they may be recorded for the generations to come as undeniable proofs, (1) of God's overruling power in the kingdom of nature, his dominion over all the creatures, and his authority to use them either as servants to his justice or sufferers by it, according to the counsel of his will. (2) Of God's victorious power over the kingdom of Satan, to restrain the malice and chastise the insolence of his and his church's enemies. These plagues are standing monuments of the greatness of God, the happiness of the church, and the sinfulness of sin, and standing monitors to the children of men in all ages not to provoke the Lord to jealousy nor to strive with their Maker."
Prayer: Father, thanks for the reminder that you are the undeniable ruler of the universe as demonstrated so severely to the hard-hearted Pharaoh of Egypt. Thanks that out of the kind intention of your will, you have chosen us to be servants to your justice rather than suffers of your wrath. Work in us TODAY to be soft-hearted not hard-hearted toward you and be led by the Spirit to demonstrate to others that we believe in you and submit to your ways as our Lord and Savior. Also, help us to have compassion on those whose hearts are yet to be soft toward you so in your timing, they may know that you are the Lord.
Share this on:
---
June 24 2014 at 3:26 pm
0 Comments
---
We received these updates from those who are on the current missions trip in Ethiopia. Let's keep praying that God would bless their work and that lives would be changed for God's glory.
June 27
We thank God for your prayers, dear saints, and are feeling the spiritual support in tangible ways. We are in good health and good spirits. We see The Lord fulfilling His promise to strengthen us for service (1 Peter 4:11). And we are enjoying laughter and fellowship with Ethiopian brothers as well as other workers from the U.S.
On Tuesday and Wednesday I met with 14 leaders from throughout Central Ethiopia who gathered to strategize about children's ministry. As the Protestant church rapidly expands in this country, church leaders are recognizing the urgent need to equip the next generation. I had the honor of working with these leaders (who represent 500 churches) as we strategized together.
I heard some remarkable stories. One relatively large church hosted a festival for families in their town. Before the festival, they had 150 children in their church. Now 400 are gathering for children's ministry each week! Another leader described how a five-year-old girl in his church took the initiative to pray for a sick neighbor next door, who got healed and then put her trust in Christ. Another pastor told about a group of 28 mothers in his church who have banded together to pray earnestly for the children in their community.
As so often happens on trips like this, I feel like I am receiving a lot more blessing than I am giving. What these national believers lack in financial resources, they certainly make up for in faith and zeal. After some of the trials our church has faced, worshiping and praying with these brothers and sisters renews my confidence that Jesus Christ is building His Church and the gates of hell will not prevail against it!
I hope that these 14 children's ministry workers were encouraged and equipped in some small way by our time together. They are sending me back to Covenant Life with new ideas for recruiting an army of praying mothers ... and I'll be happy to sign up some five-year-old evangelists, too!
—Greg Somerville
June 24
We have the privilege of teaching English to high school children in Grades 8, 10 and 12 this week. We were expecting 80 students, but were pleasantly surprised to only have 40. We have divided them into three groups: an advanced group, an intermediate group and beginners. We teach half of them for three hours in the morning and the other half for three hours in the afternoon. So far, we have read and discussed books with our advanced students, reviewed vocabulary with our beginners and played learning games. One highlight today was when we taught them American kickball. We really got to see their personalities come out!
We are finding the students to be eager and engaged learners. The Lord has really met us as many unexpected challenges have come up. Working with limited resources and having to adjust lessons to meet student needs has been stretching, but it's neat to see how God has given us ideas every time. Please pray that we will continue to share the love of Christ with these students. On Friday, we have planned a lesson to share our testimonies with the students, some of whom are Muslim. Please pray for the Lord to work in the students hearts through this lesson.
Grateful for your prayers!
Share this on:
---
April 17 2014 at 9:04 am
0 Comments
---
Ladies,
I hope this second excerpt above will give you another small taste of Kathleen Nielson's teaching.

I also have a testimony to share with you from Elise Finch who has benefited from Kathleen's ministry. Here is what she has to say:
I have read the Bible as part of my daily devotional practice since I was a child. However, over the last 5-7 years I began to look at different methods of study, seeking to better grasp God's Word in my own life.

During this search, I heard about Kathleen Nielson and read her book Bible Study: Following the Ways of the Word. In the book she talks about seeing the Bible as literature written to be understood by all of us, including those of us who would never be fluent in Greek or Hebrew or complete a seminary course. I read a quote at the beginning of chapter 3, "If we affirm meaning in the text, meaning intended by God who breathed it out, then it follows that God means for us to receive this meaning. He gave us words that he means for us to understand." God means for ME to understand his word! That's encouraging, but it's also sobering because if he means for me to understand it, that also implies he means for me to give it some sober-minded attention.

Reading Kathleen's book and now having the opportunity to learn more through several of her studies has been profoundly helpful. I've learned how to look at the various genres within the Bible and read them with an eye towards how God meant to use their form to illuminate his truth. I've spent less time pondering my own opinions or jumping to personal application prior to finding out what each author's intent was for their original audience. This approach makes sense. Although I will never "arrive", Kathleen's methods have provided a useful map which is helping me to better navigate the road of reading God's word.

I am so excited for this time to learn from Kathleen again and am looking forward to being freshly spurred on as we study the Psalms.
I hope you can join us on May 9-10! You can visit the conference website for more information and to register. To view a video of a complete message by Kathleen, please visit the Christian Conventions website.
Valori Maresco
Women's Ministry Director
Share this on:
---
December 17 2013 at 8:53 am
4 Comments
---
This past Sunday, Erin Hill, a member who serves on our Music and Worship Team, shared a song that fit perfectly with Joshua's message on The Parable of the Unforgiving Servant from Matthew 18:21-35. We asked Erin if she could tell us how the song came about and also provide the lyrics:
"One day last week I came across some pictures of old friends that took me straight back to a difficult season of pain, disloyalty and dissolved friendships. If you had asked me prior to seeing the photographs I would have told you that I had forgiven these particular people of what they had done against me and my family; I thought I did! But the truth was, I hadn't yet done that completely. The Lord desired to bring me to a place of further healing and true forgiveness. He opened my eyes to see that I was still holding debts against these people and it was affecting my current relationships, but most importantly, it was a hindrance in my relationship with the Lord.

After seeing the pictures I was able to take some time to sit down at the piano and receive this simple song from the Lord (mind you, I was pretty angry when I first started singing!). As the lyrics and the music started coming I was seeing how this was a sweet gift from Him for my aching soul. I don't know how it all transpired but an unexpected healing took place while I was being honest with the Lord in that moment.

While I was still writing, I had the thought that this song might not only be for my benefit but possibly a song the Lord might use for his church. I contacted Josh to see what the text for Sunday was going to be…I couldn't help but to laugh out loud when he shared that he was teaching on the passage of the unforgiving servant!

I truly feel that the burden of bitterness, anger and unforgiveness has been lifted from me and I sense a freedom that I haven't felt in almost five years! Praise God!"
Lyrics
When I see Jesus face to face
I won't think about the pain I feel right now
One day when I put my hand to his
I won't think about the hands that hurt me here

But right now it seems much easier
To hate my enemies
Than to forgive and rest within your peace

So I need you, Jesus
My anger's held me captive for too long
I need you, just you
Replace this bitterness with your love

I had a debt I could not pay
And you showed me your mercy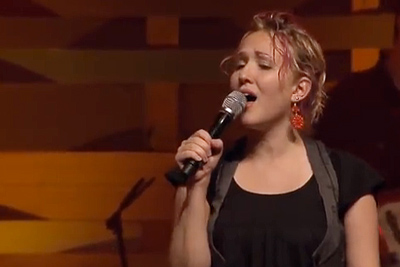 Thank you, Erin, for serving the Lord and our church with your voice and your songs. Let us know if you are able to get the song recorded!
Share this on:
---