June 23 2015 at 9:28 am
1 Comments
---
This school year just wrapped up, but Discovery Land, our children's ministry, is already busy preparing for the fall. The season to sign up to serve with the kids is here! Cara Wilcox gives us a joyfully honest look at serving with the 1st-5th grade class:

Just over two years ago, I received an email from Josh Cooley asking if I would consider serving as a Tree House Gang director in the 2013-2014 Discovery Land year. Tree House Gang is the student drama team that does skits to help illustrate the lesson in the first through fifth grade Adventure class each week. I was already acquainted with the responsibilities of a Tree House Gang director, which is why my immediate mental response to Josh's email was: No. Way.

Let me explain my exemplary attitude. First, I had just completed a seven-year stretch when I almost never participated in an entire church service. Because of my husband's work responsibilities here at church on Sunday mornings, and because we had four children in just over six years, I was usually either feeding a baby, strolling a baby, or trying to coax a terrified toddler to stay in his or her classroom. Serving? I'd been serving my family nonstop for a looooong time. So I was looking forward to some down time at church, some me time, some spiritual replenishment time.

Second reason for my "no way" outlook? Being a Tree House Gang director would require several hours of scriptwriting and rehearsal in addition to showing up very early on Sunday. And because of my husband's work schedule, I would need to bring my four, small, energetic children with me to rehearsals. How was I supposed to juggle parenting little ones and directing teenagers at the same time?

Oh, and speaking of teenagers, I was flat out scared of them. I had no experience with teens! I'm not cool! Would they like me? Would they listen? Lastly, if I was going to serve in Discovery Land, I wanted to be in the nursery, loving on some babies. The first through fifth grade class was huge, noisy and rambunctious. And I felt like my noisy and rambunctious quota was pretty much filled at home.

So when I got Josh's email, I felt vaguely justified in ignoring it, which is exactly what I did, all summer long. I did not reply when he sent a follow up email many weeks later, though I did start to consider it and pray. And then, late in August, in God's sense of humor, I ended up in a small room where I could not help but overhear some women who were in all innocence talking about… what else? The desperate need for Tree House Gang directors and the fact that nobody was stepping up. "Ok, Lord! I get it! I hear you! I'll obey!"

With no slight trepidation, I filled out my volunteer application and became the official Week 3 Tree House Gang director. I showed up that first weekend, wrote my script at home, rehearsed on Saturday, rehearsed again on Sunday, and oversaw the performance during class and it was love at first serve. I went home on Sunday afternoon exhausted and high as a kite. God met me with such joy in serving those children that I'm still marveling. Everything about it was fun and fulfilling for me: my team of irrepressible teens, the laughs we shared in pulling off our first skit (it involved a magic act and a dead parrot), and the first graders I led during breakout time at the end of class. Suddenly that noisy and rambunctious class of elementary kids had become a passion, and I wanted to help make the class better and better. It was a simple instance of Matthew 6:21, "For where your treasure is, there your heart will be also." I had begun to invest time and energy in Discovery Land, and where I invested, my heart quickly followed. In another year, in fact, the Lord opened a door for me to work part time planning the Adventure class breakout times.

Now is it always as glorious as that first week I served? No. We have weeks where my scripts aren't funny or actors forget their lines, weeks where I'm running late and my children are challenging, weeks where the class seems unresponsive. But when the work is dull, or the outcome seems dubious, I take heart from Paul's words in 1 Corinthians 15:58: "My beloved brothers, be steadfast, immovable, always abounding in the work of the Lord, knowing that in the Lord your labor is not in vain."

One other benefit of serving has been the relational encouragement and stability it provides. In the last five years, many of my closest friends have moved away or found other churches, and that has been difficult. Building friendships with others who serve in Discovery Land has been an anchor for me. My serving friends are not my closest relationships, but when I see their faces, I remember how we have labored and laughed together. And that makes them feel like family.

I asked to be able to share this story with you today in hope that you might be persuaded to join me. Please come serve with us in Discovery Land. We need many hands for this good work. Now maybe you're already maxed out. Maybe you have legitimate reasons not to serve. Or maybe you're like me, and God is extending his hand to you, inviting you to be part of what he is doing among our children. If so, if there's even a little stirring within, may I challenge you to act in faith? I don't promise that your experience will be just like mine, but unless you sign up, how will you ever know how God may meet you, or what good works He has prepared for you there?
Share this on:
---
March 17 2015 at 9:42 am
3 Comments
---

Pursuing Persians
by Almasih Kahdost
What he said caused my eyes to well up. It wasn't anything dramatic per se, but still I found tears coming to my eyes and a smile landing on my face. What he said was precipitated by a question.
"How often do you go back to visit your home country?"
He stumbled a little, calculating how best to answer. He finally said something to the effect of, "It's not really safe for me to return. You see, I'm a Christian and…"
That's when the tears came.
I almost cried because my new friend is from Iran and I have been praying for his people for years now. But my tears weren't because he can't safely return to his country. Nor were they for the fact that his relationship with his mother took a dramatic turn for the worse because of his decision to follow Jesus. While those things were indeed sad, my tears were tears of joy.
FREED FROM A REPRESSIVE REGIME
It made me immensely happy to hear that this Persian brother had escaped the oppression of an evil regime and was coming to enjoy new freedoms he'd not previously experienced. Whereas before he had been the subject of repressive tyranny, now he was out from under the thumb of his captor, free.
His story is mine. While I'm not from Iran, he and I both responded to Jesus' proclamation of freedom to the prisoners and were thereafter set free from oppression (Luke 4:18). Both he and I had been blinded by the god of this world (2 Corinthians 4:4), and were in fact following him (Ephesians 2:2). But now we're both free.
CAN'T SHARE OVER THERE
Of course, not all Persians are like my friend. Many are still in captivity to sin, lost in darkness (like anyone else outside of Christ). But what sets Persians who've moved to the States apart from your typical been-here-for-generations American is that they have had little opportunity to hear the gospel. In fact, according to the self-styled Iranian Christian News Agency, Mohabat News, Iranian president Rouhani's Advisor on Ethnic and Religious Minorities' Affairs has said that "...no one has the right to promote his or her faith…it is not acceptable, for instance, for a Christian to invite a Muslim to Christianity." (Incidentally, Iran has one of the fastest growing Christian populations in the world, albeit underground). While Advisor Younesi does say, "...everyone is free to practice his or her faith…" he seems to not grasp that inviting others to Christianity is part and parcel of practicing our faith.
WON'T SHARE OVER HERE
As believers, sharing our faith is non-negotiable and as Americans it is a privilege to be able to do it without fear of imprisonment (or worse). But many American believers won't do it. Too busy or scared or something. Yet the Persian people at our office, in our neighborhoods, or who we bump into at Starbucks are now in an environment where they can freely listen and respond to the gospel. Could it be that God has dispersed Persians to countries where evangelism is legal "...so that they would seek him and perhaps reach out for him and find him" (Acts 17:27)?
BUT I DON'T KNOW ANY PERSIANS
Of the 25,000-plus Iranian-born residents in the Baltimore/DC area, over 8,000 are in Montgomery County. Chances are you've met some, maybe even without realizing it. If you don't know any, why not change that and learn about their culture? One way to do this would be to head to Black Hill Regional Park in Germantown on April 12 for Sizdah Be-dar. (A similar event will be held at Bull Run Park in Centerville on April 5). On these days thousands of Persians will enjoy spending time with friends, families and maybe even people they've just met. (Hint: that's you!)
You can also meet some Persian folk around town AND get some really great food at the same time. Check out Caspian House of Kabob or Moby Dick, both in the Kentlands. Very warm, friendly staff and incredible food. Yekta in Rockville is wonderful as well. You can also stop by a couple of Persian stores (Caravan Deli or Potomac Gourmet) and meet folks there.
Persian's ancient culture and history has much to offer and the high value placed on hospitality is something many many western Christians could learn from. That being said, we believers have something to offer non-believing Iranians; that is Christ Jesus, who lived, died and rose again to redeem those from every nation.
"Almasih Kahdost" is a long-time friend of Covenant Life who desires to see the nations come to Christ. Though preferring to publish anonymously, Almasih Kadost welcomes your comments below.
See all the posts in this series.
Share this on:
---
February 18 2015 at 10:43 am
2 Comments
---
Written with contributions from Beth, Rebecca Duberstein, Valori Maresco, and Sarah Stogsdill. Photos by Pam, Hannah Moore, and Hannah Stogsdill.
If you happened to walk into the church building last Saturday, you were couldn't help but notice the Women's Mission Teahouse, a true cross-cultural experience for the ladies of our church. Beth Kraatz and Hannah Stogsdill led the team that transformed the lobby into a Central Asian Teahouse.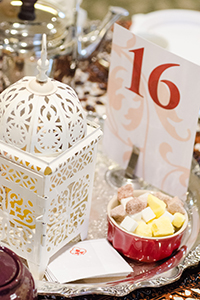 The church lobby was dressed with vibrant colors of tablecloths, oriental rugs, floor pillows, more than 50 teapots and hundreds of teacups, all volunteered by different ladies in the church. It was apparent this event was a labor of love for so many. Close to 200 women gathered and lounged around low tables set with a variety of teas and treats including Turkish Delight, dried fruit, almonds, and pastries. The mismatched china was a perfect reminder of the many different homes that had contributed to make it special. Hannah Stogsdill used her artistic eye to combine all these elements to create a beautiful, inviting space in the lobby for learning and fellowship.
---
"I was blown away by the sense of community I experienced as the women of Covenant Life came together to share their teapots, delicious food, sweet fellowship and prayers." —Beth
---
On the morning of the event, the lobby was bustling with ladies of all ages who had arrived early to help. They were filling teapots, stocking hor d'oeuvres, arranging the potluck dishes on the tables. You could feel their excitement and their ownership of the event.
After a time of worship, a missionary from Central Asia, shared about the many challenges facing the Muslim women she knows in the region where she and her husband live and work, and then led us as we prayed together for God to work in the lives of the women of Central Asia.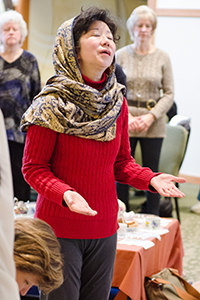 Following the talk, a magnificent buffet lunch of regional foods was waiting, and while eating, we heard about the experiences of the worship team who had recently traveled to Central Asia.
---
"The ladies also enthusiastically answered the call to contribute to the potluck lunch. Covenant Life Church is full of good cooks! Nine tables were practically sagging under the weight of the appetizers, entrees, and desserts these ladies brought. Every dish was unique and so tasty! —Rebecca
---
The testimony of the missionary from Central Asia provoked hearts as she shared about the challenges the women of Central Asia face, but many were encouraged knowing they could help by praying for them. The ladies were also reminded of the number of unreached internationals right here in Gaithersburg, and the opportunity to reach out by extending kindness and hospitality to the unreached in this area.
---
"It was a beautiful environment that fostered fellowship and gave us a glimpse of another culture. Interacting with the ladies there was so uplifting and inspiring to me. The Lord deeply met me during the extended prayer time and I walked away with fresh conviction to pursue evangelism." —Sarah
---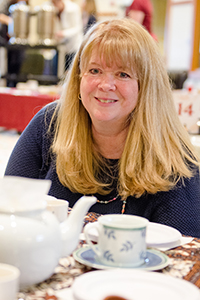 The atmosphere helped the ladies to lift their eyes and see the fields that are ripe for harvest in the community around us. Not everyone can or will go to these fields like the missionaries who spoke, but we can all take part in reaching the unreached. We can pray for those who are far off and about how we can reach the multitudes that God has brought to our front door!
---
"I left both refreshed by a sense of rich community at CLC, and excited to see how God can use that community to extend the good news of Jesus Christ to those who do not know him." —Rebecca
---
The time ended with another talk by a missionary with Global Gates, an organization working to bring the gospel to internationals in our own country. She shared about the amazing opportunity we have to reach women from unreached people groups right here in our community and ended by giving us ideas on how we could be more aware of opportunities around us.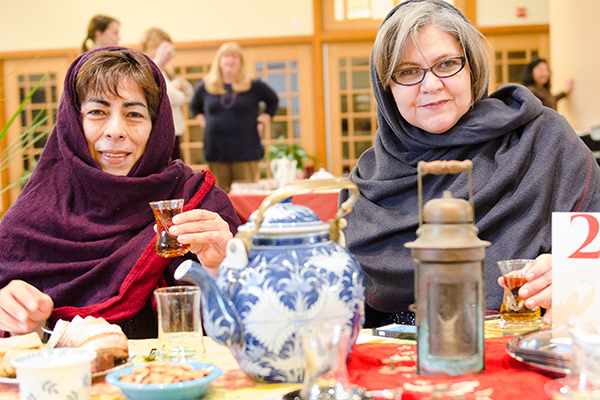 We are so grateful for how the Lord worked through the teahouse! He lit new fires of faith and boldness to reach out and pray for the lost around us, so that all "may believe that Jesus is the Messiah, the Son of God, and that by believing [all] may have life in his name." —John 20:31
Share this on:
---
February 18 2015 at 6:35 am
0 Comments
---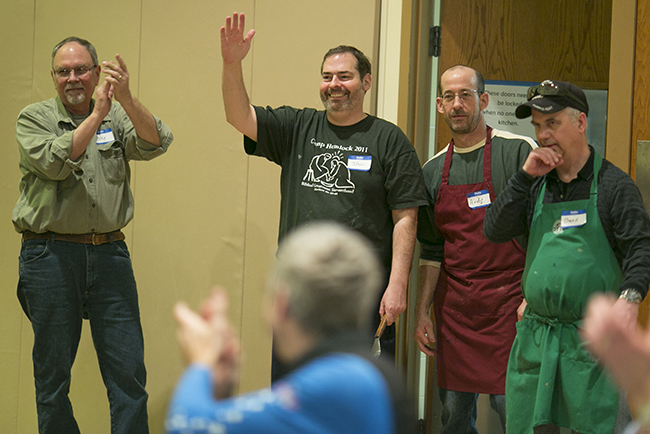 Joe Moorman led the team of men that cooked nine gallons of pancake batter, 60 pounds of bacon, and 560 eggs for the men's gathering on Saturday, February 7. Joe sent us this report honoring their work, and we wanted you to join us in thanking these servants.
If you're interested in joining these men and serving at events like the Men's Gathering, consider joining the Events Team.
I'm very grateful for each of these men, for their level of commitment to the event and how hard they worked, particularly when it looked like we were going to run out of pancakes.
It is a real sacrifice for them to give up most of their Saturday (and some of their Friday night) to serve, and to walk away completely exhausted, with pain in their back and feet. Many of these guys come back again, and again to serve at these big events. It is all of God's abundant grace that he would place on their hearts a desire to spend their lives and strength so generously in this way, when they could be with their families or just resting after a long work week.
---

"I would encourage anyone who feels like they are lonely, isolated or discouraged to actively and prayerfully seek a place where they can serve in this church. The ceaseless outpouring of grace that you experience in the midst of serving far exceeds the cost of your time, talents and efforts."
—Joe Moorman
---
I can tell you with certainty, that serving in this church is singular privilege, and is good for your soul. You experience the grace of deep fellowship, camaraderie and love for the people you serve with, as well as the people you serve. Here are some of the ways these men served sacrificially: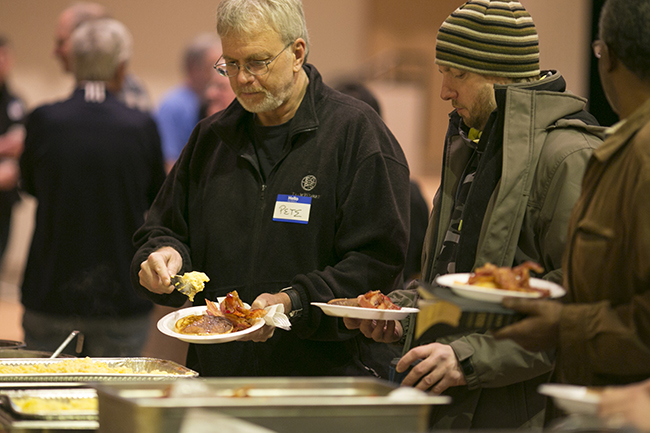 Andy McPhillips - Andy served on Saturday morning and helped in various ways with the bacon prep, the display setup, water and orange juice, and he tirelessly washed dishes during the morning and for more than 2 hours after the event. Because of the bacon there were over 20 greasy bakers sheets that needed to be scraped of fat and hand washed. So, Andy's contributions were invaluable.
John McSweeney - John served on Friday night, helping to prepare multiple buckets of pancake batter and scrambled eggs mix. He also came on Saturday morning and helped to prepare 2 more buckets of pancake batter when it was evident we were short on batter, and he stayed to the end to help with cleanup.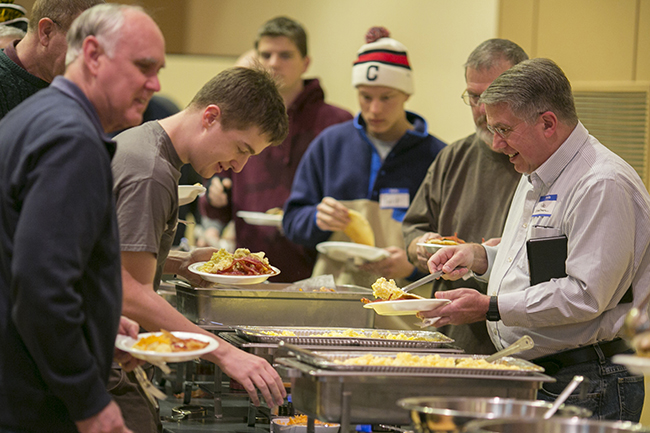 Jim Jones - Like John, Jim also served on Friday night, helping to prepare multiple buckets of pancake batter and scrambled eggs mix. He also came on Saturday morning and managed the preparation of the bacon (a greasy job!) from start (around 6 a.m.) to finish (around 9 a.m.) and stayed an hour after the event to help clean. Jim is the kind of guy that you can count on again and again to show up and joyfully serve.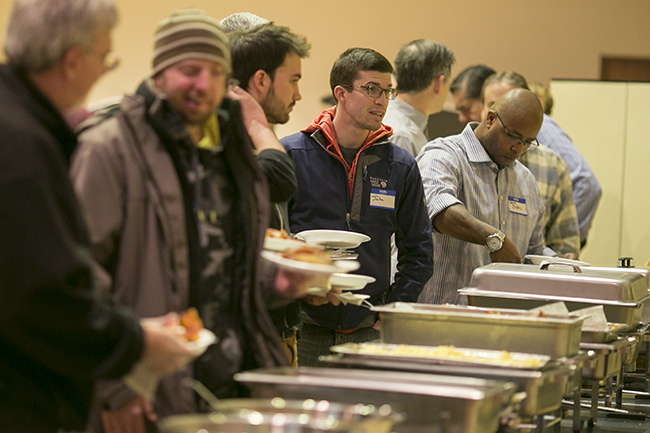 Bob Sardelli and Brad Baxter - Bob and Brad came in on Saturday and managed the pancake preparation from the time that they came in (at 6 a.m.) all the way through the end of the batter (around 9:15 a.m.). Both men stayed late to help clean up.
Lou Stavely was very helpful in setting up the display tables, fruit baskets, coffee sugar and creamer, and getting the coffee started on time and fully deployed. He also worked with Jim breaking open boxes of bacon, putting the bacon on parchment and bakers sheets for Jim (another really greasy job).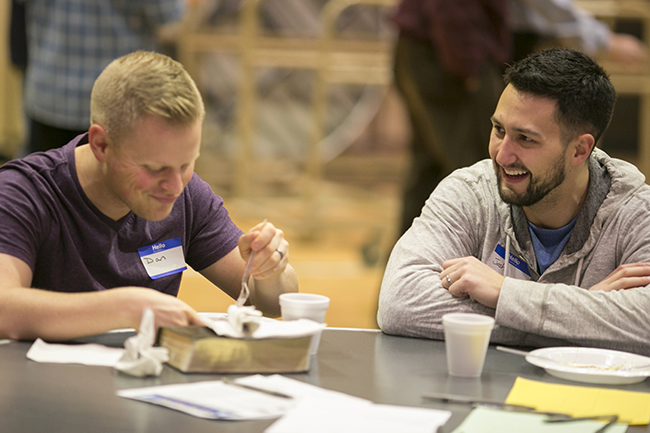 I would encourage anyone who feels like they are lonely, isolated or discouraged to actively and prayerfully seek a place where they can serve in this church. The ceaseless outpouring of grace that you experience in the midst of serving far exceeds the cost of your time, talents and efforts.
If you're interested in joining these men and serving at events like the Men's Gathering, consider joining the Events Team.
Share this on:
---
December 4 2014 at 12:16 pm
0 Comments
---

More information about the year-long, 2-A-DAY reading plan, including the readings schedule, can be found on the 2-A-DAY page.
MONDAY, DECEMBER 4 | Revelation 1
Reflections on Revelation 1
By Vincenzo Russillo
Today's passage contains detailed description of the securities that were given to the Lord Jesus (vv. 5-6) and are just 7 (the sacred number in the Bible):
1. He is the faithful witness. Jesus is the only reliable source that testifies to the facts of this book. In fact He testifies of Himself and of the facts which concern Him. We can easily believe the Lord Jesus.
2. The firstborn from the dead. He is the first rose from the dead never to return to die and He is the only one who came back from the dead in a glorified body and those who have faith in Jesus will do the same experience and this will happen at rapture of the church 1 Th. 4:14:
"For if we believe that Jesus died and rose again, even so God will bring with Him those who have fallen asleep in Jesus".
3. The ruler of the kings of the earth. This quality presents us His future role in the millennium here on Earth. As we can read from the letter that the apostle Paul sent to the Philippians 2 vv. 9 -11:
"For this reason also, God highly exalted Him, and bestowed on Him the name which is above every name, so that at the name of Jesus EVERY KNEE WILL BOW, of those who are in heaven and on earth and under the earth, and that every tongue will confess that Jesus Christ is Lord, to the glory of God the Father."
4. To him who loves us. This expression has a sense of actuality. Jesus loves us as we are and want to accept him as our Savior. He loves us and continue to love in the eternity.
5. He has freed us from our sins by his blood. The Blood of Christ is very important, because it's not just a symbol. In Old Testament God taught that the life of every living thing is in the flesh and blood (Leviticus 17 v. 11). When Jesus gave His life on the cross, gave it to the last drop of his blood for the atonement of our sins. So that through faith in Him we might be reconciled to God. The apostle Peter wrote these words, 1 Peter 1: 18-19:
knowing that you were ransomed from the futile ways inherited from your forefathers, not with perishable things such as silver or gold, but with the precious blood of Christ, like that of a lamb without blemish or spot.
Jesus has freed us from our sins by His blood.
6. He has made us to be a kingdom and priests to serve his God and Father. Believers are descendants of priests who will reign with the Lord, 1 Peter 2:9:
But you are A CHOSEN RACE, A royal PRIESTHOOD, A HOLY NATION, A PEOPLE FOR God's OWN POSSESSION, so that you may proclaim the excellencies of Him who has called you out of darkness into His marvelous light.
The Lord will come as King on earth and will abolish all injustice but first will be in the air to meet the believers, He will as Spouse to take His bride the church and for which He gave himself.
7. The one who is given the glory and power. He is the Amen. This is an expression that emphasizes His eternity. Jesus is the Amen of whom we read in the book of Isaiah, and it is a title of which only Jesus is both the subject and the object of Revelation. He governs all events and these revolve around Him. He is the eternal purpose and remote everything. Everything was done not only by him but everything is done for Him. This universe exists for Him.
Lord, thank you because you have revealed the immense glory of Jesus. Through His precious blood can be washed from all sin, and You have given us the privilege of being co-heirs with Christ to reign. Thanks for your unconditional love that you give us and remind us to give you the glory in everything we do.
Share this on:
---
November 14 2014 at 9:29 am
1 Comments
---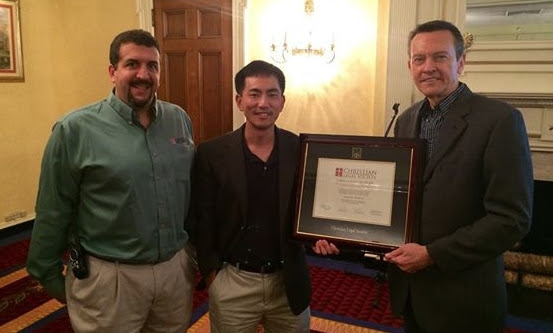 Photo courtesy of Good Samaritan Advocates
Chip Grange and Doug Duberstein, both attorneys and long-time members of Covenant Life, were recently honored for their work providing legal services to low-income neighbors through Good Samaritan Advocates (GSA).
Chip serves as a co-director of the GSA clinic held monthly at Covenant Life, and Doug Duberstein volunteers his time for those clinics as well.
Chip received the 2014 John Robb Christian Legal Aid Award, given each year at The Christian Legal Society's National Conference in recognition of excellent service and longstanding commitment to Christian legal aid.
Doug was honored by GSA as Volunteer of the Year. The GSA ministry offers legal-aid clinics and other resources at two locations in Northern Virginia as well as at Covenant Life.

Chip is the co-founder of Gammon & Grange, a law firm based in McLean, Va., and one of the founders of GSA. Doug is a senior counsel with IBM Corporation.
When you see Chip or Doug, please thank and encourage them for their service to the glory of God.
Share this on:
---