October 3 2014 at 1:31 pm
0 Comments
---

More information about the year-long, 2-A-DAY reading plan, including the readings schedule, can be found on the 2-A-DAY page.
MONDAY, SEPTEMBER 22 | 1 Samuel 4 and 1 Timothy 2
by Tim Harvey
"Let us take to ourselves from Shiloh the ark of the covenant of the LORD, that it may come among us and deliver us from the power of our enemies." – 1 Samuel 4:3
For there is one God and one mediator also between God and men, the man Christ Jesus. – 1 Tim. 2:5
The Israelites in 1 Samuel 4 were wrestling with an age-old question: How do we bring God's power and presence to bear on our situation? How can we make sure He is really with us? Their answer was stunningly simplistic: just grab the ark of the covenant – the object upon which God's glory had rested and that carried the stone tablets of the covenant with Moses – and take it into battle with them. They mistakenly invested the ark with a supernatural, magical power of its own. They failed to remember that this object that God had told them to make was intended to direct them to Him – not just as their Deliverer in times of crisis but as the One who was worthy of their daily worship and obedience according to the covenant made with Moses.
I often find in reading the Old Testament that I'm more like the rebellious (and seemingly clueless) ancient Israelites than I would like to admit. Like them, I wish I had a shortcut to bring the guaranteed power of God into my life when needed. I wish there were something that I myself could do to bring God's power and presence into my life. And I wish there were some tangible sign that God is really with me.
That's why I need to hear the truth that Paul gives us in 1 Timothy 2. This chapter is a call to prayer, and prayer requires fundamentally an attitude of trust – trust that God will really hear us, that He cares enough to answer us, and that He will answer us according to His good will. But Paul doesn't leave us there with just an exhortation to pray and hope for the best. He goes on to make clear the reason why we can trust God in these ways: because we have a mediator between us and God, the perfect man Christ Jesus (v. 5). Because of Christ's perfect atoning sacrifice, we can be confident that the prayers from our sinful lips do in fact reach the ears of our holy God. Christ's death on our behalf is irrefutable proof that God loves and cares for us more than we can imagine. And because of God's love demonstrated in Christ, we know that God will always respond in love to His children. "He who did not spare His own Son, but delivered Him up for us all, how will He not also with Him freely give us all things?" (Romans 8:32).
And that's better than carrying an ark around on my back any day.
Share this on:
---
September 17 2014 at 11:58 am
0 Comments
---

More information about the year-long, 2-A-DAY reading plan, including the readings schedule, can be found on the 2-A-DAY page.
TUESDAY, SEPTEMBER 16 | Joshua 21 and Colossians 4
By Tim Harvey
"Today we know that the LORD is in our midst…" – Joshua 22:31
…fellow-workers for the kingdom of God…and they have proved to be an encouragement to me. – Col. 4:11
These disparate chapters from the Old and New Testaments provide some great lessons and examples for my own interactions with my brothers and sisters in the faith. Consider the situation in Joshua 22, where the rest of the Israelites went to confront the tribes of Reuben, Gad, and Manasseh over an altar that the three tribes had built by the border of their land at the Jordan River. The altar appeared, to the other Israelites, to be a substitute worship location other than the Tabernacle where God had commanded that sacrifices be offered – a fundamental misunderstanding that could have easily turned into war (v. 12). But look at how it was handled by both sides:
• The Israelites, although their opening dialog was quite accusatory and based on wrong assumptions (v. 16-20), were nonetheless willing to listen to and consider the answer that the three tribes gave them. In the end they were willing to revise their initial assumptions about the three tribes' motives.
• The Israelites also graciously offered a "way out" of the apostasy they thought their brothers had fallen into, offering to share their own land if necessary (v. 19).
• The three tribes were willing to enter into dialog and provide an explanation for their actions.
• Both sides, in fact, were motivated by zeal to obey God and honor His word.
• The peaceful resolution of this tense situation was recognized as evidence that God was present and at work among them.
How many of these characterize my interactions with my family, with my fellow believers, or with the world? Although this chapter is far from a perfect example of brotherly love, I wish I could model more of the above traits.
I also wish I could better follow Paul's example in the relationships he depicts in Colossians 4. Consider:
• He remembers his friends and fellow-workers by name.
• He offers specific encouragements and commendations.
• He passes along greetings to affirm and build up long-standing relationships; most of those named in this chapter are mentioned elsewhere in Acts or other epistles.
• His commendations, greetings, and instructions are neither inconsequential fluff nor boring administrative details, but all reflect the deep partnership he had with these fellow-workers in the work of spreading the gospel.
I wish that my communications were more characterized by these kinds of things as well. In short (and I'll cheat here to bring in Colossians 3), I want my interactions especially with brothers and sisters in the faith to be characterized by love: "And beyond all these things put on love, which is the perfect bond of unity." – Col. 3:14
Share this on:
---
September 9 2014 at 10:15 am
0 Comments
---

More information about the year-long, 2-A-DAY reading plan, including the readings schedule, can be found on the 2-A-DAY page.
TUESDAY, SEPTEMBER 2 | Joshua 12 and Ephesians 4
By Tim Harvey
"Now these are the kings of the land whom the sons of Israel defeated and whose land they possessed…" – Joshua 12:1
"…walk in a manner worthy of the calling with which you have been called, with all humility and gentleness, with patience, showing forbearance to one another in love…" – Eph. 4:1-2
My commentary devotes barely any space to Joshua 12, referring to it as simply an appendix to the history of Canaan's conquest that is recounted in the preceding chapters. And there doesn't seem to be a lot of spiritual insight to be gained from the long list of defeated kings and their city-states, all of whom are long forgotten except for their final ignoble mention here as having been defeated by the Israelites. But maybe that's exactly the point – God's kingdom and His purposes go irresistibly forward, while His enemies are swept aside and remembered only because of their defeat.
However, God's enemies seem to be faring pretty well these days, if my daily newspaper is any indication. Look close to home or across the world and everywhere we see the ascendancy of those who "call evil good and good evil" (Isaiah 5:20) and who do "what [is] right in their own eyes" (Judges 17:6). What's happened to the irresistible march of God's kingdom that Joshua 12 so clearly displays?
Ephesians 4, I believe, points us toward the answer. God's kingdom is marching forward, but no longer by means of national conquest. Rather, it is moving forward with the "weapons" of humility, gentleness, patience, forbearance, and love. These weapons don't bring down walls or cities; they break through to hard hearts and blind eyes. They don't display the greatness of a nation or its army; they display God's power to transform individual lives. Just as there was no earthly way the Israelites could have defeated all those kings in their own strength, there is no way that we can "walk worthy" in the ways Paul outlines apart from the indwelling power of God. As we walk in these things we demonstrate the power and presence of God as decisively as any list of defeated kings.
And our calling to "walk worthy" is not just an individual calling, but one we are to walk out in unity with our brothers and sisters – "being diligent to preserve the unity of the Spirit in the bond of peace," as Paul puts it in verse 3. The tribes of Israel were united (unfortunately only temporarily) as they fought the Canaanite kings. God's call to His church in our day is that we would be similarly united for His purposes and His kingdom, as we "grow up in all aspects into Him, who is the head, even Christ" (v. 15).

MONDAY, SEPTEMBER 1 | Joshua 11 and Ephesians 3
Hope for the Pagans
by Jose Troche
Joshua 11 is one of those chapters in the Old Testament where we read about many battles, deaths, and destruction, as the Israelites take over the land that God had promised to them. Many kings had joined forces to fight against Israel (v.5). They had come out with all their troops, a great horde, in number like the sand on the seashore (v.4). This alliance may have seemed intimidating, but the Lord was with Joshua and had commanded him, once again, not to be afraid, for He was going to give over all of them to Israel (v.6). And Joshua and all his warriors fell upon them and struck them until he left none remaining (v. 7-8). And Joshua's army continued capturing cities, striking with the sword all who were in them, devoting them to destruction, not leaving any who breathed (v. 11, 12, 14, 17, 21).
We can picture smoke coming out from burned cities, corpses infesting the landscape, utterly defeated armies, ubiquitous devastation… For it was the Lord's doing to harden their hearts that they should come against Israel in battle, in order that they should be devoted to destruction and should receive no mercy but be destroyed (v. 20). What a sobering and horrifying passage! Many find these events perplexing and disturbing.
The pagans that heard about the breathtaking wonders that the God of Israel was performing responded with consternation, their hearts melted and no spirit was left in any of them (Joshua 2:10-11). The Bible openly paints a terrifying image for those who are against the Lord. His judgement is unbearable. It is certainly a fearful thing to fall into the hands of the living God!
As I try to fit myself into this story, an extremely troubling reality dawns in my mind. I am not an Israelite by birth, I am a pagan! If all I have is the Old Testament, I am left in a hopeless condition. If I do not belong to ethnic Israel, I am destined to be devoted to destruction, just like the heathen of Joshua 11.
Praise be to God for Ephesians 3, for the amazing mystery that was hidden for ages but revealed to Paul and the apostles (Eph. 3:5), that we, the Gentiles, the pagans, are fellow heirs, members of the same body, and partakers of the promise in Christ Jesus through the gospel (v.6). Praise be to God for extending undeserved mercy to helpless pagan sinners like me, so we can comprehend with all the saints what is the breadth and length and height and depth of the love of Christ (v.18-19), who shed his blood for the forgiveness of our traspasses (Eph. 1:7), so we can be members of the household of God (Eph. 2:19).
To Him be the glory in the church and in Christ Jesus throughout all generations, forever and ever. Amen (Eph. 3:21)
Share this on:
---
September 8 2014 at 12:46 pm
1 Comments
---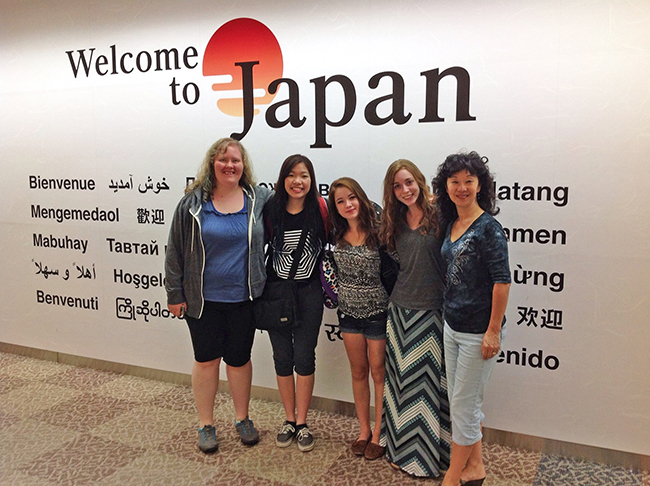 Here is a brief recap from Linda Benjamin of how God used members of our church to serve the people of Japan. Below that, is a brief note of thanks from the Grace Harbor Church in Tokyo with whom our team partnered to provide the classes.
You know so many people were praying when you felt like you were walking on the water the whole time you were on a mission trip!
On August 4 the five members of the Japan team made up of Linda and Christina Benjamin, Tori Chow, Kristen Emelio and Hannah Moore, traveled to Tokyo to serve Grace Harbor Church by assisting in their Kids English Week from Aug. 4-11.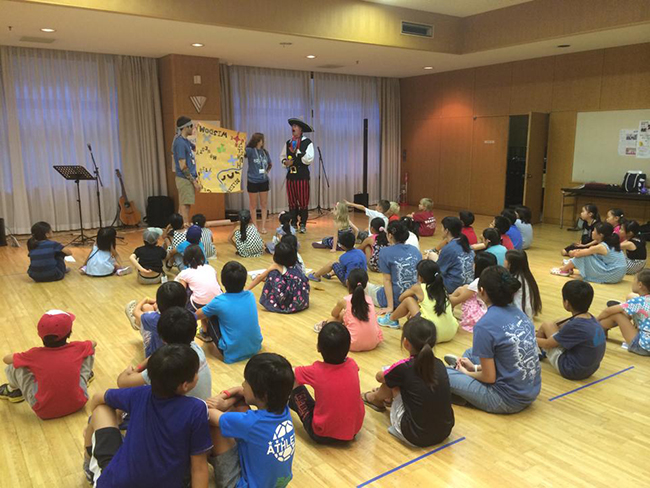 Despite having less than three weeks to plan, we couldn't have imagined a better outcome! We were able to bless about 100 children with songs, fun activities and crafts throughout the week. But, not only the children had a fantastic time; we were also able to connect and build friendships with many of the children's parents and the Grace Harbor Team. Even on our 'free' time, we were able to spend time with some of the kids, having deep, heart-to-heart talks.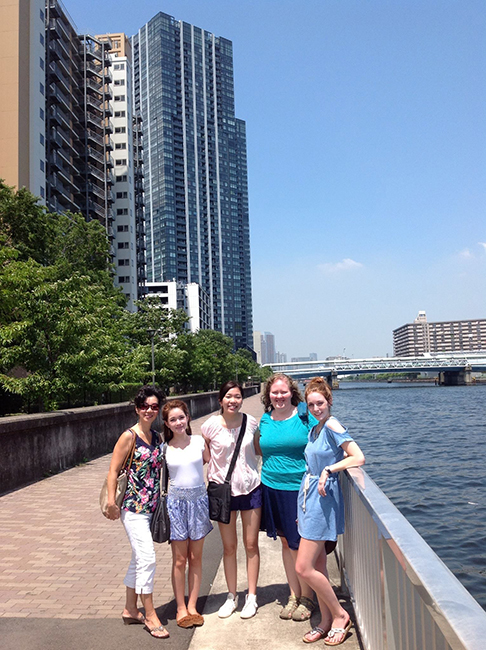 Through a Mom's tea time that was also held during the week, one of the Grace Harbor missionaries gave a short message on parenting, translated by a CLC team member. It was a powerful time where many women were affected by the wisdom and care that they heard. One woman was so touched that she is now going to host the a class on parenting at her home, and inviting more interested people. The Gospel work continues!
Even though we were not able to share the Gospel in words due to language barrier, the love of Christ was shown in many ways and some moms have expressed their gratitude in tears of joy. We are so grateful to be able to witness God's unfathomable love at work among the Japanese people as well as amongst our team, and the Grace Harbor team, through their selfless service, "being of the same mind, having the same love, being in full accord and of one mind."
One of the Grace Harbor Team commented: "Praise God! We hope you send them back!" Thank you so much for your support and prayers and please continue to pray!
---
Dear Covenant Life Church,

Thank you so much for sending this wonderful team to help with Grace Harbor Project's Kids English week! It was so well prepared and very lovingly executed by your team. Hannah amazed us with her creative and organizational skills. And ChiChi and Tori were real troopers to keep up with the demanding schedule. They enjoyed the children and reached out to them in warm and loving ways.

Your church blessed us in so many ways through them, and through your most kind generosity. First, by sending them to us — especially on such short notice! Also, by providing the refreshments for the moms of the camp kids over "Tea Time" as we, Linda and I and a few other staff, made ourselves available to have conversation. The staff loved being treated out to a Monja restaurant! Thank you!!! And Bob and I thank you for your personal financial blessing to us. God has dealt so kindly to us!

I wish I could stand before you now and tell you about these blessings and about how Linda was such a blessing to so many women she met — including me! For example, when I became sick and did not have strength to prepare a meal for some friends we had committed to have over, Linda took over and prepared the meal. She also blessed me and moms at the camp by translating for me when it seemed like the thing to do was to share some insights about parenting. Some moms at my table, the English table, were pouring their hearts out about their struggles with parenting and asking for advice. That Linda translated for me made it possible for all the moms to hear these insights.

It turned out that this resulted in a desire for some moms to attend a parenting class. So, now I am hoping to start up a parenting class in the fall. Moms who do not speak English signed up, too, so we need to pray God will provide a bilingual translator for this class.

Another heart Linda reached was the heart of a mom of a distressed boy we found when we got off the bus in front of our apartment. The boy was pacing and crying. Linda went over to find out his problem. His mom had dropped him off to meet a friend at a place. The friend was not there and the place was closed. Linda stayed with him until his mom was found!

Through Linda and the team the love of Christ was clearly shown to many. Praise God! We hope you send them back!

Love in Christ,
Sharon and Bob (Tokyo Team)
Share this on:
---
August 22 2014 at 9:45 am
0 Comments
---

More information about the year-long, 2-A-DAY reading plan, including the readings schedule, can be found on the 2-A-DAY page.
FRIDAY, AUGUST 22 | Joshua 5
By Jessica Kendal

Praise God for a second crossing through the waters! In Joshua 5, the Israelites had finally begun their transition into the "promised land." God in His kindness showed them His might once again as the waters of the Jordan piled up and His people walked through on dry ground. But even while the Lord was melting away the resistance of many enemies, there is still a battle on the horizon: Jericho. Walls that seem unbreakable, and yet God is calling them to move forward in confidence. How? What can prepare a person—or a people—for this sort of conquest?
Consecration—and even a renewing of the Covenant! (vs. 1-9) God's people had been wandering in the wilderness so long, even the physical marks of their covenant with Him had all but disappeared. The Lord commands that the new generation be circumcised, starting fresh and rolling away the "reproach of Egypt." What is the Lord asking you to cut away today, so that you can renew your love for Him and start fresh?
Remembering His Faithfulness (vs. 10-12) In God's perfect timing, following the renewal of their covenant with the Lord, it was time to celebrate the Passover. In doing this, the Lord also began to show His people His new provision for them: the "fruit" of the land, no longer the provision of manna. Remembering His faithfulness is crucial to having the strength for spiritual battle and opens our eyes to new things He'd like to do. What might God want you to remember about Him as you face your battles of today?
Choosing God's Side (vs. 13-15) I once read that our gut reaction is often the same as Joshua's, faced with the "commander of the army of the LORD"—we blindly approach Him and ask if He's on our side, or not?? But what God really wants is to know if we are on HIS side! To do this, we've got to recognize who He really is. When Joshua realized who he was actually talking to, he fell on his face, and asked what was required of him! The reply? "Take off your sandals…for the place where you are standing is holy." Friends, in Jesus Christ, we walk on holy ground every day! Remind yourself of His astonishing holiness and greatness. How can you choose to be on God's side today, rather than asking if He's on your side?
Lord, we pray today for grace to see You for who You really are. You know that we are facing battles that seem too big to fight—but if YOU are our Commander, no walls are too high. Help us ask what You require of us, and give us confidence in Your strength, not ours. We love You, Jesus, and pray this in Your precious Name!

THURSDAY, AUGUST 21 | Joshua 4 and Matthew 24
What God Does and What He Says Will Stand Forever
By Rhoda Dixon
"For the LORD your God dried up the waters of the Jordan for you until you passed over, as the LORD your God did to the Red Sea, which he dried up for us until we passed over, so that all the peoples of the earth may know that the hand of the LORD is mighty, that you may fear the LORD your God forever." (Joshua 4:23-24)
"Heaven and earth will pass away, but my words will not pass away." (Matthew 24:35)
The instruction from God to Joshua to the people regarding the setting up of the memorial stones are to direct God's people to remember always what God has done for them. His mighty act in this moment in leading them safely through the Jordan is part of a greater work of His enduring mercy and faithfulness to His people. The instructions are to accomplish a work in God's people in two ways: The command to build the memorial stones and the crossing of the Jordan are to build faith just prior to their entering the land He has promised. And these stones are to direct their hearts to worship and trust God always.
While the stones were to be a reminder to God's people of what God has done, Jesus provides words of comfort in the midst of great difficulty and suffering detailed in Matthew 24. Both the fall of Jerusalem and the end times are being described here, but with His words and life Jesus provides hope for all who know Him. Jesus Himself is the answer to the difficulties and anguish, and His words of life and salvation will never pass away. Throughout history the Lord has preserved His church, and at the end of time His people will be with Him, in the place He has provided in His presence for them for all of eternity—the eternal rest that is the ultimate fulfillment of the promised land we will read about in Joshua. As God's people, we can remember all our God has done, finding rest in knowing that our Lord's words provide everlasting hope.
As He led His people through the Jordan, He will be faithful to lead and remain with His people, leading them through the end of time, until we are finally in our promised Home with Him forever.
Dear Lord, I thank You because You always lead and guard Your people. You who is in control over creation, time and all that has been and what will come ahead; You alone are our hope in every step, today and forever.
Sometimes mid scenes of deepest gloom,
Sometimes when Eden's bowers bloom,
By waters still, over troubled sea,
Still 'tis His hand that leadeth me.
He leadeth me, He leadeth me,
By His own hand He leadeth me;
His faithful follower I would be,
For by His hand He leadeth me. (Joseph H. Gilmore, 1862)

WEDNESDAY, AUGUST 20 | Joshua 3 and Matthew 23
By William Li
Matthew 23: Then Jesus said to the crowds and to his disciples, 2 "The scribes and the Pharisees sit on Moses' seat, 3 so do and observe whatever they tell you, but not the works they do. For they preach, but do not practice.
The nation of Israel was truly in dark times during this era of their history. Politically, their homeland was ruled by Rome. Religiously, the people were being lead by false guides. With no good shepherds in the community, Jesus gives us some words of wisdom in this passage. He points people to follow the teaching of the Pharisees despite being hypocrites.
Consider the question, how can a person distinguish if something a hypocrite said was true? If we disregarded everything any hypocrite said, we would have to discard everything every man has ever said. For we all falter and fall short at some point as a result of the Fall. The question then becomes, in a world of hypocrites, how can I seek truth?
As Christians we are called to be faithful to God rather than a person. Often times it is difficult to distinguish truth from falsehood when words and actions do not line up. Jesus teaches us that even a hypocrite can teach us truths. However Jesus was able to live a life free of hypocrisy. He is the living embodiment of truth and righteousness. Only in His life was truth and personhood fully unified.
13 "But woe to you, scribes and Pharisees, hypocrites! For you shut the kingdom of heaven in people's faces. For you neither enter yourselves nor allow those who would enter to go in.[d] 15 Woe to you, scribes and Pharisees, hypocrites! For you travel across sea and land to make a single proselyte, and when he becomes a proselyte, you make him twice as much a child of hell as yourselves.
The Pharisees were a group that had more access to the Word of God than the rest of the population. But instead of leading people into the Kingdom of Heaven, they were putting obstacles in their way. Hypocrisy is one of the biggest obstacles the Israelites had to overcome in order to seek God during this time. My encouragement to anyone who wants to see a true life, untainted by hypocrisy is to study the life of Jesus. It wasn't just the fact that Jesus said the truth but that He was Truth itself.
Joshua 3
The Lord said to Joshua, "Today I will begin to exalt you in the sight of all Israel, that they may know that, as I was with Moses, so I will be with you. 8 And as for you, command the priests who bear the Ark of the Covenant, 'When you come to the brink of the waters of the Jordan, you shall stand still in the Jordan.'" 9 And Joshua said to the people of Israel, "Come here and listen to the words of the Lord your God." 10 And Joshua said, "Here is how you shall know that the living God is among you and that he will without fail drive out from before you the Canaanites, the Hittites, the Hivites, the Perizzites, the Girgashites, the Amorites, and the Jebusites. 11 Behold, the ark of the covenant of the Lord of all the earth is passing over before you into the Jordan. 12 Now therefore take twelve men from the tribes of Israel, from each tribe a man. 13 And when the soles of the feet of the priests bearing the ark of the Lord, the Lord of all the earth, shall rest in the waters of the Jordan, the waters of the Jordan shall be cut off from flowing, and the waters coming down from above shall stand in one heap."
When God lead the people out of Egypt using Moses he opened the Red Sea allowing the people to walk across on dry land. But Moses sinned and was forbidden to cross over to the Promised Land. So Joshua was now commanded to lead the Israelites. God invokes the same miracle except now it is over the Jordon instead of the Red Sea.
In Numbers 14 Joshua and Caleb were sent to the land of Canaan to survey the land. Many spies were sent out but only Joshua and Caleb trusted the Lord would give the Israelites the land. All of the other spies came back reporting how it was impossible to go against the people of Canaan. When the Israelites heard the report from the spies they were ready to stone Moses for leading them there.
Joshua had great faith to follow the Lord. Not grumbling or rebelling against the Lord who intended to do good to him and his countrymen. It is fitting that Joshua become the leader of the Israelites and be the one to take his people over to the Promised Land. He had become God's chosen instrument to deliver His people.
How many times have we grumbled in our hearts against the Lord? We ask for blessings but not hardships. But the Bible teaches us that God uses both to sharpen and shape us, for we are all clay in the potter's hand. Joshua demonstrates how important it is to trust God in all situations. Joshua trusted God in the 40 years in the desert enduring the trials with patience. In that time of faithfully trusting God, he was molded to become one of the greatest leaders in Biblical history.

TUESDAY, AUGUST 19 | Joshua 2 and Matthew 22
by Tim Harvey
"…for the LORD your God, He is God in heaven above and on earth beneath." – Joshua 2:11
"Go therefore to the main highways, and as many as you find there, invite to the wedding feast." - Matt. 22:9
If there was ever someone gathered in by God's grace from off the highways of life, it was Rahab. Consider her spiritual résumé: a pagan and also a prostitute perhaps associated with one of the idolatrous fertility cults of ancient Canaan. No hint that she was a sincere seeker of truth along the same lines as the magi who visited Jesus, nor an exemplar of righteous living like the Roman centurion Cornelius in Acts 10. Yet in biblical history Rahab is well-known as one of the heroes of the faith, commended by the writer of Hebrews (Heb. 11:31) and by James (James 2:25), and an ancestor of David and Christ Himself (Matt. 1:5). How could this happen? Is Rahab just another example of the mystery of God's providence, or do we have something to learn from her life and example?
I believe the answer is yes on both counts. Certainly no one – no matter how well taught in the Scriptures or how righteous in their living – is saved apart from God's sovereign call. The fact that He would choose someone like Rahab is a dramatic reminder that we are all saved by grace and grace alone.
But Rahab's words in verses 8-13 illuminate the work that God was doing in her life, and I believe offer us guidance on how we ought to pray for His work in our lives and the lives of others. Rahab did not have any more information than other people in Jericho – the news of the Israelites' amazing military victories and the power of their God were obviously common knowledge. But Rahab, through God's provident work, was given eyes to see through these mere events to perceive the God who was behind them. Her words reveal an astonishing grasp of who God is and what He was doing through the events that had so stirred the region. In marked contrast to the Pharisees of Jesus' day, she was given "eyes to see and ears to hear," and she did not hesitate to act on what she had seen.
I want to have the same eyes of faith that Rahab had! I want to see, as Rahab did, my circumstances and the world around me in light of who God is and His eternal purposes. And I want the same for those around me who walk in spiritual blindness. That's why I am praying earnestly for God to do this kind of work that only He can do.

MONDAY, AUGUST 18 | Joshua 1 and Matthew 21
Towards Wonderland
by Jose Troche
It had been a long and tedious journey for the people of God. Several years wandering in the desert, doubting, rebelling, and sinning against the LORD. He had so mightily delivered them from dreadful slavery to lead them into wonderland, a place of indescribable fruitfulness, prosperity, peace and rest. The type of place where all human beings deeply long to be.
We read in Joshua 1 about God declaring that no man will stand against Joshua, because the Almighty himself will be on his side. God had chosen Joshua to be the successor of Moses, and to lead his people into the land that he had promised to Abraham several centuries before. The Hebrew name Joshua means "Yahweh saves", and in a real sense that is what God was going to do through Joshua: to save his people from his enemies as they conquered the land.
We also read that God calls Joshua to be careful to do according to all the law, without turning to the right hand or to the left, and not allowing it to depart from his mouth, but rather meditating on it day and night so that he may have good success and prosperity wherever he would go (v. 7). His triumph depended on his careful observance of the law. The standard for him was high because he was a representative of his people; as Moses' successor, he was also a mediator between God and men.
Although deep knowledge of the law is very important, it is not sufficient, as we learn in Matthew 21:18-46. The Pharisees and chief priests were a respected religious group in the time of Jesus. They knew the law inside out, and they thought they obeyed it. But Jesus assessment was different. In that passage, Jesus curses a fruitless fig tree. Later, he tells a parable where he compares the religious leaders to children that do not do the will of their father. Finally, he states his judgment announcing that the kingdom of God will be taken away from them and given to a people producing fruits.
So here is the dilemma. God offers good success as long as the law is perfectly obeyed and fruit is produced. But who can do that? Who can act according to the law, without going to the right of to the left, meditating on it day and night?
It turns out that there is another man with the same name as Joshua and with a similar mission. Jesus is the Greek equivalent of the Hebrew name Joshua. And we read in Matthew 1:21 that Jesus received that name because he would "save" his people from their sins. As important as Joshua was in the history of Israel, he was really pointing to a greater representative, mediator and Savior. He was pointing to Jesus, who magnificently makes honor to his name as we contemplate how "Yahweh saves" his people through him. He is the only one who perfectly obeyed the law. He is the one who triumphantly and ultimately will lead his beloved to wonderland.
Share this on:
---
July 25 2014 at 7:02 am
1 Comments
---

More information about the year-long, 2-A-DAY reading plan, including the readings schedule, can be found on the 2-A-DAY page.
Reflections on Exodus 25
By Jessica Kendal
Our God is In the Details
In Exodus 25 the Lord lays out, in great detail, instructions for building His Holy Place among His people. While I wondered, initially, what blue and purple thread would mean to a believer in Jesus Christ—He's torn the curtain now, after all—I think part of the beauty in these details is God showing us how to worship Him. Here are just a few things to pull from this chapter:
1. Praise God that we can worship through cheerful giving and contribution to His works and His "house"! (vs. 2)
2. Praise God that He is the Holy of Holies, and he alone sits on the mercy seat! (vs. 22)
3. Praise God that He is our Bread of Life, and that He commands us in love to come before him regularly! (vs. 30)
4. Praise God that He is our Lampstand, the Light of the World, piercing the darkness! (vs. 37)
5. And lastly, Praise God that He knows us so well that He gives reminders to follow His instructions—may we not be tempted to adjust or embellish what He has said! (vs. 40)
Lord, we thank you today that You are still our God of details today. Please help us worship and trust You more with the details of our lives, give to you cheerfully, and follow Your Word exactly! In Jesus' name we pray, Amen!

Reflection on Matthew 5
By Art & Jeannie Shenk
Matt 5:43 - 48 contains a snapshot of a brief but penetrating Q&A session conducted by Jesus with his disciples:
"You have heard that it was said, 'You shall love your neighbor and hate your enemy.' But I say to you, Love your enemies and pray for those who persecute you… For if you love those who love you, what reward do you have? Do not even the tax collectors do the same? And if you greet only your brothers, what more are you doing than others? Do not even the Gentiles do the same? You therefore must be perfect, as your heavenly Father is perfect."
What is the conclusion on how we are to live with others? We are to love and pray for others even our enemies or those who give us a hard time.
And "We MUST BE PERFECT, as our heavenly Father is perfect" in doing this. How can we possibly achieve this manner of living with others especially since the rest of Matthew 5 includes an avalanche of other holy standards for living?
I find Charles Spurgeon's perspective on "perfect living" helpful taken from A Call to Holy Living.
The regenerate never rebel against any precept, saying, "This, is too pure;" on the contrary, our new-born nature is enamoured of its holiness, and we cry, "Thy word is very pure, therefore thy servant loveth it. O that my ways were directed to keep thy statutes.
Let's live in the good of Spurgeon's prayer for us: "My desire, this morning, is to insist upon the precepts which tend to holiness, and I pray the Holy Spirit to excite desires after a high degree of purity in all believing hearts."
Reflection on Exodus 24 and Matthew 4
By Rhoda Dixon
I Need His Words Most.
Then he took the Book of the Covenant and read it in the hearing of the people. And they said, "All that the Lord has spoken we will do, and we will be obedient." —Exodus 24:7
The words of God and the covenant would set the people of Israel apart as unto to the Lord. These words would direct every area of their lives, as ones who belonged to God, and they were to speak of who He is to each generation.
But he answered, "It is written, "'Man shall not live by bread alone, but by every word that comes from the mouth of God.'" —Matthew 4:4
More than what is temporal, what I need most are God's very words, and the One who is the Living Word. For only His words bring hope to my days, light to my circumstances, and eternal life. His words remind me of His faithfulness throughout time and all He has done for His people; they speak of His gospel and eternal kingdom.
In Exodus 24, God in His mercy had come near to the people, and they were to obey Him. And then in Matthew 4, God the Son had come near, with the call to follow Him.
Dear Lord, as Your people, we thank You for coming near to us, and for all You have spoken. Your words are truth, salvation and life. All that we are belongs to You, and we will obey You, and we will follow You.
WEDNESDAY, JULY 23 | Exodus 23 and Matthew 3
Reflection on Exodus 23
By Eryk Zimmerman
"Little by little I will drive them out from before you, until you have increased and possess the land." (Exodus 23:30)
Little by little, more and more, Christ is transforming our souls. His work is patient, because we are slow to understand and every area of life must conform to the Way. Every rebellious part of ourselves will be conquered by the renewing of our minds in our knowledge of Him. And then at last, there is only our love for Jesus.
We can also be corrupted little by little. It's not a great crime that tempts us, but by committing many petty crimes our consciences are seared. It's not one heroic test that we are called to endure. It's the many small things that we have to bear patiently until our will is strong and our minds are peaceful.
"I will drive them out". Thank You, Jesus! Only Your goodness and love can purge our sins and heal our wounded souls. It is Your strength that makes us strong, and the life You give is everlasting.
Reflections on Exodus 22 and Matthew 2
By Tim Harvey
I have to admit I've often wished for the same kind of clear, unmistakable divine guidance like that Joseph experienced four times (four times!) during the events described in Matthew 1 and 2, and the divine guidance given to the magi through the star and their dream about avoiding Herod on the return trip.
Wouldn't it be so much easier to follow God's will if the occasional angel would appear in a dream and give me some specific instructions? Or how about the Old Testament Israelites – seems to me like they had it easy in some respects, too. Sure, there were a lot of laws to keep up with (as Exodus 22 illustrates), and a pretty complicated system of sacrifices, but as long as you were diligent and kept up with all those things, you were sure to experience God's blessing, right? Just check off all the things on your Daily Laws Checklist and God would be happy. Just wait for an angel to appear and follow his instructions. Why can't things be like that for us today?
When I think about it more closely I realize my desire for more "direct" divine guidance surfaces when I forget the rest of the story that is beginning in Matthew 2. l wish for a Righteousness Checklist (which the Old Testament law was never intended to be) that I could keep on my own and thereby take some credit for my own salvation – forgetting the far better and more perfect plan that God set in place through Christ. I want God to tell me what to do in a specific and unmistakable way because I'm afraid I'll somehow "miss" His will and purpose for my life – and yet His plan carried on despite the wrath of Herod and its horrible results. How could He not be sovereign over my mistakes and missteps and even my sins? And I want an amazing experience of God's unmistakable presence because I am prone to doubt He is really with me and cares for me – and yet His very name is "God With Us" and He came specifically so that my sins could be paid for and I could be adopted into His family. How could I ask for a better reminder of His love?
My prayer: Lord, help me to remember how deeply you love and care for me. Your promises are enough for me. Your Word and your Spirit and your people supply all the wisdom and guidance I need. Help me to rest in that truth more and more every day.
Reflections on Matthew 1
By Jose Troche
As I meditate on the first chapter of Matthew, I am blown away by its content and the cosmic repercussions of its announcement. It starts by compressing millennia of history that covers virtually the entire Old Testament from Genesis 12 and forward, and ends by describing the supernatural conception and birth of the very Son of God.
These are the opening words of Matthew: "The book of the genealogy of Jesus Christ, the son of David, the son of Abraham." The first page of the New Testament makes it crystal clear who is the main character of the divine plot: Jesus, the Christ, whose lineage is unwound in the following verses (1:1-17).
The way I wrestle, trying to comprehend with my limited mind this most amazing genealogy, is by imagining myself reading to my kids the Big Picture Story Bible. We start almost at its beginning reading about God promising Abraham to make of him a great nation and in him blessing all the families of the earth.
Years went by and Abraham was still without a son. However, God remained faithful to his promise and miraculously brought forward the birth of his son Isaac. Then we read about Isaac's son, Jacob, who in turn had twelve sons, including Judah. As we rapidly flip the pages, the promise of God is fulfilled generation after generation.
Then we read about David and God promising to raise up out of him a son whose kingdom will be forever (2 Samuel 7:12-13). But, because of the disobedience of his descendants, the kingdom is divided and people are scattered and deported. And yet God remains true to his word. He starts bringing his people back together. But, they are still waiting for the eternal King who will be a blessing to all nations.
After the perplexing silence of the intertestamental period, God speaks again, moving his plan forward, as he remains immutable in his faithfulness. And now the birth of Jesus takes place (1:18). Although, we can trace back his origins, there is something that absolutely separates him from the rest of the human race: his genetic makeup is divine! Everyone is born of the union of a man with a women, but not Jesus. No human male participated in his conception. That which was conceived in Mary was from the Holy Spirit (1:20).
The glorious and majestic God took human form and was born in the likeness of men, getting near his people like never before. He is marvelously indeed "God with us"! (1:23) and he was called Jesus (from the Hebrew name Yeshua, which means "Yahweh saves"1), for he will save his people from their sins (1:21). Jesus is the ultimate fulfillment of God's promises to Abraham and David. In this son of Abraham all the nations are blessed as they are offered salvation from their sins. And after conquering sin, Jesus, the son of David, has been crown as King forever. Alleluia!
1ESV Study Bible
Share this on:
---