October 6 2015 at 11:32 am
3 Comments
---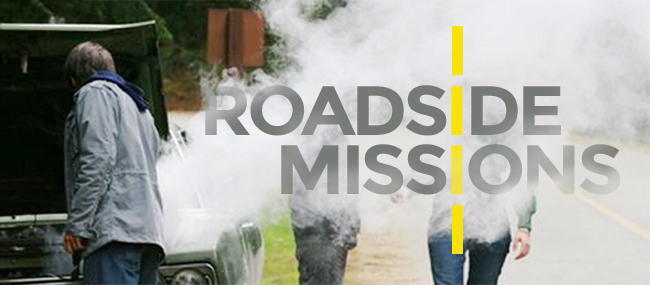 A couple weeks ago we recieved this encouraging story about how God can use simple acts of kindness to provide opportunities to advance the gospel. We want to thank Donna Banks for providing an encouraging example of being faithful in caring for others in our community and for sharing how God is at work.
This morning as I was driving in a steady rain on the way to Shady Grove Hospital, I came across a group of teens (possibly Indian or Pakistani) standing on the sidewalk in front of a disabled car along Snouffer School Road. The car had flashers on, so I pulled in front of it and asked if they needed to use a cell phone or some other assistance. They said that their Dad was in the car and all they wanted to do was push the car backward about 50 feet to get it off the main road. I told them I would block the traffic with my car so they could do that (people could still drive around us). Anyway, I did and it all worked out. They were able to push the car into a free parking spot (God plans everything).

Because of the rain and the crisis I was not able to meet the Dad but I said, "God bless you" to the young people.

This afternoon, amazingly, a man came up to me and asked if I was the lady who had helped them. I confirmed that I was. He said, "It may seem like a little thing to you, but it was a big thing to me. People were passing by all the time and did not stop. Why did you stop?" I told him that I am a Christian and as God has shown me so much love I want to show others His love too. I gave him one of my cards with my contact information and told him to contact me if he had any needs (and I wrote down the name of our church on the back).

Totally cool!

Blessings,
Donna
Share this on:
---
September 15 2015 at 10:04 am
0 Comments
---
Listen as Dennis Casteneda shares his testimony of God's transformative work in his life, and his call to start and lead the Every Day is Christmas ministry.
Learn more about Dennis' ministry Every Day is Christmas.
Share this on:
---
July 21 2015 at 9:16 am
0 Comments
---
God has blessed the last two days of Joy Camp tremendously. On Thursday evening we had our traditional site cookouts at Laytonia and Johnson's Park. We cooked hundreds of hot dogs and were able to interact with the campers and many of their families. At the Laytonia cookout the campers were even able to come up and share the "Gospel Chant" they had been learning all week.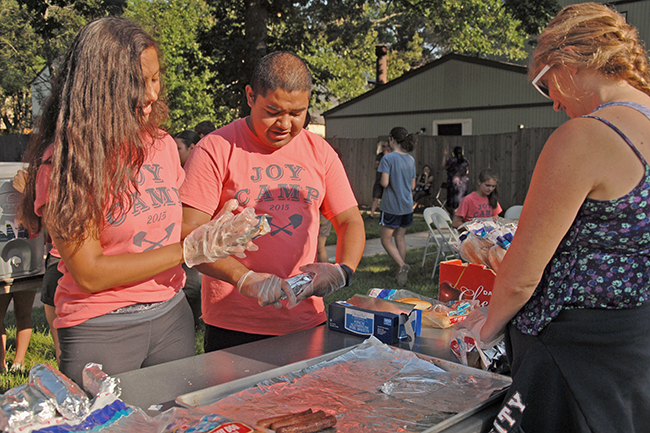 Friday was our last day with the campers. At South Lake they had a brief ceremony to celebrate the end of the week since they didn't have a cookout. Parents were invited, and we called each camper by name to receive their Bible and camp t-shirt.
Friday was also our last day together as a team. We took time in the evening to recount God's faithfulness by singing, listening to a short teaching, and hearing about how God worked at the different sites.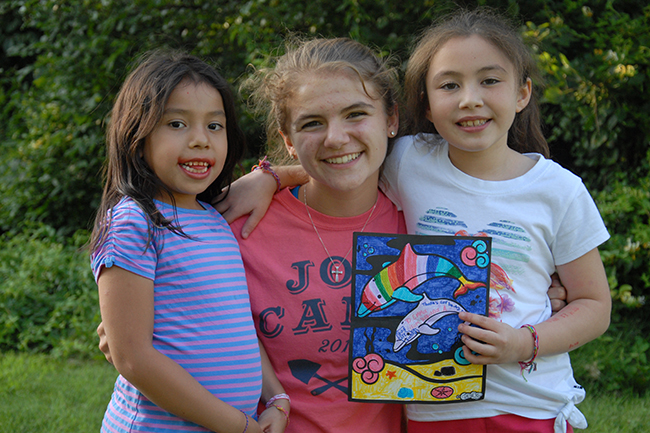 Johnson Park
Because renovations going on at Washington Square and Emory Grove, we weren't sure how many kids would show up to camp. The leaders visited surrounding neighborhoods on Saturday and handed out flyers to tell people about camp. By the end of the week we were up to 54 kids.
During one-on-one time one of the youth was explaining to a camper that in all the Bible stories throughout the week, each person had faith and God loved them. The camper responded, "Wait, God loves us? What if you don't love God back?" So our volunteer was able to explain the gospel to him.
Laytonia
We averaged between 40 and 50 campers.
Many campers at Laytonia have professed faith throughout the years, so it is encouraging to go back and remind them of truth.
Many of the campers have reached their middle school and high school years and have been coming since the beginning of Joy Camp. The experience is geared for younger kids, but by the second and third day the older kids were able to jump in and participate.
Laytonia has a very diverse group of kids, but it's a tight-knit community with a strong sense of love.

South Lake
Because this site is an elementary school, our youth went into different classrooms and helped with summer school classes.
We heard one first-time camper ask his friend, "Hey, do you believe in God?"
Even some of the high school students expressed an interest in coming back next year to Joy Camp, not as campers but as volunteers.
Many kids expressed that this was their favorite week of the whole year.
During the upcoming school year we are going to partner with the school's English for Speakers of Other Languages (ESOL) program by providing child care and mini Joy Camps. God is working in unique ways here at South Lake, so please continue to pray for us.
Overall, all of the leaders were encouraged by the youth who have grown up in the church their whole life and are very familiar with the gospel. But seeing them fully invested and being able to apply that knowledge to local missions was incredible. Our group demonstrated love toward each other as well as the campers and grew in unity. Many of the rising freshmen also stepped out of their comfort zones and were bold and courageous in sharing the gospel this week.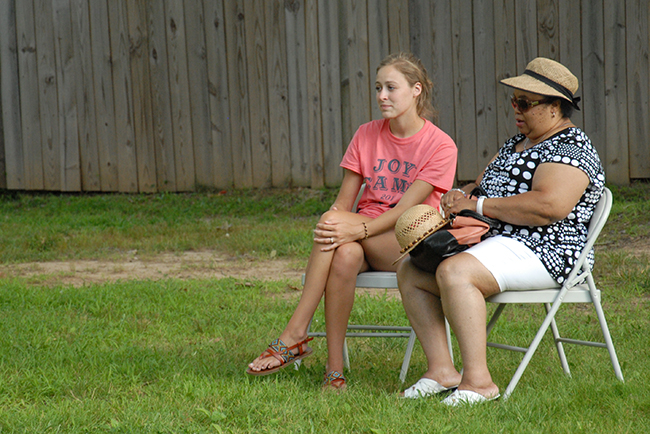 Now that Joy Camp is done, pray for each of the families and campers. Pray that they would be reminded of the gospel daily as they look at their Bibles and camp t-shirts. Pray that they would be able to share what they learned at camp with others in their community. Pray for the different churches in our area and around the world. Pray that they would send more laborers for the harvest and that the gospel message would go forth. The same Holy Spirit who helped us this week understand that faith in God's promises leads to courageous obedience, is the same Spirit working throughout the entire world.
We are looking to do follow-up ministry throughout the year. Here are some ways to get involved:
South Lake
-Monday nights (starting September 28), 6:30 p.m. - 8:30 p.m.
-Fun, games, Bible study, friendship and help with homework
-To sign up, email Travis Earles
Laytonia
-Saturday, August 15, 10 a.m. - noon, at the Laytonia Community Center
-Fun, games and Bible study
-To volunteer, email Carlos.
Johnson's Park
-Saturday, July 25 and August 15, 10:30 a.m. - noon, at the Emory Grove Playground
-Fun, games and Bible study
-To volunteer, email Neal Stuckenschneider.
Lastly, we want to thank you for praying for us. This week could not have happened without you interceding for us. We are grateful for you!
Share this on:
---
July 15 2015 at 10:12 am
0 Comments
---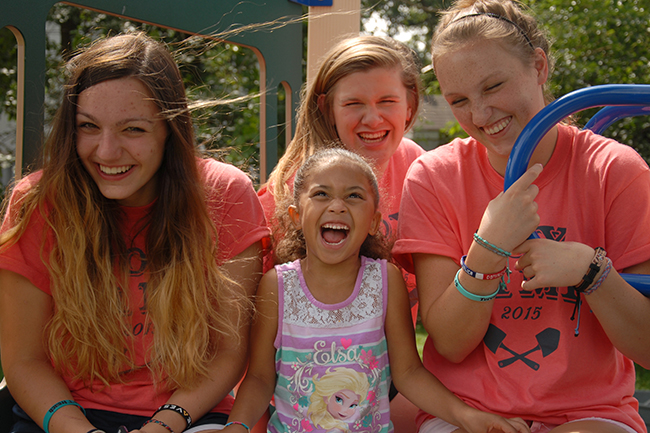 It's day two of Joy Camp, and God has continued to bless us. Today we focused on the idea that true faith is enduring faith by learning about Abraham. In the story God first calls Abraham and then gives him the promise of being the "Father of Multitudes." This promise to Abraham is repeated several times throughout the chapters in Genesis. Abraham believed and obeyed God, even as his faith was put to the test when God asked him to sacrifice his only son, Isaac.
Here are a few updates and prayer requests from each site:
Johnson Park
Praise report: There were double the amount of campers today and many teenagers!
Pray for a young girl camper who comes from a home of mixed faiths.

Laytonia
It was encouraging to see that many campers are bringing Bibles back to Joy Camp that they received previous years.
It is encouraging to see younger campers bringing their older siblings and vice versa.
There are many campers who are asking what it means to live an eternal life. A lot of the campers are believers.
Pray that our volunteers will continue to have deep, biblical conversations the rest of the week.

South Lake Elementary School
Praise report: There were a lot of new campers today. So it's evident that people are spreading the word.
During one-on-one time, one of the youth spoke with a girl who has already given her heart to God and goes to church. Her mom works long hours to support the family. Pray that God would provide and that their family would be able to go to church more often.
Share this on:
---
July 13 2015 at 1:09 pm
0 Comments
---
Dear Church,

Because I've been on a Management Team retreat this week, I asked Kenneth Maresco to share a report on the Dominican Republic missions trip he led recently with our youth ministry. I hope it edifies and inspires you to consider participation on a mission trip in the coming year. —Mark

---
During the final week of June, I had the privilege of participating with 34 young men and women and several parents in the first of two short-term mission trips to the Dominican Republic. The team led Vacation Bible Schools, went door-to-door to share the gospel, and took part in other outreaches.
Let me share two reasons why do we do short term missions and how I believe this trip accomplished these goals.
1. To Fulfill the Great Commission
The mission of God to make disciples of all nations is the mission of his church in the world today. Jesus sends us out as the Father sent him, by his grace and for his glory. Demonstrating and sharing God's love with others is something we're made for. We are not permitted to keep the good news of the gospel to ourselves!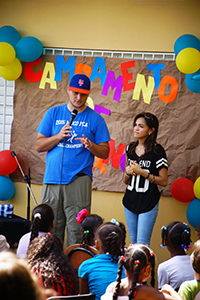 Can we serve God and others more effectively in Gaithersburg or Montgomery County? Quite possibly. But getting out of our comfort zone and working with fellow believers to reach the needy in their community often helps us see our lives at home through different eyes and better serve the people who live right next to us.

The first two days of our trip we worked with a church in San Francisco de Macorís, the country's eighth largest city. The pastor of the church wanted to do an outreach in one of the poorest neighborhoods where many children are neglected and mistreated. Chris Maresco did an amazing job leading a Vacation Bible School with skits and music and sharing the gospel. We were told to expect 200 kids, but almost 350 showed up! Needless to say, our team members were stretched as we led the children in crafts and activities. A team of four sisters from the San Francisco church (the Amarante sisters) joined us all week in leading the outreaches.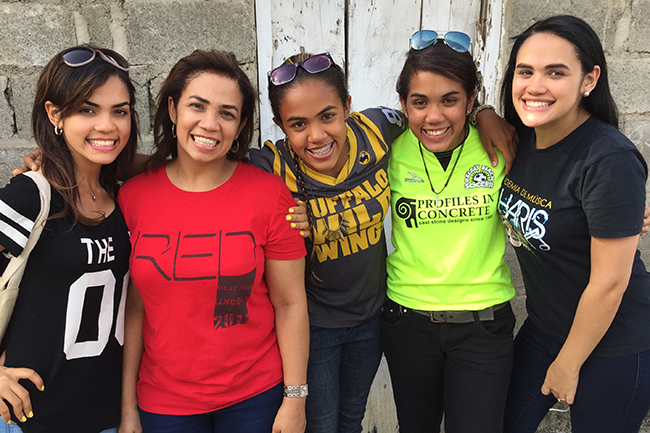 Afterwards the team participated in door-to-door evangelism in a neighborhood where several of the church members live. Translators accompanied each group of teens. That evening as we met as a team, you could sense the joy as we spoke about the fact that we were actually sharing the gospel in another nation!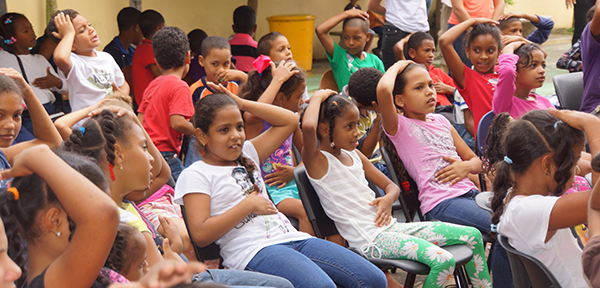 The latter part of the week we partnered with the Global Health Organization, a group of Christian medical professionals who led medical clinics with the church in Santo Domingo. We hosted VBSs for the children as they (and their parents) visited the medical clinics. Again we were told to expect around 250; this time over 450 kids attended the camp both days.
2. To Walk with God's People in Other Nations
Sometimes short-term mission teams are criticized for utilizing resources that could support long-term work and workers. Yet teams like ours work closely with local churches and mission partners in hopes of making a difference for the long term.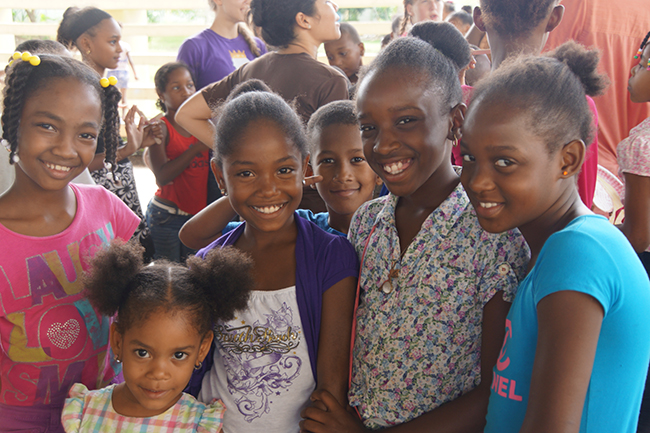 In Santo Domingo we partnered with Oasis Church along with the medical missions team they had invited. Our team was able to work alongside these global servants contributing to our shared mission. This kind of work gives us confidence that local churches in the community can harvest the seed we sow. It also enables our teenagers to gain a vision for what it is like to live and work outside of the United States. For many of our teens this was their first experience of life outside of the U.S.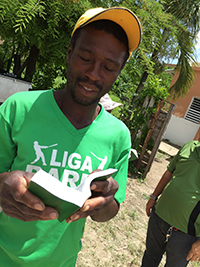 On our final day our team visited a sugar batay (plantation) tended by migrant Hatian workers living in abject poverty. We brought clothing and food donated by members of Covenant Life Church, and we worked alongside the medical clinic. Our team hosted VBSs, and did personal evangelism in the lines (giving out Creole Bibles). It was humbling realizing that unless something changes, many of these Haitian workers would be deported by the Dominican government within the next 40 days.

In the weeks before the trip, we told our team members to prepare to be stretched. You would have been proud of how hard they worked and how effectively and generously they shared the love of Christ.

Thank you for your prayers and support,
Kenneth Maresco
Share this on:
---
June 23 2015 at 9:28 am
1 Comments
---
This school year just wrapped up, but Discovery Land, our children's ministry, is already busy preparing for the fall. The season to sign up to serve with the kids is here! Cara Wilcox gives us a joyfully honest look at serving with the 1st-5th grade class:

Just over two years ago, I received an email from Josh Cooley asking if I would consider serving as a Tree House Gang director in the 2013-2014 Discovery Land year. Tree House Gang is the student drama team that does skits to help illustrate the lesson in the first through fifth grade Adventure class each week. I was already acquainted with the responsibilities of a Tree House Gang director, which is why my immediate mental response to Josh's email was: No. Way.

Let me explain my exemplary attitude. First, I had just completed a seven-year stretch when I almost never participated in an entire church service. Because of my husband's work responsibilities here at church on Sunday mornings, and because we had four children in just over six years, I was usually either feeding a baby, strolling a baby, or trying to coax a terrified toddler to stay in his or her classroom. Serving? I'd been serving my family nonstop for a looooong time. So I was looking forward to some down time at church, some me time, some spiritual replenishment time.

Second reason for my "no way" outlook? Being a Tree House Gang director would require several hours of scriptwriting and rehearsal in addition to showing up very early on Sunday. And because of my husband's work schedule, I would need to bring my four, small, energetic children with me to rehearsals. How was I supposed to juggle parenting little ones and directing teenagers at the same time?

Oh, and speaking of teenagers, I was flat out scared of them. I had no experience with teens! I'm not cool! Would they like me? Would they listen? Lastly, if I was going to serve in Discovery Land, I wanted to be in the nursery, loving on some babies. The first through fifth grade class was huge, noisy and rambunctious. And I felt like my noisy and rambunctious quota was pretty much filled at home.

So when I got Josh's email, I felt vaguely justified in ignoring it, which is exactly what I did, all summer long. I did not reply when he sent a follow up email many weeks later, though I did start to consider it and pray. And then, late in August, in God's sense of humor, I ended up in a small room where I could not help but overhear some women who were in all innocence talking about… what else? The desperate need for Tree House Gang directors and the fact that nobody was stepping up. "Ok, Lord! I get it! I hear you! I'll obey!"

With no slight trepidation, I filled out my volunteer application and became the official Week 3 Tree House Gang director. I showed up that first weekend, wrote my script at home, rehearsed on Saturday, rehearsed again on Sunday, and oversaw the performance during class and it was love at first serve. I went home on Sunday afternoon exhausted and high as a kite. God met me with such joy in serving those children that I'm still marveling. Everything about it was fun and fulfilling for me: my team of irrepressible teens, the laughs we shared in pulling off our first skit (it involved a magic act and a dead parrot), and the first graders I led during breakout time at the end of class. Suddenly that noisy and rambunctious class of elementary kids had become a passion, and I wanted to help make the class better and better. It was a simple instance of Matthew 6:21, "For where your treasure is, there your heart will be also." I had begun to invest time and energy in Discovery Land, and where I invested, my heart quickly followed. In another year, in fact, the Lord opened a door for me to work part time planning the Adventure class breakout times.

Now is it always as glorious as that first week I served? No. We have weeks where my scripts aren't funny or actors forget their lines, weeks where I'm running late and my children are challenging, weeks where the class seems unresponsive. But when the work is dull, or the outcome seems dubious, I take heart from Paul's words in 1 Corinthians 15:58: "My beloved brothers, be steadfast, immovable, always abounding in the work of the Lord, knowing that in the Lord your labor is not in vain."

One other benefit of serving has been the relational encouragement and stability it provides. In the last five years, many of my closest friends have moved away or found other churches, and that has been difficult. Building friendships with others who serve in Discovery Land has been an anchor for me. My serving friends are not my closest relationships, but when I see their faces, I remember how we have labored and laughed together. And that makes them feel like family.

I asked to be able to share this story with you today in hope that you might be persuaded to join me. Please come serve with us in Discovery Land. We need many hands for this good work. Now maybe you're already maxed out. Maybe you have legitimate reasons not to serve. Or maybe you're like me, and God is extending his hand to you, inviting you to be part of what he is doing among our children. If so, if there's even a little stirring within, may I challenge you to act in faith? I don't promise that your experience will be just like mine, but unless you sign up, how will you ever know how God may meet you, or what good works He has prepared for you there?
Share this on:
---