August 18 2015 at 9:14 am
1 Comments
---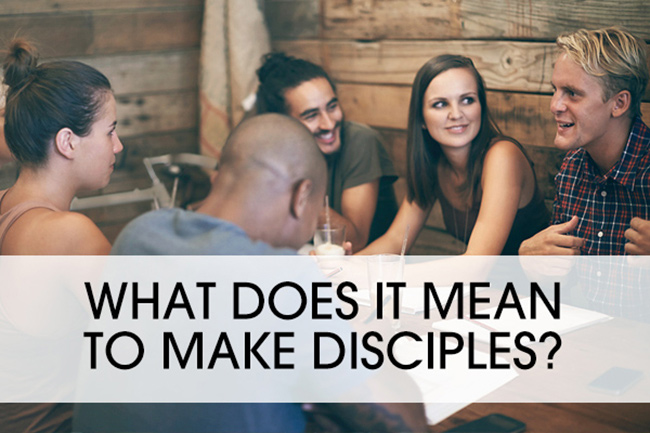 This post is shared courtesy of Keith Welton's blog "Everyday Truth." He shares his reflections on Scripture and other helpful topics there regularly.
At the end of the Gospel of Matthew, the resurrected Jesus Christ commissions his disciples to go and make disciples of all nations. Jesus has walked with, slept with, eaten with and lived with his disciples, instructing them how to follow God in every part of life, and now his commission seems to imply his disciples should go and do the same thing he has done.

This can raise the question of what it means to make disciples. Does it mean we gather a group of followers to live with and instruct them as though we have all the answers to everything in life? This no doubt puts a lot of pressure on us and could get awkward when our friends move into the living room to "be discipled!" If so, we may need a better understanding what it means to make disciples—or maybe a bigger living room.
A disciple is someone who has devoted themselves to learning a trade. This certainly helps explain what the disciples were doing with Jesus. They were learning in order to teach others. The word disciple (mathetes) is seldom used outside the Gospels and Acts. The Theological Dictionary of the New Testament has an outstanding article on this word that better fills out what a disciple is and does. I will borrow from it here. It connects the word "disciple" to the word for "learn" or "teach." This in turn connects discipleship to a theme occurring throughout the Scriptures. We see it in verses like:
Deuteronomy 4:10: "... how on the day that you stood before the LORD your God at Horeb, the LORD said to me, 'Gather the people to me, that I may let them hear my words, so that they may learn to fear me all the days that they live on the earth, and that they may teach their children so.'"
Deuteronomy 5:1: "And Moses summoned all Israel and said to them, 'Hear, O Israel, the statutes and the rules that I speak in your hearing today, and you shall learn them and be careful to do them.'"
Psalm 119:12: "Blessed are you, O LORD; teach me your statutes!"
In the Old Testament there is a constant repetition of the importance of learning the Scriptures to know and serve God. This is what every believer is to do. The article summarizes saying "disciple" is used:
"...exclusively of one who gives himself (as a learner) to Scripture. The intention in the Old Testament is that the pious Jew would occupy themselves in the Torah and its exposition and application so that they can and will do what is right in a given situation."
This is helpful because it shows that the goal of our discipleship is not to have others follow us and what we do, but for them to know the Word so they can rightly apply it in their lives and situations.
To further make this point the article shows that in the Old Testament there are few examples of people doing what Jesus did with his disciples. Joshua is with Moses constantly, but you don't see this relationship with other figures—not with David, Isaiah, or any other kings or prophets.

The article also points out all the great figures in the Old Testament never try to "interpose themselves as a factor of independent worth in the dialogue between God and his people." They never speak on their own account, they never fight for their own persons. God has given them knowledge of his will and put his word on their lips. They are stewards who pass on what they have received as that which has been received, not as though it comes from themselves. Their commitment is to God and not to themselves or to other men, no matter how profound a vision they may have had.
---
The messengers always point to the Lord and never stand in independent worth. They direct people to follow the words of God and not to themselves or their own ideas.
---
The messengers always point to the Lord and never stand in independent worth. They direct people to follow the words of God and not to themselves or their own ideas. This helps us understand discipleship so we better recognize the unique time Jesus' disciples were in. The disciples were those who attached themselves to Jesus as their Master. They were in a unique time of redemptive history and had a unique relationship to Jesus. They model how we relate to Jesus and are not the model of how we disciple others.
Our call as disciples is to cling to Jesus. He is our Master, Teacher, Lord. We are looking to him. Seeking to learn from him and have our minds renewed by him. Our wills bent toward his will. Our hearts in love with what he loves. Our call to make disciples is to point others to Jesus and to his words. Making disciples means helping others know him, love him, and follow him. This seems to be what Paul had in mind in 1 Corinthians 11:1 when he said, "Follow my example, as I follow the example of Christ."
---
It's as though Paul wanted to be a window. Windows are not great because of what they look like but what they allow you to see. Windows are there for people to see through to something else.
---
It's as though Paul wanted to be a window. Windows are not great because of what they look like but what they allow you to see. Windows are there for people to see through to something else. Paul is saying his example was only as good as it allows others to see Jesus. This is what our life is to be like too. We want to be windows that allow others to see Jesus. We want them to see the guidance, forgiveness, and hope that are in Christ. This is what discipleship points people to, and it removes the pressure from us. We don't have to have the answers to everything in life. We are simply trying to point other to the one who does.
Share this on:
---
August 17 2015 at 10:47 am
1 Comments
---

Prayer: A Fool's Errand?
by Almasih Kahdost
If you fly, the following words should sound familiar to you. "Should the cabin lose pressure, oxygen masks will drop from the overhead area. Place the mask over your own mouth and nose before assisting others." This is one of the few times in life where the right thing to do is to take care of yourself first. You're not going to be much help to your kids if you pass out while putting their masks on, right? Your physical well being will have a direct effect on the physical well being of those around you.
The same can be true for your spiritual well being. It really can make a difference in the spiritual well being of others.
When I ask people, "Have you ever prayed for someone and seen them come to Christ?" invariably the answer is affirmative and I hear stories that only God could author. There is a mysterious intersection of our prayers and God's plan to draw people to Himself.
In 2 Thessalonians 3:1 (NASB), Paul says,
"Finally, brethren, pray for us that the word of the Lord will spread rapidly and be glorified, just as it did also with you..."
Unless the Spirit inspired Paul to exhort the saints in Thessalonica to a fool's errand, it seems their prayers actually mattered as it related to the spreading of God's word.
Similarly, when Jesus looked at the multitudes with compassion he called his disciples to pray, asking that God would send laborers (Matthew 9:35-38). Would He tell His disciples to pray if those prayers ultimately didn't matter? Of course not.
Our prayers for the harvest and for the spreading and reception of God's word matter.
OUR FRIENDS HAVE BEEN PRAYING. ARE WE?
By the time you read this, our Muslim friends will have finished a month of prayer and (daytime) fasting called Ramadan. Millions of prayers will be recited by millions of Muslims worldwide. They have altered their lifestyle significantly in an attempt to, amongst other things, obey the command of Allah in Quran 2:185 and glorify him.
As followers of the One who prayed and fasted 40 days in the wilderness, can we pray that the word of the Lord will spread amongst Muslims as it has amongst us? Can we look at the multitudes of Muslims with compassion and pray that the Lord of the harvest will send laborers? Our spiritual lives - including our prayer lives - really matter and really can affect other people.
"Almasih Kahdost" is a long-time friend of Covenant Life who desires to see the nations come to Christ. Though preferring to publish anonymously, Almasih Kadost welcomes your comments below.
See all the posts in this series.
Share this on:
---
July 16 2015 at 1:47 pm
0 Comments
---
Today we focused on the life of Moses. The lessons started with a brief overview of Moses' life: how he was saved at birth, ran as fast as he could away from Egypt, seemingly was content with his new life as a shepherd, and then came across the burning bush where God speaks to him. Campers read different verses from Exodus and continued to learn about Moses through different skits.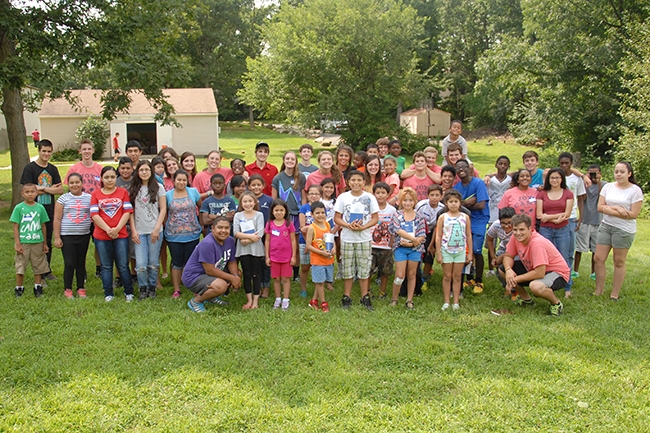 The story of Moses also references the Joy Camp theme: Faith in God's promises leads to the courageous obedience of God's commands. God commanded Moses to go to Egypt and tell Pharaoh to let God's people go. God promised Moses that he was going to deliver his people, and all he needed to do was go. Moses obeyed with courage even though his life might be at risk.
Planning is going well, and each site is doing a fabulous job reaching out to the kids and sharing the gospel. Despite our weary bodies God is giving us energy to persevere.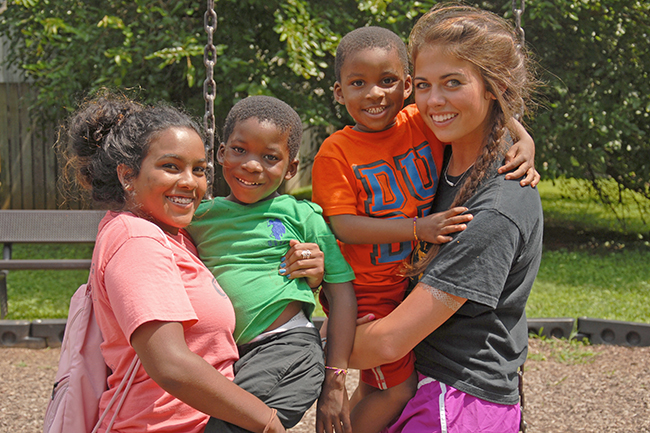 Tonight we had the privilege of attending the Wednesday Night Prayer Meeting. We gathered together with faithful prayer warriors from our church and took time to worship and pray. We prayed for our camp, for the specific communities, and for the glory of God to spread throughout the Gaithersburg area. It was refreshing to be together and be reminded of God's faithfulness to hear and answer our prayers.
Tomorrow are our traditional site cookouts. We would love for you to come, participate, and see how God is working!. There will be many parents and families from each community to talk to, and opportunities to share the gospel.. The cookout locations are Laytonia (diagonally across the street from the church) and Johnson's Park (behind the Flower Hill Starbucks).
If you are interested in coming, please feel free to email Corinne at the church office for directions.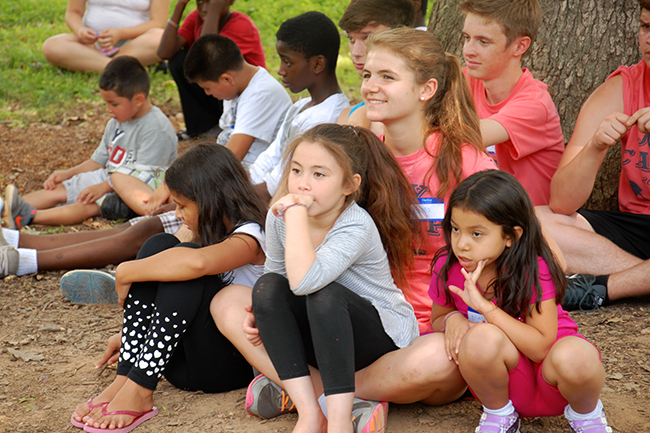 As we enter our last few days of camp, here are some ways you can be praying for us:
Physical and mental strength for leaders and youth
Sufficient sleep, energy and joy to persevere through our last few days of camp
Healing for minor scrapes and bruises that happened today
That our youth would have clarity during the one-on-one times in the afternoon and be able to communicate the gospel effectively to campers.
That God would send more laborers to the harvest in Gaithersburg and that the follow-up ministry of making disciples in our community would grow exponentially and thrive for the glory of God
Share this on:
---
July 14 2015 at 10:22 am
0 Comments
---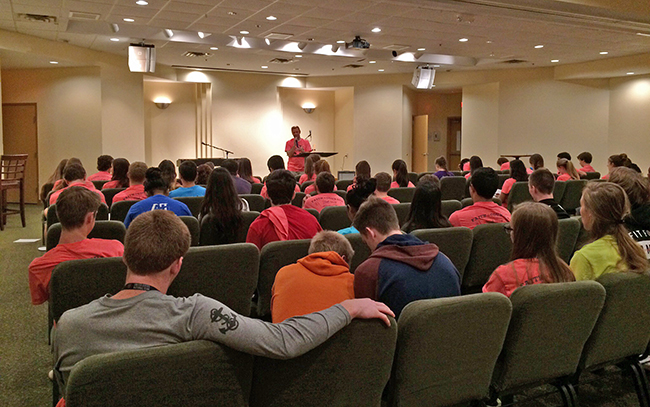 It's Youth Local Missions week, and about 70 youth and adult volunteers from Covenant Life are out getting to know our neighbors! We are serving kids and their families at three sites, playing a variety of games, hearing short talks, singing, and acting out skits related to what is taught.
The Joy Camp theme this year is "Faith Leads to Courage." Throughout the week we are learning that faith in God's promises helps us to have courage to obey God's Word. We will also be talking about how we can be courageous if we put our faith in Christ. We will specifically be learning about five examples from the Bible (Noah, Abraham, Moses, Joshua, and Daniel) who courageously obeyed because they had faith in God's promises.
God has already blessed us even on the first day of camp. Here are some specific ways God has been at work:
Johnson Park
A new site this year, pulling from the Washington Square, Emory Grove and surrounding neighborhoods
We had about 20 campers today.
We were blessed by many expressions of love from the kids.
The campers were involved and excited to learn from the Bible.

Laytonia
We had over 30 kids that came back today. This is amazing! Numbers are usually lowest on the first day of camp.
There are a lot of new families in the neighborhood who are also new to Joy Camp.
Campers jumped in and got involved right away.
It started raining a little bit during the Noah's Ark skit (right on queue!), and sure enough, it stopped at just the right part of the story, too!
Sometimes it's hard for campers to retain Bible knowledge from previous years, but as the lesson goes on, it all comes back.
South Lake Elementary School
Campers were ready and waiting when we arrived.
The volunteers were joyful and entered in with the kids despite the heat and not having air conditioning.
There were about 30 campers today, ages 4 to 21.
Although God is already doing a lot, we would still love your prayers!
Please pray for continued physical strength for the youth and leaders of Joy Camp. It is a very long, and busy week, and we all get extremely tired.
Pray for courage and boldness in sharing the gospel to others, for our youth specifically.
Pray for opportunities to share the gospel and that hearts would be softened.
Thank you! We look forward to sharing more about how God is working in our community.
—Andi Alonso
Share this on:
---
May 18 2015 at 2:32 pm
1 Comments
---

Respectfully Ready
by Almasih Kahdost
It was my first time visiting the home of a friend and he was showing me around his suburban townhouse. It was a typical introductory run-through.
"Here's the kitchen. Our garage is over there. These are our gods. Here's our bedroom."
"Ah. Very nice."
Wait. What?!?
This was a casual, but intentional, introduction to his family's Hindu deities.
Polite Company and Culture
From the time of my youth I was taught (implicitly and explicitly) that certain subjects were out of bounds unless you knew someone really, really well. Making conversation of politics, a person's salary or (gasp!) religion was the social equivalent of eating with your hands at the table. (Something, as it turned out, we would do later in the evening!)
Understanding that religious discussion doesn't bring the uneasiness in many other cultures that it brings for westerners enabled me to ask, "Which is your favorite god and why?"
Dialogue or Discourse?
Hearing that Ganesh (who blesses new beginnings) and Lakshmi (who brings wealth) were his favorites gave me insight into his values and desires. Asking questions lets people know we're interested in a discussion rather than a diatribe. And discussion affords our friends respect as well as the opportunity to ask questions.
Paul modeled a similar approach in Athens where he found himself distressed by seeing so many idols in the city (Acts 17:16). "So he reasoned...in the marketplace day by day with whoever happened to be there" (v17). In fact, Paul is said to have conversed (NAS, ESV) or debated (NIV, NLT) with the Stoics and Epicureans (v18). It was a back-and-forth. Did Paul frequently engage in a unilateral fashion? Sure. But these verses indicate an occasion that was more of an exchange than a one-sided homily.
Primed but Gentle
So, if someone introduces you to their favorite deity, or tells you their present state is a reincarnated one, maybe it would be better to first draw them out before jumping down their throat with chapter and verse. Consider learning about their worldview so you can address it.
Back to Paul; the Spirit spoke through him telling us to always be ready "...to give an answer to everyone who asks you to give the reason for the hope that you have. " (1 Peter 3:15). We mustn't shy away from telling folks Who we believe in and why. But how we do so is important too. The verse continues, "but do this with gentleness and respect".
"Almasih Kahdost" is a long-time friend of Covenant Life who desires to see the nations come to Christ. Though preferring to publish anonymously, Almasih Kadost welcomes your comments below.
See all the posts in this series.
Share this on:
---
May 4 2015 at 2:31 pm
0 Comments
---

by Almasih Kahdost

Sweat dripped down my back as I saw drapes sway in the breeze entering the gurdwara window. Given the ineffective nature of ceiling fans above, I was really hoping the breeze would make it my way, but no dice.
The occasional Sikh worshippers coming in and prostrating themselves didn't seem to mind the excessive temperature. I wondered if perhaps they were reminded of the weather in the Punjab region of northern India and eastern Pakistan, home of Sikhism, one of the youngest of the world's major religions.
ORIGINS
It was amidst this South Asian region, in 1469, a young boy was born who would become Sikhism's founder, eventually being known as Guru Nanak. Influenced by and frustrated with both Hinduism and Islam, Nanak shaped Sikhism, removing idol worship, polytheism, the caste system, gender inequality and other tenets of his day's prevailing religions.
Nanak would be the first of ten successive human gurus. (A guru is teacher who is full of knowledge). The eleventh guru, however is the Sikh holy book, called the Guru Granth Sahib. It contains the teachings and devotional hymns of the previous ten gurus, along with others.
BACK TO THE GURDWARA
Walking to the front of the gurdwara, I watched the granthi carefully uncover, open and fan the holy book, thereafter reading from it. His fanning brought some relief from the heat, but not as much as I was about to receive when he took us to a small room upstairs. Finally: AIR CONDITIONING! But it wasn't intended for visitors so much as it was for the Guru Granth Sahib; the holy book, honored and respected (not worshiped) as a living being and accommodated with sleeping quarters, food and other comforts.
Afterwards, I was taken downstairs where I was offered as much (amazing!) Indian food as my tummy could hold. Someone was manning the kitchen practically around the clock in this ever-open Sikh place of worship.
Between the prostrated worshipers, the air conditioned Guru Granth Sahib and the fantastic South Asian food and hospitality, I felt as though I was northern India. But this was in the U.S. In fact, you could probably have similar experiences at the corner of 124 and Warfield Road at the Washington Sikh Center. If you visit there for Sunday langar (a community meal) you may meet some very kind, generous people and even make a friend or two.
LIKEABLE BUT LOST
As kind as these folks are - as is true with so many in the world - they are equally lost. Sikhs agree one may potentially be united with God through meditation on his name, selfless service, living an honest lifestyle and sharing. There is a heavy emphasis on doing good.
Maybe you have Sikh friends or coworkers and don't even realize it. Although some have adopted a more western look, many of the men are still identified by a bearded face and a turban covering their uncut hair. They may also wear a silver bracelet.
If so, Tuesday, April 14 was a Sikh new years festival, Vaisakhi. Ask them about it. How did it go? What is the spiritual significance of the holiday? Ask them about their beliefs. Be a learner. You could ask specifically about the "five vices" of Sikhism (lust, anger, greed, emotional attachment, pride) and, after confessing that you've committed these, gently ask if they have. If so, ask how they will know whether or not they will be good enough to be united to God. Ask, "If there was a way to be rid of your bad deeds, would you want to know?" Tell them that Jesus has the ability to give the credit of his good deeds to his followers and remove from them their bad deeds.
WE ARE THE WORLD
In this emerging multi-cultural county of ours, the customs and dress of our new neighbors are becoming decreasingly out of the ordinary. On one hand, there is something nice about that. These folks are humans just like us. However, as we pass by their places of worship, or see long beards and turbans, may those little cues of cultural differences be a reminder: God has brought the nations nearby so we can love them with the love of Christ.
"Almasih Kahdost" is a long-time friend of Covenant Life who desires to see the nations come to Christ. Though preferring to publish anonymously, Almasih Kadost welcomes your comments below.
See all the posts in this series.
Share this on:
---