December 9 2015 at 7:00 pm
0 Comments
---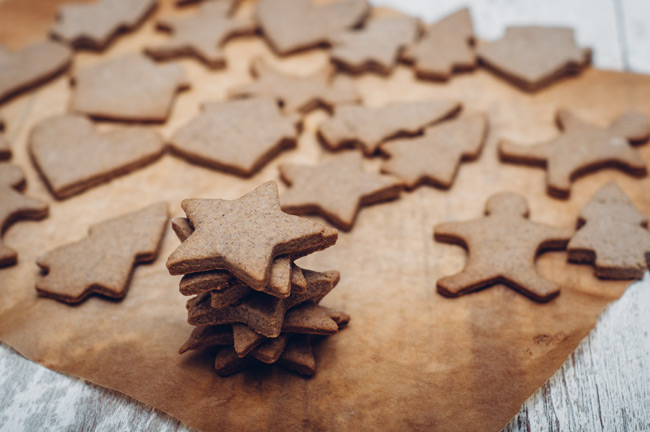 Part three of a three-part series on celebrating Advent from Kevin and Jami Rogers. (Part one, part two)
Here are some ideas we've picked up for taking advantage of common holiday activities to make a spiritual impression on our younger kids.
Involve the kids in baking something like Christmas cookies. Once they're baking and the smell starts to fill the kitchen, sit them down on the floor in front of the oven. Talk about waiting for something you want. We can't wait for those cookies! For hundreds of years the people of Israel waited for the Savior they were promised was coming. FINALLY, he came when Jesus was born! Read Luke 2:25-38 when Simeon and Anna meet baby Jesus in the temple and talk about how excited they were to finally see their Savior. Now we are waiting for Jesus to come again. If you really want to go full on, talk about the great feast we'll have with Jesus when he comes again while you're eating what you baked. Maybe even take guesses what might be on THAT menu!
Another way to impart this idea of eager expectation is to promise the kids that at some point you are going to do something special as a family. Don't tell them what or when, but regularly remind them of your promise. Then on the day you deliver, make sure it's good! And teach them about how Jesus had been promised and was eagerly anticipated. He's promised to come again.
On the promise that Jesus is coming again, you could make hot chocolate, bundle up in coats and hats with blankets or sleeping bags, and sit outside looking up at the sky at night. Read Acts 1:11 and talk about the promise that Jesus will come again through the clouds. Or talk about the night angels came to the shepherds in the pitch black of night.
The point in all this is to wrap truth in images and memories that will stick. You can probably come up with ideas that suit your family traditions and experiences. Jesus is the light of the world. How could you make an impression about this when putting up your Christmas decorations or going to see lights around your neighborhood? If you travel during the holidays, could you somehow make an impression about Joseph and Mary's travel to Bethlehem and how even as a man Jesus was driven out of his own home town? Jesus didn't come to live a life of comfort and ease. He lived his life "on the road" teaching and serving others. You get the idea.

This shouldn't be stressful. It should be fun. And when you think it bombs or your pre-teen thinks it's cheesy, don't underestimate the impact that moment could have. Our prayer is that you'll pause and enjoy reflecting on Christ with your family this season.
Share this on:
---
December 8 2015 at 7:00 pm
0 Comments
---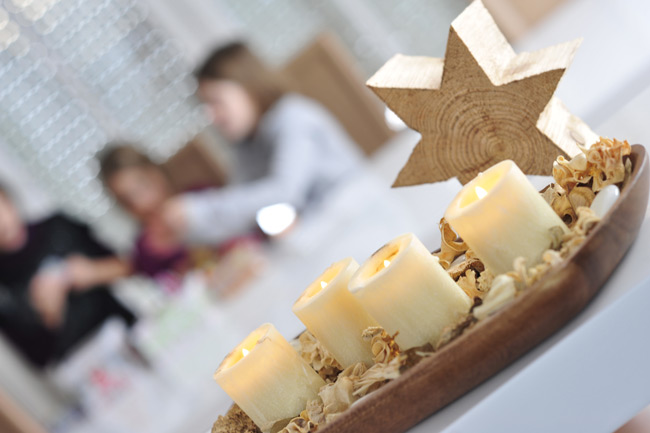 Part two of a three-part series on celebrating Advent from Kevin and Jami Rogers. (Part one here)

For family Advent devotions and activities, we have two main goals. First, help our children understand that Jesus is the focus of this season by making reading and talking and singing about him a regular part of our Christmas traditions. Second, by using the traditions and experiences and images that are already apart of our celebrations to teach spiritual truth.

You might notice that our goals and expectations do not include our children immediately bursting out in worship at the wonder of the Incarnation. We hope that happens someday, and there are occasional glimmers of it now. But most of our devotions, even the most creative and active ones, often include deep questions like, "Can I go play with my Legos now?" Our goal isn't that our dinner table become a place of peaceful meditation. It would be nice if when Dad opened the Advent devotional, our kids silently looked on with angelic faces eagerly waiting to meditate on Christ … but that rarely happens. Occasionally our dinner table is festive and fun and full of great Advent connections. But it's usually a flurry of elbows and food and commentary about recess.

As parents, we've learned to embrace this (I think). Here's why we have hope that what we're doing is worth it: We know that even the smallest moments and traditions in this season make an inordinate imprint on their little memories. The most trivial and random pieces of decoration or tradition can become of utmost importance to the kids when it's a regular part of what we do. That ornament they made in first grade or the ragged gingerbread doll become essential. We know they might not "get it" all right now. But years from now, we want their memories and expectations for Christmas to be inescapably full of reflections on who Jesus is.

The resource that has probably been the most helpful to us for this is the Advent guide produced by The Village Church in Dallas, TX. They produce a new one annually and make it available for free online. This year's is available here, but you could use any of the previous year's as well.

For the tech oriented, we've appreciated always having material available on our phones and tablet with the app by The Gospel Project (soon to be our Discovery Land curriculum). It's called "The Expected One." You can read about it and download it here. Both of these have readings, discussion questions, and ideas for activities that can be tailored to suit families with kids of all ages. Be intentional, but have fun and enjoy it. And more than likely your kids will too.

Tomorrow, we'll share some ideas for helping Advent truths stick, especially for younger kids.
Share this on:
---
December 7 2015 at 5:15 pm
0 Comments
---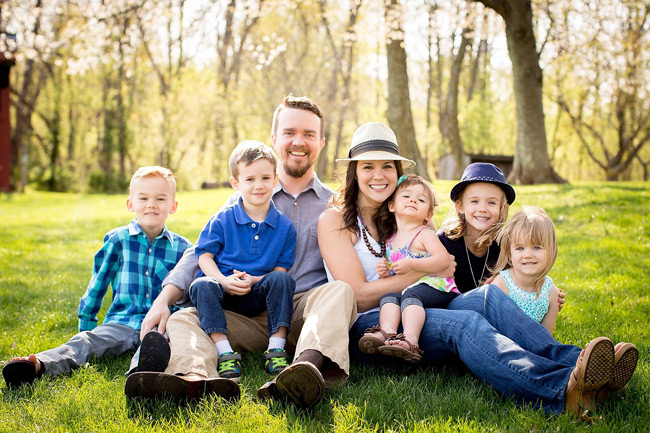 Part one of a three-part series on celebrating Advent from Kevin and Jami Rogers. (Part two here)

As our family has grown, we've enjoyed using Advent, the four weeks leading up to Christmas, as an opportunity to reflect on the profound truth that Christ has come. A Savior has entered our broken world bringing peace, hope, joy and love into our darkness. And we eagerly await the day He comes again to completely eradicate the sin and death that still plagues us.
Almost none of our ideas on how to do this are original. We've gathered resources, read and learned from other families. After 12 years and 5 kids (ages 2 through 9), we are starting to find a rhythm that works for our family. So we thought we'd take a moment to share some of the resources that have been helpful for us in the hopes that it might encourage you to pause often this Advent season and enjoy reflecting on the many facets and implications of the reality that Christ has come, both personally and with your family.
Typically, we read something in our own private devotions and also have something to help guide our times together as a family. For private reading, this year Kevin is using John Piper's daily Advent devotions, Good News of Great Joy, brief Scripture readings and reflections available in print or for free online or via the Solid Joys app. Jami is going through Born is The King published by She Reads Truth with the ladies in our small group. It's available in print, online, and via an app as well. Check out all the options at shereadstruth.com. Other's we've enjoyed are…
On the Incarnation by Athanasius
We often take the doctrine of the Incarnation for granted. In the 4th century, Athanasius gave much of his life to articulating and defending it. This is not a particularly easy read. But it more than rewards the effort. All other Advent books owe their existence to this one. In this version, the introduction by C.S. Lewis alone is worth the price of the book.
Magnify the Lord by Martyn Lloyd-Jones
Explores how we respond to the Incarnation through the lens of Mary's song in Luke 1
Come, Thou Long Expected Jesus
A collection of Advent readings ancient and modern, edited by Nancy Guthrie
Peace: Classic Readings for Christmas by Stephen Nichols
Gospel Centered Discipleship's Advent Devotions
This year's starts here.
Tomorrow, we'll post with more thoughts on family devotions and activities.
Share this on:
---
August 18 2015 at 9:14 am
1 Comments
---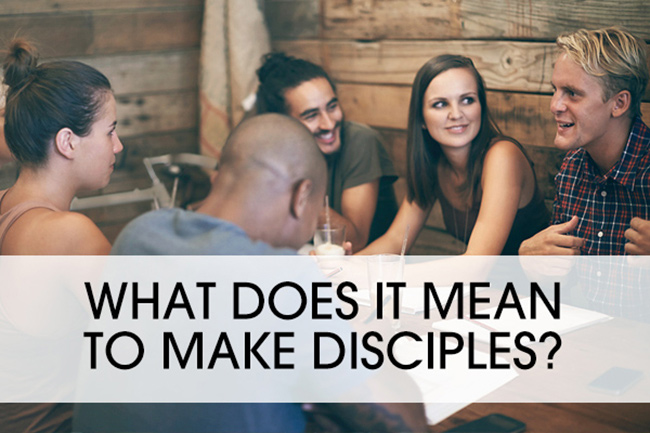 This post is shared courtesy of Keith Welton's blog "Everyday Truth." He shares his reflections on Scripture and other helpful topics there regularly.
At the end of the Gospel of Matthew, the resurrected Jesus Christ commissions his disciples to go and make disciples of all nations. Jesus has walked with, slept with, eaten with and lived with his disciples, instructing them how to follow God in every part of life, and now his commission seems to imply his disciples should go and do the same thing he has done.

This can raise the question of what it means to make disciples. Does it mean we gather a group of followers to live with and instruct them as though we have all the answers to everything in life? This no doubt puts a lot of pressure on us and could get awkward when our friends move into the living room to "be discipled!" If so, we may need a better understanding what it means to make disciples—or maybe a bigger living room.
A disciple is someone who has devoted themselves to learning a trade. This certainly helps explain what the disciples were doing with Jesus. They were learning in order to teach others. The word disciple (mathetes) is seldom used outside the Gospels and Acts. The Theological Dictionary of the New Testament has an outstanding article on this word that better fills out what a disciple is and does. I will borrow from it here. It connects the word "disciple" to the word for "learn" or "teach." This in turn connects discipleship to a theme occurring throughout the Scriptures. We see it in verses like:
Deuteronomy 4:10: "... how on the day that you stood before the LORD your God at Horeb, the LORD said to me, 'Gather the people to me, that I may let them hear my words, so that they may learn to fear me all the days that they live on the earth, and that they may teach their children so.'"
Deuteronomy 5:1: "And Moses summoned all Israel and said to them, 'Hear, O Israel, the statutes and the rules that I speak in your hearing today, and you shall learn them and be careful to do them.'"
Psalm 119:12: "Blessed are you, O LORD; teach me your statutes!"
In the Old Testament there is a constant repetition of the importance of learning the Scriptures to know and serve God. This is what every believer is to do. The article summarizes saying "disciple" is used:
"...exclusively of one who gives himself (as a learner) to Scripture. The intention in the Old Testament is that the pious Jew would occupy themselves in the Torah and its exposition and application so that they can and will do what is right in a given situation."
This is helpful because it shows that the goal of our discipleship is not to have others follow us and what we do, but for them to know the Word so they can rightly apply it in their lives and situations.
To further make this point the article shows that in the Old Testament there are few examples of people doing what Jesus did with his disciples. Joshua is with Moses constantly, but you don't see this relationship with other figures—not with David, Isaiah, or any other kings or prophets.

The article also points out all the great figures in the Old Testament never try to "interpose themselves as a factor of independent worth in the dialogue between God and his people." They never speak on their own account, they never fight for their own persons. God has given them knowledge of his will and put his word on their lips. They are stewards who pass on what they have received as that which has been received, not as though it comes from themselves. Their commitment is to God and not to themselves or to other men, no matter how profound a vision they may have had.
---
The messengers always point to the Lord and never stand in independent worth. They direct people to follow the words of God and not to themselves or their own ideas.
---
The messengers always point to the Lord and never stand in independent worth. They direct people to follow the words of God and not to themselves or their own ideas. This helps us understand discipleship so we better recognize the unique time Jesus' disciples were in. The disciples were those who attached themselves to Jesus as their Master. They were in a unique time of redemptive history and had a unique relationship to Jesus. They model how we relate to Jesus and are not the model of how we disciple others.
Our call as disciples is to cling to Jesus. He is our Master, Teacher, Lord. We are looking to him. Seeking to learn from him and have our minds renewed by him. Our wills bent toward his will. Our hearts in love with what he loves. Our call to make disciples is to point others to Jesus and to his words. Making disciples means helping others know him, love him, and follow him. This seems to be what Paul had in mind in 1 Corinthians 11:1 when he said, "Follow my example, as I follow the example of Christ."
---
It's as though Paul wanted to be a window. Windows are not great because of what they look like but what they allow you to see. Windows are there for people to see through to something else.
---
It's as though Paul wanted to be a window. Windows are not great because of what they look like but what they allow you to see. Windows are there for people to see through to something else. Paul is saying his example was only as good as it allows others to see Jesus. This is what our life is to be like too. We want to be windows that allow others to see Jesus. We want them to see the guidance, forgiveness, and hope that are in Christ. This is what discipleship points people to, and it removes the pressure from us. We don't have to have the answers to everything in life. We are simply trying to point other to the one who does.
Share this on:
---
August 17 2015 at 10:47 am
1 Comments
---

Prayer: A Fool's Errand?
by Almasih Kahdost
If you fly, the following words should sound familiar to you. "Should the cabin lose pressure, oxygen masks will drop from the overhead area. Place the mask over your own mouth and nose before assisting others." This is one of the few times in life where the right thing to do is to take care of yourself first. You're not going to be much help to your kids if you pass out while putting their masks on, right? Your physical well being will have a direct effect on the physical well being of those around you.
The same can be true for your spiritual well being. It really can make a difference in the spiritual well being of others.
When I ask people, "Have you ever prayed for someone and seen them come to Christ?" invariably the answer is affirmative and I hear stories that only God could author. There is a mysterious intersection of our prayers and God's plan to draw people to Himself.
In 2 Thessalonians 3:1 (NASB), Paul says,
"Finally, brethren, pray for us that the word of the Lord will spread rapidly and be glorified, just as it did also with you..."
Unless the Spirit inspired Paul to exhort the saints in Thessalonica to a fool's errand, it seems their prayers actually mattered as it related to the spreading of God's word.
Similarly, when Jesus looked at the multitudes with compassion he called his disciples to pray, asking that God would send laborers (Matthew 9:35-38). Would He tell His disciples to pray if those prayers ultimately didn't matter? Of course not.
Our prayers for the harvest and for the spreading and reception of God's word matter.
OUR FRIENDS HAVE BEEN PRAYING. ARE WE?
By the time you read this, our Muslim friends will have finished a month of prayer and (daytime) fasting called Ramadan. Millions of prayers will be recited by millions of Muslims worldwide. They have altered their lifestyle significantly in an attempt to, amongst other things, obey the command of Allah in Quran 2:185 and glorify him.
As followers of the One who prayed and fasted 40 days in the wilderness, can we pray that the word of the Lord will spread amongst Muslims as it has amongst us? Can we look at the multitudes of Muslims with compassion and pray that the Lord of the harvest will send laborers? Our spiritual lives - including our prayer lives - really matter and really can affect other people.
"Almasih Kahdost" is a long-time friend of Covenant Life who desires to see the nations come to Christ. Though preferring to publish anonymously, Almasih Kadost welcomes your comments below.
See all the posts in this series.
Share this on:
---
July 16 2015 at 1:47 pm
0 Comments
---
Today we focused on the life of Moses. The lessons started with a brief overview of Moses' life: how he was saved at birth, ran as fast as he could away from Egypt, seemingly was content with his new life as a shepherd, and then came across the burning bush where God speaks to him. Campers read different verses from Exodus and continued to learn about Moses through different skits.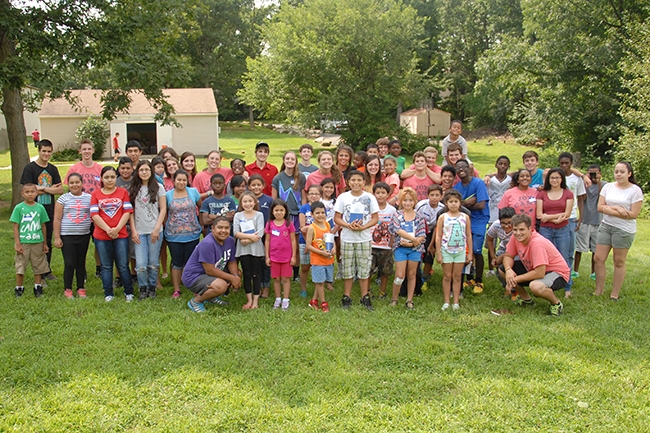 The story of Moses also references the Joy Camp theme: Faith in God's promises leads to the courageous obedience of God's commands. God commanded Moses to go to Egypt and tell Pharaoh to let God's people go. God promised Moses that he was going to deliver his people, and all he needed to do was go. Moses obeyed with courage even though his life might be at risk.
Planning is going well, and each site is doing a fabulous job reaching out to the kids and sharing the gospel. Despite our weary bodies God is giving us energy to persevere.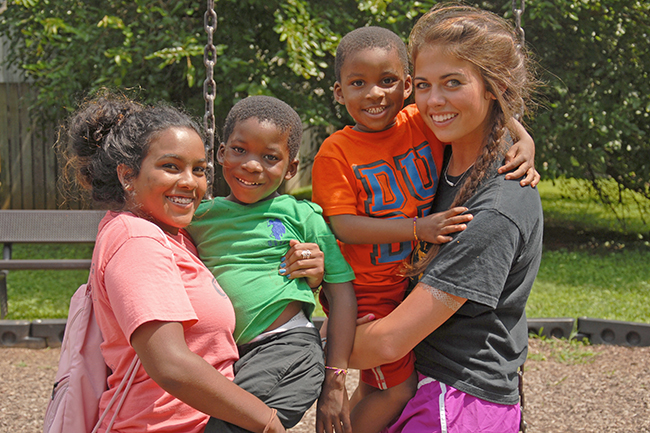 Tonight we had the privilege of attending the Wednesday Night Prayer Meeting. We gathered together with faithful prayer warriors from our church and took time to worship and pray. We prayed for our camp, for the specific communities, and for the glory of God to spread throughout the Gaithersburg area. It was refreshing to be together and be reminded of God's faithfulness to hear and answer our prayers.
Tomorrow are our traditional site cookouts. We would love for you to come, participate, and see how God is working!. There will be many parents and families from each community to talk to, and opportunities to share the gospel.. The cookout locations are Laytonia (diagonally across the street from the church) and Johnson's Park (behind the Flower Hill Starbucks).
If you are interested in coming, please feel free to email Corinne at the church office for directions.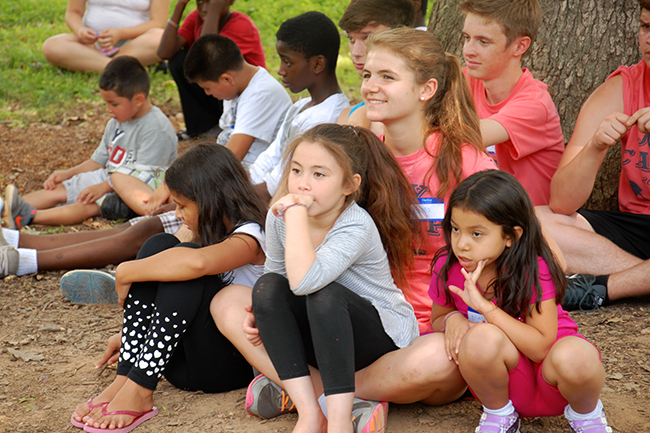 As we enter our last few days of camp, here are some ways you can be praying for us:
Physical and mental strength for leaders and youth
Sufficient sleep, energy and joy to persevere through our last few days of camp
Healing for minor scrapes and bruises that happened today
That our youth would have clarity during the one-on-one times in the afternoon and be able to communicate the gospel effectively to campers.
That God would send more laborers to the harvest in Gaithersburg and that the follow-up ministry of making disciples in our community would grow exponentially and thrive for the glory of God
Share this on:
---