October 31 2014 at 12:17 pm
0 Comments
---

A mother and her daughter were at the mall when the mom silenced her kid by wildly exclaiming, "They're here!"
The embarrassed teen rolled her eyes, hoping the moment would quickly pass, but it was not to be.
"Listen! They're here," the mom repeated.
Moving from humiliation to concern and hoping mom hadn't completely lost her marbles, the daughter trepidatiously asked, "Who's here, mom?"
"The nations! Nobody here is speaking English. They're all speaking something else!"
Chance are, you've had a similar experience. If not, just go to the Costco in Gaithersburg. You will both hear and see that, indeed, the nations are here. People from multiple tongues, cultures and religious beliefs have found their way to Gaithersburg and the surrounding area.
Acts 17:26 and 27 says that God decides just where people should live so that people would seek and find him. So, the people of God (especially in this area!) have an opportunity to befriend and share Christ with the internationals God has sovereign brought nearby.
In efforts to keep these opportunities on our radar, we are creating a monthly series called Nations Nearby. It will explore topics like:
● Ways to serve and engage local internationals with the gospel
● Utilizing bridges between the church and people of other beliefs
● Avoiding barriers to sharing Christ with people of other backgrounds
● Culturally appropriate opportunities to leverage in loving our friends in the name of Jesus
● and more
May God use this series to encourage us that God desires and is able to use His people to reach them. See you next month!
Share this on:
---
July 25 2014 at 8:15 am
1 Comments
---
JOY CAMP - FRIDAY, JULY 25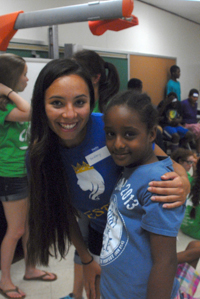 Today we concluded an extremely full week of Joy Camp. Every day our volunteers spent 12 hours planning skits, studying Revelations 1-3 as a group, enjoying fellowship with one another, prepping lessons and games, and serving the kids in neighboring communities. Even though some days this week called for rain, God kept the weather nice and sunny for us.
The lesson today asked the question, "Are you going?" In all of our sites the good conversations continued, and tonight we took time as a group to recount stories of how God worked this week.
Washington Square
• One of our volunteers was not feeling well and sat down. During the prayer before the cookout, she felt tiny hands on her shoulders. When the prayer was over she expected to see one of the girls she had on "one-on-one" time with. Instead, it was one of the little boys. This was particularly encouraging because this boy was having trouble getting along on other days at camp.
• Overall, there were reports of our volunteers having a genuine love for all of the kids. This was not just evident at Washington Square, but at all of our sites. None of our youth was trying to gain attention, but had soft, caring hearts. Because they trusted in the Lord, that led to being relaxed and being able to love the kids.
Emory Grove
• One girl camper was shy at the beginning of camp. During the middle of the week she went up to our volunteers saying, "I want you to be my one-on-one partner!" By the end of the week she was doing the hand motions to the memory verses and participating in the camp enthusiastically.
• Yesterday, one of our adult volunteers was the last to leave the cookout. As she was leaving she got cut off. It ended up being a family from the community. The mom got out of the car and made sure that they got our contact information. "We need to keep in touch with you guys," she said. There were several conversations with parents talking about how "there is something different" about our kids. They don't just do their own thing and talk to themselves, but they really make an effort to really reach out to the kids.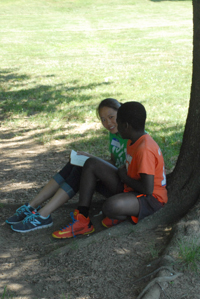 Laytonia
• There was a 4-year-old camper who at the beginning didn't seem to be understanding and was very fidgety. Today, when everyone else was getting ready for game time, he turned to his one-on-one partner and said, "Why don't we just sit down right here and talk about Jesus?"
• An 11-year-old girl camper expressed to one of our volunteers that she enjoyed any skit he was in because he was so happy, and that there wasn't a lot of happiness in her family. Seeing how happy the volunteers were made her realize that there is still happiness in the world. Later she asked Jesus to be her Lord and Savior!

South Lake

• By week's end, one boy camper who was very shy on Monday was running down the sidewalks when our team was pulling into the Elementary School exclaiming, "They're here! They're here!"
• Another girl came up to one of our volunteers and said that she saw on the flyer that Joy Camp was for ages 7-14. "I turn 15 next year," she said. "What happens next year when I turn 15?!" She then tried to convince the site leader that they needed to extend the ages from 7-21 or older.

Joy Camp could not have happened without your prayers! Let's continue to pray for our neighbors close by the church.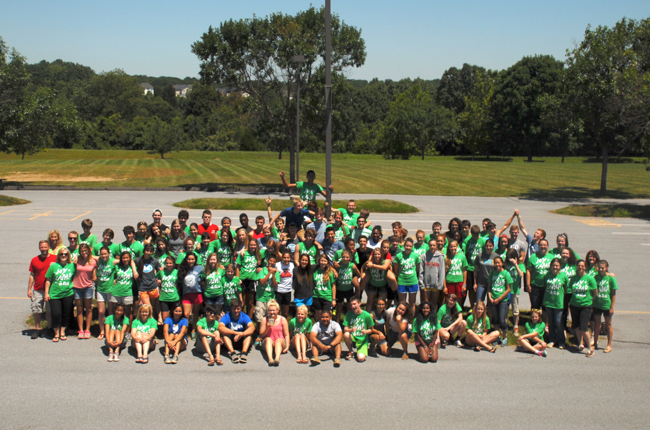 JOY CAMP - THURSDAY, JULY 24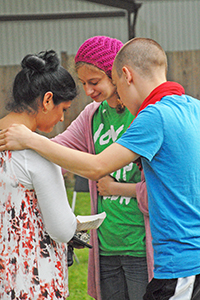 Day 4 of Joy Camp is complete! God has given us all super natural strength to get through the week, and His light is shining through us.
Today we talked about how we get ready to go to heaven. In 2 Peter 3:9 it says that the Lord is not slow to fulfill his promise, but is patient toward us. He does not wish that anyone should perish, but that all should repent and believe. In order to get ready for heaven we are called to live lives of holiness and godliness, hastening the coming of God. This includes no longer living selfishly for ourselves, waiting for heaven, and believing in God's promises.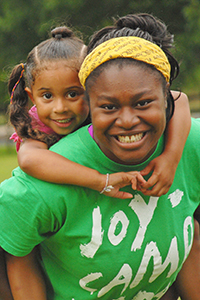 Tonight our sites all had community cookouts. This is not only a time for our volunteers to continue developing friendships with the campers, but it also gives us a chance to reach out to the communities around our church. Many parents of our youth came out for this cookout as well, and it was encouraging to see the conversations between the parents and the adults in the community. A few of our youth at Laytonia were even able to reconnect with a parent tonight, and she really opened up about her struggles. This allowed them to pray for her and her family to know the peace and love of God.
Tomorrow is our last day! We will be talking about Philippians 3 and if we are going to heaven. Please continue to pray that hearts would be softened and open to receive the gospel.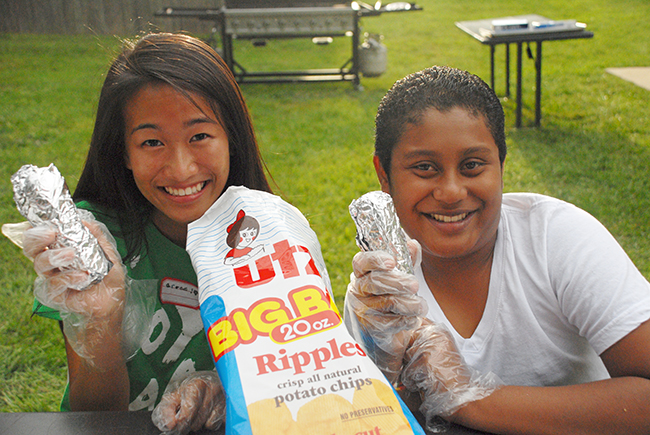 JOY CAMP - WEDNESDAY, JULY 23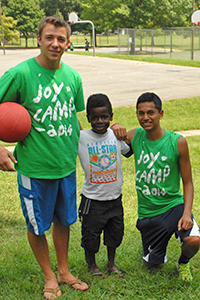 We are halfway through our week at Joy Camp. Exhaustion is starting to set in, but God has continued to give us strength and there are still great things going on at our sites. Thank you so much for praying for us these past few days!
Today, we talked about what exactly we do once we get to heaven. We have learned that we are God's children. In Revelation 22:3 we find out that God's servants will worship Him. We also learn that God's people will have fun helping God to run His kingdom.
In addition to learning more about heaven through skits, songs, and a short lesson, the kids enjoyed making sponge stars and participating in water games. This was quite wonderful with the weather being so hot today.
Here are a few updates on how our sites are doing:
South Lake
• Many of the kids at this site are feeling so cared for by our youth. The relationships are continuing to develop, and the kids' understanding level is increasing. They were even asking specific questions about the memory verse for the day.
• There were some older guys who came yesterday to camp who also came today and were really engaged in the games and throughout the time at camp.
• We had at least 30 campers join us today! Such an answer to prayer!
Washington Square
• There is one boy who is very close to accepting Jesus as His Savior. Continue to pray for Him and the rest of the campers that their hearts will be softened to the gospel.
Emory Grove
• One of our volunteers talked with a girl age 5 or 6 about what she thought heaven was like, which led to a conversation about the Garden of Eden. It was encouraging to hear how she eagerly engaged with these biblical stories at such a young age.
Laytonia
• One 13-year-old boy who only speaks Spanish and was apprehensive about joining camp on Monday. One of his friends was telling him about camp and how much fun it was, but this boy told him, "Why would I go to a camp if I can't understand it?" One of our volunteers speaks both Spanish and English and has been able to reach out to this boy. Now he is enjoying himself and participating in the games and activities. This boy has been in the United States for only a month, so it is exciting that we get to play a part and make a difference in his first few days here.
God has been doing wonderful things this week. Continue to pray that they will continue! Tomorrow we are talking about how we get ready to go to heaven. We are also having our traditional cookout at our sites. This is not only a time for our youth and the kids to have fun, but also a time to reach out to the families in the community. Thanks for your prayers!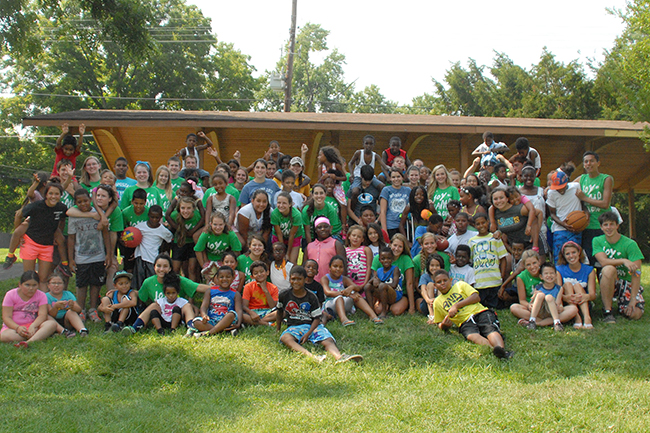 JOY CAMP - TUESDAY, JULY 22
After breakfast this morning, our volunteers started off the day worshiping God and spending time in His Word. By 10 a.m. our teams were at their sites serving in their neighborhoods.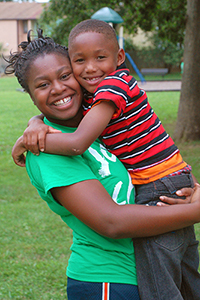 Today, we talked about who gets to go to heaven. We used John 14 to find out that Jesus is going to prepare a place for those who believe in God. How do we know the way to get to heaven? Jesus has said that only He is the way, and the truth, and the life. No one comes to the Father except through Him (vs 6). Overall, in all of the sites, the kids are understanding more and asking many deep questions. They are not just repeating back the "right answers" but actually know the answers and want to know more.
Here are a few highlights from the different sites:
Emory Grove
• It has been encouraging to see how the skits are helping to apply the lesson. Kids are really engaged in the skits and can tell you the main point of the skits.

• The older guys who were distant yesterday, were more engaged, understood more of the lesson, and wanted to know more about Jesus. This is such an answer to prayer!
Washington Square
• There was a girl camper who had surgery today, and some of our volunteers went to go check on her. She was sitting on the porch waiting for her parents to get back from the store. When her parents got home she begged them to let her go to camp. Even though her leg was in a cast and she had just had surgery she was excited to be at Joy Camp.

• There was another boy camper who expressed concerns about being afraid of dying. Our volunteers were able to talk with him about heaven and that if you put your faith in Jesus you can live eternally with Him. He wasn't sure if he wanted to go to heaven because he wasn't sure if his family or friends would be there. Through more conversations he volunteered that he wanted to follow Jesus. Because he heard of Jesus' death in his place to take his sin, he deeply expressed a desire to repent of his sin and accept Jesus as his Savior.
Laytonia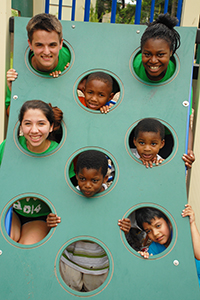 • At each site the teams do "one-on-one" time, where campers break up with our volunteers to have deeper conversations about the lesson. A 5-year-old girl camper was asked "How do you think you get to heaven?" Her response was certain, as certain as a 5-year-old can get. "Well, you go to a hospital. Then the people at the hospital call God, and then God comes and picks you up." She may not have this all straight, but it is exciting to see such conversations happening at such a young age!

• A 7-year-old girl camper during "one-on-one" time shared that to get to heaven you have to believe that Jesus saved you, and also do good works to please the universe. Our volunteer was able to sit down and talk with her and told her that it's not about what you do to get to heaven and that our works don't get us to heaven. The girl asked deep questions about it, which is encouraging because she wouldn't have done that in past years.

• There are a lot of Spanish-speaking families in this neighborhood. One of our volunteers noticed that there was an adult in the corner who was keeping to herself, pushing a small child on the swings. Our volunteer reached out to her and had a conversation with her in Spanish. When she heard her native language being spoken her face lit up. All the different generations are being reached in this community. Praise God!
South Lake
• Yesterday we did not have as many campers as we normally have in past years. But today we had 23 kids! Not only did the kids from yesterday come back, but they also brought friends!

• There was a girl camper whose friends were giving her a hard time about going to Joy Camp. But she stood up to them and said that she really enjoyed coming to Joy Camp and that it was fun.
The past two days have been exciting and exhausting. But God has been doing so many wonderful things in the past 48 hours. Our youth have been stretched and are willing to go where the people are, getting out of their comfort zones, and are reaching out. Please continue to pray for us and that more kids will respond to the Gospel.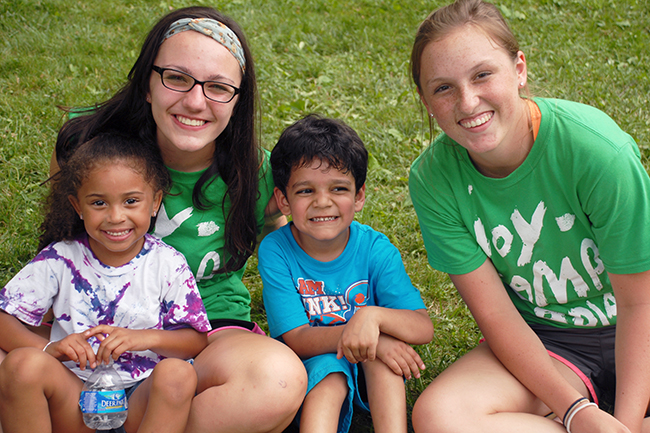 JOY CAMP - MONDAY, JULY 21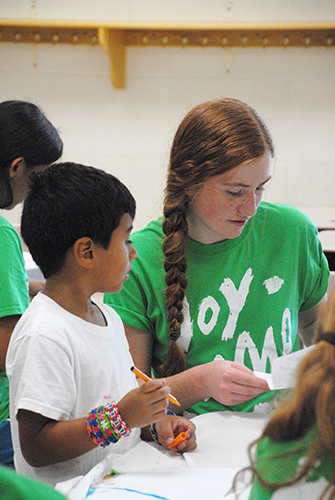 This week started a full week of youth local missions. We have over 100 youth and adult volunteers reaching out to four different neighborhoods in a 10 mile radius of the church. Our teams are spread out in the Washington Square, Laytonia, Emory Grove, and South Lake Elementary School neighborhoods. Every day each location does a variety of activities including skits, singing, a short lesson and a craft.
The theme for this week is heaven. Today we took time to discuss what heaven actually is. Using Revelation 21 as our text, we found out that heaven is a place where God will dwell with man and they will be his people. Heaven is also a happy place. God will wipe away every tear, and death shall be no more. There will not be any mourning or crying or pain.
At most of the sites we had over 30 kids, many of whom have attended Joy Camp before. And we expect more kids to come tomorrow and throughout the week. All of the youth were very eager to participate and were always busy doing something. Many of the kids who have attended camp before recall the friendships they have made and were excited to see our youth. Some expressed to our youth how it was evident that they really love Jesus.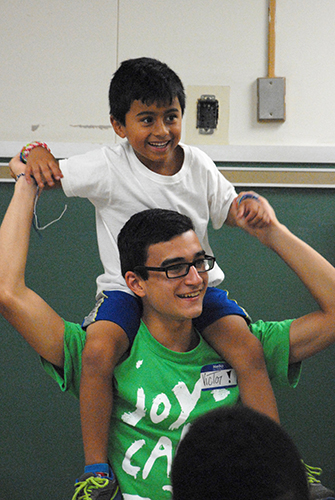 At every site many kids remembered information from previous years about Jesus, God, and the basics of the gospel. Throughout the afternoon many good conversations were happening between the campers and our youth. The campers are asking great questions, and this shows that they are engaged in the lesson and want to go deeper into Scripture.
As we continue the week we would still love your prayers:
Washington Square
• Pray for a girl who gave her life to God a few years ago, that our youth who interact with her will be able to effectively communicate the gospel and encourage her faith in the midst of obstacles.
Laytonia
• Kids were asking many excellent questions after the lesson, including questions about what heaven is and what hell is. Pray that they would continue to understand the message, and that our youth will be able to have fruitful conversations with these kids.
• Pray for strength in the heat. Laytonia is one of our sites that is outside for the whole time. Pray that our youth will stay hydrated.
Emory Grove
• Pray for our youth that they will be able to know how to talk to the kids about Jesus. Pray that it would be an easy transition from common conversations to conversations about the gospel.
• There are several older boy campers at this site who are not very interested in camp. There are not as many older boys from our group at the site who can reach out to them. Pray that their hearts will be open and that they would be interested in learning more about Jesus.
South Lake
• Pray for more campers!! Word about camp was not advertised a lot, so today there were 18 kids who participated. Pray that the flyers passed out would produce an increase in campers. • Pray that the campers would be more comfortable and be engaged in the lesson
It is evident that God has already blessed our first day of camp. In general, continue to pray that God will pour out His blessing on our week. Pray that the campers will be responsive to what we are sharing and that lives would be changed this week.
"To the praise of Your Glory, To the praise of Your mercy and grace. To the praise of Your glory, You are the God who saves!" (Come Praise and Glorify, Sovereign Grace Music)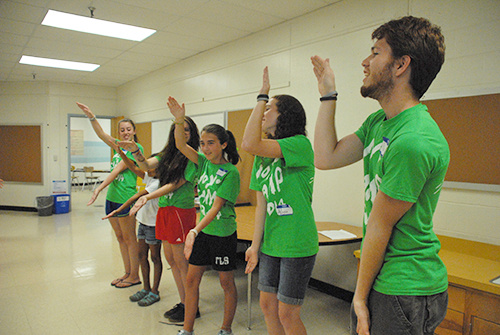 Share this on:
---
March 4 2013 at 7:35 pm
0 Comments
---

Daylight Saving Time begins this Sunday, March 10, at 2 a.m. Remember to turn your clocks ahead one hour on Saturday night.
Share this on:
---
October 17 2012 at 11:50 am
0 Comments
---

Register now for The Gospel at Work conference, coming to Covenant Life January 11-12, 2013. The conference was born out of a desire to help Christians think and live differently in the workplace. If you work a 9 to 5, will someday be working a 9 to 5, or are in between working a 9 to 5, this conference is designed for you and will build you up.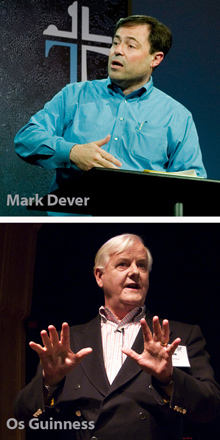 Come and be taught and encouraged by Os Guinness, Mark Dever, Bob Doll, Michael Lawrence and more fine speakers.
Despite the fact that most Christians spend half of their waking lives at work, most have been taught very little on Sunday mornings about how to apply the truths of the gospel to the practicalities of their Monday to Friday work life. It is not uncommon for Christian professionals to hold an undeveloped, if not flat-out unbiblical, theology of work.
The conference will address questions like:
• What is God's purpose for my work?
• How does the gospel change my work?
• How does applying the truths of the gospel help me manage differently?
• How does a Christian strategize and plan his or her career?
We hope you'll make plans to attend. Register online and begin to pray that God would be glorified, that employees would be built up, and that our workplaces will be an area of extraordinary, gospel-centered, faithful and fruitful living. Visit thegospelatwork.com to learn more.
Share this on:
---
July 27 2012 at 6:14 pm
0 Comments
---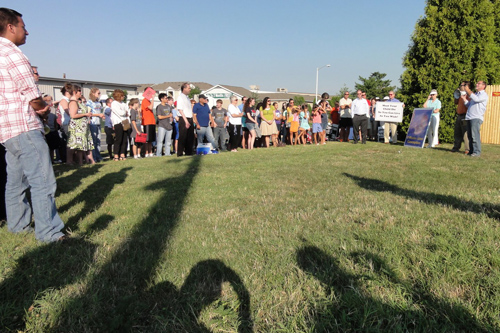 People gathered for prayer last summer along Wisteria Drive in Germantown
Covenant Life is taking part in the "Pray for Germantown" effort in which local churches have begun gathering to pray on Sunday afternoons that second and third-trimester abortions—indeed all abortions—would cease being performed in Germantown, Md. Our church has adopted next Sunday, August 5, to gather near the late-term abortion clinic at Wisteria Drive and Executive Park Terrace in Germantown from 3-5 p.m. to pray. We want to ask the Lord to work in women's hearts and turn them from pursuing an abortion. We asked Covenant Life member, Yvonne Wyzga, to write about her experience of volunteering to pray in Germantown:
Have you ever prayed for God to give you a heart of mercy? Tim Keller's book, "Ministries of Mercy," challenged and convicted my heart from the Prologue that retold the Good Samaritan story to the last page of how to practically incorporate mercy ministry into one's individual life and church life.

In the past, I had told myself that mercy was not my spiritual gifting, yet began to pray that God would change my heart to be more like his (Ps.103:8-10, Ex. 34:6). I had been guilty of avoiding mercy ministries out of fear: Fear of being overwhelmed by the needs of others and of losing control of my schedule. I could be OK with being merciful … if I had planned for it.

Over the years, my avoidance had led to a complacent and hardened heart when it came to the suffering of others. I had forgotten how spiritually poor, destitute and needy I was from God's perspective, although I was rich in health, material necessities and fruitful relationships.

The Lord reminded me of this in January 2011, when late-term abortions began in Germantown. About that time, a neighbor of a prayer partner invited our small prayer group to join other brothers and sisters in asking the Lord to shut down the abortion clinic. I agreed to go once to support this homeschooling mother of six in her weekly, uphill outreach to speak to suffering women, offering them alternatives to abortion. I thought I should not just pray for someone to "be warm and well fed" if there were additional resources God had given me to offer.

My planned one-time visit turned into most Monday mornings. God's Spirit helped this very reluctant person to go where I did not want to go! I was provoked each week by the other participants' dedication, commitment to prayer and rescue efforts. A prayer partner and I also went on a Tuesday to represent Covenant Life and were disheartened to see how few people prayed on Tuesdays (5 or 6) compared to the number on Mondays (50-200).

Although I felt ill-equipped on that Tuesday in knowing what to say and do, I cautiously approached a 21-year-old woman who was crying at the corner near the clinic and learned she was waiting for someone to bring her "the rest of the [cash] money" to get an abortion. As I broached the conversation she said, "You are going to hate me." I assured her otherwise, and she spoke about her family and how they would reject her if they learned about the pregnancy. I attempted to share God's love for her, some available resources and pleaded that she consider the future consequences of her choice. After she allowed me to pray she walked away … abortion-bound.

As I sadly returned to my friend and those fervently praying, I became overwhelmed with unstoppable grief. My whole body began shaking as I heard myself crying audibly. I never had experienced anything like that before. I was powerless to help this young woman or the baby she carried, and all I could do was cry out to the Lord.

Will you join me and others in crying out for the Lord's mercy? He is listening. Since those cold January days of 2011, more than 60 women have chosen not to abort, an abortion-alternatives' site has opened nearby, state regulations have been enforced and Monday business at the abortion clinic has been reduced. Praise God!

Now, instead of praying on Mondays or Tuesdays, my husband and I pray from 3 to 5 p.m. on the sidewalk along Wisteria Drive in Germantown each Sunday we are in town. We hope others in our church will join us, especially Sunday, August 5, when Covenant Life will be leading a worship service and organized prayer to be a witness to hurting women and those in our community. In this outreach, will you consider being the hands and feet of a merciful Savior?
Share this on:
---
July 14 2012 at 10:18 pm
1 Comments
---

Todd Keeler had this final report from Day 5 of Outreach Week:
God has been so kind to us to give us the gift of partnering as the body of Christ to take the gospel "across the street" and be a small part of spreading God's kingdom. It has been a great joy for me to work alongside so many youth and adults who love Jesus and have compassion for those who don't know him.
Some highlights:
• The site leaders (Emory Grove – Neal Stuckenschneider; Laytonia – Jacob Bozarth; Washington Square – Chris Maresco) did an outstanding job this week leading the youth as they loved and taught the kids.

• Matt Maka served behind the scenes all week long cutting trees, mowing grass, washing dishes and grilling hot dogs.

• Dave Brewer, Scott Hendricks, and Brandon Quinones also helped cut trees to help clean up the neighborhoods after the storm damage. This was a last-minute opportunity, and it really blessed the community.

• My wife LeAnne and her kitchen crew served behind the scenes planning, shopping and prepping to feed 80 people all week and 400 at two cookouts last night (may God send more to help with cookouts next year!)

• I am excited that we will have follow-up ministry opportunities in all three neighborhoods set for the rest of the summer and are planning for follow-up during the school year at four sites: Emory Grove, Laytonia, Washington Square, and South Lake Elementary School. This will provide an opportunity for over 100 people to be involved on a weekly basis.
We are grateful that favor in the community is growing, and more and more opportunities for gospel ministry are presenting themselves as God guides us step by step.
Share this on:
---