July 21 2014 at 2:13 pm
0 Comments
---
Worthy14 is our high school ministry's annual summer retreat where we get away from our normal surroundings and the busyness of life.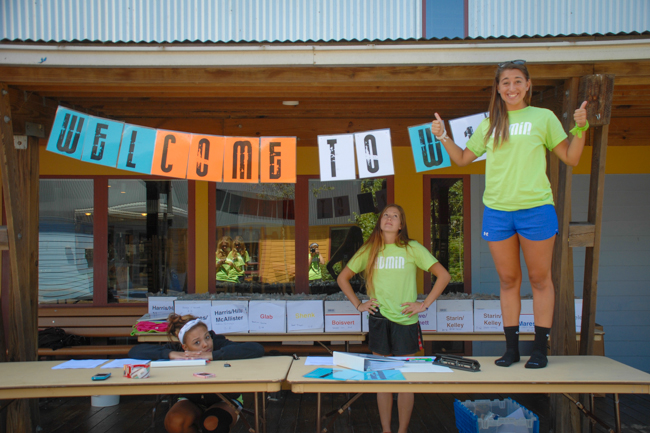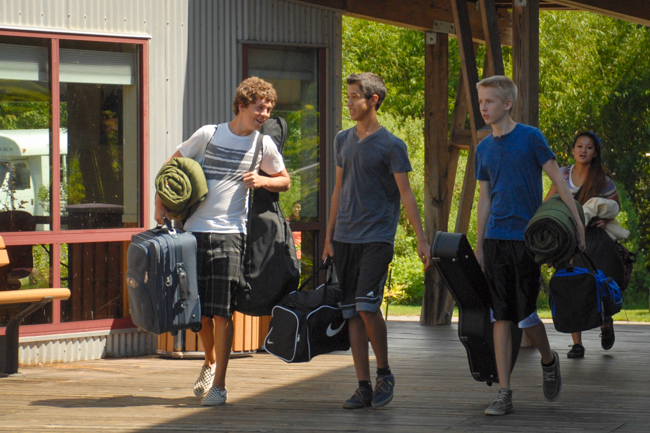 A Worthy13 camper: "At the retreats, talking about God is a natural thing, and I loved being able to bring up the Lord in conversation with my friends, whether we were playing pool or walking on the beach… the atmosphere is so spiritually rich."
"The incredible opportunity to grow closer to God by focusing on Him and spending time with His people at the retreats is not to be passed up."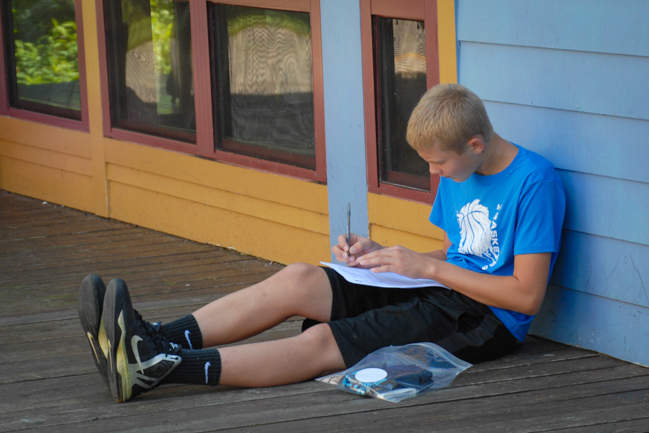 This year, we will be taking time to look at the question, "How will my life change if I actually believe the Bible is absolutely true?"
Each year God meets us in incredible ways through times of worship and teaching, lots of games and times of fellowship throughout the day as we seek His face together.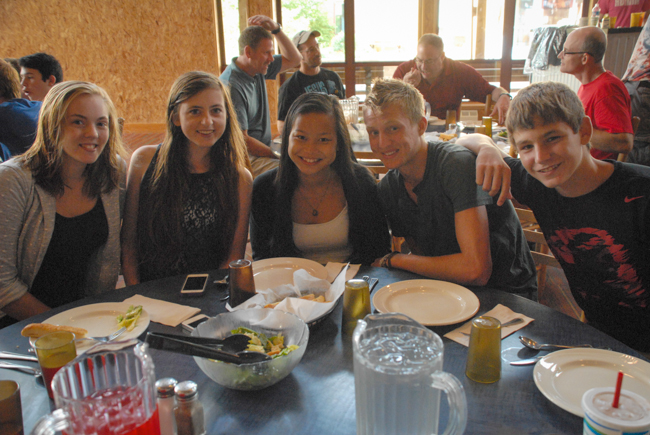 Hip Hop Artist and Speaker, Brian Davis, is coming this year, and will be teaching us along with Jon Smith, Joshua Harris, and of course, Dave Brewer.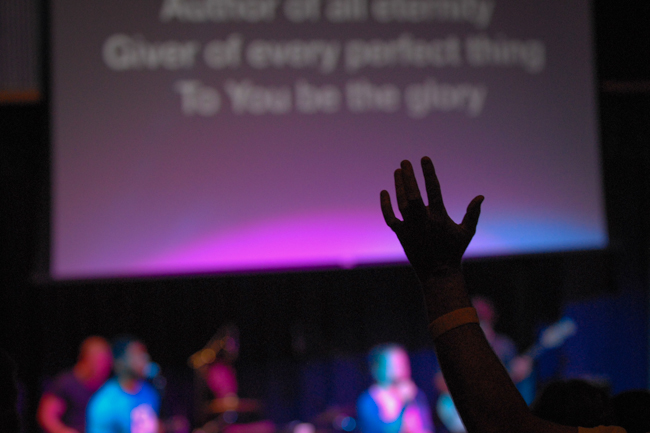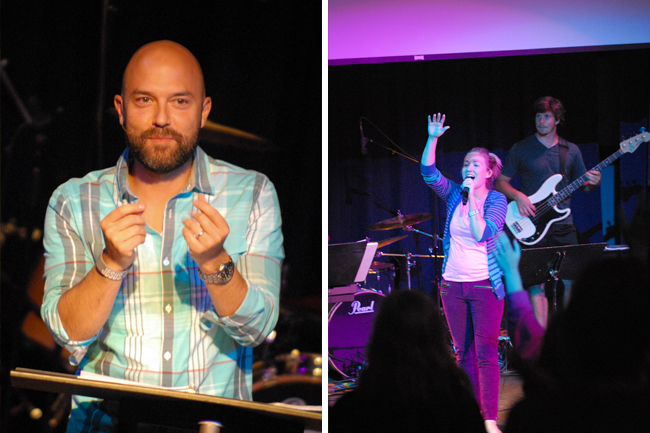 As you've probably heard in teens' baptism testimonies, every year teens come back with a renewed love for God and excitement for learning about him and loving him more.

We are all about having a good time at Worthy, and you can be sure that you will come away from with awesome memories! We want you to join us, both to have a ton of fun and to be changed for God's glory.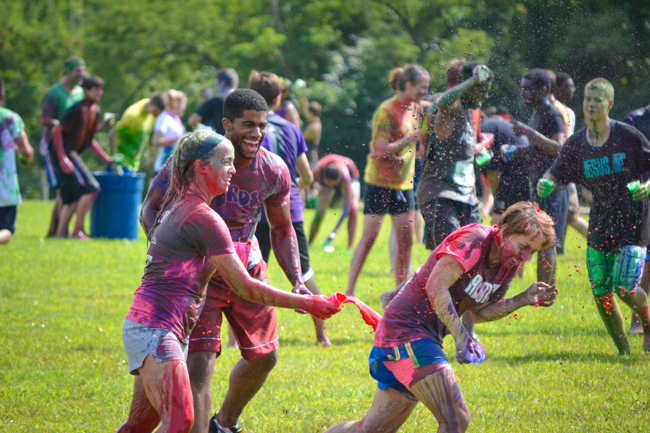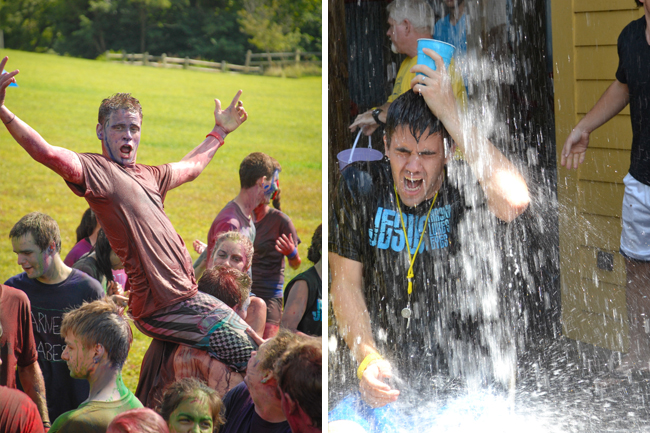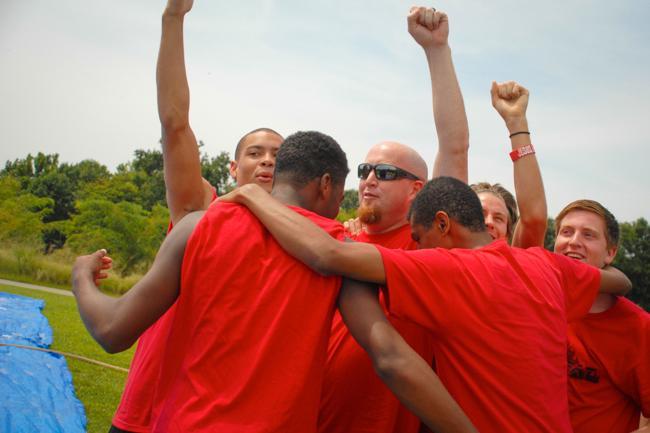 Families that are just visiting Covenant Life or have been attending church but not participating in the youth ministry are welcome to attend.
Registration is open and there are scholarships available for those in need of financial assistance. We don't want anyone to be turned away because of the price of the retreat.
For more information, please call the church office, or e-mail .(JavaScript must be enabled to view this email address).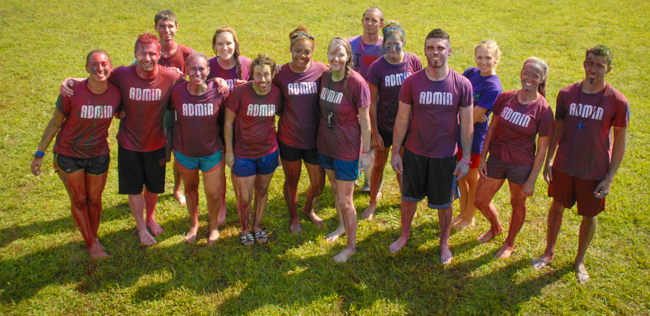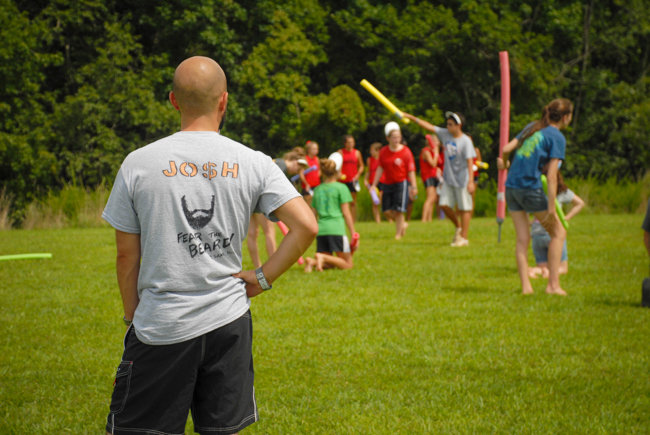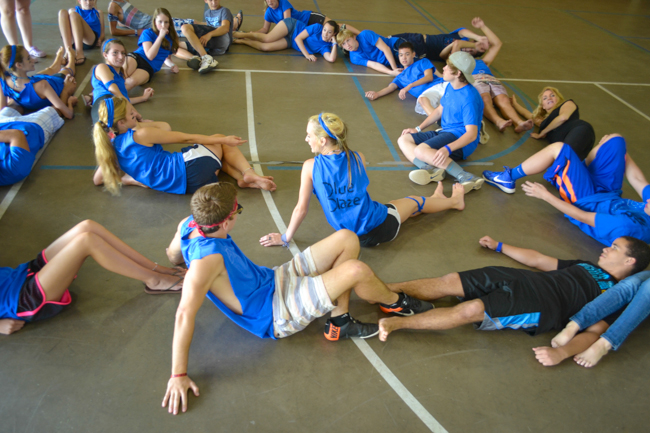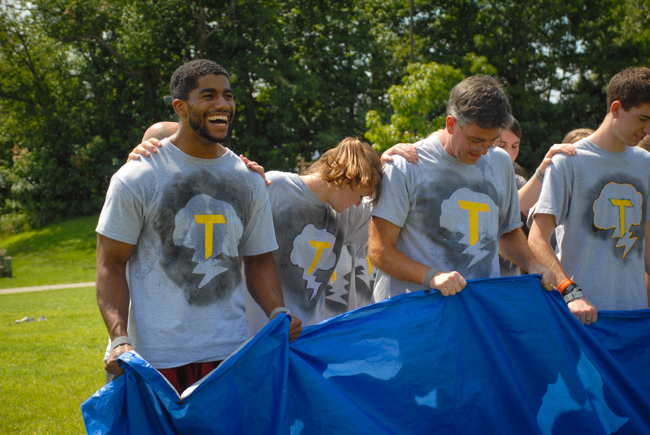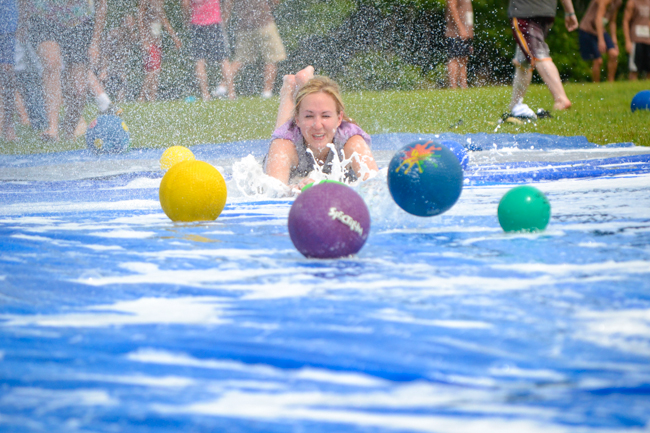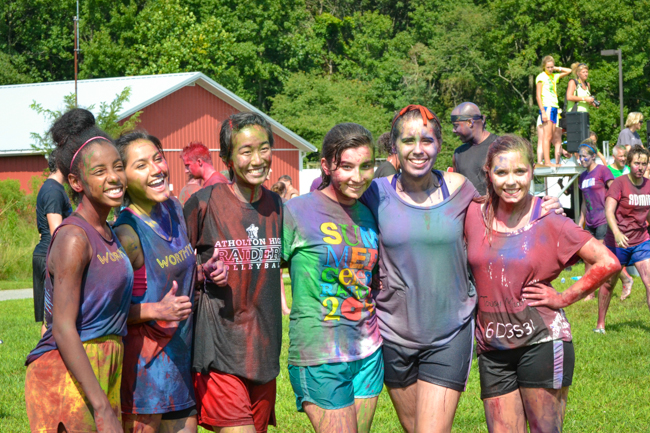 Share this on:
---
June 30 2014 at 12:24 pm
1 Comments
---
"Today was the first time I've been in a church for over 50 years," shared an elderly Forest Oak Towers resident during a Senior Saints luncheon at Covenant Life Church.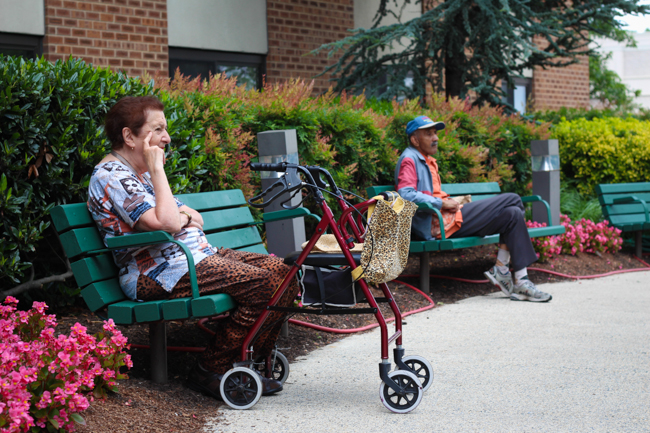 When she and her husband emigrated from Europe to the U.S. during World War II, they arrived penniless, having entrusted all their financial assets to "Christians" who had promised to send their money ahead for them. The funds never arrived, and so the couple grew embittered and distanced themselves from the Christian church.
Now years later, as a result of the weekly lunches spent with Covenant Life members in the Forest Oaks cafeteria, she felt comfortable attending the luncheon held at the church. Afterwards, she shared how very blessed she was to be there, hear Robin Boisvert's message, experience the kindness of those attending, and be treated so lovingly. She wants to return.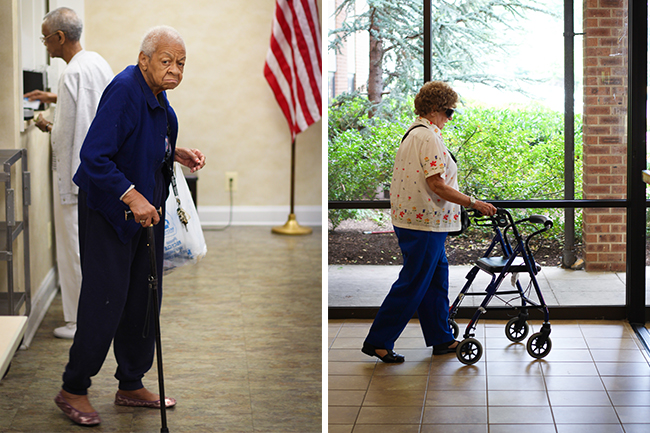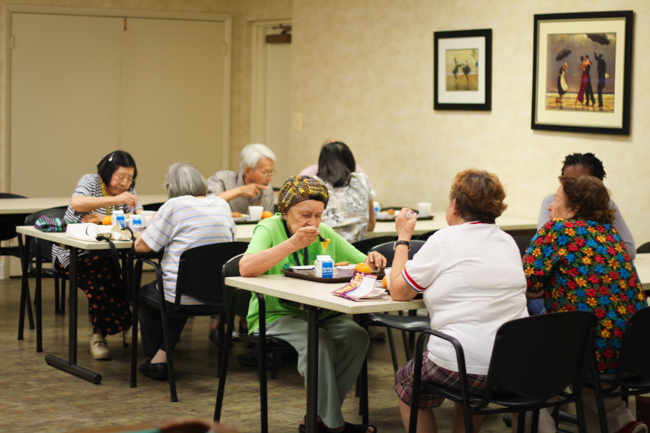 This is only one of many life stories at Forest Oak Towers, a 175-apartment complex on Odendhal Avenue in Gaithersburg for 220 residents with an average age of 73.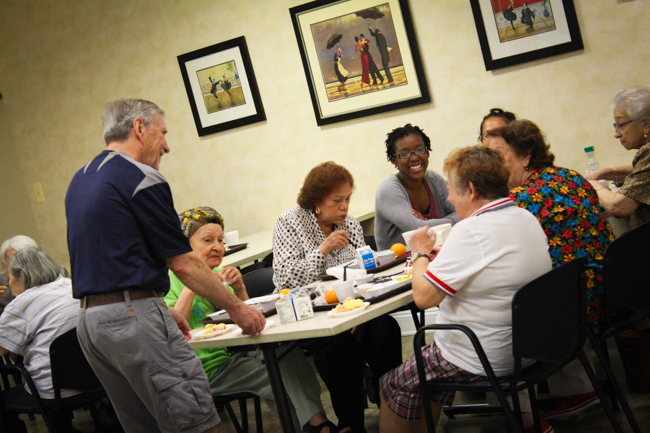 For the past two years, Covenant Life members Drew Garfield, Dennis Cook, Bob Merryman and others have been spending their Wednesday lunch hour with the residents. Recently, they started a monthly Bible Study, requested by residents.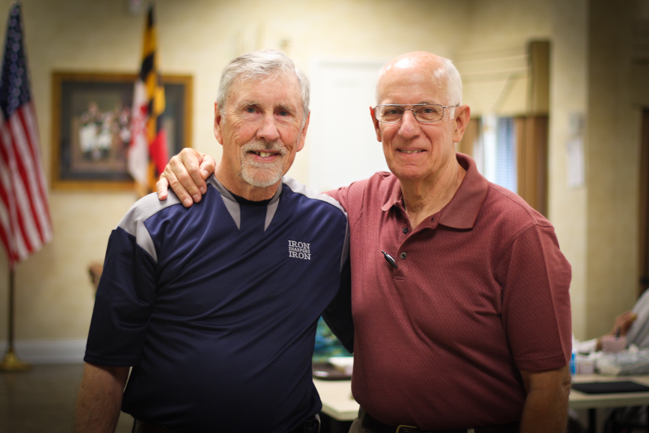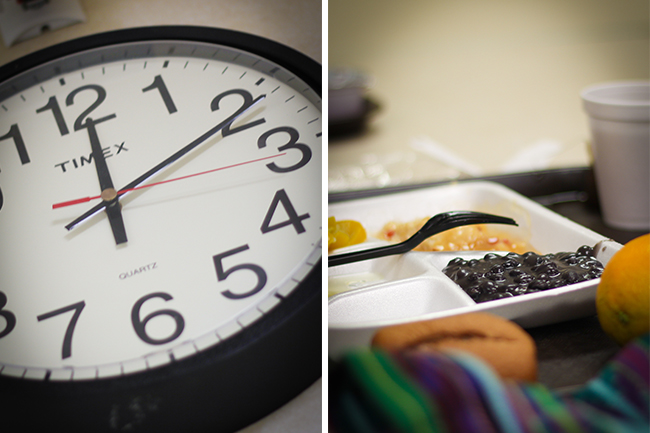 "Our goal is to share the love of Christ through fellowship and friendship," Bob shared. Their hope is to present the gospel of Jesus Christ, encourage faith in Christ, and see the Holy Spirit at work in their lives.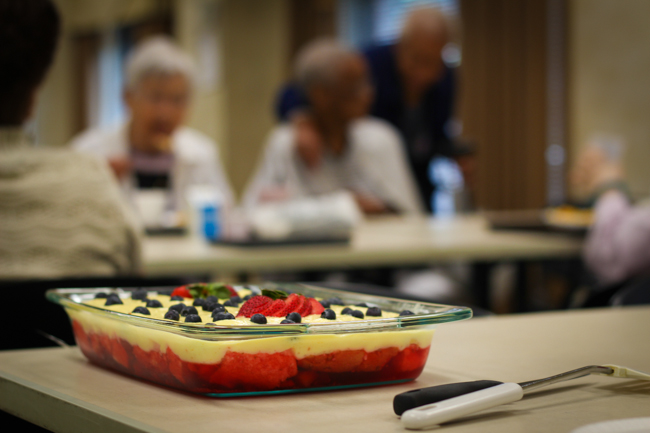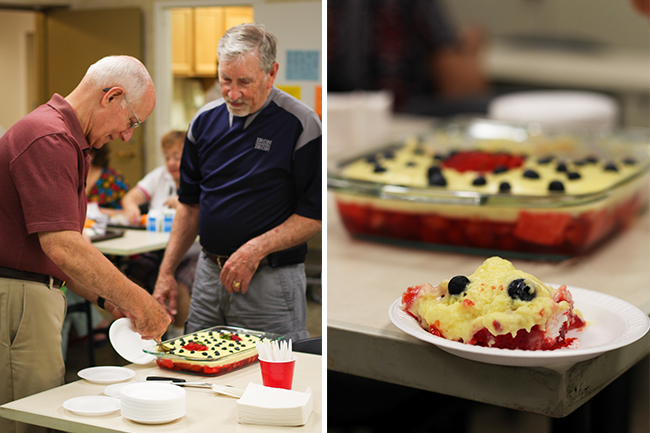 "I get a queasy feeling in the pit of my stomach at the prospect of approaching strangers," Dennis said, "At first, I felt very uncomfortable, wondering if I had anything to offer."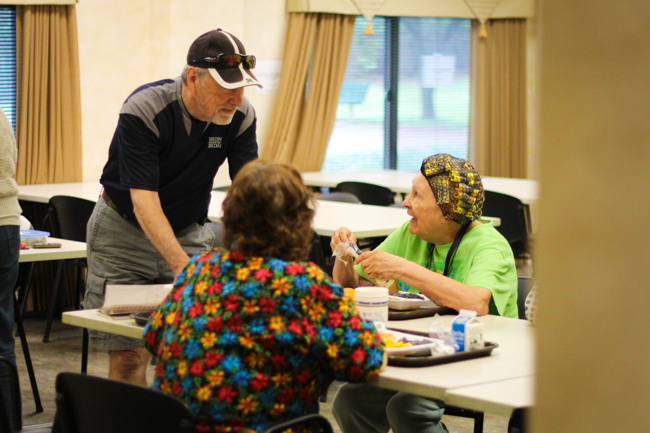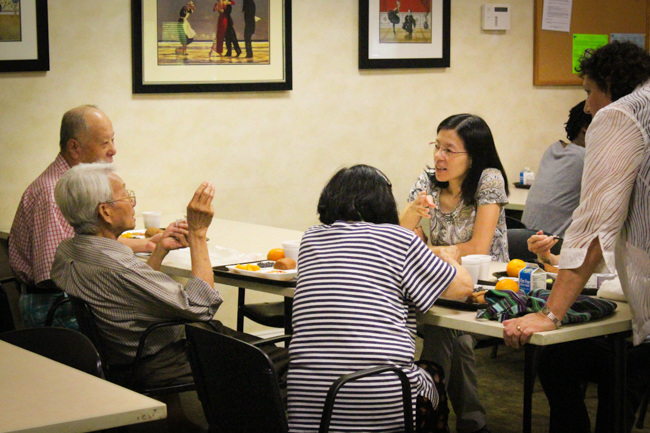 They have come alongside residents as friends, heard about their lives, shared about their own, prayed with them through sickness and hardship, and even helped with practical needs like hanging a picture or moving light furniture.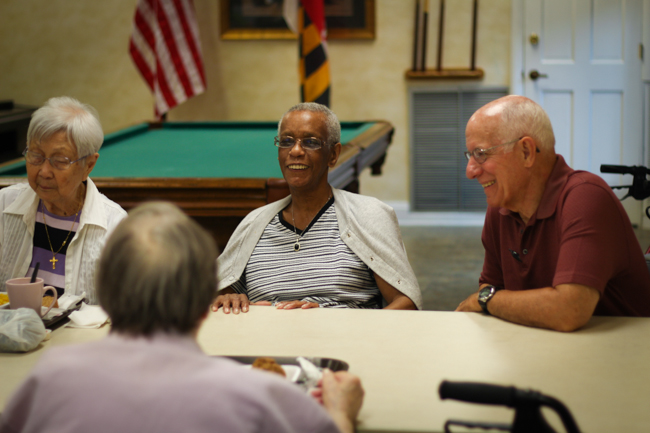 "We have learned that the regular visits residents can depend on foster relationships," Dennis shared. "We have been told that even if we don't hear it, we are appreciated, even expected, so please don't stop coming."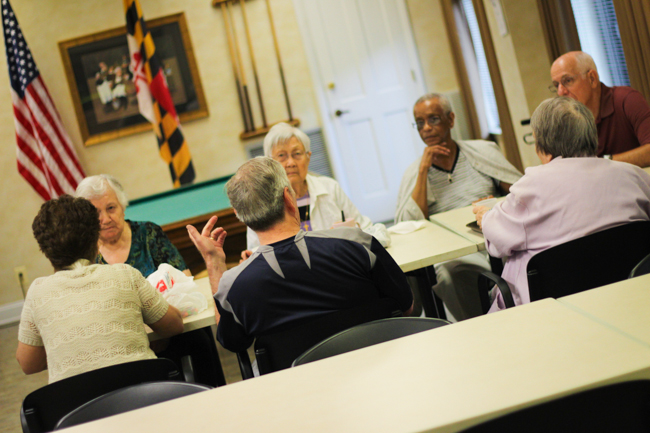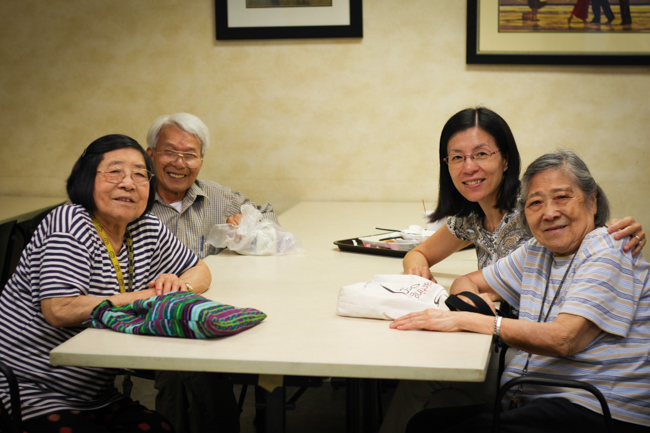 Bob and Dennis describe the residents as "quite a bunch of characters." Nelson loves to sing Karaoke, Luce-Marie honestly shares about life, and Matilde helps where she sees needs.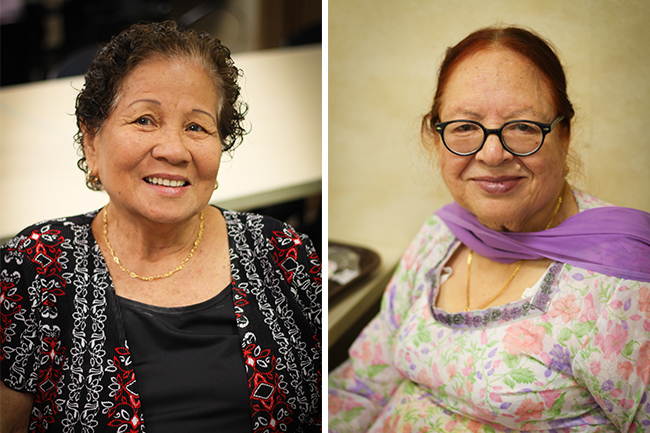 Nancy is a chatterbox and writes poems. Alice offers care-giving counsel and asks after their wives. and Irma chases them down to give them hugs. Margarit loves classical music, opera, and ballet and takes care of Vartouhi.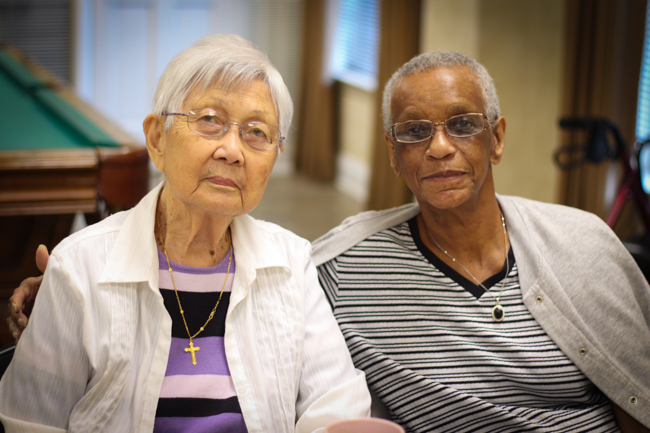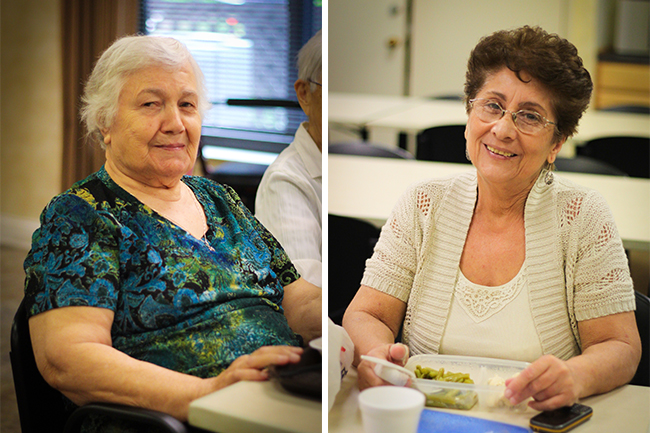 Sisters Bessie and Flo challenge them to crossword puzzles, and Don sparks deep conversation through his honest questions about God.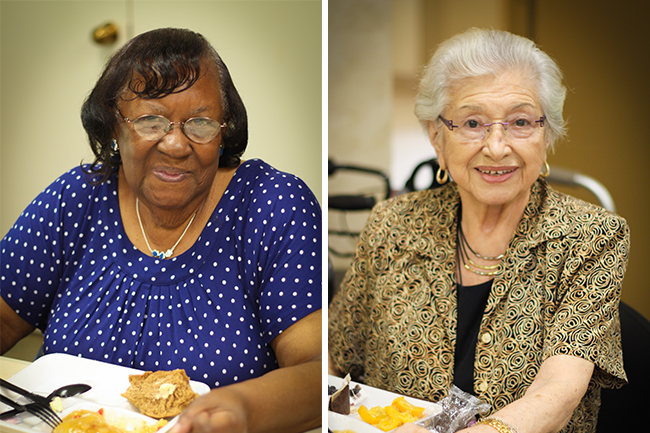 Nettlie loves Jesus and wears her "I love Jesus" lanyard all the time. Sisters Mrs. Tsui and Mrs. Chang can't speak English, but they wave and Mr. Tong gives thumbs-up.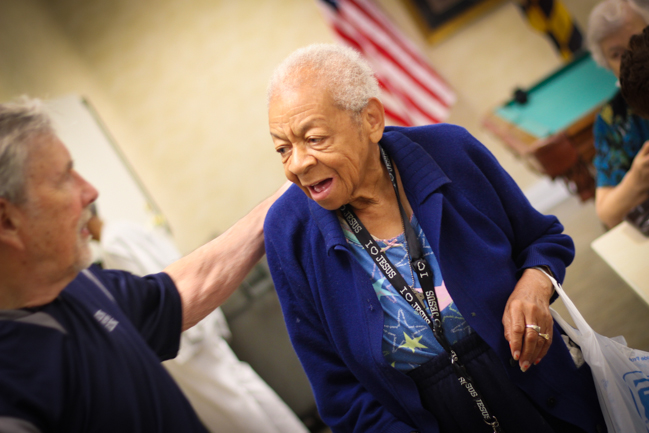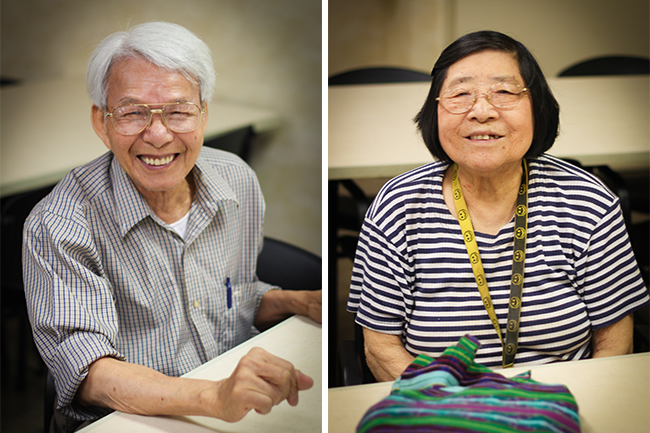 "If you see me fightin' with a bear, don't worry about me, help the bear," says Olivia who crochets baby outfits. Penny and Al are pals and greet everyone in the mailroom when they come to check for letters.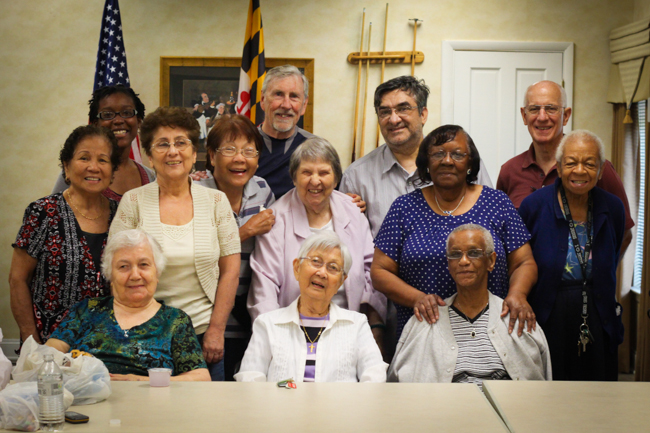 "This experience is probably serving me more than anyone is being served by me," Dennis shared. "We are grateful to have the privilege to serve an awesome God," Bob said.
Photo Credit: Betsy Reich
Share this on:
---
June 9 2014 at 4:02 pm
4 Comments
---
Jenn Harvey leads the church's English for Speaker's of Other Languages (ESOL) Ministry, re-launched just over a year ago. Here is an exciting report she shared, just one of the ways God is at work in our community: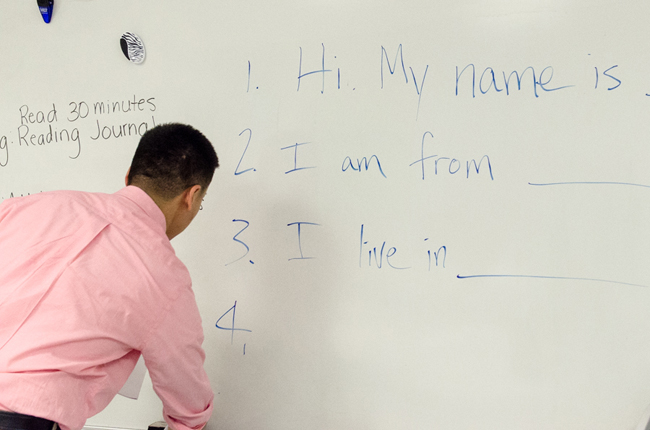 Last April we held an Easter celebration at one of the sites where we offer adult English classes, South Lake Elementary School. Despite pouring rain that evening, close to 30 students and their families came out and were able to hear the gospel clearly proclaimed, as well as have a chance to deepen friendships with the volunteer teachers from Covenant Life.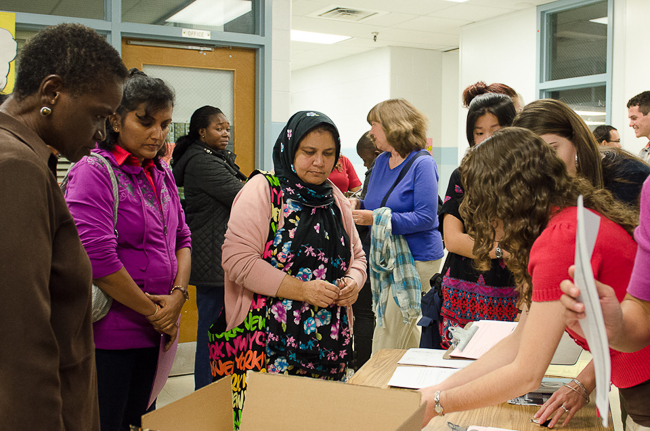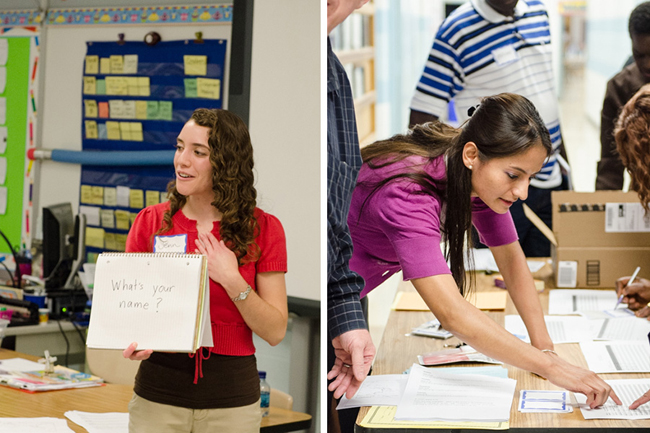 After reading 1 Peter 3:18 together in seven different languages, a short skit portraying how Christ cleansed us by taking our sins upon himself was presented. The evening ended with everyone sharing food from their countries that the students and teachers had brought.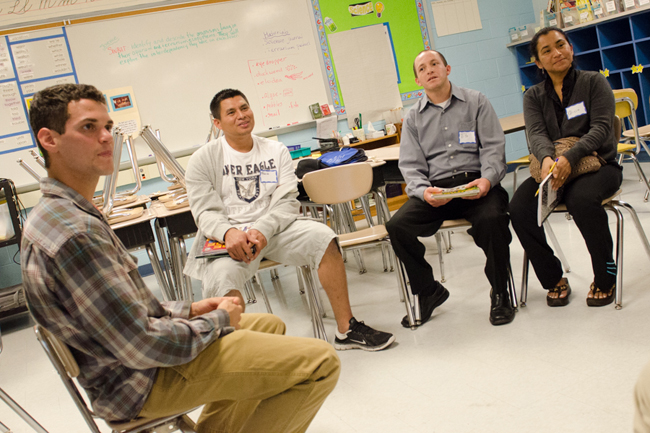 During that time, many new connections were made and existing friendships strengthened. I had the opportunity to talk with a Muslim student from Bangladesh and her high-school-aged daughter, and share at length with her daughter about the effect that having a relationship with God has had on my life.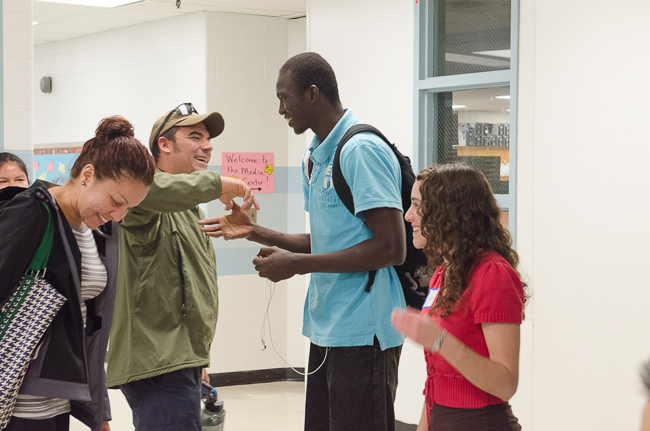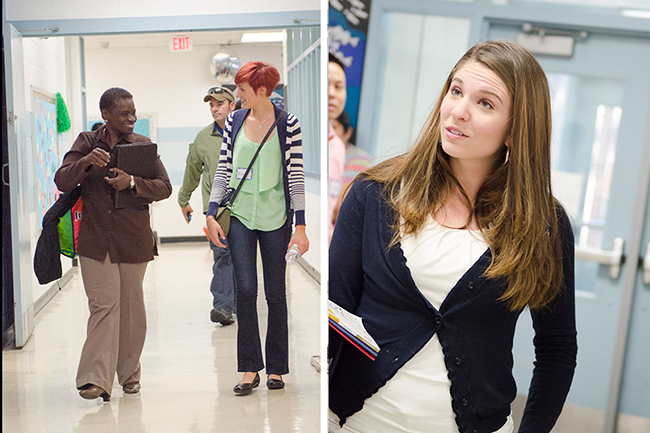 Here is another testimony from that night shared by Geney Harvey, another ESOL teacher:
On Monday night, as everyone was lining up to get food, I looked around for someone to chat with and saw an African woman by herself.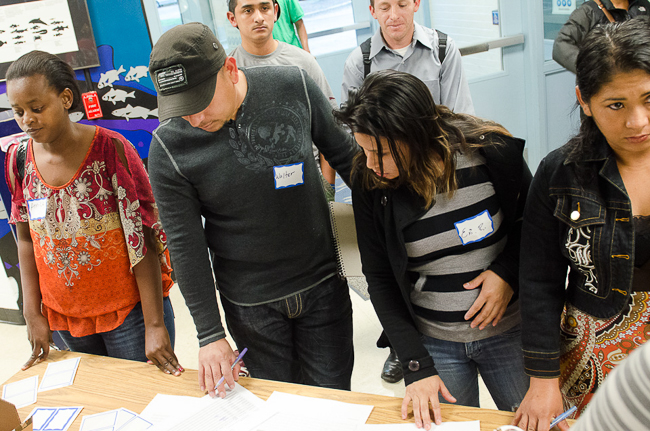 I went over and introduced myself and as we began to talk, it became clear that she had very minimal English skills. I asked if she spoke French and when she said yes, I began to try to talk with her with my limited French.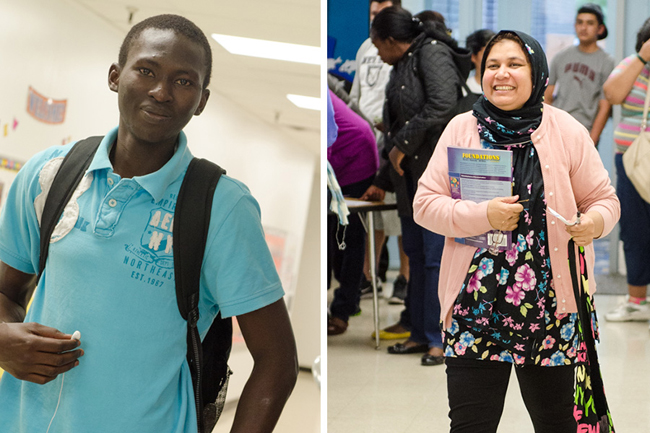 The Lord helped us to communicate and in the course of the conversation she told me that this was her first night attending and that she has been in the U.S. for 10 months and still has not found a job. She was very discouraged and was very concerned about how she was going to keep on providing for herself and her four children.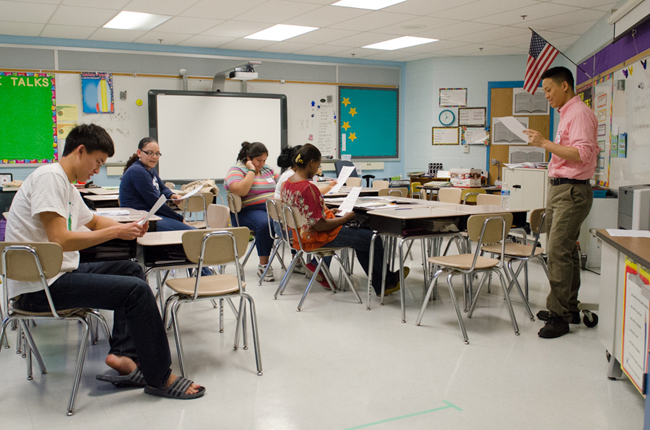 I told her how some of us prayed for one of the other students in my class (who is also from Africa) to find a job and that last week the Lord provided one for him. I asked if I could pray for her, and she very willingly agreed and acknowledged that only God could really help her.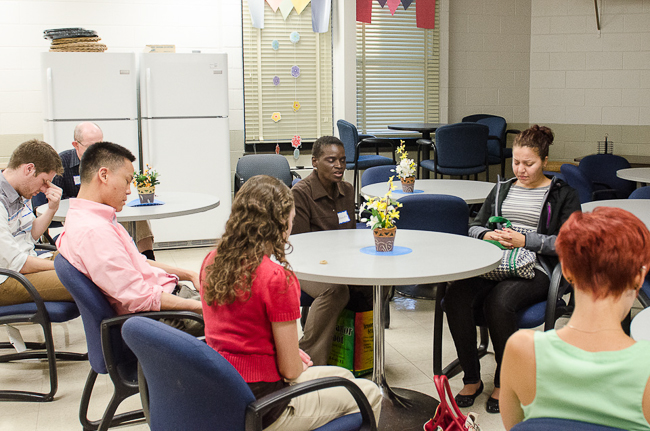 I prayed for her, and it seemed that it encouraged her just to have someone show that they cared. Could you all join me in praying that the Lord would provide a job for her and that he would use this difficulty in her life to draw her to himself?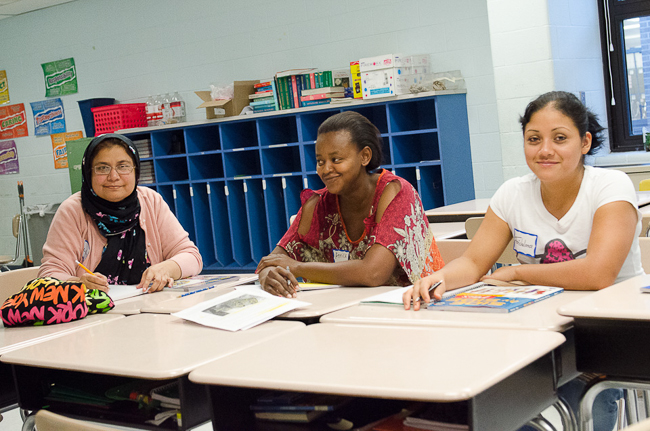 Thank you for partnering with us in praying for the gospel to reach every tribe, language, people, and nation through the ESOL ministry!
Find out more about us and how you can get involved at the ESOL LINK page.
photo credit: Pam Wilbur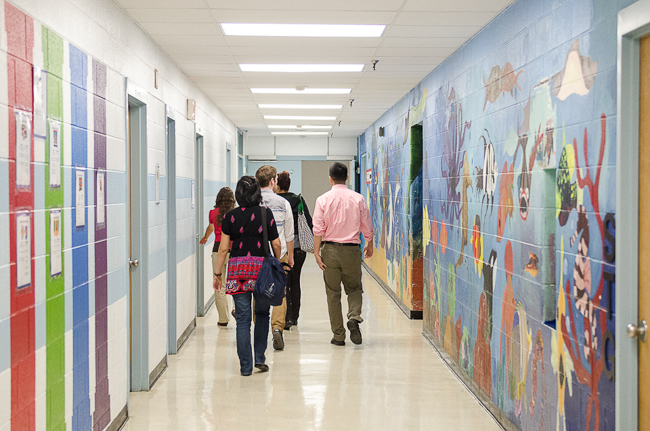 Share this on:
---
March 22 2014 at 11:57 am
1 Comments
---
UPDATE, MARCH 28: Added skills list at the bottom of this post.
Do you love God? Love your neighbors? Love this community? This may be just the opportunity for you!
Since its formation in February 2013, the Global Missions Committee has been sharpening our understanding and practice of world missions. As a church we have much reason to be proud of the good work that the Global Missions Committee has been doing.
But the need for gospel witness and gospel service is not limited to other continents. Montgomery County needs Jesus! There are huge needs and opportunities right here in our own neighborhoods, nursing homes, schools and jails. That is why Covenant Life Church is forming a Local Missions Committee.
Like the Global Missions Committee, the new Local Missions Committee will include 12-18 members who represent a diverse cross-section of this church. They will work closely with the elders and the Missions Department to ensure that every church member has the motivation, training and opportunity to saturate our community with gospel influence.
To understand more about how this new committee will function, read the Local Missions Committee Charter (PDF).
If you have a love for God, a love for neighbors, and a love for this community, we would love to have you apply to serve on the new Local Missions Committee. Just download and fill out the Local Missions Committee Application (PDF).
Completed applications should be e-mailed or delivered to .(JavaScript must be enabled to view this email address), Local Missions Director, by April 6.
If you have questions or need more information, please .(JavaScript must be enabled to view this email address) or call him at the church office.
---
Local Missions Committee: Skills Needed
Researchers: People who love to gather information and do research. One of their contributions to this team would be to learn about and understand both our local community and our church community. Examples: census/ demographic research, local history research, creating and conducting surveys, interviews, etc.
Strategists: People who can take the research data gathered, discern needs and opportunities, and then formulate ministry strategies to address them. They might also serve by evaluating ministry teams and working with team leaders to make them more effective.
Connectors: People who are great at building friendships with people from all walks of life and at seeing opportunities for ministry. Using their knowledge of resources both inside and outside the church, they initiate strategic relationships with various organizations and institutions in the community in order to create new and more effective ministry.
Visionaries: People who have the ability to think at the 50,000-foot level and can imagine and shape what a culture of local missions could look like for our church and community. They can help develop long-term goals for community transformation for the church. They are able to articulate and transfer a vision for local missions to fellow church members.
Implementers: People who take big ideas and then create the structures and processes necessary to achieve them. They are planners who chart a clear path from the current reality toward the end goal.
Share this on:
---
November 7 2013 at 8:56 am
0 Comments
---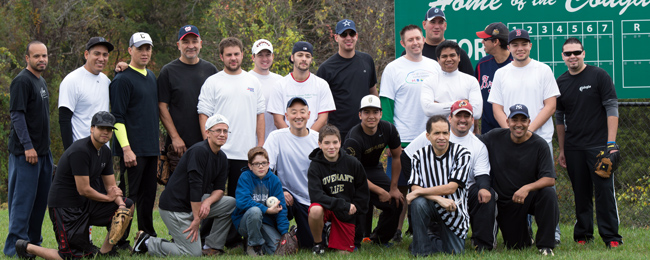 What do penguins, softball and families in need have in common? If your answer was 'nothing,' let me introduce you to Every Day is Christmas (EDIC).
EDIC is a unique ministry that reaches out to families in need during the holiday season. Through sporting events like flag football and softball, last year EDIC raised enough money to bless 60 families. And Dennis Castenada, co-founder of the ministry, happens to like penguins so much that he based the EDIC logo on the flightless bird.
EDIC's final sporting event of 2013 took place October 19, a softball game between players from Covenant Life and Gracia Soberana. Covenant Life walked away with a solid 33-18 win, leaving them 2-0 for the year in softball.
Both teams were winners because the game raised $600, bringing the total for 2013 to over $2500. The funds will be put to use to make Thanksgiving baskets and reduced-price Christmas presents available to struggling families.
How To Get Involved:
• Visit EDIC's table in the church lobby November 10 or 17 for complete information on how to participate.
• Thanksgiving baskets will be assembled on November 23. Volunteers are needed to buy food, assemble, decorate, and deliver baskets.
• The Christmas "store" will take place December 14. Donations of new clothes and toys are needed.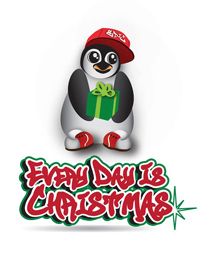 Dennis and his mother, Gloria Noel, co-founded EDIC in 2007. As a single-parent family, they received many Thanksgiving baskets over the years and know the impact this ministry can have.
EDIC's goal is to "empower, equip, and provide resources for families to advance and create a better future for themselves," not simply to provide a free hand out. Families that benefit from the ministry are invited to attend a "Resource Event" where they receive encouragement and equipping for building a solid financial future. Dennis is eager to see EDIC have a lasting impact on the families it serves.
Visit EDIC on Facebook.
Thanks to Jessica Harris for writing this post.
Share this on:
---
November 3 2012 at 11:10 pm
2 Comments
---

Dear friends,
Many of you have seen and heard of the difficulties of our neighbors in New York and New Jersey in the wake of Hurricane Sandy. In response to the needs of the people in these areas, one of the members of Covenant Life Church is planning to send a truck and trailer with food and supplies in an effort to bring some relief.
What you can bring:
- cases of water
- non-perishable food
- cans of soup, chicken, tuna
- diapers
- packaged food, crackers
- toilet paper
- blankets
- jackets and coats, shirts, and other clothing
- flashlights
- batteries
- candles
Where to drop:
- the big red trailer in the church parking lot
When:
- Sunday Morning before and after both services (11/4)
- Before and after the Members Meeting Sunday night (11/4, 6 p.m.)
- Monday morning (before 9 a.m.)
The supplies will be transported on Monday (11/5) to distribution points and communities that are in need. Please pray for the safety of those involved, and that the Lord will lead this effort for his glory.
Thank you for prayerfully participating in serving our neighbors,
Joshua Harris
on behalf of the pastoral team
Share this on:
---