November 24 2015 at 2:59 pm
0 Comments
---
This January we are once again holding the Introducing God course. On Sunday, we enjoyed Sharon Harvey's testimony of how God transformed her life through the last session of Introducing God.
Learn about Introducing God | Volunteer with Introducing God.
"I can't begin describing my Introducing God experience without first sharing a bit about my personal spiritual journey. I grew up believing that success depended on my own efforts. I was hard on myself when I failed, and even when I did succeed, my life felt empty. I was never satisfied, and I felt I needed to be perfect all the time. Gradually, I began to think my hard work defined my self-worth, and I started seeking other people's approval to fill that emptiness. I reached a low point after college, and questions in the back of my mind began to surface. What is all this hard work for and what is my purpose? I had grown up hearing my cousin speak about God, but I had always been indifferent. However, God, in his mercy and grace, used this weak point in my life to persuade me to learn more about Him.
With the encouragement of a friend and now a precious sister in Christ, Hannah Stogsdill, I started attending Sunday sermons at Covenant Life Church. Introducing God happened to be starting their Spring 2013 class around the same time, and Hannah invited me to attend the course with her. During the next 9 weeks, I witnessed God's transforming power, heard countless testimonies, and learned more about God's merciful and forgiving nature. Most of all, I came to experience Christ's love through the thoughtful conversations, questions, and care of my discussion group. As I grew closer to Hannah and these brothers and sisters, I also grew closer to the Lord. I learned through them that Jesus Christ sacrificed his perfect life on the cross for a sinner like me. I didn't need to earn God's love. He loves me unconditionally, and he was calling me to satisfy all my needs and desires in Him. The emptiness I felt in my life started to be filled. A few months after taking the course, I had proclaimed my trust and faith in my Lord and Savior.
The Lord used these godly brothers and sisters, some of whom have become my best friends, to be salt and light in my life, and it is with joy and thanksgiving that I can now be a witness to others of God's saving power. I would like to invite you now to join me in serving in this ministry to be a witness to others and to be a part of God's great commission to make disciples. God's plans are bigger than our own, and He may just use you to transform another person's life like he used many others to transform mine. And if you are not a Christian, I encourage you to attend. Not only will this course challenge your own beliefs and give you a fresh perspective on Christianity, it will also give you lifelong friends and a heart for the Lord."
Learn about Introducing God | Volunteer with Introducing God.
Share this on:
---
October 20 2015 at 2:18 pm
0 Comments
---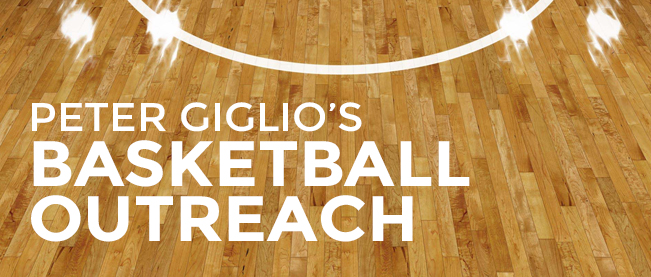 Did you miss Peter Giglio's video testimony on Sunday? Check it out here. It's encouraging to hear how God is using the basketball outreach he started to build relationships among teens here in our community.
Have an idea for your own outreach in our community? Apply for a Go Grant that could provide funds to help get your idea off the ground!
Learn more about the Laytonia Basketball Club. Questions about Local Missions? E-mail Drew Garfield for more information.
Share this on:
---
October 13 2015 at 10:48 am
0 Comments
---
On Sunday, we heard from Dave and Jen Brewer about how the Lord has used them as foster parents to minister to children in need in our community. If you're considering getting involved in foster care, or possibly adopting a child, contact The Beloved Ministry for guidance and additional resources.
Dave: Being a foster parent to abused or neglected kids is something that Jen and I had talked about for a number of years, but we put it into the category of "when our kids are out of the house, maybe we could use the space and time to invest into kids in the community." A pivotal moment that began to change our timeline was when Jen and I started doing short term missions trips. Jen participated on the church missions trip to Uganda, which was an amazing, life changing time for her. She came back and told me she wanted to move our family to Uganda to start an orphanage. I said, "babe, that ain't happening!" but this thought caused us as a family to ask "Well, we may not be able to move to Uganda to start an orphanage, but where are there orphans in need here in MoCo?" This led to a long, prayerful and deliberate process of our family considering if we should do foster care sooner rather than later. In considering this idea, we asked a lot of questions, sought a lot of counsel, and we simply took the next step we felt God was placing in front of us, all the while praying that he'd make His will clear to us, and by the end of months of classes, interviews, meetings with foster families, we were confidant that this is where God was leading our family.
---
"Well, we may not be able to move to Uganda to start an orphanage,
but where are there orphans in need here in MoCo?"
---
Jen: We received our first placement of two children in our home two years ago. They ended up staying in our home for almost a year. Since then, we've had three more children in and out of our home. It's been incredibly rewarding to give our lives to help others, but it has also been incredibly difficult at times as well. But the blessing to our family has far outweighed the challenges, as we have been able to help children right here in MoCo, who have basic needs for things like food, a bed to sleep in, clothes to wear and most importantly, love.
The goal of foster care is reunification with their biological family in the quickest and safest time frame possible. And as you can imagine, that process has its difficulties. You are receiving a child who has been abused or neglected, who was just removed from their family, and is now being dropped off at your home. You get to know these children like they are your own, knowing that one day, at a time undetermined by you, you will be saying goodbye to them and most likely never seeing them again.
Dave: It's a very difficult proposition…but, a couple things have helped our thinking:
Gensis 3 gives us a framework for understanding how painful this world can be because of the effects of sin. And when Christians step toward meeting needs in this broken and fallen world, that in itself can be painful and messy. Will our hearts get broken? Yes. They will. But they are broken already because we see children in need and hear their stories. James 1:27 – "Religion that is pure and undefiled before God the Father, is this: to visit orphans and widows in their affliction…"
---
"'Religion that is pure and undefiled before God the Father, is this: to visit orphans and widows in their affliction…' Who else is going to help these children? I really do believe that Christians should be on the front line of taking-in orphans, kids who have been abused or neglected, and thereby introducing them to saving power of Jesus Christ."
---
Who else is going to help these children? I really do believe that Christians should be on the front line of taking in orphans, kids who have been abused or neglected, and thereby introducing them to saving power of Jesus Christ. Hopefully, by helping these children, we are teaching OUR OWN children what following Jesus is about. Be a disciple who makes disciples. Be compassionate. Take care of those weaker than you. Share what you have. Love people.
Lastly, we were helped by another foster family in our church, who said, "What an opportunity we have! Whether it's for a day, week, month or year, we get to love kids and share Jesus with them with as much time as we are given!"
If foster care or adoption is something you are considering or praying about, feel free to contact The Beloved Ministry for more information.
Share this on:
---
September 15 2015 at 10:04 am
0 Comments
---
Listen as Dennis Casteneda shares his testimony of God's transformative work in his life, and his call to start and lead the Every Day is Christmas ministry.
Learn more about Dennis' ministry Every Day is Christmas.
Share this on:
---
July 21 2015 at 9:16 am
0 Comments
---
God has blessed the last two days of Joy Camp tremendously. On Thursday evening we had our traditional site cookouts at Laytonia and Johnson's Park. We cooked hundreds of hot dogs and were able to interact with the campers and many of their families. At the Laytonia cookout the campers were even able to come up and share the "Gospel Chant" they had been learning all week.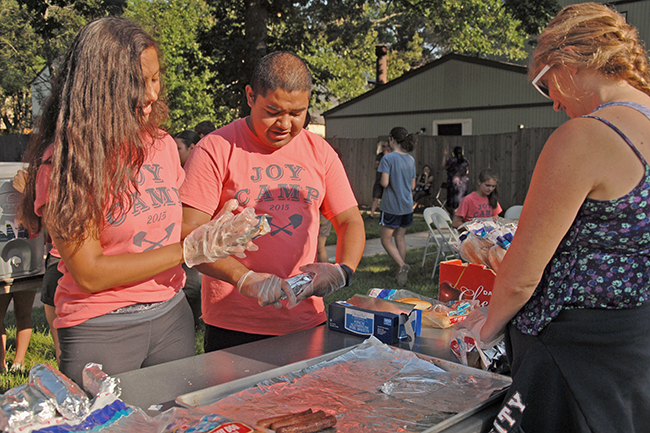 Friday was our last day with the campers. At South Lake they had a brief ceremony to celebrate the end of the week since they didn't have a cookout. Parents were invited, and we called each camper by name to receive their Bible and camp t-shirt.
Friday was also our last day together as a team. We took time in the evening to recount God's faithfulness by singing, listening to a short teaching, and hearing about how God worked at the different sites.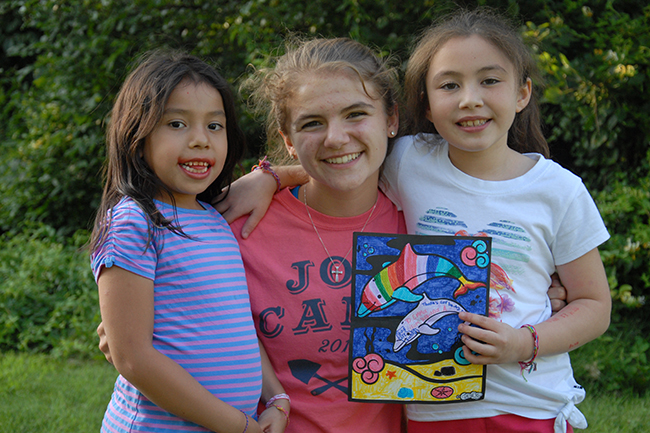 Johnson Park
Because renovations going on at Washington Square and Emory Grove, we weren't sure how many kids would show up to camp. The leaders visited surrounding neighborhoods on Saturday and handed out flyers to tell people about camp. By the end of the week we were up to 54 kids.
During one-on-one time one of the youth was explaining to a camper that in all the Bible stories throughout the week, each person had faith and God loved them. The camper responded, "Wait, God loves us? What if you don't love God back?" So our volunteer was able to explain the gospel to him.
Laytonia
We averaged between 40 and 50 campers.
Many campers at Laytonia have professed faith throughout the years, so it is encouraging to go back and remind them of truth.
Many of the campers have reached their middle school and high school years and have been coming since the beginning of Joy Camp. The experience is geared for younger kids, but by the second and third day the older kids were able to jump in and participate.
Laytonia has a very diverse group of kids, but it's a tight-knit community with a strong sense of love.

South Lake
Because this site is an elementary school, our youth went into different classrooms and helped with summer school classes.
We heard one first-time camper ask his friend, "Hey, do you believe in God?"
Even some of the high school students expressed an interest in coming back next year to Joy Camp, not as campers but as volunteers.
Many kids expressed that this was their favorite week of the whole year.
During the upcoming school year we are going to partner with the school's English for Speakers of Other Languages (ESOL) program by providing child care and mini Joy Camps. God is working in unique ways here at South Lake, so please continue to pray for us.
Overall, all of the leaders were encouraged by the youth who have grown up in the church their whole life and are very familiar with the gospel. But seeing them fully invested and being able to apply that knowledge to local missions was incredible. Our group demonstrated love toward each other as well as the campers and grew in unity. Many of the rising freshmen also stepped out of their comfort zones and were bold and courageous in sharing the gospel this week.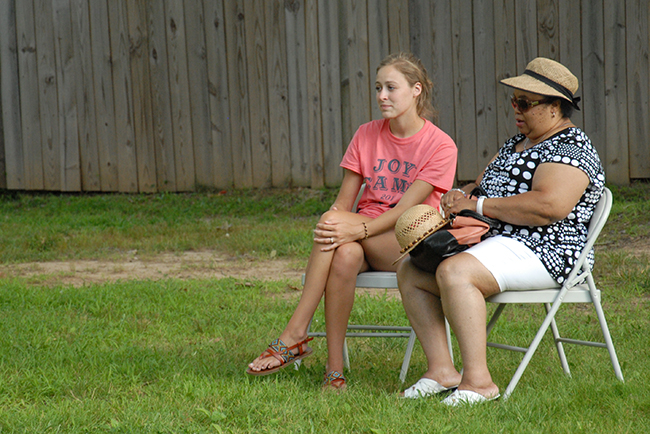 Now that Joy Camp is done, pray for each of the families and campers. Pray that they would be reminded of the gospel daily as they look at their Bibles and camp t-shirts. Pray that they would be able to share what they learned at camp with others in their community. Pray for the different churches in our area and around the world. Pray that they would send more laborers for the harvest and that the gospel message would go forth. The same Holy Spirit who helped us this week understand that faith in God's promises leads to courageous obedience, is the same Spirit working throughout the entire world.
We are looking to do follow-up ministry throughout the year. Here are some ways to get involved:
South Lake
-Monday nights (starting September 28), 6:30 p.m. - 8:30 p.m.
-Fun, games, Bible study, friendship and help with homework
-To sign up, email Travis Earles
Laytonia
-Saturday, August 15, 10 a.m. - noon, at the Laytonia Community Center
-Fun, games and Bible study
-To volunteer, email Carlos.
Johnson's Park
-Saturday, July 25 and August 15, 10:30 a.m. - noon, at the Emory Grove Playground
-Fun, games and Bible study
-To volunteer, email Neal Stuckenschneider.
Lastly, we want to thank you for praying for us. This week could not have happened without you interceding for us. We are grateful for you!
Share this on:
---
July 16 2015 at 1:47 pm
0 Comments
---
Today we focused on the life of Moses. The lessons started with a brief overview of Moses' life: how he was saved at birth, ran as fast as he could away from Egypt, seemingly was content with his new life as a shepherd, and then came across the burning bush where God speaks to him. Campers read different verses from Exodus and continued to learn about Moses through different skits.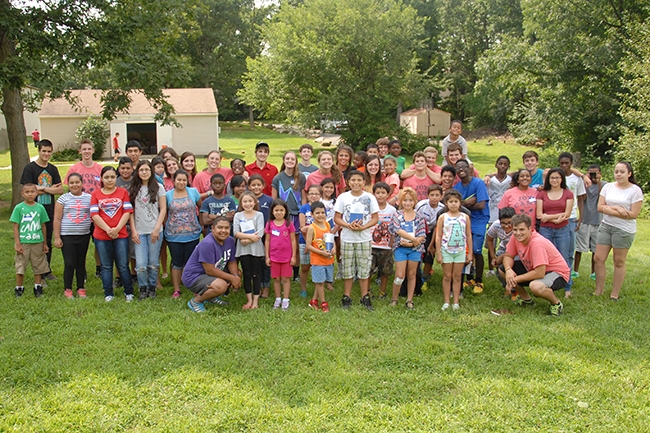 The story of Moses also references the Joy Camp theme: Faith in God's promises leads to the courageous obedience of God's commands. God commanded Moses to go to Egypt and tell Pharaoh to let God's people go. God promised Moses that he was going to deliver his people, and all he needed to do was go. Moses obeyed with courage even though his life might be at risk.
Planning is going well, and each site is doing a fabulous job reaching out to the kids and sharing the gospel. Despite our weary bodies God is giving us energy to persevere.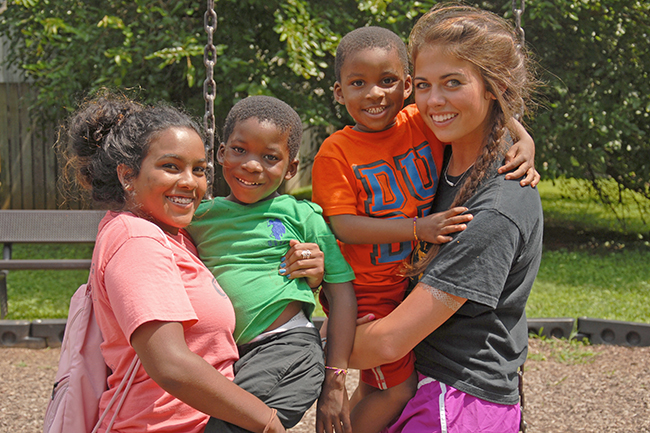 Tonight we had the privilege of attending the Wednesday Night Prayer Meeting. We gathered together with faithful prayer warriors from our church and took time to worship and pray. We prayed for our camp, for the specific communities, and for the glory of God to spread throughout the Gaithersburg area. It was refreshing to be together and be reminded of God's faithfulness to hear and answer our prayers.
Tomorrow are our traditional site cookouts. We would love for you to come, participate, and see how God is working!. There will be many parents and families from each community to talk to, and opportunities to share the gospel.. The cookout locations are Laytonia (diagonally across the street from the church) and Johnson's Park (behind the Flower Hill Starbucks).
If you are interested in coming, please feel free to email Corinne at the church office for directions.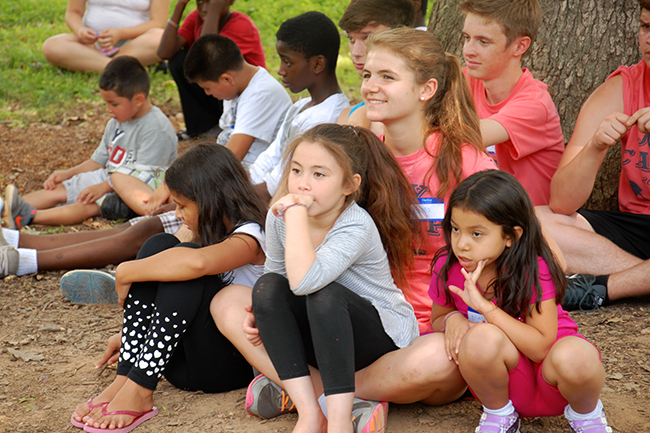 As we enter our last few days of camp, here are some ways you can be praying for us:
Physical and mental strength for leaders and youth
Sufficient sleep, energy and joy to persevere through our last few days of camp
Healing for minor scrapes and bruises that happened today
That our youth would have clarity during the one-on-one times in the afternoon and be able to communicate the gospel effectively to campers.
That God would send more laborers to the harvest in Gaithersburg and that the follow-up ministry of making disciples in our community would grow exponentially and thrive for the glory of God
Share this on:
---