June 9 2015 at 1:52 pm
0 Comments
---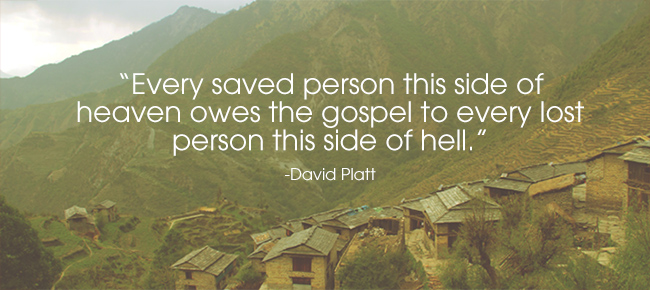 Last Sunday, guest speaker David Platt, President of the International Missions Board, shared a stirring message on the biblical call for Christians to share the gospel with unreached peoples around the globe. But before his sermon, Platt had a powerful word of encouragement for the members of our church. Here you can review both Platt's word of encouragement and his sermon as a whole.
Learn more about upcoming, short-term missions trips on the Serving Our World page. Also discover how you can get involved in serving our community by visiting our Local Missions page.
Encouragement to Covenant Life:
Share this on:
---
May 18 2015 at 2:32 pm
1 Comments
---

Respectfully Ready
by Almasih Kahdost
It was my first time visiting the home of a friend and he was showing me around his suburban townhouse. It was a typical introductory run-through.
"Here's the kitchen. Our garage is over there. These are our gods. Here's our bedroom."
"Ah. Very nice."
Wait. What?!?
This was a casual, but intentional, introduction to his family's Hindu deities.
Polite Company and Culture
From the time of my youth I was taught (implicitly and explicitly) that certain subjects were out of bounds unless you knew someone really, really well. Making conversation of politics, a person's salary or (gasp!) religion was the social equivalent of eating with your hands at the table. (Something, as it turned out, we would do later in the evening!)
Understanding that religious discussion doesn't bring the uneasiness in many other cultures that it brings for westerners enabled me to ask, "Which is your favorite god and why?"
Dialogue or Discourse?
Hearing that Ganesh (who blesses new beginnings) and Lakshmi (who brings wealth) were his favorites gave me insight into his values and desires. Asking questions lets people know we're interested in a discussion rather than a diatribe. And discussion affords our friends respect as well as the opportunity to ask questions.
Paul modeled a similar approach in Athens where he found himself distressed by seeing so many idols in the city (Acts 17:16). "So he reasoned...in the marketplace day by day with whoever happened to be there" (v17). In fact, Paul is said to have conversed (NAS, ESV) or debated (NIV, NLT) with the Stoics and Epicureans (v18). It was a back-and-forth. Did Paul frequently engage in a unilateral fashion? Sure. But these verses indicate an occasion that was more of an exchange than a one-sided homily.
Primed but Gentle
So, if someone introduces you to their favorite deity, or tells you their present state is a reincarnated one, maybe it would be better to first draw them out before jumping down their throat with chapter and verse. Consider learning about their worldview so you can address it.
Back to Paul; the Spirit spoke through him telling us to always be ready "...to give an answer to everyone who asks you to give the reason for the hope that you have. " (1 Peter 3:15). We mustn't shy away from telling folks Who we believe in and why. But how we do so is important too. The verse continues, "but do this with gentleness and respect".
"Almasih Kahdost" is a long-time friend of Covenant Life who desires to see the nations come to Christ. Though preferring to publish anonymously, Almasih Kadost welcomes your comments below.
See all the posts in this series.
Share this on:
---
May 4 2015 at 2:31 pm
0 Comments
---

by Almasih Kahdost

Sweat dripped down my back as I saw drapes sway in the breeze entering the gurdwara window. Given the ineffective nature of ceiling fans above, I was really hoping the breeze would make it my way, but no dice.
The occasional Sikh worshippers coming in and prostrating themselves didn't seem to mind the excessive temperature. I wondered if perhaps they were reminded of the weather in the Punjab region of northern India and eastern Pakistan, home of Sikhism, one of the youngest of the world's major religions.
ORIGINS
It was amidst this South Asian region, in 1469, a young boy was born who would become Sikhism's founder, eventually being known as Guru Nanak. Influenced by and frustrated with both Hinduism and Islam, Nanak shaped Sikhism, removing idol worship, polytheism, the caste system, gender inequality and other tenets of his day's prevailing religions.
Nanak would be the first of ten successive human gurus. (A guru is teacher who is full of knowledge). The eleventh guru, however is the Sikh holy book, called the Guru Granth Sahib. It contains the teachings and devotional hymns of the previous ten gurus, along with others.
BACK TO THE GURDWARA
Walking to the front of the gurdwara, I watched the granthi carefully uncover, open and fan the holy book, thereafter reading from it. His fanning brought some relief from the heat, but not as much as I was about to receive when he took us to a small room upstairs. Finally: AIR CONDITIONING! But it wasn't intended for visitors so much as it was for the Guru Granth Sahib; the holy book, honored and respected (not worshiped) as a living being and accommodated with sleeping quarters, food and other comforts.
Afterwards, I was taken downstairs where I was offered as much (amazing!) Indian food as my tummy could hold. Someone was manning the kitchen practically around the clock in this ever-open Sikh place of worship.
Between the prostrated worshipers, the air conditioned Guru Granth Sahib and the fantastic South Asian food and hospitality, I felt as though I was northern India. But this was in the U.S. In fact, you could probably have similar experiences at the corner of 124 and Warfield Road at the Washington Sikh Center. If you visit there for Sunday langar (a community meal) you may meet some very kind, generous people and even make a friend or two.
LIKEABLE BUT LOST
As kind as these folks are - as is true with so many in the world - they are equally lost. Sikhs agree one may potentially be united with God through meditation on his name, selfless service, living an honest lifestyle and sharing. There is a heavy emphasis on doing good.
Maybe you have Sikh friends or coworkers and don't even realize it. Although some have adopted a more western look, many of the men are still identified by a bearded face and a turban covering their uncut hair. They may also wear a silver bracelet.
If so, Tuesday, April 14 was a Sikh new years festival, Vaisakhi. Ask them about it. How did it go? What is the spiritual significance of the holiday? Ask them about their beliefs. Be a learner. You could ask specifically about the "five vices" of Sikhism (lust, anger, greed, emotional attachment, pride) and, after confessing that you've committed these, gently ask if they have. If so, ask how they will know whether or not they will be good enough to be united to God. Ask, "If there was a way to be rid of your bad deeds, would you want to know?" Tell them that Jesus has the ability to give the credit of his good deeds to his followers and remove from them their bad deeds.
WE ARE THE WORLD
In this emerging multi-cultural county of ours, the customs and dress of our new neighbors are becoming decreasingly out of the ordinary. On one hand, there is something nice about that. These folks are humans just like us. However, as we pass by their places of worship, or see long beards and turbans, may those little cues of cultural differences be a reminder: God has brought the nations nearby so we can love them with the love of Christ.
"Almasih Kahdost" is a long-time friend of Covenant Life who desires to see the nations come to Christ. Though preferring to publish anonymously, Almasih Kadost welcomes your comments below.
See all the posts in this series.
Share this on:
---
March 17 2015 at 9:42 am
3 Comments
---

Pursuing Persians
by Almasih Kahdost
What he said caused my eyes to well up. It wasn't anything dramatic per se, but still I found tears coming to my eyes and a smile landing on my face. What he said was precipitated by a question.
"How often do you go back to visit your home country?"
He stumbled a little, calculating how best to answer. He finally said something to the effect of, "It's not really safe for me to return. You see, I'm a Christian and…"
That's when the tears came.
I almost cried because my new friend is from Iran and I have been praying for his people for years now. But my tears weren't because he can't safely return to his country. Nor were they for the fact that his relationship with his mother took a dramatic turn for the worse because of his decision to follow Jesus. While those things were indeed sad, my tears were tears of joy.
FREED FROM A REPRESSIVE REGIME
It made me immensely happy to hear that this Persian brother had escaped the oppression of an evil regime and was coming to enjoy new freedoms he'd not previously experienced. Whereas before he had been the subject of repressive tyranny, now he was out from under the thumb of his captor, free.
His story is mine. While I'm not from Iran, he and I both responded to Jesus' proclamation of freedom to the prisoners and were thereafter set free from oppression (Luke 4:18). Both he and I had been blinded by the god of this world (2 Corinthians 4:4), and were in fact following him (Ephesians 2:2). But now we're both free.
CAN'T SHARE OVER THERE
Of course, not all Persians are like my friend. Many are still in captivity to sin, lost in darkness (like anyone else outside of Christ). But what sets Persians who've moved to the States apart from your typical been-here-for-generations American is that they have had little opportunity to hear the gospel. In fact, according to the self-styled Iranian Christian News Agency, Mohabat News, Iranian president Rouhani's Advisor on Ethnic and Religious Minorities' Affairs has said that "...no one has the right to promote his or her faith…it is not acceptable, for instance, for a Christian to invite a Muslim to Christianity." (Incidentally, Iran has one of the fastest growing Christian populations in the world, albeit underground). While Advisor Younesi does say, "...everyone is free to practice his or her faith…" he seems to not grasp that inviting others to Christianity is part and parcel of practicing our faith.
WON'T SHARE OVER HERE
As believers, sharing our faith is non-negotiable and as Americans it is a privilege to be able to do it without fear of imprisonment (or worse). But many American believers won't do it. Too busy or scared or something. Yet the Persian people at our office, in our neighborhoods, or who we bump into at Starbucks are now in an environment where they can freely listen and respond to the gospel. Could it be that God has dispersed Persians to countries where evangelism is legal "...so that they would seek him and perhaps reach out for him and find him" (Acts 17:27)?
BUT I DON'T KNOW ANY PERSIANS
Of the 25,000-plus Iranian-born residents in the Baltimore/DC area, over 8,000 are in Montgomery County. Chances are you've met some, maybe even without realizing it. If you don't know any, why not change that and learn about their culture? One way to do this would be to head to Black Hill Regional Park in Germantown on April 12 for Sizdah Be-dar. (A similar event will be held at Bull Run Park in Centerville on April 5). On these days thousands of Persians will enjoy spending time with friends, families and maybe even people they've just met. (Hint: that's you!)
You can also meet some Persian folk around town AND get some really great food at the same time. Check out Caspian House of Kabob or Moby Dick, both in the Kentlands. Very warm, friendly staff and incredible food. Yekta in Rockville is wonderful as well. You can also stop by a couple of Persian stores (Caravan Deli or Potomac Gourmet) and meet folks there.
Persian's ancient culture and history has much to offer and the high value placed on hospitality is something many many western Christians could learn from. That being said, we believers have something to offer non-believing Iranians; that is Christ Jesus, who lived, died and rose again to redeem those from every nation.
"Almasih Kahdost" is a long-time friend of Covenant Life who desires to see the nations come to Christ. Though preferring to publish anonymously, Almasih Kadost welcomes your comments below.
See all the posts in this series.
Share this on:
---
February 18 2015 at 10:43 am
2 Comments
---
Written with contributions from Beth, Rebecca Duberstein, Valori Maresco, and Sarah Stogsdill. Photos by Pam, Hannah Moore, and Hannah Stogsdill.
If you happened to walk into the church building last Saturday, you were couldn't help but notice the Women's Mission Teahouse, a true cross-cultural experience for the ladies of our church. Beth Kraatz and Hannah Stogsdill led the team that transformed the lobby into a Central Asian Teahouse.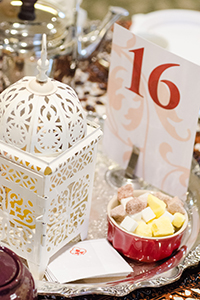 The church lobby was dressed with vibrant colors of tablecloths, oriental rugs, floor pillows, more than 50 teapots and hundreds of teacups, all volunteered by different ladies in the church. It was apparent this event was a labor of love for so many. Close to 200 women gathered and lounged around low tables set with a variety of teas and treats including Turkish Delight, dried fruit, almonds, and pastries. The mismatched china was a perfect reminder of the many different homes that had contributed to make it special. Hannah Stogsdill used her artistic eye to combine all these elements to create a beautiful, inviting space in the lobby for learning and fellowship.
---
"I was blown away by the sense of community I experienced as the women of Covenant Life came together to share their teapots, delicious food, sweet fellowship and prayers." —Beth
---
On the morning of the event, the lobby was bustling with ladies of all ages who had arrived early to help. They were filling teapots, stocking hor d'oeuvres, arranging the potluck dishes on the tables. You could feel their excitement and their ownership of the event.
After a time of worship, a missionary from Central Asia, shared about the many challenges facing the Muslim women she knows in the region where she and her husband live and work, and then led us as we prayed together for God to work in the lives of the women of Central Asia.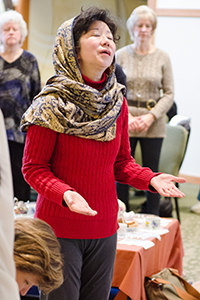 Following the talk, a magnificent buffet lunch of regional foods was waiting, and while eating, we heard about the experiences of the worship team who had recently traveled to Central Asia.
---
"The ladies also enthusiastically answered the call to contribute to the potluck lunch. Covenant Life Church is full of good cooks! Nine tables were practically sagging under the weight of the appetizers, entrees, and desserts these ladies brought. Every dish was unique and so tasty! —Rebecca
---
The testimony of the missionary from Central Asia provoked hearts as she shared about the challenges the women of Central Asia face, but many were encouraged knowing they could help by praying for them. The ladies were also reminded of the number of unreached internationals right here in Gaithersburg, and the opportunity to reach out by extending kindness and hospitality to the unreached in this area.
---
"It was a beautiful environment that fostered fellowship and gave us a glimpse of another culture. Interacting with the ladies there was so uplifting and inspiring to me. The Lord deeply met me during the extended prayer time and I walked away with fresh conviction to pursue evangelism." —Sarah
---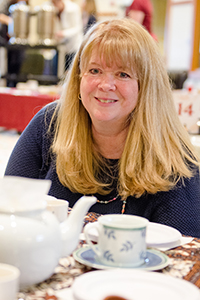 The atmosphere helped the ladies to lift their eyes and see the fields that are ripe for harvest in the community around us. Not everyone can or will go to these fields like the missionaries who spoke, but we can all take part in reaching the unreached. We can pray for those who are far off and about how we can reach the multitudes that God has brought to our front door!
---
"I left both refreshed by a sense of rich community at CLC, and excited to see how God can use that community to extend the good news of Jesus Christ to those who do not know him." —Rebecca
---
The time ended with another talk by a missionary with Global Gates, an organization working to bring the gospel to internationals in our own country. She shared about the amazing opportunity we have to reach women from unreached people groups right here in our community and ended by giving us ideas on how we could be more aware of opportunities around us.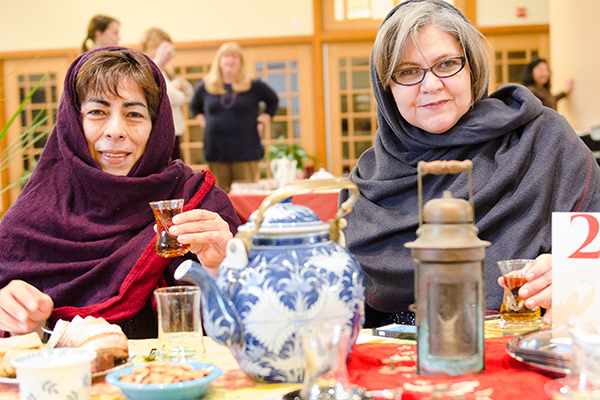 We are so grateful for how the Lord worked through the teahouse! He lit new fires of faith and boldness to reach out and pray for the lost around us, so that all "may believe that Jesus is the Messiah, the Son of God, and that by believing [all] may have life in his name." —John 20:31
Share this on:
---
February 9 2015 at 12:31 pm
0 Comments
---
Interested in learning more about the Tokyo Mission? The Missions Team is hosting a Japan Mission Info Night on February 15 at the home of Linda B. where Seita Sakaguchi will discuss ways you can pray and get involved. Also see the Redeemer City to City website for a video feature about Grace Harbor Church where Seita is based.
Seita writes:
"As you may know, the Japanese people are one of the largest unreached people groups in the world. Of the 127 million Japanese people, the Christian population is only 0.22%. Most people will live and die without ever hearing the gospel of Jesus Christ, unless someone brings the gospel to them.
We have been in Tokyo for about a year, seeking to bring the gospel to the Japanese people through the planting of Grace Harbor Church. Grace Harbor is a new church planting initiative in an area called Toyosu in the Tokyo Waterfront area. Thousands of people live and work in this densely populated area, but there was no Christian church for these 120,000 people, until Grace Harbor started last year.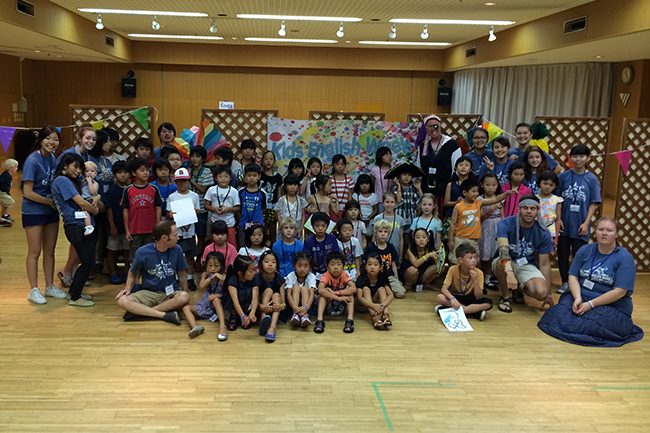 Even though so many people live in this area, it's not unusual to meet people who tell us that they have been living in this area for years, but they don't really know anyone and that we are the first ones they can actually call friends. We have been seeking to be a blessing to this community by connecting people to one another through various events, such as concerts and cookouts, and by serving the needs of our community through events like Kids English Camp. A team from Covenant Life made this event a success for us last year. We have made so many wonderful friends, and I don't have time to tell you all the stories, but I want to tell you about what we're most excited about recently.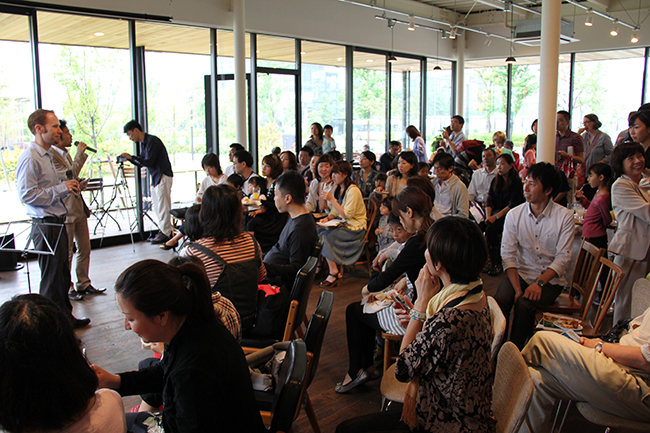 A few months ago, together with two other missionary families, we started meeting together with several of our non-Christian friends who showed spiritual openness weekly for dinner. At this weekly gathering, we not only share a meal together, but we also share our own struggles in our marriage and parenting and other relationships and how the gospel shapes our thinking and gives us hope in the midst of life's struggles and power for change. We are seeking God working in their hearts, opening their eyes to their own brokenness as well as to their need for God. We're praying that the beauty of Christ and the light of the gospel will break through soon.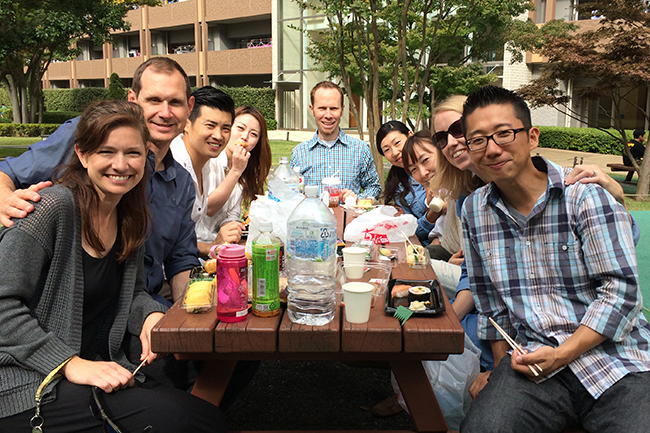 Jesus said, "The harvest is plentiful, but the laborers are few; therefore pray earnestly to the Lord of the harvest to send out laborers into his harvest." The harvest in Tokyo seems truly plentiful, so please pray that the Lord of the harvest will send more people to gather people into His kingdom. Pray also for us "that God may open to us a door for the word" to proclaim the glories of Jesus.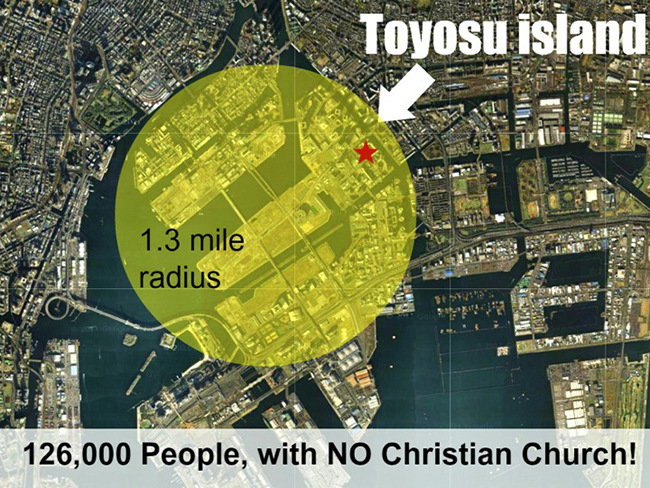 If you would like to know more about our mission in Tokyo and what God is doing there, please visit the Tokyo Mission website, and you can sign up to receive our prayer update e-mails.
Thank you so much for your partnership in the gospel with us."
Interested in learning more about the Tokyo Mission? The Missions Team is hosting a Japan Mission Info Night on February 15 at the home of Linda B. where Seita will discuss ways you can pray and get involved.
Share this on:
---