August 11 2014 at 3:30 pm
0 Comments
---

Here are a few resources to help everyone be better informed about the crisis in Iraq and to know how to pray and give.
First, a brief video from The Ethics and Religious Liberty Commission of the Southern Baptist Convention (ERLC) where David Platt speaks about identifying with our brothers and sisters in Christ who face persecution and suffering:
Second, a blog post by Dr. Russell Moore about ISIS' practice of marking the homes of known Christians with the Arabic letter for "N":
Full post: "N Is for Nazareth"

Excerpt: In Christ, we have been brought into the life of Jesus. We are hidden with him, joined to him as a body to a head (Col. 3: Eph. 5). This means that, in a very real sense, Nazareth is our hometown. We belong to Jesus, and Jesus belongs to Nazareth. We are connected then to everyone who is also in Christ, not simply because we believe the same things but because we belong to the same Body.

We are "one new man," and "fellow citizens with the saints, and members of the household of God" (Eph. 2:15, 19). That's why Christians in America and Australia and Nigeria ought to care, and to pray fervently, for persecuted Christians in Iraq, in Sudan, and everywhere else in the world where they are endangered.

The Islamic militants mean it for evil when they mark homes with "N" for "Nazarene." They assume it's an insult, an emblem of shame. Others once thought that of the cross. But in that intended slight, we are reminded of who we are, and why we belong to one another, across the barriers of space and time and language and nationality. We are Christians. We are citizens of the New Jerusalem. We are Nazarenes all.
Third, some ways to pray for the crisis in Iraq, and specifically for the Iraqi Christian and Yazidi Kurdish refugees, from the International Mission Board (IMB) and Baptist Global Response (BGR):
• Ask the Lord to awaken the world to the humanitarian crisis unfolding in Iraq and to provide pathways for Christians and others to respond.
• Ask God to miraculously protect the Yazidis and other Kurds who fled into the mountains; ask Him to provide a means of rescue and temporary homes for the refugees.
• Pray that ISIS leaders and soldiers would experience the love of Jesus Christ and that their lives would be transformed.
• Ask God to preserve and embolden the small remnant of believers in Mosul and Kurdistan, so that one day through their witness, every Iraqi might have the opportunity to hear the gospel.
Lastly, a blog post from Radical, a parachurch ministry that serves alongside the local church (and is associated with David Platt's church, The Church at Brook Hills). Radical provides multi-lingual biblical resources and creates events to support disciple-making in local churches around the world:
"Taking Action: Looming Humanitarian Catastrophe" (includes above ways to pray, and two ways to give)
Share this on:
---
July 9 2014 at 8:46 am
1 Comments
---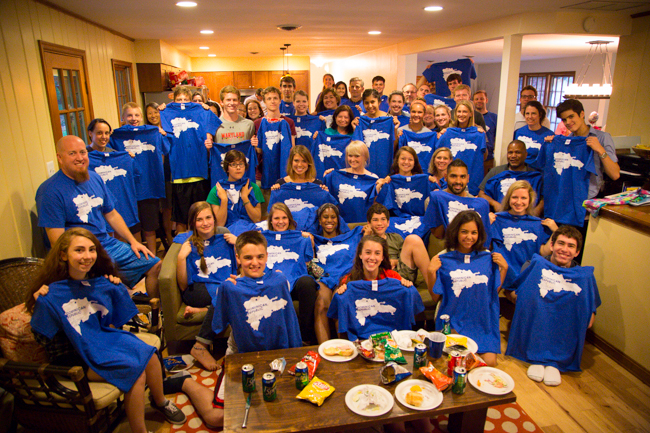 THURSDAY, JULY 10 - DAY 6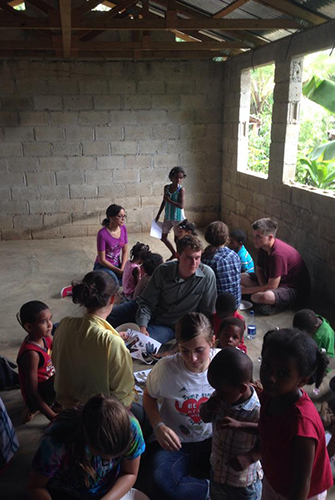 Both teams had great days of ministry and hanging out with the youth of their churches. We have really bonded with them in a special way and truly consider them partners in the gospel; sharing the love of Jesus all over the globe. It has been an amazing expereince worshipping, serving, praying, and fellowshipping together. Praying together has been an especially sweet reminder that God is the God of every tribe, tongue, and language and that he hears and answers all of our prayers, regardless of the language difference!
Last night Dave, Todd, and I met with youth leaders from Oasis, New Life (another church in the area), and Accion Callejera and had a discussion about our respective youth ministries. We gave ideas on how to encourage our teams and help them grow. We were really grateful for the opportunity to meet with these leaders and learn from them. In Santo Domingo, the team spent time in the evening with the youth and their parents as well. They split in to seperate groups and Kenneth spent time talking to the parents and Angel spoke to the teens. We have really connected with the teens here, and it is going to be very hard to say goodbye to them tonight.
We have full days ahead of us, so please be praying for strength! We are all tired and sad to be leaving all of the kids and friends that we have made here, so I'm sure it will be an emotional day. Thank you for holding us up in prayer this week. We have felt every single one!
WEDNESDAY, JULY 9 - DAY 5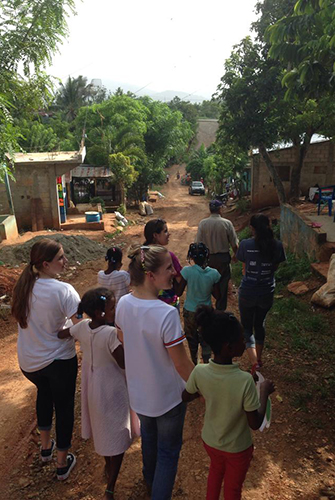 We had another great day of outreach and definitely felt God's Spirit at work! Here are a few highlights from the day:
In Santiago, we had some incredible opportunities to share the gospel with the kids at Accion Callejera. We have been making it our goal to get the gospel in front of the kids every day and today we gave them wordless gospel booklets. During the discussion time we asked all of the teens very serious questions like, "If you were to die today, where do you think you would go?" and "If you were to stand before God and he asked you why you should go to heaven, what would you say?" These questions opened up the opportunity for us to share the gospel again with these kids and even pray with a few of them as they asked Jesus into their hearts! It was an amazing experience. This morning we prayed for the Spirit of God to take hold of that building and open up the eyes of the kids there. One of the really neat things that happened today was that two of the rowdiest boys that we had yesterday, were actually the most attentive in the discussion time and even helped share the gospel story. It was wonderful and it was such an amazing reminder that Jesus is hearing and answering our prayers.
Santo Domingo had a great day as well. It was pouring raining today, but they still went out to the villages in the afternoons and did skits and sang songs with the kids there. The team shared with me that everyday that they have come, the kids have been sitting in the church and excitedly waiting for them to get there when they would pull up in the vans. Today was their last day in one particular city and the teens definitely had a hard time leaving them. Beth told me that there were many tears but that the teens' response was to worship and pray on their ride back to the guest house.

Now, the Santiago team is hanging out with the youth from Iglesia Cristiana Oasis at their weekly youth meetings. Todd gave a message on missions and we broke in to groups at the end and prayed for each other. We asked the Oasis teens to pray for our upcoming Local Missions week and for our youth ministry and we prayed for the Oasis teams and their future outreaches at Accion Callejera and in the neighborhood VBSs. The Santo Domingo team had a much deserved night off. They were able to rest and spend time hanging out together, playing soccer on the roof and card games.
I hope you can see that God is at work in the lives of our teens! He is using them and they are growing in amazing ways! And it's only Wednesday! We still have two more days of ministry! Please keep praying for us. We are all getting more comfortable here, but we are all starting to get a little tired. I am praying that everyone wants to go to bed at a reasonable time tonight.
Thank you again for praying for us! We are so excited to share all of our experiences with you all when we return!

TUESDAY, JULY 8 - Day 4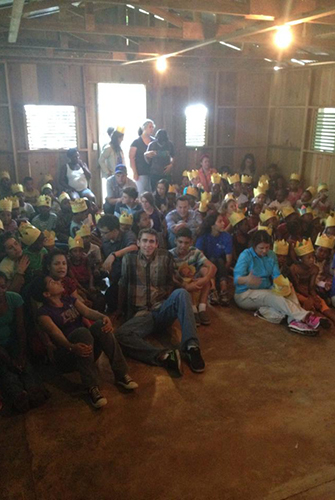 We had another great day of Vacation Bible School (VBS) and outreach! Thank you for praying for us!
God definitely blessed us in Santiago today. We were able to take the things that we learned yesterday and have an even better and more successful day today. The teens are also adjusting and are doing really well. Tonight we watched a movie with the Alpha group from last night, and once the video is over we are going to break into discussion groups. If you think of it, pray for us, that we would be able to draw these teens and young adults out and have meaningful gospel-centered discussions.
In Santo Domingo, the team had another successful day of VBS and village outreach. Beth texted me and said that everyone is doing really well and especially loving the village outreach in the afternoon. Tonight they are hanging out with the local youth at a very pricey mall. They will be experiencing two big extremes today, so please pray for them that they would be able to process all of that well and be able to feel the Holy Spirit with them and working in them.
Everyone is feeling a lot better today (especially in Santiago). I think I speak for my whole team in saying that the initial culture shock is starting to wear off, and we are really enjoying our team here, learning a lot, and loving the culture.
A quick story from Santiago:
We have two wonderful bus drivers who have been serving us all week. They are so great! We have about 10-15 teens from Iglesia Cristiana Oasis who are serving with us at Accion Callejera, and I'm not exaggerating when I say that we have fit all 49 of us into two (very small) 15-passenger vans! It has been quite the experience as we have traveled around the city! Today our drivers bartered with different street vendors as we were driving and picked up some fresh avacados for us to eat. We have all enjoyed the adventure of experiencing a new culture!
Thank you again for praying for us! We feel your prayers and are so grateful for them!
MONDAY, JULY 7 - Day 3
Hello Church!
We had long, full, and fun days today filled with Vacation Bible School (VBS) and sharing the love of Jesus with our new Dominican friends!
The Santiago team did two different VBS sessions today; one in the morning at Accion Callejera, a youth center that serves street teens, and one for children in 3 different homes of church members around Santiago. Both were exhausting, choatic (but organized of course!) and a whole lot of fun! We finished up the day at the church with a meeting with a group of teens and young adults who jsut finished an alpha program. Todd Keeler gave an excellent message and David Keeler, Joe Viers, Joe Ennis, and Jacob Patton all shared their testimonies. They did an excellent job sharing what God has done in their lives, and clearly stated the Gospel and how it changes everything!
The Santo Domingo team had a full day as well. In the morning they did a VBS program at the church and the in the afternoon they went to two different villages outside of Santo Domingo to do street evangelism and an open air VBS program. They are all doing well and in the words of Beth they had an "Excellent, excellent day. Amazing time doing village outreach. Everyone served well and both the villagers hearts and our hearts were touched".
Please keep praying for our teams. The travelling, lack of sleep, heat, and new (and very yummy and rich) food is starting to wear on some of the kids and they aren't feeling too great. Please be praying that they would be refreshed tonight and feeling the presence of their Savior with them. We have definitely felt God's presence with us and the kids did an amazing job. We have not heard one complaint from any of them.

SUNDAY, JULY 6 - Day 2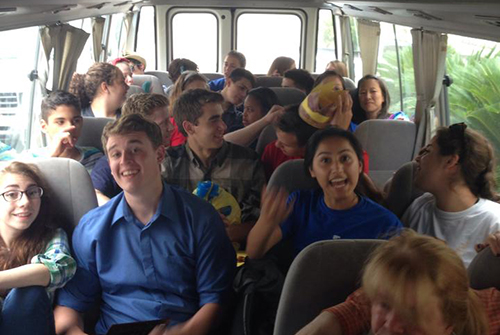 Hi, Church!

Just wanted to let you all know that we had a great day today, and everything is going well!

This morning we were all up bright and early for breakfast and church. Both services were wonderful, and in Santiago we enjoyed praising God in both Spanish and English (they sang a few songs/verses of songs in English for us!). After lunch our groups headed out for wonderful days of exploring the Dominican Republic and experiencing the culture. The Santiago team headed out for a day at the beach by the Carribbean Sea, and the Santo Domingo team went to the site where Christopher Columbus first landed in the new world and explored the rich history of this country. Both teams had full but fun days! Now we are all getting ready for our respective Vacation Bible Schools tomorrow and heading to bed early!

We had hoped to send out an update every night, but the schedule is packed, and we want to leave all of the good stories for the teens to share when they get home. :)

Please keep praying for us! That we would sleep well and be refreshed tonight, and that we would have a successful first day of VBS tomorrow, and that God would meet us and the kids that we are reaching out to. You can also be praying that God's grace would abound in each of our hearts. Things are still uncertain with the schedule (especially in Santo Domingo), and we would love your prayers for grace, peace, and wisdom for each day's activities.

Thank for your prayers! We love you all!

—Corinne Glab (on behalf of both of the teams)
Share this on:
---
June 24 2014 at 3:26 pm
0 Comments
---
We received these updates from those who are on the current missions trip in Ethiopia. Let's keep praying that God would bless their work and that lives would be changed for God's glory.
June 27
We thank God for your prayers, dear saints, and are feeling the spiritual support in tangible ways. We are in good health and good spirits. We see The Lord fulfilling His promise to strengthen us for service (1 Peter 4:11). And we are enjoying laughter and fellowship with Ethiopian brothers as well as other workers from the U.S.
On Tuesday and Wednesday I met with 14 leaders from throughout Central Ethiopia who gathered to strategize about children's ministry. As the Protestant church rapidly expands in this country, church leaders are recognizing the urgent need to equip the next generation. I had the honor of working with these leaders (who represent 500 churches) as we strategized together.
I heard some remarkable stories. One relatively large church hosted a festival for families in their town. Before the festival, they had 150 children in their church. Now 400 are gathering for children's ministry each week! Another leader described how a five-year-old girl in his church took the initiative to pray for a sick neighbor next door, who got healed and then put her trust in Christ. Another pastor told about a group of 28 mothers in his church who have banded together to pray earnestly for the children in their community.
As so often happens on trips like this, I feel like I am receiving a lot more blessing than I am giving. What these national believers lack in financial resources, they certainly make up for in faith and zeal. After some of the trials our church has faced, worshiping and praying with these brothers and sisters renews my confidence that Jesus Christ is building His Church and the gates of hell will not prevail against it!
I hope that these 14 children's ministry workers were encouraged and equipped in some small way by our time together. They are sending me back to Covenant Life with new ideas for recruiting an army of praying mothers ... and I'll be happy to sign up some five-year-old evangelists, too!
—Greg Somerville
June 24
We have the privilege of teaching English to high school children in Grades 8, 10 and 12 this week. We were expecting 80 students, but were pleasantly surprised to only have 40. We have divided them into three groups: an advanced group, an intermediate group and beginners. We teach half of them for three hours in the morning and the other half for three hours in the afternoon. So far, we have read and discussed books with our advanced students, reviewed vocabulary with our beginners and played learning games. One highlight today was when we taught them American kickball. We really got to see their personalities come out!
We are finding the students to be eager and engaged learners. The Lord has really met us as many unexpected challenges have come up. Working with limited resources and having to adjust lessons to meet student needs has been stretching, but it's neat to see how God has given us ideas every time. Please pray that we will continue to share the love of Christ with these students. On Friday, we have planned a lesson to share our testimonies with the students, some of whom are Muslim. Please pray for the Lord to work in the students hearts through this lesson.
Grateful for your prayers!
Share this on:
---
June 23 2014 at 11:52 am
0 Comments
---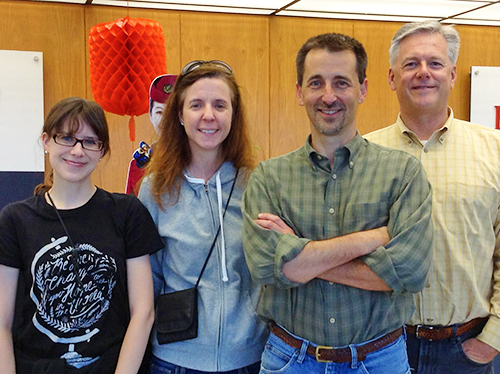 Between June 21 and July 2 a small team from Covenant Life will be traveling to Ethiopia to participate in a variety of missions activities. Though we can't pack you into our suitcases, we are eager to have you join us in your prayers! Here's what we will be doing:
Pastoral Training
I'll be participating with Pastor Moses (a dear brother and gospel partner from Uganda) in two training seminars for local pastors. It will be an honor to teach, model and encourage these men to handle God's Word wisely and faithfully. The church is growing rapidly in Ethiopia, but solid biblical teaching is scarce. Pray that we would lay good foundations. And pray also for the staff of Leadership Resources International (LRI), the U.S.-based organization that is coordinating this training.
Business Consulting
Ken Tarter, a businessman and member of our Global Missions Committee, will be helping our national partner, Christian Horizons Ethiopia, to evaluate several small businesses. Each of these businesses has been developed to help Ethiopian nationals find sustainable employment and to encounter the good news of Christ. Pray that Ken would have the discernment to offer useful advice in a cross-cultural context.
English Camp and Community Library
Charlotte Deibel and Elizabeth Flickinger, both 2nd-Grade teachers here in Montgomery County, will be offering a four-day English camp for 80 local teens. They will also be bringing a supply of donated books and establishing a new library for the local community. Please pray that Charlotte and Elizabeth would be filled with strength and joy as they serve LOTS of eager learners.
Children's Ministry Training
Greg will have a unique opportunity to equip a dozen children's ministry leaders who, in turn, will share what they have learned with hundreds of national churches. The future of the Ethiopian church lies with its children—please pray that Greg could impart clear, gospel-centered strategies that touch the lives of thousands of young believers.
Bible Distribution
Covenant Life Church has donated $5,000 to purchase Bibles in the Oromo language for distribution during this trip. (Students in the 12:13 Middle School class donated an additional $300.) In the churches our team will be visiting, it's common for only 1 in 50 believers to own a copy of the Bible. Many pastors do not even have their own copy! Please pray that each Bible will get into the right hands and transform the lives of these hungry saints.
Outreach To Muslims
Islam is on the rise in Ethiopia, but evangelical church planters associated with Christian Horizons Ethiopia are aggressively preaching the gospel. During this trip we will be learning from these church planters and seeking to encourage them in their efforts. A few team members will visit an unreached region and observe a community center that Covenant Life is helping to establish within a Muslim community. Please pray that the light of the gospel would shine brightly in this part of the world.
We cannot thank you enough for your interest in, and prayers for, this trip to Ethiopia!
Because our Savior is worthy of the praise of all peoples,
Share this on:
---
May 12 2014 at 7:00 am
2 Comments
---
In yesterday's service we featured a brief update on Seita and Emma Sakaguchi, a missionary couple that Covenant Life Church is helping to support as they participate on a church-planting team in Tokyo. It is an honor to support them with our finances and prayers as they model and proclaim the gospel in this largely unreached nation.

Here is a note from Seita expressing their thanks.

Dear Covenant Life Church,


I wish I could communicate in person how grateful we are to the Lord for your partnership in the gospel with us, but I'm thousands of miles away! Emma and I, along with our four young children, moved to Tokyo in March to be a part of a new church plant called Grace Harbor Church. In the short time we have been in Tokyo, the Lord has allowed us to connect with many non-Christian friends, and we are looking forward to seeing what God will do in these relationships in the coming months.


When we think about the seemingly infinite number of people in Tokyo we're seeking to reach with the gospel, it is overwhelming, but we serve a great God who has the power to do awesome things. And we eagerly expect Him to do great things in Tokyo and beyond. We're just getting started, but we have dreams of God planting more churches and starting a movement of gospel-centered churches to reach the city. We hope and pray for God to save many in Tokyo, raise them up as leaders, and send them out to other parts of Japan and beyond with the gospel.


We are so grateful for your partnership in the gospel. Please pray that the name of Jesus will be exalted in Japan and for us as we open our mouths to proclaim the excellencies of Him who called us out of darkness into His marvelous light.


With much gratefulness,

Seita & Emma
To learn more about the Sakaguchis' mission to Tokyo or to sign up for their prayer letter, visit the Tokyo Mission website.
Share this on:
---
November 25 2013 at 3:30 pm
0 Comments
---
This past Sunday morning we shared a video about the dedication and official opening of the baby home at Rancho 3M Christian Orphanage and School, in Guadalupe, Mexico. The home was dedicated on May 20 of this year and recently received its first babies.
As Grant Layman conveyed on Sunday, many thanks to everyone who helped make the baby home possible by being part of one or more of the construction trips, by giving financially and by praying.
Also see our post from 2011 when construction was completed on the home.
Share this on:
---