November 10 2014 at 9:04 am
0 Comments
---

Alone in a Strange Land
"My neighbor will talk to his dog, but he will not even say 'hello' to me."
As I sat in the living room of my new friend from India (we'll call him Rohit), the rawness of those words saddened me. Having lived in the United States for one year, working eighty hours a week, Rohit has yet to meet his neighbors or to have them even speak to him.
Just for a second, let's try to put ourselves in his shoes.
Imagine moving to a country where the social norms and mores were as foreign as the language. Your nice white collar job has been replaced by one with twice the hours and three times the physical demand; so much so that you have lost 40 pounds and need to live with another family to make ends meet. Though the weight loss might be nice, laboring on your feet 80 hours a week has exhausted you such that your few moments of family time are spent trying to rest for the next day. Then imagine getting suspended from one of your jobs because an act of hospitality (perfectly acceptable in your home country) is interpreted as something intolerable in this strange new land. Imagine that the holiday in which your family celebrates the triumph of light over darkness is overshadowed by a macabre night of vampires, blood, ghosts and children(!) dressed as such demanding candy as they incessantly ring your doorbell.
That is a taste of my friend's first year here.
God's Take On It
Long ago, God's people were told to look out for folks who were experiencing the above anxieties. He told his people to be proactive about caring for these folks and said:
"When a stranger sojourns with you in your land, you shall not do him wrong. You shall treat the stranger who sojourns with you as the native among you, and you shall love him as yourself, for you were strangers in the land of Egypt: I am the LORD your God."(Leviticus 19:33,34)
Now, before the devil whispers to you, "That was the old covenant. You're now in the new, no longer bound to such inconveniences," ask yourself if you've heard someone—a carpenter's son, perhaps—who said something very similar. Something like, "You shall love your neighbor as yourself." When Yahweh told the Israelites to treat the foreigner with kindness, he argued that they should do so because they too were once strangers in a foreign land. "Love your neighbors like you would want to be loved. Treat them like you would want to be treated. You remember how tough it was being in Egypt, right?"
Opportunity
With the holidays upon us, please consider reaching out to people like these in your relational network by inviting them into your home. It is a perfect opportunity to (1) show the love of Christ in action and (2) to tell of the love of Christ in word by explaining what you're thankful for, and/or why we celebrate Jesus' birth.
In working with international students and visiting scholars, I found myself constantly receiving gifts—ties, keychains and other assorted mementos—as a means of thanking me for teaching them English and/or the Bible. These giveaways were all clearly from the homelands of these dear people who had taken the time to pack their bags full of gifts for people who would invite them to their homes. More than once I heard stories of students returning home with the same gifts they had purchased in their country because no invitation had been extended.
Let's seize the opportunity of the holidays to give these folks reason to empty the tchotchkes from their suitcases. May we treat our international neighbors better than we do our pets.
Share this on:
---
November 9 2014 at 9:00 am
0 Comments
---

The Light Shines in Darkness
Question: What holiday is nearly eclipsed by Halloween every year? If you said "Thanksgiving" you get credit because costumes and candy are more heavily marketed than turkeys. But your credit is only partial because that's not the answer I was looking for!
For Hindus in the U.S., the holiday Diwali (commonly known as "the festival of lights") often falls in October and, predictably, receives little attention compared to Halloween, a holiday of darkness if there ever was one.
Sometimes called Dipawali, this five-day holiday can mean various things to the diverse groups (Hindus, Jains, Sikhs and others) who observe it. Many see this as a celebration of the Hindu deity Krishna defeating the demon Narakasura. Others emphasize the defeat of Ravana (another demon) by the god-man Rama.
Differing interpretations notwithstanding, most at least see Diwali as a time to celebrate good's triumph over evil or light's victory over darkness. I think this is where we can humbly bring something to the conversation.
A Bridge
Do you have friends who might have recently celebrated Diwali? (This year it fell roughly between October 19 - 25). If so, consider asking them about it. Ask, "Do you celebrate Diwali? How was it this year?" Honestly listen and learn. Humbly ask for them to explain the holiday's significance to you. If they don't mention it, ask for them to explain what role "light" plays in the holiday.
After engaging them about the "festival of lights", let them know you too believe that "...the light shines in darkness, but the darkness has not overcome it" (John 1:5). But tell them Jesus identified Himself as this light saying, "I am the light of the world. Whoever follows me will not walk in darkness but will have the light of life" (John 8:12). Tell them that Jesus made another bold claim when He said, "I am the Way, the Truth and the Life. No one comes to the Father except through me"(John 14:6).
Later in this or another conversation, you may wish to ask more questions as to what they believe happens to a person when they die and what role karma plays. (Karma means action or deeds). Responses frequently lean towards good karma outweighing bad for a favorable post-death outcome. Consider asking how much good karma is enough? Humbly share with them Jesus' affirmation of good deeds, but that he taught what was most important was believing in Him (John 6:29). Let them know that Jesus had nothing but good karma and that He is both willing and powerful enough to remove your bad karma and give you his good.
More more could be said than can fit in a small article like this, but the above hopefully will get you started. Remember to be a genuine friend and frequently share what the Lord is doing in your life. Pray for your friend. They've been blinded by the god of this world, just as you once were. Pray that the Light of the World will shine in their dark prison to deliver them.
In closing, remember this: The self-identified Light of the World called you the light of the world, too (Matt. 5:13-16). Shine your light amongst the nations, brothers and sisters.
Additional resources:
• "Jesus Among Other Gods" by Ravi Zacharias
• "Sharing Your Faith with a Hindu" by Madasamy Thirumalai
Share this on:
---
November 6 2014 at 8:57 am
0 Comments
---

For years, my job required that I commute from Maryland to Virginia. As such, I joined thousands of other locals in experiencing the daily joy (read "horror") of crossing the American Legion Bridge. I'm sad to say that I came to view that bridge as a real force of evil until I realized its absence would create a far less desirable alternative: no way of getting across. Bridges, I came to see, are good.
In many ways, Muslims and Christians seem to be on opposite sides with no common ground between them. Indeed our differences are many and pronounced. Take, for example, the fact that Christians believe Jesus to have been crucified (1 Peter 2:24), while Muslims object that it was only made to appear so (an-Nisa (4) 157*).
It seems the bridge is out.
But is it?
October 4 and 5 mark an opportunity for Christ-followers to build a bridge of conversation with our Muslim friends. The Islamic calendar calls these days Eid al-Adha, which is Arabic for Festival of the Sacrifice. This time commemorates Abraham's willingness to sacrifice his son. (as-Saaffat (37) 100-107)
So there is some common ground amidst all of the differences between us. Along with Christians, Muslims also believe in Abraham, Adam and Eve, Moses, John the Baptist, Jesus the Messiah and more (Ibrahim, Adam and Hawa, Musa, Yahya, and Isa al-Masih, respectively).
Begin to build a bridge to your Muslim friends by asking them about this holiday. Typically, it is westerners who are uncomfortable discussing religion, so don't shy away from bringing it up. Remember to come as a learner and not one who is going to set them straight. Dialogue rarely occurs this way. Ask them about the story behind the holiday, how they will celebrate and with whom.
After your friend has explained to you the story of Abraham's near-sacrifice of his son, you can segue into telling them that true followers of Isa (Jesus) also believe in sacrifice. We believe in the Taurat (the Torah) which tells the story of Ibrahim, and we too believe God provided a sacrifice to take the place of Ibrahim's son as does the Qur'an (as-Saffat (37) 107).
Tell your friends that God has used sacrifice throughout history. Tell them how God used sacrifice to cover the shame of Adam and Hawa's sin (Gen. 3:21). Tell them how God used the prophet Musa to instruct the people to bring sacrifices for the forgiveness of sins (Lev. 4). Tell them how, through the prophet Isaiah, God foretold of the coming masih (Messiah) who himself would be a sacrifice. Tell them how the prophet Yahya (John the Baptist) identified Isa, as "the Lamb of God who takes away the sin of the world." Why would Yahya call him a lamb? Tell them that Isa said he would lay down his own sinless life as a sacrifice for the sins of his people (Mark 8:31, 9:30-32, Matt. 20:17-19). Explain to them that it was not a dishonorable death for a prophet, but the most honorable thing anyone could do for another.
Reach out a hand to your neighbor by asking them about Eid al-Adha this year. Dialogue with them about their beliefs and share with them yours.
Bridges to your friends exist. By God's grace, look for them and cross them. Doing so embodies the heart of Jesus who crossed (pun intended) the ultimate bridge to reach us.
*Unlike the Bible, the Qur'an is not a compilation of books, so when citations are used, the numbers refer to a sura (chapter) and verse (ayah). Another distinction is that the suras are more widely known by their names rather than numbers. Hence "an-Nisa (4) 157" means "verse 157 of the fourth chapter, which is called an-Nisa."
Share this on:
---
October 31 2014 at 12:17 pm
0 Comments
---

A mother and her daughter were at the mall when the mom silenced her kid by wildly exclaiming, "They're here!"
The embarrassed teen rolled her eyes, hoping the moment would quickly pass, but it was not to be.
"Listen! They're here," the mom repeated.
Moving from humiliation to concern and hoping mom hadn't completely lost her marbles, the daughter trepidatiously asked, "Who's here, mom?"
"The nations! Nobody here is speaking English. They're all speaking something else!"
Chance are, you've had a similar experience. If not, just go to the Costco in Gaithersburg. You will both hear and see that, indeed, the nations are here. People from multiple tongues, cultures and religious beliefs have found their way to Gaithersburg and the surrounding area.
Acts 17:26 and 27 says that God decides just where people should live so that people would seek and find him. So, the people of God (especially in this area!) have an opportunity to befriend and share Christ with the internationals God in his sovereignty has brought to the area.
In efforts to keep these opportunities on our radar, we are creating a monthly series called "Nations Nearby." It will explore topics like:
● Ways to serve and engage local internationals with the gospel
● Utilizing bridges between the church and people of other beliefs
● Avoiding barriers to sharing Christ with people of other backgrounds
● Culturally appropriate opportunities to leverage in loving our friends in the name of Jesus
● and more
May God use this series to encourage us that God desires and is fully able to use his people to reach the nations nearby. See you next post!
Share this on:
---
September 15 2014 at 11:40 am
1 Comments
---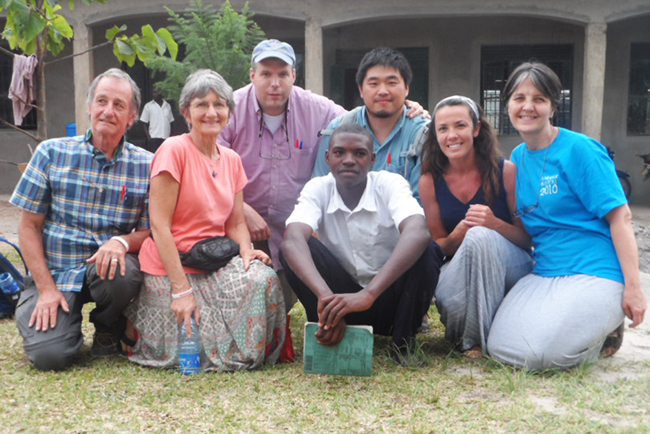 In late July Covenant Life sent a small team of educators to Western Uganda to spend 14 days at the Alpha and Omega Vocational Secondary School in the town of Kiburara. The team participated in a wide range of activities: classroom teaching, chapel worship and preaching, library organization, assessment of the school accounting system, and helping to conduct exams. The team's involvement went beyond school and administrative functions and included financial participation in a student outreach to Kamwenge town, enjoying Bible studies and prayer with the Kamwenge team, and afternoon activities like sports, debates, drama presentations and traditional dance.
Classroom Teaching
Founded in 2011, The Alpha Omega School is still in the throes of growth both as a Christian school and the physical campus, which started as a vacant plot. The students are incredibly well behaved and disciplined, and classes of 60-plus were very easy to teach, even doing lab practicals. These students have the opportunity to attend school that many of their peers will never have. The behavior evident in class reflects their gratefulness to receive such a blessing. A large number of the student body are born-again Christians and the fruit of the Spirit is evident in all school activities.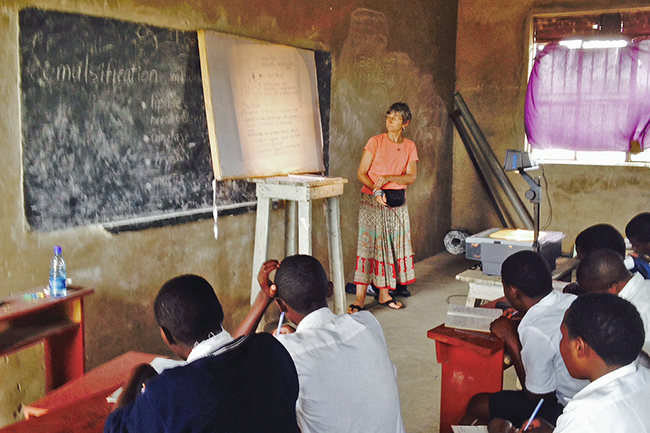 We were struck by the amount of time that the staff invests in students outside the classroom. Headmaster Frank is an incredible leader whose life demonstrates so much grace towards the staff and students. He leads with great wisdom and love following the vision that he has from the Lord to make disciples. His job description extends way beyond school hours as does that of all the teachers and staff. The teachers truly love the students and want them to succeed in life.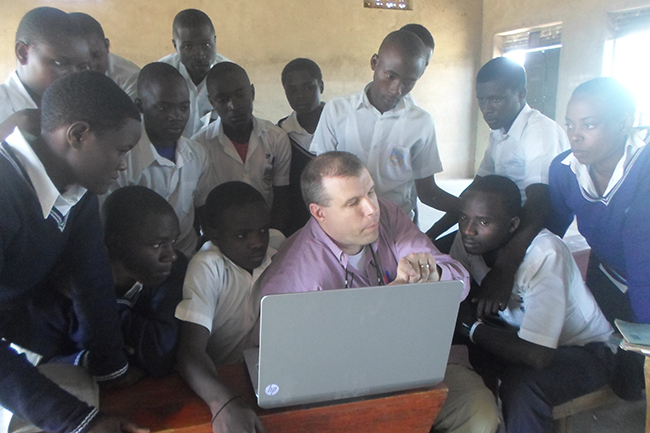 Chapel
Students are up at 4:30 a.m. preparing for their day, and every morning at 7:30 a.m. there is chapel. The students lead a time of worship, and then a Bible message is brought, usually by headmaster Frank, but our team all took turns bringing the message. It was so great to see the team members rising to the challenge and responding to the leading of the Spirit.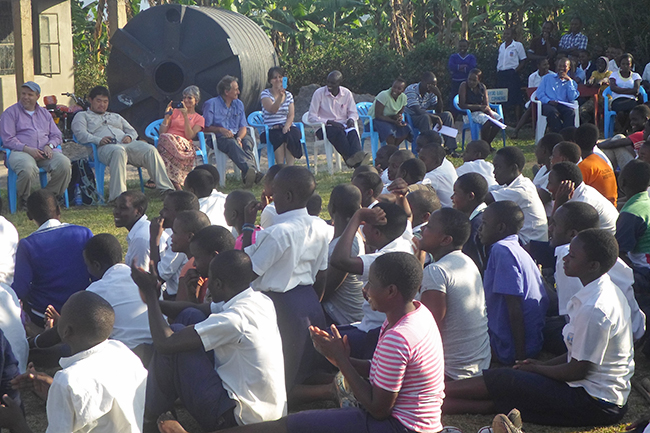 After-school Clubs and Activities
On one afternoon the debating society invited us to a very enthusiastic and well prepared debate on whether Uganda should have a woman for president. The students demonstrated great talent for presenting logical arguments, and it was a great time.
All of the team members were involved to varying degrees with administering and grading the examinations. Working closely with the teachers gave us the opportunity to interact and understand them and their roles. This time was invaluable and led to many gospel opportunities.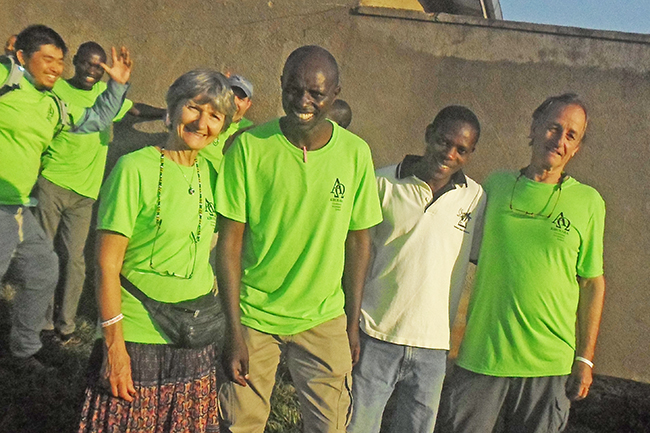 The team ladies took the initiative to meet with all the women staff members to understand their lives, roles and challenges. This further cemented friendships and was a very good time of fellowship and prayer. According to headmaster Frank, the Lord encouraged the ladies greatly as we talked through their struggles and prayer requests. He said the issues we discussed, unbeknownst to us, were the exact things that he had been wanting to address. It is very encouraging to be used by God in this way.
Another spontaneous event developed from the fact that we had purchased a goat to use in a biology dissection. The teachers then volunteered to roast the goat that evening and provide a meal for us all to enjoy! All decked out in the "Alpha Omega" T shirts that we had provided, we enjoyed a very relaxed time of fellowship.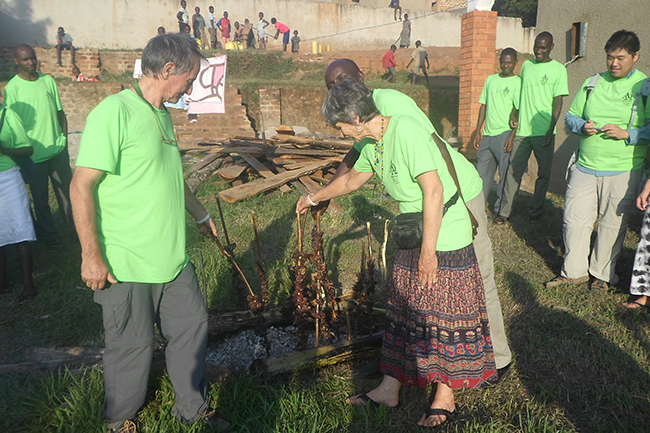 Women's Conference
We were able to participate in the teaching and testimony aspect of a women's conference that drew over 150 women. Sue shared one message on peace and trust and one on prayer, and Margie and Kendra shared their testimonies. These testimonies had a big impact on many of the attendees and it was so great to see the how God uses great pain and sorrow in His redemptive purposes.
Kamwenge Outreach
Although about 85% of Ugandans will profess Christianity, this belies the highly diverse spiritual condition of this nation. Many professing Christians will also participate in tribal animism and will rely on witchdoctors for healing and economic needs. The spread of the gospel is challenged by this deep-seated superstition.
After the majority of the students had gone home, a group of students along with headmaster Frank and one of the teachers, Gershom, remained at the school to prepare for a week-long outreach to Kamwenge town. This town is characterized by a strong Catholic and Muslim presence and in the past there has been much spiritual opposition there.
The preparation involved fasting every day for the week, and worship, intercession and sharing every morning and evening. We also met daily in small groups to implement the Bible study tool that we had developed and to study the book of Jonah. It was such a blessing to join with them and to observe their zeal, and it was so provoking to see the diligence with which they sought the Lord in prayer before venturing out. Our team also invested personally in this mission and provided finances for food and lodging for the outreach. We later heard that over 30 people made professions of faith during the outreach!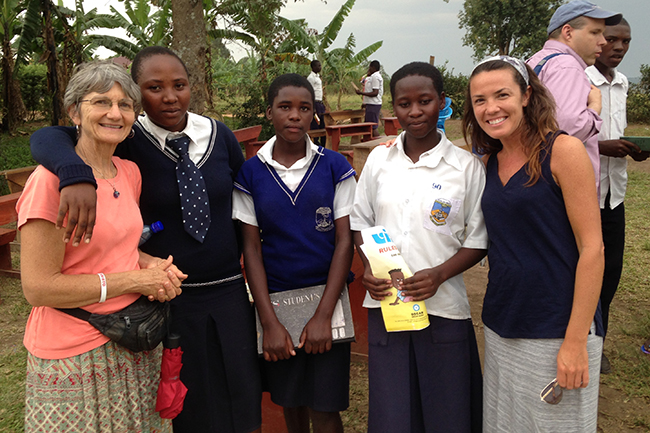 Conclusion
We were so impressed by what gets accomplished by the dedicated staff and students of Alpha and Omega. We saw first-hand the grace that is upon headmaster Frank to lead the staff and students. He has such a genuine love for the students and such a passion and reliance on the Lord to carry out his calling there. We want to help here as much as possible!
Though not an unreached nation, Uganda is a target of evangelism by Islamists and there is a great need is for doctrinal training and equipping of the evangelical churches. We see investment in this school as a Kingdom investment supporting the advancement of the Gospel in Africa.
Share this on:
---
September 8 2014 at 12:46 pm
1 Comments
---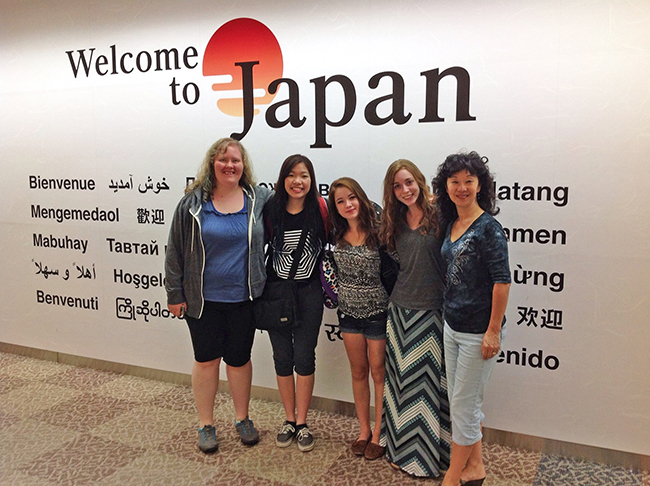 Here is a brief recap from Linda Benjamin of how God used members of our church to serve the people of Japan. Below that, is a brief note of thanks from the Grace Harbor Church in Tokyo with whom our team partnered to provide the classes.
You know so many people were praying when you felt like you were walking on the water the whole time you were on a mission trip!
On August 4 the five members of the Japan team made up of Linda and Christina Benjamin, Tori Chow, Kristen Emelio and Hannah Moore, traveled to Tokyo to serve Grace Harbor Church by assisting in their Kids English Week from Aug. 4-11.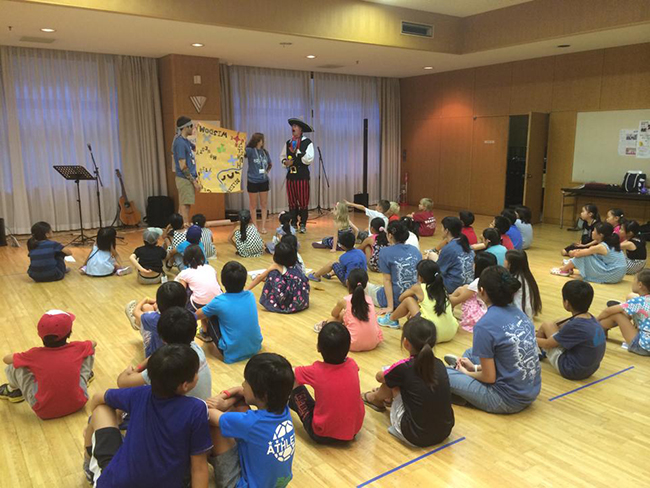 Despite having less than three weeks to plan, we couldn't have imagined a better outcome! We were able to bless about 100 children with songs, fun activities and crafts throughout the week. But, not only the children had a fantastic time; we were also able to connect and build friendships with many of the children's parents and the Grace Harbor Team. Even on our 'free' time, we were able to spend time with some of the kids, having deep, heart-to-heart talks.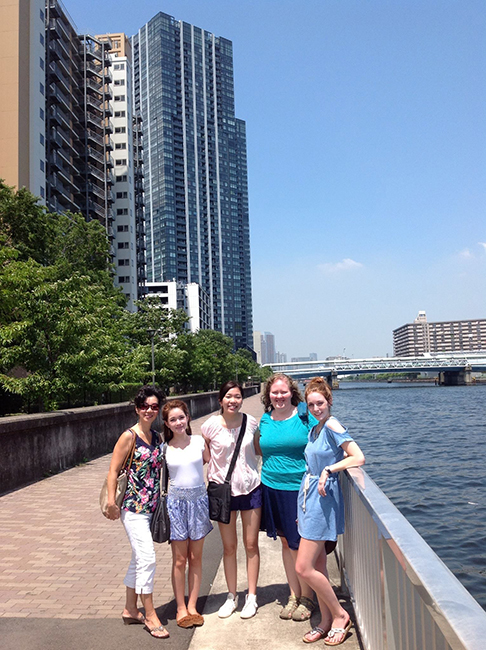 Through a Mom's tea time that was also held during the week, one of the Grace Harbor missionaries gave a short message on parenting, translated by a CLC team member. It was a powerful time where many women were affected by the wisdom and care that they heard. One woman was so touched that she is now going to host the a class on parenting at her home, and inviting more interested people. The Gospel work continues!
Even though we were not able to share the Gospel in words due to language barrier, the love of Christ was shown in many ways and some moms have expressed their gratitude in tears of joy. We are so grateful to be able to witness God's unfathomable love at work among the Japanese people as well as amongst our team, and the Grace Harbor team, through their selfless service, "being of the same mind, having the same love, being in full accord and of one mind."
One of the Grace Harbor Team commented: "Praise God! We hope you send them back!" Thank you so much for your support and prayers and please continue to pray!
---
Dear Covenant Life Church,

Thank you so much for sending this wonderful team to help with Grace Harbor Project's Kids English week! It was so well prepared and very lovingly executed by your team. Hannah amazed us with her creative and organizational skills. And ChiChi and Tori were real troopers to keep up with the demanding schedule. They enjoyed the children and reached out to them in warm and loving ways.

Your church blessed us in so many ways through them, and through your most kind generosity. First, by sending them to us — especially on such short notice! Also, by providing the refreshments for the moms of the camp kids over "Tea Time" as we, Linda and I and a few other staff, made ourselves available to have conversation. The staff loved being treated out to a Monja restaurant! Thank you!!! And Bob and I thank you for your personal financial blessing to us. God has dealt so kindly to us!

I wish I could stand before you now and tell you about these blessings and about how Linda was such a blessing to so many women she met — including me! For example, when I became sick and did not have strength to prepare a meal for some friends we had committed to have over, Linda took over and prepared the meal. She also blessed me and moms at the camp by translating for me when it seemed like the thing to do was to share some insights about parenting. Some moms at my table, the English table, were pouring their hearts out about their struggles with parenting and asking for advice. That Linda translated for me made it possible for all the moms to hear these insights.

It turned out that this resulted in a desire for some moms to attend a parenting class. So, now I am hoping to start up a parenting class in the fall. Moms who do not speak English signed up, too, so we need to pray God will provide a bilingual translator for this class.

Another heart Linda reached was the heart of a mom of a distressed boy we found when we got off the bus in front of our apartment. The boy was pacing and crying. Linda went over to find out his problem. His mom had dropped him off to meet a friend at a place. The friend was not there and the place was closed. Linda stayed with him until his mom was found!

Through Linda and the team the love of Christ was clearly shown to many. Praise God! We hope you send them back!

Love in Christ,
Sharon and Bob (Tokyo Team)
Share this on:
---