January 19 2016 at 12:43 pm
0 Comments
---
On Sunday, P.J. Smyth presented his 2016 "Outward Living Plan" to encourage us to make friends, build relationships with our co-workers, acquaintances and neighbors.
Download a PDF of the Outward Living Plan
Download the youth version of the Outward Living Plan
Step 1: Make Genuine Friends with Unbelievers
Think relatives, neighbors, colleagues, those with shared interests in your current rhythm of life. God has placed you!
Prioritize a few people and make it your aim to become a brilliant friend.
Pray for them.
No friends? Think about rhythms of life:
a) Gym, hairdresser, out walking, etc.
b) Hobby: running club / walking club / dog / kids sports team
c) Meals: 21 per week
Step 2: Naturally Engage on Spiritual Things
Let these friends know you are a Christian, in a natural, unforced way.
Live an attractive, authentic life, not perfect, but not high maintenance.
Be honest about your struggles: don't hold out Christianity as a self-improvement scheme. Share how your faith helps you.
Listen to your friend's problems; maybe offer to pray for them.
Ask about their faith, and just listen. You might say, "Are you a person of faith? What does that look like for you?" If they say, "I don't believe in God" say, "Tell me more about that" Don't show disapproval if you disagree with what they believe. Ask questions and listen with interest. This is what friends do! It is also an expression of love, respect and humility, and it will help you understand them better. It may also mean that in due course they are more open to hearing your view of faith.
Step 3: Draw people into your church community
Informally socially, or more formally socially, e.g., interest groups (book club, sport)
Can freeload on others' friendships. Fish as a team.
Step 4: Personal and Public Proclamation
Personal: Prepare and use personal tools:
a) Personal testimony: 30 sec and 3 min versions. Keep it real. Share how your faith helps you; e.g., stress, fear, drivenness.
b) Learn 2-4 ways to frame the Gospel
c) A stash of resources to give: "This helped me.", "I would be interested to see what you think of this."
Public: Think what's first: Social action or Introducing God course? Sunday? Particular preacher or series?
Our 2016 Goals
Invite at least one unbeliever to our Easter Service. (i.e. "A tradition we have is to go to church on Easter and then eat together, and we would love you to join us.", "Kids have a blast.", "We've got this new pommie pastor who I am still working out; would love your perspective.")
Have a couple of friendships developing nicely by the fall. This gives our church a chance to gear up in a few areas.
Download a PDF of the Outward Living Plan
Download the youth version of the Outward Living Plan
Share this on:
---
November 24 2014 at 4:07 pm
0 Comments
---


This month we've sought to grow in our understanding of the priority of the church and the foundational values of loving, serving and giving as we live together in Christian community.

Take time to re-listen or listen for the first time if you missed a message: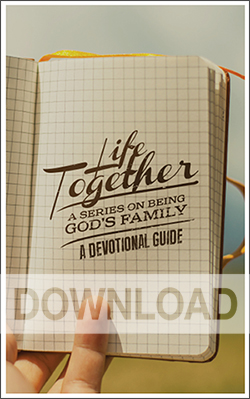 Life Together as the Church
Love One Another
Serving One Another
Giving
Also, don't forget the Life Together Devotional Guide full of ideas to help you draw out the meaning of the biblical text, spark application and discussion, and provide ways to talk about these truths with children at home.
We hope you enjoy the above photos submitted by some of our care groups. If you haven't captured your "care group selfie" yet, it's not too late! We'll be continuing to post photos in The Weekly and elsewhere as we receive them.
Share this on:
---
December 29 2013 at 5:55 pm
0 Comments
---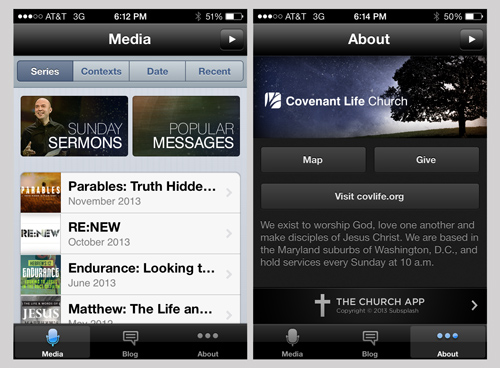 Did you know that Covenant Life has a mobile app for iPhone, iPad Touch, iPad and Android smartphones and tablets? You can download the app on the iTunes App Store or at Google Play.
The app features video of Sunday sermons (going back about a year-and-a half), and audio of Sunday sermons, seminars and more (it's a great way to review sermons on the go). You can also browse this blog.
We hope you'll enjoy reviewing sermons, catching up on ones you missed and sharing the content with others via Facebook, Twitter or e-mail.
Share this on:
---
May 3 2013 at 2:15 pm
0 Comments
---

Joshua Harris titled his message this past Sunday "Rule-igion." He taught from Matthew 12:1-14 how we are often tempted as Christians to be focused on rules to the detriment of a relationship with Jesus Christ.
After viewing or listening to the message, take this ARE YOU RULE-IGIOUS? Test by Don DeVries:
In what ways do you drift toward "rule-igion" instead of resting on Jesus? Consider the following list:
• Do you feel more confident and more accepted by God when you are doing well spiritually?

• Do you wonder if God has forsaken you, turned his back or finds you unacceptable when having a bad day spiritually?

• If God asked you, "Why should I answer your prayer?" would you inventory any unconfessed sins, remind God of your consistent quiet times, or tell him of your good works towards others?

• When reading your Bible, what does your heart and mind notice first and most—the things you need to do or the works done by the Savior?

• Which are you more aware of, all the ways you need to grow or who you are in Christ?

• Can others' personal examples or practices bring guilt or discouragement?

• Do you think that God's forgiveness only kicks in after you have reached some mysterious level of remorse, repentance or suffering for your sin?

• Do you find that being led by the Spirit and trusting in God's sovereign wisdom are not nearly as appealing as having a set of rules that will settle every question?

• When you hear teaching that includes practical instruction, do you tend to leave discouraged because your already overwhelming task list just increased?

• Do you feel discouraged or condemned when you fail, make a mistake or sin?

• Do you tend to relate to Jesus as the new Lawgiver? Is your prayer and plea to ask the Lord how to do it?

• Do you tend to be critical, perfectionistic, or self-righteous?

• Do you find it difficult to relate to others who practice differently than you do on nonessential or disputable matters? Do your personal convictions on disputable matters tend to become laws everyone should follow?
Share this on:
---
October 17 2012 at 10:33 am
0 Comments
---
"We need men who will shoulder the weight of manhood as God designed it, who will live it out day to day but will incline their manhood toward the gospel." —Dr. Randy Stinson
In a culture where the definition of what it truly means to be a man and how that affects one's actions has been so distorted by sin, Randy Stinson brings his knowledge of Scripture to bear in the lives of male Christians. Speaking to men from our congregation and surrounding area churches, Dr. Stinson covered four main topics at the September 29 Manhood Conference:
Men, if you weren't able to attend, or simply want to review Dr. Stinson's biblically-informed exhortations to embrace your identity as a man, stream or download the audio from his sessions. We pray that these resources will help you embrace your unique identity as a male image-bearer of Christ and live for his glory.
Share this on:
---
September 11 2012 at 9:02 pm
0 Comments
---
This past Sunday, Joshua Harris preached part 16 of our series, The Life and Words of Jesus: The Gospel According to Matthew. His text was Matthew 6:1-6;16-18, where Jesus encourages disciples of the kingdom of heaven to answer two important questions in relation to spiritual practices and worship of God: What is our motive? What is our reward?
Options for reviewing the message:
• Watch the sermon online.
• Listen to a downloadable MP3 of the sermon.
• Read and review the PDF version of the study guide.
Questions for reflection and application:
1. Take time to read Matthew 6:1-6;16-18.

2. In what areas of your life (spiritual disciplines, parenting, giving, serving, job, etc.) do you subtly, or even overtly, let others know of your good deeds and acts of righteousness?

3. In what ways do you live for and crave the applause, adoration and approval of others?

4. When you sacrifice time, energy or financial resources for others and they fail to express gratefulness, how is your heart tempted? What does that reveal about your motive?

5. How can the least impressive life (by the world's standards) have eternal significance? How does living for the audience of One change the motives and posture of your heart?

6. Why is the Father's promise to reward us for our secret acts of devotion and worship so incredible?




Share this on:





---