December 17 2012 at 2:00 pm
0 Comments
---
For the past 18 months, Covenant Life Church has been going through a time of testing which we see as an expression of the Father's loving discipline. Various circumstances have led us to evaluate ourselves and consider how God is calling us to grow. While we can already see ways in which God has used this experience to teach and help us as a church, it has not come without pain and loss. It has been challenging in many ways. One of the most difficult aspects of this time has been realizing we find ourselves going in a different direction from that of Sovereign Grace Ministries (SGM), the organization that was launched within our church and whose leaders have played a foundational role in the life of our church.

Over the past year there has been a growing clarity for our pastoral team that our differences with the leadership of SGM make it difficult for us to remain as a member church. After much prayer and sober consideration, the pastoral team presented their perspective and proposed disassociation from SGM to the members of Covenant Life Church at a members meeting on November 4. On December 12, 2012, the members of Covenant Life Church affirmed the pastors' decision to end our formal association with SGM.

As we close this chapter on our church's history, we are saddened that we cannot remain in formal association with leaders and churches we dearly love and have counted as close partners for many years. Yet we are grateful that our unity goes far deeper than institutional association. We are united by faith in the same Lord, a bond that is not and cannot be broken. We are sincerely thankful for the vital role the leadership and churches of SGM have played in helping us be a church that treasures the gospel. We will be ever grateful to those leaders of SGM who played a foundational role in establishing and building this local church. They will remain dear to us as brothers in gospel ministry, and we anticipate cooperating in future ministry endeavors, even though the nature of our partnership has changed. We pray that this next season in ministry for SGM and Covenant Life Church will be as fruitful as ever as we press forward in the mission God has called us to in the days ahead.

—The Pastors of Covenant Life Church
Share this on:
---
June 7 2012 at 1:25 pm
6 Comments
---
We received this gracious letter of thanks from Jeff Purswell, Dean of the Pastors College, and wanted to share it here with everyone. Thank you, Jeff!
To the pastors and members of Covenant Life Church,
As the conclusion of the 15th year of the Sovereign Grace Pastors College approached, I asked for the opportunity to thank you for the inestimable contribution you have made by hosting and serving the college since its inception. It is a daunting task—but one which I relish—to attempt to express my gratefulness for the myriad ways Covenant Life has facilitated, strengthened, and enhanced the training of future pastors through the college.
One of the things that distinguishes the Pastors College from many pastoral training contexts is its connection to a local church, and it has been our privilege for many years to be connected to this particular local church. When I arrived here in 1997, I encountered a culture of servanthood that was unique in my experience, and to my delight that servanthood has been channeled into the Pastors College in countless ways. Some of you have served in the most personal way possible by opening your homes to students as host families. More than opening your homes, you have opened your lives to them, and in many cases life-long friendships have been the result. Scores of you have "adopted" students and blessed them in many and various ways through your care group. Stories abound of cookouts held, household goods donated, money (and frequent flyer miles!) given, babysitting offered—all of this and more has lightened the load and brightened the hearts of our students. Hundreds of you have served in numerous events held for the students, who have been unfailingly blessed and instructed by the joy, creativity, and effort that you displayed. I must make special mention of those of you who have served on the PC Administrative team over the years (affectionately—and accurately—known in the halls of SGM as the "Dream Team"). I've never worked with a more devoted, creative, sacrificial, and delightful group of servants—you will always hold a cherished place in our hearts. And to the pastors, thank you for supporting the students, teaching the students, and leading a church context that over the years has provided both a model of church life and a place where these students and their families can worship and be nurtured by God's word during their time at the Pastors College.
My summary of your contribution has been written in the past tense, but there's a "present tense" to your labors that I want to bring to your attention. Over the past 15 years, 243 men have graduated from the college, of which 175 are in full-time or part-time vocational ministry. These men serve in 84 churches in 16 nations. Thirty-two of these churches have been planted by PC graduates (in the current class alone, we have eight men slotted for future church plants). Sixty-one men serve as senior pastors. Such statistics only hint at the conversions given by God through these churches, the seeds sown for the gospel, the thousands of people cared for, the marriages healed, the families strengthened—eternity alone will reveal the fruit borne by the grace of God through these graduates. My hope is that you will recognize that the service you have given, the prayers you have prayed, the generosity you have expressed, and the kindness you have extended are having an enduring effect through the lives of these men and their families that continues to impact the world for the gospel.
As the Pastors College prepares for our transition to Louisville, we do so aware of the foundation that has been laid for us here in Gaithersburg—and we will not soon forget the names and faces of those of you who have given so selflessly to help make the PC what it is today. I am deeply grateful for you, and humbled by the privilege of laboring with you.
Our graduation ceremony will take place on Sunday evening, June 10, at 6 p.m. in the Covenant Life Auditorium. I would like to invite you to share in the celebration of that evening. It would be an honor to have you with us.
With enduring gratefulness,
Jeff Purswell
"For God is not unjust so as to overlook your work and the love that you have shown for his name in serving the saints, as you still do." –Hebrews 6:10
Share this on:
---
April 20 2012 at 6:53 pm
0 Comments
---
The Board of Sovereign Grace Ministries announced yesterday that the Pastors College and ministry headquarters are being relocated from Gaithersburg to Louisville, Ky. We encourage you to read the announcement, where Sovereign Grace gives the background for this decision.
Even though we receive this news with a sense of loss, we thank God for Sovereign Grace and the good fruit the Lord has granted through our partnership. We want to express what a privilege it has been to see Sovereign Grace Ministries established and growing for the last 30 years right here alongside this local church. Sovereign Grace was birthed out of Covenant Life Church in 1982, giving our church family a unique opportunity to observe the grace of God in and through this ministry. It's brought joy to many Covenant Life members through the years to host and serve Pastors College students, host Sovereign Grace events like WorshipGod and Leadership Conferences, welcome guest teachers, and interact regularly with church planters taking the gospel across the nation and around the world. We are saddened that we will no longer be in close proximity to those on the Sovereign Grace staff making this transition, friends we love and have walked with for so long.
We would like to specifically thank all the Sovereign Grace leaders—C.J. Mahaney, Gary Ricucci, Jeff Purswell, Bob Kauflin, Tommy Hill and Paul Medler. We will miss these men and their families. They have invested their lives and gifts into this church in numerous ways. We are grateful for these dear friends, and we pray that this next chapter in their ministry is fruitful and effective for the cause of Christ. As these brothers and sisters make this transition, and Covenant Life continues in dialogue with Sovereign Grace about our partnership, let's fix our eyes on Jesus with thankfulness for his abundant mercy to us all.
"I thank my God in all my remembrance of you, always in every prayer of mine for you all making my prayer with joy, because of your partnership in the gospel from the first day until now. And I am sure of this, that he who began a good work in you will bring it to completion at the day of Jesus Christ." (Philippians 1:3-6 ESV)
The Pastors of Covenant Life Church
Share this on:
---
December 3 2011 at 10:12 pm
0 Comments
---
Dave Harvey, Acting President of Sovereign Grace Ministries, posted the following on the "Plant & Build" blog yesterday, and we wanted to repost it here and ask that you join us in prayer. —Covenant Life Pastors
This week Bryce Thomas and the review panels completed the testimony phase of the evaluation for the allegations that Brent Detwiler brought against C.J. I know that this process is important to everyone who cares about C.J. and what happens in and with Sovereign Grace Ministries. Now the three review panels will begin deliberating on the information before them so that they can deliver reports on their findings later in December.
I'd like to invite you to pray with me about this. Here are the things that I'm praying for:
And, if you have some time when you're done with that, pray for me. There is a lot going on that needs my attention, but I want most of all to live out the passage preached at our local church last week from 1 Thessalonians 5:18: "Give thanks in all circumstances; for this is the will of God in Christ Jesus for you."
Share this on:
---
July 7 2011 at 11:57 am
0 Comments
---
Today an important announcement from C.J. Mahaney was posted on the Sovereign Grace Ministries website. In it C.J., the president of Sovereign Grace and the former Senior Pastor of Covenant Life Church explains that he's taking a leave of absence and why. There is also a letter from the Sovereign Grace board expressing support for C.J.'s leave and explaining more about its purpose.
Please pray for the people involved and for our network of local churches. This is a difficult time for us, but we see God using these events to refine us and prune us (John 15). We want to embrace all God has for us in this time and pray it will lead to greater fruitfulness. Psalm 37:3 & 5 carry a precious promise: "Trust in the Lord, and do good; dwell in the land and befriend faithfulness … Commit your way to the Lord; trust in him, and he will act."
Share this on:
---
June 6 2011 at 6:08 pm
1 Comments
---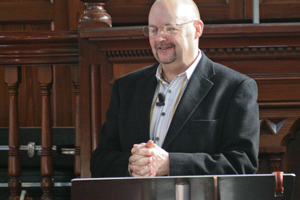 Pete Greasley preaches at Sovereign Grace Church, Merthyr Tydfil, South Wales.
Pete Greasley, senior pastor of Christchurch in Newport, Wales, will preach here at Covenant Life on Sunday, June 12. Pete helped to found Christchurch and has served there for 16 years. Pete and his wife Jenny have been married for 28 years and have three grown children.
In his blog on the Sovereign Grace Ministries website, C.J. Mahaney describes Pete as a "jolly Englishman, erstwhile rock musician, and would-be sailor who serves Sovereign Grace Ministries by traveling to Asia, Europe, Africa, and Australia, preaching the gospel and serving churches for the glory of God." For more on Pete and his ministry, see CJ's three part series—"Meet Pete Greasley."
Share this on:
---