June 29 2015 at 12:15 pm
0 Comments
---

This past Sunday we made reference to a statement supported by many evangelical leaders in response to the recent Supreme Court decision to legalize same-sex marriage. Our quantity of hard copies disappeared pretty quickly, so we wanted to point to it here. You can download the statement or view it online.
The statement, posted by The Ethics & Religious Liberty Commission, is titled, "Here We Stand: An Evangelical Declaration on Marriage." It recommends six points of engagement by the church:
• Respect and pray for our governing authorities even as we work through the democratic process to rebuild a culture of marriage (Rom. 13:1-7);
• Teach the truth about biblical marriage in a way that brings healing to a sexually broken culture;
• Affirm the biblical mandate that all persons, including LGBT persons, are created in the image of God and deserve dignity and respect;
• Love our neighbors regardless of whatever disagreements arise as a result of conflicting beliefs about marriage;
• Live respectfully and civilly alongside those who may disagree with us for the sake of the common good;
• Cultivate a common culture of religious liberty that allows the freedom for those who live and believe differently to prosper.
The statement closes with a pledge to "...stand steadfastly, faithfully witnessing to the biblical teaching that marriage is the chief cornerstone of society, designed to unite men, women and children. We promise to proclaim and live this truth at all costs, with convictions that are communicated with kindness and love."
Share this on:
---
June 28 2015 at 3:13 pm
2 Comments
---
Each Sunday during our worship services the Holy Spirit moves on the hearts of different members to share words of encouragement with the congregation through the Ministry Mic at the front of the auditorium. To help clarify the biblical foundations for this practice and elaborate on how the Ministry Mic operates, the elders have written a paper called "Understanding the Ministry Mic."
The paper looks at:
The Purpose of Sunday Mornings
What We Believe About Spiritual Gifts
What We Believe About Prophecy
What Should the Use of Spiritual Gifts Look Like at Covenant Life Church?
Answers to Common Questions
Resources for Further Study
We hope this resource serves you and builds your faith for God's work in and through our Sunday gatherings.
Share this on:
---
June 9 2015 at 1:52 pm
0 Comments
---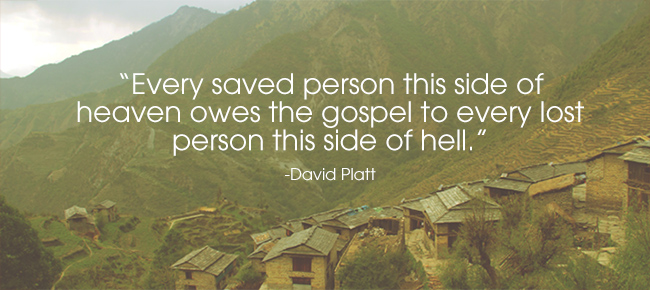 Last Sunday, guest speaker David Platt, President of the International Missions Board, shared a stirring message on the biblical call for Christians to share the gospel with unreached peoples around the globe. But before his sermon, Platt had a powerful word of encouragement for the members of our church. Here you can review both Platt's word of encouragement and his sermon as a whole.
Learn more about upcoming, short-term missions trips on the Serving Our World page. Also discover how you can get involved in serving our community by visiting our Local Missions page.
Encouragement to Covenant Life:
Share this on:
---
May 19 2015 at 4:36 pm
0 Comments
---
To help friends near and far share the day with others, here's the recording of Sunday's program to thank Joshua Harris and family plus a slideshow of photos from the program and reception. Enjoy!
We invite everyone to keep the Harris Family in your prayers as they prepare to move to British Columbia. Here are their requests:
For the Lord to lead us to the right church. And give us real friendships and community.
That our kids would get settled in their new schools, make good friends and grow in their love for God and each other.
That Josh would learn and be stretched through his classes at Regent.
That Shannon would find opportunities to use and develop her gifts in new ways.
That we would learn to rest, wait on the Lord and trust him in a season of uncertainty.
That God would use us to bless the city of Vancouver in some small way and demonstrate the love of Christ to our neighbors.
Share this on:
---
February 20 2015 at 3:52 pm
3 Comments
---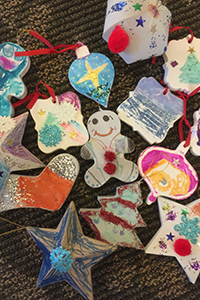 In 2013, Discovery Land changed the format some in the Adventure class (1st-5th grade) and implemented small group table time for the last 20-30 minutes of class each week. The goal was to provide the kids a more personal, hands-on time to interact with that day's lesson through questions, crafts, activities, etc.
That first year (2013-14), a team of 4-5 wonderful volunteer ladies created each week's activities midweek and implemented them on Sundays. It became clear that this was too large a load for volunteers (typically, busy moms with young kids). So we hired Cara Wilcox in October 2014 as our part-time small group planning coordinator. Since then, Cara has made me look brilliant as a hiring manager :)! She has brought fantastic enthusiasm, dedication and imagination to her role. Here are some recent examples of her creativity and outside-the-box thinking: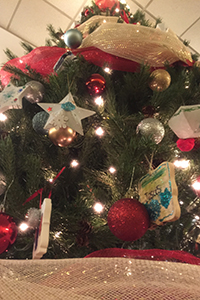 1. To supplement a lesson on being made in the image of God, we rearranged the class schedule so the kids could make thumb imprints on pliable polymer clay discs after the first teaching segment. Then we baked all the discs in the kitchen ovens to harden them while the rest of class went on, allowing the kids to take home their imprint necklaces at the end of class.

2. To supplement a lesson on creation, Cara collected dozens of nature magazines and assigned various small group tables to cut out pictures that represented the amazing variety and beauty of God's creation. Then the kids glued the pictures onto a huge collage sheet that we displayed for kids and parents the following Sunday.

3. To supplement a lesson on the Trinity, Cara had the kids make a simple, yet very effective, Trinity diagram and Trinity pyramid to help kids grasp the difficult three-in-one concept.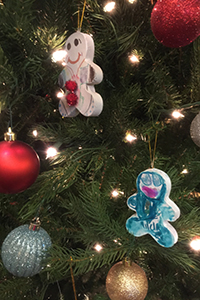 I think the 1st-5th grade class has always offered lots of fun, unique learning experiences for kids. But when I consider where the class was two years ago and where it is today (making and baking 150 polymer clay necklaces in class to illustrate "being made in God's image," I am so excited about the level of hands-on activities that the kids are enjoying to help reinforce the teaching they're hearing from God's Word! Cara, Becky Ferleman, our four once-a-month volunteers who implement Cara's plans each week (Jessica Kendal, Charlotte Deibel, Angela Patarozzi and Dienny Hooper) and many other volunteers have all done a great job in making small group activities happen each week!
—Josh Cooley
Discovery Land Director
Share this on:
---
February 15 2015 at 9:01 am
4 Comments
---
Covenant Life Family,
Because the police are encouraging people to stay off the roads we've decided to cancel our service today. With the wind and icy conditions, we don't want anyone to risk getting hurt.
Even if we don't gather at a building we can still have church! Let me encourage you to set aside time by yourself or with your family to sing, pray and read God's word. Our text today was 2 Chronicles 20 and the story of how God rescued Jehoshaphat and the people of Judah. Read that chapter and reflect on/discuss what it teaches about reliance on God.
Today we were also teaching a song that's been a favorite of mine recently. It's called "You Make Me Brave." Listen to it in the video below. God's great love for us gives us courage—courage to obey him and step out into the waves. Where is God calling you to step out in faith? What a wonderful truth that Jesus has made a way for us to enter into God's presence.
Finally, please take time to pray for prayer. Sounds funny, but we want to grow as a church in being people who, like Jehoshaphat, set our face to seek the Lord. We're kicking off 50 Days of Prayer this week. Please pray for yourself and the rest of the church that we will humbly seek the Lord and acknowledge that He alone is our salvation and hope.
—Joshua Harris
Share this on:
---