July 11 2016 at 12:18 pm
0 Comments
---
Apply to serve in Discovery Land online.
Good morning. Let me first start off by saying thank you to everyone that filled out an application and dedicated their time to serving in DL this September. I greatly appreciate you volunteering, and I wanted the current volunteers that have been working this past year to be encouraged as well. Thank you, it is truly making a difference in these kids, my kids, lives. Just last week I was teaching the main session for the 1st -5th graders and was prompted by the curriculum to quiz everyone through the use of a game. So, I set up the game and began to ask these questions to the crowd to respond with a true or false answer. Let me just read these off: Not only did I get the right answer from the children, they resoundingly gave the corrected answers to the false questions! This blessed me greatly. Not only that but my 4 year old girl is starting to retell the story of Saul and king David and how they obeyed or disobeyed God. This was an amazing set up for me to take the conversation to Jesus and present the gospel. That is so important to me. So thank you to all who have served and brought all the children into contact with the gospel and Jesus.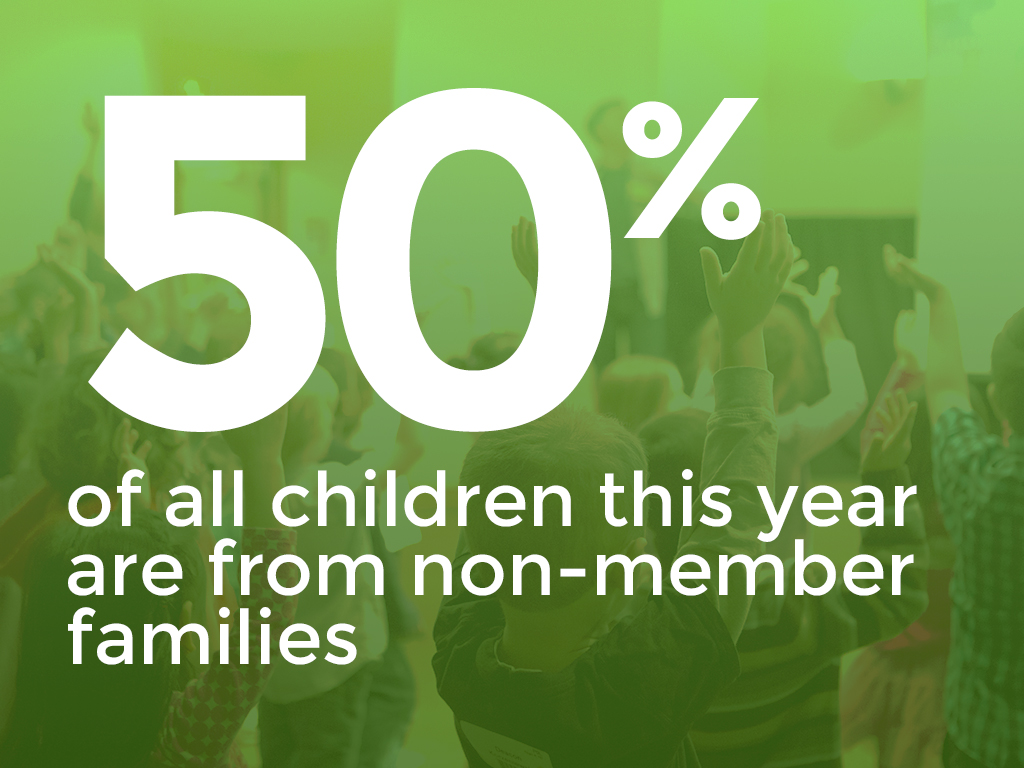 It is because of stories like these that I believe what we are doing in DL is a good thing for our church and for the people that walk through the door on Sunday morning that are not members. The gospel is being taught. Here is a number that I thought is important to share; did you know that around 50% of all the children that went to DL this past year were in fact children of guests. So it is not just about serving ourselves, we are a front where the gospel is being shared to people visiting our church.
So, I wanted to give everyone a progress update on current commitments to make all this happen again next year. We are currently around 35% of volunteers we need to keep the lights on and the programs running back there. We need 400 volunteers and or we are looking at downsizing by the end of July. Its July because we would need to redesign the ministry to ensure the safety and effectiveness. So if you holding on to your application please turn that in to help us avoid downsizing the program. Just to give you some perspective of how big of a ministry it is, if you would take a look at this section of the congregation. This section represents around 400 people. That is the average of people that occupy DL right now. On average we have 300 children and 75-100 adults back there every Sunday.
That is why we need you to consider signing up. And just so we are clear, bulk of people that have already signed up to serve are parents with kids. The gap that we are experiencing needs to be filled with singles; it needs to be filled with empty nesters; it needs to be filled with seniors; it needs to be filled with young married couples. This is our need. We need you to volunteer to serve one Sunday a month for the next year starting September to ensure these stories and gospel opportunities keep going. Our church is and will be a place where young families can come to hear about Jesus and feel served.
Will you consider? Thank you.
Share this on:
---
June 20 2016 at 1:31 pm
0 Comments
---
Several folks asked for a transcript of Tim Harvey's pastoral prayer this past Sunday, so we share it here:
Gracious Heavenly Father, we come before you this morning to agree with your evaluation of us, spoken through your prophet Isaiah. Like the people of Isaiah's day, we have rebelled against your laws and forsaken your ways, both inwardly and outwardly. So we come before you as your people to confess our many sins.
Lord, we have raised up other gods before you in our hearts and our lives, idols that we have looked to for joy and hope and meaning more than we have looked to you. And our idols are many – they are entertainment and social media where we have run for refuge and for joy rather than to you. Even your good gifts like work and family and children and marriage and friendships we have exalted as other gods above you by running after them and holding on to them as our ultimate sources of joy and hope instead of you.
Lord, we have disregarded and dismissed things of eternal value – the wonderful treasures of your word and of deep fellowship with your people – in favor of things that will not last – entertainments and diversions, or even a few more minutes of sleep.
We have prayed more for our own kingdoms and our own comfort than for your kingdom.
Lord, we have failed to love our brothers and our sisters as we ought to. We have made harsh judgments in our hearts without knowing or even caring about their situations. We have distanced ourselves from those in need, we have been too afraid or too concerned with our own comfort to embrace the hurting, the desperate, and the difficult people around us.
We have sought to be proven right more than we have sought to be loving.
And Lord, these things have come about because we have looked first to ourselves rather than to you. We've trusted in our own strength and wisdom and become fearful when those fail us. We've chased after our own comforts only to find those comforts are ruling over us.
And so we turn to you, Lord. We turn to you to ask your forgiveness for our many sins. And we turn to you to thank you for the great forgiveness that you purchased at such a cost – by turning your back on your own son as he died – and yet that you offer to us for free. We turn to you to rejoice that there is no condemnation for those who are in Christ Jesus, that you have set us free from the sin that once enslaved all of us.
And we turn to you, Lord, to cry out for your help to turn aside from our sinful ways and to live in a way that pleases you. We cry out, Lord, that you would give us not just an outward form of obedience, but that you would change our hearts. Take away our hearts of stone and give us hearts of flesh that are tender toward your ways. Fill us with your perfect love that casts out fear. And turn our eyes away from ourselves, away from the foolish idols that fill our view, to see more and more your kingdom and your glory.
We pray in the precious name of our Lord Jesus Christ who loved us and gave himself for us,
Amen
Share this on:
---
May 17 2016 at 3:38 pm
0 Comments
---
On Sunday, P.J. Smyth interviewed Montgomery County Executive Ike Leggett who shared about his journey from abject poverty in Louisiana, to college, law school, and ultimately, public service. Ike offered warm words of encouragement for getting involved in serving those in need in our community.
Share this on:
---
February 2 2016 at 9:30 am
0 Comments
---
Enjoy Tracy Branchaw's testimony of how God used her to start a book club that created community and strengthed relationships through fellowship. If you're interested in starting and joining a group of your own, check out Super Group Sunday after the service THIS Sunday (Feb. 7.)
I'm going to pretend I'm typing an email:
It's 2013
Dear so and so,
John and I are starting a new book club and we wanted to know if you would be interested. As you know, we've been in limbo for a year or 2 since we stopped leading a youth care group and our pastor left to start the church plant in Mt Airy. We are thinking about something different and thought that the 3 things we like best: sharing a meal, reading a good book and hanging out with folks, could combine into a potluck book club. There is a book we found that would be great to go through with others in the same season of life. It's called You Never Stop Being a Parent: Thriving in relationship with your adult children. We are inviting 9 other couples, some we know a little, some we know a lot. You may not know them at all. It's likely that not everyone will want to join the book club. We will meet once per month. I'll host the first one and I'll make the main course and then everyone can bring sides and dessert. John will lead the first meeting and you just need to read the first chapter. The book has 10 chapters so we can finish it in about 1 year. And even though our house is on the small side, we'll just pack in so it will be cozy. Then, we'll switch houses every month and whoever is hosting will throw out possible dates, make the main course and lead the discussion. That way nobody will get overwhelmed. If you want to come, reply asap and we will see you at 6:30 on Saturday.
I sent this email 3 years ago and this book club is still going strong.
Although we had lead, enjoyed and benefitted immensely from caregroups in the past, we were looking for something different. We had started a supper club with a few friends and were thinking of starting another, but it seemed too labor intensive. Then we thought about having a book club. We thought about not being with the same friends we normally gravitated toward. We didn't pick people who knew each other. All were in the same season of life-almost or absolute empty-nesters. Some had kids who were doing well, some had kids who had walked away from Christianity. Divorce, engagement, marriage, homosexuality, irresponsibility, prodigals, college issues...these were all topics that would end up being addressed in our new group with our 1st book.
Our second book was Prayer by Timothy Keller. Although it's a good book, it didn't work out very well for discussion. I hate to say it, but I'm not a silent sufferer and I complained quite a bit about how hard the book was for me (and I'd picked it!) but others were getting a lot out of it and they tolerated me. A better book for discussion might have been A Praying Life by Paul Miller, we might do that for our fourth book. We had also thought about doing a work of fiction like "Gilead" by Marilynne Robinson.
Our current book is Jesus Outside the Lines - a way forward for those who are tired of taking sides. It's about politics, poverty, money, and the institutional church. Everybody has an opinion and not everybody agrees and that's just fine.
Book clubs may or may not have the depth of discipleship of a caregroup, it depends on your vision for it.
But if you are looking for something a bit different from the norm, think about some folks that would make a diverse group, pick a great book, throw out some dates and start your new book club! It could be in your neighborhood, your school, or your place of work. And don't forget the food! That's the real reason people want to get together anyway-to eat and talk and savor the time.
If you're interested in starting and joining a group of your own, check out Super Group Sunday after the service THIS Sunday (Feb. 7.)
Share this on:
---
January 22 2016 at 12:46 pm
0 Comments
---
Here's a greeting from Mark Mitchell for your snowed-in Sunday.

P.J. Smyth messages from the last two Sundays:
"God's Sovereignty and our Faith" (from January 10)
"Outwards" (from January 17)
Share this on:
---
January 19 2016 at 12:43 pm
0 Comments
---
On Sunday, P.J. Smyth presented his 2016 "Outward Living Plan" to encourage us to make friends, build relationships with our co-workers, acquaintances and neighbors.
Download a PDF of the Outward Living Plan
Download the youth version of the Outward Living Plan
Step 1: Make Genuine Friends with Unbelievers
Think relatives, neighbors, colleagues, those with shared interests in your current rhythm of life. God has placed you!
Prioritize a few people and make it your aim to become a brilliant friend.
Pray for them.
No friends? Think about rhythms of life:
a) Gym, hairdresser, out walking, etc.
b) Hobby: running club / walking club / dog / kids sports team
c) Meals: 21 per week
Step 2: Naturally Engage on Spiritual Things
Let these friends know you are a Christian, in a natural, unforced way.
Live an attractive, authentic life, not perfect, but not high maintenance.
Be honest about your struggles: don't hold out Christianity as a self-improvement scheme. Share how your faith helps you.
Listen to your friend's problems; maybe offer to pray for them.
Ask about their faith, and just listen. You might say, "Are you a person of faith? What does that look like for you?" If they say, "I don't believe in God" say, "Tell me more about that" Don't show disapproval if you disagree with what they believe. Ask questions and listen with interest. This is what friends do! It is also an expression of love, respect and humility, and it will help you understand them better. It may also mean that in due course they are more open to hearing your view of faith.
Step 3: Draw people into your church community
Informally socially, or more formally socially, e.g., interest groups (book club, sport)
Can freeload on others' friendships. Fish as a team.
Step 4: Personal and Public Proclamation
Personal: Prepare and use personal tools:
a) Personal testimony: 30 sec and 3 min versions. Keep it real. Share how your faith helps you; e.g., stress, fear, drivenness.
b) Learn 2-4 ways to frame the Gospel
c) A stash of resources to give: "This helped me.", "I would be interested to see what you think of this."
Public: Think what's first: Social action or Introducing God course? Sunday? Particular preacher or series?
Our 2016 Goals
Invite at least one unbeliever to our Easter Service. (i.e. "A tradition we have is to go to church on Easter and then eat together, and we would love you to join us.", "Kids have a blast.", "We've got this new pommie pastor who I am still working out; would love your perspective.")
Have a couple of friendships developing nicely by the fall. This gives our church a chance to gear up in a few areas.
Download a PDF of the Outward Living Plan
Download the youth version of the Outward Living Plan
Share this on:
---