January 22 2013 at 12:51 pm
0 Comments
---

Follow Covenant Life Church on Facebook and Twitter for information on upcoming events, reminders about useful content on our website and scriptural encouragements for your walk with Christ.
Become a fan of our page on Facebook or follow us on Twitter (@CovenantLife)!
As always, we love to hear your feedback! Thank you!
Share this on:
---
November 23 2011 at 10:40 am
3 Comments
---
Folks,
This past Sunday Joshua announced how you can contribute to the mission of Covenant Life through the Go Forward Fund (GFF), outside of your normal giving. He announced four categories of giving—areas where we believe we can have a real ministry impact. However, he missed the fact that we actually have five funds that comprise the GFF! So, here they are again (with the additional category):
You may give to any of the categories below or to the Go Forward Fund as a whole (in which case funds will be allocated evenly across the five areas):
1. World Missions – will support a variety of mission and mercy activities worldwide such as the work at Rancho 3M and other mission trips
2. Unreached People Groups – will support work primarily in areas of the world where the gospel has never been preached; this includes areas such as North Africa and the 10/40 window.
3. Debt Reduction – will go toward accelerating the pay-down of the current church building loan
4. Church Planting / Leadership Development – will support domestic church planting, including theological training
5. Benevolence / Community Outreach – will support care and ministry in the local community as well as members in need
To contribute, simply write a check to "Covenant Life Church" and annotate "GFF" in the memo line. If you'd like to give to a specific category, indicate the category in the memo line as well. The Online Giving page of the church website has been updated to facilitate giving to these funds online. (Look for the "Fund" line where you can choose how to designate your giving.) Note that the website allows for giving by electronic check, but not credit card.
We are so grateful for your partnership in the gospel!
—Corby Megorden
Share this on:
---
July 24 2009 at 8:24 pm
0 Comments
---
Craig Sterling sent me this note after church last Sunday: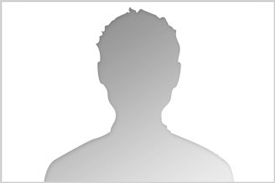 Josh,

Good afternoon! This morning you mentioned having a pet peeve (my words) with gray faces in the church directory. A few weeks ago, we received a letter from Erik Sheffer announcing that we are now under the care of Ben Wikner. So, like you, I wanted to put a face with the name of our new pastor. (If he was introduced to the congregation, I must have missed that particular meeting.)

In short, he's not pictured in the Member Photo Directory. This morning I wondered who the person was asking us to pray for Russia. One of our row mates told us that person was Pastor Wikner. It was good to put the face with the name!

Grace and peace,

Craig and Mary Ann Sterling

Yes, we're in the directory! :-)
Thanks for your note, Craig. This is funny because Ben and his family all lined up and got their photos taken at church this Sunday. So, you can find the Wikners in the directory now. Your note is a great reminder (to pastors, too!) of how helpful it is to be able to put faces with names! Here's the Wikner clan: First row: Ben and Erin, Ellie, Abigail, Lilly. Second row: William, Gracie, Hope.



Church members, here are a couple of helpful links related to the directory:
• Forgot your password?
• Member Photo Directory homepage (access your profile, settings, frequently asked questions, upload your own photos, etc.)
Share this on:
---
February 25 2009 at 3:40 pm
2 Comments
---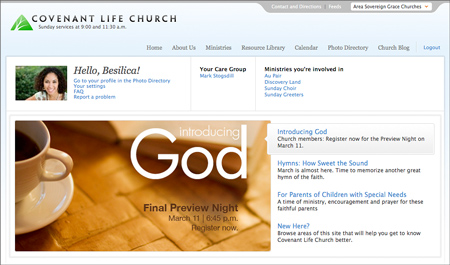 Noticed anything different around here lately? Last Friday, in the wee hours of the morning, our Web team launched a revamped home page for this website. I hope you're enjoying and benefiting from the changes.
The main idea of the site refresh is to give users easier access to more information from the home page. So now, in addition to this blog, you'll find "Events" and "News" tabs right on the home page. Check these tabs often for current info. You can also select from several recent blog posts, or choose from a longer list of options under "Recent Media."
Some of the other changes have to do with bringing member features to the forefront. Now, if you're logged in as a member, you'll see a number of member options right at the top of the page. You can go straight to your member profile to make sure it's current, or go to "Your Settings" where you can easily adjust your password as needed. You can also quickly get to your care group and ministry teams in the Member Photo Directory.
Incidentally, if you see anything that's out of date or inaccurate in the way your or your family's photos show up, or your ministry team information looks wrong, please use the "Report a Problem" form to notify our Web team. They love working hard to get this stuff right!
I'd like to thank our Web team, Ryan James, Aaron Simmons and Don Nalle in particular, for the fine work they've done to continue to refine the website. It's a valuable resource for our church family and many guests and inquirers around the world. Thanks, team!
Share this on:
---
July 9 2008 at 9:00 pm
5 Comments
---
It's been a couple years in the making, and I'm excited to say, "it's here!"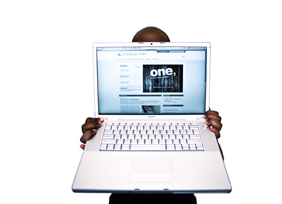 Welcome to our church's newly designed website and this blog. (Aaah, just what the world needs—another blog!) Please poke around the new website and let us know what you think. I think you'll find the resource section particularly useful. And members, you're going to love the new photo directory!
But let me tell you about the vision for this blog.
On a weekly basis, my goal here will be to share a bit of the unique perspective I have as a pastor in seeing the many ways that God is at work in our midst. So I want to highlight how he's speaking to us through his word preached, what the pastors are thinking and praying about and where God's grace is at work in different people and ministries. The Bible talks about the eternal and heavenly significance of what God is doing in and through his church (see Ephesians 3:10), and I hope that this blog, in a small way, will reflect this reality.
The audience I'm writing for is local—members of this local church and neighbors in our local community. So if you're reading from Idaho, that's great but—no offense—I won't be writing for you. My scope is intentionally limited. I'm not trying to be "the blog for all nations." Rather, I just want to talk about how the gospel of Jesus Christ is transforming lives in this town and this church family.
I also want this to be a place where you can add your voice to the topics and themes discussed. Now if you've spent any amount of time on the internet or other blogs, you know the comments section can often get a little hairy. So let me explain how we'll handle comments here. Comments are welcome, but we will moderate them. So while all comments will be read, we won't post every one. Thanks for understanding the need for this. Also, just like the blog itself, I'd like to keep comments primarily from locals—for people visiting the church and for members here. Finally, I ask that comments stay on the topic of the post.
All that being said, I'd love to get your feedback on the new site. The staff has been working so hard to get this ready for you. Please leave a comment telling them what you like.
Thanks for reading. I look forward to interacting with you as we celebrate God's grace at work in our church.
Share this on:
---
July 8 2008 at 4:51 am
0 Comments
---
Ryan James came to work at Covenant Life a little over two years ago. He and his wife Jenny, a skilled photographer, have made a wonderful contribution to this new church website and many other projects the Communications team has tackled.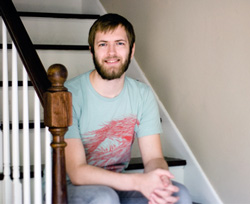 Ryan has a profound passion for the Web and information architecture as well as an acute visual sense and graphic design skills. While he would say he's not a "real" programmer, he is a great marriage of left brain and right. He really "gets" the programming/technical side, but also has a strong artistic sensibility and temperament.
I am grateful not only for Ryan's skills, but for where he's decided to use them and why. At age 22, newly married and with a growing desire to put Christ at the center of his vocation, Ryan reached out to New Attitude about supporting their website. The conversation led to a radical departure from the typical Web designer career path—a job where he would split his time between a church (Covenant Life) and Sovereign Grace Ministries (where he works on the New Attitude website). I am so grateful Ryan made the choice to move to Gaithersburg. In doing so, he intentionally chose to invest in God's kingdom over immediate career advancement and financial gain.
Share this on:
---