July 9 2014 at 8:46 am
1 Comments
---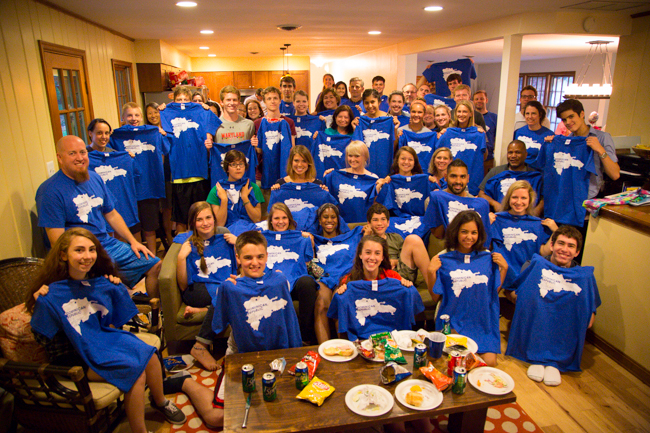 THURSDAY, JULY 10 - DAY 6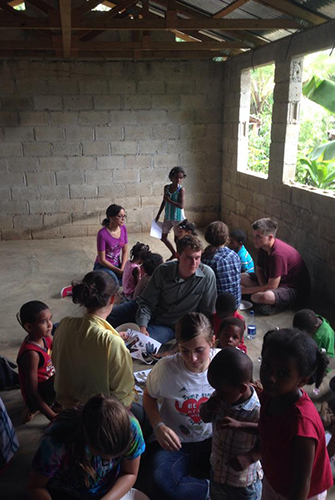 Both teams had great days of ministry and hanging out with the youth of their churches. We have really bonded with them in a special way and truly consider them partners in the gospel; sharing the love of Jesus all over the globe. It has been an amazing expereince worshipping, serving, praying, and fellowshipping together. Praying together has been an especially sweet reminder that God is the God of every tribe, tongue, and language and that he hears and answers all of our prayers, regardless of the language difference!
Last night Dave, Todd, and I met with youth leaders from Oasis, New Life (another church in the area), and Accion Callejera and had a discussion about our respective youth ministries. We gave ideas on how to encourage our teams and help them grow. We were really grateful for the opportunity to meet with these leaders and learn from them. In Santo Domingo, the team spent time in the evening with the youth and their parents as well. They split in to seperate groups and Kenneth spent time talking to the parents and Angel spoke to the teens. We have really connected with the teens here, and it is going to be very hard to say goodbye to them tonight.
We have full days ahead of us, so please be praying for strength! We are all tired and sad to be leaving all of the kids and friends that we have made here, so I'm sure it will be an emotional day. Thank you for holding us up in prayer this week. We have felt every single one!
WEDNESDAY, JULY 9 - DAY 5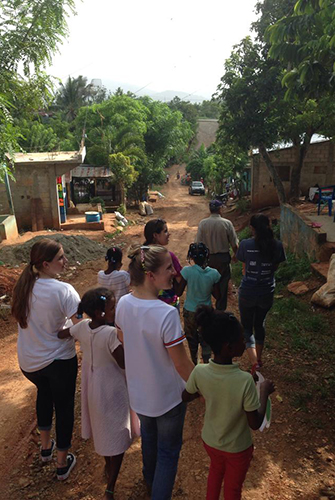 We had another great day of outreach and definitely felt God's Spirit at work! Here are a few highlights from the day:
In Santiago, we had some incredible opportunities to share the gospel with the kids at Accion Callejera. We have been making it our goal to get the gospel in front of the kids every day and today we gave them wordless gospel booklets. During the discussion time we asked all of the teens very serious questions like, "If you were to die today, where do you think you would go?" and "If you were to stand before God and he asked you why you should go to heaven, what would you say?" These questions opened up the opportunity for us to share the gospel again with these kids and even pray with a few of them as they asked Jesus into their hearts! It was an amazing experience. This morning we prayed for the Spirit of God to take hold of that building and open up the eyes of the kids there. One of the really neat things that happened today was that two of the rowdiest boys that we had yesterday, were actually the most attentive in the discussion time and even helped share the gospel story. It was wonderful and it was such an amazing reminder that Jesus is hearing and answering our prayers.
Santo Domingo had a great day as well. It was pouring raining today, but they still went out to the villages in the afternoons and did skits and sang songs with the kids there. The team shared with me that everyday that they have come, the kids have been sitting in the church and excitedly waiting for them to get there when they would pull up in the vans. Today was their last day in one particular city and the teens definitely had a hard time leaving them. Beth told me that there were many tears but that the teens' response was to worship and pray on their ride back to the guest house.

Now, the Santiago team is hanging out with the youth from Iglesia Cristiana Oasis at their weekly youth meetings. Todd gave a message on missions and we broke in to groups at the end and prayed for each other. We asked the Oasis teens to pray for our upcoming Local Missions week and for our youth ministry and we prayed for the Oasis teams and their future outreaches at Accion Callejera and in the neighborhood VBSs. The Santo Domingo team had a much deserved night off. They were able to rest and spend time hanging out together, playing soccer on the roof and card games.
I hope you can see that God is at work in the lives of our teens! He is using them and they are growing in amazing ways! And it's only Wednesday! We still have two more days of ministry! Please keep praying for us. We are all getting more comfortable here, but we are all starting to get a little tired. I am praying that everyone wants to go to bed at a reasonable time tonight.
Thank you again for praying for us! We are so excited to share all of our experiences with you all when we return!

TUESDAY, JULY 8 - Day 4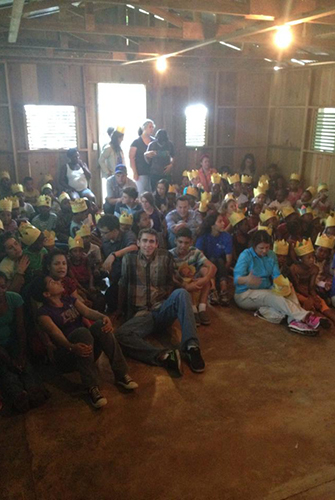 We had another great day of Vacation Bible School (VBS) and outreach! Thank you for praying for us!
God definitely blessed us in Santiago today. We were able to take the things that we learned yesterday and have an even better and more successful day today. The teens are also adjusting and are doing really well. Tonight we watched a movie with the Alpha group from last night, and once the video is over we are going to break into discussion groups. If you think of it, pray for us, that we would be able to draw these teens and young adults out and have meaningful gospel-centered discussions.
In Santo Domingo, the team had another successful day of VBS and village outreach. Beth texted me and said that everyone is doing really well and especially loving the village outreach in the afternoon. Tonight they are hanging out with the local youth at a very pricey mall. They will be experiencing two big extremes today, so please pray for them that they would be able to process all of that well and be able to feel the Holy Spirit with them and working in them.
Everyone is feeling a lot better today (especially in Santiago). I think I speak for my whole team in saying that the initial culture shock is starting to wear off, and we are really enjoying our team here, learning a lot, and loving the culture.
A quick story from Santiago:
We have two wonderful bus drivers who have been serving us all week. They are so great! We have about 10-15 teens from Iglesia Cristiana Oasis who are serving with us at Accion Callejera, and I'm not exaggerating when I say that we have fit all 49 of us into two (very small) 15-passenger vans! It has been quite the experience as we have traveled around the city! Today our drivers bartered with different street vendors as we were driving and picked up some fresh avacados for us to eat. We have all enjoyed the adventure of experiencing a new culture!
Thank you again for praying for us! We feel your prayers and are so grateful for them!
MONDAY, JULY 7 - Day 3
Hello Church!
We had long, full, and fun days today filled with Vacation Bible School (VBS) and sharing the love of Jesus with our new Dominican friends!
The Santiago team did two different VBS sessions today; one in the morning at Accion Callejera, a youth center that serves street teens, and one for children in 3 different homes of church members around Santiago. Both were exhausting, choatic (but organized of course!) and a whole lot of fun! We finished up the day at the church with a meeting with a group of teens and young adults who jsut finished an alpha program. Todd Keeler gave an excellent message and David Keeler, Joe Viers, Joe Ennis, and Jacob Patton all shared their testimonies. They did an excellent job sharing what God has done in their lives, and clearly stated the Gospel and how it changes everything!
The Santo Domingo team had a full day as well. In the morning they did a VBS program at the church and the in the afternoon they went to two different villages outside of Santo Domingo to do street evangelism and an open air VBS program. They are all doing well and in the words of Beth they had an "Excellent, excellent day. Amazing time doing village outreach. Everyone served well and both the villagers hearts and our hearts were touched".
Please keep praying for our teams. The travelling, lack of sleep, heat, and new (and very yummy and rich) food is starting to wear on some of the kids and they aren't feeling too great. Please be praying that they would be refreshed tonight and feeling the presence of their Savior with them. We have definitely felt God's presence with us and the kids did an amazing job. We have not heard one complaint from any of them.

SUNDAY, JULY 6 - Day 2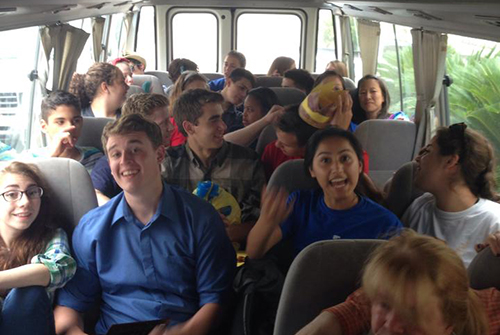 Hi, Church!

Just wanted to let you all know that we had a great day today, and everything is going well!

This morning we were all up bright and early for breakfast and church. Both services were wonderful, and in Santiago we enjoyed praising God in both Spanish and English (they sang a few songs/verses of songs in English for us!). After lunch our groups headed out for wonderful days of exploring the Dominican Republic and experiencing the culture. The Santiago team headed out for a day at the beach by the Carribbean Sea, and the Santo Domingo team went to the site where Christopher Columbus first landed in the new world and explored the rich history of this country. Both teams had full but fun days! Now we are all getting ready for our respective Vacation Bible Schools tomorrow and heading to bed early!

We had hoped to send out an update every night, but the schedule is packed, and we want to leave all of the good stories for the teens to share when they get home. :)

Please keep praying for us! That we would sleep well and be refreshed tonight, and that we would have a successful first day of VBS tomorrow, and that God would meet us and the kids that we are reaching out to. You can also be praying that God's grace would abound in each of our hearts. Things are still uncertain with the schedule (especially in Santo Domingo), and we would love your prayers for grace, peace, and wisdom for each day's activities.

Thank for your prayers! We love you all!

—Corinne Glab (on behalf of both of the teams)
Share this on:
---