September 22 2008 at 5:00 am
0 Comments
---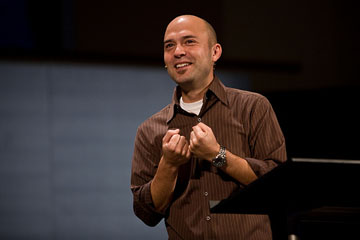 Yesterday I preached the third message of our series from Ephesians 1:3-14, in which I considered these three questions:
1. What are "spiritual blessings"?
2. How do God's spiritual blessings come to us?
3. What do God's spiritual blessings reveal about his ultimate purpose?
Ultimately, the answers drew us deeper into the heart of the gospel, and in taking communion after the sermon we were able to further celebrate the glorious truth of—and the "spiritual blessings" brought to us by—our union with Christ in his death and resurrection.
You can listen online or download the message here.
And pastor Don DeVries has prepared these questions to help you continue applying the message on your own or in a small group setting:
1. God has lavishly blessed us in Christ with "every spiritual blessing in the heavenly places"—election, holiness, adoption, redemption, and forgiveness. As you take time to ponder each blessing, how can you live in the good of them on a daily basis?

2. Josh reminded us that eleven times in verses 3-14 Paul states that all of God's blessings come to us because we are joined and united to Christ (i.e. in Christ). How does reflecting on this truth stir your affection and love for Jesus?

3. According to verses 9-10, God's ultimate purpose is to unite all things in Christ. We can reflect God's ultimate purpose by demonstrating unity in the church. In what practical ways can you do this?

4. Verses 3-14 are one long sentence (in the original Greek) that bursts forth from an enraptured and impassioned heart in worship and praise. As you meditate on the truths of these verses, take time to give thanks and praise for all the spiritual blessings in Christ.
---