December 17 2013 at 8:53 am
4 Comments
---
This past Sunday, Erin Hill, a member who serves on our Music and Worship Team, shared a song that fit perfectly with Joshua's message on The Parable of the Unforgiving Servant from Matthew 18:21-35. We asked Erin if she could tell us how the song came about and also provide the lyrics:
"One day last week I came across some pictures of old friends that took me straight back to a difficult season of pain, disloyalty and dissolved friendships. If you had asked me prior to seeing the photographs I would have told you that I had forgiven these particular people of what they had done against me and my family; I thought I did! But the truth was, I hadn't yet done that completely. The Lord desired to bring me to a place of further healing and true forgiveness. He opened my eyes to see that I was still holding debts against these people and it was affecting my current relationships, but most importantly, it was a hindrance in my relationship with the Lord.

After seeing the pictures I was able to take some time to sit down at the piano and receive this simple song from the Lord (mind you, I was pretty angry when I first started singing!). As the lyrics and the music started coming I was seeing how this was a sweet gift from Him for my aching soul. I don't know how it all transpired but an unexpected healing took place while I was being honest with the Lord in that moment.

While I was still writing, I had the thought that this song might not only be for my benefit but possibly a song the Lord might use for his church. I contacted Josh to see what the text for Sunday was going to be…I couldn't help but to laugh out loud when he shared that he was teaching on the passage of the unforgiving servant!

I truly feel that the burden of bitterness, anger and unforgiveness has been lifted from me and I sense a freedom that I haven't felt in almost five years! Praise God!"
Lyrics
When I see Jesus face to face
I won't think about the pain I feel right now
One day when I put my hand to his
I won't think about the hands that hurt me here

But right now it seems much easier
To hate my enemies
Than to forgive and rest within your peace

So I need you, Jesus
My anger's held me captive for too long
I need you, just you
Replace this bitterness with your love

I had a debt I could not pay
And you showed me your mercy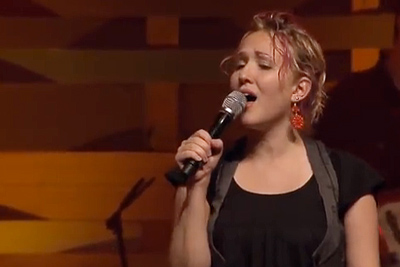 Thank you, Erin, for serving the Lord and our church with your voice and your songs. Let us know if you are able to get the song recorded!
Share this on:
---