March 26 2011 at 11:07 am
3 Comments
---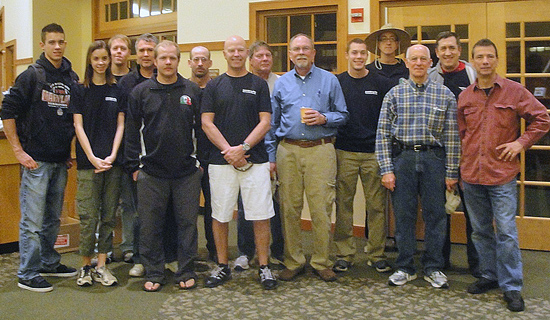 Above: a departure photo of the team that has served at Rancho 3M Christian Orphanage in Guadalupe, Mexico, over the past week. Pictured left to right: Luke Chamberlain, Devon Chamberlain, Eric Conroy, Dave Leo, Nate Somerville, Andy McPhillips, Grant Layman, Milt Hendrickson, Lou Stavely, John Luhman, Robert Johnson, Bob Merryman, Art Shenk, and Nick DeCarlo. Not pictured are team members Sherry and Van Van Orsdel, Sam Hoffman, Jack Anderson and Andy Tvardzik. Below: a digest of several updates from Art Shenk on behalf of the team.
Day 3 Update
Another gorgeous work day, sunny, mid 80s, warm dry breeze. We started the day with Sherry and Devon's tasty egg breakfast burritos, made using four dozen eggs from Taylor Adamek's (Dean's and Denise 13 year old son) chicken farm at the Ranch. Taylor charges 10 cents per egg, and the budding entrepreneur is now considering moving into the market for chicken meat, too.


Luke's worship song selections of "Let your Kingdom Come" and "High Above All Things" led into Lou Stavely's excellent devotional on propitiation (God's wrath-removing sacrifice of sending his son Jesus to die for our sins), reminding us of the incredible blessing it is to live each day with the knowledge that our sins have been forgiven and that we no longer live in fear of God's wrath.

All the teams were in full production today starting at 8:30 a.m. and worked thru until 6:30 p.m. when we enjoyed a meatball sub dinner and reflected on the day's activities and the excellent progress made on all fronts.


Painting crew team leader John Emelio reported that the upstairs wall and ceiling painting was totally done, thanks to the steady endurance of John, Bob Merryman, Luke Chamberlain and Jack Anderson, all very quiet but extremely focused on the task at hand. Meanwhile in one of the back rooms Jon Luhman and partner Sam Hoffman were knocking out door after door with prime and finish coats. Grant's color selections are superb ... they're beginning to create a warm and inviting haven for the newborn and toddlers that will soon be arriving.


The framing and trim team is rolling along with the daunting task of trimming over 60 windows and 19 doors. But Van Van Orsdel came up with a "jig" that has really reduced the time it takes to assemble the window trim. The "shop" set up is quite impressive with some serious power tools ... There is no question in our minds that this team of Van, Lou, Milt Hendrickson and Eric Conroy will meet the challenge of completing the trim.

Grant Layman remarked that the tile team (led by Nick DeCarlo…with help from Grant, Robert Johnson, Nate Somerville and myself "made a comeback" from yesterday's slow start in some of the small rooms in the front of the building by breaking out into the large room in the center of the first floor and making some serious progress.


The most fun to watch is our electrical team of Dave Leo and Andy McPhillips ... both seasoned tradesman who fly around the building (and all the other teams as a matter of fact), kneeling down, going up and down ladders—you name it they do it—to get in positions to install power outlets, lighting fixtures, ceiling fans, smoke detectors, etc. If all goes well we could have power to the building as early as this Wednesday.


Last but not least we are grateful for, as Nick DeCarlo put it, Grant's spiritual leadership and Andy Tvardzik's construction leadership. The entire team recognizes that Andy has planned and prepared for months for this trip—arriving the middle of last week to buy supplies, figure out team assignments, etc. He find's his name being called all the time for counsel on "what to do"—that is, unless he is off on another two or three hour trip across the border to get more supplies for his appreciative band of workers. Andy is a gift from God … as nothing ever seems to upset him; you couldn't pick a better project manager and exemplary leader to follow.


Finally, we are sooooooooooooooo grateful that after three days we have no sickness or accidents/injuries … and we are having a blast!


Day 2 Update
The day began with breakfast at 7a.m. Grant has each team member share why we signed up for the mission trip, followed by Luke Chamberlain leading us in worship using the smallest guitar ever made, and Nick DeCarlo sharing an inspiring reminder from Philippians 2 about our call as men to humble servanthood, being ready to do whatever it takes to see the baby home built … as this week we would not be "writing a check to a worthy cause" but putting our "boots to the ground," working side by side to see this work of the Lord established as an act of "pure religion"—the kind spoken of in James 1:27, which includes visiting orphans in their affliction.

We put in a full day:
• painting of doors (Jon Luhman, Jack Anderson, and Sam Hoffman)
• painting of the upstairs level (John Emelio, Luke Chamberlin, and Bob Merryman),
• tile work in the front entrance (Nick DeCarlo, Grant Layman, Robert Johnson, Nate Somerville and Art Shenk)
• window framing (Andy Tvardzik, Lou Stavely, Eric Conroy and Van Vanorsdel) of the over 56 windows
• wiring electrical power outlets, installing lighting fixures and smoke detectors (Dave Leo and Andy McPhillips)
• Over dinner we recounted with gratefulness the joys of the first day of work.
Day 1 Update
Our team of 19 arrived at Rancho 3M to a grand welcome by the children … smiles and hugs for all as we got out of the vans … including special greetings by name to Señor Layman and others who have been to the ranch for many years. The children went on to immediately lug our big suit cases to our bunk room, the cutest group of little porters you will ever see.

The baby house looks great! Dean Adamek (Rancho 3M Director) shared his vision for the ministry and all that will be taking place soon in the new building (projected for occupancy as early as this fall). The house is spacious, inviting, and brightly/naturally lit …attractively designed and so functional. Dean expressed his deep appreciation for the folks at Covenant Life and our continued partnership with him and his staff.

Andy Tvardzik shared an overview of the ambitious but doable goals for the week: completing the lion's share of the interior finishes, including window and door trim, painting, tile/wood flooring installation and electrical work. We enjoyed our first meal prepared by Sherry Van Orsdel and Devon Chamberlain serving in their all important role of keeping our little band fed—a band now known as "Grant's Mighty Men" (a phrased coined by Nick DeCarlo as he recapped the privilege of being able to serve using our God-given skills and abilities for His glory).

By their displays of spontaneous joy, happiness and gratefulness, the kids of Rancho 3M continue to motivate us all the more to do our part to get the "walls built" of the baby home as soon as possible, so that Dean and his staff will be able to serve even more children—"rebuilding of the walls" in the hearts and minds of the children thru Gospel-centered care that points them to their need for a Savior, Jesus Christ, and to know and love their Heavenly Father who loves them with an everlasting love and who will never fail or forsake them for all of eternity.
Share this on:
---