July 7 2008 at 3:58 pm
0 Comments
---
I'm so thankful for our Web team. They've put endless hours over the past two years into making this new site effective and creating a platform we can build on. So, let me introduce them: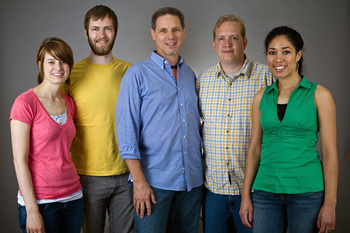 (L to R): Jenny James, Ryan James, Don Nalle, Aaron Simmons, and Besilica Reaves
Our Web Designer Ryan James handled all aspects of site design as well as front-end development. Back-end development and database administration were the province of Aaron Simmons who serves as the church's Database Administrator and author of at least one amazing Web application per day. Our Communications Director Don Nalle worked on project management, copy and content. Unfortunately, Technical Director Dave Wilcox was unavailable for the photo, but he and his team did a brilliant job preparing all the sermon audio files and logging them into the database. Ryan's wife Jenny is a wonderful photographer who selected and prepared most of the photos for the website and took many of them, too. Administrative support, which included various meetings and lots of juggling of names and faces for the Photo Directory, was ably handled by Besilica Reaves.
Some of the many other vital contributors are: Joe Moorman (server administration); Latricia Reichman, Ben Neumann, and Gavin Black (sermon audio); DJ Ryan (copy and content); Peter Bang (Member Directory development and photography); Kristen Snyder, Andy Alonso, Corey Furman, Lydia Hartnett and Israel Groveman (Member Directory and other photography).
One more important person to mention: Katherine Reynolds, my assistant. Her role is just beginning to ramp up now, as she facilitates the daily posts for this blog!
One of the things that's really helpful about the new site is the Content Management System (CMS) we're using. It's called Expression Engine, and it allows us to easily involve more of the church staff in maintaining the content of the site without everyone having to be highly technical. As you may know, I am a big fan of Apple computers, so it's great to know our site was designed on a Mac.
Here are the main tools used by Ryan James and the team:
The Tools
—Apple Computers (ok, Aaron is a PC guy, but we're still nice to him)
—Adobe CS3 (for layout comps and graphics)
—TextMate (for coding and development)
—Transmit (for file transfer)
—Sorensen Squeeze and Visual Hub (video encoding)
—Expression Engine (Content Management System or CMS)
Next post: more about Ryan who designed the site.
---
Commenting is not available in this channel entry.