Invest is a 12-week class that covers the essential doctrines of Christianity. The main goal of the class is to help people grow in their knowledge, application, and articulation of God's Word so that they can better know and glorify him in all of life.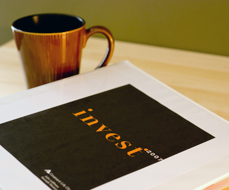 SPECIFIC GOALS
1. To deepen your relationship and knowledge of God by studying core doctrines of the Christian faith.
2. To equip you to competently connect important truths of the faith to specific everyday situations.
3. To inform you on the primary Bible texts for key doctrines.
4. To prepare you to lead others toward a deeper knowledge and relationship with God.
5. To acquaint you with Covenant Life Church's application and practice of core doctrines
6. To grow relationally with other believers by studying theology in community.
WHAT TO EXPECT FROM THE COURSE
Format: Each class is a combination of teaching and group interaction. There will be times for participants to volunteer in leading a discussion on an article, chapter, or even Bible passage.
Preparation for Each Session: It is expected that each person will 1) prioritize the meetings, 2) read the material, and 3) engage in discussion over the material. We realize there will be times where you are unable to attend or read all the material, but we ask each person to make every effort to accomplish these three things. We do not expect anyone to know everything, but instead to have simply read the material and ready to discuss and learn more as we go.
Assignments: Each week's assignment are detailed in the Course Outline section. They consist of readings in Bible Doctrine and other articles. The articles are often more practical and are important, but the Bible Doctrine chapters are the priority. Each week's assignment has a key text that has a strong connection to the week's topic. Please read this text and familiarize yourself with it.
SCHEDULE
The course meets Saturday mornings at 8:30 a.m., the tentative dates for our 2014-2015 Invest Group:
· September 13 & 27
· October 11 & 22
· November 8 & 22
· December 6 & 20
· January 3 & 31
· February 14 & 28
· March 14
REGISTER
If you have questions about the course, please e-mail Nancy Lotinsky.


The Invest Student Notebook by Covenant Life Church is available for download under a Creative Commons Attribution-Noncommercial-Share Alike 3.0 Unported License. If you choose to download the PDF and use the notebook in a public/teaching context, please include the license information in your edition and clearly indicate that the material has been used by permission of Covenant Life Church.