"Invest: In the Study of Theology" is a course designed to guide members to dig deeper into theological truth. Participants engage in private study through assigned reading and Bible memorization and then come together for small group discussion led by a pastor.
Our goals for the groups are: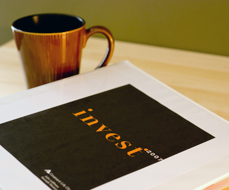 1. To study biblical answers to common theological questions.

2. To apply theological truth to common life experiences.

3. To experience fellowship as a group as we learn and grow together

4. To grow in the spiritual disciplines of Bible reading, prayer, and Scripture memory.
If you're a Covenant Life Church member and would like to participate in Invest, please talk to your pastor.



The Invest Student Notebook by Covenant Life Church is available for download under a Creative Commons Attribution-Noncommercial-Share Alike 3.0 Unported License. If you choose to download the PDF and use the notebook in a public/teaching context, please include the license information in your edition and clearly indicate that the material has been used by permission of Covenant Life Church.