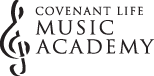 What is the Covenant Life Music Academy?
The Covenant Life Music Academy is a ministry of Covenant Life Church designed to equip the next generation of musicians to use music for the glory of God. Our aim is to prepare young musicians for a lifetime of using their gifts, both for enrichment and for serving the church. In all of our training we place an emphasis on biblical values such as faithfulness, diligence, teamwork, and joy.


The academy is open to members and children of members of Covenant Life Church. Our instructors are also members of the church.
The Covenant Life Music Academy offers:
• Instrumental Ensembles
• Choirs
• Student Recitals
• Seminars and Classes
• Concerts
We do not offer Private Instruction on-site at Covenant Life Church, however for a list of private instructors, e-mail musicacademy@covlife.org. If you are a private teacher and would like to be added please feel free to email as well.
Partnership between Music Academy and Covenant Life School
We are partnering with Covenant Life School! For more information about this partnership or programs the Music Academy offers, e-mail musicacademy@covlife.org.