One Blog
Fri Dec 30 2011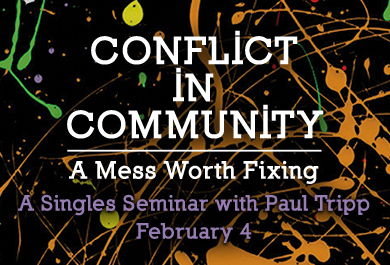 The Singles Ministry of is excited to have pastor and author Paul Tripp teach on the realities of conflict, and address how we can benefit from relationships.
All of us begin the relationships in our lives expectant and hopeful, and we all face disappointments we never expected. Hurt and conflict somehow become the ingredients of all of our relationships. At this conference you'll learn why hope turns into disappointment, peace into conflict, and discover how your relationships can be what they were designed to be.

Singles who attend the marriage conference; What Did you Expect will greatly benefit from this singles seminar. Marriages involve unavoidable conflict—often this isn't fully realized until one is married. This Singles Seminar essentially takes the microcosm of conflict from the marriage conference and gears it towards an audience of singles to help them prepare for marriage, and practice conflict resolution.
We hope you will join us! REGISTER HERE.
Saturday February 4 | Main Auditorium
6:30PM – Doors Open
7:00PM – Conference Opens
7:20PM – Session 1
8:10PM – Break
8:30PM – Session 2
9:15PM – Q&A
9:30PM – Close
Fri Dec 30 2011
The January 2012 BIG meeting has been canceled due to Isaac being in Uganda and Kevin being in Central Asia. Please remember to pray for both these teams!
Enjoy your extra Care Group night!
-The Singles Pastors
Thu Dec 1 2011
Hey my friends!
We have a unique blessing planned for everyone at our December 13th Singles Big Meeting. Our own Tony Reinke will be guest speaking and imparting to us a God-focused message from his new book, Lit!
We'll learn that words matter to God. Our God is a God of self-disclosure & revelation. Happily, throughout history He has guarded and preserved His revelation to His people in the form of written words. The words of Scripture proclaim to us in brilliant, vivid detail, the uniqueness of our God. The words of Scripture capture the beauty & power of God's redemption in Christ. Words matter to God and therefore they should matter to God's people.
Although we live in a culture today dominated by images (which has certainly brought many blessings to us), our image dominated society can also lead to a loss of appreciation for the written word. Some of us have little time to read. Some have little desire to read. Some of us find reading difficult and not leisurely.
In his book Lit! Tony asks a couple of questions that are worthy of our attention:
"What will we lose if we ignore books?" "What will we gain if we fill our lives for the next twenty years with disciplined reading?"
Braden, Kevin & I believe everyone will be inspired, and equipped biblically and practically by this message. Tony is going to help us see the benefit of reading and the connection that reading has in our walk with God. Whether you're a reader or have never picked up a book in your life this message is for you. You'll be inspired to read and you'll be equipped with practical ways to start reading & read more effectively. So make sure you don't miss this opportunity.
We're having dinner together at 6:30pm in the South Lobby, and the meeting starts at 7:30pm in the Events Center.
Please, as always, think about who you can invite to the Big Meeting and then actually invite them! I believe this message will be really accessible, and possibly more inviting for some people, especially to those that are far from Christ.
Love you all…
hydro
About ONE › ‹ View All Blog Posts


Blog Categories

Blog Archive