One Blog
Mon Apr 30 2012
Summer is fast approaching, and I wanted to draw your attention to a few great opportunities to serve in the community at our 2012 Local Missions Summer Outreach. Each year my friend Todd Keeler organizes an outreach team whose aim is to:
• serve the local community and show the love of Christ
• host a Christian day camp at neighborhood sites (Emory Grove, Laytonia, Washington Grove)
• build an on-going ministry in the community
This years' summer outreach week is July 7-14, and Todd needs the help of several dependable, creative, leadership-oriented individuals to make this event happen. Hope you'll consider serving on this outreach team and passing the word on to others!

A few of the positions are more urgent than others, so if you're ready to serve, check out the immediate needs listed directly below. If you'd like to serve later in the summer, check out the outreach week listing.

For more info, or to sign up, e-mail .(JavaScript must be enabled to view this email address).
Thank you for continuing the mission to share the gospel and make disciples of Christ!
Immediate volunteers
• Site Leaders: Work with the Mission Leader and Assistant Site Leader to plan for the week of outreach. Lead a group of youth in providing a Christian day camp for one of the neighborhood sites.
• Assistant Site Leaders: Assist the Site Leader, lead the youth by example, and reinforce what is communicated by the Mission Leader and the Site Leader.
Outreach Week volunteers
• Administration
• Coordinators: Creative Team, Volunteers, Transportation
• Operators: Kitchen, Tech
• Team Leaders: Drama, Music, Media, Recreation
• Translators
• and more!
Year-round volunteers
• Homework Clubs
• Tutoring Ministry
Tue Dec 15 2009
Just wanted to take a moment to honor someone in the singles ministry who is a great person. It's not because of some extraordinary skill or talent—he does something most any of us could; he gives his time to help the youth of Emory Grove.
For two years Olu Edegbai has been going to the Emory Grove Resource Center on average four days a week for three hours a day and at times during the summer for 40 hours a week. Olu is great because he is like our Savior in the way he seeks to humbly give his life away for others. The best way to honor Olu would be to let you read the words of the workers and kids that he has affected.
"He has been consistent, reliable and hardworking through out his tenure with us. His willingness to help in any way has enhanced our program and the lives of the youth he works with. Olu is patient, understanding and considerate to everyone he comes in contact with. His thoughtful and accepting nature has allowed our youth to feel comfortable and to approach him for advice and/or helping in almost any capacity." —Stephanie Semones, director with Housing Opportunities Commission (HOC) who nominated Olu for the 2009 Community Action Award


"He has developed great relationships with the children who attend the Family Resource Center. The children truly look forward to his arrival in the afternoon, as does the staff. It is such a relief to see Olu walk through the door of the Center each day, and it always amazes me that he shows up with as much energy and excitement as he did his first day." —Kelly Keegan, Director Emory Grove FRC

"Mr. Olu is nice and helpful. He is very smart so no matter what grade you are in, he can help you with your homework…even if it means staying past closing time. If it's dark after we're done, Mr. Olu would walk my sisters and I home. We are very blessed to have him here. I thank God for sending us such a wonderful helper." —Belinda A., youth at Emory Grove

—Drew
Mon Oct 5 2009
An email from Danielle to Drew
hi Drew,
Pami and i took 3 out of 4 of our girls to the Rio. We picked up the girls and headed over for hot chocolate and board games for a couple of hours. We also brought snacks and I made some pumpkin bread for their families to bring back with them. Initially the girls were a little quiet, but that was completely different within 1/2 hour. They laughed a ton, were lots of fun and HILARIOUS. All four girls seem to get along real well and are good friends. At one point they wanted to refill their hot chocolate with soda and just went up to do that, we stopped them and wanted to encourage them to be honest and just got them cups for soda. I just thought that was a good opportunity.
Thanks,
Danielle Aguirre
Thu Sep 24 2009
The Lord's Table Soup Kitchen is in need of volunteers tomorrow (Friday) from 1pm – 3pm. Call Meghan Mohrland at the church office if you are interested.

Sat Sep 19 2009
Dear Friends-
I am at my hotel on Monday morning in London. The African part of the trip is finished. Friendships were made with both the fellow countrymen from America who formed our work team and the Sudanese nationals and the few Ugandans who I met. While doing the construction we worked with five Sudanese…These folks touched my heart and will have a place in it for a long time to come. One of them is a 25 year old guy named James…We hugged one another when it was time for us to depart. He liked my camera so at that time I took it from my neck and placed it around his neck.
The work we did went well. We made trusses for the building expansion and with the help of the translators got them on top of the building and in the right place. According to Matt, the man in Juba who ran the project we exceeded what he expected to get done.
...My time on this computer is about up. Assante to everyone who prayed for me and donated money for the trip. Assante is a Swahilli word for thank you.
Robert Johnson
Wed Jun 24 2009
Do you have time to give to someone who has probably never had anyone give them that? Do you want to be a listening ear to a kid who has probably never had one? Our youth mentor program exist to bring you into the life of youth from two communities in Gaithersburg where the children need someone to care, to come along side of them and be a positive influence, to be there to encourage and care, to give them hope. If you are interested in learning more please contact Drew Garfield at .(JavaScript must be enabled to view this email address).
Process-fill out the Youth Mentor Application and YM Background Check
Commitment-1 year, minimum of 4 hrs a month interacting with kids, helping out with activities
Sun May 3 2009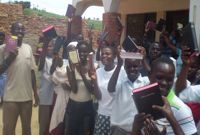 Hi Brethren,
 
This an appreciation from Kiburara (western Uganda) for the bibles you bought for the body of Christ here in Uganda. We are doing the distribution very carefully by those who are able to read and write. Since they gave to only those who are able to read, this has forced most christians to begin a club of learning how to read. This club is going to begin with effect from Sunday even in daughter churches. We are making sure that we do not distribute them any how because our intention is to make sure that who ever come to salvation we give them.
 
Given this resource is a great tool of evangelism.
 
It has been very hard for christians to purchase the bible in open market at retail it costs 16,000 to 20,000 shillings.
 

What amazed me is that i saw a Muslim boy requesting for a bible. This is an opportunity of the gospel.
 
In whatever way you are investing in His kingdom,you are bringing a great impact in many lives.
 
God bless you all.
 
Moses
Thu Apr 9 2009
Got good stuff you don't need, want, or use anymore? Think about giving it to this local ministry which seeks to get your donation to those who are truly in need both in the US and in other countries.
Tue Feb 24 2009
Steve Boisvert and Bryce Hoover have been helping a man in the community with MS. He is in need of men to assist him to perform daily tasks. This is a great opportunity to serve someone in the surrounding community (Flower Hill).
Details:
Who-guys only
Days and Times-Monday/Thursday/Saturday from 6:30-9:30 (flexible)
Frequency-Once a week/every other week/once a month
Location-His apartment is across the street from the Flower Hill Giant
Training-Steve Boisvert, a guy in the singles ministry who helps this man, will help train you
Contact-To get involved email Drew at .(JavaScript must be enabled to view this email address)
About ONE › ‹ View All Blog Posts


Blog Categories

Blog Archive