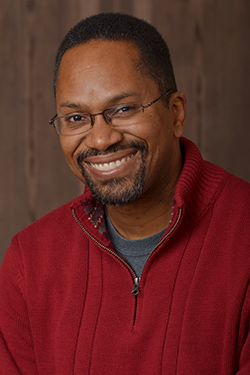 "I love exploring ways to impact our community with the love of Christ," says Mark, who has overseen Outreach since 2007. Priorities include Introducing God, Mercy Ministries (e.g., Prison, Soup Kitchen, Wounded Warriors and Good Samaritan Advocates), Guest-Related Ministries (including Starting Point, Guest Reception, and Guest Follow Up) and Ministry Teams.
Born in Los Angeles to Jamaican parents, Mark responded to the gospel at age 8 in Tampa, Fla., which became home after family moves that took him from the Bronx, N.Y., to Port Antonio, Jamaica.
The precocious youth graduated high school as class valedictorian two weeks after turning 16. Mark went on to earn bachelor's and master's degrees in electrical engineering from University of Florida (1988) and Georgia Tech ('90). In God's plan, he put aside a rewarding, science-based career to answer the call to pastoral ministry.
In 1993, newly married and 25, Mark embarked on more than two years of evaluation by serving our Singles Ministry while working full time. "I began to realize that my 'passion' for my job was diminishing, and my passion for serving in the church was growing," he recalls.
Mark joined our pastoral team in April 1996. He taught and led Singles Ministry until 2002, when he took on oversight of Mercy Ministries. He gradually became more involved in the Alpha ministry (now Introducing God), teaching sessions and eventually assuming its full leadership in 2004. In 2007, he became the Outreach Pastor, with responsibility for all Outreach Ministries.
"By God's incredible grace, I have the privilege of serving alongside men and women who provoke me by their passion to reach those around them who don't know Christ. Their words and their deeds honor the gospel we cherish. Their joy-filled love and sacrificial service is an example I'm eager to follow."
Mark, wife Terri, and their two sons reside in the Gaithersburg area. Their adult daughter, still a member at Covenant Life, lives in Bowie, Md.