June 29 2015 at 12:15 pm
0 Comments
---

This past Sunday we made reference to a statement supported by many evangelical leaders in response to the recent Supreme Court decision to legalize same-sex marriage. Our quantity of hard copies disappeared pretty quickly, so we wanted to point to it here. You can download the statement or view it online.
The statement, posted by The Ethics & Religious Liberty Commission, is titled, "Here We Stand: An Evangelical Declaration on Marriage." It recommends six points of engagement by the church:
• Respect and pray for our governing authorities even as we work through the democratic process to rebuild a culture of marriage (Rom. 13:1-7);
• Teach the truth about biblical marriage in a way that brings healing to a sexually broken culture;
• Affirm the biblical mandate that all persons, including LGBT persons, are created in the image of God and deserve dignity and respect;
• Love our neighbors regardless of whatever disagreements arise as a result of conflicting beliefs about marriage;
• Live respectfully and civilly alongside those who may disagree with us for the sake of the common good;
• Cultivate a common culture of religious liberty that allows the freedom for those who live and believe differently to prosper.
The statement closes with a pledge to "...stand steadfastly, faithfully witnessing to the biblical teaching that marriage is the chief cornerstone of society, designed to unite men, women and children. We promise to proclaim and live this truth at all costs, with convictions that are communicated with kindness and love."
Share this on:
---
June 28 2015 at 3:13 pm
2 Comments
---
Each Sunday during our worship services the Holy Spirit moves on the hearts of different members to share words of encouragement with the congregation through the Ministry Mic at the front of the auditorium. To help clarify the biblical foundations for this practice and elaborate on how the Ministry Mic operates, the elders have written a paper called "Understanding the Ministry Mic."
The paper looks at:
The Purpose of Sunday Mornings
What We Believe About Spiritual Gifts
What We Believe About Prophecy
What Should the Use of Spiritual Gifts Look Like at Covenant Life Church?
Answers to Common Questions
Resources for Further Study
We hope this resource serves you and builds your faith for God's work in and through our Sunday gatherings.
Share this on:
---
June 23 2015 at 9:28 am
1 Comments
---
This school year just wrapped up, but Discovery Land, our children's ministry, is already busy preparing for the fall. The season to sign up to serve with the kids is here! Cara Wilcox gives us a joyfully honest look at serving with the 1st-5th grade class:

Just over two years ago, I received an email from Josh Cooley asking if I would consider serving as a Tree House Gang director in the 2013-2014 Discovery Land year. Tree House Gang is the student drama team that does skits to help illustrate the lesson in the first through fifth grade Adventure class each week. I was already acquainted with the responsibilities of a Tree House Gang director, which is why my immediate mental response to Josh's email was: No. Way.

Let me explain my exemplary attitude. First, I had just completed a seven-year stretch when I almost never participated in an entire church service. Because of my husband's work responsibilities here at church on Sunday mornings, and because we had four children in just over six years, I was usually either feeding a baby, strolling a baby, or trying to coax a terrified toddler to stay in his or her classroom. Serving? I'd been serving my family nonstop for a looooong time. So I was looking forward to some down time at church, some me time, some spiritual replenishment time.

Second reason for my "no way" outlook? Being a Tree House Gang director would require several hours of scriptwriting and rehearsal in addition to showing up very early on Sunday. And because of my husband's work schedule, I would need to bring my four, small, energetic children with me to rehearsals. How was I supposed to juggle parenting little ones and directing teenagers at the same time?

Oh, and speaking of teenagers, I was flat out scared of them. I had no experience with teens! I'm not cool! Would they like me? Would they listen? Lastly, if I was going to serve in Discovery Land, I wanted to be in the nursery, loving on some babies. The first through fifth grade class was huge, noisy and rambunctious. And I felt like my noisy and rambunctious quota was pretty much filled at home.

So when I got Josh's email, I felt vaguely justified in ignoring it, which is exactly what I did, all summer long. I did not reply when he sent a follow up email many weeks later, though I did start to consider it and pray. And then, late in August, in God's sense of humor, I ended up in a small room where I could not help but overhear some women who were in all innocence talking about… what else? The desperate need for Tree House Gang directors and the fact that nobody was stepping up. "Ok, Lord! I get it! I hear you! I'll obey!"

With no slight trepidation, I filled out my volunteer application and became the official Week 3 Tree House Gang director. I showed up that first weekend, wrote my script at home, rehearsed on Saturday, rehearsed again on Sunday, and oversaw the performance during class and it was love at first serve. I went home on Sunday afternoon exhausted and high as a kite. God met me with such joy in serving those children that I'm still marveling. Everything about it was fun and fulfilling for me: my team of irrepressible teens, the laughs we shared in pulling off our first skit (it involved a magic act and a dead parrot), and the first graders I led during breakout time at the end of class. Suddenly that noisy and rambunctious class of elementary kids had become a passion, and I wanted to help make the class better and better. It was a simple instance of Matthew 6:21, "For where your treasure is, there your heart will be also." I had begun to invest time and energy in Discovery Land, and where I invested, my heart quickly followed. In another year, in fact, the Lord opened a door for me to work part time planning the Adventure class breakout times.

Now is it always as glorious as that first week I served? No. We have weeks where my scripts aren't funny or actors forget their lines, weeks where I'm running late and my children are challenging, weeks where the class seems unresponsive. But when the work is dull, or the outcome seems dubious, I take heart from Paul's words in 1 Corinthians 15:58: "My beloved brothers, be steadfast, immovable, always abounding in the work of the Lord, knowing that in the Lord your labor is not in vain."

One other benefit of serving has been the relational encouragement and stability it provides. In the last five years, many of my closest friends have moved away or found other churches, and that has been difficult. Building friendships with others who serve in Discovery Land has been an anchor for me. My serving friends are not my closest relationships, but when I see their faces, I remember how we have labored and laughed together. And that makes them feel like family.

I asked to be able to share this story with you today in hope that you might be persuaded to join me. Please come serve with us in Discovery Land. We need many hands for this good work. Now maybe you're already maxed out. Maybe you have legitimate reasons not to serve. Or maybe you're like me, and God is extending his hand to you, inviting you to be part of what he is doing among our children. If so, if there's even a little stirring within, may I challenge you to act in faith? I don't promise that your experience will be just like mine, but unless you sign up, how will you ever know how God may meet you, or what good works He has prepared for you there?
Share this on:
---
June 9 2015 at 1:52 pm
0 Comments
---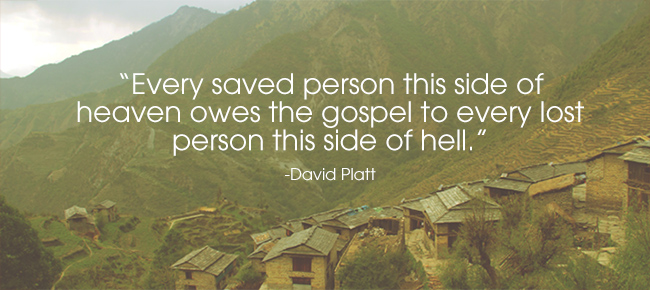 Last Sunday, guest speaker David Platt, President of the International Missions Board, shared a stirring message on the biblical call for Christians to share the gospel with unreached peoples around the globe. But before his sermon, Platt had a powerful word of encouragement for the members of our church. Here you can review both Platt's word of encouragement and his sermon as a whole.
Learn more about upcoming, short-term missions trips on the Serving Our World page. Also discover how you can get involved in serving our community by visiting our Local Missions page.
Encouragement to Covenant Life:
Share this on:
---
May 19 2015 at 4:36 pm
0 Comments
---
To help friends near and far share the day with others, here's the recording of Sunday's program to thank Joshua Harris and family plus a slideshow of photos from the program and reception. Enjoy!
We invite everyone to keep the Harris Family in your prayers as they prepare to move to British Columbia. Here are their requests:
For the Lord to lead us to the right church. And give us real friendships and community.
That our kids would get settled in their new schools, make good friends and grow in their love for God and each other.
That Josh would learn and be stretched through his classes at Regent.
That Shannon would find opportunities to use and develop her gifts in new ways.
That we would learn to rest, wait on the Lord and trust him in a season of uncertainty.
That God would use us to bless the city of Vancouver in some small way and demonstrate the love of Christ to our neighbors.
Share this on:
---
May 18 2015 at 2:32 pm
1 Comments
---

Respectfully Ready
by Almasih Kahdost
It was my first time visiting the home of a friend and he was showing me around his suburban townhouse. It was a typical introductory run-through.
"Here's the kitchen. Our garage is over there. These are our gods. Here's our bedroom."
"Ah. Very nice."
Wait. What?!?
This was a casual, but intentional, introduction to his family's Hindu deities.
Polite Company and Culture
From the time of my youth I was taught (implicitly and explicitly) that certain subjects were out of bounds unless you knew someone really, really well. Making conversation of politics, a person's salary or (gasp!) religion was the social equivalent of eating with your hands at the table. (Something, as it turned out, we would do later in the evening!)
Understanding that religious discussion doesn't bring the uneasiness in many other cultures that it brings for westerners enabled me to ask, "Which is your favorite god and why?"
Dialogue or Discourse?
Hearing that Ganesh (who blesses new beginnings) and Lakshmi (who brings wealth) were his favorites gave me insight into his values and desires. Asking questions lets people know we're interested in a discussion rather than a diatribe. And discussion affords our friends respect as well as the opportunity to ask questions.
Paul modeled a similar approach in Athens where he found himself distressed by seeing so many idols in the city (Acts 17:16). "So he reasoned...in the marketplace day by day with whoever happened to be there" (v17). In fact, Paul is said to have conversed (NAS, ESV) or debated (NIV, NLT) with the Stoics and Epicureans (v18). It was a back-and-forth. Did Paul frequently engage in a unilateral fashion? Sure. But these verses indicate an occasion that was more of an exchange than a one-sided homily.
Primed but Gentle
So, if someone introduces you to their favorite deity, or tells you their present state is a reincarnated one, maybe it would be better to first draw them out before jumping down their throat with chapter and verse. Consider learning about their worldview so you can address it.
Back to Paul; the Spirit spoke through him telling us to always be ready "...to give an answer to everyone who asks you to give the reason for the hope that you have. " (1 Peter 3:15). We mustn't shy away from telling folks Who we believe in and why. But how we do so is important too. The verse continues, "but do this with gentleness and respect".
"Almasih Kahdost" is a long-time friend of Covenant Life who desires to see the nations come to Christ. Though preferring to publish anonymously, Almasih Kadost welcomes your comments below.
See all the posts in this series.
Share this on:
---