September 17 2014 at 11:58 am
0 Comments
---

More information about the year-long, 2-A-DAY reading plan, including the readings schedule, can be found on the 2-A-DAY page.
TUESDAY, SEPTEMBER 16 | Joshua 21 and Colossians 4
By Tim Harvey
"Today we know that the LORD is in our midst…" – Joshua 22:31
…fellow-workers for the kingdom of God…and they have proved to be an encouragement to me. – Col. 4:11
These disparate chapters from the Old and New Testaments provide some great lessons and examples for my own interactions with my brothers and sisters in the faith. Consider the situation in Joshua 22, where the rest of the Israelites went to confront the tribes of Reuben, Gad, and Manasseh over an altar that the three tribes had built by the border of their land at the Jordan River. The altar appeared, to the other Israelites, to be a substitute worship location other than the Tabernacle where God had commanded that sacrifices be offered – a fundamental misunderstanding that could have easily turned into war (v. 12). But look at how it was handled by both sides:
• The Israelites, although their opening dialog was quite accusatory and based on wrong assumptions (v. 16-20), were nonetheless willing to listen to and consider the answer that the three tribes gave them. In the end they were willing to revise their initial assumptions about the three tribes' motives.
• The Israelites also graciously offered a "way out" of the apostasy they thought their brothers had fallen into, offering to share their own land if necessary (v. 19).
• The three tribes were willing to enter into dialog and provide an explanation for their actions.
• Both sides, in fact, were motivated by zeal to obey God and honor His word.
• The peaceful resolution of this tense situation was recognized as evidence that God was present and at work among them.
How many of these characterize my interactions with my family, with my fellow believers, or with the world? Although this chapter is far from a perfect example of brotherly love, I wish I could model more of the above traits.
I also wish I could better follow Paul's example in the relationships he depicts in Colossians 4. Consider:
• He remembers his friends and fellow-workers by name.
• He offers specific encouragements and commendations.
• He passes along greetings to affirm and build up long-standing relationships; most of those named in this chapter are mentioned elsewhere in Acts or other epistles.
• His commendations, greetings, and instructions are neither inconsequential fluff nor boring administrative details, but all reflect the deep partnership he had with these fellow-workers in the work of spreading the gospel.
I wish that my communications were more characterized by these kinds of things as well. In short (and I'll cheat here to bring in Colossians 3), I want my interactions especially with brothers and sisters in the faith to be characterized by love: "And beyond all these things put on love, which is the perfect bond of unity." – Col. 3:14
Share this on:
---
September 17 2014 at 11:52 am
0 Comments
---
We worshiped God in song and prayer.
Our Passion is for You
The Name Above All Names
Nicene Creed
This is Amazing Grace
Be Still My Soul
Ministry Mic
Pastoral Prayer
We built one another up as a community.
We greeted one another, welcomed guests, gave offerings to further the kingdom. We heard announcements about our life together, including upcoming classes and events.
We heard God's Word.
Robin Boisvert preached a message on the Preeminence of Christ from Colossians 1:15-23.
Song of response: Name Above All Names
We were sent into the world.
Mark Mitchell shared a few words to help us personally apply the sermon, and we closed with a doxology from Ephesians 3:20-21.
Share this on:
---
September 15 2014 at 3:00 pm
0 Comments
---
Here's the list of the classes and events (most upcoming, a few already in progress) that Don DeVries shared yesterday in church on behalf of the Equipping and Training team (also available as a PDF). Most items have links, but feel free to contact .(JavaScript must be enabled to view this email address) for more information.
CLASSES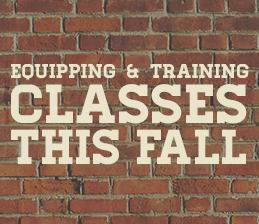 Bible Study: Book of Isaiah (CLASSES FULL)
A 12-week study taught by Adam Malcolm.
Wednesday Dates: Sept. 10, 17, 24; Oct. 8, 15, 22; Nov. 5, 12, 19; and Dec. 3, 10, 17 | 7 – 8:30 p.m.
Saturday dates: Sept. 13, 20, 27; Oct. 11, 18, 25; Nov. 8, 15, 22; and Dec. 6, 13, 20 | 8:30 – 10 a.m.
---
Forgiven and Set Free
A nine-week confidential Bible study for post-abortion women.
Tuesdays: Sept. 23 through Nov. 18 | 7 - 9 p.m.
Held in a private home near Covenant Life
Contact: Mary Beth Philips at (505) 670-4164
---
"How We Got The Bible"
A five-week course taught by Robin Boisvert. There is no issue more crucial to the Christian faith than the doctrine of Scripture. This course teaches what the Bible says about itself and also addresses how the canon of scripture came into being.
Wednesdays, Oct. 8 - Nov. 5 | 7:30 - 9 p.m.
---
Invest
Keith Welton leads this 12-session class on the basic doctrines of the Christian faith.
Every other Saturday, Sept. 13 – March 14 | 8:30-10:30 a.m.,
---
Marketplace Book Studies
A 9-week study led by Corby Megorden
Wednesdays, Oct. 8 - Dec. 10 | 7:30 p.m. - 9 p.m.
Material covered includes:
Good to Great by Jim Collins
Take a biblical look at Collin's classic principles of management theory.

The Gospel at Work by Sebastian Traeger & Greg Gilbert
Find the freedom of a work ethic rooted in serving Christ
---
Christianity Explored
John Leconte leads a seven-week study of the Gospel of Mark that provides an open, welcoming opportunity to discuss what the Bible says about Jesus Christ and the meaning of life.
Wednesdays, Sept. 23 – Nov. 12 | 7 – 9 p.m.
---
EVENTS
Women at the Well
A casual time of worship, Bible teaching, fellowship and prayer for ladies. Contact .(JavaScript must be enabled to view this email address) for more information.
The Second Saturday of select months (See the ministry page for details) | 9 - 10:30 a.m.
---
Marketplace Ministries
Corby Megorden leads a study on A Passion for Faithfulness by J.I. Packer, highlighting the principles of leadership in the book of Nehemiah.
Third Friday of each Month | 7 - 8 a.m.
---
Men's Gathering
Enjoy breakfast and connect with men of all ages and stages of life. Hear about plans for a robust community of men pursuing God and authentic biblical manhood. Sons, friends, neighbors, and colleagues welcome. Contact .(JavaScript must be enabled to view this email address) for more information.
Saturday, Nov. 1 | 8 - 9:15 a.m.
---
"I Still Do" Marriage Conference
A one-day conference, provided by Family Life Ministries via simulcast at Covenant Life Church. Speakers include Al Mohler and Dennis Rainey. Contact .(JavaScript must be enabled to view this email address) for more information. (The "live" event is held at the Verizon Center.)
Saturday, Oct. 4 | 9 a.m. - 5 p.m.
---
Gospel at Work Conference
Most people spend at least 80,000 hours working over the course of their lives. God calls us to worship him with that time. This conference seeks to help you consider what God may desire to do through your vocation.
Coming to Covenant Life Church January 30, 2015. More information soon.
Share this on:
---
September 15 2014 at 11:40 am
1 Comments
---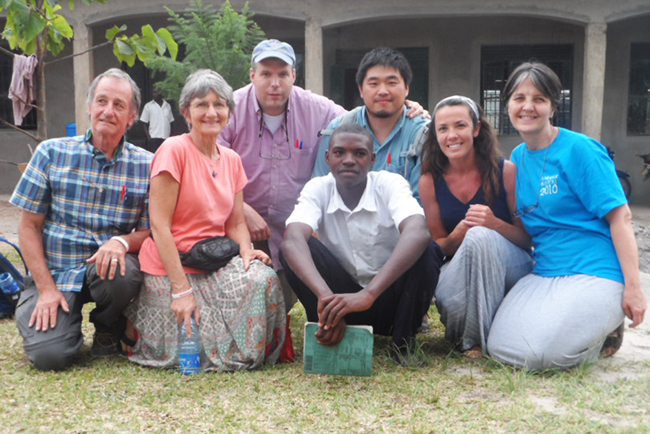 In late July Covenant Life sent a small team of educators to Western Uganda to spend 14 days at the Alpha and Omega Vocational Secondary School in the town of Kiburara. The team participated in a wide range of activities: classroom teaching, chapel worship and preaching, library organization, assessment of the school accounting system, and helping to conduct exams. The team's involvement went beyond school and administrative functions and included financial participation in a student outreach to Kamwenge town, enjoying Bible studies and prayer with the Kamwenge team, and afternoon activities like sports, debates, drama presentations and traditional dance.
Classroom Teaching
Founded in 2011, The Alpha Omega School is still in the throes of growth both as a Christian school and the physical campus, which started as a vacant plot. The students are incredibly well behaved and disciplined, and classes of 60-plus were very easy to teach, even doing lab practicals. These students have the opportunity to attend school that many of their peers will never have. The behavior evident in class reflects their gratefulness to receive such a blessing. A large number of the student body are born-again Christians and the fruit of the Spirit is evident in all school activities.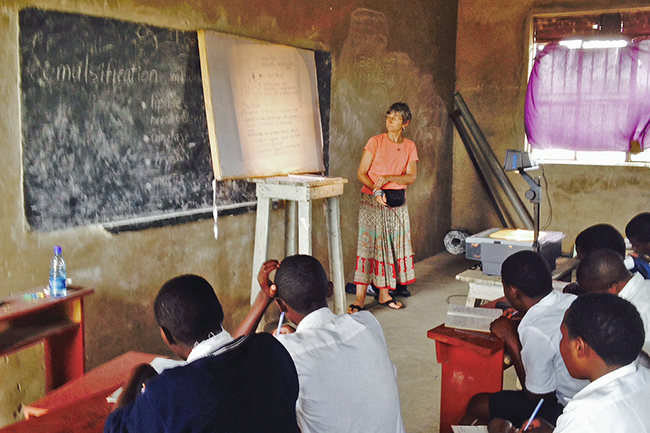 We were struck by the amount of time that the staff invests in students outside the classroom. Headmaster Frank is an incredible leader whose life demonstrates so much grace towards the staff and students. He leads with great wisdom and love following the vision that he has from the Lord to make disciples. His job description extends way beyond school hours as does that of all the teachers and staff. The teachers truly love the students and want them to succeed in life.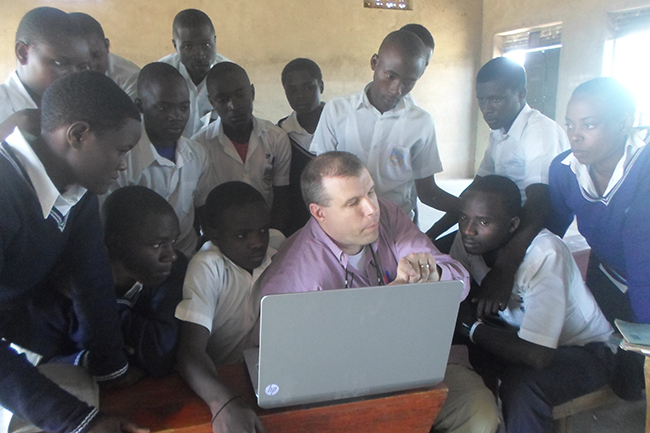 Chapel
Students are up at 4:30 a.m. preparing for their day, and every morning at 7:30 a.m. there is chapel. The students lead a time of worship, and then a Bible message is brought, usually by headmaster Frank, but our team all took turns bringing the message. It was so great to see the team members rising to the challenge and responding to the leading of the Spirit.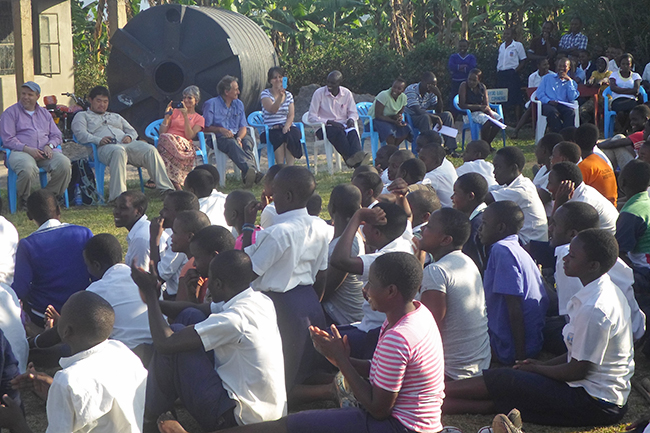 After-school Clubs and Activities
On one afternoon the debating society invited us to a very enthusiastic and well prepared debate on whether Uganda should have a woman for president. The students demonstrated great talent for presenting logical arguments, and it was a great time.
All of the team members were involved to varying degrees with administering and grading the examinations. Working closely with the teachers gave us the opportunity to interact and understand them and their roles. This time was invaluable and led to many gospel opportunities.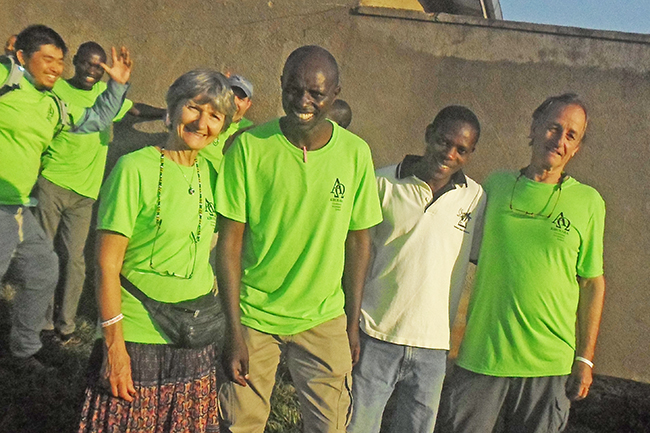 The team ladies took the initiative to meet with all the women staff members to understand their lives, roles and challenges. This further cemented friendships and was a very good time of fellowship and prayer. According to headmaster Frank, the Lord encouraged the ladies greatly as we talked through their struggles and prayer requests. He said the issues we discussed, unbeknownst to us, were the exact things that he had been wanting to address. It is very encouraging to be used by God in this way.
Another spontaneous event developed from the fact that we had purchased a goat to use in a biology dissection. The teachers then volunteered to roast the goat that evening and provide a meal for us all to enjoy! All decked out in the "Alpha Omega" T shirts that we had provided, we enjoyed a very relaxed time of fellowship.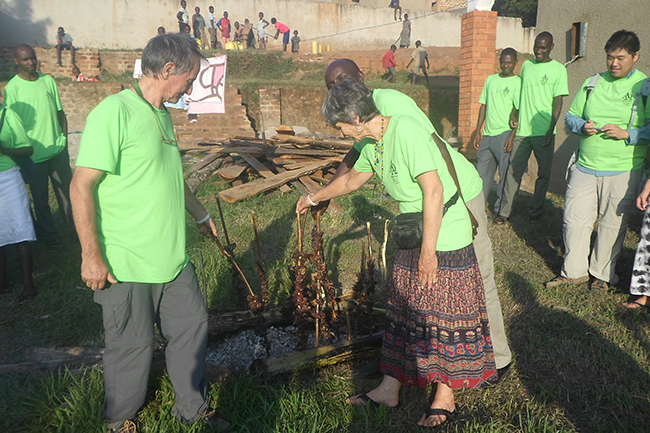 Women's Conference
We were able to participate in the teaching and testimony aspect of a women's conference that drew over 150 women. Sue shared one message on peace and trust and one on prayer, and Margie and Kendra shared their testimonies. These testimonies had a big impact on many of the attendees and it was so great to see the how God uses great pain and sorrow in His redemptive purposes.
Kamwenge Outreach
Although about 85% of Ugandans will profess Christianity, this belies the highly diverse spiritual condition of this nation. Many professing Christians will also participate in tribal animism and will rely on witchdoctors for healing and economic needs. The spread of the gospel is challenged by this deep-seated superstition.
After the majority of the students had gone home, a group of students along with headmaster Frank and one of the teachers, Gershom, remained at the school to prepare for a week-long outreach to Kamwenge town. This town is characterized by a strong Catholic and Muslim presence and in the past there has been much spiritual opposition there.
The preparation involved fasting every day for the week, and worship, intercession and sharing every morning and evening. We also met daily in small groups to implement the Bible study tool that we had developed and to study the book of Jonah. It was such a blessing to join with them and to observe their zeal, and it was so provoking to see the diligence with which they sought the Lord in prayer before venturing out. Our team also invested personally in this mission and provided finances for food and lodging for the outreach. We later heard that over 30 people made professions of faith during the outreach!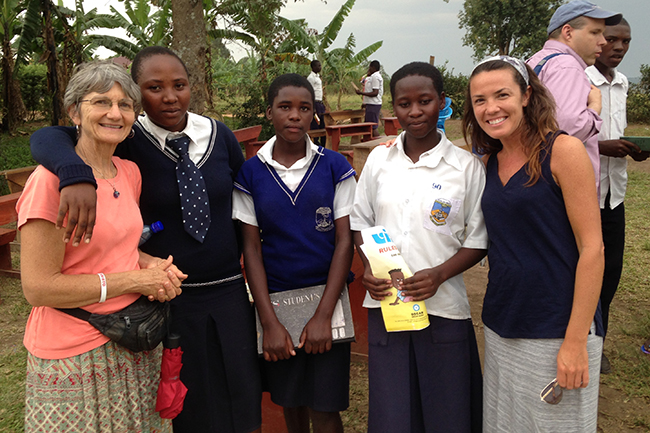 Conclusion
We were so impressed by what gets accomplished by the dedicated staff and students of Alpha and Omega. We saw first-hand the grace that is upon headmaster Frank to lead the staff and students. He has such a genuine love for the students and such a passion and reliance on the Lord to carry out his calling there. We want to help here as much as possible!
Though not an unreached nation, Uganda is a target of evangelism by Islamists and there is a great need is for doctrinal training and equipping of the evangelical churches. We see investment in this school as a Kingdom investment supporting the advancement of the Gospel in Africa.
Share this on:
---
September 9 2014 at 10:15 am
0 Comments
---

More information about the year-long, 2-A-DAY reading plan, including the readings schedule, can be found on the 2-A-DAY page.
TUESDAY, SEPTEMBER 2 | Joshua 12 and Ephesians 4
By Tim Harvey
"Now these are the kings of the land whom the sons of Israel defeated and whose land they possessed…" – Joshua 12:1
"…walk in a manner worthy of the calling with which you have been called, with all humility and gentleness, with patience, showing forbearance to one another in love…" – Eph. 4:1-2
My commentary devotes barely any space to Joshua 12, referring to it as simply an appendix to the history of Canaan's conquest that is recounted in the preceding chapters. And there doesn't seem to be a lot of spiritual insight to be gained from the long list of defeated kings and their city-states, all of whom are long forgotten except for their final ignoble mention here as having been defeated by the Israelites. But maybe that's exactly the point – God's kingdom and His purposes go irresistibly forward, while His enemies are swept aside and remembered only because of their defeat.
However, God's enemies seem to be faring pretty well these days, if my daily newspaper is any indication. Look close to home or across the world and everywhere we see the ascendancy of those who "call evil good and good evil" (Isaiah 5:20) and who do "what [is] right in their own eyes" (Judges 17:6). What's happened to the irresistible march of God's kingdom that Joshua 12 so clearly displays?
Ephesians 4, I believe, points us toward the answer. God's kingdom is marching forward, but no longer by means of national conquest. Rather, it is moving forward with the "weapons" of humility, gentleness, patience, forbearance, and love. These weapons don't bring down walls or cities; they break through to hard hearts and blind eyes. They don't display the greatness of a nation or its army; they display God's power to transform individual lives. Just as there was no earthly way the Israelites could have defeated all those kings in their own strength, there is no way that we can "walk worthy" in the ways Paul outlines apart from the indwelling power of God. As we walk in these things we demonstrate the power and presence of God as decisively as any list of defeated kings.
And our calling to "walk worthy" is not just an individual calling, but one we are to walk out in unity with our brothers and sisters – "being diligent to preserve the unity of the Spirit in the bond of peace," as Paul puts it in verse 3. The tribes of Israel were united (unfortunately only temporarily) as they fought the Canaanite kings. God's call to His church in our day is that we would be similarly united for His purposes and His kingdom, as we "grow up in all aspects into Him, who is the head, even Christ" (v. 15).

MONDAY, SEPTEMBER 1 | Joshua 11 and Ephesians 3
Hope for the Pagans
by Jose Troche
Joshua 11 is one of those chapters in the Old Testament where we read about many battles, deaths, and destruction, as the Israelites take over the land that God had promised to them. Many kings had joined forces to fight against Israel (v.5). They had come out with all their troops, a great horde, in number like the sand on the seashore (v.4). This alliance may have seemed intimidating, but the Lord was with Joshua and had commanded him, once again, not to be afraid, for He was going to give over all of them to Israel (v.6). And Joshua and all his warriors fell upon them and struck them until he left none remaining (v. 7-8). And Joshua's army continued capturing cities, striking with the sword all who were in them, devoting them to destruction, not leaving any who breathed (v. 11, 12, 14, 17, 21).
We can picture smoke coming out from burned cities, corpses infesting the landscape, utterly defeated armies, ubiquitous devastation… For it was the Lord's doing to harden their hearts that they should come against Israel in battle, in order that they should be devoted to destruction and should receive no mercy but be destroyed (v. 20). What a sobering and horrifying passage! Many find these events perplexing and disturbing.
The pagans that heard about the breathtaking wonders that the God of Israel was performing responded with consternation, their hearts melted and no spirit was left in any of them (Joshua 2:10-11). The Bible openly paints a terrifying image for those who are against the Lord. His judgement is unbearable. It is certainly a fearful thing to fall into the hands of the living God!
As I try to fit myself into this story, an extremely troubling reality dawns in my mind. I am not an Israelite by birth, I am a pagan! If all I have is the Old Testament, I am left in a hopeless condition. If I do not belong to ethnic Israel, I am destined to be devoted to destruction, just like the heathen of Joshua 11.
Praise be to God for Ephesians 3, for the amazing mystery that was hidden for ages but revealed to Paul and the apostles (Eph. 3:5), that we, the Gentiles, the pagans, are fellow heirs, members of the same body, and partakers of the promise in Christ Jesus through the gospel (v.6). Praise be to God for extending undeserved mercy to helpless pagan sinners like me, so we can comprehend with all the saints what is the breadth and length and height and depth of the love of Christ (v.18-19), who shed his blood for the forgiveness of our traspasses (Eph. 1:7), so we can be members of the household of God (Eph. 2:19).
To Him be the glory in the church and in Christ Jesus throughout all generations, forever and ever. Amen (Eph. 3:21)
Share this on:
---
September 8 2014 at 12:46 pm
1 Comments
---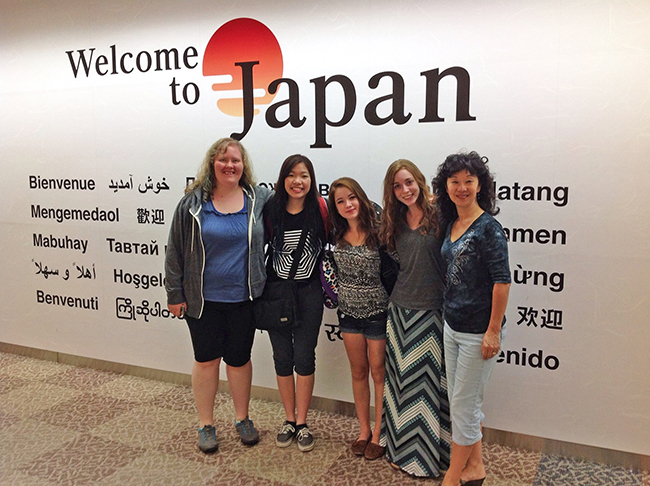 Here is a brief recap from Linda Benjamin of how God used members of our church to serve the people of Japan. Below that, is a brief note of thanks from the Grace Harbor Church in Tokyo with whom our team partnered to provide the classes.
You know so many people were praying when you felt like you were walking on the water the whole time you were on a mission trip!
On August 4 the five members of the Japan team made up of Linda and Christina Benjamin, Tori Chow, Kristen Emelio and Hannah Moore, traveled to Tokyo to serve Grace Harbor Church by assisting in their Kids English Week from Aug. 4-11.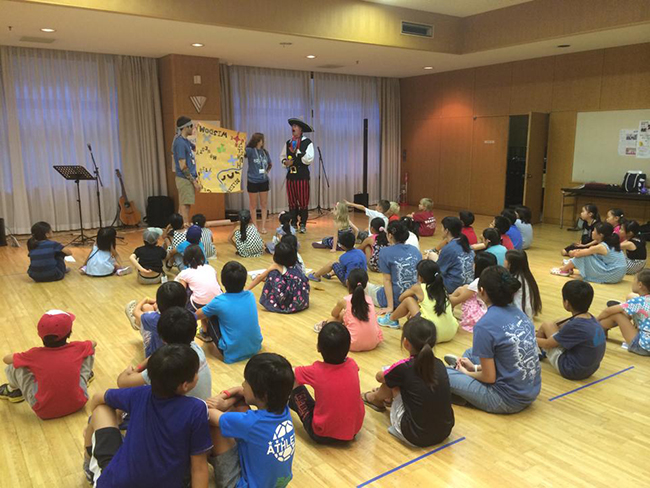 Despite having less than three weeks to plan, we couldn't have imagined a better outcome! We were able to bless about 100 children with songs, fun activities and crafts throughout the week. But, not only the children had a fantastic time; we were also able to connect and build friendships with many of the children's parents and the Grace Harbor Team. Even on our 'free' time, we were able to spend time with some of the kids, having deep, heart-to-heart talks.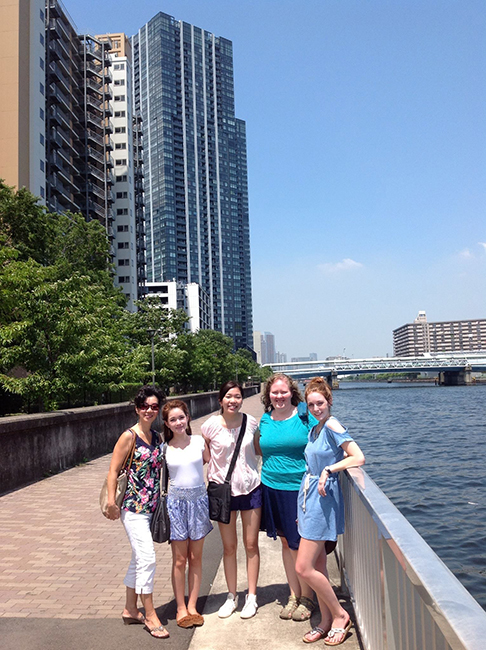 Through a Mom's tea time that was also held during the week, one of the Grace Harbor missionaries gave a short message on parenting, translated by a CLC team member. It was a powerful time where many women were affected by the wisdom and care that they heard. One woman was so touched that she is now going to host the a class on parenting at her home, and inviting more interested people. The Gospel work continues!
Even though we were not able to share the Gospel in words due to language barrier, the love of Christ was shown in many ways and some moms have expressed their gratitude in tears of joy. We are so grateful to be able to witness God's unfathomable love at work among the Japanese people as well as amongst our team, and the Grace Harbor team, through their selfless service, "being of the same mind, having the same love, being in full accord and of one mind."
One of the Grace Harbor Team commented: "Praise God! We hope you send them back!" Thank you so much for your support and prayers and please continue to pray!
---
Dear Covenant Life Church,

Thank you so much for sending this wonderful team to help with Grace Harbor Project's Kids English week! It was so well prepared and very lovingly executed by your team. Hannah amazed us with her creative and organizational skills. And ChiChi and Tori were real troopers to keep up with the demanding schedule. They enjoyed the children and reached out to them in warm and loving ways.

Your church blessed us in so many ways through them, and through your most kind generosity. First, by sending them to us — especially on such short notice! Also, by providing the refreshments for the moms of the camp kids over "Tea Time" as we, Linda and I and a few other staff, made ourselves available to have conversation. The staff loved being treated out to a Monja restaurant! Thank you!!! And Bob and I thank you for your personal financial blessing to us. God has dealt so kindly to us!

I wish I could stand before you now and tell you about these blessings and about how Linda was such a blessing to so many women she met — including me! For example, when I became sick and did not have strength to prepare a meal for some friends we had committed to have over, Linda took over and prepared the meal. She also blessed me and moms at the camp by translating for me when it seemed like the thing to do was to share some insights about parenting. Some moms at my table, the English table, were pouring their hearts out about their struggles with parenting and asking for advice. That Linda translated for me made it possible for all the moms to hear these insights.

It turned out that this resulted in a desire for some moms to attend a parenting class. So, now I am hoping to start up a parenting class in the fall. Moms who do not speak English signed up, too, so we need to pray God will provide a bilingual translator for this class.

Another heart Linda reached was the heart of a mom of a distressed boy we found when we got off the bus in front of our apartment. The boy was pacing and crying. Linda went over to find out his problem. His mom had dropped him off to meet a friend at a place. The friend was not there and the place was closed. Linda stayed with him until his mom was found!

Through Linda and the team the love of Christ was clearly shown to many. Praise God! We hope you send them back!

Love in Christ,
Sharon and Bob (Tokyo Team)
Share this on:
---