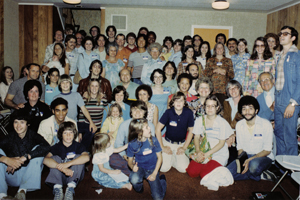 Over a four-year period in the 1970s, a meeting known as "Take and Give" (TAG) began drawing as many as 2000 per week to Washington, D.C., for passionate Bible teaching and worship. C.J. Mahaney and Larry Tomczak, both young preachers converted in the wake of the Jesus Movement, were the leaders of TAG's successful ministry.  But they longed for something more than an assembly of loosely connected Christians and wanted to build a local church like those they saw modeled in the New Testament.
So in 1977 a small group of Christians (55 at the first meeting) began to gather in the basement of a suburban Maryland home. Together, they committed to build a community where they could learn and grow and worship God together. The final meeting of TAG was in December of 1979.
As the young church grew, it met in several local schools and facilities around Montgomery County. Then in the early '90s, God provided 40 acres in the middle of Gaithersburg, where Covenant Life began to build a permanent home. By this time, C.J. and Larry had parted ways (that story is best told here).
In 1997, God drew a young author and speaker named Joshua Harris to the vision of the local church.  After much prayer and counsel, Joshua moved from Oregon to Maryland to be trained in ministry by C.J.  At Covenant Life, Joshua encountered a church that earnestly applied God's Word, loved the work of God's Spirit, and prized genuine relationships.
Seven years later, in 2004, C.J. installed Joshua Harris as the new senior pastor of the church that he founded.  After 27 years of faithful pastoring, C.J. could now give himself to serving Sovereign Grace Ministries full time.
Following circumstances that led to a long period of sober consideration and prayer, on December 16, 2012, Covenant Life Church ended its formal association with Sovereign Grace Ministries. We remain grateful to the leaders of Sovereign Grace who played a foundational role in establishing and building this local church.
Covenant Life continues to be a growing, culturally diverse church with evangelistic passion, love for the local community, and a commitment to planting other churches.  Though our family has grown, Covenant Life is still working to build a community of gospel-centered people—the same goal cherished by those first 55 members who met in a basement.