December 15 2014 at 2:46 pm
0 Comments
---
On Sunday we introduced the nine candidates who have been nominated to serve as non-staff elders. In the above video, Mark Mitchell describes the process that led up to this point and the steps that will lead up to a congregational vote of affirmation, followed by installation of the affirmed candidates as elders.
To get to know the candidates better, see their biographies and photos of them and their families. Video interviews with each candidate will be available online on December 21.
Share this on:
---
December 8 2014 at 1:25 pm
1 Comments
---
The video above is the announcement Mark Mitchell shared with the congregation on Sunday about recent staff layoffs due to budget constraints, followed by remarks from Joshua Harris. Below is the text of Mark's remarks.
Two days ago I sent a letter to the church as a follow up on our budget situation and the need to layoff two pastors. I indicated in the letter that with great sadness, the two pastors who have been laid off are Joe Lee and Isaac Hydoski.
It's very possible that some of you are hearing this for the first time. If so, I regret that this has to be the case this morning. I know how difficult it has been for many to receive this news before now so I can only imagine the challenge if you're hearing this for the first time.
This is sad news for all of us. These men are beloved pastors, friends, and co-laborers who have served this church faithfully for over a decade. We're very saddened to see them go. When Josh and I met with each of them to give them the news, it was by far the hardest thing I've had to prepare for and do since becoming the Executive Pastor.
Their last day on staff will be January 15. Because Isaac and Joe have served for 12 years, they will each receive 12 weeks of severance pay according to our policy. In the meantime, we're discussing as pastors how to best redistribute their responsibilities among the remaining staff.
These are godly men and as such they've received this news with faith in the Lord, but there is also an understandable measure of sadness because they love this church so much and have loved serving as pastors. Please pray for them, their wives, and their children during this difficult time. Pray that the Lord would comfort and strengthen them and make clear what their next steps should be. And as you see them, please don't hesitate to encourage them and express your love.
Some of you have written me directly to tell me how difficult this is for you. I'm especially sympathetic for those in our singles ministry who just recently had to say goodbye to Braden and now are faced with Isaac's departure as well. I know this has to be particularly painful for you. There is a ONE meeting already on the schedule for Saturday, Dec 13th. We'll take time during this meeting to talk with you and hear from you about these decisions.
We love these men and their families and want to do our very best to show that during their remaining time on staff here. And we love you and understand how difficult this is for you as well. I want to encourage us with these words from Lamentations 3:
Lamentations 3:17–33
my soul is bereft of peace;
I have forgotten what happiness is;
so I say, "My endurance has perished;
so has my hope from the LORD."
Remember my affliction and my wanderings,
the wormwood and the gall!
My soul continually remembers it
and is bowed down within me.
But this I call to mind,
and therefore I have hope:
The steadfast love of the LORD never ceases;
his mercies never come to an end;
they are new every morning;
great is your faithfulness.
"The LORD is my portion," says my soul,
"therefore I will hope in him."
The LORD is good to those who wait for him,
to the soul who seeks him.
It is good that one should wait quietly
for the salvation of the LORD.
It is good for a man that he bear
the yoke in his youth.
… the Lord will not
cast off forever,
but, though he cause grief, he will have compassion
according to the abundance of his steadfast love;
for he does not afflict from his heart
or grieve the children of men.
Please join me as I take a moment now to pray.
(Mark prayed for Joe, Isaac and their families, for all those saddened by the news, and for clear guidance and strength from the Lord as Joe and Isaac make plans for the future.)
Share this on:
---
December 4 2014 at 12:16 pm
0 Comments
---

More information about the year-long, 2-A-DAY reading plan, including the readings schedule, can be found on the 2-A-DAY page.
MONDAY, DECEMBER 4 | Revelation 1
Reflections on Revelation 1
By Vincenzo Russillo
Today's passage contains detailed description of the securities that were given to the Lord Jesus (vv. 5-6) and are just 7 (the sacred number in the Bible):
1. He is the faithful witness. Jesus is the only reliable source that testifies to the facts of this book. In fact He testifies of Himself and of the facts which concern Him. We can easily believe the Lord Jesus.
2. The firstborn from the dead. He is the first rose from the dead never to return to die and He is the only one who came back from the dead in a glorified body and those who have faith in Jesus will do the same experience and this will happen at rapture of the church 1 Th. 4:14:
"For if we believe that Jesus died and rose again, even so God will bring with Him those who have fallen asleep in Jesus".
3. The ruler of the kings of the earth. This quality presents us His future role in the millennium here on Earth. As we can read from the letter that the apostle Paul sent to the Philippians 2 vv. 9 -11:
"For this reason also, God highly exalted Him, and bestowed on Him the name which is above every name, so that at the name of Jesus EVERY KNEE WILL BOW, of those who are in heaven and on earth and under the earth, and that every tongue will confess that Jesus Christ is Lord, to the glory of God the Father."
4. To him who loves us. This expression has a sense of actuality. Jesus loves us as we are and want to accept him as our Savior. He loves us and continue to love in the eternity.
5. He has freed us from our sins by his blood. The Blood of Christ is very important, because it's not just a symbol. In Old Testament God taught that the life of every living thing is in the flesh and blood (Leviticus 17 v. 11). When Jesus gave His life on the cross, gave it to the last drop of his blood for the atonement of our sins. So that through faith in Him we might be reconciled to God. The apostle Peter wrote these words, 1 Peter 1: 18-19:
knowing that you were ransomed from the futile ways inherited from your forefathers, not with perishable things such as silver or gold, but with the precious blood of Christ, like that of a lamb without blemish or spot.
Jesus has freed us from our sins by His blood.
6. He has made us to be a kingdom and priests to serve his God and Father. Believers are descendants of priests who will reign with the Lord, 1 Peter 2:9:
But you are A CHOSEN RACE, A royal PRIESTHOOD, A HOLY NATION, A PEOPLE FOR God's OWN POSSESSION, so that you may proclaim the excellencies of Him who has called you out of darkness into His marvelous light.
The Lord will come as King on earth and will abolish all injustice but first will be in the air to meet the believers, He will as Spouse to take His bride the church and for which He gave himself.
7. The one who is given the glory and power. He is the Amen. This is an expression that emphasizes His eternity. Jesus is the Amen of whom we read in the book of Isaiah, and it is a title of which only Jesus is both the subject and the object of Revelation. He governs all events and these revolve around Him. He is the eternal purpose and remote everything. Everything was done not only by him but everything is done for Him. This universe exists for Him.
Lord, thank you because you have revealed the immense glory of Jesus. Through His precious blood can be washed from all sin, and You have given us the privilege of being co-heirs with Christ to reign. Thanks for your unconditional love that you give us and remind us to give you the glory in everything we do.
Share this on:
---
December 1 2014 at 12:05 pm
0 Comments
---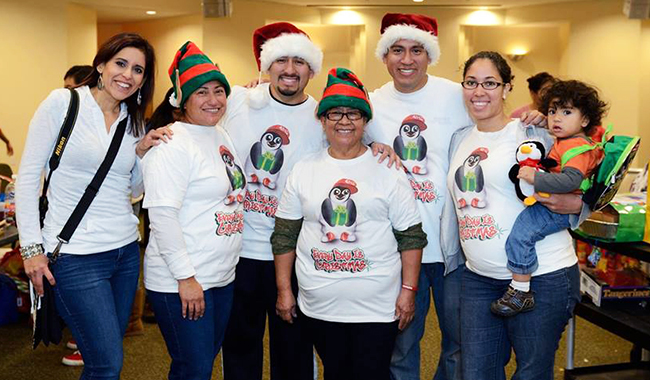 From Dennis Castaneda who leads the "Every Day Is Christmas" ministry:
Thank you to the nearly 40 volunteers who came out on November 22 to assemble and distribute Thanksgiving food baskets with the Every Day Is Christmas Basket Giveaway. The volunteers were a mix of singles, married couples, families and care groups. We were able to bless 42 families with Thanksgiving baskets.
Here are a few testimonies from the volunteers that shopped, decorated, and delivered the baskets to the families in need:
Lisa and I had a great time helping out and delivering a basket on Saturday. We spent an hour getting to know a dear lady, and we were able to talk together about our walks with Christ and our lives in general. Lisa and I feel we've made a friend. —Jim

We had a great time Saturday with the kids assembling and decorating the basket. We drove up to Germantown and gave it to a single lady who has taken on the care of her grandson. She was very grateful for the basket, and when Pat asked her if we could pray for her she agreed right away. As soon as Sandra and I put our hands on her shoulders she burst into tears and continued crying quietly as we prayed for her. She was clearly touched and blessed, and we all hugged her and thanked her for being willing to receive from us. So, thanks for being a part of the body of Christ; His name was definitely glorified! —Gretch

We stayed for a couple of hours talking with a single mom and her lovely daughter. It turns out that the mom had just lost her job two weeks before, so she really appreciated the food. We were able to encourage each other as we have had very similar life experiences. I believe God put us together for just that reason. Thanks for being a channel of blessing for all of us. We wish you and your family a beautiful Thanksving in the Lord. —Dave & Laurie
This could not have taken place without the support of the church, so thank you! We are looking forward to our next event on Saturday, December 13—our Christmas store where we make Christmas gifts for children available at very low cost. For more information, or if you'd like to help out, e-mail Dennis at .(JavaScript must be enabled to view this email address)
Share this on:
---
November 24 2014 at 4:07 pm
0 Comments
---


This month we've sought to grow in our understanding of the priority of the church and the foundational values of loving, serving and giving as we live together in Christian community.

Take time to re-listen or listen for the first time if you missed a message: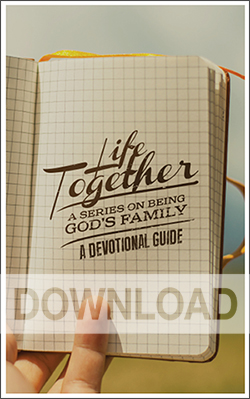 Life Together as the Church
Love One Another
Serving One Another
Giving
Also, don't forget the Life Together Devotional Guide full of ideas to help you draw out the meaning of the biblical text, spark application and discussion, and provide ways to talk about these truths with children at home.
We hope you enjoy the above photos submitted by some of our care groups. If you haven't captured your "care group selfie" yet, it's not too late! We'll be continuing to post photos in The Weekly and elsewhere as we receive them.
Share this on:
---
November 14 2014 at 9:29 am
1 Comments
---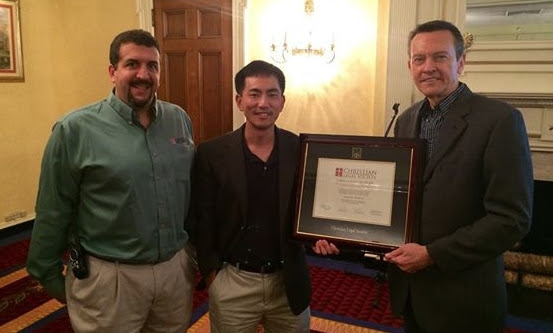 Photo courtesy of Good Samaritan Advocates
Chip Grange and Doug Duberstein, both attorneys and long-time members of Covenant Life, were recently honored for their work providing legal services to low-income neighbors through Good Samaritan Advocates (GSA).
Chip serves as a co-director of the GSA clinic held monthly at Covenant Life, and Doug Duberstein volunteers his time for those clinics as well.
Chip received the 2014 John Robb Christian Legal Aid Award, given each year at The Christian Legal Society's National Conference in recognition of excellent service and longstanding commitment to Christian legal aid.
Doug was honored by GSA as Volunteer of the Year. The GSA ministry offers legal-aid clinics and other resources at two locations in Northern Virginia as well as at Covenant Life.

Chip is the co-founder of Gammon & Grange, a law firm based in McLean, Va., and one of the founders of GSA. Doug is a senior counsel with IBM Corporation.
When you see Chip or Doug, please thank and encourage them for their service to the glory of God.
Share this on:
---