September 29 2014 at 6:20 pm
0 Comments
---
Video above, and text below of Mark Mitchell's prayer yesterday morning in church:
"Our God is in the heavens; he does all that he pleases." [Psalm 115:3]

Lord we acknowledge your universal sovereignty and your inexhaustible wisdom as God. You do according to your will among the host of heaven and among all the inhabitants of earth. No one can keep you from accomplishing your purposes and no one can question your wisdom or timing in when you choose to act. The counsel, purposes and plans of your heart stand forever and cannot be thwarted by any human or spiritual activity.

Lord, your Word makes clear that the heart of the king, and by implication every human authority, is under your sovereign direction, and like streams of water in your hand, you turn it wherever you wish.

Father, in all things, good and bad, pleasant and difficult, in blessing and in trial, you act according to your good and holy purposes and for the glory of your name.

So we worship you and honor you and declare that you are worthy of our complete and unwavering trust.

Father, thank you for bringing the civil lawsuit to an end. Thank you for showing us mercy in the outcome. Thank you for sustaining us as a congregation throughout the last two years and for helping us to trust in you as we've waited for this moment.

We acknowledge that this result doesn't end the difficulty of those who have been affected by the civil lawsuit or the pain of those who have suffered because of sinful and criminal actions against them.

• We pray for those who have suffered physical or sexual abuse. We are grieved by these horrific sins and pray for a deep and powerful working of your Spirit in the lives of these victims and their families. We ask you to bring comfort and peace into their lives. Father, we pray that you would please do for them what no doctor, health professional, counselor or pastor can do. Bring a deep and abiding healing to their souls and fill them with hope for a life of peace through relationship with Christ. Please do this for these dear men, women and children who are precious in your sight.

• We pray for any and all who have been falsely accused in this lawsuit. We ask you to strengthen their faith, act on their behalf, and restore their reputation. We pray that you would keep them from the evil one who may tempt them to anger or bitterness and we pray instead that you would fill them with mercy, compassion, and forgiveness toward those who have sinned against them. We pray that you would enable us to love and support them as a church family.

• We pray for the plaintiffs and their families. We don't know the totality of what they've experienced. We simply ask you to have mercy on them. We pray that you would bless them and do good to them. We pray that in every way they would know and embrace the loving kindness of Jesus Christ. You tell us in your Word that as far as it depends on us, live in peace with all men. We pray that to the extent that peace and reconciliation is possible, that you would bring that about according to your wisdom and power.

• Finally, I pray for this dear congregation. I thank you for each and every one. They are your people, your saints, your loved ones. I bless them and thank you for them. Thank you for their patience and forbearance. Thank you for the support, encouragement, and prayers they've extended to us as pastors. These last 2-3 years have burdened and tested us as a congregation. Strengthen us by your Spirit and may Jesus Christ dwell in our hearts through faith and fill our gaze as we behold him in your Word.

Father, you have loved us and called us to be your own from before the foundation of the world. Lord Jesus, you are the Good Shepherd, the Friend of Sinners, and the Head of the Church. We thank you for redeeming us from our sins through your death and resurrection. Holy Spirit, you are our ever-present Helper. You are with us, you strengthen us, and you will never leave us.

Triune God, we bless you, and it is through the strong and compassionate name of Jesus Christ we pray. Amen.
Share this on:
---
September 29 2014 at 4:40 pm
0 Comments
---

Members, please plan ahead for two Members Meetings coming up in the next few weeks.
The first will be held Sunday, October 12, at 6 p.m. to discuss the allegations of the civil lawsuit and the results of the Independent Investigation. Many have had understandable questions over the last two years, and we are eager to communicate.
We have scheduled an additional Member's Meeting on October 26, at 6 p.m. This will provide an opportunity to follow up on any questions you may have coming out of the first meeting. We anticipate that both meetings will go for approximately 90 minutes.
Let's be praying for the Lord's presence and help as we prepare for these important times together as a church.
Share this on:
---
September 17 2014 at 11:58 am
0 Comments
---

More information about the year-long, 2-A-DAY reading plan, including the readings schedule, can be found on the 2-A-DAY page.
TUESDAY, SEPTEMBER 16 | Joshua 21 and Colossians 4
By Tim Harvey
"Today we know that the LORD is in our midst…" – Joshua 22:31
…fellow-workers for the kingdom of God…and they have proved to be an encouragement to me. – Col. 4:11
These disparate chapters from the Old and New Testaments provide some great lessons and examples for my own interactions with my brothers and sisters in the faith. Consider the situation in Joshua 22, where the rest of the Israelites went to confront the tribes of Reuben, Gad, and Manasseh over an altar that the three tribes had built by the border of their land at the Jordan River. The altar appeared, to the other Israelites, to be a substitute worship location other than the Tabernacle where God had commanded that sacrifices be offered – a fundamental misunderstanding that could have easily turned into war (v. 12). But look at how it was handled by both sides:
• The Israelites, although their opening dialog was quite accusatory and based on wrong assumptions (v. 16-20), were nonetheless willing to listen to and consider the answer that the three tribes gave them. In the end they were willing to revise their initial assumptions about the three tribes' motives.
• The Israelites also graciously offered a "way out" of the apostasy they thought their brothers had fallen into, offering to share their own land if necessary (v. 19).
• The three tribes were willing to enter into dialog and provide an explanation for their actions.
• Both sides, in fact, were motivated by zeal to obey God and honor His word.
• The peaceful resolution of this tense situation was recognized as evidence that God was present and at work among them.
How many of these characterize my interactions with my family, with my fellow believers, or with the world? Although this chapter is far from a perfect example of brotherly love, I wish I could model more of the above traits.
I also wish I could better follow Paul's example in the relationships he depicts in Colossians 4. Consider:
• He remembers his friends and fellow-workers by name.
• He offers specific encouragements and commendations.
• He passes along greetings to affirm and build up long-standing relationships; most of those named in this chapter are mentioned elsewhere in Acts or other epistles.
• His commendations, greetings, and instructions are neither inconsequential fluff nor boring administrative details, but all reflect the deep partnership he had with these fellow-workers in the work of spreading the gospel.
I wish that my communications were more characterized by these kinds of things as well. In short (and I'll cheat here to bring in Colossians 3), I want my interactions especially with brothers and sisters in the faith to be characterized by love: "And beyond all these things put on love, which is the perfect bond of unity." – Col. 3:14
Share this on:
---
September 17 2014 at 11:52 am
0 Comments
---
We worshiped God in song and prayer.
Our Passion is for You
The Name Above All Names
Nicene Creed
This is Amazing Grace
Be Still My Soul
Ministry Mic
Pastoral Prayer
We built one another up as a community.
We greeted one another, welcomed guests, gave offerings to further the kingdom. We heard announcements about our life together, including upcoming classes and events.
We heard God's Word.
Robin Boisvert preached a message on the Preeminence of Christ from Colossians 1:15-23.
Song of response: Name Above All Names
We were sent into the world.
Mark Mitchell shared a few words to help us personally apply the sermon, and we closed with a doxology from Ephesians 3:20-21.
Share this on:
---
September 15 2014 at 3:00 pm
0 Comments
---
Here's the list of the classes and events (most upcoming, a few already in progress) that Don DeVries shared yesterday in church on behalf of the Equipping and Training team (also available as a PDF). Most items have links, but feel free to contact .(JavaScript must be enabled to view this email address) for more information.
CLASSES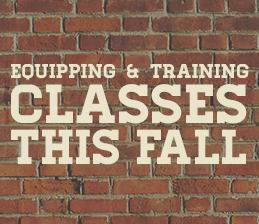 Bible Study: Book of Isaiah (CLASSES FULL)
A 12-week study taught by Adam Malcolm.
Wednesday Dates: Sept. 10, 17, 24; Oct. 8, 15, 22; Nov. 5, 12, 19; and Dec. 3, 10, 17 | 7 – 8:30 p.m.
Saturday dates: Sept. 13, 20, 27; Oct. 11, 18, 25; Nov. 8, 15, 22; and Dec. 6, 13, 20 | 8:30 – 10 a.m.
---
Forgiven and Set Free
A nine-week confidential Bible study for post-abortion women.
Tuesdays: Sept. 23 through Nov. 18 | 7 - 9 p.m.
Held in a private home near Covenant Life
Contact: Mary Beth Philips at (505) 670-4164
---
"How We Got The Bible"
A five-week course taught by Robin Boisvert. There is no issue more crucial to the Christian faith than the doctrine of Scripture. This course teaches what the Bible says about itself and also addresses how the canon of scripture came into being.
Wednesdays, Oct. 8 - Nov. 5 | 7:30 - 9 p.m.
---
Invest
Keith Welton leads this 12-session class on the basic doctrines of the Christian faith.
Every other Saturday, Sept. 13 – March 14 | 8:30-10:30 a.m.,
---
Marketplace Book Studies
A 9-week study led by Corby Megorden
Wednesdays, Oct. 8 - Dec. 10 | 7:30 p.m. - 9 p.m.
Material covered includes:
Good to Great by Jim Collins
Take a biblical look at Collin's classic principles of management theory.

The Gospel at Work by Sebastian Traeger & Greg Gilbert
Find the freedom of a work ethic rooted in serving Christ
---
Christianity Explored
John Leconte leads a seven-week study of the Gospel of Mark that provides an open, welcoming opportunity to discuss what the Bible says about Jesus Christ and the meaning of life.
Wednesdays, Sept. 23 – Nov. 12 | 7 – 9 p.m.
---
EVENTS
Women at the Well
A casual time of worship, Bible teaching, fellowship and prayer for ladies. Contact .(JavaScript must be enabled to view this email address) for more information.
The Second Saturday of select months (See the ministry page for details) | 9 - 10:30 a.m.
---
Marketplace Ministries
Corby Megorden leads a study on A Passion for Faithfulness by J.I. Packer, highlighting the principles of leadership in the book of Nehemiah.
Third Friday of each Month | 7 - 8 a.m.
---
Men's Gathering
Enjoy breakfast and connect with men of all ages and stages of life. Hear about plans for a robust community of men pursuing God and authentic biblical manhood. Sons, friends, neighbors, and colleagues welcome. Contact .(JavaScript must be enabled to view this email address) for more information.
Saturday, Nov. 1 | 8 - 9:15 a.m.
---
"I Still Do" Marriage Conference
A one-day conference, provided by Family Life Ministries via simulcast at Covenant Life Church. Speakers include Al Mohler and Dennis Rainey. Contact .(JavaScript must be enabled to view this email address) for more information. (The "live" event is held at the Verizon Center.)
Saturday, Oct. 4 | 9 a.m. - 5 p.m.
---
Gospel at Work Conference
Most people spend at least 80,000 hours working over the course of their lives. God calls us to worship him with that time. This conference seeks to help you consider what God may desire to do through your vocation.
Coming to Covenant Life Church January 30, 2015. More information soon.
Share this on:
---
September 15 2014 at 11:40 am
1 Comments
---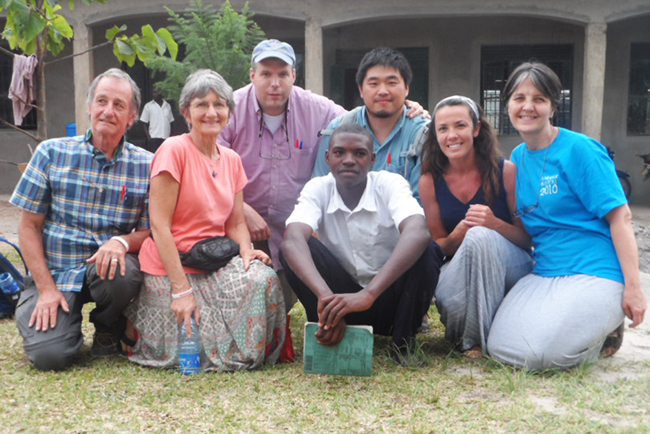 In late July Covenant Life sent a small team of educators to Western Uganda to spend 14 days at the Alpha and Omega Vocational Secondary School in the town of Kiburara. The team participated in a wide range of activities: classroom teaching, chapel worship and preaching, library organization, assessment of the school accounting system, and helping to conduct exams. The team's involvement went beyond school and administrative functions and included financial participation in a student outreach to Kamwenge town, enjoying Bible studies and prayer with the Kamwenge team, and afternoon activities like sports, debates, drama presentations and traditional dance.
Classroom Teaching
Founded in 2011, The Alpha Omega School is still in the throes of growth both as a Christian school and the physical campus, which started as a vacant plot. The students are incredibly well behaved and disciplined, and classes of 60-plus were very easy to teach, even doing lab practicals. These students have the opportunity to attend school that many of their peers will never have. The behavior evident in class reflects their gratefulness to receive such a blessing. A large number of the student body are born-again Christians and the fruit of the Spirit is evident in all school activities.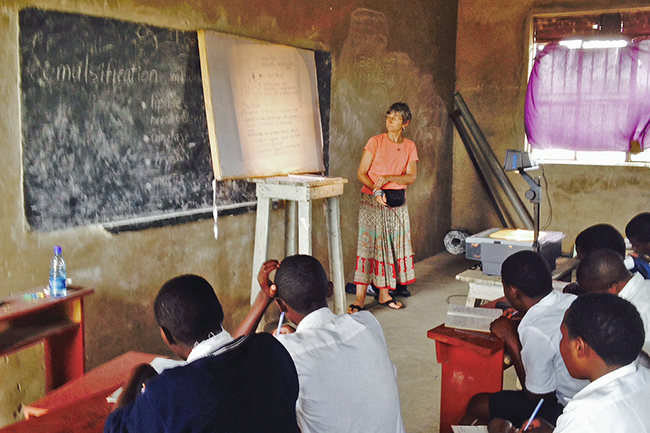 We were struck by the amount of time that the staff invests in students outside the classroom. Headmaster Frank is an incredible leader whose life demonstrates so much grace towards the staff and students. He leads with great wisdom and love following the vision that he has from the Lord to make disciples. His job description extends way beyond school hours as does that of all the teachers and staff. The teachers truly love the students and want them to succeed in life.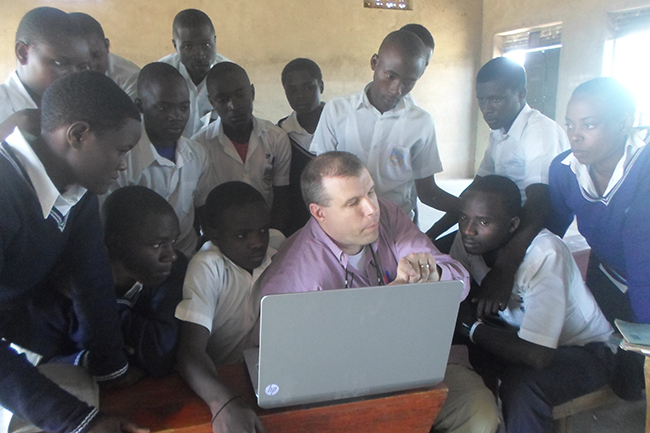 Chapel
Students are up at 4:30 a.m. preparing for their day, and every morning at 7:30 a.m. there is chapel. The students lead a time of worship, and then a Bible message is brought, usually by headmaster Frank, but our team all took turns bringing the message. It was so great to see the team members rising to the challenge and responding to the leading of the Spirit.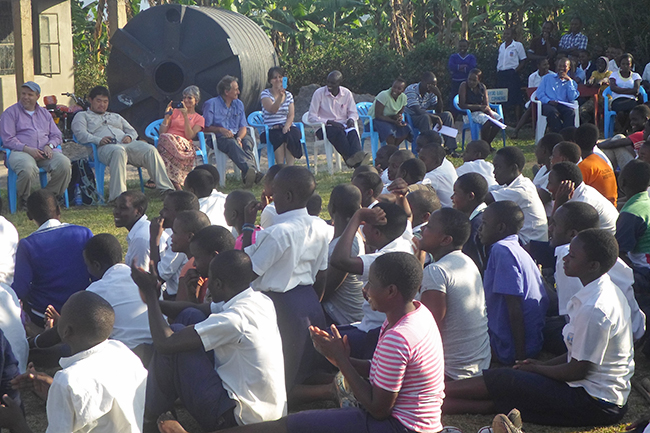 After-school Clubs and Activities
On one afternoon the debating society invited us to a very enthusiastic and well prepared debate on whether Uganda should have a woman for president. The students demonstrated great talent for presenting logical arguments, and it was a great time.
All of the team members were involved to varying degrees with administering and grading the examinations. Working closely with the teachers gave us the opportunity to interact and understand them and their roles. This time was invaluable and led to many gospel opportunities.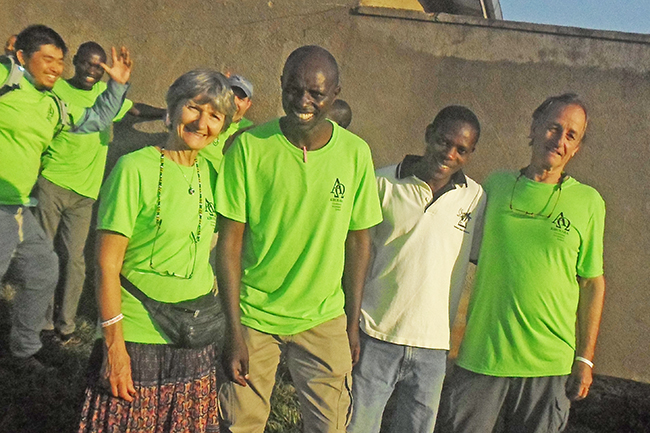 The team ladies took the initiative to meet with all the women staff members to understand their lives, roles and challenges. This further cemented friendships and was a very good time of fellowship and prayer. According to headmaster Frank, the Lord encouraged the ladies greatly as we talked through their struggles and prayer requests. He said the issues we discussed, unbeknownst to us, were the exact things that he had been wanting to address. It is very encouraging to be used by God in this way.
Another spontaneous event developed from the fact that we had purchased a goat to use in a biology dissection. The teachers then volunteered to roast the goat that evening and provide a meal for us all to enjoy! All decked out in the "Alpha Omega" T shirts that we had provided, we enjoyed a very relaxed time of fellowship.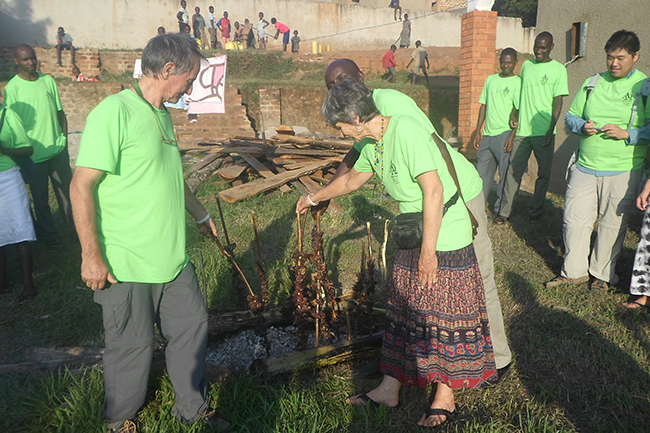 Women's Conference
We were able to participate in the teaching and testimony aspect of a women's conference that drew over 150 women. Sue shared one message on peace and trust and one on prayer, and Margie and Kendra shared their testimonies. These testimonies had a big impact on many of the attendees and it was so great to see the how God uses great pain and sorrow in His redemptive purposes.
Kamwenge Outreach
Although about 85% of Ugandans will profess Christianity, this belies the highly diverse spiritual condition of this nation. Many professing Christians will also participate in tribal animism and will rely on witchdoctors for healing and economic needs. The spread of the gospel is challenged by this deep-seated superstition.
After the majority of the students had gone home, a group of students along with headmaster Frank and one of the teachers, Gershom, remained at the school to prepare for a week-long outreach to Kamwenge town. This town is characterized by a strong Catholic and Muslim presence and in the past there has been much spiritual opposition there.
The preparation involved fasting every day for the week, and worship, intercession and sharing every morning and evening. We also met daily in small groups to implement the Bible study tool that we had developed and to study the book of Jonah. It was such a blessing to join with them and to observe their zeal, and it was so provoking to see the diligence with which they sought the Lord in prayer before venturing out. Our team also invested personally in this mission and provided finances for food and lodging for the outreach. We later heard that over 30 people made professions of faith during the outreach!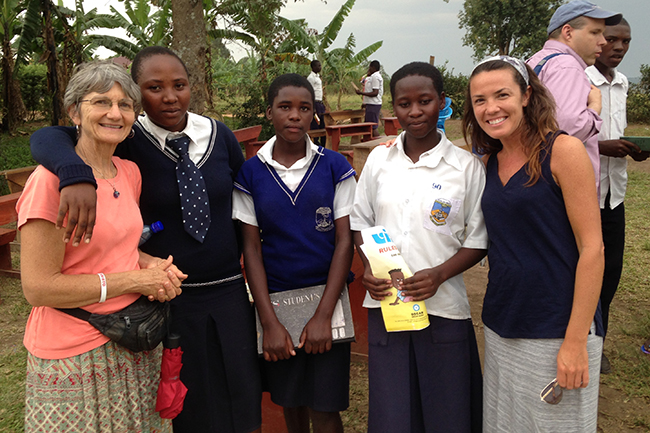 Conclusion
We were so impressed by what gets accomplished by the dedicated staff and students of Alpha and Omega. We saw first-hand the grace that is upon headmaster Frank to lead the staff and students. He has such a genuine love for the students and such a passion and reliance on the Lord to carry out his calling there. We want to help here as much as possible!
Though not an unreached nation, Uganda is a target of evangelism by Islamists and there is a great need is for doctrinal training and equipping of the evangelical churches. We see investment in this school as a Kingdom investment supporting the advancement of the Gospel in Africa.
Share this on:
---