March 3 2015 at 9:51 am
0 Comments
---
As we slip and slog through the last few weeks of winter, we wanted to highlight this encouraging report from Dennis Castaneda on the good work the Every Day is Christmas ministry is doing to help the needy in our community during Christmas. We know this is a bit late, but trying to be true to the name of the ministry—we hope every day really is Christmas! I'm sure we could all use a little encouragement here in the depths of winter.
The Every Day is Christmas ministry seeks to bless single parents or families in need with resources (legal, budgeting, housing, and college info) and provide an opportunity to buy new toys (as Christmas gifts) at very low cost. Vanessa S. shares her experience attending the annual Christmas Store here at the church: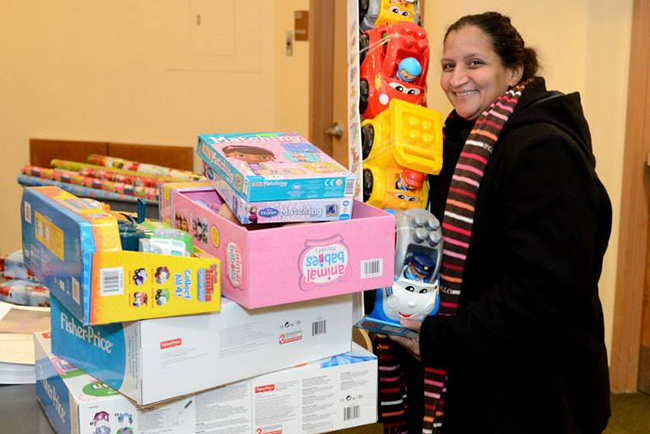 Photo by Gloria Estrada
When I first heard about Every Day is Christmas from my Sister in Christ Danielle, who attended high school with Dennis, I was excited to participate.
What attracted me to Every Day Is Christmas was the help it provides to single mothers. You see, I too am a single Mom after going through a difficult marriage which ended in divorce. That time was lonely and hard, and I struggled. I was blessed to have wonderful family and friends who helped my son and me through the storm. Every Day is Christmas is a way for me to remember that God pulled a weed from my life and gave me abundant blessings. Volunteering with this wonderful ministry makes me so happy!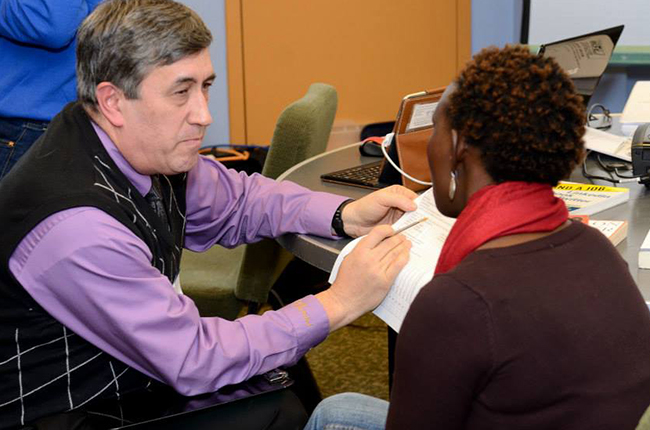 Art Shenk provides career guidance at the Christmas Store. Photo by Gloria Estrada
---
"I want to thank you from the bottom of my heart for letting my kids and I have a very special Christmas. I hope you know the impact you and your staff have created in our lives. Too often we become overwhelmed with the negative, and forget that there are still good people in this world. I hope to one day be able to give back as much as you have given my kids and me. God bless you guys."
-Iris M.
---
What a wonderful feeling it was to see the joy on the women's faces as they selected gifts. One woman said to me as I was wrapping presents that without Every Day is Christmas she didn't know what she would have done to get gifts for her children. On Saturday I saw smiles, I saw tears, I saw hugs, I gave hugs, and while the women receiving the items for their children were blessed - I was blessed even more!
It's funny, I planned to stay just a couple of hours to set up and see things get started. I ended up staying until the next to the last person came in to select their gifts. The joy was overwhelming!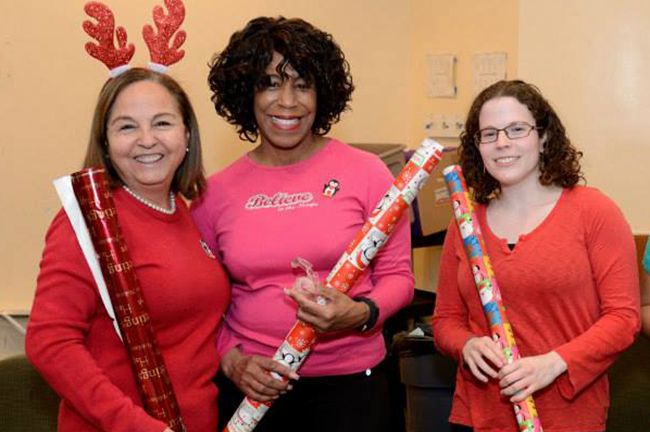 Photo by Gloria Estrada
---
"I want to say thank you so much for the time that you guys put in to bless all of us that came on Saturday and I personally was blessed, I thank God for those who volunteered their time to serve us in different ways. I thank God for those who donated, may God continue to bless all of you and meet all your needs. I am happy to say that I am ready for Christmas because of you all."
-Beth D.
---
Every Day is Christmas also helped me bless a young man named Aaron who I'm caring for though Angel Tree (a ministry which helps reach prisoners' children). I wanted to bless Aaron with not only the coat and hat his mother requested for him, but toys too! I thought purchasing the practical gift of a hat and coat was best. However after talking with some of the mothers at the Christmas store, I realized at six years old, you don't just like to get a warm coat and hat. I'd planned to go out after the event and purchase one or two toys – but with Dennis Castaneda's help I was able to get three! I am sure they will make Aaron's Christmas so much better. When you are living with your grandmother because your Mom is in prison – you need all the smiles you can get!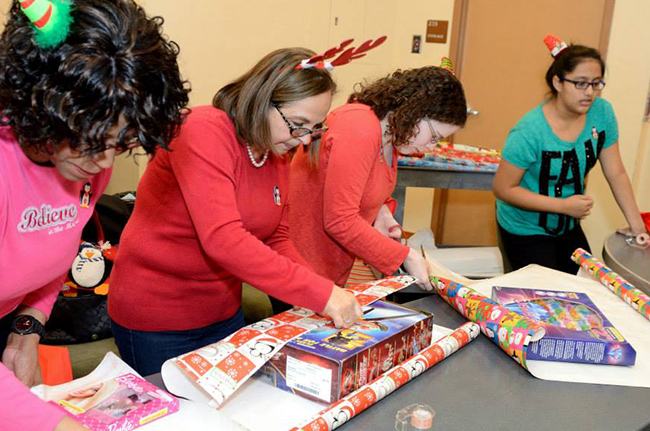 Photo by Gloria Estrada
Every Day is Christmas has a particular impact on single mothers and their children, but it touches so many other lives. Not only are the children who receive toys blessed, but also those who donate gifts and volunteer their time. I believe that Every Day is Christmas does what Jesus calls us to do—to love and give of ourselves in the strength he provides. I am so grateful to God for putting it on Dennis' heart to start and continue to lead this important ministry. —Jason Cunningham
Share this on:
---
February 23 2015 at 9:47 am
0 Comments
---
Review of Biblical Christian Ethics (David Clyde Jones)
By Robin Boisvert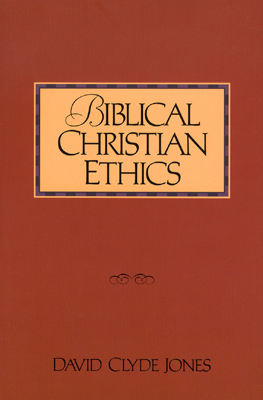 We can be grateful for our church's emphasis on the gospel of grace. It has been said that the only thing we contribute to our salvation is our sin. But once we're saved by grace does it matter how we live? It certainly does. We are not only saved by grace, but grace trains us, teaches us, instructs us.
"For the grace of God has appeared, bringing salvation for all people, training us to renounce ungodliness and worldly passions, and to live self-controlled, upright, and godly lives in the present age, waiting for our blessed hope, the appearing of the glory of our great God and Savior Jesus Christ." (emphasis added) Titus 2.11-13.
Biblical Christian Ethics is a book that covers the important area of how we live our lives in light of the gospel. David Clyde Jones does an excellent job in this brief (but not superficial) volume explaining how the Christian life is to conform to God's will revealed in the Bible.
Are you interested in knowing:
—How the 10 Commandments are relevant to our lives today
—What legalism really is (many use this word without understanding it)
—How love, grace and law work together—are they friends or enemies?
—How to think about resolving difficult moral and ethical conflicts
—How to understand and apply biblical principles to questions of divorce and remarriage
This is not a book that will tell you what to do, but a book that will teach you how to think about living the Christian life to the glory of God in the light of biblical truth. I highly recommend it.
Level of difficulty—moderate; takes some effort and generously repays it.
Read reviews of previous books of the month.
Share this on:
---
February 20 2015 at 3:52 pm
3 Comments
---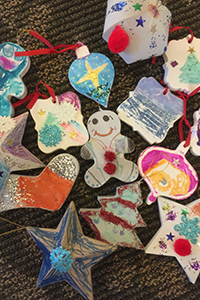 In 2013, Discovery Land changed the format some in the Adventure class (1st-5th grade) and implemented small group table time for the last 20-30 minutes of class each week. The goal was to provide the kids a more personal, hands-on time to interact with that day's lesson through questions, crafts, activities, etc.
That first year (2013-14), a team of 4-5 wonderful volunteer ladies created each week's activities midweek and implemented them on Sundays. It became clear that this was too large a load for volunteers (typically, busy moms with young kids). So we hired Cara Wilcox in October 2014 as our part-time small group planning coordinator. Since then, Cara has made me look brilliant as a hiring manager :)! She has brought fantastic enthusiasm, dedication and imagination to her role. Here are some recent examples of her creativity and outside-the-box thinking: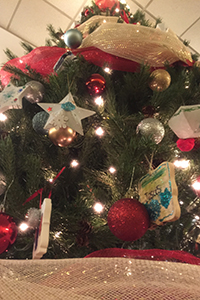 1. To supplement a lesson on being made in the image of God, we rearranged the class schedule so the kids could make thumb imprints on pliable polymer clay discs after the first teaching segment. Then we baked all the discs in the kitchen ovens to harden them while the rest of class went on, allowing the kids to take home their imprint necklaces at the end of class.

2. To supplement a lesson on creation, Cara collected dozens of nature magazines and assigned various small group tables to cut out pictures that represented the amazing variety and beauty of God's creation. Then the kids glued the pictures onto a huge collage sheet that we displayed for kids and parents the following Sunday.

3. To supplement a lesson on the Trinity, Cara had the kids make a simple, yet very effective, Trinity diagram and Trinity pyramid to help kids grasp the difficult three-in-one concept.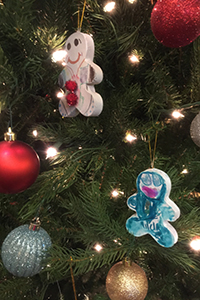 I think the 1st-5th grade class has always offered lots of fun, unique learning experiences for kids. But when I consider where the class was two years ago and where it is today (making and baking 150 polymer clay necklaces in class to illustrate "being made in God's image," I am so excited about the level of hands-on activities that the kids are enjoying to help reinforce the teaching they're hearing from God's Word! Cara, Becky Ferleman, our four once-a-month volunteers who implement Cara's plans each week (Jessica Kendal, Charlotte Deibel, Angela Patarozzi and Dienny Hooper) and many other volunteers have all done a great job in making small group activities happen each week!
—Josh Cooley
Discovery Land Director
Share this on:
---
February 18 2015 at 10:43 am
2 Comments
---
Written with contributions from Beth, Rebecca Duberstein, Valori Maresco, and Sarah Stogsdill. Photos by Pam, Hannah Moore, and Hannah Stogsdill.
If you happened to walk into the church building last Saturday, you were couldn't help but notice the Women's Mission Teahouse, a true cross-cultural experience for the ladies of our church. Beth Kraatz and Hannah Stogsdill led the team that transformed the lobby into a Central Asian Teahouse.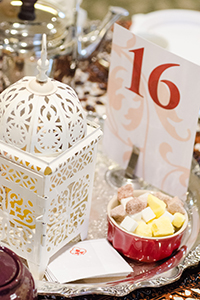 The church lobby was dressed with vibrant colors of tablecloths, oriental rugs, floor pillows, more than 50 teapots and hundreds of teacups, all volunteered by different ladies in the church. It was apparent this event was a labor of love for so many. Close to 200 women gathered and lounged around low tables set with a variety of teas and treats including Turkish Delight, dried fruit, almonds, and pastries. The mismatched china was a perfect reminder of the many different homes that had contributed to make it special. Hannah Stogsdill used her artistic eye to combine all these elements to create a beautiful, inviting space in the lobby for learning and fellowship.
---
"I was blown away by the sense of community I experienced as the women of Covenant Life came together to share their teapots, delicious food, sweet fellowship and prayers." —Beth
---
On the morning of the event, the lobby was bustling with ladies of all ages who had arrived early to help. They were filling teapots, stocking hor d'oeuvres, arranging the potluck dishes on the tables. You could feel their excitement and their ownership of the event.
After a time of worship, a missionary from Central Asia, shared about the many challenges facing the Muslim women she knows in the region where she and her husband live and work, and then led us as we prayed together for God to work in the lives of the women of Central Asia.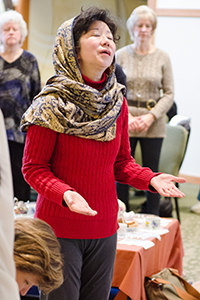 Following the talk, a magnificent buffet lunch of regional foods was waiting, and while eating, we heard about the experiences of the worship team who had recently traveled to Central Asia.
---
"The ladies also enthusiastically answered the call to contribute to the potluck lunch. Covenant Life Church is full of good cooks! Nine tables were practically sagging under the weight of the appetizers, entrees, and desserts these ladies brought. Every dish was unique and so tasty! —Rebecca
---
The testimony of the missionary from Central Asia provoked hearts as she shared about the challenges the women of Central Asia face, but many were encouraged knowing they could help by praying for them. The ladies were also reminded of the number of unreached internationals right here in Gaithersburg, and the opportunity to reach out by extending kindness and hospitality to the unreached in this area.
---
"It was a beautiful environment that fostered fellowship and gave us a glimpse of another culture. Interacting with the ladies there was so uplifting and inspiring to me. The Lord deeply met me during the extended prayer time and I walked away with fresh conviction to pursue evangelism." —Sarah
---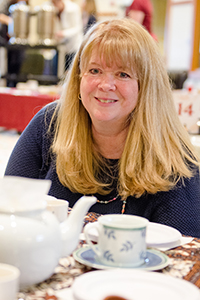 The atmosphere helped the ladies to lift their eyes and see the fields that are ripe for harvest in the community around us. Not everyone can or will go to these fields like the missionaries who spoke, but we can all take part in reaching the unreached. We can pray for those who are far off and about how we can reach the multitudes that God has brought to our front door!
---
"I left both refreshed by a sense of rich community at CLC, and excited to see how God can use that community to extend the good news of Jesus Christ to those who do not know him." —Rebecca
---
The time ended with another talk by a missionary with Global Gates, an organization working to bring the gospel to internationals in our own country. She shared about the amazing opportunity we have to reach women from unreached people groups right here in our community and ended by giving us ideas on how we could be more aware of opportunities around us.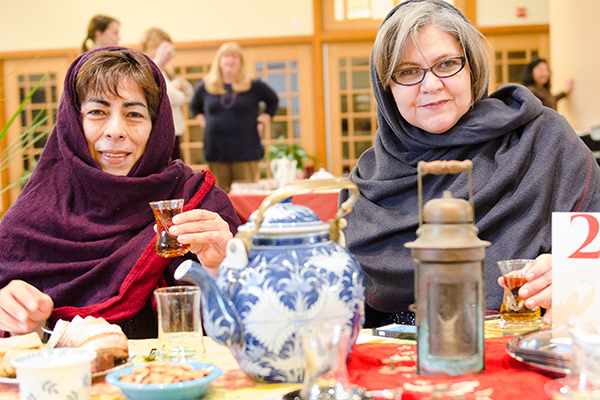 We are so grateful for how the Lord worked through the teahouse! He lit new fires of faith and boldness to reach out and pray for the lost around us, so that all "may believe that Jesus is the Messiah, the Son of God, and that by believing [all] may have life in his name." —John 20:31
Share this on:
---
February 18 2015 at 6:35 am
0 Comments
---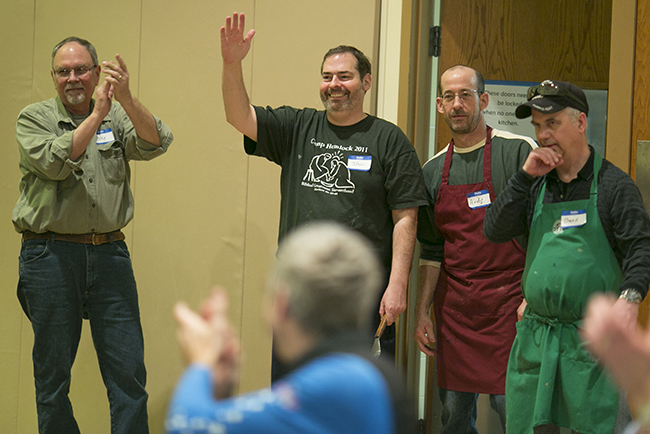 Joe Moorman led the team of men that cooked nine gallons of pancake batter, 60 pounds of bacon, and 560 eggs for the men's gathering on Saturday, February 7. Joe sent us this report honoring their work, and we wanted you to join us in thanking these servants.
If you're interested in joining these men and serving at events like the Men's Gathering, consider joining the Events Team.
I'm very grateful for each of these men, for their level of commitment to the event and how hard they worked, particularly when it looked like we were going to run out of pancakes.
It is a real sacrifice for them to give up most of their Saturday (and some of their Friday night) to serve, and to walk away completely exhausted, with pain in their back and feet. Many of these guys come back again, and again to serve at these big events. It is all of God's abundant grace that he would place on their hearts a desire to spend their lives and strength so generously in this way, when they could be with their families or just resting after a long work week.
---

"I would encourage anyone who feels like they are lonely, isolated or discouraged to actively and prayerfully seek a place where they can serve in this church. The ceaseless outpouring of grace that you experience in the midst of serving far exceeds the cost of your time, talents and efforts."
—Joe Moorman
---
I can tell you with certainty, that serving in this church is singular privilege, and is good for your soul. You experience the grace of deep fellowship, camaraderie and love for the people you serve with, as well as the people you serve. Here are some of the ways these men served sacrificially: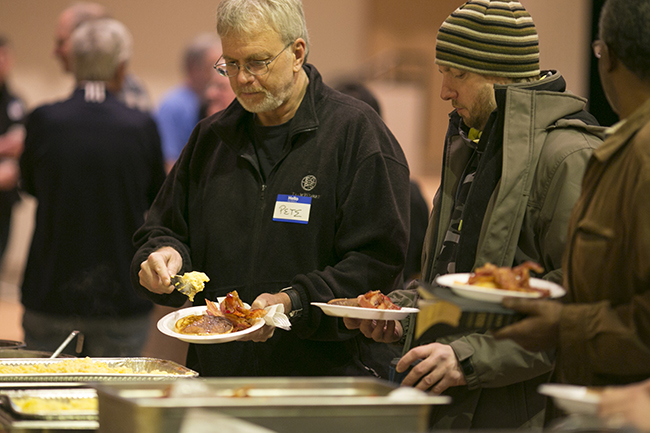 Andy McPhillips - Andy served on Saturday morning and helped in various ways with the bacon prep, the display setup, water and orange juice, and he tirelessly washed dishes during the morning and for more than 2 hours after the event. Because of the bacon there were over 20 greasy bakers sheets that needed to be scraped of fat and hand washed. So, Andy's contributions were invaluable.
John McSweeney - John served on Friday night, helping to prepare multiple buckets of pancake batter and scrambled eggs mix. He also came on Saturday morning and helped to prepare 2 more buckets of pancake batter when it was evident we were short on batter, and he stayed to the end to help with cleanup.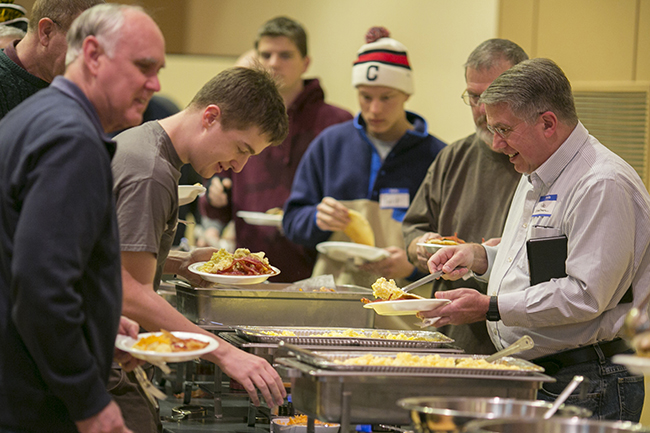 Jim Jones - Like John, Jim also served on Friday night, helping to prepare multiple buckets of pancake batter and scrambled eggs mix. He also came on Saturday morning and managed the preparation of the bacon (a greasy job!) from start (around 6 a.m.) to finish (around 9 a.m.) and stayed an hour after the event to help clean. Jim is the kind of guy that you can count on again and again to show up and joyfully serve.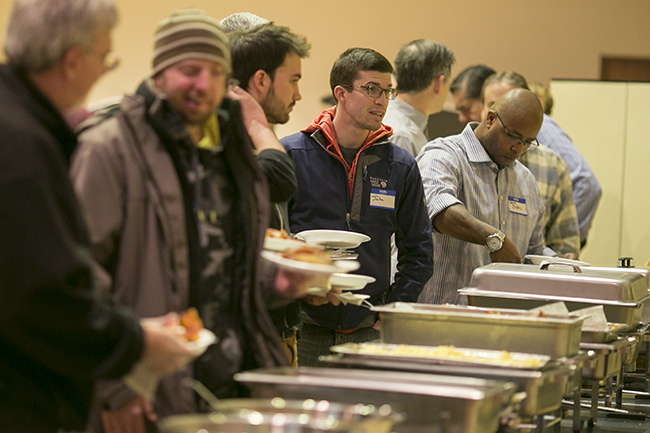 Bob Sardelli and Brad Baxter - Bob and Brad came in on Saturday and managed the pancake preparation from the time that they came in (at 6 a.m.) all the way through the end of the batter (around 9:15 a.m.). Both men stayed late to help clean up.
Lou Stavely was very helpful in setting up the display tables, fruit baskets, coffee sugar and creamer, and getting the coffee started on time and fully deployed. He also worked with Jim breaking open boxes of bacon, putting the bacon on parchment and bakers sheets for Jim (another really greasy job).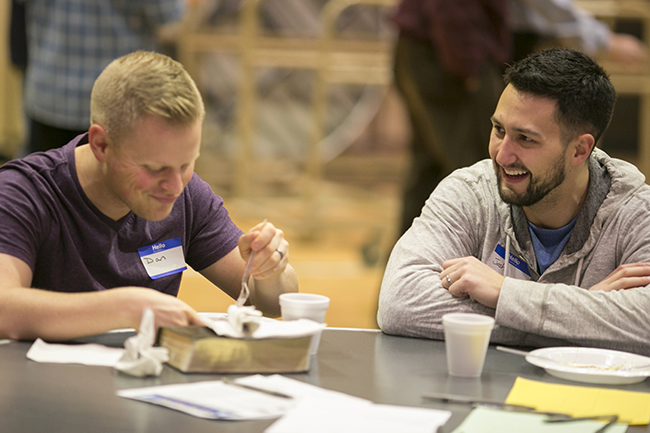 I would encourage anyone who feels like they are lonely, isolated or discouraged to actively and prayerfully seek a place where they can serve in this church. The ceaseless outpouring of grace that you experience in the midst of serving far exceeds the cost of your time, talents and efforts.
If you're interested in joining these men and serving at events like the Men's Gathering, consider joining the Events Team.
Share this on:
---
February 17 2015 at 1:34 pm
1 Comments
---

One Way to Share God's Plan with Muslims
by Almasih Kahdost
Sitting barefoot in a sportsplex in Maryland, wearing traditional Pakistani attire given to me, I was enveloped by the chant of Allahu akbar, droning continuously. I watched as Muslims of various sizes, shapes and ethnicities assembled themselves in neat rows preparing for prayer; men filling the front of the field, women, the back. Once all (save one) gave praise to Allah while performing the various salat prayer positions, an imam taught that one lesson learned during the fast of Ramadan is gratitude. By denying oneself food during the daylight hours, a person is more grateful for it come evening. Having been fasting for my Muslim friends during this month myself, I learned this lesson firsthand and was grateful Ramadaan had come to a close.
As my Muslim friend and I left the sportsplex, I referred back to the imam's message, asking for what my friend was most grateful. After listening, I shared my own thoughts, saying I was most grateful for qurbani; that is, blood sacrifice. I related how a sacrifice was provided for Adam and Hawa (Eve) to cover their shame when they had sinned in the garden. I reminded my friend how when Ibrahim's (Abraham's) son was in need of a sacrifice, it was divinely provided. I continued that Musa (Moses) was inspired to order atoning sacrifices for the sins of the people and that many years later, the prophet Isaiah foretold the coming masih (messiah) Who would Himself become qurbani in the place of His people, taking their shame. Then I related that the prophet Yahya (John the Baptist) pointed at Isa (Jesus) and calling him, "the Lamb of God who takes away the sins of the world."
"Why do you think Yahya called Isa a lamb," I asked.
"I don't know."
I told my friend that prior to his death Isa had alerted his followers that He would lay down His life as a qurbani to set people free (Mark 10:45). Isa's subjection to public shame was all a part of Allah's loving plan to take away the sin and shame of His people. Just as He performed qurbani for Adam and Hawa to cover their shame, and just as He provided an animal for Ibrahim's son, and just as He told Musa the way of qurbani for the forgiveness His people's sin, now, in the death and resurrection of Isa, Allah was providing the ultimate qurbani - the ultimate sacrifice for sin. The shame and punishment that we deserved was laid upon Isa as a part of God's loving plan to restore honor to His people.
My friend didn't submit to Christ that day and is still a Muslim. We have had the family to our home and they have had us over as well. We have prayed in Isa's name for the healing for their children. We've helped them with English and with transportation. I still make visits from time to time. We continue to pray regularly for this family.
These dear people represent one of many Muslim families in our area who can be reached with the love of Christ. Please consider how you can extend love and friendship to the people God has brought here. Amidst headlines filled by the likes of ISIS et al, it is too convenient to lump your neighbor in with them. If you begin to pray and ask God for inroads and share your life with your Muslim co-workers, neighbors and friends, you might be surprised at the laid opportunities before you.
"Almasih Kahdost" is a long-time friend of Covenant Life who desires to see the nations come to Christ. Though preferring to publish anonymously, Almasih Kadost welcomes your comments below.
See all the posts in this series.
Share this on:
---