June 21 2016 at 12:46 pm
1 Comments
---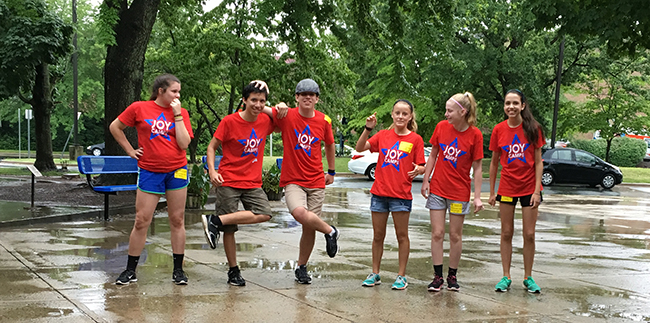 This week about 50 youth and adults from Covenant Life Church are immersed in a community mission "trip" called JOY Camp. The three sites are Laytonia (across the street from the church), nearby Camp Hill Apartments (a few minutes down Washington Grove Road), and South Lake Elementary School (near Lake Forest Mall).

We meet together at the church everyday to pray, worship, study God's Word, share meals, plan for the day, and go out into the community to provide a free Christian day camp.
JOY Camp is an informal Vacation Bible School with the purpose of sharing the love and truth of Christ through songs, crafts, skits, Bible teaching, Scripture memory, one­-on-one conversation, and friendship. Our theme for this year is STAND UP! As we teach lessons from the book of Daniel, we will share the gospel with the kids and teach them that we can have courage to stand up for what's right because of who Christ is and what He has done.
We would love for you to join us in this mission by praying for:
Our team, that we would be good ambassadors for Christ and for strength to persevere;
T

he gospel to continue to spread in our community;

Ask God if He wants YOU to get involved with some of the on­going ministries in our community

The ESOL ministry at South Lake Elementary School – offering English classes to reach the nations with the gospel
JOY Club ­provides child­care for the ESOL ministry and serves as a follow up to JOY Camp, so the relationships we form this coming week can continue.
Thanks so much for partnering with us in prayer!
—Andi Alonso (on behalf of the Joy Camp team)
Share this on:
---
June 20 2016 at 1:31 pm
0 Comments
---
On Sunday, Pastor Tim Harvey shared the following prayer to the Lord. Several members later asked for a transcript of his prayer, and so we wanted to share that here:
Gracious Heavenly Father, we come before you this morning to agree with your evaluation of us, spoken through your prophet Isaiah. Like the people of Isaiah's day, we have rebelled against your laws and forsaken your ways, both inwardly and outwardly. So we come before you as your people to confess our many sins.
Lord, we have raised up other gods before you in our hearts and our lives, idols that we have looked to for joy and hope and meaning more than we have looked to you. And our idols are many – they are entertainment and social media where we have run for refuge and for joy rather than to you. Even your good gifts like work and family and children and marriage and friendships we have exalted as other gods above you by running after them and holding on to them as our ultimate sources of joy and hope instead of you.
Lord, we have disregarded and dismissed things of eternal value – the wonderful treasures of your word and of deep fellowship with your people – in favor of things that will not last – entertainments and diversions, or even a few more minutes of sleep.
We have prayed more for our own kingdoms and our own comfort than for your kingdom.
Lord, we have failed to love our brothers and our sisters as we ought to. We have made harsh judgments in our hearts without knowing or even caring about their situations. We have distanced ourselves from those in need, we have been too afraid or too concerned with our own comfort to embrace the hurting, the desperate, and the difficult people around us.
We have sought to be proven right more than we have sought to be loving.
And Lord, these things have come about because we have looked first to ourselves rather than to you. We've trusted in our own strength and wisdom and become fearful when those fail us. We've chased after our own comforts only to find those comforts are ruling over us.
And so we turn to you, Lord. We turn to you to ask your forgiveness for our many sins. And we turn to you to thank you for the great forgiveness that you purchased at such a cost – by turning your back on your own son as he died – and yet that you offer to us for free. We turn to you to rejoice that there is no condemnation for those who are in Christ Jesus, that you have set us free from the sin that once enslaved all of us.
And we turn to you, Lord, to cry out for your help to turn aside from our sinful ways and to live in a way that pleases you. We cry out, Lord, that you would give us not just an outward form of obedience, but that you would change our hearts. Take away our hearts of stone and give us hearts of flesh that are tender toward your ways. Fill us with your perfect love that casts out fear. And turn our eyes away from ourselves, away from the foolish idols that fill our view, to see more and more your kingdom and your glory.
We pray in the precious name of our Lord Jesus Christ who loved us and gave himself for us,
Amen
Share this on:
---
May 23 2016 at 3:09 pm
0 Comments
---
Finishing Our Course With Joy
By J.I. Packer
It is one thing to be wise and another to be old and wise. J.I. Packer is the latter. He will be 90 in July. His physical eyesight is failing, but not the eyes of his heart. He issues a call to arms for senior saints and anyone else who will listen.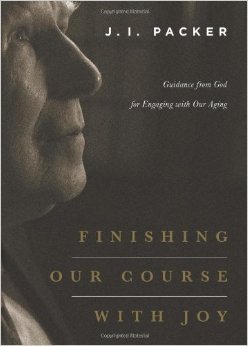 As many of us "live through the elongated aging process that modern medical services bestow upon us …" we find ourselves beckoned to ease up, kick back and in various ways retire from the Christian grace of zeal. But there is much we can and should do if we disentangle ourselves from the spirit of the age and engage the Spirit of LORD.
In this brief book (100 pages) Packer asks seniors to lead by example. Younger eyes are watching, knowing intuitively that if God is good to them they will one day be seniors themselves. Will they look forward to the ripeness of old age or be in dread of it? That may depend on you and me. God's grace is sufficient in all our weaknesses, including that of old age. But there are also strengths, great strengths that older saints possess and can pass on to next generation. Another worthwhile book from the pen of J.I. Packer.
Rated outstanding for all ages, including those under 18!
Review by Robin Boisvert
Share this on:
---
May 17 2016 at 3:38 pm
0 Comments
---
On Sunday, P.J. Smyth interviewed Montgomery County Executive Ike Leggett who shared about his journey from abject poverty in Louisiana, to college, law school, and ultimately, public service. Ike offered warm words of encouragement for getting involved in serving those in need in our community.
Share this on:
---
May 2 2016 at 2:58 pm
3 Comments
---

By Vern S. Poythress
Book review by Robin Boisvert
Okay, so it's not the most scintillating title. But it is a very helpful book. Dispensational Theology is a very pervasive theological system influencing many who may not even have heard of it. In its popular form it underlies the eschatology (doctrine of the end times) of The Late, Great Planet Earth by Hal Lindsey and the Left Behind novels by Tim LaHaye.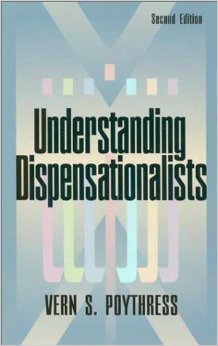 The characteristic feature of dispensationalism is the idea that God has two distinct peoples—His natural people, Israel, and His spiritual people, the Church. These are traveling along parallel but separate paths to their ultimate destinies.
At times I've heard our church criticized for teaching 'replacement theology'—the idea that the church has replaced Israel. Is that true? Or is it 'inclusion theology'— that God's promises to Abraham (Israel) have, through Christ, been opened up to include Gentiles (cf. Genesis 12:3; Ephesians 2:11-22).
Just how do Israel and the Church relate? What does it mean to interpret Scripture literally? Do Old Testament prophecies have more than one fulfillment? Tune in to this book to find out.
Poythress writes from the perspective of Covenant Theology but he is a sympathetic critic, always irenic and always searching for common ground. I've read this book twice in the last year and found it very helpful.
Share this on:
---
April 18 2016 at 12:56 pm
0 Comments
---

Shared courtesy of Keith Welton's blog "Everyday Truth."
We all want to grow more mature and deeper in our walk with God, but often we just don't see the fruit that we would like. The Puritan minister Thomas Boston has some great tips for understanding growth.
Boston first points out "the righteous shall flourish like the palm tree: he shall grow like a cedar of Lebanon (Psalm 42:12). Using the image of a tree growing he gives the following helpful instructions.
If all true Christians are growing ones; what do we say of those who instead of growing, are going back? I answer, there is a great difference between the Christian growing simply and his growing at all times. All true Christians do grow, but I do not say they grow at all times. A tree that has life and nourishment, grows to its perfection, yet it is not always growing; it grows not in the winter. Christians also have their winters, wherein the influence of grace, necessary for growth, are ceased... but they revive again, when the winter is over, and the Son of righteousness returns to them with his warm influence.
Boston also give two tips to those who mistakenly measure their growth by 1) their present feeling and 2) their growth in the top and not the root. To these he says,
1) Those judging by their present feeling. They observe themselves and cannot perceive themselves to be growing: But there is no reason to conclude they are not growing. Should one fix his eye so steadfastly on the sun running its race, or on a growing tree, he would not perceive the sun moving nor the tree growing. But if he compares the tree as it now is, with what it was some years ago, and consider the place in the heavens, where the sun was in the morning; he will certainly perceive the tree grown and the sun moved.

2) Those measuring their growth by advances in the top only not of the root. Though a man be not growing taller, he may be growing stronger. If a tree be taking with the ground, fixing itself in the earth, and spreading out its root; it is certainly growing, although it be nothing taller than formerly. So also a Christian may want the sweet consolation and flashes of affection, which sometimes he has had, yet if he is growing in humility, self denial, and sense of needy dependence on Christ he is a growing Christian.
We may have seasons where we are not growing as we might hope or think, but sometimes there is a deep internal work going on. Maybe we are growing stronger in convictions or spreading roots deeper. Those may be the winters that precede the growing season and the harvest. Don't be discouraged by them!
This post is shared courtesy of Keith Welton's blog "Everyday Truth." He shares his reflections on Scripture and other helpful topics there regularly.
Share this on:
---