August 23 2016 at 9:42 am
0 Comments
---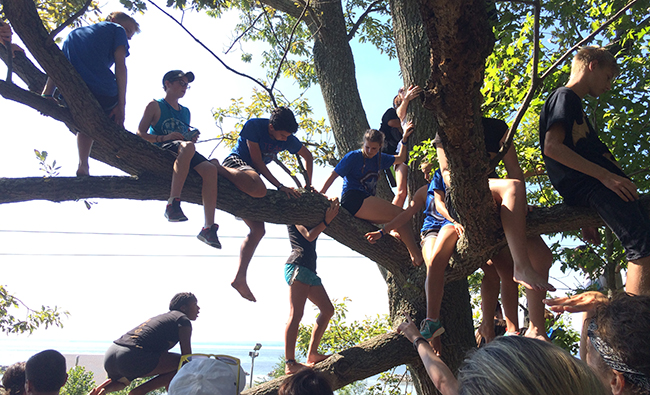 We received this encouraging note from Dave Brewer about how God ministered to the high school students who attend the Worthy Retreat this past weekend.
Thanks for your prayers for the youth retreat this past week! God was kind to answer your prayers!

The retreat was exceptional, and God met us in so many ways over and over again! I've heard many stories of youth who repented, were convicted of sin and who grew in love for Jesus.
The theme of the retreat was "the names of Jesus", where we studied names that the Scriptures use to describe the role and function of Christ in particular ways. I spoke from Revelation 5 on Christ being the lamb of God; Brian Davis spoke from Hebrews on Christ as our Great High Priest; Jon Smith spoke from Revelation 12 on Christ being our warrior King; and Donnie Griggs spoke from Isaiah on Christ being our suffering servant.
We took Saturday night to pursue the Holy Spirit's work among us and finished off on Sunday morning with seven teens getting baptized! Todd Keeler was also there and gave a short encouragement talk to the parents on their important God-given role at this retreat.

It's really hard putting into words all that God did. God is at work in our youth in mighty ways and it's fun to be a part of! I appreciate your support and prayers for the youth.
Share this on:
---
July 26 2016 at 12:04 pm
0 Comments
---

On the Return of the Lord
by Robin Boisvert
William Miller was an unlikely sort to figure in one of the most bizarre episodes of American church history. This self-educated farmer and veteran of the War of 1812 had long been fascinated by the dates and times in Scripture. Based upon his calculations, he came to the conclusion that Jesus Christ would return sometime between March 21, 1843 and March 21, 1844. The message was widely promoted, including front-page coverage in the New York Tribune.[1] A movement grew around Miller's teaching that numbered one hundred thousand followers who waited expectantly for the Lord's second coming. But when the outside date came and passed uneventfully there was disappointment and confusion.
Only slightly daunted however, the leaders put forth a new date--October 22, 1844. Amazingly, this produced an even greater swell of excitement as Millerites quit their jobs, sold businesses, abandoned property and even confessed to unsolved crimes.[2]
But on the supposed day of the second advent, again nothing happened. Nothing except some extravagant human attempts to participate in the parousia. Many of the faithful were seized with a desire to jump into the air. Others "donned white muslin 'ascension robes' and headed for hilltops—or at least rooftops—expecting to be 'taken up' by angels to join the Lord.… One man put on turkey wings, got up in a tree and prayed that the Lord would take him up. He tried to fly, fell, and broke his arm.'"[3]
What could cause people to act in such an extraordinary manner? I think there was an intense longing to be with the Lord. And it seems there was an equally strong desire to be ready for His return. What true Christian can fault these hopes? But while we can commend their sincerity we must admit something went very wrong.
~~~~~~~~~~~~~~~~~~~~~~~
Eighteen hundred years earlier, the young Thessalonian Church was anxious. In the brief time he was with them, the Apostle Paul had taught them about the return of Jesus Christ. But then persecution forced him out of their city and their incomplete understanding of Christ's coming had left them in confusion. When would He appear? Would they be ready for this great event? How could they prepare for it? And what about those of their number who had died in the interim? Would they miss out on the Lord's royal return?
The Thessalonians had a super-heated eschatology. With regard to the Second Coming, they were all wound up with no place to go. And in addition to the anxious, there were the careless—those living undisciplined lives. After all, they reasoned, if the Lord is about to return why bog down in the everyday responsibilities of life? If Jesus is about to come back, why worry? Why work? Why plan for the future?
In the Thessalonian correspondence, Paul attempts to set the church straight on these and other pressing matters. What he wrote then is just as appropriate a corrective for our day as it was in the 1st Century.
~~~~~~~~~~~~~~~~~~~~~~~~~~~~~~~
The end-times. What a fascinating and provocative theme! So many different and sincerely held opinions! Yet, what binds all true Christians together on the subject is this one fact—Jesus Christ will come again. He will return personally, physically and with great glory. It will be visible and triumphant. Like the lightning that flashes from the west to the east, so shall be the coming of the Son of Man. Every eye shall see Him. And while that day will be an unmitigated disaster for those who are not ready, it will fulfill the deepest desires of those who long for His appearing, for we shall see Him as He is and we shall always be with Him.
Now, brothers, about times and dates we do not need to write to you, for you know very well that the day of the Lord will come like a thief in the night. While people are saying, "Peace and safety," destruction will come on them suddenly, as labor pains on a pregnant woman, and they will not escape. But you, brothers, are not in darkness so that this day should surprise you like a thief. You are all sons of the light and sons of the day. We do not belong to the night or to the darkness. So then, let us not be like others, who are asleep, but let us be alert and self-controlled. For those who sleep, sleep at night, and those who get drunk, get drunk at night. But since we belong to the day, let us be self-controlled, putting on faith and love as a breastplate, and the hope of salvation as a helmet. For God did not appoint us to suffer wrath but to receive salvation through our Lord Jesus Christ. He died for us so that, whether we are awake or asleep, we may live together with Him. Therefore, encourage one another and build each other up, just as in fact you are doing. (1 Thessalonians 5.1-11)
This passage can help us prepare for Christ's return.
How to Prepare
Know This—No One Knows. It's not a matter of dates and details.
The Thessalonians wanted to be prepared. That's a good thing. But they thought preparation meant finding out just when He was coming back. "Paul, just tell us when and we'll take it from there."
But knowing the time is not the solution to the problem of how to be prepared.
"Now, brothers, about times and dates we do not need to write to you" (1 Thessalonians 5.1).
Why not?

Well, first of all, no one knows the time or the date. Nobody knows, nobody can know.

No one knows about that day or hour, not even the angels in heaven, nor the Son, but only the Father (Mark 13.32). Jesus made that statement with regard to his human nature while on earth. And in response to a later question from his disciples, He also said, "It is not for you to know the times or dates the Father has set by His own authority" (Acts 1.6,7).

Nobody knows, nobody can know. But that doesn't seem to stop people from setting dates. It didn't stop William Miller.
In the more recent past, a well-known and basically sound Christian radio teacher became the subject of much controversy when he predicted the Lord would return in October or November 1994. He knew the verses just quoted which show it is impossible to know the day or the hour, but said that it doesn't mean you can't know the month or the year!
Because of his folly, advance planning for the ministry was curtailed (why plan for the future when there will be no future?) and opportunities to promote the work were lost. Those working with him for the spread of the gospel were frustrated.
Besides it being impossible to know the time of Christ's return, knowing or thinking that you know still would not help. This is because those interested in dates and minute detail are mostly interested in material preparation.
Such folks "prepare" by heading for the hills or by stockpiling de-hydrated food. In our own day people have quit good jobs, stopped paying taxes and acted in other irresponsible ways because of wrong-headed views on the end times. Historically, when people have presumed to know the time of the Lord's return, it has led them to act in ways that reflect poorly on the Christian faith. I have known otherwise reasonable people who have gotten questionable ideas about the last days into their heads and as a result have become dogmatic about debatable details.
As another case in point, Israel became a nation again in 1948. This is admittedly an amazing and significant event. But it has become common to connect with this Jesus' statement in Matthew 24:34, "… this generation (understood as the generation that witnesses the rebirth of Israel) will not pass away until all these things have happened" (i.e. Christ's return). If a generation is considered to be 40 years and we add it to 1948, the result is, wow, 1988! So a booklet was extensively distributed in the 1980's titled, "88 Reasons Why The Rapture Will Occur In 1988." But it didn't.
If 1988 was thought by many to be the date, how about the year 2000? You know- Y2K? It was a nice round number. Sounded like a great time for Jesus to return. But He didn't.
We Can Expect Jesus' Return To Be Unexpected
Paul gives two metaphors to explain this. First, he says Jesus' return will be like a thief in the night (1 Thessalonians 5:2). Such an appearance will be sudden and unexpected. Burglars do not announce their arrival. "I'll be over around1 a.m. Could you leave the window open?"
Some have misunderstood this metaphor to mean that Jesus is going to steal away His church in a secret rapture. The idea is that the coming of the Lord will be in two stages. First, Jesus will return secretly for His saints and then seven years later after the great tribulation He will return with His saints. This is the eschatology espoused in the popular "Left Behind" novels. But the language employed just a few verses earlier in 1 Thessalonians 4:16 (For the Lord himself will descend from heaven with a cry of command, with the voice of the archangel, and with the sound of the trumpet of God) indicates that His return will be anything but secret. No, Paul wants us to understand that Jesus' return will be unexpected but not clandestine.
The next figure he uses is slightly different--labor pains coming upon a pregnant woman. This is sudden and unavoidable but not entirely unexpected. At the onset of labor the inevitable has begun, the top of the roller coaster has been reached and there is no way to avoid what is coming. The pain will not end till the child is delivered.
But notice that this figure of speech refers to the "people" in 1 Thessalonians 5:3. While these people are saying, "peace and safety," destruction will come on them suddenly as labor pains on a pregnant woman, with no possibility of escape. "Peace and safety," is the mantra of the arrogant and self-deceived. They are the ones who tell themselves all is well. They are secure and in control. They are not expecting God to invade their world.
The next verse ( 1 Thessalonians 5:4) contrasts sharply. "But you, brothers, are not in darkness so that this day should surprise you like a thief." No, we know a day of judgment is coming.
The verses that follow further clarify the profound difference between Christian believers and the ones who have rejected Christ.
The first are sons of light, sons of the day, that is, Christians. For them, the day of the Lord will not be a day of sudden destruction. That day will not come like a thief. They will not be frightened by His return. Rather, they will be thrilled!
But the others are those belonging to the night, to darkness, to drunkenness and to sleep. For them that day will be sudden and unexpected. It will be with unavoidable destruction stemming from the righteous judgment of the Lord. The judgment is certain. There will be no circumventing it, no getting around it. And there will be no delay. No opportunity to take care of neglected business. Things are hurtling toward a conclusion.
Our Part—Preparation of the Heart
But Paul doesn't end the discussion there. He exhorts the Thessalonian believers who are sons of light and sons of the day, to live lives that are in keeping with that description. The true preparation for the Lord's return involves our character. For Paul, ethics and eschatology are always linked.
"Be alert, be self-controlled," he says (5:6). And he repeats himself (5:8), "Be self-controlled, putting on faith and love as a breastplate, and the hope of salvation as a helmet."
The armor Paul is talking about would fortify the Thessalonians who were facing persecution and tribulation. Self-control, faith, hope and love are character qualities that would enable them to represent the Lord whose appearing they longed for.
So we need to be sober and self-controlled and alert. This is how we prepare for the coming of the Lord! Through the development of godly character!
Some of the Thessalonians were afraid of the day of the Lord. Paul tells them in verse 9, "For God did not appoint (ordain/destine) us to suffer wrath but to receive salvation through our Lord Jesus Christ." God has a destiny for us and it is not that we should suffer wrath but that we receive salvation through our Lord Jesus. This is because He died for us. He died for us so that, whether we are awake or asleep, we may live together with Him (5:10).
These are the gospel facts. God did not appoint us to suffer wrath. God did appoint us to receive salvation. Jesus died for us. That is, He died to pay the penalty our sins deserved. Our life is entirely due to His death.[4] He died our death that we might live His life. "…so that whether awake (alive) or asleep (dead) we may live together with Him" (5:10).
God's will is that we be with Him. The desire of the Millerites, the longing of the Thessalonians and the hope of all Christians is to be with Him. And the greatest preparation for His arrival is to live for Him right now as though He had already returned.
[1] Mark Noll, A History of Christianity in the United States and Canada, Eerdman's Publishing Company, Grand Rapids, MI, 1992, p. 193.
[2]Russell Chandler, Doomsday, The End of the World—A View Through Time, Servant Publications, Ann Arbor, MI, 1993, p. 82.
[3] Ibid.
[4] John R.W. Stott, The Gospel and the End of Time, InterVarsity Press, Downers Grove, IL, 1991, p. 113.
Share this on:
---
July 11 2016 at 12:18 pm
0 Comments
---
Apply to serve in Discovery Land online.
Good morning. Let me first start off by saying thank you to everyone that filled out an application and dedicated their time to serving in DL this September. I greatly appreciate you volunteering, and I wanted the current volunteers that have been working this past year to be encouraged as well. Thank you, it is truly making a difference in these kids, my kids, lives. Just last week I was teaching the main session for the 1st -5th graders and was prompted by the curriculum to quiz everyone through the use of a game. So, I set up the game and began to ask these questions to the crowd to respond with a true or false answer. Let me just read these off: Not only did I get the right answer from the children, they resoundingly gave the corrected answers to the false questions! This blessed me greatly. Not only that but my 4 year old girl is starting to retell the story of Saul and king David and how they obeyed or disobeyed God. This was an amazing set up for me to take the conversation to Jesus and present the gospel. That is so important to me. So thank you to all who have served and brought all the children into contact with the gospel and Jesus.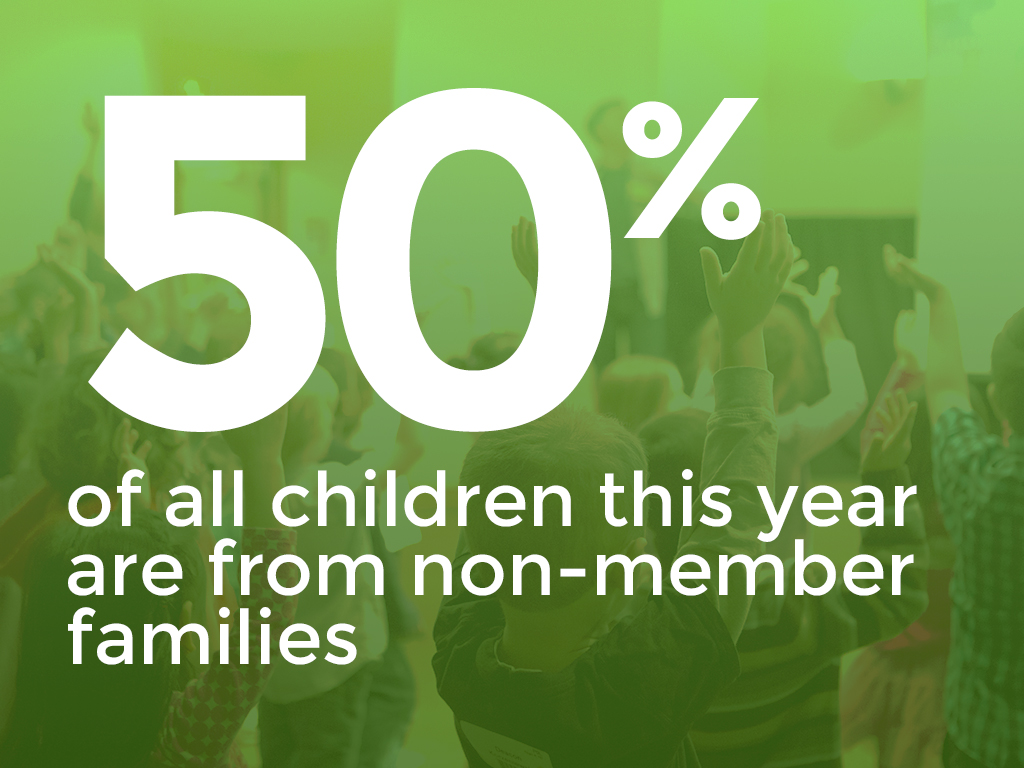 It is because of stories like these that I believe what we are doing in DL is a good thing for our church and for the people that walk through the door on Sunday morning that are not members. The gospel is being taught. Here is a number that I thought is important to share; did you know that around 50% of all the children that went to DL this past year were in fact children of guests. So it is not just about serving ourselves, we are a front where the gospel is being shared to people visiting our church.
So, I wanted to give everyone a progress update on current commitments to make all this happen again next year. We are currently around 35% of volunteers we need to keep the lights on and the programs running back there. We need 400 volunteers and or we are looking at downsizing by the end of July. Its July because we would need to redesign the ministry to ensure the safety and effectiveness. So if you holding on to your application please turn that in to help us avoid downsizing the program. Just to give you some perspective of how big of a ministry it is, if you would take a look at this section of the congregation. This section represents around 400 people. That is the average of people that occupy DL right now. On average we have 300 children and 75-100 adults back there every Sunday.
That is why we need you to consider signing up. And just so we are clear, bulk of people that have already signed up to serve are parents with kids. The gap that we are experiencing needs to be filled with singles; it needs to be filled with empty nesters; it needs to be filled with seniors; it needs to be filled with young married couples. This is our need. We need you to volunteer to serve one Sunday a month for the next year starting September to ensure these stories and gospel opportunities keep going. Our church is and will be a place where young families can come to hear about Jesus and feel served.
Will you consider? Thank you.
Share this on:
---
July 6 2016 at 9:18 am
0 Comments
---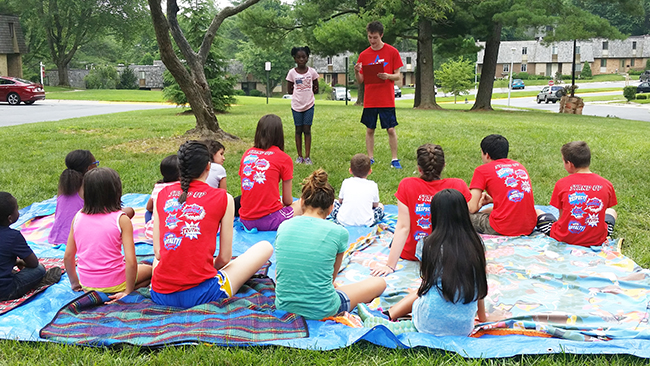 By the end of JOY Camp approximately 70 kids heard the Gospel. Some of these kids have been coming to camp every year since it began, some came for the first time this year. But all had Gospel seeds planted this week.
At the beginning of the week the kids had a difficult time opening up to the youth during one-on-one partner time, and tended to get off topic. But by the end of the week, kids were opening up, asking deep questions about Jesus and the Gospel, and taking in every second of what they were learning. Some youth were able to remind kids of the Gospel and pray with them to receive forgiveness. Other youth watched as kids prayed silently and trusted that God was working.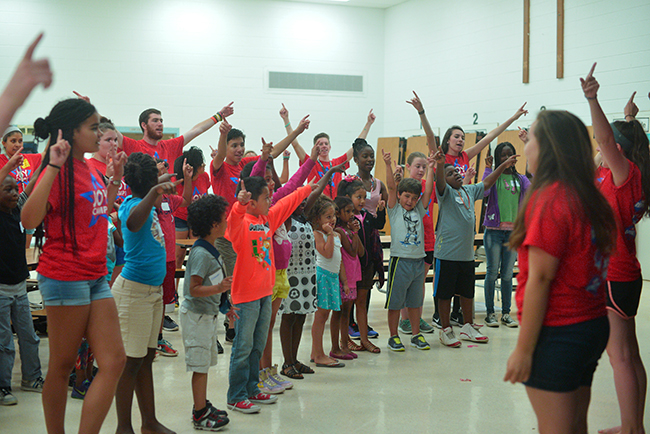 JOY Camp is more than just a one week a year vacation bible school. The kids we encounter this week cherish every moment we spend with them and eagerly await the following summer. They love the little things that the youth do with them. From making friendship bracelets, to playing board games, to giving endless piggy-back rides, to participating in all the crazy dance moves for worship, the kids are shown the love of Christ and realize the youth aren't "too cool" to hang out with them. One kid, during one-on-one partner time, said that when she grew up she wanted to be just like the CLC youth volunteer and wanted to work at JOY Camp.
The Gospel impact we make during this week is wonderful, but what if we could make that impact all year long? Here are some ways where CLC is currently involved in making a Gospel impact in our community.
The ESOL Ministry at South Lake Elementary School – offering English classes to reach the nations with the gospel
JOY Club - provides child-care for the ESOL ministry and serves as a follow up to JOY Camp
Laytonia Girls Club - Crafts and devotionals for community girls ages 5-15
If you would like to get involved in any of these outreaches, please contact Todd Keeler. Thank you for praying for us this week.
Share this on:
---
June 21 2016 at 12:46 pm
1 Comments
---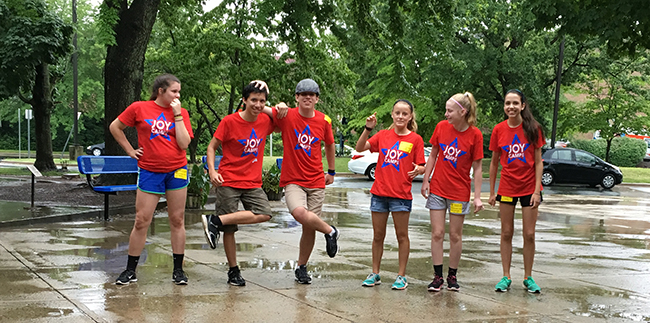 This week about 50 youth and adults from Covenant Life Church are immersed in a community mission "trip" called JOY Camp. The three sites are Laytonia (across the street from the church), nearby Camp Hill Apartments (a few minutes down Washington Grove Road), and South Lake Elementary School (near Lake Forest Mall).

We meet together at the church everyday to pray, worship, study God's Word, share meals, plan for the day, and go out into the community to provide a free Christian day camp.
JOY Camp is an informal Vacation Bible School with the purpose of sharing the love and truth of Christ through songs, crafts, skits, Bible teaching, Scripture memory, one­-on-one conversation, and friendship. Our theme for this year is STAND UP! As we teach lessons from the book of Daniel, we will share the gospel with the kids and teach them that we can have courage to stand up for what's right because of who Christ is and what He has done.
We would love for you to join us in this mission by praying for:
Our team, that we would be good ambassadors for Christ and for strength to persevere;
T

he gospel to continue to spread in our community;

Ask God if He wants YOU to get involved with some of the on­going ministries in our community

The ESOL ministry at South Lake Elementary School – offering English classes to reach the nations with the gospel
JOY Club ­provides child­care for the ESOL ministry and serves as a follow up to JOY Camp, so the relationships we form this coming week can continue.
Thanks so much for partnering with us in prayer!
—Andi Alonso (on behalf of the Joy Camp team)
Share this on:
---
June 20 2016 at 1:31 pm
0 Comments
---
Several folks asked for a transcript of Tim Harvey's pastoral prayer this past Sunday, so we share it here:
Gracious Heavenly Father, we come before you this morning to agree with your evaluation of us, spoken through your prophet Isaiah. Like the people of Isaiah's day, we have rebelled against your laws and forsaken your ways, both inwardly and outwardly. So we come before you as your people to confess our many sins.
Lord, we have raised up other gods before you in our hearts and our lives, idols that we have looked to for joy and hope and meaning more than we have looked to you. And our idols are many – they are entertainment and social media where we have run for refuge and for joy rather than to you. Even your good gifts like work and family and children and marriage and friendships we have exalted as other gods above you by running after them and holding on to them as our ultimate sources of joy and hope instead of you.
Lord, we have disregarded and dismissed things of eternal value – the wonderful treasures of your word and of deep fellowship with your people – in favor of things that will not last – entertainments and diversions, or even a few more minutes of sleep.
We have prayed more for our own kingdoms and our own comfort than for your kingdom.
Lord, we have failed to love our brothers and our sisters as we ought to. We have made harsh judgments in our hearts without knowing or even caring about their situations. We have distanced ourselves from those in need, we have been too afraid or too concerned with our own comfort to embrace the hurting, the desperate, and the difficult people around us.
We have sought to be proven right more than we have sought to be loving.
And Lord, these things have come about because we have looked first to ourselves rather than to you. We've trusted in our own strength and wisdom and become fearful when those fail us. We've chased after our own comforts only to find those comforts are ruling over us.
And so we turn to you, Lord. We turn to you to ask your forgiveness for our many sins. And we turn to you to thank you for the great forgiveness that you purchased at such a cost – by turning your back on your own son as he died – and yet that you offer to us for free. We turn to you to rejoice that there is no condemnation for those who are in Christ Jesus, that you have set us free from the sin that once enslaved all of us.
And we turn to you, Lord, to cry out for your help to turn aside from our sinful ways and to live in a way that pleases you. We cry out, Lord, that you would give us not just an outward form of obedience, but that you would change our hearts. Take away our hearts of stone and give us hearts of flesh that are tender toward your ways. Fill us with your perfect love that casts out fear. And turn our eyes away from ourselves, away from the foolish idols that fill our view, to see more and more your kingdom and your glory.
We pray in the precious name of our Lord Jesus Christ who loved us and gave himself for us,
Amen
Share this on:
---