June 9 2015 at 1:52 pm
0 Comments
---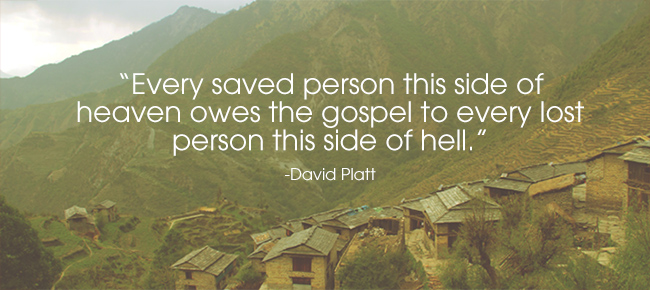 Last Sunday, guest speaker David Platt, President of the International Missions Board, shared a stirring message on the biblical call for Christians to share the gospel with unreached peoples around the globe. But before his sermon, Platt had a powerful word of encouragement for the members of our church. Here you can review both Platt's word of encouragement and his sermon as a whole.
Learn more about upcoming, short-term missions trips on the Serving Our World page. Also discover how you can get involved in serving our community by visiting our Local Missions page.
Encouragement to Covenant Life:
Share this on:
---
May 19 2015 at 4:36 pm
0 Comments
---
To help friends near and far share the day with others, here's the recording of Sunday's program to thank Joshua Harris and family plus a slideshow of photos from the program and reception. Enjoy!
We invite everyone to keep the Harris Family in your prayers as they prepare to move to British Columbia. Here are their requests:
For the Lord to lead us to the right church. And give us real friendships and community.
That our kids would get settled in their new schools, make good friends and grow in their love for God and each other.
That Josh would learn and be stretched through his classes at Regent.
That Shannon would find opportunities to use and develop her gifts in new ways.
That we would learn to rest, wait on the Lord and trust him in a season of uncertainty.
That God would use us to bless the city of Vancouver in some small way and demonstrate the love of Christ to our neighbors.
Share this on:
---
May 18 2015 at 2:32 pm
1 Comments
---

Respectfully Ready
by Almasih Kahdost
It was my first time visiting the home of a friend and he was showing me around his suburban townhouse. It was a typical introductory run-through.
"Here's the kitchen. Our garage is over there. These are our gods. Here's our bedroom."
"Ah. Very nice."
Wait. What?!?
This was a casual, but intentional, introduction to his family's Hindu deities.
Polite Company and Culture
From the time of my youth I was taught (implicitly and explicitly) that certain subjects were out of bounds unless you knew someone really, really well. Making conversation of politics, a person's salary or (gasp!) religion was the social equivalent of eating with your hands at the table. (Something, as it turned out, we would do later in the evening!)
Understanding that religious discussion doesn't bring the uneasiness in many other cultures that it brings for westerners enabled me to ask, "Which is your favorite god and why?"
Dialogue or Discourse?
Hearing that Ganesh (who blesses new beginnings) and Lakshmi (who brings wealth) were his favorites gave me insight into his values and desires. Asking questions lets people know we're interested in a discussion rather than a diatribe. And discussion affords our friends respect as well as the opportunity to ask questions.
Paul modeled a similar approach in Athens where he found himself distressed by seeing so many idols in the city (Acts 17:16). "So he reasoned...in the marketplace day by day with whoever happened to be there" (v17). In fact, Paul is said to have conversed (NAS, ESV) or debated (NIV, NLT) with the Stoics and Epicureans (v18). It was a back-and-forth. Did Paul frequently engage in a unilateral fashion? Sure. But these verses indicate an occasion that was more of an exchange than a one-sided homily.
Primed but Gentle
So, if someone introduces you to their favorite deity, or tells you their present state is a reincarnated one, maybe it would be better to first draw them out before jumping down their throat with chapter and verse. Consider learning about their worldview so you can address it.
Back to Paul; the Spirit spoke through him telling us to always be ready "...to give an answer to everyone who asks you to give the reason for the hope that you have. " (1 Peter 3:15). We mustn't shy away from telling folks Who we believe in and why. But how we do so is important too. The verse continues, "but do this with gentleness and respect".
"Almasih Kahdost" is a long-time friend of Covenant Life who desires to see the nations come to Christ. Though preferring to publish anonymously, Almasih Kadost welcomes your comments below.
See all the posts in this series.
Share this on:
---
May 4 2015 at 2:31 pm
0 Comments
---

by Almasih Kahdost

Sweat dripped down my back as I saw drapes sway in the breeze entering the gurdwara window. Given the ineffective nature of ceiling fans above, I was really hoping the breeze would make it my way, but no dice.
The occasional Sikh worshippers coming in and prostrating themselves didn't seem to mind the excessive temperature. I wondered if perhaps they were reminded of the weather in the Punjab region of northern India and eastern Pakistan, home of Sikhism, one of the youngest of the world's major religions.
ORIGINS
It was amidst this South Asian region, in 1469, a young boy was born who would become Sikhism's founder, eventually being known as Guru Nanak. Influenced by and frustrated with both Hinduism and Islam, Nanak shaped Sikhism, removing idol worship, polytheism, the caste system, gender inequality and other tenets of his day's prevailing religions.
Nanak would be the first of ten successive human gurus. (A guru is teacher who is full of knowledge). The eleventh guru, however is the Sikh holy book, called the Guru Granth Sahib. It contains the teachings and devotional hymns of the previous ten gurus, along with others.
BACK TO THE GURDWARA
Walking to the front of the gurdwara, I watched the granthi carefully uncover, open and fan the holy book, thereafter reading from it. His fanning brought some relief from the heat, but not as much as I was about to receive when he took us to a small room upstairs. Finally: AIR CONDITIONING! But it wasn't intended for visitors so much as it was for the Guru Granth Sahib; the holy book, honored and respected (not worshiped) as a living being and accommodated with sleeping quarters, food and other comforts.
Afterwards, I was taken downstairs where I was offered as much (amazing!) Indian food as my tummy could hold. Someone was manning the kitchen practically around the clock in this ever-open Sikh place of worship.
Between the prostrated worshipers, the air conditioned Guru Granth Sahib and the fantastic South Asian food and hospitality, I felt as though I was northern India. But this was in the U.S. In fact, you could probably have similar experiences at the corner of 124 and Warfield Road at the Washington Sikh Center. If you visit there for Sunday langar (a community meal) you may meet some very kind, generous people and even make a friend or two.
LIKEABLE BUT LOST
As kind as these folks are - as is true with so many in the world - they are equally lost. Sikhs agree one may potentially be united with God through meditation on his name, selfless service, living an honest lifestyle and sharing. There is a heavy emphasis on doing good.
Maybe you have Sikh friends or coworkers and don't even realize it. Although some have adopted a more western look, many of the men are still identified by a bearded face and a turban covering their uncut hair. They may also wear a silver bracelet.
If so, Tuesday, April 14 was a Sikh new years festival, Vaisakhi. Ask them about it. How did it go? What is the spiritual significance of the holiday? Ask them about their beliefs. Be a learner. You could ask specifically about the "five vices" of Sikhism (lust, anger, greed, emotional attachment, pride) and, after confessing that you've committed these, gently ask if they have. If so, ask how they will know whether or not they will be good enough to be united to God. Ask, "If there was a way to be rid of your bad deeds, would you want to know?" Tell them that Jesus has the ability to give the credit of his good deeds to his followers and remove from them their bad deeds.
WE ARE THE WORLD
In this emerging multi-cultural county of ours, the customs and dress of our new neighbors are becoming decreasingly out of the ordinary. On one hand, there is something nice about that. These folks are humans just like us. However, as we pass by their places of worship, or see long beards and turbans, may those little cues of cultural differences be a reminder: God has brought the nations nearby so we can love them with the love of Christ.
"Almasih Kahdost" is a long-time friend of Covenant Life who desires to see the nations come to Christ. Though preferring to publish anonymously, Almasih Kadost welcomes your comments below.
See all the posts in this series.
Share this on:
---
April 27 2015 at 9:50 am
0 Comments
---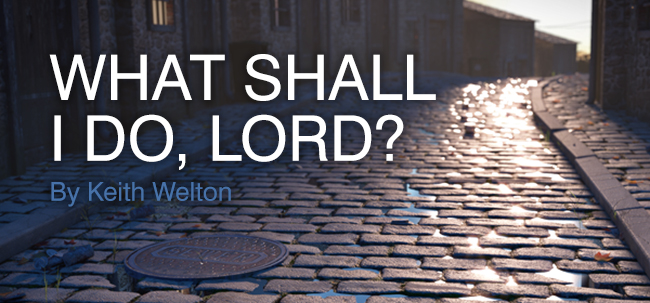 This post is shared courtesy of Keith Welton's blog "Everyday Truth." He shares his reflections on Scripture and other helpful topics regularly.
Saul had it all together. He was the religious of the religious and claimed no one was more so than he. He possessed many of the greatest privileges of his society and was schooled by the greatest teachers of his time. He probably could have been anything he wanted. He chose to be a Pharisee, a religious leader of his Jewish nation. In fact he was a Pharisee of Pharisees and was committed to persecuting the church of Christ. He had men and women Christians thrown in jail. He gave approval to the stoning of Stephen, the first Christian martyr. He was accomplishing much in his mission, until one day on the road to Damascus he was knocked off his horse by a blinding light. That's when Jesus appeared to him and said, "Saul, Saul, why do you persecute me?" (Acts 9:4). In this pivotal moment all his achievements came to an end.
Saul was no doubt a diligent and thoughtful man. He probably had everything "figured out" and had a perfect plan for life. But everything changed in an instant. When Jesus appeared it was not just Saul's plans that were brought to an end; Saul himself was brought to an end. Seeing the futility of opposing the Creator of the world, he knew his life needed realigning. This is when he uttered his life restructuring words of submission to Jesus, "What shall I do, Lord?"
The question shows the dramatic conversion Saul underwent—from refusing to serve the Lord, to attentive to his every command. This might remind you of your own conversion.
While Paul's words say something powerful about the nature of conversion, they also pertain to post-conversion. Jesus doesn't bring people to the end of themselves prior to conversion and then after conversion let them embark on a divinely mandated course without enlightenment or alteration. Jesus is in the business of revealing himself and bringing people to this point over and over again.
When we come to what might seem like an end, or even the end of ourselves, it is only an end if we don't throw our hands up in submission and faith and ask, "Lord, what shall I do?" These words were to Paul a pivotal turning point toward new life. His plans were coming to an end, but Jesus' plan was just beginning. At times we might feel as though we hit a wall, and our life is over. But Paul's words demonstrate hope and desire for a new purpose. After all, they are the words of one who has seen the Light. Don't give up. Embark on a new course with the Lord.
Share this on:
---
April 21 2015 at 12:29 pm
2 Comments
---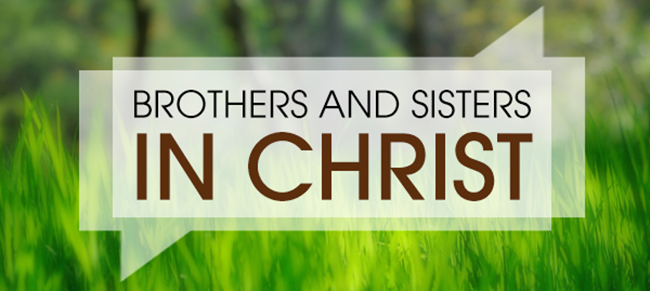 By Edith Guitilen
During the 50 Days Prayer and Fasting, I ran across this quote: "God...commands us to be re-oriented from our self-centeredness and join Him in His lavish love for others." I asked myself, how is this possible? I have trouble enough loving my own flesh and blood. This totally disoriented me, but when I regained composure God helped me.
Who are our brothers and sisters? As Christians how should we view our church family? According to Mark 3:35, "For whoever does the will of God, he is my brother and sister and mother." I would like to believe that if I die leaving a mother or sister or brother, I could (like Jesus) say to everybody, 'here is your mother or your sister.' For didn't God create us all, and isn't there only one Father of all?
Shortly after I was refelecting on this, I met a member on Sunday who laughingly said that I looked like her late mother. After the service we talked more and then decided to sit together again the next Sunday. We got to know each other better, we went out for lunch, and really enjoyed each other's company. We got to talk and pray for our families and the church, and even began to bear each others burdens. We love each other in Christ.
Though she is American and I am Asian (West meeting East), we have a wonderful bond made possible through Christ.

I encourage us all to listen to the words of Scripture and treat one another as brothers and sisters in Christ so that God's love will flow out to others.
Share this on:
---