March 10 2014 at 11:30 am
0 Comments
---
This blog post duplicates an e-mail that went out to church members on Saturday, March 8.
Dear Church,
I hope you are enjoying the (hopefully) final remnants of winter and snow. (You can tell I'm from Florida!)
As Josh mentioned last Sunday (March 2), I want to fill you in on our recent pastors retreat and how we invested the time. We spent Day 1 reflecting on our relationships with one another and our overall health as a pastoral team. On Day 2 we discussed the role and responsibilities of pastors in the church, specifically, working through a paper compiled by Don DeVries, Kenneth Maresco, Kevin Rogers and Ben Wikner. Our Day 3 focus was praying and thinking through all the recommendations for non-staff elders submitted by the congregation. Finally, on Day 4, Greg Somerville led us in a discussion on missiology (the study of missions).
What I want to briefly highlight today is the way the Lord met us on Day 1. We took the entire afternoon for each man to share how the challenges of the last few years have impacted his personal life, family and ministry. We talked openly about our weaknesses, struggles, and temptations. We shared honestly about the effect of this period on our relationships with each other and how we have functioned as a team.
Praise God! The Holy Spirit really met and refreshed us through this time! Our dialogue and ministry to one another built us together and filled us with greater faith for how God will work in the coming days. We all were deeply encouraged and, by God's grace, this conversation set a wonderful tone for the entire retreat. During worship, prayer, conversation and mealtimes there was a renewed affection for one another and a deeper sense of commitment to each other as we serve the Lord together. It was a sweet expression of what the Lord declares in his Word: "Behold how good and pleasant it is when brothers dwell in unity" (Psalm 133:1).
For more on the other days of the retreat, I invite you to follow along here on the blog. For starters I have written a brief post about non-staff elders and our progress in working through all the wonderful recommendations we received from the congregation (82 of them!). We are grateful for your participation and the way the Lord is moving us forward.
We will also be posting about the role and responsibilities of pastors and missiology, why we believe these topics are important for our church right now, and how the Lord is helping us. So I encourage you to follow the conversation.
In all of these things, we welcome and invite your partnership. Thank you for praying for the retreat!
On behalf of the pastors,
Mark Mitchell
Share this on:
---
February 27 2014 at 3:55 pm
0 Comments
---
In case you weren't able to make it, here's the full video of our brief Members Meeting held on Sunday, February 23.
Share this on:
---
February 21 2014 at 11:34 am
0 Comments
---
In connection with our 2-A-DAY Bible Reading plan, here's a meditation on Psalm 36 and Acts 14 by Dave Wilcox:
God's gospel always rises in spite of its opponents.

"[The wicked] plots trouble while on his bed;
he sets himself in a way that is not good;
he does not reject evil…" —Psalm 36:4

In Acts 14, Paul was in Lystra, and Jews came from Antioch and Iconium, plotting to kill him. They persuaded the once adoring crowds at Lystra to stone him, then "dragged him out of the city, supposing that he was dead."

But they were wrong.

"Your steadfast love, O Lord, extends to the heavens."
"The children of mankind take refuge in your wings."
"For with you is the fountain of life." —Psalm 36: 5, 7, 9

"When the disciples gathered around [Paul], he rose up" and returned to preaching the gospel with power. Courageously, he went back to the hometowns of his would-be assassins, strengthening those who had believed in Jesus through the gospel.

Indeed, "The evildoers lie fallen;
they are thrust down, unable to rise." —Psalm 36:12
---
Jump into the 2-A-Day reading plan anytime! Just download the schedule and follow along.
Share this on:
---
February 18 2014 at 1:53 pm
0 Comments
---
Thank you for praying and participating as our church walks through the process of nominating and choosing non-staff elders. We have received a large number of nominations, and it is clear from the supporting comments that members have taken the charge to nominate biblically qualified men very seriously.
As the nomination process has progressed, we have grown freshly aware of the grace of God on our church. God has indeed placed many biblically mature men in our midst who have selflessly served our congregation in many ways for a very long time. It is a great testimony to the kindness of God that we have many such men rather than too few!
The pastors will review the nominations on our retreat scheduled for February 25-28 and prayerfully select the men who seem at this time to be most qualified based on the relevant biblical passages (see our elder profile). We will also consider whether each man has demonstrated firm support for, and willingness and ability to teach, Covenant Life Church's Statement of Faith. In addition we will be looking for men who share the vision and mission of Covenant Life Church, and who possess a history of fruitfulness in shepherding God's people.
It is important to note that this is the only time non-staff elders will be chosen solely by the full-time pastoral staff. Hereafter, non-staff elders will be chosen by both the full-time pastors and the non-staff elders affirmed by the congregation.
Please pray that the Lord will lead the pastoral staff as we undertake the selection of this first group of non-staff elders. We want to proceed with sober judgment and hearts poised to follow the leading of the Holy Spirit. Thank you again for your prayers and your engagement in these important matters.
—Kenneth Marseco
On Behalf of the Elders
Share this on:
---
February 15 2014 at 9:52 am
0 Comments
---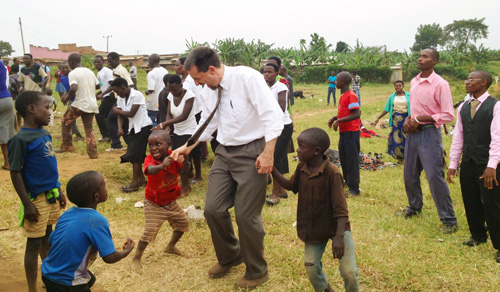 Last Sunday, February 9, we celebrated how the Lord is opening up ways for our church to participate in taking the gospel to the nations.
If you're interested in getting involved in missions at Covenant Life, please check out the 2014 Global-Local Missions Opportunities list. There's something here for everyone, whether you're ready to board the next plane to another continent or simply want to discover why the work of missions matters for every Christian.
If you have questions about a particular opportunity, don't hesitate to contact .(JavaScript must be enabled to view this email address) at the church office.
You can also sign up to receive regular updates through the Missions E-Newsletter using the simple form below.
Thank you for your heart to share the love of our Savior with others!
Share this on:
---
February 10 2014 at 5:00 pm
0 Comments
---
On Sunday, February 9, we had the privilege of hearing from three members about their short-term mission experiences in Haiti, Central Asia and Uganda. Check out the above slideshow to view more photos from the Haiti and Uganda trips.
To stay connected with our church's global missions work, you can sign up for the monthly Missions E-Newsletter using the simple form below. If you're interested in being a part of an upcoming mission trip, contact .(JavaScript must be enabled to view this email address) at the church office.
Isn't the Lord good to give our church opportunities to participate in global Kingdom work?
Share this on:
---