August 19 2014 at 8:59 am
0 Comments
---
Jesus had a busy, difficult life.
From the moment he was baptized and stepped into the public eye, the Messiah rarely had any time alone. If he wasn't teaching huge crowds or performing amazing miracles, he was spending time with his disciples or dealing with constant attacks from Israel's hateful, faithless religious leaders.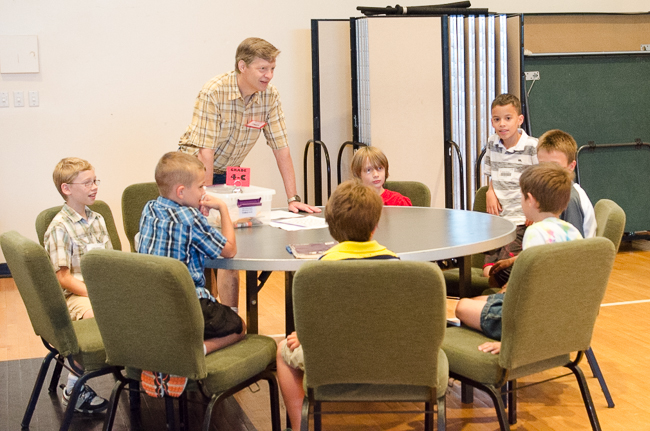 But Jesus always made time for children. Consider the accounts of Matthew 19 and Mark 10. In the latter stages of his earthly ministry, Jesus left his home area of Galilee, traveled south into Judea and crossed the Jordan River. Large crowds followed him, wanting to hear his powerful words and see his remarkable healings.
Then the Pharisees showed up. These hypocritical leaders and Old Testament law experts were always trying to trap Jesus in his words. On this day, they tested him with a random question about the lawfulness of divorce.
After a lengthy, contentious conversation—and then a follow-up discussion with his slow-to-understand disciples—it would've been perfectly understandable for Jesus to want some time alone. But then people began bringing little children and infants to Jesus so he could bless them. Jesus' disciples tried to shoo the children away. They considered the kids a nuisance.
But Jesus rebuked his disciples and then spoke some of the most beautiful words in Scripture: "Let the little children come to me and do not hinder them, for to such belongs the kingdom of heaven" (Matt. 19:14). Then he gently laid his hands on them and blessed them.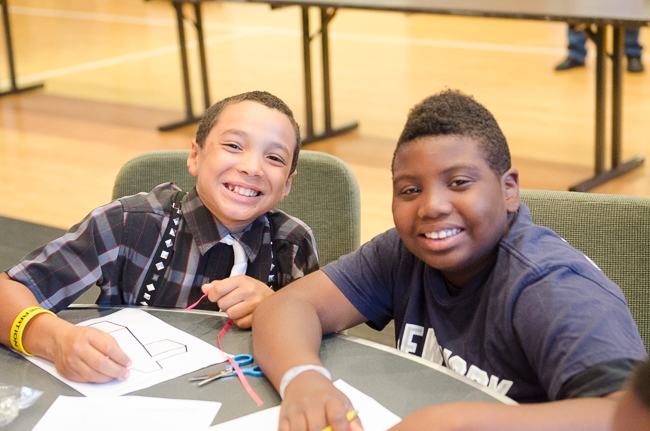 Jesus clearly loves children and places a high value on them. His heart toward children reflects the intimate care God the Father shows for each individual life (Ps. 139:13-16). He used children as an example of the simple faith and humility that Christians are to emulate. And he issued a stern warning to anyone who would harm a child (Matt. 18:6).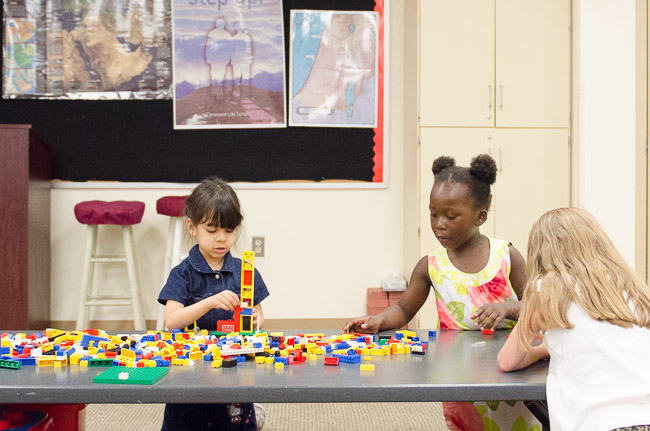 Jesus' joy around little ones is instructive. If the eternal, all-powerful Son of God has a tender heart for children, we should, too. As a member of Covenant Life, one of the greatest ways you can mirror the Savior's love for children is by serving in Discovery Land. Jesus didn't let busyness and other responsibilities keep him from loving the next generation, and neither should we!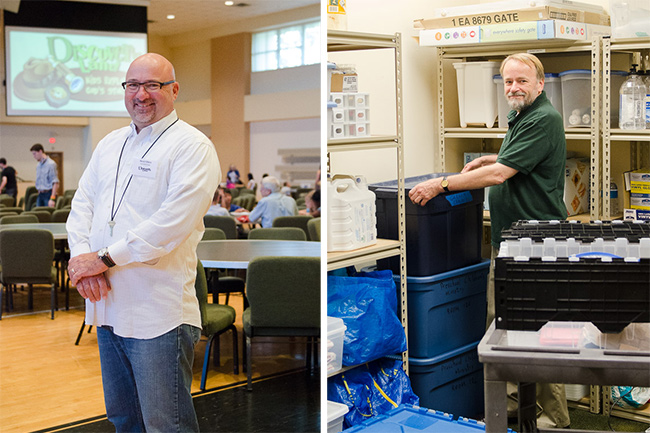 No matter what your spiritual gifts are, there's likely a place for you in Discovery Land. Visit the website for a list of available positions. We still have a great need for volunteers in most of our departments.
There is great joy in caring for little ones and teaching them about the Savior! But don't just take our word for it. Here are a few testimonials from some current volunteers:
"I appreciate serving on the Safety-Security team for the joy it brings, to know you are serving the children, the church and the Lord in a practical way. It seems to be comforting to the parents to know we are there to help protect the children, to give directions or be helpful in other ways as needed." —Scott Bates, Safety-Security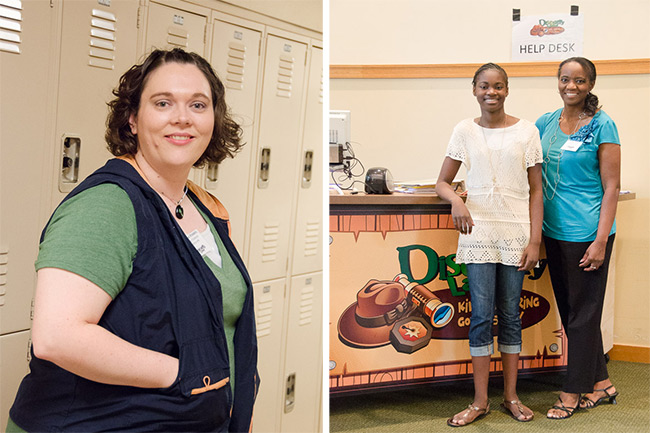 "Serving in Discovery Land worship is awesome! When the kids first come in at age 2, it's just blank stares (and some crying), but by the end of the year, many of the kids sing along and with enthusiasm. It's been a blessing to watch these kids grow and develop a joy for praising God!" —Paul Kim, Traveling Worshipper in Discover (ages 2-3)
"Serving in Discovery Land has strengthened my faith to overcome my weaknesses. I have learned how to humble myself (e.g. listen more than speak), be patient and show compassion towards the little ones in different situations. Serving with kids is a wonderful experience!" —Kartika Dougherty, Adventure (1st-5th grade)
To sign up to serve, please contact .(JavaScript must be enabled to view this email address). Don't let this opportunity pass you by. There is much joy in letting the little children come to Jesus!
Share this on:
---
August 14 2014 at 10:51 pm
0 Comments
---
In response to the sentencing of Nathaniel Morales today in Montgomery County Circuit Court:
As a church we are deeply saddened that children have been abused and victimized in the grievous ways described in the Morales trial. We believe those who testified did so with courage, and we continue to pray for the Lord's mercy, comfort and healing grace in their lives and those of all victims. We are grateful to see justice done in today's sentencing.
Share this on:
---
August 11 2014 at 3:30 pm
0 Comments
---

Here are a few resources to help everyone be better informed about the crisis in Iraq and to know how to pray and give.
First, a brief video from The Ethics and Religious Liberty Commission of the Southern Baptist Convention (ERLC) where David Platt speaks about identifying with our brothers and sisters in Christ who face persecution and suffering:
Second, a blog post by Dr. Russell Moore about ISIS' practice of marking the homes of known Christians with the Arabic letter for "N":
Full post: "N Is for Nazareth"

Excerpt: In Christ, we have been brought into the life of Jesus. We are hidden with him, joined to him as a body to a head (Col. 3: Eph. 5). This means that, in a very real sense, Nazareth is our hometown. We belong to Jesus, and Jesus belongs to Nazareth. We are connected then to everyone who is also in Christ, not simply because we believe the same things but because we belong to the same Body.

We are "one new man," and "fellow citizens with the saints, and members of the household of God" (Eph. 2:15, 19). That's why Christians in America and Australia and Nigeria ought to care, and to pray fervently, for persecuted Christians in Iraq, in Sudan, and everywhere else in the world where they are endangered.

The Islamic militants mean it for evil when they mark homes with "N" for "Nazarene." They assume it's an insult, an emblem of shame. Others once thought that of the cross. But in that intended slight, we are reminded of who we are, and why we belong to one another, across the barriers of space and time and language and nationality. We are Christians. We are citizens of the New Jerusalem. We are Nazarenes all.
Third, some ways to pray for the crisis in Iraq, and specifically for the Iraqi Christian and Yazidi Kurdish refugees, from the International Mission Board (IMB) and Baptist Global Response (BGR):
• Ask the Lord to awaken the world to the humanitarian crisis unfolding in Iraq and to provide pathways for Christians and others to respond.
• Ask God to miraculously protect the Yazidis and other Kurds who fled into the mountains; ask Him to provide a means of rescue and temporary homes for the refugees.
• Pray that ISIS leaders and soldiers would experience the love of Jesus Christ and that their lives would be transformed.
• Ask God to preserve and embolden the small remnant of believers in Mosul and Kurdistan, so that one day through their witness, every Iraqi might have the opportunity to hear the gospel.
Lastly, a blog post from Radical, a parachurch ministry that serves alongside the local church (and is associated with David Platt's church, The Church at Brook Hills). Radical provides multi-lingual biblical resources and creates events to support disciple-making in local churches around the world:
"Taking Action: Looming Humanitarian Catastrophe" (includes above ways to pray, and two ways to give)
Share this on:
---
August 11 2014 at 1:23 pm
1 Comments
---
At 7:30 every Sunday morning — as plenty of folks are hitting the snooze button and the low-lying sun is still casting long shadows across dewy fields — the ceiling lights flicker on in the Events Center at Covenant Life Church. The first Discovery Land volunteer has arrived.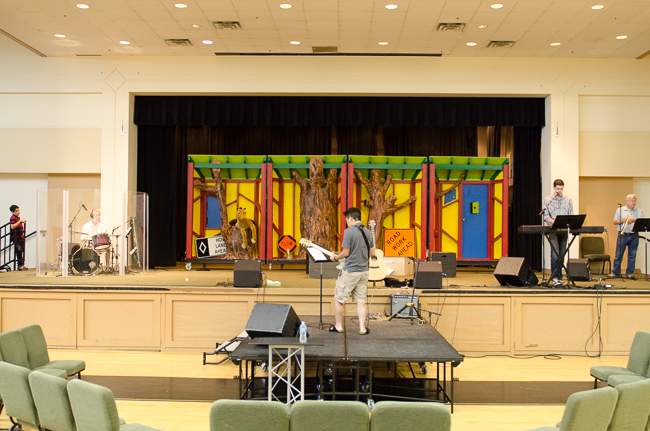 With the service still 2½ hours away, one of four monthly band leaders starts preparing for the day. Soon, the other band members join him, and the group begins preparing their equipment to lead 150 bouncy 1st-5th graders in live, loud worship music in the Adventure class later that morning. After they get in tune, lyrics, drumbeats and guitar rhythms begin to fill the air.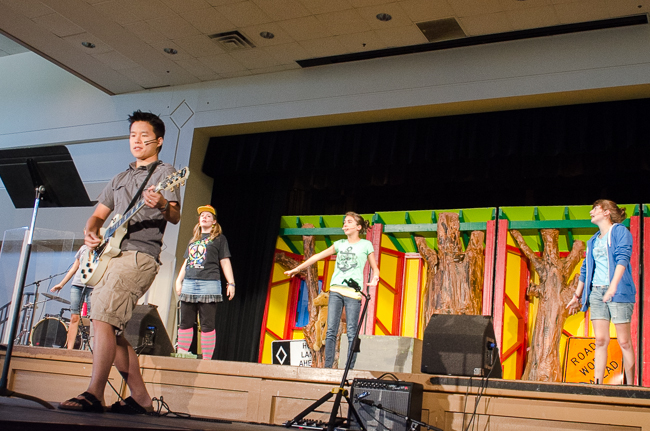 Discovery Land is the largest ministry, by far, at Covenant Life. Each week, 300-350 children ages 0 through 5th grade enter its classrooms. It takes 600-plus volunteers — roughly 150 per week — to staff the 16 childcare rooms on two floors and the many other departments within children's ministry. In military terms, a battalion of Christian soldiers is needed to effectively care for the precious little ones of Covenant Life!
And it all starts early each week — much earlier than Sunday, in fact. Midweek, there are volunteers who launder nursery smocks, purchase supplies at Sam's Club, plan lessons, select worship songs that fit the weekly teaching theme, create small group activities, write Tree House Gang scripts, direct Saturday evening Tree House Gang rehearsals, send out informative e-mails, and much more.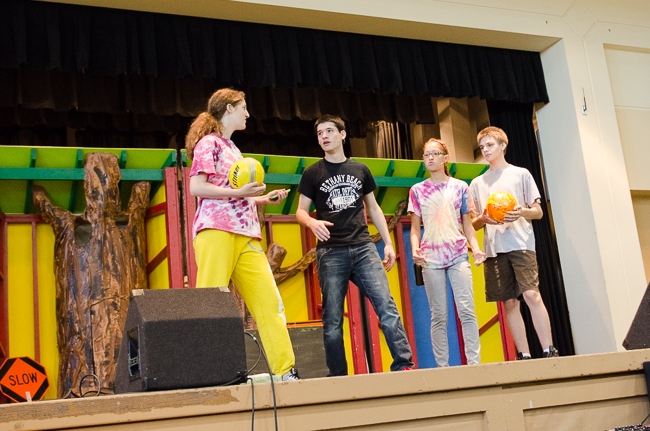 Back to Sundays … As the band sets up onstage in the Events Center, a small group of singers warms up their vocal cords in the Discovery Land office. Before long, they'll join the Adventure band to rehearse that day's four-song set.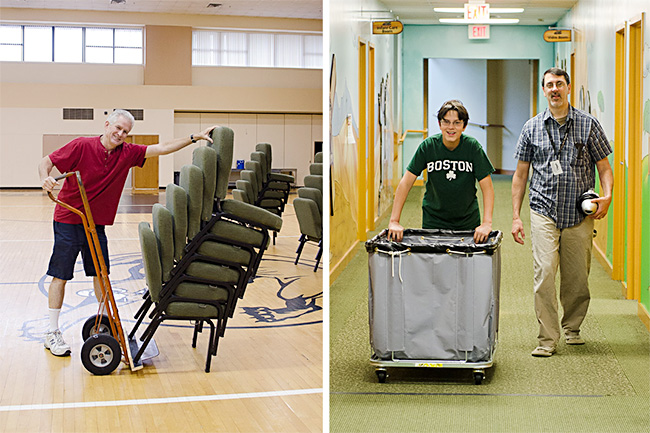 By 8 a.m., as rehearsal music echoes throughout the building, the supply team buzzes through the hallways. This amazing team of truly behind-the-scenes servants makes sure each Discovery Land classroom is stocked with all the necessary supplies — everything from diapers to saltine crackers to coloring sheets to double-A batteries for bubble-blowing machines.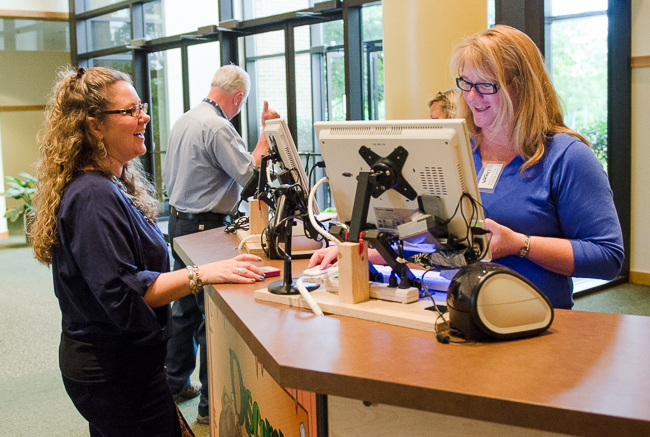 By 9 a.m., the building is really humming. The church's IT team is powering up all the automated child nametag printing stations and check-in machines. Welcome center volunteers have arrived in advance of the day's first families. And the Events Center is in full swing, with the worship team making way for a final Tree House Gang rehearsal and tech volunteers diligently keeping track of microphones, sound levels, and other audio/visual needs, etc.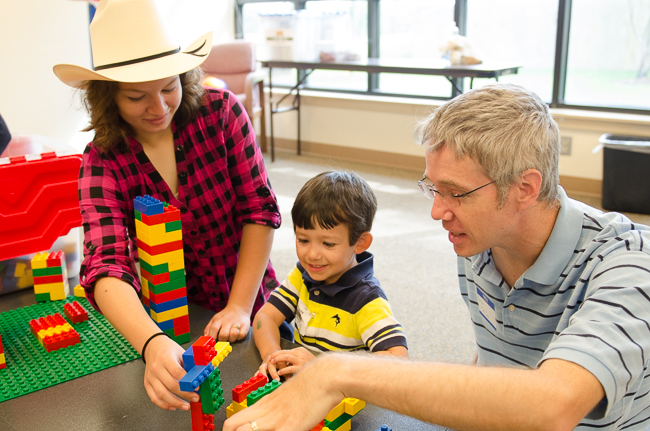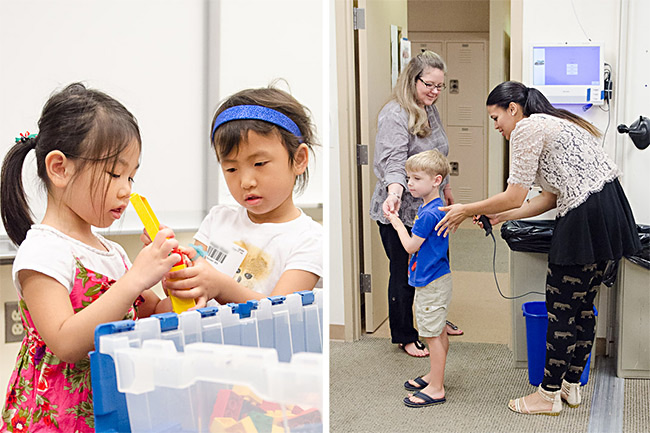 Shortly after 9:30, most volunteers have arrived. Adventure's doors are already open to accommodate the large influx of children it receives. Elsewhere, toys are being set out, baby gates are being locked in place, coordinators are meeting with their staff, last-minute preparations are being made and prayers are being lifted up all over the building for God to protect the children and let his Word be proclaimed in clear, powerful ways.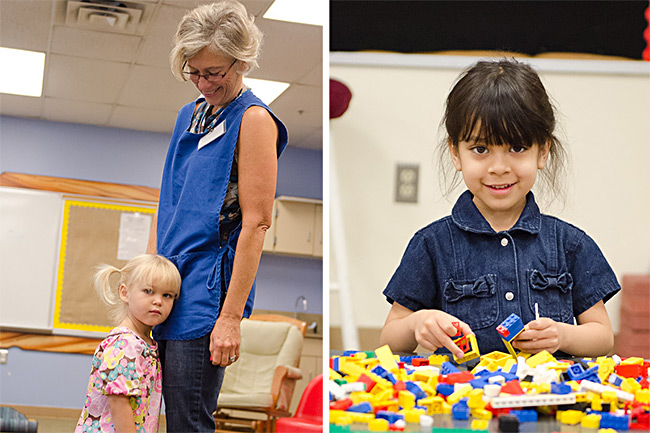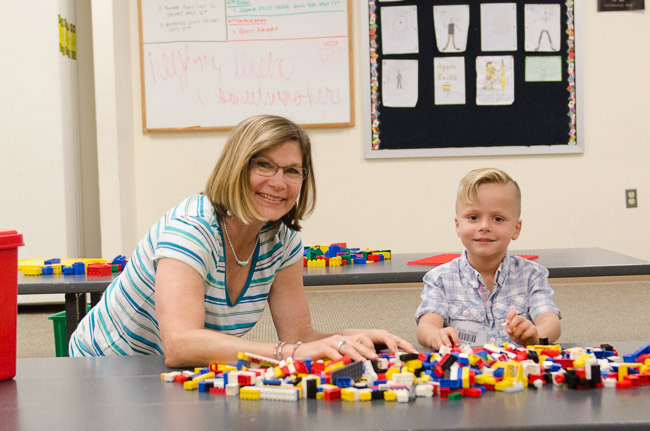 Before the very first child steps foot in class, scores of faithful servants have already been a shining example of 1 Peter 4:10-11: "As each has received a gift, use it to serve one another, as good stewards of God's varied grace: whoever speaks, as one who speaks oracles of God; whoever serves, as one who serves by the strength that God supplies—in order that in everything God may be glorified through Jesus Christ. To him belong glory and dominion forever and ever. Amen."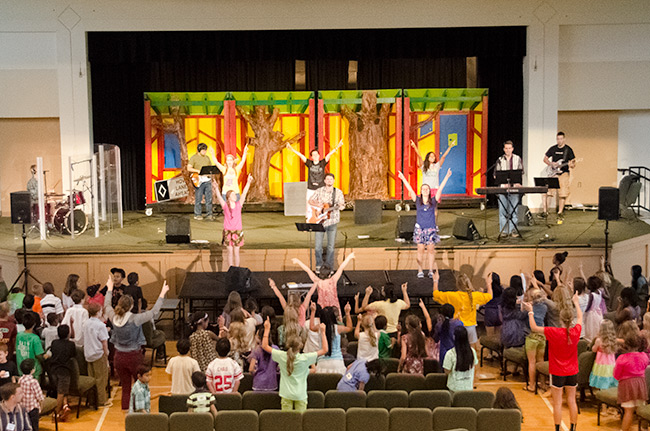 If you'd like to be part of this exciting ministry that directly affects the next generation with the life-changing gospel of Jesus Christ, please contact .(JavaScript must be enabled to view this email address) to sign up today!
Our new serving year starts Sept. 7, and we'd love for you to experience the joy that comes with serving the kids in Discovery Land.
Photo credit: Pam Wilbur
Share this on:
---
August 7 2014 at 3:22 pm
1 Comments
---

More information about the year-long, 2-A-DAY reading plan, including the readings schedule, can be found on the 2-A-DAY page.
FRIDAY, AUGUST 8 | Exodus 35 and Matthew 15
By Jessica Kendal
Lord, we lift our hands
Sometimes empty, sometimes with small offerings from willing hearts
Of gifts You've given
Or talents You've bestowed
Sometimes crying for mercy, really expecting crumbs only
From You, our Bread of Life.
And yet You have Bread for the five thousand, the four thousand, for any who ask…
Did we forget?
Because of Your compassion, the hungry are fed
the mute speak
the crippled heal
the lame walk
and the blind see.
We sing it often, but…has the astounding become cliché?
Nothing we face can deter Your powerful Love and Grace in our lives.
Nothing.
Heal our hearts, King Jesus!
Help us not seek you in vain and empty tradition,
Trying to impose "100 rules for salvation" on a broken-spirit world,
But with the faith of the Canaanite woman
The offering: a humble heart, and whatever else You ask us to give,
Faith great in Your eyes, bringing peace to our hearts,
rest for our souls
And glory to Your Name.
By Rhoda Dixon
Met by the Living God: We Respond With Worship
"And Moses quickly owed his head toward the earth and worshiped." (Exodus 34:8)
"And those in the boat worshiped him, saying, "'Truly you are the Son of God.'" (Matthew 14:32)
May we be encouraged now, by some of the ways that we see in today's text how God comes and meets His people, and why our hearts can respond in worship:
Exodus 34
1. God the Father is again giving His word and ways (v 1)
2. God has saved and set apart a people for Himself and His purposes; He reaffirms the covenant He has made with them (v 10, 27)
3. He is meeting with man, and speaking to him (v 5, v 28, 29)
4. God's continuing mercy to His people (v 6)
Matthew 14
1. God the Son's great compassion for the people (v 14, 16)
2. He gives daily provision, but it is also He who satisfies our souls, now and forever (v 20)
3. He answered Peter when he called (v 30)
4. He upholds Peter in the midst of the storm (31)
5. He calms the storm (v 32)
Dear Lord, may I consider how You came and met Your people with Your mercy, provision and grace. May the words from today's text direct my heart to respond in worship to You today.
Words from the hymn, "Praise To The Lord, The Almighty" have been a particular encouragement to me this past week, and I believe these words provide a helpful application and response for our text today:
Ponder anew, what the Almighty can do,
If with His love He befriend thee.
Praise to the Lord, O let all that is in me adore Him!
All that hath life and breath, come now with praises before Him.
Let the Amen sound from His people again,
Gladly for aye we adore Him.
Words: Joachim Neander, 1680; translated from German to English by Catherine Winkworth, 1863
Exodus 32 and Matthew 12
By Tim Harvey
"Come, make us a god…" - Exodus 32:1
"We want to see a sign from You." - Matthew 12:38
These two statements – one from the Israelites in Exodus and the other from the scribes and Pharisees in Jesus' day – are surprisingly similar. Or maybe it's not so surprising. There seems to be a fundamental human desire to have a god we can see and touch, and who does what we want when we want it. What does seem surprising, though, is how quickly both the Israelites and the Pharisees forgot what they had so recently seen. The Israelites were just 3 months out of Egypt (Ex. 19:1), and had seen firsthand the plagues and their miraculous deliverance from Egypt, the parting of the Red Sea, the pillar of fire and smoke by which God led them, and most recently God's awesome appearance in thunder and fire and smoke shortly after they arrived at Mount Sinai (Ex. 19:16-18). Yet somehow that wasn't enough – they wanted a god they could see and touch. And it wasn't enough for the Pharisees to see Jesus heal the man's withered hand (Matt. 12:13); they want a savior who would perform miracles on demand and on their terms.
How could people respond this way after having just seen such vivid manifestations of God's power? I think it's because both the Israelites and the Pharisees failed to recognize and respond in faith to what God had already revealed to them. In other words, the Israelites' idolatry didn't start with their request to Aaron in Ex. 32:1; it began in how their hearts had responded (or had failed to respond) to God's earlier revelations of Himself. Ditto for the Pharisees – their hearts were hardened against Jesus so that they failed to perceive the truths that had already been shown them, even the physical evidence of miracles done right in front of them.
I have to admit I have more in common with the Israelites and Pharisees than I would like. How often I forget that God sent His only Son to be punished for me so that I could become an heir to His kingdom, and instead I doubt His goodness and love because He isn't working out some situation as I would like it. How often I forget all the wonderful promises in His Word and instead reduce His character and goodness to just what my recent experience tells me. And maybe it's not so much forgetting, but rather that I haven't been deeply affected by these truths in the first place.
Lord, help me to return to the truths You have already shown me in Your Word, not in a superficial way as though I already know them, but as a needy person whose heart needs to be softened and pierced again by the reality of who You are.
Running to Christ To Find Rest for Your Soul
by Jose Troche
Do you feel tired, even exhausted? Maybe you have been running this race for a long time, and you feel the effects of fatigue. Maybe you know what the goal is, but no matter how much effort you are putting in, it still seems very far. Maybe you do not know where you are going, but you are still running very hard, like a hamster on a wheel, endlessly going nowhere.
Perhaps you are a single who has been rushing to find the love of your life, but the horizon looks empty and desolate. Or you are a middle age man who has been pursuing the promotion that never comes. Possibly you are a mom running here and there, juggling all those frenzied tasks, and yet the pile keeps growing without bounds. Perhaps you are a senior citizen who is fearfully and desperately trying to catch up on retirement savings and healthy habits, or wishing you had invested more time in what really matters. Or maybe you are a teenager seeking the hype that will give meaning to your life and pluck you out of senseless boredom. Maybe you are sick of your sickness, running behind physicians and medicines that promise much and yet never deliver…
What is your race? What is draining your life? What is consuming your energy? Would you stop your mad pace for a moment? Read Exodus 31 and Matthew 11. You will find refreshing, life-giving rest.
In Exodus 31:12-17, the Israelites were commanded to rest the seventh day after working six. One of the intents of this law was to provide refreshment and rest from labor. But we learn later, that this rest was pointing to a greater and more comprehensive rest that Jesus provides to those who come to Him.
In Matthew 11, we find this Jesus who gives sight to those who are blind, cleanses the lepers, and opens the ears of the deaf. He announces good news to the poor. He provides running feet to those who are lame and paralyzed. He can even raise up the dead! (11:5)
This is important. It is a life-or-death matter. The consequences will be unbearable and intolerable to those who do not pay attention and turn (11:20-24). We are all running the race of life. We all have our own objectives and goals. And, by default, we are all heading the wrong direction. We pour our souls into dashing towards our own targets, and we get tired, weary and exhausted…
Run to him who can give you rest. Run to him who can open your eyes and ears, and give you supernatural feet to run faster than ever before while you repose in Him. Go to him who can cleanse you forever and give you life. Run to him all who labor and are heavy laden, and he will give you rest. Run to Jesus and he will provide amazing, real, refreshing rest for your soul (11:28-29).
Share this on:
---
August 4 2014 at 4:32 pm
2 Comments
---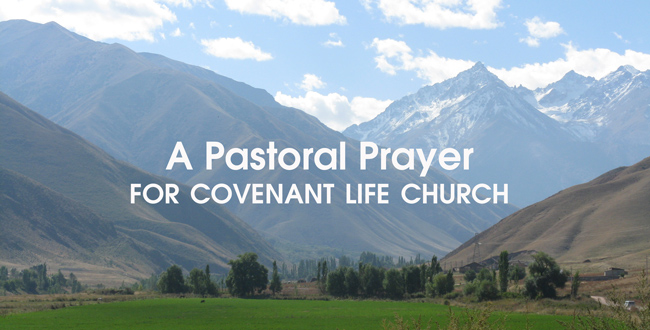 Kenneth Maresco offered this pastoral prayer during our Sunday service yesterday. Be encouraged in the Lord as you take time to read through it and agree in prayer as you go:
Heavenly Father, thank you and praise you that we can call you Father this morning. We are able to cry out to you because you are a God whose steadfast love never ceases, and your mercies are new every morning. Thank you that we are your children because of what Jesus Christ has done our behalf.

We pray this morning as an expression of our dependence on you for everything. We are dependent upon your grace, your mercy, your action—and we pray because we need you, we love you, and we want more of you in our church, in our lives, in our hearts and in our world.

Lord God, we pray that you would deepen the unity of the Spirit in Covenant Life Church. Help us to love one another.

Dear God, we pray for our church family, that we will be marked by the fruit of the Spirit and genuine love ... that we would love one another, just as you have loved us. Help us to live together in community as brothers and sisters in Christ. May our lives be different than they were before your Holy Spirit made us alive in Jesus Christ. Help us to live with one another in such a way that people will know Jesus is alive!

And today as we study the arrest and betrayal of Jesus, we are reminded of how all of our sins are a betrayal of your goodness and an affront to your holiness. We confess we have fallen short of the perfection your law requires; we have fallen short today and this week.

Thank you that, "For our sake you made him to be sin who knew no sin, so that in him we might become the righteousness of God" (2 Corinthians 5:21). Thank you for the assurance this morning that our sins are forgiven because Jesus bore them on the cross. What a costly sacrifice—thank you!

For the parents here, Lord, we pray you would encourage them as they seek to bring their children up in the discipline and instruction of the Lord. Give them strength, faith and courage. For the children, teenagers and young people, Lord, we pray you would protect them from the onslaughts of the enemy, guarding their hearts and minds in Christ Jesus, and help them to live for the glory of Jesus Christ as children of God in the midst of a twisted and crooked generation.

We pray you would help our young people to bear witness to Jesus Christ among our neighborhoods, schools, and friends, and that we would see many saved. We pray that you will bring fruit from the many outreaches this summer, and from the relationships you give us with those in our community.

Lord we pray for single parents in our community. Lord, for the men and the women seeking to raise their children without the benefit of a spouse, whether by death, divorce or any other reason, strengthen them, and fill them with joy today with the knowledge of your help. And may we be a redemptive community surrounding them with the love and care of the Lord Jesus Christ.

We pray for the two mission teams that have been sent out from among us, to Uganda and Japan … Lord, bless the men and women serving on these teams, and allow them to bear fruit in their ministries.

Lord, we pray for our brothers and sisters around the world, and in particular for those who are suffering persecution and threats. We specifically lift up the believers in Iraq this morning, and in particular those in the ancient city of Mosul. Give them courage and wisdom to resist the threats and violence being inflicted upon them. Help them to stand firm in their faith, and give them courage to resist the demand made by radical Muslims that they renounce the name of Jesus Christ. We pray you would be with them, and protect them both in life and in death.

Lord, fulfill your promise to Abraham that in his offspring all the nations of the earth will be blessed. We ask you to raise up men and women who will be willing to go to the uttermost parts of the earth, to proclaim your name where it is not known.

And finally, Lord, help us as we listen to your Word preached today … help us to hear, understand and to be changed by the gracious work of your Word and the Spirit … so that we will grow in our worship of you, our love for one another and our commitment to making disciples of the Lord Jesus Christ.
Share this on:
---