October 13 2014 at 9:58 am
0 Comments
---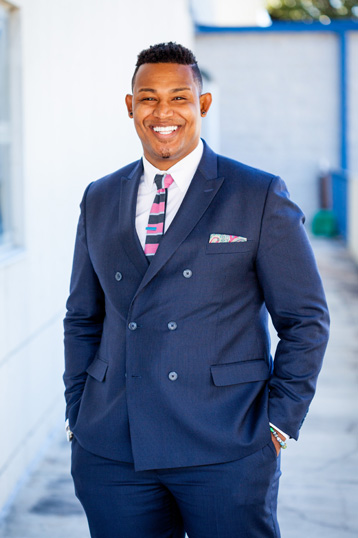 All are invited to join us Sunday, October 26 at 10 a.m. to hear guest speaker Léonce Crump, lead pastor of Renovation Church in Atlanta, Ga., speak on the role and importance of diversity in the kingdom of God.
Originally from Louisiana and raised Catholic, Léonce began following Jesus at age 16. Always an athlete and a talker, Léonce outran his first mall security guard (and pregnant mother) at age 3, and spent most of his grade school years talking with his principals on the subject of public speaking during class. He has been in ordained ministry for nine years, is a graduate of the University of Oklahoma and holds Masters degrees in Criminal Justice, with a focus on Case Law, Missional Leadership, and is currently finishing his Masters of Divinity at Reformed Theological Seminary.
At Oklahoma he was an All-American wrestler and played defensive end on the Sooner football team. After college he competed to make the world team in wrestling, played professional football for the New Orleans Saints and coached collegiate wrestling. He experienced an extended time of rebellion and running from God during college, but after 22 months of living as though he were not a Christian he surrendered to Jesus and ultimately to God's calling into ministry.
Léonce pastored in three other churches prior to coming to Renovation Church, and started and led three college and young adult ministries. In 2006 he felt called to plant a church and through prayerful seeking of direction settled on the under-served area of downtown Atlanta. In early 2008 he and his wife moved to Atlanta from Tennessee to begin the process of planting Renovation Church. In 2009 Léonce was assessed and approved as a member of the Acts 29 church planting network and began a partnership with Perimeter Church in Atlanta in their commitment to local church planting.
Léonce and his wife Breanna have two daughters and have lived in the Grant Park community of Atlanta for over four years.
Share this on:
---
October 7 2014 at 4:20 pm
1 Comments
---

Members, please plan ahead for two Members Meetings coming up in the next few weeks.
The first will be held Sunday, October 12, at 6 p.m. to discuss the allegations of the civil lawsuit and the results of the Independent Investigation. Many have had understandable questions over the last two years, and we are eager to communicate.
We have scheduled an additional Member's Meeting on Sunday, October 26, at 6 p.m. This will provide an opportunity to follow up on any questions you may have coming out of the first meeting. We anticipate that both meetings will go for approximately 90 minutes.
To provide ample time for dialogue, we have also scheduled two Coffee & Conversation meetings on Sunday, November 9 & 23, from 12:15 - 2:15 p.m. We look forward to talking with you there.
Let's be praying for the Lord's presence and help as we prepare for these important times together as a church.
Share this on:
---
October 3 2014 at 1:31 pm
0 Comments
---

More information about the year-long, 2-A-DAY reading plan, including the readings schedule, can be found on the 2-A-DAY page.
MONDAY, SEPTEMBER 22 | 1 Samuel 4 and 1 Timothy 2
by Tim Harvey
"Let us take to ourselves from Shiloh the ark of the covenant of the LORD, that it may come among us and deliver us from the power of our enemies." – 1 Samuel 4:3
For there is one God and one mediator also between God and men, the man Christ Jesus. – 1 Tim. 2:5
The Israelites in 1 Samuel 4 were wrestling with an age-old question: How do we bring God's power and presence to bear on our situation? How can we make sure He is really with us? Their answer was stunningly simplistic: just grab the ark of the covenant – the object upon which God's glory had rested and that carried the stone tablets of the covenant with Moses – and take it into battle with them. They mistakenly invested the ark with a supernatural, magical power of its own. They failed to remember that this object that God had told them to make was intended to direct them to Him – not just as their Deliverer in times of crisis but as the One who was worthy of their daily worship and obedience according to the covenant made with Moses.
I often find in reading the Old Testament that I'm more like the rebellious (and seemingly clueless) ancient Israelites than I would like to admit. Like them, I wish I had a shortcut to bring the guaranteed power of God into my life when needed. I wish there were something that I myself could do to bring God's power and presence into my life. And I wish there were some tangible sign that God is really with me.
That's why I need to hear the truth that Paul gives us in 1 Timothy 2. This chapter is a call to prayer, and prayer requires fundamentally an attitude of trust – trust that God will really hear us, that He cares enough to answer us, and that He will answer us according to His good will. But Paul doesn't leave us there with just an exhortation to pray and hope for the best. He goes on to make clear the reason why we can trust God in these ways: because we have a mediator between us and God, the perfect man Christ Jesus (v. 5). Because of Christ's perfect atoning sacrifice, we can be confident that the prayers from our sinful lips do in fact reach the ears of our holy God. Christ's death on our behalf is irrefutable proof that God loves and cares for us more than we can imagine. And because of God's love demonstrated in Christ, we know that God will always respond in love to His children. "He who did not spare His own Son, but delivered Him up for us all, how will He not also with Him freely give us all things?" (Romans 8:32).
And that's better than carrying an ark around on my back any day.
Share this on:
---
September 29 2014 at 6:20 pm
0 Comments
---
Video above, and text below of Mark Mitchell's prayer yesterday morning in church:
"Our God is in the heavens; he does all that he pleases." [Psalm 115:3]

Lord we acknowledge your universal sovereignty and your inexhaustible wisdom as God. You do according to your will among the host of heaven and among all the inhabitants of earth. No one can keep you from accomplishing your purposes and no one can question your wisdom or timing in when you choose to act. The counsel, purposes and plans of your heart stand forever and cannot be thwarted by any human or spiritual activity.

Lord, your Word makes clear that the heart of the king, and by implication every human authority, is under your sovereign direction, and like streams of water in your hand, you turn it wherever you wish.

Father, in all things, good and bad, pleasant and difficult, in blessing and in trial, you act according to your good and holy purposes and for the glory of your name.

So we worship you and honor you and declare that you are worthy of our complete and unwavering trust.

Father, thank you for bringing the civil lawsuit to an end. Thank you for showing us mercy in the outcome. Thank you for sustaining us as a congregation throughout the last two years and for helping us to trust in you as we've waited for this moment.

We acknowledge that this result doesn't end the difficulty of those who have been affected by the civil lawsuit or the pain of those who have suffered because of sinful and criminal actions against them.

• We pray for those who have suffered physical or sexual abuse. We are grieved by these horrific sins and pray for a deep and powerful working of your Spirit in the lives of these victims and their families. We ask you to bring comfort and peace into their lives. Father, we pray that you would please do for them what no doctor, health professional, counselor or pastor can do. Bring a deep and abiding healing to their souls and fill them with hope for a life of peace through relationship with Christ. Please do this for these dear men, women and children who are precious in your sight.

• We pray for any and all who have been falsely accused in this lawsuit. We ask you to strengthen their faith, act on their behalf, and restore their reputation. We pray that you would keep them from the evil one who may tempt them to anger or bitterness and we pray instead that you would fill them with mercy, compassion, and forgiveness toward those who have sinned against them. We pray that you would enable us to love and support them as a church family.

• We pray for the plaintiffs and their families. We don't know the totality of what they've experienced. We simply ask you to have mercy on them. We pray that you would bless them and do good to them. We pray that in every way they would know and embrace the loving kindness of Jesus Christ. You tell us in your Word that as far as it depends on us, live in peace with all men. We pray that to the extent that peace and reconciliation is possible, that you would bring that about according to your wisdom and power.

• Finally, I pray for this dear congregation. I thank you for each and every one. They are your people, your saints, your loved ones. I bless them and thank you for them. Thank you for their patience and forbearance. Thank you for the support, encouragement, and prayers they've extended to us as pastors. These last 2-3 years have burdened and tested us as a congregation. Strengthen us by your Spirit and may Jesus Christ dwell in our hearts through faith and fill our gaze as we behold him in your Word.

Father, you have loved us and called us to be your own from before the foundation of the world. Lord Jesus, you are the Good Shepherd, the Friend of Sinners, and the Head of the Church. We thank you for redeeming us from our sins through your death and resurrection. Holy Spirit, you are our ever-present Helper. You are with us, you strengthen us, and you will never leave us.

Triune God, we bless you, and it is through the strong and compassionate name of Jesus Christ we pray. Amen.
Share this on:
---
September 17 2014 at 11:58 am
0 Comments
---

More information about the year-long, 2-A-DAY reading plan, including the readings schedule, can be found on the 2-A-DAY page.
TUESDAY, SEPTEMBER 16 | Joshua 21 and Colossians 4
By Tim Harvey
"Today we know that the LORD is in our midst…" – Joshua 22:31
…fellow-workers for the kingdom of God…and they have proved to be an encouragement to me. – Col. 4:11
These disparate chapters from the Old and New Testaments provide some great lessons and examples for my own interactions with my brothers and sisters in the faith. Consider the situation in Joshua 22, where the rest of the Israelites went to confront the tribes of Reuben, Gad, and Manasseh over an altar that the three tribes had built by the border of their land at the Jordan River. The altar appeared, to the other Israelites, to be a substitute worship location other than the Tabernacle where God had commanded that sacrifices be offered – a fundamental misunderstanding that could have easily turned into war (v. 12). But look at how it was handled by both sides:
• The Israelites, although their opening dialog was quite accusatory and based on wrong assumptions (v. 16-20), were nonetheless willing to listen to and consider the answer that the three tribes gave them. In the end they were willing to revise their initial assumptions about the three tribes' motives.
• The Israelites also graciously offered a "way out" of the apostasy they thought their brothers had fallen into, offering to share their own land if necessary (v. 19).
• The three tribes were willing to enter into dialog and provide an explanation for their actions.
• Both sides, in fact, were motivated by zeal to obey God and honor His word.
• The peaceful resolution of this tense situation was recognized as evidence that God was present and at work among them.
How many of these characterize my interactions with my family, with my fellow believers, or with the world? Although this chapter is far from a perfect example of brotherly love, I wish I could model more of the above traits.
I also wish I could better follow Paul's example in the relationships he depicts in Colossians 4. Consider:
• He remembers his friends and fellow-workers by name.
• He offers specific encouragements and commendations.
• He passes along greetings to affirm and build up long-standing relationships; most of those named in this chapter are mentioned elsewhere in Acts or other epistles.
• His commendations, greetings, and instructions are neither inconsequential fluff nor boring administrative details, but all reflect the deep partnership he had with these fellow-workers in the work of spreading the gospel.
I wish that my communications were more characterized by these kinds of things as well. In short (and I'll cheat here to bring in Colossians 3), I want my interactions especially with brothers and sisters in the faith to be characterized by love: "And beyond all these things put on love, which is the perfect bond of unity." – Col. 3:14
Share this on:
---
September 17 2014 at 11:52 am
0 Comments
---
We worshiped God in song and prayer.
Our Passion is for You
The Name Above All Names
Nicene Creed
This is Amazing Grace
Be Still My Soul
Ministry Mic
Pastoral Prayer
We built one another up as a community.
We greeted one another, welcomed guests, gave offerings to further the kingdom. We heard announcements about our life together, including upcoming classes and events.
We heard God's Word.
Robin Boisvert preached a message on the Preeminence of Christ from Colossians 1:15-23.
Song of response: Name Above All Names
We were sent into the world.
Mark Mitchell shared a few words to help us personally apply the sermon, and we closed with a doxology from Ephesians 3:20-21.
Share this on:
---