August 22 2014 at 9:45 am
0 Comments
---

More information about the year-long, 2-A-DAY reading plan, including the readings schedule, can be found on the 2-A-DAY page.
FRIDAY, AUGUST 22 | Joshua 5
By Jessica Kendal

Praise God for a second crossing through the waters! In Joshua 5, the Israelites had finally begun their transition into the "promised land." God in His kindness showed them His might once again as the waters of the Jordan piled up and His people walked through on dry ground. But even while the Lord was melting away the resistance of many enemies, there is still a battle on the horizon: Jericho. Walls that seem unbreakable, and yet God is calling them to move forward in confidence. How? What can prepare a person—or a people—for this sort of conquest?
Consecration—and even a renewing of the Covenant! (vs. 1-9) God's people had been wandering in the wilderness so long, even the physical marks of their covenant with Him had all but disappeared. The Lord commands that the new generation be circumcised, starting fresh and rolling away the "reproach of Egypt." What is the Lord asking you to cut away today, so that you can renew your love for Him and start fresh?
Remembering His Faithfulness (vs. 10-12) In God's perfect timing, following the renewal of their covenant with the Lord, it was time to celebrate the Passover. In doing this, the Lord also began to show His people His new provision for them: the "fruit" of the land, no longer the provision of manna. Remembering His faithfulness is crucial to having the strength for spiritual battle and opens our eyes to new things He'd like to do. What might God want you to remember about Him as you face your battles of today?
Choosing God's Side (vs. 13-15) I once read that our gut reaction is often the same as Joshua's, faced with the "commander of the army of the LORD"—we blindly approach Him and ask if He's on our side, or not?? But what God really wants is to know if we are on HIS side! To do this, we've got to recognize who He really is. When Joshua realized who he was actually talking to, he fell on his face, and asked what was required of him! The reply? "Take off your sandals…for the place where you are standing is holy." Friends, in Jesus Christ, we walk on holy ground every day! Remind yourself of His astonishing holiness and greatness. How can you choose to be on God's side today, rather than asking if He's on your side?
Lord, we pray today for grace to see You for who You really are. You know that we are facing battles that seem too big to fight—but if YOU are our Commander, no walls are too high. Help us ask what You require of us, and give us confidence in Your strength, not ours. We love You, Jesus, and pray this in Your precious Name!

THURSDAY, AUGUST 21 | Joshua 4 and Matthew 24
What God Does and What He Says Will Stand Forever
By Rhoda Dixon
"For the LORD your God dried up the waters of the Jordan for you until you passed over, as the LORD your God did to the Red Sea, which he dried up for us until we passed over, so that all the peoples of the earth may know that the hand of the LORD is mighty, that you may fear the LORD your God forever." (Joshua 4:23-24)
"Heaven and earth will pass away, but my words will not pass away." (Matthew 24:35)
The instruction from God to Joshua to the people regarding the setting up of the memorial stones are to direct God's people to remember always what God has done for them. His mighty act in this moment in leading them safely through the Jordan is part of a greater work of His enduring mercy and faithfulness to His people. The instructions are to accomplish a work in God's people in two ways: The command to build the memorial stones and the crossing of the Jordan are to build faith just prior to their entering the land He has promised. And these stones are to direct their hearts to worship and trust God always.
While the stones were to be a reminder to God's people of what God has done, Jesus provides words of comfort in the midst of great difficulty and suffering detailed in Matthew 24. Both the fall of Jerusalem and the end times are being described here, but with His words and life Jesus provides hope for all who know Him. Jesus Himself is the answer to the difficulties and anguish, and His words of life and salvation will never pass away. Throughout history the Lord has preserved His church, and at the end of time His people will be with Him, in the place He has provided in His presence for them for all of eternity—the eternal rest that is the ultimate fulfillment of the promised land we will read about in Joshua. As God's people, we can remember all our God has done, finding rest in knowing that our Lord's words provide everlasting hope.
As He led His people through the Jordan, He will be faithful to lead and remain with His people, leading them through the end of time, until we are finally in our promised Home with Him forever.
Dear Lord, I thank You because You always lead and guard Your people. You who is in control over creation, time and all that has been and what will come ahead; You alone are our hope in every step, today and forever.
Sometimes mid scenes of deepest gloom,
Sometimes when Eden's bowers bloom,
By waters still, over troubled sea,
Still 'tis His hand that leadeth me.
He leadeth me, He leadeth me,
By His own hand He leadeth me;
His faithful follower I would be,
For by His hand He leadeth me. (Joseph H. Gilmore, 1862)

WEDNESDAY, AUGUST 20 | Joshua 3 and Matthew 23
By William Li
Matthew 23: Then Jesus said to the crowds and to his disciples, 2 "The scribes and the Pharisees sit on Moses' seat, 3 so do and observe whatever they tell you, but not the works they do. For they preach, but do not practice.
The nation of Israel was truly in dark times during this era of their history. Politically, their homeland was ruled by Rome. Religiously, the people were being lead by false guides. With no good shepherds in the community, Jesus gives us some words of wisdom in this passage. He points people to follow the teaching of the Pharisees despite being hypocrites.
Consider the question, how can a person distinguish if something a hypocrite said was true? If we disregarded everything any hypocrite said, we would have to discard everything every man has ever said. For we all falter and fall short at some point as a result of the Fall. The question then becomes, in a world of hypocrites, how can I seek truth?
As Christians we are called to be faithful to God rather than a person. Often times it is difficult to distinguish truth from falsehood when words and actions do not line up. Jesus teaches us that even a hypocrite can teach us truths. However Jesus was able to live a life free of hypocrisy. He is the living embodiment of truth and righteousness. Only in His life was truth and personhood fully unified.
13 "But woe to you, scribes and Pharisees, hypocrites! For you shut the kingdom of heaven in people's faces. For you neither enter yourselves nor allow those who would enter to go in.[d] 15 Woe to you, scribes and Pharisees, hypocrites! For you travel across sea and land to make a single proselyte, and when he becomes a proselyte, you make him twice as much a child of hell as yourselves.
The Pharisees were a group that had more access to the Word of God than the rest of the population. But instead of leading people into the Kingdom of Heaven, they were putting obstacles in their way. Hypocrisy is one of the biggest obstacles the Israelites had to overcome in order to seek God during this time. My encouragement to anyone who wants to see a true life, untainted by hypocrisy is to study the life of Jesus. It wasn't just the fact that Jesus said the truth but that He was Truth itself.
Joshua 3
The Lord said to Joshua, "Today I will begin to exalt you in the sight of all Israel, that they may know that, as I was with Moses, so I will be with you. 8 And as for you, command the priests who bear the Ark of the Covenant, 'When you come to the brink of the waters of the Jordan, you shall stand still in the Jordan.'" 9 And Joshua said to the people of Israel, "Come here and listen to the words of the Lord your God." 10 And Joshua said, "Here is how you shall know that the living God is among you and that he will without fail drive out from before you the Canaanites, the Hittites, the Hivites, the Perizzites, the Girgashites, the Amorites, and the Jebusites. 11 Behold, the ark of the covenant of the Lord of all the earth is passing over before you into the Jordan. 12 Now therefore take twelve men from the tribes of Israel, from each tribe a man. 13 And when the soles of the feet of the priests bearing the ark of the Lord, the Lord of all the earth, shall rest in the waters of the Jordan, the waters of the Jordan shall be cut off from flowing, and the waters coming down from above shall stand in one heap."
When God lead the people out of Egypt using Moses he opened the Red Sea allowing the people to walk across on dry land. But Moses sinned and was forbidden to cross over to the Promised Land. So Joshua was now commanded to lead the Israelites. God invokes the same miracle except now it is over the Jordon instead of the Red Sea.
In Numbers 14 Joshua and Caleb were sent to the land of Canaan to survey the land. Many spies were sent out but only Joshua and Caleb trusted the Lord would give the Israelites the land. All of the other spies came back reporting how it was impossible to go against the people of Canaan. When the Israelites heard the report from the spies they were ready to stone Moses for leading them there.
Joshua had great faith to follow the Lord. Not grumbling or rebelling against the Lord who intended to do good to him and his countrymen. It is fitting that Joshua become the leader of the Israelites and be the one to take his people over to the Promised Land. He had become God's chosen instrument to deliver His people.
How many times have we grumbled in our hearts against the Lord? We ask for blessings but not hardships. But the Bible teaches us that God uses both to sharpen and shape us, for we are all clay in the potter's hand. Joshua demonstrates how important it is to trust God in all situations. Joshua trusted God in the 40 years in the desert enduring the trials with patience. In that time of faithfully trusting God, he was molded to become one of the greatest leaders in Biblical history.

TUESDAY, AUGUST 19 | Joshua 2 and Matthew 22
by Tim Harvey
"…for the LORD your God, He is God in heaven above and on earth beneath." – Joshua 2:11
"Go therefore to the main highways, and as many as you find there, invite to the wedding feast." - Matt. 22:9
If there was ever someone gathered in by God's grace from off the highways of life, it was Rahab. Consider her spiritual résumé: a pagan and also a prostitute perhaps associated with one of the idolatrous fertility cults of ancient Canaan. No hint that she was a sincere seeker of truth along the same lines as the magi who visited Jesus, nor an exemplar of righteous living like the Roman centurion Cornelius in Acts 10. Yet in biblical history Rahab is well-known as one of the heroes of the faith, commended by the writer of Hebrews (Heb. 11:31) and by James (James 2:25), and an ancestor of David and Christ Himself (Matt. 1:5). How could this happen? Is Rahab just another example of the mystery of God's providence, or do we have something to learn from her life and example?
I believe the answer is yes on both counts. Certainly no one – no matter how well taught in the Scriptures or how righteous in their living – is saved apart from God's sovereign call. The fact that He would choose someone like Rahab is a dramatic reminder that we are all saved by grace and grace alone.
But Rahab's words in verses 8-13 illuminate the work that God was doing in her life, and I believe offer us guidance on how we ought to pray for His work in our lives and the lives of others. Rahab did not have any more information than other people in Jericho – the news of the Israelites' amazing military victories and the power of their God were obviously common knowledge. But Rahab, through God's provident work, was given eyes to see through these mere events to perceive the God who was behind them. Her words reveal an astonishing grasp of who God is and what He was doing through the events that had so stirred the region. In marked contrast to the Pharisees of Jesus' day, she was given "eyes to see and ears to hear," and she did not hesitate to act on what she had seen.
I want to have the same eyes of faith that Rahab had! I want to see, as Rahab did, my circumstances and the world around me in light of who God is and His eternal purposes. And I want the same for those around me who walk in spiritual blindness. That's why I am praying earnestly for God to do this kind of work that only He can do.

MONDAY, AUGUST 18 | Joshua 1 and Matthew 21
Towards Wonderland
by Jose Troche
It had been a long and tedious journey for the people of God. Several years wandering in the desert, doubting, rebelling, and sinning against the LORD. He had so mightily delivered them from dreadful slavery to lead them into wonderland, a place of indescribable fruitfulness, prosperity, peace and rest. The type of place where all human beings deeply long to be.
We read in Joshua 1 about God declaring that no man will stand against Joshua, because the Almighty himself will be on his side. God had chosen Joshua to be the successor of Moses, and to lead his people into the land that he had promised to Abraham several centuries before. The Hebrew name Joshua means "Yahweh saves", and in a real sense that is what God was going to do through Joshua: to save his people from his enemies as they conquered the land.
We also read that God calls Joshua to be careful to do according to all the law, without turning to the right hand or to the left, and not allowing it to depart from his mouth, but rather meditating on it day and night so that he may have good success and prosperity wherever he would go (v. 7). His triumph depended on his careful observance of the law. The standard for him was high because he was a representative of his people; as Moses' successor, he was also a mediator between God and men.
Although deep knowledge of the law is very important, it is not sufficient, as we learn in Matthew 21:18-46. The Pharisees and chief priests were a respected religious group in the time of Jesus. They knew the law inside out, and they thought they obeyed it. But Jesus assessment was different. In that passage, Jesus curses a fruitless fig tree. Later, he tells a parable where he compares the religious leaders to children that do not do the will of their father. Finally, he states his judgment announcing that the kingdom of God will be taken away from them and given to a people producing fruits.
So here is the dilemma. God offers good success as long as the law is perfectly obeyed and fruit is produced. But who can do that? Who can act according to the law, without going to the right of to the left, meditating on it day and night?
It turns out that there is another man with the same name as Joshua and with a similar mission. Jesus is the Greek equivalent of the Hebrew name Joshua. And we read in Matthew 1:21 that Jesus received that name because he would "save" his people from their sins. As important as Joshua was in the history of Israel, he was really pointing to a greater representative, mediator and Savior. He was pointing to Jesus, who magnificently makes honor to his name as we contemplate how "Yahweh saves" his people through him. He is the only one who perfectly obeyed the law. He is the one who triumphantly and ultimately will lead his beloved to wonderland.
Share this on:
---
August 19 2014 at 8:59 am
0 Comments
---
Jesus had a busy, difficult life.
From the moment he was baptized and stepped into the public eye, the Messiah rarely had any time alone. If he wasn't teaching huge crowds or performing amazing miracles, he was spending time with his disciples or dealing with constant attacks from Israel's hateful, faithless religious leaders.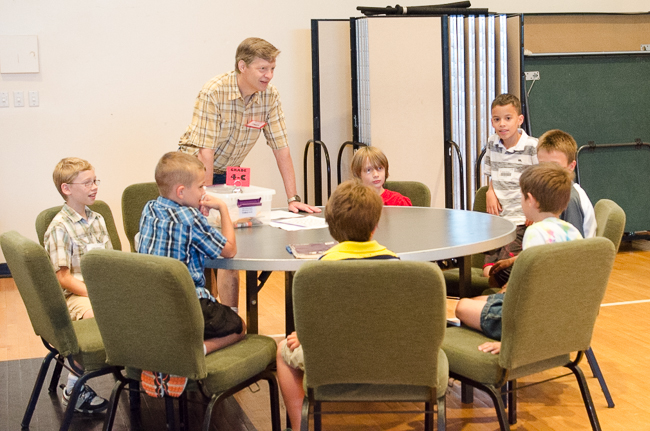 But Jesus always made time for children. Consider the accounts of Matthew 19 and Mark 10. In the latter stages of his earthly ministry, Jesus left his home area of Galilee, traveled south into Judea and crossed the Jordan River. Large crowds followed him, wanting to hear his powerful words and see his remarkable healings.
Then the Pharisees showed up. These hypocritical leaders and Old Testament law experts were always trying to trap Jesus in his words. On this day, they tested him with a random question about the lawfulness of divorce.
After a lengthy, contentious conversation—and then a follow-up discussion with his slow-to-understand disciples—it would've been perfectly understandable for Jesus to want some time alone. But then people began bringing little children and infants to Jesus so he could bless them. Jesus' disciples tried to shoo the children away. They considered the kids a nuisance.
But Jesus rebuked his disciples and then spoke some of the most beautiful words in Scripture: "Let the little children come to me and do not hinder them, for to such belongs the kingdom of heaven" (Matt. 19:14). Then he gently laid his hands on them and blessed them.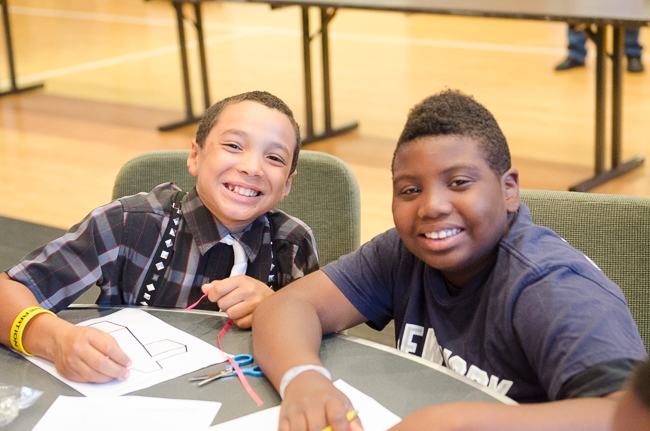 Jesus clearly loves children and places a high value on them. His heart toward children reflects the intimate care God the Father shows for each individual life (Ps. 139:13-16). He used children as an example of the simple faith and humility that Christians are to emulate. And he issued a stern warning to anyone who would harm a child (Matt. 18:6).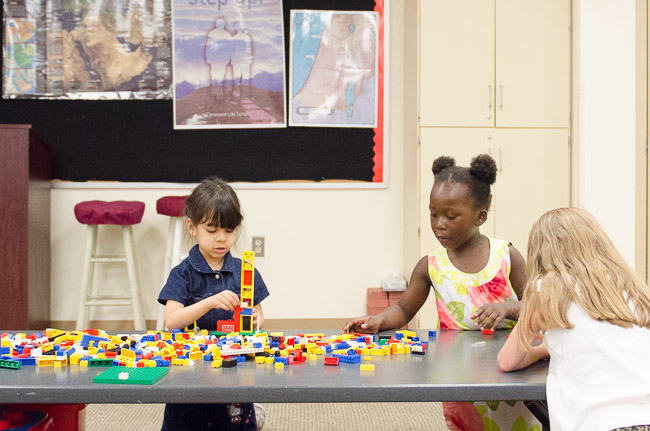 Jesus' joy around little ones is instructive. If the eternal, all-powerful Son of God has a tender heart for children, we should, too. As a member of Covenant Life, one of the greatest ways you can mirror the Savior's love for children is by serving in Discovery Land. Jesus didn't let busyness and other responsibilities keep him from loving the next generation, and neither should we!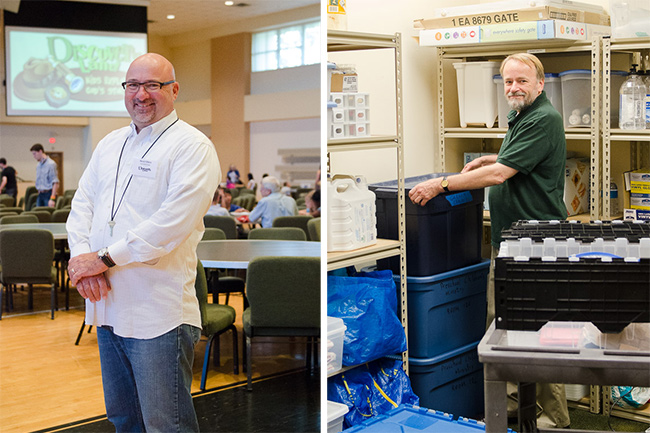 No matter what your spiritual gifts are, there's likely a place for you in Discovery Land. Visit the website for a list of available positions. We still have a great need for volunteers in most of our departments.
There is great joy in caring for little ones and teaching them about the Savior! But don't just take our word for it. Here are a few testimonials from some current volunteers:
"I appreciate serving on the Safety-Security team for the joy it brings, to know you are serving the children, the church and the Lord in a practical way. It seems to be comforting to the parents to know we are there to help protect the children, to give directions or be helpful in other ways as needed." —Scott Bates, Safety-Security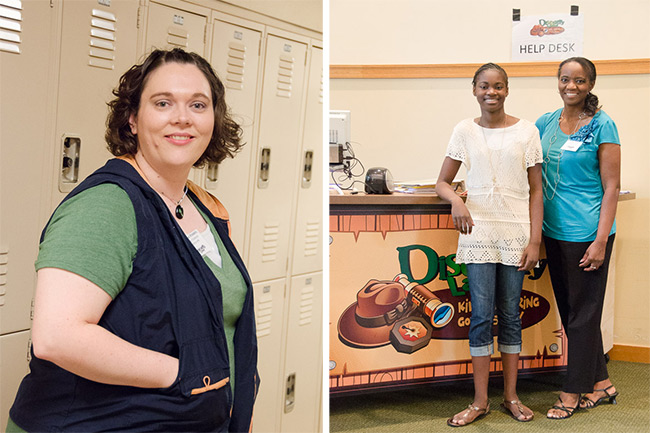 "Serving in Discovery Land worship is awesome! When the kids first come in at age 2, it's just blank stares (and some crying), but by the end of the year, many of the kids sing along and with enthusiasm. It's been a blessing to watch these kids grow and develop a joy for praising God!" —Paul Kim, Traveling Worshipper in Discover (ages 2-3)
"Serving in Discovery Land has strengthened my faith to overcome my weaknesses. I have learned how to humble myself (e.g. listen more than speak), be patient and show compassion towards the little ones in different situations. Serving with kids is a wonderful experience!" —Kartika Dougherty, Adventure (1st-5th grade)
To sign up to serve, please contact .(JavaScript must be enabled to view this email address). Don't let this opportunity pass you by. There is much joy in letting the little children come to Jesus!
Share this on:
---
August 14 2014 at 10:51 pm
0 Comments
---
In response to the sentencing of Nathaniel Morales today in Montgomery County Circuit Court:
As a church we are deeply saddened that children have been abused and victimized in the grievous ways described in the Morales trial. We believe those who testified did so with courage, and we continue to pray for the Lord's mercy, comfort and healing grace in their lives and those of all victims. We are grateful to see justice done in today's sentencing.
Share this on:
---
August 11 2014 at 3:30 pm
0 Comments
---

Here are a few resources to help everyone be better informed about the crisis in Iraq and to know how to pray and give.
First, a brief video from The Ethics and Religious Liberty Commission of the Southern Baptist Convention (ERLC) where David Platt speaks about identifying with our brothers and sisters in Christ who face persecution and suffering:
Second, a blog post by Dr. Russell Moore about ISIS' practice of marking the homes of known Christians with the Arabic letter for "N":
Full post: "N Is for Nazareth"

Excerpt: In Christ, we have been brought into the life of Jesus. We are hidden with him, joined to him as a body to a head (Col. 3: Eph. 5). This means that, in a very real sense, Nazareth is our hometown. We belong to Jesus, and Jesus belongs to Nazareth. We are connected then to everyone who is also in Christ, not simply because we believe the same things but because we belong to the same Body.

We are "one new man," and "fellow citizens with the saints, and members of the household of God" (Eph. 2:15, 19). That's why Christians in America and Australia and Nigeria ought to care, and to pray fervently, for persecuted Christians in Iraq, in Sudan, and everywhere else in the world where they are endangered.

The Islamic militants mean it for evil when they mark homes with "N" for "Nazarene." They assume it's an insult, an emblem of shame. Others once thought that of the cross. But in that intended slight, we are reminded of who we are, and why we belong to one another, across the barriers of space and time and language and nationality. We are Christians. We are citizens of the New Jerusalem. We are Nazarenes all.
Third, some ways to pray for the crisis in Iraq, and specifically for the Iraqi Christian and Yazidi Kurdish refugees, from the International Mission Board (IMB) and Baptist Global Response (BGR):
• Ask the Lord to awaken the world to the humanitarian crisis unfolding in Iraq and to provide pathways for Christians and others to respond.
• Ask God to miraculously protect the Yazidis and other Kurds who fled into the mountains; ask Him to provide a means of rescue and temporary homes for the refugees.
• Pray that ISIS leaders and soldiers would experience the love of Jesus Christ and that their lives would be transformed.
• Ask God to preserve and embolden the small remnant of believers in Mosul and Kurdistan, so that one day through their witness, every Iraqi might have the opportunity to hear the gospel.
Lastly, a blog post from Radical, a parachurch ministry that serves alongside the local church (and is associated with David Platt's church, The Church at Brook Hills). Radical provides multi-lingual biblical resources and creates events to support disciple-making in local churches around the world:
"Taking Action: Looming Humanitarian Catastrophe" (includes above ways to pray, and two ways to give)
Share this on:
---
August 11 2014 at 1:23 pm
1 Comments
---
At 7:30 every Sunday morning — as plenty of folks are hitting the snooze button and the low-lying sun is still casting long shadows across dewy fields — the ceiling lights flicker on in the Events Center at Covenant Life Church. The first Discovery Land volunteer has arrived.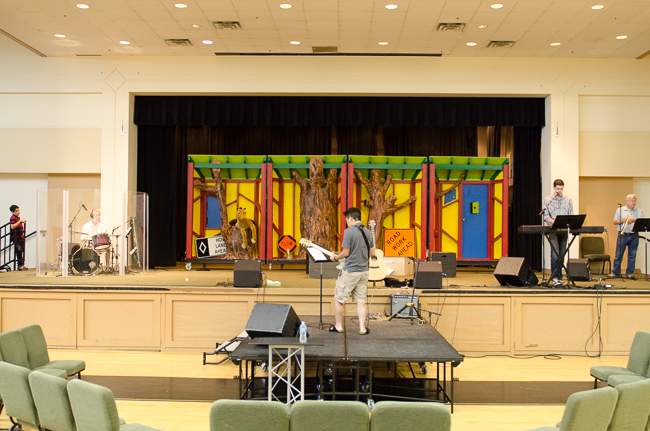 With the service still 2½ hours away, one of four monthly band leaders starts preparing for the day. Soon, the other band members join him, and the group begins preparing their equipment to lead 150 bouncy 1st-5th graders in live, loud worship music in the Adventure class later that morning. After they get in tune, lyrics, drumbeats and guitar rhythms begin to fill the air.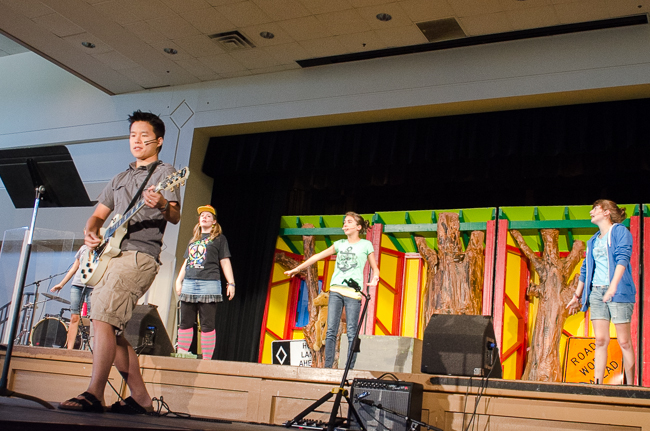 Discovery Land is the largest ministry, by far, at Covenant Life. Each week, 300-350 children ages 0 through 5th grade enter its classrooms. It takes 600-plus volunteers — roughly 150 per week — to staff the 16 childcare rooms on two floors and the many other departments within children's ministry. In military terms, a battalion of Christian soldiers is needed to effectively care for the precious little ones of Covenant Life!
And it all starts early each week — much earlier than Sunday, in fact. Midweek, there are volunteers who launder nursery smocks, purchase supplies at Sam's Club, plan lessons, select worship songs that fit the weekly teaching theme, create small group activities, write Tree House Gang scripts, direct Saturday evening Tree House Gang rehearsals, send out informative e-mails, and much more.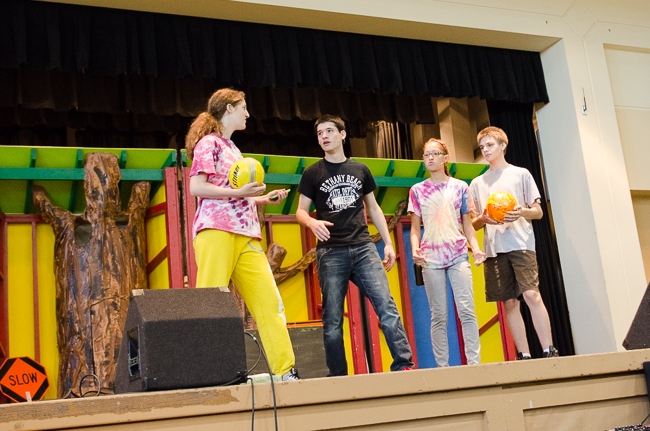 Back to Sundays … As the band sets up onstage in the Events Center, a small group of singers warms up their vocal cords in the Discovery Land office. Before long, they'll join the Adventure band to rehearse that day's four-song set.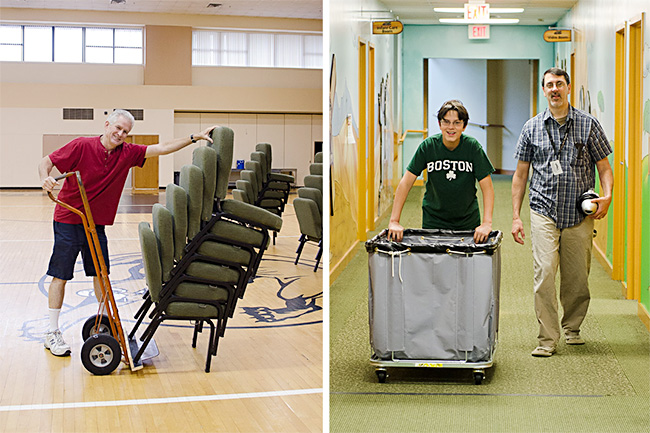 By 8 a.m., as rehearsal music echoes throughout the building, the supply team buzzes through the hallways. This amazing team of truly behind-the-scenes servants makes sure each Discovery Land classroom is stocked with all the necessary supplies — everything from diapers to saltine crackers to coloring sheets to double-A batteries for bubble-blowing machines.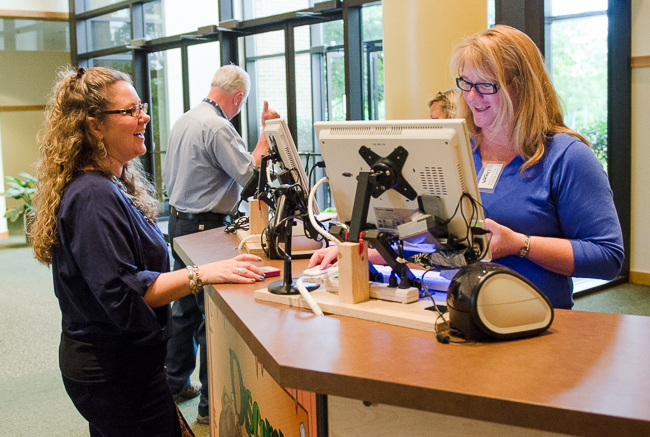 By 9 a.m., the building is really humming. The church's IT team is powering up all the automated child nametag printing stations and check-in machines. Welcome center volunteers have arrived in advance of the day's first families. And the Events Center is in full swing, with the worship team making way for a final Tree House Gang rehearsal and tech volunteers diligently keeping track of microphones, sound levels, and other audio/visual needs, etc.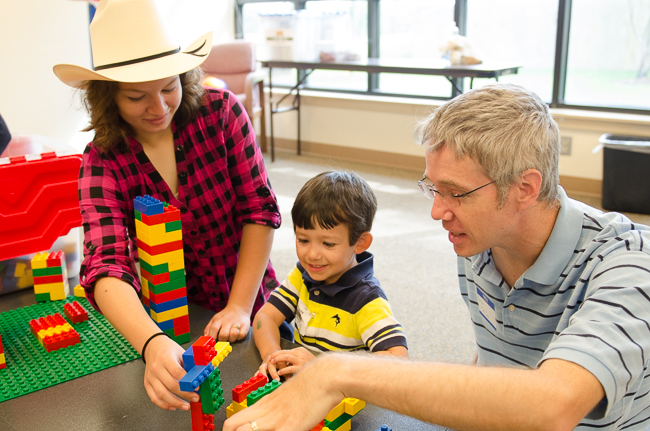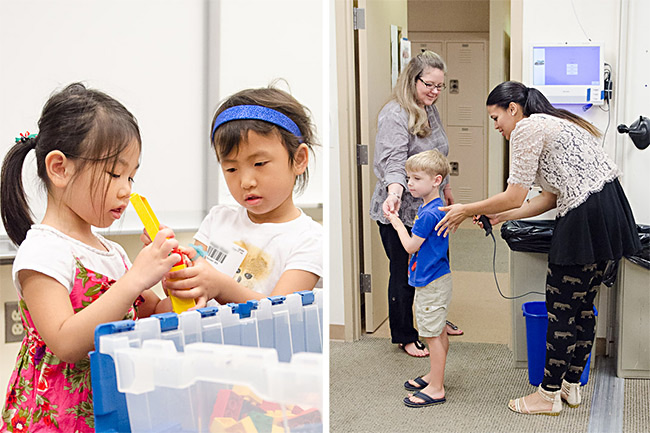 Shortly after 9:30, most volunteers have arrived. Adventure's doors are already open to accommodate the large influx of children it receives. Elsewhere, toys are being set out, baby gates are being locked in place, coordinators are meeting with their staff, last-minute preparations are being made and prayers are being lifted up all over the building for God to protect the children and let his Word be proclaimed in clear, powerful ways.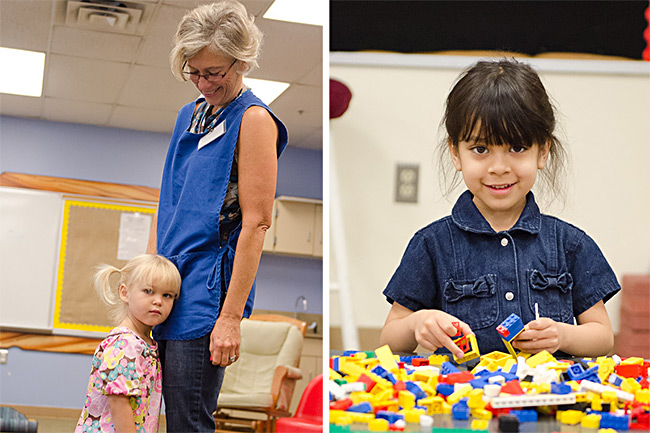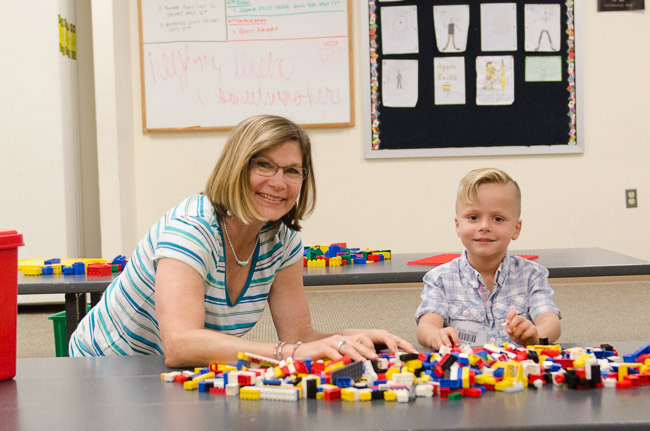 Before the very first child steps foot in class, scores of faithful servants have already been a shining example of 1 Peter 4:10-11: "As each has received a gift, use it to serve one another, as good stewards of God's varied grace: whoever speaks, as one who speaks oracles of God; whoever serves, as one who serves by the strength that God supplies—in order that in everything God may be glorified through Jesus Christ. To him belong glory and dominion forever and ever. Amen."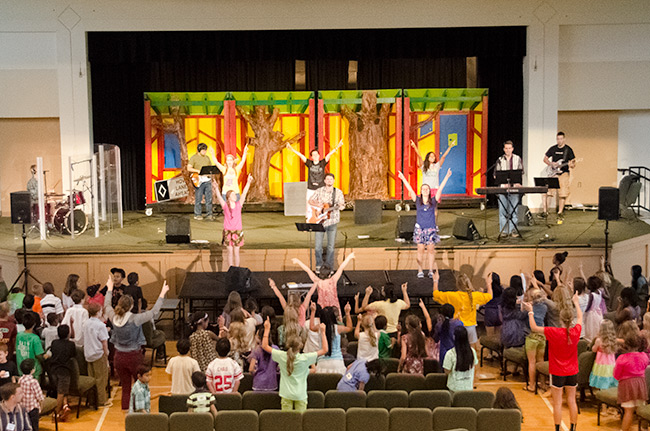 If you'd like to be part of this exciting ministry that directly affects the next generation with the life-changing gospel of Jesus Christ, please contact .(JavaScript must be enabled to view this email address) to sign up today!
Our new serving year starts Sept. 7, and we'd love for you to experience the joy that comes with serving the kids in Discovery Land.
Photo credit: Pam Wilbur
Share this on:
---
August 7 2014 at 3:22 pm
1 Comments
---

More information about the year-long, 2-A-DAY reading plan, including the readings schedule, can be found on the 2-A-DAY page.
FRIDAY, AUGUST 8 | Exodus 35 and Matthew 15
By Jessica Kendal
Lord, we lift our hands
Sometimes empty, sometimes with small offerings from willing hearts
Of gifts You've given
Or talents You've bestowed
Sometimes crying for mercy, really expecting crumbs only
From You, our Bread of Life.
And yet You have Bread for the five thousand, the four thousand, for any who ask…
Did we forget?
Because of Your compassion, the hungry are fed
the mute speak
the crippled heal
the lame walk
and the blind see.
We sing it often, but…has the astounding become cliché?
Nothing we face can deter Your powerful Love and Grace in our lives.
Nothing.
Heal our hearts, King Jesus!
Help us not seek you in vain and empty tradition,
Trying to impose "100 rules for salvation" on a broken-spirit world,
But with the faith of the Canaanite woman
The offering: a humble heart, and whatever else You ask us to give,
Faith great in Your eyes, bringing peace to our hearts,
rest for our souls
And glory to Your Name.
By Rhoda Dixon
Met by the Living God: We Respond With Worship
"And Moses quickly owed his head toward the earth and worshiped." (Exodus 34:8)
"And those in the boat worshiped him, saying, "'Truly you are the Son of God.'" (Matthew 14:32)
May we be encouraged now, by some of the ways that we see in today's text how God comes and meets His people, and why our hearts can respond in worship:
Exodus 34
1. God the Father is again giving His word and ways (v 1)
2. God has saved and set apart a people for Himself and His purposes; He reaffirms the covenant He has made with them (v 10, 27)
3. He is meeting with man, and speaking to him (v 5, v 28, 29)
4. God's continuing mercy to His people (v 6)
Matthew 14
1. God the Son's great compassion for the people (v 14, 16)
2. He gives daily provision, but it is also He who satisfies our souls, now and forever (v 20)
3. He answered Peter when he called (v 30)
4. He upholds Peter in the midst of the storm (31)
5. He calms the storm (v 32)
Dear Lord, may I consider how You came and met Your people with Your mercy, provision and grace. May the words from today's text direct my heart to respond in worship to You today.
Words from the hymn, "Praise To The Lord, The Almighty" have been a particular encouragement to me this past week, and I believe these words provide a helpful application and response for our text today:
Ponder anew, what the Almighty can do,
If with His love He befriend thee.
Praise to the Lord, O let all that is in me adore Him!
All that hath life and breath, come now with praises before Him.
Let the Amen sound from His people again,
Gladly for aye we adore Him.
Words: Joachim Neander, 1680; translated from German to English by Catherine Winkworth, 1863
Exodus 32 and Matthew 12
By Tim Harvey
"Come, make us a god…" - Exodus 32:1
"We want to see a sign from You." - Matthew 12:38
These two statements – one from the Israelites in Exodus and the other from the scribes and Pharisees in Jesus' day – are surprisingly similar. Or maybe it's not so surprising. There seems to be a fundamental human desire to have a god we can see and touch, and who does what we want when we want it. What does seem surprising, though, is how quickly both the Israelites and the Pharisees forgot what they had so recently seen. The Israelites were just 3 months out of Egypt (Ex. 19:1), and had seen firsthand the plagues and their miraculous deliverance from Egypt, the parting of the Red Sea, the pillar of fire and smoke by which God led them, and most recently God's awesome appearance in thunder and fire and smoke shortly after they arrived at Mount Sinai (Ex. 19:16-18). Yet somehow that wasn't enough – they wanted a god they could see and touch. And it wasn't enough for the Pharisees to see Jesus heal the man's withered hand (Matt. 12:13); they want a savior who would perform miracles on demand and on their terms.
How could people respond this way after having just seen such vivid manifestations of God's power? I think it's because both the Israelites and the Pharisees failed to recognize and respond in faith to what God had already revealed to them. In other words, the Israelites' idolatry didn't start with their request to Aaron in Ex. 32:1; it began in how their hearts had responded (or had failed to respond) to God's earlier revelations of Himself. Ditto for the Pharisees – their hearts were hardened against Jesus so that they failed to perceive the truths that had already been shown them, even the physical evidence of miracles done right in front of them.
I have to admit I have more in common with the Israelites and Pharisees than I would like. How often I forget that God sent His only Son to be punished for me so that I could become an heir to His kingdom, and instead I doubt His goodness and love because He isn't working out some situation as I would like it. How often I forget all the wonderful promises in His Word and instead reduce His character and goodness to just what my recent experience tells me. And maybe it's not so much forgetting, but rather that I haven't been deeply affected by these truths in the first place.
Lord, help me to return to the truths You have already shown me in Your Word, not in a superficial way as though I already know them, but as a needy person whose heart needs to be softened and pierced again by the reality of who You are.
Running to Christ To Find Rest for Your Soul
by Jose Troche
Do you feel tired, even exhausted? Maybe you have been running this race for a long time, and you feel the effects of fatigue. Maybe you know what the goal is, but no matter how much effort you are putting in, it still seems very far. Maybe you do not know where you are going, but you are still running very hard, like a hamster on a wheel, endlessly going nowhere.
Perhaps you are a single who has been rushing to find the love of your life, but the horizon looks empty and desolate. Or you are a middle age man who has been pursuing the promotion that never comes. Possibly you are a mom running here and there, juggling all those frenzied tasks, and yet the pile keeps growing without bounds. Perhaps you are a senior citizen who is fearfully and desperately trying to catch up on retirement savings and healthy habits, or wishing you had invested more time in what really matters. Or maybe you are a teenager seeking the hype that will give meaning to your life and pluck you out of senseless boredom. Maybe you are sick of your sickness, running behind physicians and medicines that promise much and yet never deliver…
What is your race? What is draining your life? What is consuming your energy? Would you stop your mad pace for a moment? Read Exodus 31 and Matthew 11. You will find refreshing, life-giving rest.
In Exodus 31:12-17, the Israelites were commanded to rest the seventh day after working six. One of the intents of this law was to provide refreshment and rest from labor. But we learn later, that this rest was pointing to a greater and more comprehensive rest that Jesus provides to those who come to Him.
In Matthew 11, we find this Jesus who gives sight to those who are blind, cleanses the lepers, and opens the ears of the deaf. He announces good news to the poor. He provides running feet to those who are lame and paralyzed. He can even raise up the dead! (11:5)
This is important. It is a life-or-death matter. The consequences will be unbearable and intolerable to those who do not pay attention and turn (11:20-24). We are all running the race of life. We all have our own objectives and goals. And, by default, we are all heading the wrong direction. We pour our souls into dashing towards our own targets, and we get tired, weary and exhausted…
Run to him who can give you rest. Run to him who can open your eyes and ears, and give you supernatural feet to run faster than ever before while you repose in Him. Go to him who can cleanse you forever and give you life. Run to him all who labor and are heavy laden, and he will give you rest. Run to Jesus and he will provide amazing, real, refreshing rest for your soul (11:28-29).
Share this on:
---