September 15 2015 at 10:04 am
0 Comments
---
Listen as Dennis Casteneda shares his testimony of God's transformative work in his life, and his call to start and lead the Every Day is Christmas ministry.
Learn more about Dennis' ministry Every Day is Christmas.
Share this on:
---
August 31 2015 at 4:47 pm
1 Comments
---
This post is shared courtesy of Keith Welton's blog "Everyday Truth." He shares his reflections on Scripture and other helpful topics there regularly.
It's debatable what is most important when teaching God's word. Is it having three solid and clear main points, is it a compelling delivery, is it enthusiasm, ending on time? Everyone has something they want from a speaker, and if these are not met we might be unwilling to hear what that person is saying. Martin Lloyd Jones had this to say about preaching, and it shows what he considers most important to a sermon, and it just might adjust what we look for, and what we are willing to forgive of a speaker. He says,
"As I have said already, during this last year I have been ill, and so have had the opportunity and the privilege of listening to others instead of preaching myself. As I have listened in physical weakness this is the thing I have looked for and longed for and desired. I can forgive a man for a bad sermon, I can forgive the preacher almost anything if he gives me a sense of God, if he gives me something for my soul, if he gives me the sense that, though he is inadequate himself, he is handling something which is very great and very glorious, if he gives me some dim glimpse of the majesty and the glory of God, the love of Christ my Saviour, and the magnificence of the Gospel. If he does that I am his debtor, and I am profoundly grateful to him."
May all preachers aim to give their listeners a sense of the presence of God. May all listeners come intending to experience the presence of God.
Share this on:
---
August 18 2015 at 9:14 am
1 Comments
---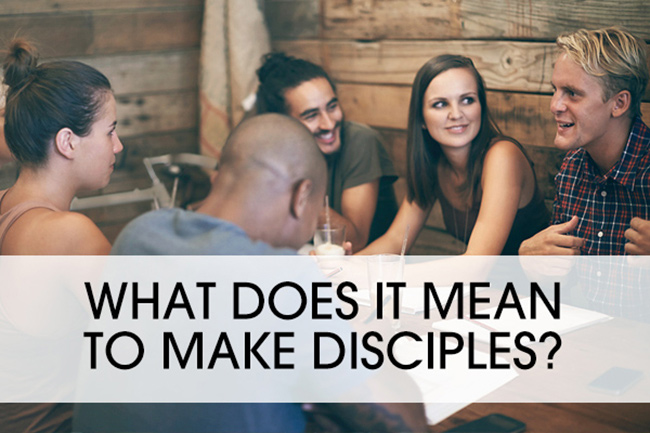 This post is shared courtesy of Keith Welton's blog "Everyday Truth." He shares his reflections on Scripture and other helpful topics there regularly.
At the end of the Gospel of Matthew, the resurrected Jesus Christ commissions his disciples to go and make disciples of all nations. Jesus has walked with, slept with, eaten with and lived with his disciples, instructing them how to follow God in every part of life, and now his commission seems to imply his disciples should go and do the same thing he has done.

This can raise the question of what it means to make disciples. Does it mean we gather a group of followers to live with and instruct them as though we have all the answers to everything in life? This no doubt puts a lot of pressure on us and could get awkward when our friends move into the living room to "be discipled!" If so, we may need a better understanding what it means to make disciples—or maybe a bigger living room.
A disciple is someone who has devoted themselves to learning a trade. This certainly helps explain what the disciples were doing with Jesus. They were learning in order to teach others. The word disciple (mathetes) is seldom used outside the Gospels and Acts. The Theological Dictionary of the New Testament has an outstanding article on this word that better fills out what a disciple is and does. I will borrow from it here. It connects the word "disciple" to the word for "learn" or "teach." This in turn connects discipleship to a theme occurring throughout the Scriptures. We see it in verses like:
Deuteronomy 4:10: "... how on the day that you stood before the LORD your God at Horeb, the LORD said to me, 'Gather the people to me, that I may let them hear my words, so that they may learn to fear me all the days that they live on the earth, and that they may teach their children so.'"
Deuteronomy 5:1: "And Moses summoned all Israel and said to them, 'Hear, O Israel, the statutes and the rules that I speak in your hearing today, and you shall learn them and be careful to do them.'"
Psalm 119:12: "Blessed are you, O LORD; teach me your statutes!"
In the Old Testament there is a constant repetition of the importance of learning the Scriptures to know and serve God. This is what every believer is to do. The article summarizes saying "disciple" is used:
"...exclusively of one who gives himself (as a learner) to Scripture. The intention in the Old Testament is that the pious Jew would occupy themselves in the Torah and its exposition and application so that they can and will do what is right in a given situation."
This is helpful because it shows that the goal of our discipleship is not to have others follow us and what we do, but for them to know the Word so they can rightly apply it in their lives and situations.
To further make this point the article shows that in the Old Testament there are few examples of people doing what Jesus did with his disciples. Joshua is with Moses constantly, but you don't see this relationship with other figures—not with David, Isaiah, or any other kings or prophets.

The article also points out all the great figures in the Old Testament never try to "interpose themselves as a factor of independent worth in the dialogue between God and his people." They never speak on their own account, they never fight for their own persons. God has given them knowledge of his will and put his word on their lips. They are stewards who pass on what they have received as that which has been received, not as though it comes from themselves. Their commitment is to God and not to themselves or to other men, no matter how profound a vision they may have had.
---
The messengers always point to the Lord and never stand in independent worth. They direct people to follow the words of God and not to themselves or their own ideas.
---
The messengers always point to the Lord and never stand in independent worth. They direct people to follow the words of God and not to themselves or their own ideas. This helps us understand discipleship so we better recognize the unique time Jesus' disciples were in. The disciples were those who attached themselves to Jesus as their Master. They were in a unique time of redemptive history and had a unique relationship to Jesus. They model how we relate to Jesus and are not the model of how we disciple others.
Our call as disciples is to cling to Jesus. He is our Master, Teacher, Lord. We are looking to him. Seeking to learn from him and have our minds renewed by him. Our wills bent toward his will. Our hearts in love with what he loves. Our call to make disciples is to point others to Jesus and to his words. Making disciples means helping others know him, love him, and follow him. This seems to be what Paul had in mind in 1 Corinthians 11:1 when he said, "Follow my example, as I follow the example of Christ."
---
It's as though Paul wanted to be a window. Windows are not great because of what they look like but what they allow you to see. Windows are there for people to see through to something else.
---
It's as though Paul wanted to be a window. Windows are not great because of what they look like but what they allow you to see. Windows are there for people to see through to something else. Paul is saying his example was only as good as it allows others to see Jesus. This is what our life is to be like too. We want to be windows that allow others to see Jesus. We want them to see the guidance, forgiveness, and hope that are in Christ. This is what discipleship points people to, and it removes the pressure from us. We don't have to have the answers to everything in life. We are simply trying to point other to the one who does.
Share this on:
---
August 17 2015 at 10:47 am
1 Comments
---

Prayer: A Fool's Errand?
by Almasih Kahdost
If you fly, the following words should sound familiar to you. "Should the cabin lose pressure, oxygen masks will drop from the overhead area. Place the mask over your own mouth and nose before assisting others." This is one of the few times in life where the right thing to do is to take care of yourself first. You're not going to be much help to your kids if you pass out while putting their masks on, right? Your physical well being will have a direct effect on the physical well being of those around you.
The same can be true for your spiritual well being. It really can make a difference in the spiritual well being of others.
When I ask people, "Have you ever prayed for someone and seen them come to Christ?" invariably the answer is affirmative and I hear stories that only God could author. There is a mysterious intersection of our prayers and God's plan to draw people to Himself.
In 2 Thessalonians 3:1 (NASB), Paul says,
"Finally, brethren, pray for us that the word of the Lord will spread rapidly and be glorified, just as it did also with you..."
Unless the Spirit inspired Paul to exhort the saints in Thessalonica to a fool's errand, it seems their prayers actually mattered as it related to the spreading of God's word.
Similarly, when Jesus looked at the multitudes with compassion he called his disciples to pray, asking that God would send laborers (Matthew 9:35-38). Would He tell His disciples to pray if those prayers ultimately didn't matter? Of course not.
Our prayers for the harvest and for the spreading and reception of God's word matter.
OUR FRIENDS HAVE BEEN PRAYING. ARE WE?
By the time you read this, our Muslim friends will have finished a month of prayer and (daytime) fasting called Ramadan. Millions of prayers will be recited by millions of Muslims worldwide. They have altered their lifestyle significantly in an attempt to, amongst other things, obey the command of Allah in Quran 2:185 and glorify him.
As followers of the One who prayed and fasted 40 days in the wilderness, can we pray that the word of the Lord will spread amongst Muslims as it has amongst us? Can we look at the multitudes of Muslims with compassion and pray that the Lord of the harvest will send laborers? Our spiritual lives - including our prayer lives - really matter and really can affect other people.
"Almasih Kahdost" is a long-time friend of Covenant Life who desires to see the nations come to Christ. Though preferring to publish anonymously, Almasih Kadost welcomes your comments below.
See all the posts in this series.
Share this on:
---
August 4 2015 at 10:44 am
1 Comments
---
What is "Joy Camp"?
Three weeks ago, over 70 youth from Covenant Life and other area churches joined together for 12 hours a day for a full week to serve three local communities with the gospel of Jesus, speaking and demonstrating His love to over 120 kids and their families.

This is the sixth year Covenant Life has led these local outreaches, thanks primarily to the vision and faithful leadership of our own Todd Keeler and longtime community team leaders Chris Maresco, Jared Hoffman, and Neal Stuckenschneider.
My Experience as a First-Timer
This was my first experience with the team as well as two of my kids, and I can't say enough what a privilege it was to be with our youth and to serve together. Among the many evidences of grace I observed both individually and as a group:
a pronounced selflessness and absence of self-focus that is hardly common in youth today
eagerness to jump in with the kids, be silly, use their unique gifts including creativity and administration to bless and encourage and ultimately demonstrate God's love to whoever we possibly could.
The theme this year was, "Faith in God's promises gives us courage to obey." And you know, that applies to us in all our gospel-sharing and outreach efforts. We started the week not even knowing how many kids, if any, would show up. But what a wonderful experience to simply step out in faith and watch God work.

We tend to view the effectiveness of outreach in terms of immediate fruitfulness; but biblically the measure we are to use is faithfulness—faithfulness to plant seeds, to water, and it is God who gives the growth (1 Corinthians 3:7, 4:1–2 "...it is required of stewards that they be found faithful.") And by God's grace and spirit we sowed and watered many seeds that week. And we are eager to continue.
Next Steps
What happens now, and how can you get involved?

During the upcoming school year we are going to partner with our fast-growing English for Speakers of Other Languages (ESOL) program at South Lake Elementary, which has been ably led by Pam Wilbur and Rosa Goyes, by providing much-needed child care for parents taking ESOL classes AND a way to follow up with JOY Camp kids at the same time—called JOY Club. God is working in unique ways in our relationship with the community at South Lake. But in order to most effectively steward this, we need many people to help us on a weekly, biweekly, or even monthly basis in a variety of roles, including administration and coordination to help establish JOY Club, but also just folks willing to spend time with kids helping with homework, discussing Scripture, and building relationships.

What I've described is only one example of investing in one of our communities. But I want to challenge each of us: How specifically are you reaching out and speaking and demonstrating the gospel in your everyday lives? This is the heart of our local missions team efforts to date: to be disciples who make disciples precisely wherever we currently are. I want to invite you and spur you on to engage in opportunities like these, especially together as families. If you are interested in learning more about the opportunities to serve at South Lake, please feel free to email me or register for the ESOL training coming up August 14 and 15. Thank you!
Travis serves as chaiman of Covenant Life's Local Missions Committee.
Share this on:
---
July 21 2015 at 9:16 am
0 Comments
---
God has blessed the last two days of Joy Camp tremendously. On Thursday evening we had our traditional site cookouts at Laytonia and Johnson's Park. We cooked hundreds of hot dogs and were able to interact with the campers and many of their families. At the Laytonia cookout the campers were even able to come up and share the "Gospel Chant" they had been learning all week.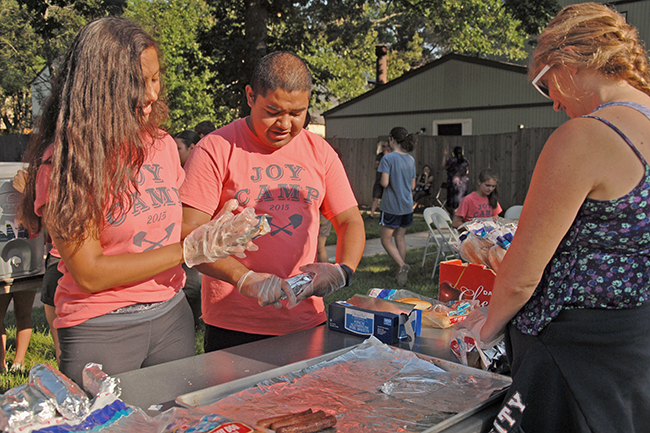 Friday was our last day with the campers. At South Lake they had a brief ceremony to celebrate the end of the week since they didn't have a cookout. Parents were invited, and we called each camper by name to receive their Bible and camp t-shirt.
Friday was also our last day together as a team. We took time in the evening to recount God's faithfulness by singing, listening to a short teaching, and hearing about how God worked at the different sites.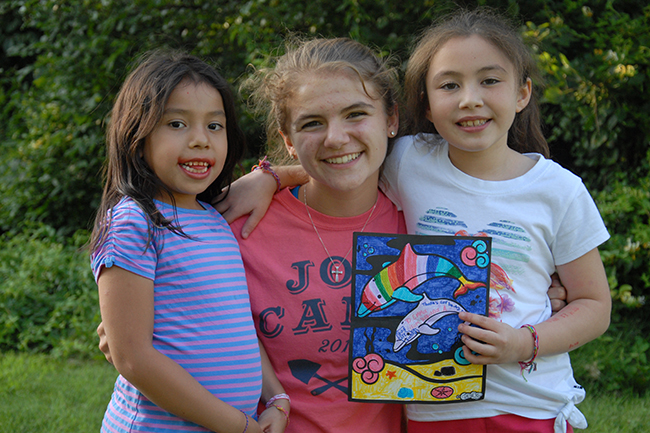 Johnson Park
Because renovations going on at Washington Square and Emory Grove, we weren't sure how many kids would show up to camp. The leaders visited surrounding neighborhoods on Saturday and handed out flyers to tell people about camp. By the end of the week we were up to 54 kids.
During one-on-one time one of the youth was explaining to a camper that in all the Bible stories throughout the week, each person had faith and God loved them. The camper responded, "Wait, God loves us? What if you don't love God back?" So our volunteer was able to explain the gospel to him.
Laytonia
We averaged between 40 and 50 campers.
Many campers at Laytonia have professed faith throughout the years, so it is encouraging to go back and remind them of truth.
Many of the campers have reached their middle school and high school years and have been coming since the beginning of Joy Camp. The experience is geared for younger kids, but by the second and third day the older kids were able to jump in and participate.
Laytonia has a very diverse group of kids, but it's a tight-knit community with a strong sense of love.

South Lake
Because this site is an elementary school, our youth went into different classrooms and helped with summer school classes.
We heard one first-time camper ask his friend, "Hey, do you believe in God?"
Even some of the high school students expressed an interest in coming back next year to Joy Camp, not as campers but as volunteers.
Many kids expressed that this was their favorite week of the whole year.
During the upcoming school year we are going to partner with the school's English for Speakers of Other Languages (ESOL) program by providing child care and mini Joy Camps. God is working in unique ways here at South Lake, so please continue to pray for us.
Overall, all of the leaders were encouraged by the youth who have grown up in the church their whole life and are very familiar with the gospel. But seeing them fully invested and being able to apply that knowledge to local missions was incredible. Our group demonstrated love toward each other as well as the campers and grew in unity. Many of the rising freshmen also stepped out of their comfort zones and were bold and courageous in sharing the gospel this week.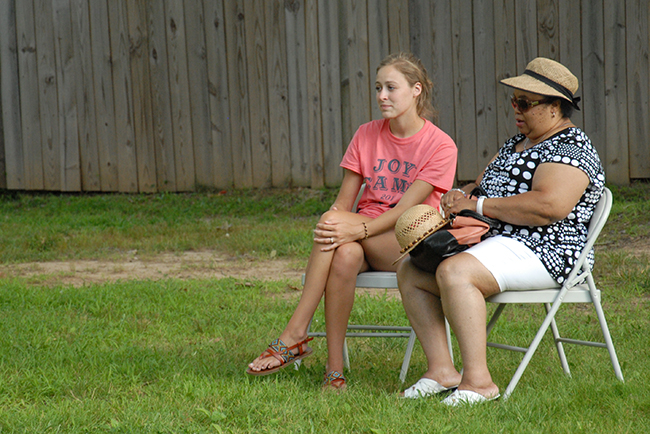 Now that Joy Camp is done, pray for each of the families and campers. Pray that they would be reminded of the gospel daily as they look at their Bibles and camp t-shirts. Pray that they would be able to share what they learned at camp with others in their community. Pray for the different churches in our area and around the world. Pray that they would send more laborers for the harvest and that the gospel message would go forth. The same Holy Spirit who helped us this week understand that faith in God's promises leads to courageous obedience, is the same Spirit working throughout the entire world.
We are looking to do follow-up ministry throughout the year. Here are some ways to get involved:
South Lake
-Monday nights (starting September 28), 6:30 p.m. - 8:30 p.m.
-Fun, games, Bible study, friendship and help with homework
-To sign up, email Travis Earles
Laytonia
-Saturday, August 15, 10 a.m. - noon, at the Laytonia Community Center
-Fun, games and Bible study
-To volunteer, email Carlos.
Johnson's Park
-Saturday, July 25 and August 15, 10:30 a.m. - noon, at the Emory Grove Playground
-Fun, games and Bible study
-To volunteer, email Neal Stuckenschneider.
Lastly, we want to thank you for praying for us. This week could not have happened without you interceding for us. We are grateful for you!
Share this on:
---