July 7 2014 at 10:38 am
0 Comments
---

We're excited to share a reflection we received from Art & Jeannie Shenk on the 2-a-Day readings for July 4. As fellow believers let's help each other dwell on the Word of God.
"I appeal to you therefore, brothers, by the mercies of God, to present your bodies as a living sacrifice, holy and acceptable to God, which is your spiritual worship. Do not be conformed to this world, but be transformed by the renewal of your mind, that by testing you may discern what is the will of God, what is good and acceptable and perfect."
I love Paul's passionate appeal to us to be "living sacrifices":
I invite you to join me TODAY by devoting yourself to being transformed (present tense). It starts by renewing your mind, engaging by faith to consider and apply the words of spirit and life found in God's word to everything you do. Why? One reason is by doing this, we will push back against the temptations and enticements of the world to live for self rather than God. And why should we do this? To test and prove that God's will is in fact the only way to live that is good and acceptable and perfect and in the end will be far better than anything the world has to offer for God's glory and our best good.
The above was inspired by reading a post of John Piper's sermon entitled All of Life as Worship in which he answers the question "how do you present your bodies to God as sacrifices?" as follows:
"I think the best answer is to see the connection between verses 1 and 2. My suggestion is that verse 2 is the realistic explanation of the more symbolic verse 1. Verse 1 talks about sacrifices and worship. Verse 2 talks about your mind being renewed and doing the will of God….use your renewed mind to prove what is the will of God, what is good, acceptable and perfect." -John Piper
Have you ever thought about what it would be like to be Moses being told by God to bring plague after plague, a total of 10 plagues on Egypt before Pharaoh finally gave in to set the Israelites free? Moses must have felt some compassion toward those being afflicted but must have been sobered by Pharoah's hard heart, obstinacy and pride in the face of the severity of God's judgment over and over again. Lesson learned? As Charles Spurgeon puts it, "God would stamp the early history of Israel with the deep impression of his Godhead. His overthrow of the proud Egyptian king should let Israel know in the very beginning how great a God had chosen her to be his own peculiar portion."
What God did was designed to set Israel free, yes, but more importantly to magnify his name for generations:
"Then the LORD said to Moses, 'Go in to Pharaoh, for I have hardened his heart and the heart of his servants, that I may show these signs of mine among them, and that you may tell in the hearing of your son and of your grandson how I have dealt harshly with the Egyptians and what signs I have done among them, that you may know that I am the LORD.'" (Exodus 10: 1-2)
Mathew Henry says of this passage:
"The ten plagues of Egypt must be inflicted, that they may be recorded for the generations to come as undeniable proofs, (1) of God's overruling power in the kingdom of nature, his dominion over all the creatures, and his authority to use them either as servants to his justice or sufferers by it, according to the counsel of his will. (2) Of God's victorious power over the kingdom of Satan, to restrain the malice and chastise the insolence of his and his church's enemies. These plagues are standing monuments of the greatness of God, the happiness of the church, and the sinfulness of sin, and standing monitors to the children of men in all ages not to provoke the Lord to jealousy nor to strive with their Maker."
Prayer: Father, thanks for the reminder that you are the undeniable ruler of the universe as demonstrated so severely to the hard-hearted Pharaoh of Egypt. Thanks that out of the kind intention of your will, you have chosen us to be servants to your justice rather than suffers of your wrath. Work in us TODAY to be soft-hearted not hard-hearted toward you and be led by the Spirit to demonstrate to others that we believe in you and submit to your ways as our Lord and Savior. Also, help us to have compassion on those whose hearts are yet to be soft toward you so in your timing, they may know that you are the Lord.
Share this on:
---
July 3 2014 at 3:49 pm
0 Comments
---
We received this wonderful reflection from Art Shenk on the 2-A-Day reading from earlier this week for Exodus 6.
Thinking about how anguish of soul can cloud my judgment and perspective on the day.
Prayer: Today Lord, help me live as one set free in Christ. First and foremost to not allow place for anguish in my own soul. Anguish of soul does not allow me to hear and receive the encouragement of the Spirit and to live in the good of words of Spirit and Life found in your Word. Help me after making my soul free and happy in the Lord, to walk with a desire to point others to the same Emancipator who set me free from self to a living hope.
Inspired from 2-A-Day Bible Reading Program meditating on Exodus 6:6-9
"I am the Lord, and I will bring you out from under the burdens of the Egyptians, and I will deliver you from slavery to them, and I will redeem you with an outstretched arm and with great acts of judgment…Moses spoke thus to the people of Israel, but they did not listen to Moses, because of their broken spirit and harsh slavery."
Charles Spurgeon's reflection on the verses where he reflects on this oddity of their reaction and suggests a response if we find ourselves with a similar attitude today:
"I think that I can speak to the case, if God help me, for I have felt the same. I do remember when I could not believe even Jesus himself by reason of sore anguish and straitness of spirit; and, therefore, as one who has worn the chains, I speak to those who are still in chains. I know the clanking of those fetters, and what it is to feel the damp of the stone walls, and to fear that there is no coming out of prison, and to be so despairing that even when the emancipator turned the great key in the lock, and set the door wide open, yet still my heart had made for itself a direr cage, and I could not believe in the possibility of liberty, and therefore I sat bound in a dungeon of my own creation. Ah! There is no Bastille so awful as that which is built by despair, and kept under the custody of a crushed spirit. Many are the desponding ones whose eyes fail so that they cannot look up, or look out. To such I speak. May God speak through me by the Holy Spirit, the Comforter!"
Share this on:
---
June 30 2014 at 12:24 pm
1 Comments
---
"Today was the first time I've been in a church for over 50 years," shared an elderly Forest Oak Towers resident during a Senior Saints luncheon at Covenant Life Church.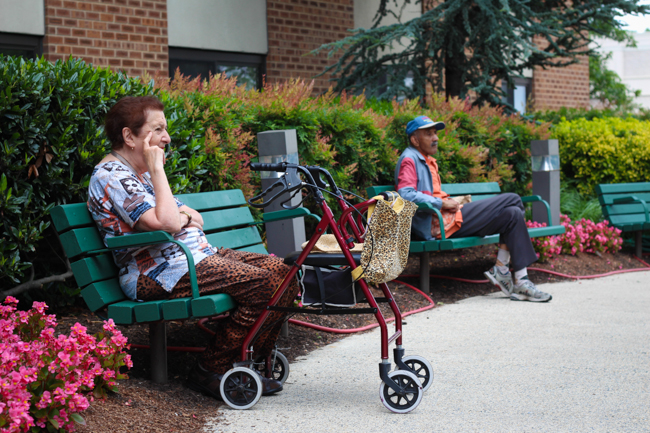 When she and her husband emigrated from Europe to the U.S. during World War II, they arrived penniless, having entrusted all their financial assets to "Christians" who had promised to send their money ahead for them. The funds never arrived, and so the couple grew embittered and distanced themselves from the Christian church.
Now years later, as a result of the weekly lunches spent with Covenant Life members in the Forest Oaks cafeteria, she felt comfortable attending the luncheon held at the church. Afterwards, she shared how very blessed she was to be there, hear Robin Boisvert's message, experience the kindness of those attending, and be treated so lovingly. She wants to return.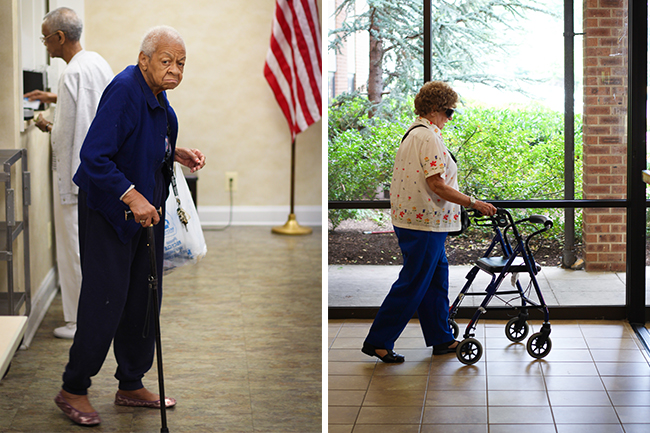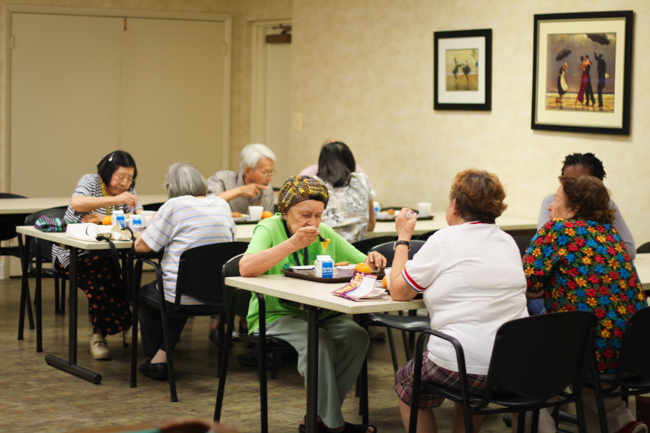 This is only one of many life stories at Forest Oak Towers, a 175-apartment complex on Odendhal Avenue in Gaithersburg for 220 residents with an average age of 73.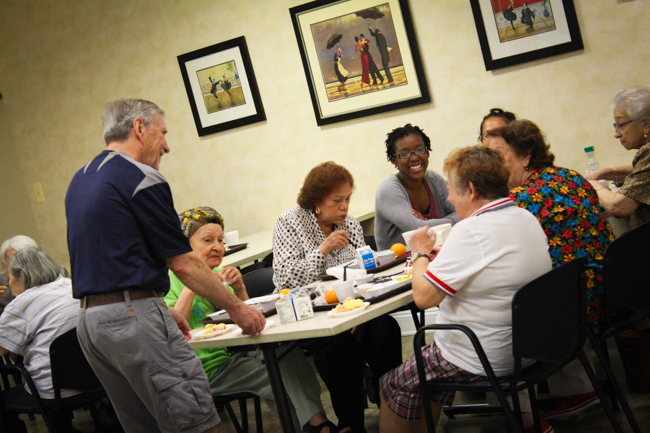 For the past two years, Covenant Life members Drew Garfield, Dennis Cook, Bob Merryman and others have been spending their Wednesday lunch hour with the residents. Recently, they started a monthly Bible Study, requested by residents.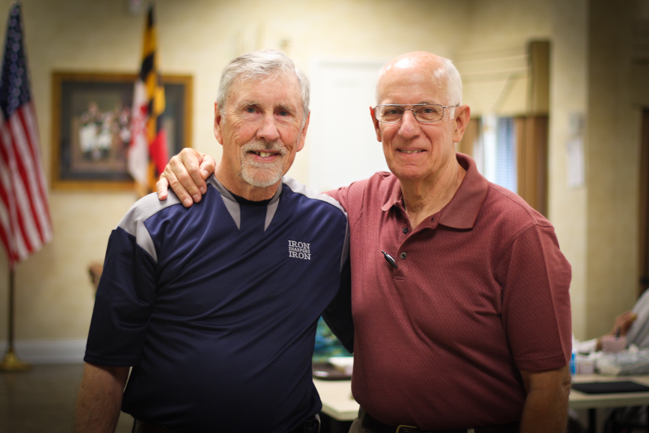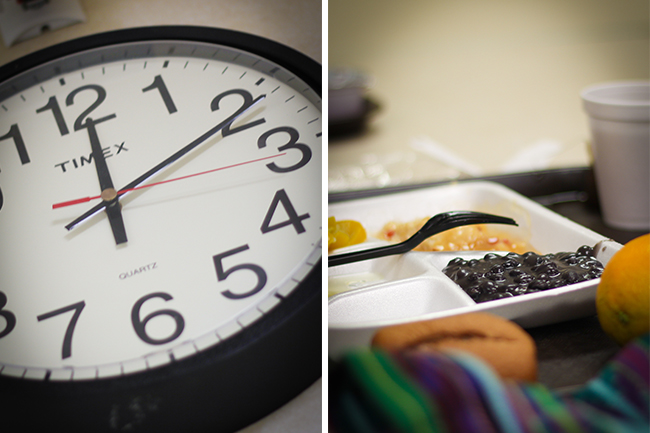 "Our goal is to share the love of Christ through fellowship and friendship," Bob shared. Their hope is to present the gospel of Jesus Christ, encourage faith in Christ, and see the Holy Spirit at work in their lives.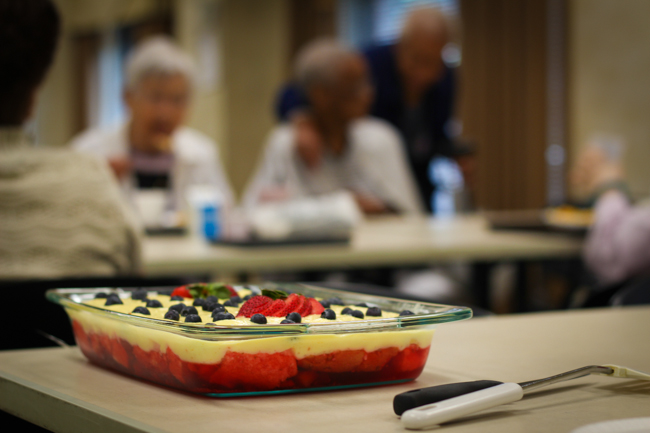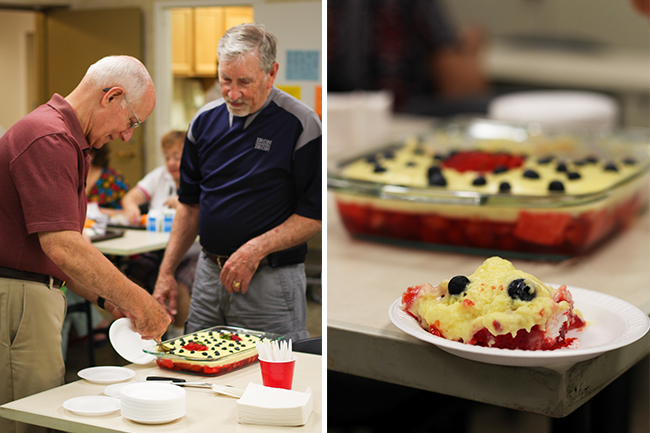 "I get a queasy feeling in the pit of my stomach at the prospect of approaching strangers," Dennis said, "At first, I felt very uncomfortable, wondering if I had anything to offer."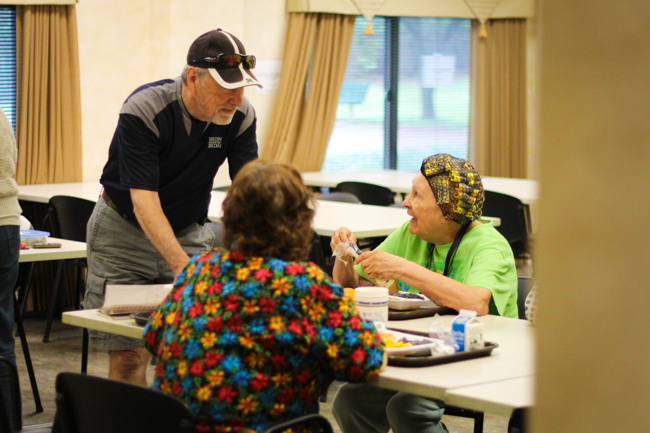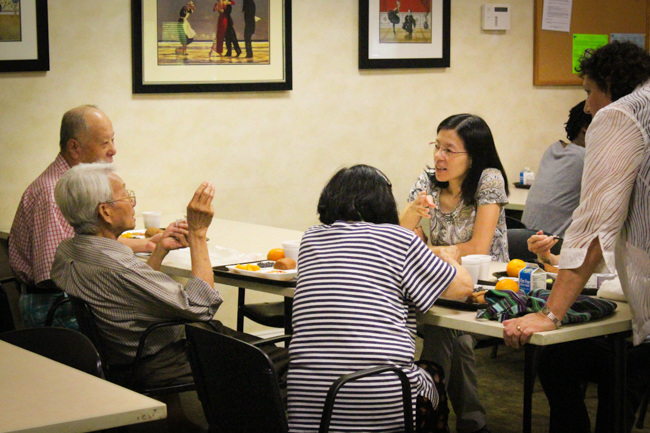 They have come alongside residents as friends, heard about their lives, shared about their own, prayed with them through sickness and hardship, and even helped with practical needs like hanging a picture or moving light furniture.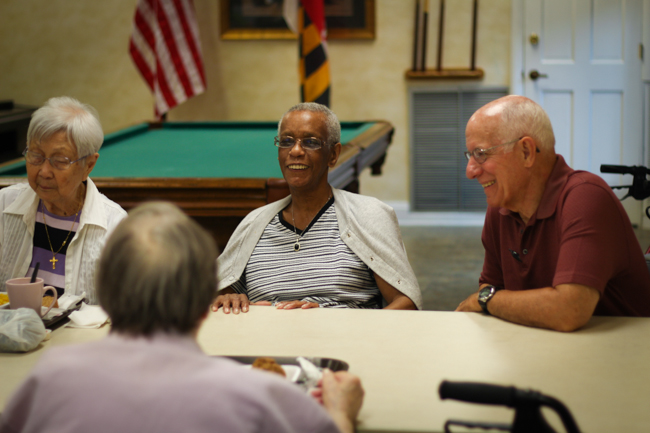 "We have learned that the regular visits residents can depend on foster relationships," Dennis shared. "We have been told that even if we don't hear it, we are appreciated, even expected, so please don't stop coming."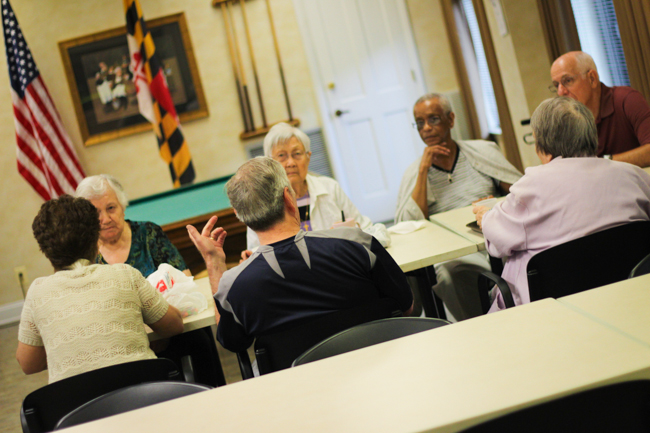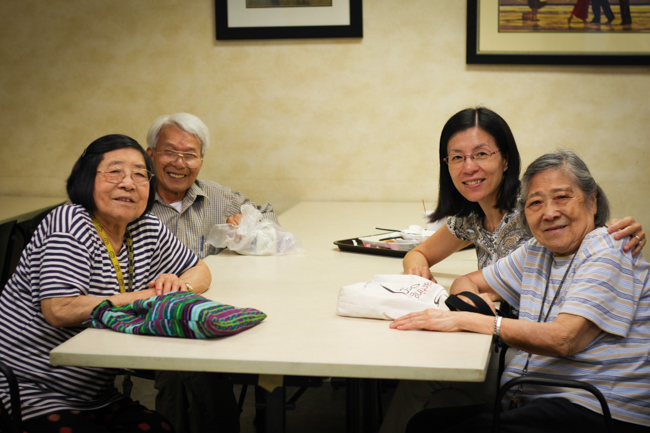 Bob and Dennis describe the residents as "quite a bunch of characters." Nelson loves to sing Karaoke, Luce-Marie honestly shares about life, and Matilde helps where she sees needs.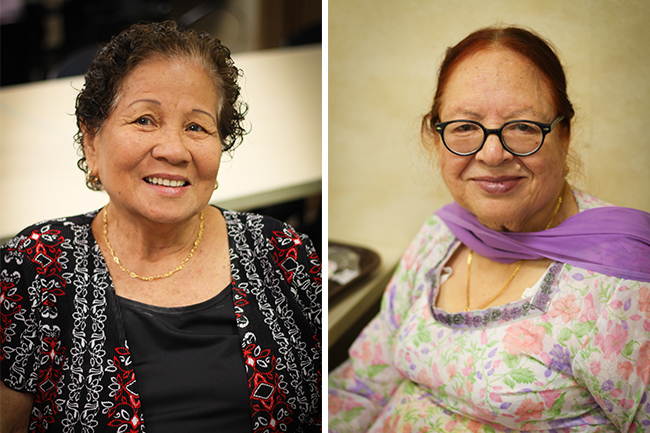 Nancy is a chatterbox and writes poems. Alice offers care-giving counsel and asks after their wives. and Irma chases them down to give them hugs. Margarit loves classical music, opera, and ballet and takes care of Vartouhi.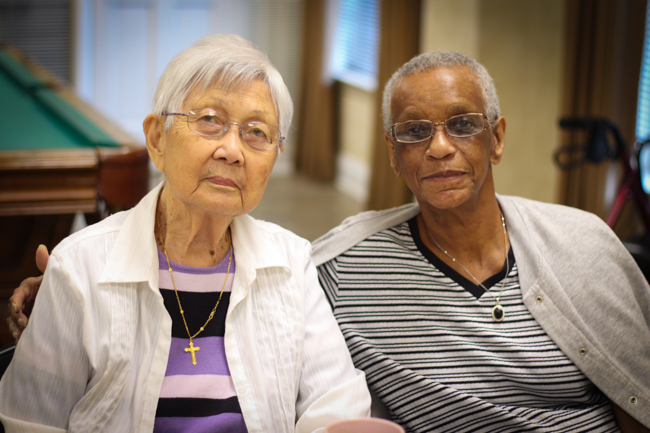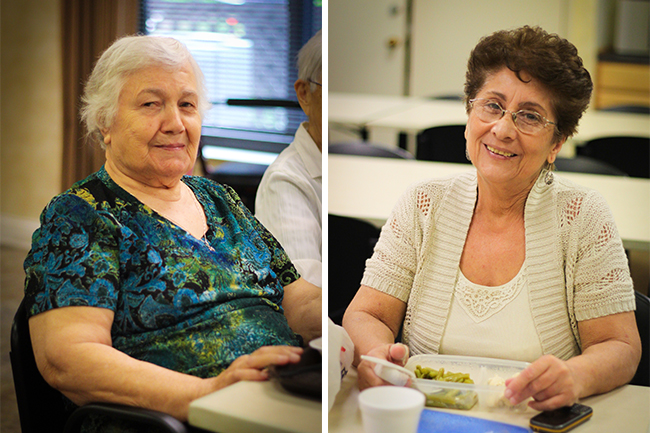 Sisters Bessie and Flo challenge them to crossword puzzles, and Don sparks deep conversation through his honest questions about God.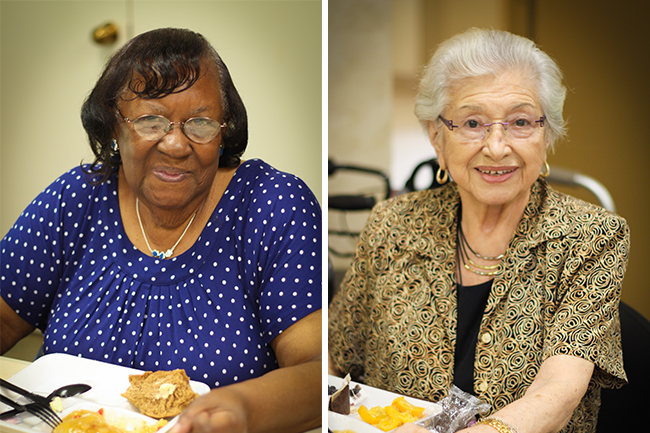 Nettlie loves Jesus and wears her "I love Jesus" lanyard all the time. Sisters Mrs. Tsui and Mrs. Chang can't speak English, but they wave and Mr. Tong gives thumbs-up.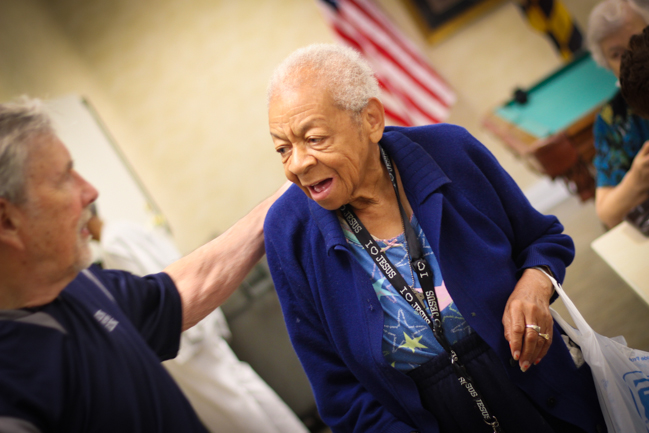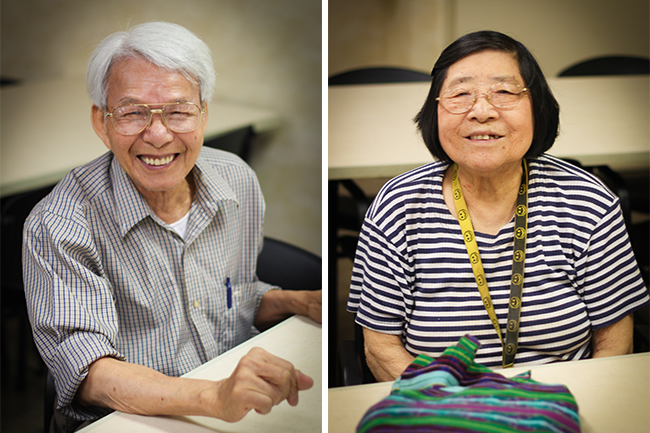 "If you see me fightin' with a bear, don't worry about me, help the bear," says Olivia who crochets baby outfits. Penny and Al are pals and greet everyone in the mailroom when they come to check for letters.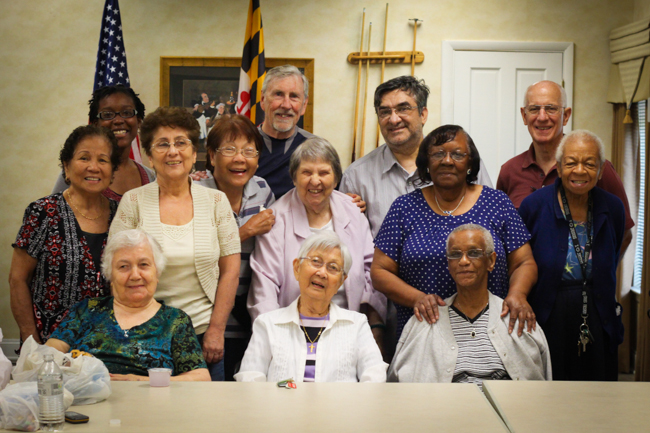 "This experience is probably serving me more than anyone is being served by me," Dennis shared. "We are grateful to have the privilege to serve an awesome God," Bob said.
Photo Credit: Betsy Reich
Share this on:
---
June 30 2014 at 10:44 am
1 Comments
---
Here is the presentation Adam Malcom gave on Sunday explaining the vision for our Community Life Department. You can watch a video of the presentation above, or read the transcript below.
---
I have been asked by the pastoral team to present to you how the Community Life Department helps us to accomplish our mission together.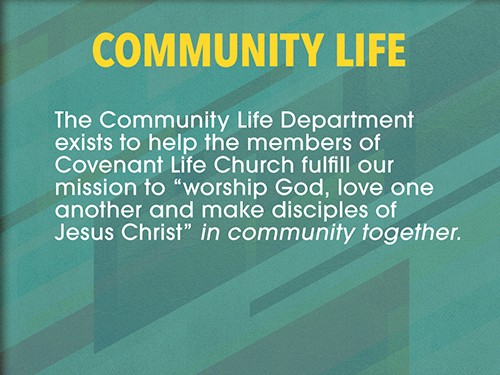 Simply put, the Community Life Department exists to help the members of Covenant Life Church fulfill our mission to "worship God, love one another and make disciples of Jesus Christ" in community together.
This will be familiar to most of you, but the New Testament authors go to great length to remind us not to be isolated Christians, but rather a community of redeemed individuals that have been brought together through adoption into God's family and, amazingly, to use Paul's language from Romans 12:5, living as "members one of another."
Church, by faith we are one body in Christ. We are truly brothers and sisters, children of the Living God. And it is God who has brought us together. Listen to how Peter describes this reality in 1 Peter 2:9-10: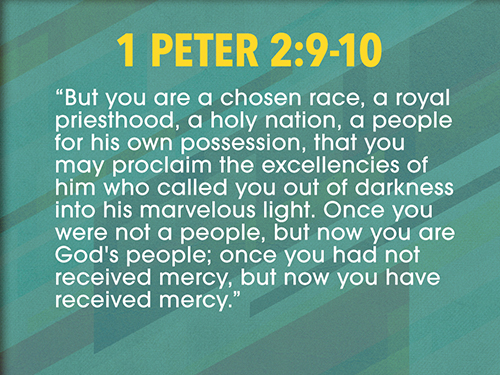 This is why we worship God. This is why we pursue dying to self and loving others as Christ loves us. This is why we seek the lost and pursue making new disciples of Jesus Christ. The mercy of our God motivates us to live our lives radically different than before we knew God in Christ.
And so, as a department we seek to help you the members of Covenant Life Church to pursue and experience fellowship together in genuine Christian community in order that we might accomplish our mission as a church.
Specifically, the Community Life Department exists to:
1. Help guests and visitors to get connected in our community.
2. Conduct membership classes.
3. Administer and encourage participation in our Small Group Ministry.
4. Conduct larger member-focused community events such as Big Meetings, Bible Studies and season of life sphere meetings (i.e. ONE and Senior Saints meetings).
5. Conduct more regular and comprehensive small group leader training.
6. Develop and administrate ministry team opportunities through the LINK Team.
7. Conduct church-wide community events such as coffee houses, picnics and concerts.
Let me tell you a few things that might help you to understand our departmental mission a little better: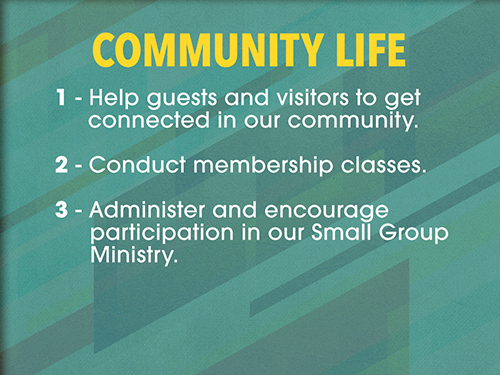 1. We want to create multiple avenues for connecting and welcoming non-members into our community. Whether that's people who do not believe in Christ whom God is at work in drawing to himself, or long-standing Christians, we want to create as many ways as possible for people to get connected and begin benefitting from the community of CLC, in friendship, fellowship and service.

2. Overseeing and conducting membership classes.

3. As it relates to our care group ministry, as most of you know, over the past 8 years or so, we have organized our small group ministry primarily by season of life. That means that for the most part if you are married with teenagers, you are likely in a care group with other couples or parents of teenagers. Or if you are a senior citizen, you are probably in a care group with other senior citizens, etc. There are significant benefits to this approach to organizing and structuring care groups, and as a result, for many of you that has really served you in fellowship, mutual care, encouragement and a truly shared life in community together.

However, for others of you it has been hard to make that work. Whether it's because your relational network is with people outside of your season of life, or you would actually prefer a multi-generational care group, or a group more geographically located to reach your surrounding community, there are a number of good and appropriate reasons for organizing groups other than by season of life.

Regardless of the reason, going forward we want to develop a small group ministry structure that is flexible and able to adapt to the variety of good and wise approaches to creating a community context for genuine, deep and fruitful biblical fellowship, mutual care and encouragement, that is rooted in the study and application of God's Word.

We don't want a one size fits all approach to small groups, so we are in the process of addressing how we can organize and encourage more and more groups to form in ways that encourage members to grow in their knowledge of our Savior and to be more effective in pursuing our mission together.

4. As it relates to conducting member-focused training, fellowship and discipleship events such as Big Meetings, Bible Studies and season of life sphere meetings, these events and community contexts are not replacements for small groups, but rather ways in which your pastors can gather with you outside of a Sunday congregational context to speak to and teach from God's Word on real life issues and topics that many of you have regular questions about.

Teaming with the Equipping & Training and Care & Counseling Departments, we want to provide more and more of these types of regular community events for you to be able to participate in the days ahead.

5. Similarly, we also want to improve the way that we train, disciple and equip our small group leaders in the days ahead. Gathering regularly as a group for encouragement and support, providing more teaching and training—particularly on how to apply God's Word and love one another through the many challenges that we all face in the Christian life.

Let me pause for a moment and say to those of you who are leading or have led at times in the past. Thank you so very much for your faith, commitment and love for the people of Covenant Life. You have laid down your life, many of you for years, if not decades. Thank you for your example of commitment to the family of God. I and the other pastors are incredibly grateful.

6. And our church is not simply a family, we are a body, each member possessing gifts given by the Spirit of God. Our team will continue to develop and administrate ministry team opportunities through the LINK Team. We want to build a church community where every member is finding a place to serve.

7. And finally, we want to continue, and even increase, the number of church-wide community events such as coffee houses, picnics and concerts so that not only you our members are able to gather together more regularly, but also so that more and more guests and those who do not know the Lord can be engaged in love and community.
While these areas are the primary responsibilities of the Community Life Department, our major focus for FY15 is going to be to revitalize our small group ministry. Over the coming year we want our groups to be recharged with vision, we will begin to provide more regular and consistent training for leaders, and we will begin to provide more options for participation for members.
A few of the specific plans that we are already working towards:
1. In August, we will gather together with all of our small group leaders to establish what will become a more regular time of teaching, equipping and fellowship over issues related to effectively leading small groups. We not only want to be able to more regularly bring teaching from God's Word on key relevant issues we all face, but we also want to create a context for involving you our leaders in the process of strengthening this ministry.

2. Starting in late September, we will go through a Sunday teaching series related to Community.

3. In October or November, after the series on Community, we will also begin meeting with larger segments of you, our members, potentially regionally, for similar community and small group-related teaching, equipping and fellowship purposes. The goal longer-term would be to potentially conduct these larger gatherings quarterly.
Thank you again church for your partnership in our mission to "worship God, love one another and make disciples of Jesus Christ" in community together. God is building his church up as a spiritual house. To God be all the Glory.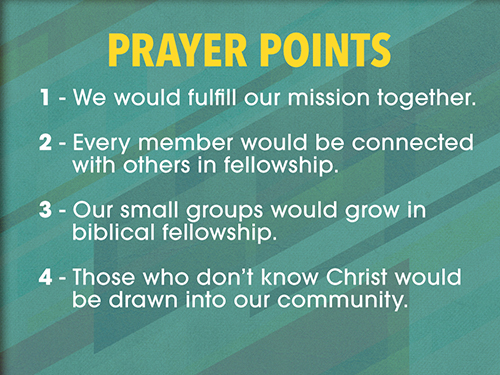 Share this on:
---
June 29 2014 at 4:01 pm
0 Comments
---

Update, July 19, 2014: All five Leadership Team updates have been given now. Please see the links below to review them.
Over five consecutive Sundays in June and July, the pastors who oversee each of our Leadership Teams will briefly share their vision and ministry goals, and we'll take time to pray for the work of their teams. This is an opportunity to hear how we're seeking to advance our church's mission this year in five key ministry areas.
None of the ministry areas are new to our church. What is new is that the responsibility to develop and execute a multi-year strategy for these ministry areas has been consolidated under the five Leadership Teams.
As the Sundays go by, we will post recaps of the leaders' remarks here on the church blog and link to them below.
Schedule
June 15 - Equipping & Training | Don DeVries
June 22 - Care & Counseling | Joe Lee
June 29 - Community Life | Adam Malcolm
July 6 - Missions | Greg Somerville
July 13 - Student Life | Dave Brewer
Share this on:
---
June 24 2014 at 3:26 pm
0 Comments
---
We received these updates from those who are on the current missions trip in Ethiopia. Let's keep praying that God would bless their work and that lives would be changed for God's glory.
June 27
We thank God for your prayers, dear saints, and are feeling the spiritual support in tangible ways. We are in good health and good spirits. We see The Lord fulfilling His promise to strengthen us for service (1 Peter 4:11). And we are enjoying laughter and fellowship with Ethiopian brothers as well as other workers from the U.S.
On Tuesday and Wednesday I met with 14 leaders from throughout Central Ethiopia who gathered to strategize about children's ministry. As the Protestant church rapidly expands in this country, church leaders are recognizing the urgent need to equip the next generation. I had the honor of working with these leaders (who represent 500 churches) as we strategized together.
I heard some remarkable stories. One relatively large church hosted a festival for families in their town. Before the festival, they had 150 children in their church. Now 400 are gathering for children's ministry each week! Another leader described how a five-year-old girl in his church took the initiative to pray for a sick neighbor next door, who got healed and then put her trust in Christ. Another pastor told about a group of 28 mothers in his church who have banded together to pray earnestly for the children in their community.
As so often happens on trips like this, I feel like I am receiving a lot more blessing than I am giving. What these national believers lack in financial resources, they certainly make up for in faith and zeal. After some of the trials our church has faced, worshiping and praying with these brothers and sisters renews my confidence that Jesus Christ is building His Church and the gates of hell will not prevail against it!
I hope that these 14 children's ministry workers were encouraged and equipped in some small way by our time together. They are sending me back to Covenant Life with new ideas for recruiting an army of praying mothers ... and I'll be happy to sign up some five-year-old evangelists, too!
—Greg Somerville
June 24
We have the privilege of teaching English to high school children in Grades 8, 10 and 12 this week. We were expecting 80 students, but were pleasantly surprised to only have 40. We have divided them into three groups: an advanced group, an intermediate group and beginners. We teach half of them for three hours in the morning and the other half for three hours in the afternoon. So far, we have read and discussed books with our advanced students, reviewed vocabulary with our beginners and played learning games. One highlight today was when we taught them American kickball. We really got to see their personalities come out!
We are finding the students to be eager and engaged learners. The Lord has really met us as many unexpected challenges have come up. Working with limited resources and having to adjust lessons to meet student needs has been stretching, but it's neat to see how God has given us ideas every time. Please pray that we will continue to share the love of Christ with these students. On Friday, we have planned a lesson to share our testimonies with the students, some of whom are Muslim. Please pray for the Lord to work in the students hearts through this lesson.
Grateful for your prayers!
Share this on:
---