July 8 2014 at 7:01 am
1 Comments
---

Reflection on Galatians 1
By Art & Jeannie Shenk
Thinking about the wonderful way Paul begins his letter to the churches in Galatia to confirm the importance of justification by faith alone (vs. 3-5):
Grace to you and peace from God our Father and the Lord Jesus Christ, who gave himself for our sins to deliver us from the present evil age, according to the will of our God and Father, to whom be the glory forever and ever. Amen.
Real peace in life only comes by grace not works, deliverance only through the death of another.
Matthew Henry remarks: "Especially mark well the words, 'who gave himself for our sins.' ...not only to redeem us from the wrath of God, and the curse of the law; but also to recover us from wicked practices and customs, to which we are naturally enslaved."
Father, today I am so grateful that the peace in my heart and freedom from condemnation is from being reconciled to you by grace not my works. Thanks that you loved me so much that you would crush your sinless son for me and raise him from the dead to deliver me, through faith in Jesus' completed work on the cross for me and trust in you, so I might live free from sin, free from fear of your justified wrath and free from the bondage of this evil age and its wicked practices and enticements that would enslave me. To you be the glory forever and ever. Amen.
Reflections on Exodus 15
By Jessica Kendal
Exodus 15:1-2:
I will sing to the LORD, for he has triumphed gloriously;
The horse and his rider he has thrown into the sea.
The LORD is my strength and my song,
And he has become my salvation;
This is my God, and I will praise him,
My father's God, and I will exalt him."
Isn't it beautiful? Only a few verses into Moses' spontaneous song of praise, we can sense the exultant joy of the Israelites' deliverance. Moses entwines the story-telling of their rescue from Egypt with powerful descriptions of the Lord's might, majesty, and glory. Miriam and the women brought out the tambourines and echoed the men. With 600,000 and more, the shouts and songs of praise to God must have been almost deafening. Imagine multiple Super Bowl stadiums, filled with fans—cheering wildly not for sport, but for the Holy of Holies!
Isn't it interesting that following this amazing time of singing worship, the desperately thirsty Israelites were led to bitter water, which only the Lord could make sweet?
Songs of deliverance aren't just for the Old Testament, and worship songs not just for Sundays. The Lord wanted the Israelites to apply that song of deliverance to their everyday difficulties, letting those bitter waters draw them to Him. Sometimes—many times—songs of praise are just what the Lord uses for our comfort, healing or a breakthrough. He is both our strength and our song.
I encourage you to sing to Him today and see what happens. In your car, in your closet, in your kitchen—sing! I pray, in Jesus' name, that those songs would rise and join with the praises of other believers around the world, creating a mighty roar of worship to our God that delights His ears. And if you are tasting bitter waters, I pray they become sweet as He grows your trust in His faithfulness. He is good, and His love endures forever.
By Rhoda Dixon
The God of glory is with His people
Our reading in Exodus 13 ended with the description of God's presence being amongst the people in a pillar of cloud and fire to lead them by day and night. In our text today from Exodus 14, God, in His faithfulness, might and mercy has promised to save His people. He will make a way for the people of Israel safely through the Red Sea, then bring an end to the Egyptians who are pursuing them—all the while providing His presence in the pillar of cloud and fire to demonstrate that He is with them. He alone will receive the glory as He shows forth His might in how He saves and leads His people. Moses proclaims these encouraging words that tell us of who God is and what He will do:
"Fear not, stand firm, and see the salvation of the LORD, which he will work for you today. For the Egyptians whom you see today, you shall never see again. The LORD will fight for you, and you have only to be silent." (Exodus 14:13-14)
The chapter then concludes with these words:
"Israel saw the great power that the LORD used against the Egyptians, so the people feared the LORD and they believed in the LORD and in his servant Moses." (Exodus 14:31)
The God of peace is with His people
Then, in our text in Romans 16, we again encounter God's covenant people, members of the church in Rome. Paul offers his affectionate and specific greetings with an emphasis of ways the Lord is at work in the lives and hearts of the church members, and how they have been used in Christian service (vs.1-16). It is a sweet treasure that through Paul's words we can learn from these dear believers. And then, just as we read in Exodus 14 that God was with His people and saved them from their Egyptian oppressors, Paul gives final encouragement to the Roman church that reminds them God brings salvation and is with His people:
"The God of peace will soon crush Satan under your feet. The grace of our Lord Jesus Christ be with you." (Romans 16:20)
In the wilderness, in Rome, today and forever, God is always with His people; He provides salvation for His people and leads them. He gave His presence in the pillar of cloud and fire, and He now gives us His grace through Christ Jesus our Lord. He is always with His people and He will continue His faithfulness to them. All glory belongs to our God!
We look to the only wise God
A few application recommendations for the days ahead:
• May we be expectant for how the Lord will speak to us through His word each day.
• What are a few spiritual and practical ways that you have seen the nearness of God to you this month? Even in some small way, where do you see that He indeed is with you?
• May we also consider how we can encourage other believers in how we see the Lord at work in their lives, as a way to remind them and ourselves that our ever-present and faithful Lord is with us. A few potential ways this can done is by sharing how you observe them using their gifts, or how you notice them trusting the Lord in the midst of their circumstances.
Dear Lord, may my heart be quieted before You as I consider Your glory and greatness. Every day, and in every moment I need Your grace and leading. As Your people, we thank you for how You always remain with Your people; You dwell amongst us, daily giving grace to guard and lead us. It is You alone who saves, through the sending of Your Son. We come now to say that we look to You alone; we trust You, and we give You all the glory, today and forever.
"To the only wise God be glory forevermore through Jesus Christ. Amen!" (Romans 16:27)
By Jessica Kendal
"And it shall be to you as a sign on your hand and as a memorial between your eyes, that the law of the LORD may be in your mouth. For with a strong hand the LORD has brought you out of Egypt." (Exodus 13:9)
Yesterday, our brother Tim Harvey shared a wonderful reflection about remembering. This idea is continued strongly in Exodus 13 and Romans 15, so if you'll indulge me, allow me to ask: Have you ever gotten to the end of a long week and found yourself unable to remember most of it?
Now imagine this: you experience the miraculous intervention of the Lord, but that miracle is followed by a detour into frenzied busyness, trials, or tests of perseverance. Or, maybe, all of those things. After the detour—maybe even during the detour—would you remember the miracle? Would I?
The Lord, in His infinite wisdom, knows that His fallible, human sons and daughters need reminders.
The Lord knew that His people were about to leave—in a hurry—and end up on a long, arduous journey. A journey that would leave them open to fatigue, complaining, self-sabotage, idolatry…sound familiar? So He doesn't just ask them to remember, He commands them to remember—and remember in community. In both solemnity and celebration. They are to "remember" so visibly that it is as if they are "marked" on their hands and between their eyes, with the law of the Lord continually "in [their] mouth."
This verse—Exodus 13:9—can slip by, but it is of enormous significance if we look carefully. A few thoughts on why our Creator may have given us this word picture:
Hands—our hands are the center of so many aspects of our lives: work, giving and service, creating, touch. We see our hands—and others see the results of our hands—all day, every day. Lord, please help us remember what You've worked with Your hands as we work with ours.
Between our eyes/forehead—did you know that the front part of our fearfully, wonderfully made brain is where we make decisions? And think of the last really meaningful conversation you had with a friend or loved one. Did you look at their eyes? Lord, please help us remember that our decisions should reflect Your mercy and grace in our lives. Help us love You and love others with our decisions, and help us see them through Your eyes.
Having the Word "in our mouth"—we are to be both "eating" and speaking His Word at all times! There is no greater gift towards remembering Jesus than the Word of God. Lord, please help us to have a hunger for consuming Your Word and a desire to speak it and share it.
But after all this: the best part, really, is why He commands His people to remember. In Romans 15:8-9, Paul says:
"Remember that Christ came as a servant to the Jews to show that God is true to the promises he made to their ancestors. He also came so that the Gentiles might give glory to God for his mercies to them…"(NLT)
Just like the Israelites, it is for our good and, most importantly, His Glory that He commands us to remember. This is why we remind ourselves of the Gospel, why we sing His praises, why we want to show evidence of His love and mercy in our lives like a mark, right between our eyes, where the world can't help but see.
Have you remembered Him yet today?
"May the God of hope fill you with all joy and peace in believing, so that by the power of the Holy Spirit you may abound in hope." (Romans 15:13)
by Tim Harvey
Exodus 12, which tells the story of the first Passover when the people of Israel were delivered from Egypt, seems to be as much about remembering as it is about their actual deliverance. God didn't need the blood on the doorposts to know who His people were. Rather, the Passover lamb, the blood on the doorposts, and the unleavened bread were all part of a holy drama that God planned to help His people remember what He was doing then and to point them forward to the ultimate salvation He would bring about later through the Messiah. Even in the middle of what I imagine must have been pretty urgent instructions about how to get out of Egypt, God (in verses 14-20) and then Moses (v. 24-27) take time to describe the specific steps for how Israel is to reenact and remember this first Passover "throughout your generations."
The themes of remembering and looking forward are also woven into Paul's exhortations to holy living in Romans 14. In verse 9 he invites us to remember Christ's death and resurrection as proof that our lives are in His hands: "For to this end Christ died and lived again, that He might be Lord both of the dead and of the living." Remembering this, Paul says, helps us avoid judging our brothers and sisters over debatable matters since in the end each of us belongs to the Lord. And in verses 10-12 he points us forward to the coming divine judgment as the reason why we can rest in God's judgment rather than rushing to make our own:
But you, why do you judge your brother? Or you again, why do you regard your brother with contempt? For we shall all stand before the judgment seat of God. For it is written, "As I live, says the Lord, every knee shall bow to me, and every tongue shall give praise to God." So then each one of us shall give account of himself to God.
I find that the times I am quickest to judge my brothers and sisters, the times when I am not committed to "pursuing the things which make for peace and the building up of one another" (v. 19) are times when I have forgotten what Christ has done for me and have lost sight of what He has promised to do in the future. I am a forgetful man, all the more so when my pride or my opinion is at stake, and I need the Lord and faithful friends to help me remember and help me look forward with faith.
Lord, help me to remember what You have done and who You have shown Yourself to be in my past and help me to never lose sight of what You have promised for the future. May my family and this church and Your people around the world be people who remember You, who believe in Your promises, who look forward to seeing Your promises fulfilled, and may that be evident in how we live with our brothers and sisters.
by Jose Troche
The Lord said to Moses, "Yet one plague more I will bring upon Pharaoh and upon Egypt. Afterward he will let you go …" (Exodus 11:1)
The people of God had been under cruel oppression for many, many years. They were slaves of the Egyptians. Their masters afflicted them with heavy labor. They restrained their growth by brutally killing their baby boys. Life was miserable and hopeless. They desperately longed for a Savior that would deliver them from their dreadful bondage.
God heard their cry. He sent Moses with this message to Pharaoh: "Thus says the LORD, the God of Israel: 'Let my people go'" But Pharaoh arrogantly responded: "Who is the LORD that I should obey his voice and let Israel go?".
In an extraordinary display of his power, God sent nine plagues to persuade Pharaoh to release his people and yet Pharaoh stubbornly refused to obey God. At the beginning of chapter 11, God announces that he is sending one last devastating plague that will result in the long awaited liberation of his people.
In Exodus 11:5-8, we read more about this last plague: "every firstborn in the land of Egypt shall die." The scope of destruction will be pervasive throughout the land of Egypt. It will reach the prominent and the common, the free and the captive, the rich and the poor, the masters and the slaves, people and beasts, with no exceptions. The strike will be so overwhelming that "there shall be a great cry throughout all the land of Egypt, such as there has never been, nor ever will be again." The wrath and judgment of God will be unleashed in such a way that the humiliated Egyptians will bow down before Moses and plead with him to go out with all the people of God.
After so many years of wicked tyranny, the day of deliverance is finally near. God is about to act decisively to deliver his people. What for them will be a great day of joy and celebration, will for the Egyptians be a day of judgement and anguish.
This day points to an even more frightening day of final judgment and a more sublime day of utter freedom. The day when Jesus returns for his people and forever delivers them from sin, while punishing his enemies eternally. That day the children of God who accepted the gracious provision of the ultimate Passover Lamb of God, Jesus himself, will experience indescribable exultation, for there will be no more chains, no more pain, no more tears, and no more death.
Let us live in light of that day, "for salvation is nearer to us now than when we first believed. The night is far gone; the day is at hand. So then let us cast off the works of darkness and put on the armor of light." (Romans 13:11-12)
Share this on:
---
July 7 2014 at 2:07 pm
0 Comments
---
Here is the presentation Greg Somerville gave on Sunday explaining the vision for our Missions Team. You can watch a video of the presentation above, or read through the outline below.
---
Introduction
Last Sunday I got to preach at a church in the Bale region of southern Ethiopia. After the service I met in the pastor's study with two men who had been sent out to plant churches in other parts of the region. As they described their missions strategy, they pointed out a series of charts on the wall.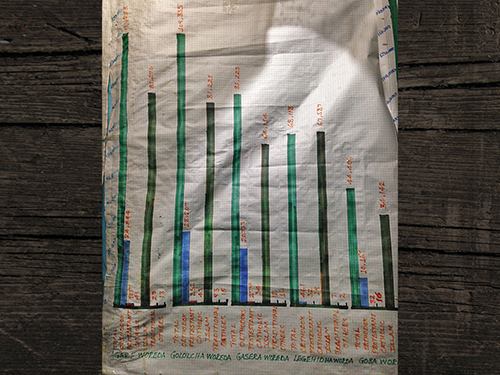 The plastered walls were cracked and grimy. The charts were stained and wrinkled. They showed the total population in each district followed by the number of Orthodox, Protestant, Catholic, and Muslim believers. As I looked closer, I realized this was not just a pastor's study. It was a War Room. District by district, village by village, this pastor and his team of church planters were intent on taking the entire Bale region for Christ. The fact that districts like Legehidha are 99% Muslim only made them more determined. Their common phrase "Eyesus Geta Now" – Jesus is Lord! – was more than a Sunday morning greeting. It was a battle cry. For that church, going into Muslim communities with the gospel is local missions. For me to visit and learn from them is global missions. Whether local or global, the vision is the same: being witnesses for Christ "in Jerusalem and in all Judea and Samaria, and to the end of the earth" (Acts 1:8). By God's grace, that vision is getting clearer and sharper here at Covenant Life Church.
Local Missions
Much of what happens in local missions occurs without fanfare, but members of this church are doing much gospel ministry throughout Montgomery County.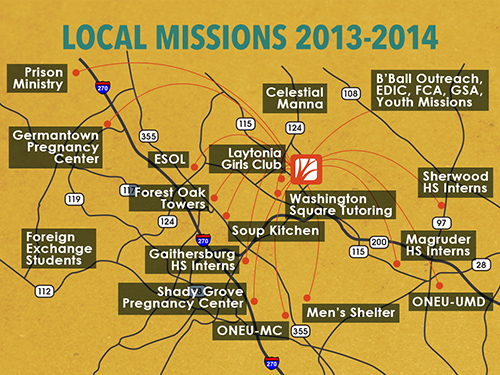 This map highlights the impact of our current outreach teams:
• Weekly Bible study and discipleship for inmates through our prison ministry
• Pro-life counseling and outreach to women facing crisis pregnancies
• Christian families hosting foreign exchange students
• A thriving ESOL program serving dozens of internationals in two locations
• Friendship evangelism each week with low-income senior citizens
• Caring for youth through after-school tutoring and the Laytonia Girls Club
• Numerous volunteers serving at a soup kitchen, men's shelter, and the Celestial Manna food ministry
• Student Life interns sharing Christ with high school students at Gaithersburg, Magruder, and Sherwood
• College outreach through the OneU ministry at MC and College Park
And here at our own facility:
• Weekly basketball outreach on Thursday nights
• Every Day is Christmas
• Youth Local Missions week
• Fellowship of Christian Athletes annual sports camp
• Good Samaritan Advocates – monthly clinics offering free legal counsel to neighbors in need
Under the leadership of Drew Garfield, our Director of Local Missions, we have targeted these local initiatives for the coming year:
Reaching local internationals with the help of a couple who are former members of Covenant Life:

This couple just completed a year of training in NYC where they learned effective strategies for reaching unreached peoples in the U.S. From their base in the Frederick church, they will spend a lot of time with us this year— training, encouraging and mobilizing us to reach the nations next door.

Perspectives Class

We are very excited to host the "Perspectives" course this fall. Over the past 40 years, this course has equipped and inspired thousands of churches for missions. Our own Peter Giglio, who took the course a couple of years ago, says this:

"Imagine asking 100 missionaries who have been on the mission field for 10, 20 and 30 years to take everything they've learned on a given topic, boil it down to a 90-minute lecture, and share it at your church. That's what Perspectives is."

The course will be offered for 15 consecutive Tuesday nights. With weekly lectures and reading assignments, it's a serious course—perfect as a Bible credit for high school students or a study project for missions-minded care groups.

For those who attend from other churches, the cost is $285. But every Covenant Life member receives an immediate $100 discount and an additional $100 rebate for completing the course. And if you register by July 15, you get an Early Bird discount of $25. Is this starting to sound like an infomercial? No apologies—I want to see the Edwards Room packed when this course kicks off on August 26! For more information, pick up a brochure today at the Missions table in the lobby or visit the Perspectives page of the website.

Local Missions Committee

Finally, it's an honor to introduce our new Local Missions Committee – if they are here, I will ask them to stand as I call their names:

• Donna Banks
• Drew Garfield
• Marta Bohorquez
• Billy and Carrie Buttrey
• Rae Pearl Canizares
• Dennis Castaneda
• Jonalee and Travis Earles
• Kristin Hoover
• Tom Ferleman
• Todd Keeler
• Gabe Knowlton

Drew will chair the committee for the first few months, and I will attend as a non-voting member. This committee has begun to identify the resources and passions that already exist in our church and connect those with needs and opportunities in our community. It also will decide how to invest the $140,000 budgeted for local missions. God has raised up a dream team—men and women who model God's love for the lost and needy. Before they take their seats, let's thank them for their service and example.
Global Missions
Let's switch from local to global. The Global Missions Committee has worked incredibly hard during the past year. Because of your faithful giving and their prayerful and wise stewardship, Covenant Life has invested in missions ventures around the globe.
We have been able to:
• Send 50 college students to the CROSS conference on missions in January
• Facilitate the translation of key theological resources for church leaders in other countries
• Support missionaries in Central Asia, Japan, and Taiwan as they penetrate unreached parts of the 10/40 window
• Encourage our friends at Rancho 3M in Mexico
• Deepen our commitments to proven partners in Haiti and Uganda
• Explore fruitful new opportunities in Guatemala and Ethiopia
One of the highlights of my recent trip was introducing Pastor Moses from Uganda to Michael, a new friend with great influence throughout Central Ethiopia. The vision these men have for their own countries and surrounding nations is contagious!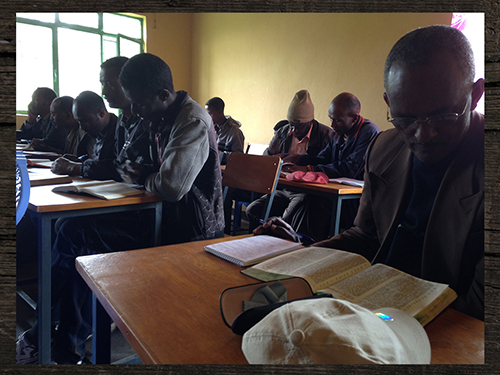 I also got to witness a group of Ethiopian church leaders receive their first round of biblical training in a new program our church is sponsoring. The potential impact on the church in that country is huge. It's a training model we hope to replicate in Uganda and Haiti as well.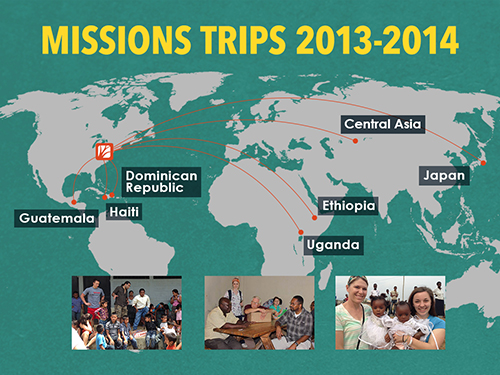 By the end of this summer, we will have sent out 9 missions teams. Thanks to the tireless efforts of Beth Kraatz, who coordinates our short-term trips, over 100 people will proclaim the gospel this year in:
• Haiti
• Central Asia
• Uganda (January and July)
• Guatemala (led by Angel Cabrera of OneU)
• Ethiopia
• Dominican Republic (two teams of high school students left yesterday)
• Japan
We hope to repeat these trips next year and add several domestic trips focused on internationals in New York City and Metro D.C.
Closing Comments
We have shaped next year's budget around the goal of getting healthy internally so that we can make an impact externally. I am very excited about plans to strengthen the infrastructure of our church: small groups, care and counseling, and Student Life ministries. But as illogical as it may sound, reaching outward in this coming year will be part of God's plan for strengthening us inwardly. Remember that church I visited in Ethiopia last Sunday?
It wasn't much to look at. The name was misspelled on the church sign. The floor was made of packed dirt. With over 200 kids involved in their children's ministry, they have no illustrated story Bibles or Buck Denver DVDs. The pulpit itself had to be propped up on a rock because one leg was missing. But as poor as they are, as limited as they are, do you know what this little church has done? Over the past 3 years it has sent out 13 missionaries to plant churches in Muslim communities across the region.
With that kind of God-glorifying vision, I think this humble, heroic church in Ethiopia is going to be OK, and with the exciting mix of inward and outward initiatives taking place in Covenant Life Church this coming year, I think we are going to be OK, too.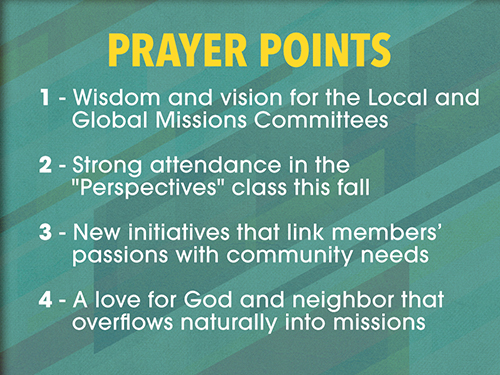 Share this on:
---
July 7 2014 at 10:38 am
0 Comments
---

We're excited to share a reflection we received from Art & Jeannie Shenk on the 2-a-Day readings for July 4. As fellow believers let's help each other dwell on the Word of God.
"I appeal to you therefore, brothers, by the mercies of God, to present your bodies as a living sacrifice, holy and acceptable to God, which is your spiritual worship. Do not be conformed to this world, but be transformed by the renewal of your mind, that by testing you may discern what is the will of God, what is good and acceptable and perfect."
I love Paul's passionate appeal to us to be "living sacrifices":
I invite you to join me TODAY by devoting yourself to being transformed (present tense). It starts by renewing your mind, engaging by faith to consider and apply the words of spirit and life found in God's word to everything you do. Why? One reason is by doing this, we will push back against the temptations and enticements of the world to live for self rather than God. And why should we do this? To test and prove that God's will is in fact the only way to live that is good and acceptable and perfect and in the end will be far better than anything the world has to offer for God's glory and our best good.
The above was inspired by reading a post of John Piper's sermon entitled All of Life as Worship in which he answers the question "how do you present your bodies to God as sacrifices?" as follows:
"I think the best answer is to see the connection between verses 1 and 2. My suggestion is that verse 2 is the realistic explanation of the more symbolic verse 1. Verse 1 talks about sacrifices and worship. Verse 2 talks about your mind being renewed and doing the will of God….use your renewed mind to prove what is the will of God, what is good, acceptable and perfect." -John Piper
Have you ever thought about what it would be like to be Moses being told by God to bring plague after plague, a total of 10 plagues on Egypt before Pharaoh finally gave in to set the Israelites free? Moses must have felt some compassion toward those being afflicted but must have been sobered by Pharoah's hard heart, obstinacy and pride in the face of the severity of God's judgment over and over again. Lesson learned? As Charles Spurgeon puts it, "God would stamp the early history of Israel with the deep impression of his Godhead. His overthrow of the proud Egyptian king should let Israel know in the very beginning how great a God had chosen her to be his own peculiar portion."
What God did was designed to set Israel free, yes, but more importantly to magnify his name for generations:
"Then the LORD said to Moses, 'Go in to Pharaoh, for I have hardened his heart and the heart of his servants, that I may show these signs of mine among them, and that you may tell in the hearing of your son and of your grandson how I have dealt harshly with the Egyptians and what signs I have done among them, that you may know that I am the LORD.'" (Exodus 10: 1-2)
Mathew Henry says of this passage:
"The ten plagues of Egypt must be inflicted, that they may be recorded for the generations to come as undeniable proofs, (1) of God's overruling power in the kingdom of nature, his dominion over all the creatures, and his authority to use them either as servants to his justice or sufferers by it, according to the counsel of his will. (2) Of God's victorious power over the kingdom of Satan, to restrain the malice and chastise the insolence of his and his church's enemies. These plagues are standing monuments of the greatness of God, the happiness of the church, and the sinfulness of sin, and standing monitors to the children of men in all ages not to provoke the Lord to jealousy nor to strive with their Maker."
Prayer: Father, thanks for the reminder that you are the undeniable ruler of the universe as demonstrated so severely to the hard-hearted Pharaoh of Egypt. Thanks that out of the kind intention of your will, you have chosen us to be servants to your justice rather than suffers of your wrath. Work in us TODAY to be soft-hearted not hard-hearted toward you and be led by the Spirit to demonstrate to others that we believe in you and submit to your ways as our Lord and Savior. Also, help us to have compassion on those whose hearts are yet to be soft toward you so in your timing, they may know that you are the Lord.
Share this on:
---
July 3 2014 at 3:49 pm
0 Comments
---
We received this wonderful reflection from Art Shenk on the 2-A-Day reading from earlier this week for Exodus 6.
Thinking about how anguish of soul can cloud my judgment and perspective on the day.
Prayer: Today Lord, help me live as one set free in Christ. First and foremost to not allow place for anguish in my own soul. Anguish of soul does not allow me to hear and receive the encouragement of the Spirit and to live in the good of words of Spirit and Life found in your Word. Help me after making my soul free and happy in the Lord, to walk with a desire to point others to the same Emancipator who set me free from self to a living hope.
Inspired from 2-A-Day Bible Reading Program meditating on Exodus 6:6-9
"I am the Lord, and I will bring you out from under the burdens of the Egyptians, and I will deliver you from slavery to them, and I will redeem you with an outstretched arm and with great acts of judgment…Moses spoke thus to the people of Israel, but they did not listen to Moses, because of their broken spirit and harsh slavery."
Charles Spurgeon's reflection on the verses where he reflects on this oddity of their reaction and suggests a response if we find ourselves with a similar attitude today:
"I think that I can speak to the case, if God help me, for I have felt the same. I do remember when I could not believe even Jesus himself by reason of sore anguish and straitness of spirit; and, therefore, as one who has worn the chains, I speak to those who are still in chains. I know the clanking of those fetters, and what it is to feel the damp of the stone walls, and to fear that there is no coming out of prison, and to be so despairing that even when the emancipator turned the great key in the lock, and set the door wide open, yet still my heart had made for itself a direr cage, and I could not believe in the possibility of liberty, and therefore I sat bound in a dungeon of my own creation. Ah! There is no Bastille so awful as that which is built by despair, and kept under the custody of a crushed spirit. Many are the desponding ones whose eyes fail so that they cannot look up, or look out. To such I speak. May God speak through me by the Holy Spirit, the Comforter!"
Share this on:
---
June 30 2014 at 12:24 pm
1 Comments
---
"Today was the first time I've been in a church for over 50 years," shared an elderly Forest Oak Towers resident during a Senior Saints luncheon at Covenant Life Church.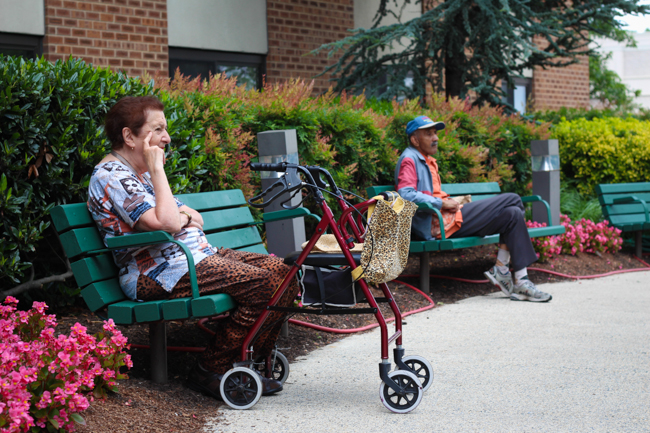 When she and her husband emigrated from Europe to the U.S. during World War II, they arrived penniless, having entrusted all their financial assets to "Christians" who had promised to send their money ahead for them. The funds never arrived, and so the couple grew embittered and distanced themselves from the Christian church.
Now years later, as a result of the weekly lunches spent with Covenant Life members in the Forest Oaks cafeteria, she felt comfortable attending the luncheon held at the church. Afterwards, she shared how very blessed she was to be there, hear Robin Boisvert's message, experience the kindness of those attending, and be treated so lovingly. She wants to return.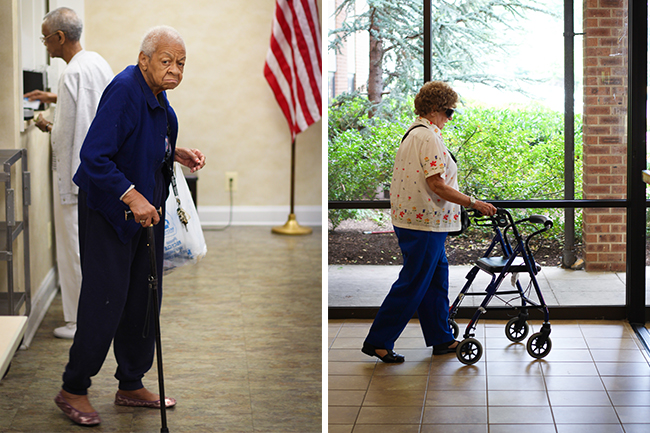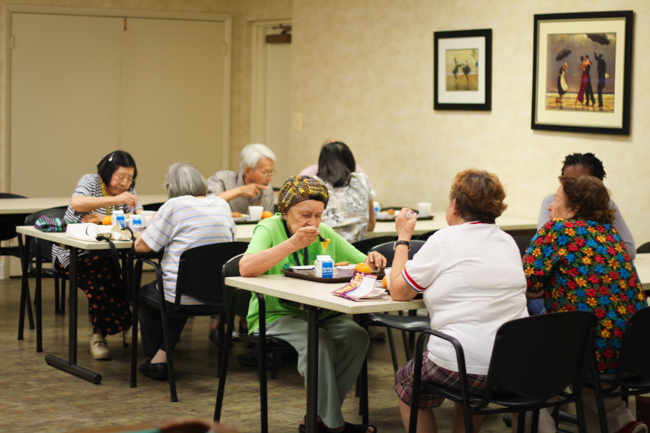 This is only one of many life stories at Forest Oak Towers, a 175-apartment complex on Odendhal Avenue in Gaithersburg for 220 residents with an average age of 73.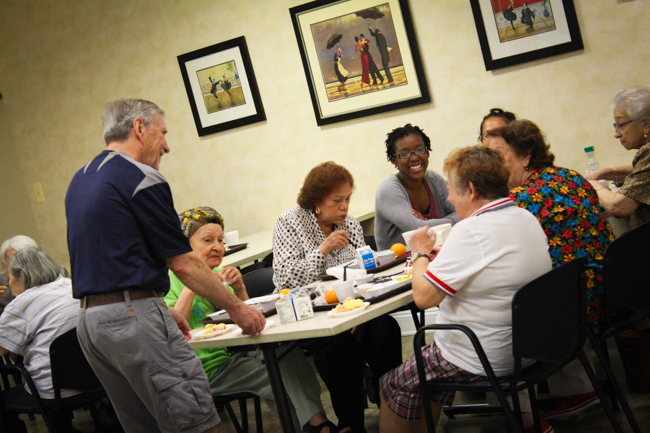 For the past two years, Covenant Life members Drew Garfield, Dennis Cook, Bob Merryman and others have been spending their Wednesday lunch hour with the residents. Recently, they started a monthly Bible Study, requested by residents.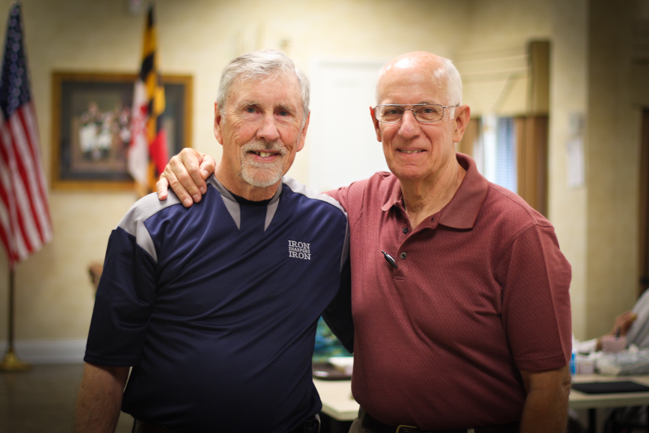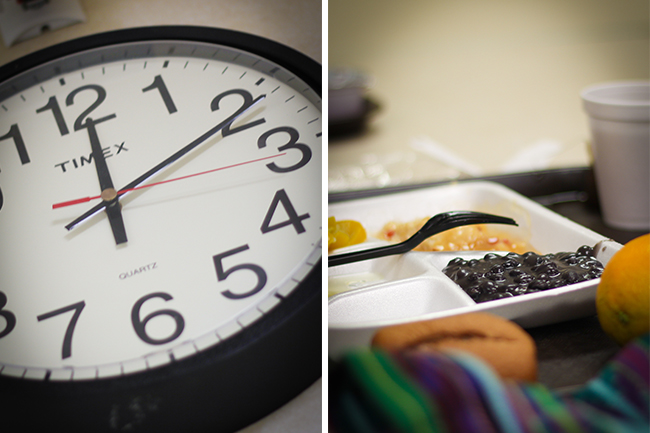 "Our goal is to share the love of Christ through fellowship and friendship," Bob shared. Their hope is to present the gospel of Jesus Christ, encourage faith in Christ, and see the Holy Spirit at work in their lives.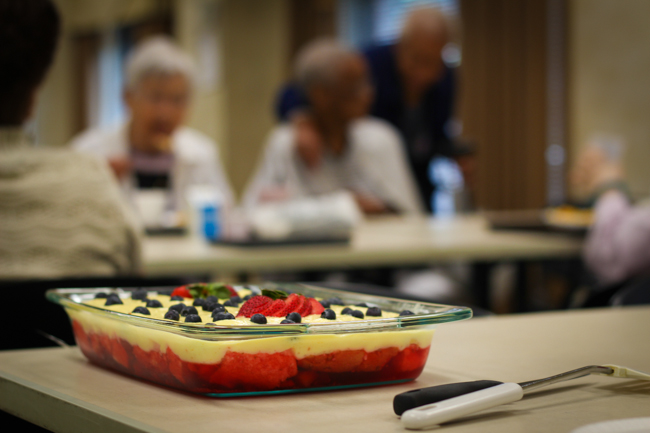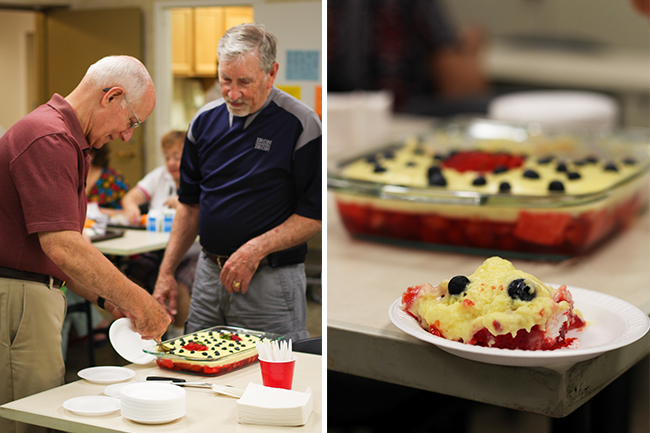 "I get a queasy feeling in the pit of my stomach at the prospect of approaching strangers," Dennis said, "At first, I felt very uncomfortable, wondering if I had anything to offer."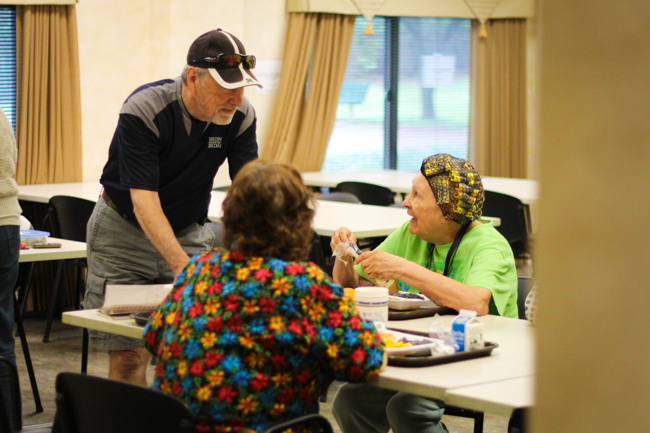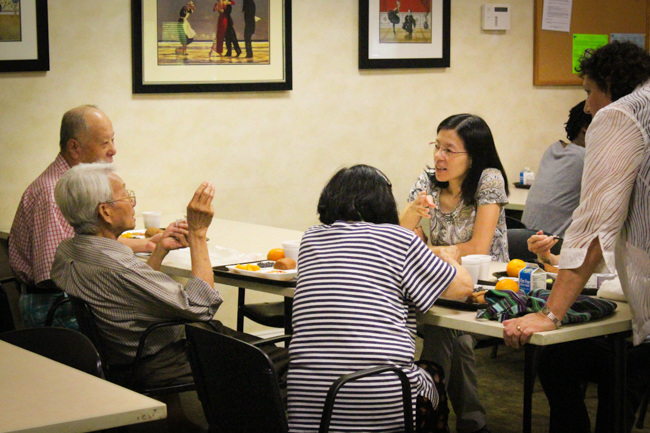 They have come alongside residents as friends, heard about their lives, shared about their own, prayed with them through sickness and hardship, and even helped with practical needs like hanging a picture or moving light furniture.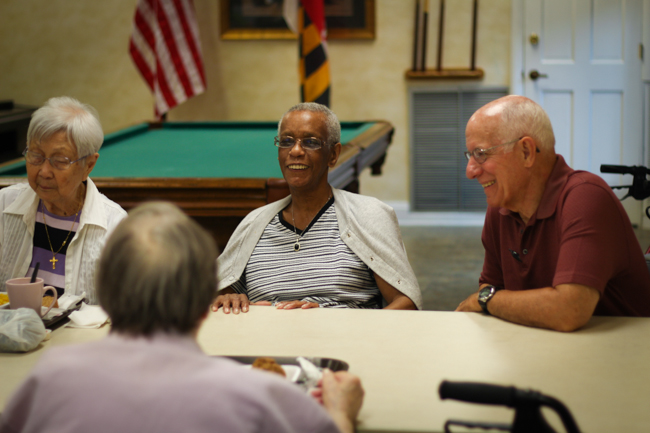 "We have learned that the regular visits residents can depend on foster relationships," Dennis shared. "We have been told that even if we don't hear it, we are appreciated, even expected, so please don't stop coming."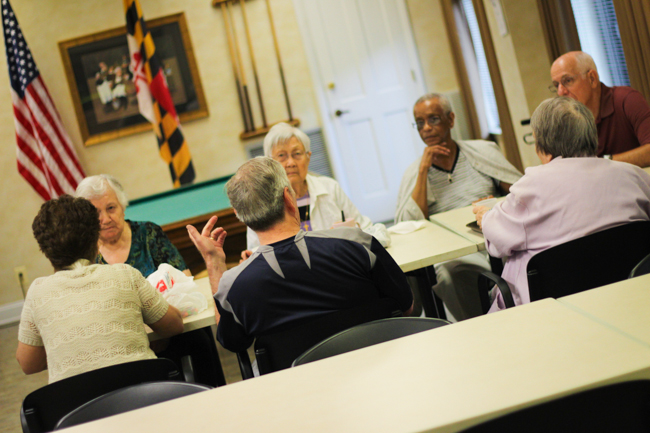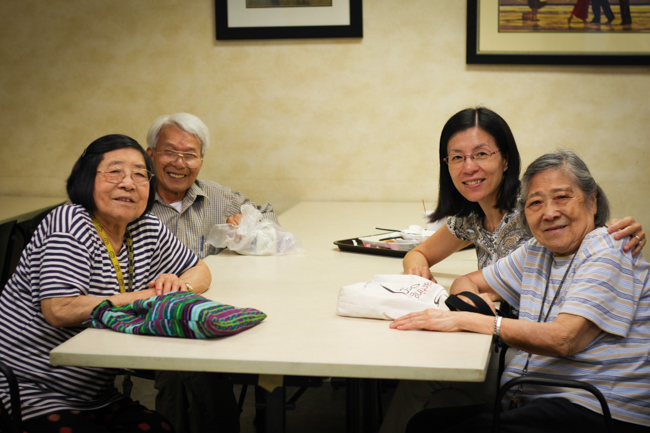 Bob and Dennis describe the residents as "quite a bunch of characters." Nelson loves to sing Karaoke, Luce-Marie honestly shares about life, and Matilde helps where she sees needs.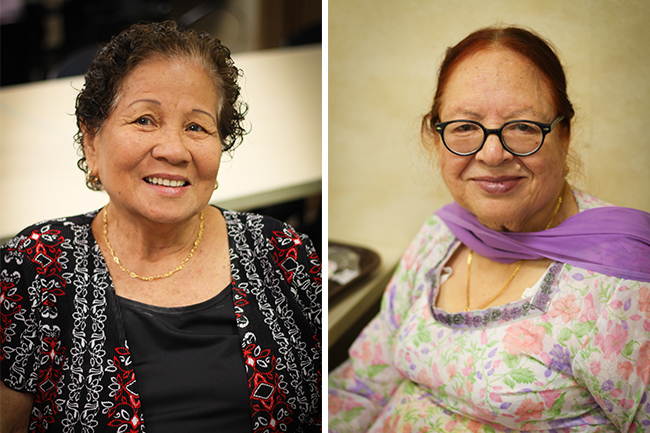 Nancy is a chatterbox and writes poems. Alice offers care-giving counsel and asks after their wives. and Irma chases them down to give them hugs. Margarit loves classical music, opera, and ballet and takes care of Vartouhi.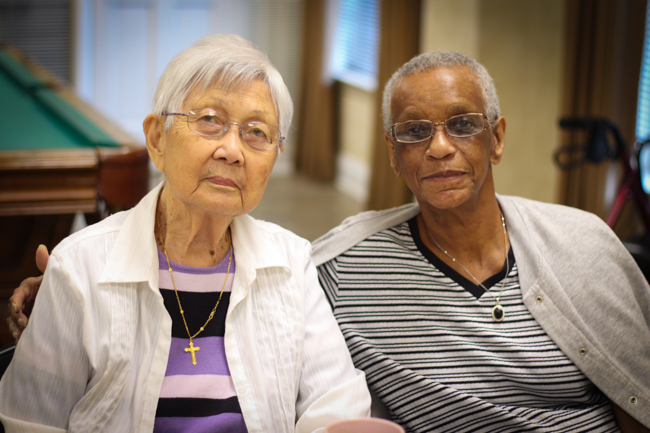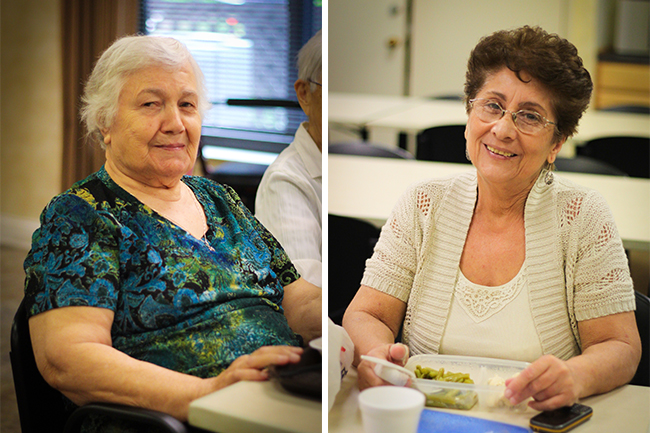 Sisters Bessie and Flo challenge them to crossword puzzles, and Don sparks deep conversation through his honest questions about God.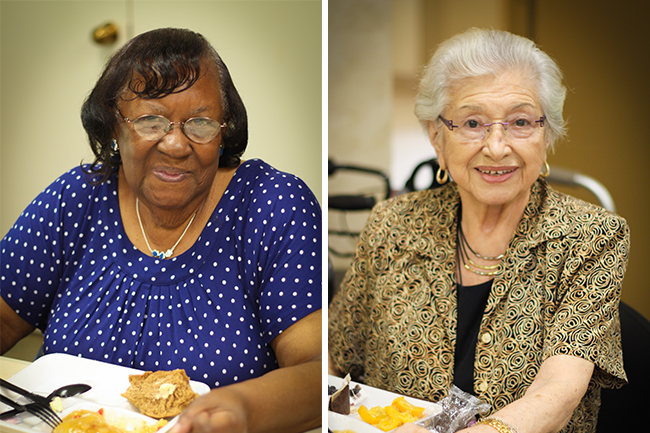 Nettlie loves Jesus and wears her "I love Jesus" lanyard all the time. Sisters Mrs. Tsui and Mrs. Chang can't speak English, but they wave and Mr. Tong gives thumbs-up.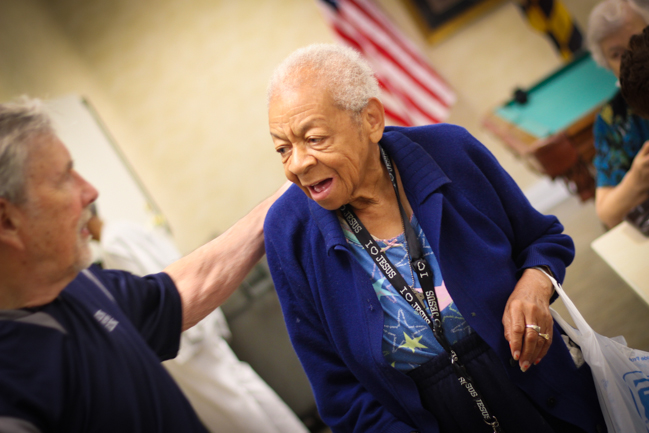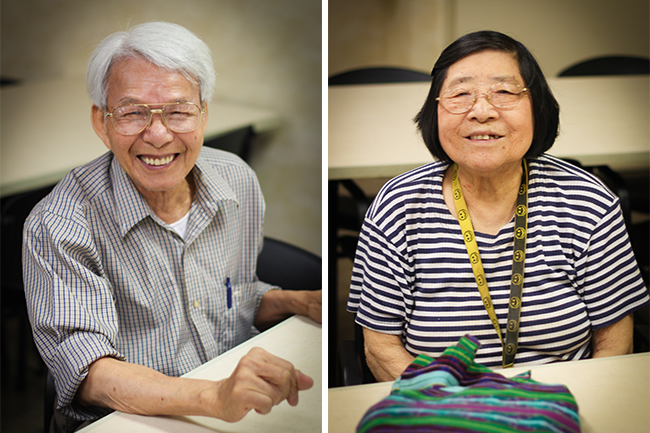 "If you see me fightin' with a bear, don't worry about me, help the bear," says Olivia who crochets baby outfits. Penny and Al are pals and greet everyone in the mailroom when they come to check for letters.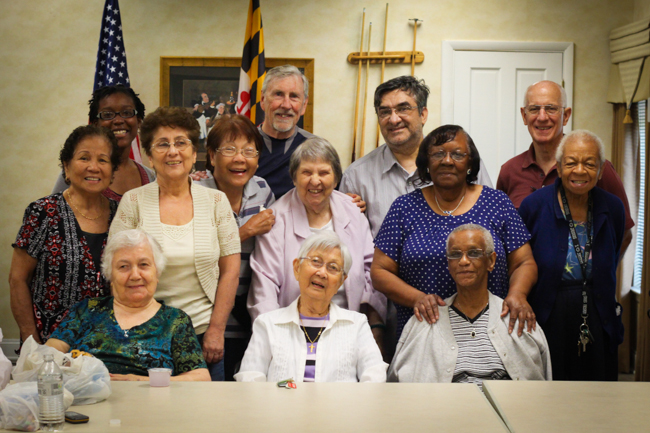 "This experience is probably serving me more than anyone is being served by me," Dennis shared. "We are grateful to have the privilege to serve an awesome God," Bob said.
Photo Credit: Betsy Reich
Share this on:
---
June 30 2014 at 10:44 am
1 Comments
---
Here is the presentation Adam Malcom gave on Sunday explaining the vision for our Community Life Department. You can watch a video of the presentation above, or read the transcript below.
---
I have been asked by the pastoral team to present to you how the Community Life Department helps us to accomplish our mission together.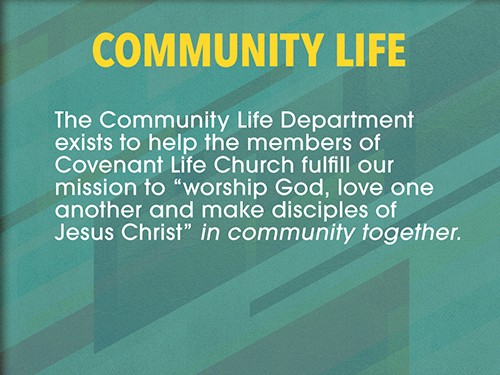 Simply put, the Community Life Department exists to help the members of Covenant Life Church fulfill our mission to "worship God, love one another and make disciples of Jesus Christ" in community together.
This will be familiar to most of you, but the New Testament authors go to great length to remind us not to be isolated Christians, but rather a community of redeemed individuals that have been brought together through adoption into God's family and, amazingly, to use Paul's language from Romans 12:5, living as "members one of another."
Church, by faith we are one body in Christ. We are truly brothers and sisters, children of the Living God. And it is God who has brought us together. Listen to how Peter describes this reality in 1 Peter 2:9-10: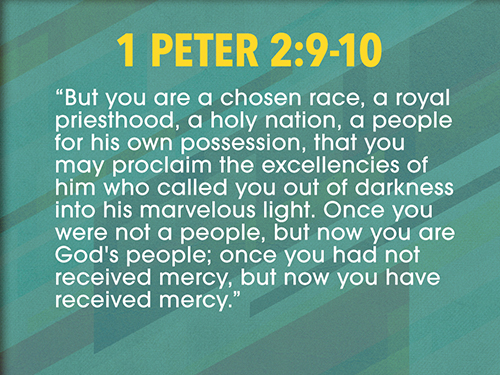 This is why we worship God. This is why we pursue dying to self and loving others as Christ loves us. This is why we seek the lost and pursue making new disciples of Jesus Christ. The mercy of our God motivates us to live our lives radically different than before we knew God in Christ.
And so, as a department we seek to help you the members of Covenant Life Church to pursue and experience fellowship together in genuine Christian community in order that we might accomplish our mission as a church.
Specifically, the Community Life Department exists to:
1. Help guests and visitors to get connected in our community.
2. Conduct membership classes.
3. Administer and encourage participation in our Small Group Ministry.
4. Conduct larger member-focused community events such as Big Meetings, Bible Studies and season of life sphere meetings (i.e. ONE and Senior Saints meetings).
5. Conduct more regular and comprehensive small group leader training.
6. Develop and administrate ministry team opportunities through the LINK Team.
7. Conduct church-wide community events such as coffee houses, picnics and concerts.
Let me tell you a few things that might help you to understand our departmental mission a little better: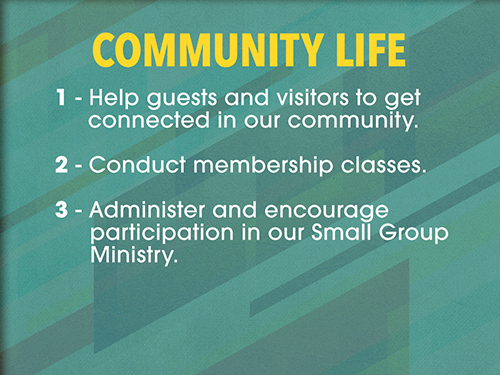 1. We want to create multiple avenues for connecting and welcoming non-members into our community. Whether that's people who do not believe in Christ whom God is at work in drawing to himself, or long-standing Christians, we want to create as many ways as possible for people to get connected and begin benefitting from the community of CLC, in friendship, fellowship and service.

2. Overseeing and conducting membership classes.

3. As it relates to our care group ministry, as most of you know, over the past 8 years or so, we have organized our small group ministry primarily by season of life. That means that for the most part if you are married with teenagers, you are likely in a care group with other couples or parents of teenagers. Or if you are a senior citizen, you are probably in a care group with other senior citizens, etc. There are significant benefits to this approach to organizing and structuring care groups, and as a result, for many of you that has really served you in fellowship, mutual care, encouragement and a truly shared life in community together.

However, for others of you it has been hard to make that work. Whether it's because your relational network is with people outside of your season of life, or you would actually prefer a multi-generational care group, or a group more geographically located to reach your surrounding community, there are a number of good and appropriate reasons for organizing groups other than by season of life.

Regardless of the reason, going forward we want to develop a small group ministry structure that is flexible and able to adapt to the variety of good and wise approaches to creating a community context for genuine, deep and fruitful biblical fellowship, mutual care and encouragement, that is rooted in the study and application of God's Word.

We don't want a one size fits all approach to small groups, so we are in the process of addressing how we can organize and encourage more and more groups to form in ways that encourage members to grow in their knowledge of our Savior and to be more effective in pursuing our mission together.

4. As it relates to conducting member-focused training, fellowship and discipleship events such as Big Meetings, Bible Studies and season of life sphere meetings, these events and community contexts are not replacements for small groups, but rather ways in which your pastors can gather with you outside of a Sunday congregational context to speak to and teach from God's Word on real life issues and topics that many of you have regular questions about.

Teaming with the Equipping & Training and Care & Counseling Departments, we want to provide more and more of these types of regular community events for you to be able to participate in the days ahead.

5. Similarly, we also want to improve the way that we train, disciple and equip our small group leaders in the days ahead. Gathering regularly as a group for encouragement and support, providing more teaching and training—particularly on how to apply God's Word and love one another through the many challenges that we all face in the Christian life.

Let me pause for a moment and say to those of you who are leading or have led at times in the past. Thank you so very much for your faith, commitment and love for the people of Covenant Life. You have laid down your life, many of you for years, if not decades. Thank you for your example of commitment to the family of God. I and the other pastors are incredibly grateful.

6. And our church is not simply a family, we are a body, each member possessing gifts given by the Spirit of God. Our team will continue to develop and administrate ministry team opportunities through the LINK Team. We want to build a church community where every member is finding a place to serve.

7. And finally, we want to continue, and even increase, the number of church-wide community events such as coffee houses, picnics and concerts so that not only you our members are able to gather together more regularly, but also so that more and more guests and those who do not know the Lord can be engaged in love and community.
While these areas are the primary responsibilities of the Community Life Department, our major focus for FY15 is going to be to revitalize our small group ministry. Over the coming year we want our groups to be recharged with vision, we will begin to provide more regular and consistent training for leaders, and we will begin to provide more options for participation for members.
A few of the specific plans that we are already working towards:
1. In August, we will gather together with all of our small group leaders to establish what will become a more regular time of teaching, equipping and fellowship over issues related to effectively leading small groups. We not only want to be able to more regularly bring teaching from God's Word on key relevant issues we all face, but we also want to create a context for involving you our leaders in the process of strengthening this ministry.

2. Starting in late September, we will go through a Sunday teaching series related to Community.

3. In October or November, after the series on Community, we will also begin meeting with larger segments of you, our members, potentially regionally, for similar community and small group-related teaching, equipping and fellowship purposes. The goal longer-term would be to potentially conduct these larger gatherings quarterly.
Thank you again church for your partnership in our mission to "worship God, love one another and make disciples of Jesus Christ" in community together. God is building his church up as a spiritual house. To God be all the Glory.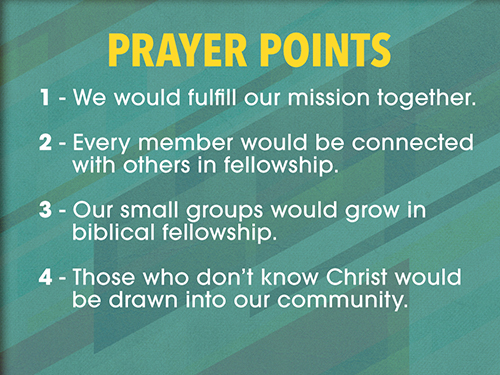 Share this on:
---