January 15 2015 at 10:31 am
0 Comments
---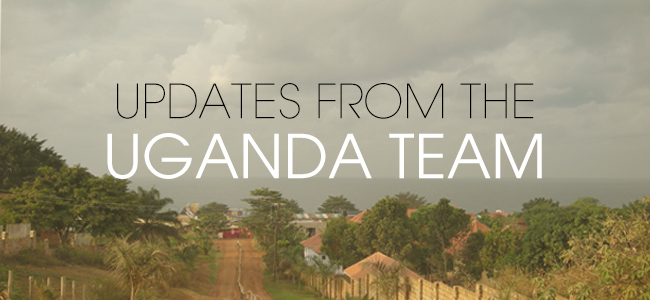 We received the following updates from the missions team currently serving the church in Uganda. Thank you for praying for them.
UPDATED: January 15, 2015
God is at work here! On Wednesday, the pastors and youth conferences started and have been going great. We are leading the youth conference with around 200 people attending. This year's theme is "Live and Love Like Jesus" based on 1 Timothy 4:12. He has been preaching through the book of Mark and showing how we can live and love like Jesus by looking at his life and ministry. We have enlisted the help of local young men to lead the discussion small groups and they are doing a fantastic job.

Members of our team have been leading the pastors through a study of 1Timothy. There are about 70 pastors and deacons that are attending the conference. We have been introducing some helpful hermeneutical tools to the pastors that they can take back to their churches and use in the future. Today, after teaching on 1Timothy 2:1-7, we introduced prayer cards for the unreached. What a powerful and sweet sound to hear the group praying in unison for scores of different people groups!

We have also been leading the children in different lessons and crafts during the conference as well. About 45-50 children have been hearing various Bible stories and a clear Gospel proclamation. After the conference each day, there has been an outdoor crusade in the village. Yesterday, a young man stepped forward and said he wanted to give his life to the Lord! Praise the Lord!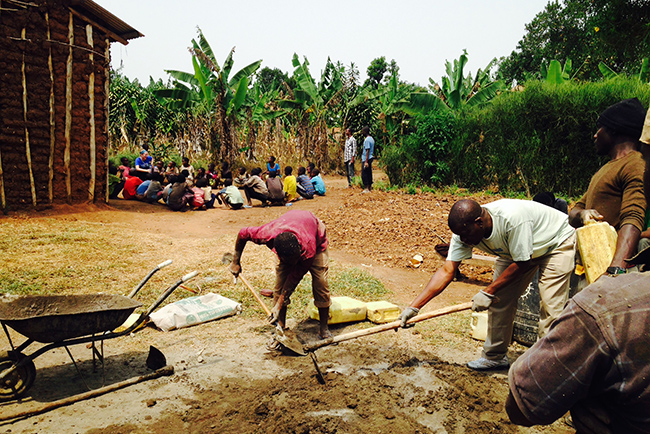 Another exciting story from the conference: there is a specific young man that has been attending the conference this week and hearing the Gospel. We have been able to talk to him, encourage him, and share the Gospel with him. Please pray for this young man! If he were to trust in the Lord, his family would most likely disown him and throw him out. Please pray for him; that God would move in his heart and give him courage to follow him!

The team is tired but doing well! Please continue to pray for strength, good health (we've had a few upset stomachs over the last few days), and that people would continue to be encouraged and drawn closer to the Lord through us! We are seeing God at work here and are excited to see what else he has for us.
Thank you for keeping the team in your prayers!
---
January 12, 2015
On Friday night, we hosted a dinner for the pastors and their wives who will be attending the conference this week. It was a great time of reconnecting with old friends and making new ones. We were able to bless the pastors with monogrammed ties and their wives with beautiful shawls.

Saturday was spent resting and preparing for the rest of our trip. We were grateful for the time to catch up on sleep, prepare for the outreaches and youth conference, and spend time with some of the teens in the church. The time spent with the teens was rich as they learned how to lead Bible studies for the conference this week, practiced crocheting, and learned the rules of basketball.

Sunday we joined the church for their Sunday service. It was lively and filled with worship! The team performed a few songs, but unfortunately, there is no video evidence. Our team leader preached an excellent message on how God views his children and his specific love for each of them. After church, we had lunch and then did a basketball clinic for the teens in the community. The men on the team led a clinic with about 25 teens, but at least 200 men, women and children came to watch and enjoy the games after the clinic. We shared the gospel when the clinic was finished, and we are hoping that many were affected by it. We all loved spending time with everyone at the clinic; whether it was teaching basketball or just talking with the locals. After the clinic we headed over to the local radio station with one of the local pastors to share his testimony over the radio. His testimony was excellent and very encouraging. The rest of the team enjoyed listening to it on the radio back at the guesthouse.

Monday we had a very good time repairing two widow's homes in nearby villages. The ladies played with children, carried water, and helped the women with cooking. The men shoveled sand, mixed cement and tried to keep the skilled nationals supplied with all they needed. Our team had a long talk with an unbeliever about Jesus. One of the widows whose home was repaired had just been saved and added to the church. She was very grateful!

The whole team is feeling well, although many have not adjusted to the time and are a bit tired. Pease continue to keep us in your prayers.
Share this on:
---
January 5 2015 at 9:12 am
1 Comments
---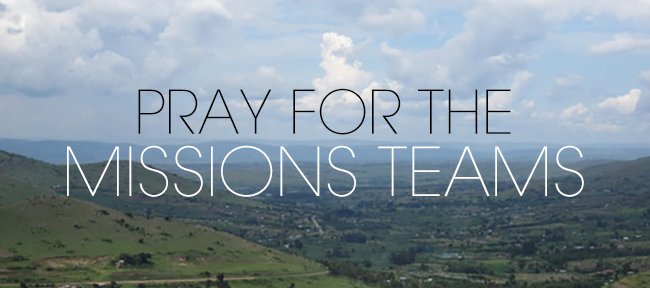 This month we are sending two teams to serve in western Uganda and Central Asia. One of the best ways we can participate in supporting these teams is to pray for them. Here are some points to help guide our prayers.
Uganda
For almost a decade our church has enjoyed a unique partnership with a group of churches in western Uganda. More than 200 members have traveled there and been powerfully affected by the work that Pastor Moses and his team are doing.
This Wednesday we will send out another group to continue the tradition. Here are some of the things they will be doing during their two-week trip:
—Teaching and sharing testimonies in 10 villages
—Serving hundreds of young people at a four-day youth conference
—Helping repair homes for several widows
—Sharing the good news door to door
—Teaching on the radio
—Teaching local leaders at a four-day seminar
—Loving and encouraging the members in these local churches
Prayer points:
—That everyone would be filled with the love of God and the boldness of the Spirit
—That our team would be given the right words to share in each context
—That they would see God's power triumph over sickness and evil spirits
—That they would experience the unity of the Spirit from start to finish
—That our team would grow stronger in faith as they step out to in obedience to the Great Commission
Central Asia
For the team headed over to serve:
—Health and safe travels
—Quick adjustment to time change and sound sleep
—Sensitivity to the Spirit
—Words of knowledge, prophetic songs
—Strength to serve with musical gifts
—Flexibility and ease in working with the sound system
—Overflowing hearts of God's love to share no matter how tried they are
Prayer points for the women attending:
—Pray against any feelings of guilt or comparison that the women attending might feel as they come together and share what God is going in their lives.
—Pray for traveling mercies for all who are coming to the meeting, for no travel delays and easy connections along the way.
—Pray for those leading small groups, break-out sessions, worship, teaching, prayer warriors, logistical helpers, and other volunteers coming to help with child care. Pray especially for our speaker, to be spirit-filled as she shares.
—Pray for this meeting to be a great encouragement to the women no matter what stage of life they are in presently.
—Pray that each woman will leave the meeting with one tool to use to share her faith and deeper motivation to proclaim the good news more boldly.
—That this would be a time of equipping for all of the women involved.
Share this on:
---
December 22 2014 at 11:49 am
3 Comments
---

"Please tell me about Christmas," said the young, smiling Persian woman, practically bouncing with curiosity. Her eagerness to learn the significance of this festive season surprised my friend.
"Would you like me to tell you the cultural significance or the religious significance," my friend asked.
"There's a religious significance?"
You might be thinking she was experiencing her first Christmas in the States, but the truth is that this well educated lady from Iran had been in the U.S. for four years. She was ignorant that Christmas was anything beyond a cultural phenomenon.
Icebreakers, Icebreakers Everywhere
Keeping in mind that westerners are typically more uncomfortable talking about religion than people from most other cultures, consider this: The Christmas season is the perfect excuse to share your faith with an international! Ubiquitous decorations, holiday food at the office and frenzied shoppers are all great conversation starters.
For your international friends or coworkers who have lived here for a while, make casual conversation asking them what they think about this time of year. Or, for those who have moved here recently, draw them out regarding their home country's festivals and their religious significance.
Listen, Learn, Share
Answers will vary of course, but really listen and learn about your friend and his/her beliefs. (As you listen, you are earning the right to share your beliefs). Depending on the conversation's direction, you may be able to interject the differences between the commercialized aspects of the holiday and the true meaning of Christmas. Explain that our culture has largely forgotten the original purpose of the holiday, and explain just what the true significance is.
The basic truths of Christmas aren't nearly as well known as they once were in the U.S. However, even our culture's blasphemously commercialized take on the incarnation can still be used by God to afford us opportunity to tell of the love and forgiveness offered in Christ.
"Almasih Kahdost" is a long-time friend of CLC who desires to see the nations come to Christ. Though preferring to publish anonymously, Almasih Kadost welcomes your comments here.
See all the posts in this series.
Share this on:
---
December 15 2014 at 2:46 pm
0 Comments
---
On Sunday we introduced the nine candidates who have been nominated to serve as non-staff elders. In the above video, Mark Mitchell describes the process that led up to this point and the steps that will lead up to a congregational vote of affirmation, followed by installation of the affirmed candidates as elders.
To get to know the candidates better, see their biographies and photos of them and their families. Video interviews with each candidate are now available online.
Share this on:
---
December 8 2014 at 1:25 pm
1 Comments
---
The video above is the announcement Mark Mitchell shared with the congregation on Sunday about recent staff layoffs due to budget constraints, followed by remarks from Joshua Harris. Below is the text of Mark's remarks.
Two days ago I sent a letter to the church as a follow up on our budget situation and the need to layoff two pastors. I indicated in the letter that with great sadness, the two pastors who have been laid off are Joe Lee and Isaac Hydoski.
It's very possible that some of you are hearing this for the first time. If so, I regret that this has to be the case this morning. I know how difficult it has been for many to receive this news before now so I can only imagine the challenge if you're hearing this for the first time.
This is sad news for all of us. These men are beloved pastors, friends, and co-laborers who have served this church faithfully for over a decade. We're very saddened to see them go. When Josh and I met with each of them to give them the news, it was by far the hardest thing I've had to prepare for and do since becoming the Executive Pastor.
Their last day on staff will be January 15. Because Isaac and Joe have served for 12 years, they will each receive 12 weeks of severance pay according to our policy. In the meantime, we're discussing as pastors how to best redistribute their responsibilities among the remaining staff.
These are godly men and as such they've received this news with faith in the Lord, but there is also an understandable measure of sadness because they love this church so much and have loved serving as pastors. Please pray for them, their wives, and their children during this difficult time. Pray that the Lord would comfort and strengthen them and make clear what their next steps should be. And as you see them, please don't hesitate to encourage them and express your love.
Some of you have written me directly to tell me how difficult this is for you. I'm especially sympathetic for those in our singles ministry who just recently had to say goodbye to Braden and now are faced with Isaac's departure as well. I know this has to be particularly painful for you. There is a ONE meeting already on the schedule for Saturday, Dec 13th. We'll take time during this meeting to talk with you and hear from you about these decisions.
We love these men and their families and want to do our very best to show that during their remaining time on staff here. And we love you and understand how difficult this is for you as well. I want to encourage us with these words from Lamentations 3:
Lamentations 3:17–33
my soul is bereft of peace;
I have forgotten what happiness is;
so I say, "My endurance has perished;
so has my hope from the LORD."
Remember my affliction and my wanderings,
the wormwood and the gall!
My soul continually remembers it
and is bowed down within me.
But this I call to mind,
and therefore I have hope:
The steadfast love of the LORD never ceases;
his mercies never come to an end;
they are new every morning;
great is your faithfulness.
"The LORD is my portion," says my soul,
"therefore I will hope in him."
The LORD is good to those who wait for him,
to the soul who seeks him.
It is good that one should wait quietly
for the salvation of the LORD.
It is good for a man that he bear
the yoke in his youth.
… the Lord will not
cast off forever,
but, though he cause grief, he will have compassion
according to the abundance of his steadfast love;
for he does not afflict from his heart
or grieve the children of men.
Please join me as I take a moment now to pray.
(Mark prayed for Joe, Isaac and their families, for all those saddened by the news, and for clear guidance and strength from the Lord as Joe and Isaac make plans for the future.)
Share this on:
---
December 4 2014 at 12:16 pm
0 Comments
---

More information about the year-long, 2-A-DAY reading plan, including the readings schedule, can be found on the 2-A-DAY page.
MONDAY, DECEMBER 4 | Revelation 1
Reflections on Revelation 1
By Vincenzo Russillo
Today's passage contains detailed description of the securities that were given to the Lord Jesus (vv. 5-6) and are just 7 (the sacred number in the Bible):
1. He is the faithful witness. Jesus is the only reliable source that testifies to the facts of this book. In fact He testifies of Himself and of the facts which concern Him. We can easily believe the Lord Jesus.
2. The firstborn from the dead. He is the first rose from the dead never to return to die and He is the only one who came back from the dead in a glorified body and those who have faith in Jesus will do the same experience and this will happen at rapture of the church 1 Th. 4:14:
"For if we believe that Jesus died and rose again, even so God will bring with Him those who have fallen asleep in Jesus".
3. The ruler of the kings of the earth. This quality presents us His future role in the millennium here on Earth. As we can read from the letter that the apostle Paul sent to the Philippians 2 vv. 9 -11:
"For this reason also, God highly exalted Him, and bestowed on Him the name which is above every name, so that at the name of Jesus EVERY KNEE WILL BOW, of those who are in heaven and on earth and under the earth, and that every tongue will confess that Jesus Christ is Lord, to the glory of God the Father."
4. To him who loves us. This expression has a sense of actuality. Jesus loves us as we are and want to accept him as our Savior. He loves us and continue to love in the eternity.
5. He has freed us from our sins by his blood. The Blood of Christ is very important, because it's not just a symbol. In Old Testament God taught that the life of every living thing is in the flesh and blood (Leviticus 17 v. 11). When Jesus gave His life on the cross, gave it to the last drop of his blood for the atonement of our sins. So that through faith in Him we might be reconciled to God. The apostle Peter wrote these words, 1 Peter 1: 18-19:
knowing that you were ransomed from the futile ways inherited from your forefathers, not with perishable things such as silver or gold, but with the precious blood of Christ, like that of a lamb without blemish or spot.
Jesus has freed us from our sins by His blood.
6. He has made us to be a kingdom and priests to serve his God and Father. Believers are descendants of priests who will reign with the Lord, 1 Peter 2:9:
But you are A CHOSEN RACE, A royal PRIESTHOOD, A HOLY NATION, A PEOPLE FOR God's OWN POSSESSION, so that you may proclaim the excellencies of Him who has called you out of darkness into His marvelous light.
The Lord will come as King on earth and will abolish all injustice but first will be in the air to meet the believers, He will as Spouse to take His bride the church and for which He gave himself.
7. The one who is given the glory and power. He is the Amen. This is an expression that emphasizes His eternity. Jesus is the Amen of whom we read in the book of Isaiah, and it is a title of which only Jesus is both the subject and the object of Revelation. He governs all events and these revolve around Him. He is the eternal purpose and remote everything. Everything was done not only by him but everything is done for Him. This universe exists for Him.
Lord, thank you because you have revealed the immense glory of Jesus. Through His precious blood can be washed from all sin, and You have given us the privilege of being co-heirs with Christ to reign. Thanks for your unconditional love that you give us and remind us to give you the glory in everything we do.
Share this on:
---