July 14 2015 at 10:22 am
0 Comments
---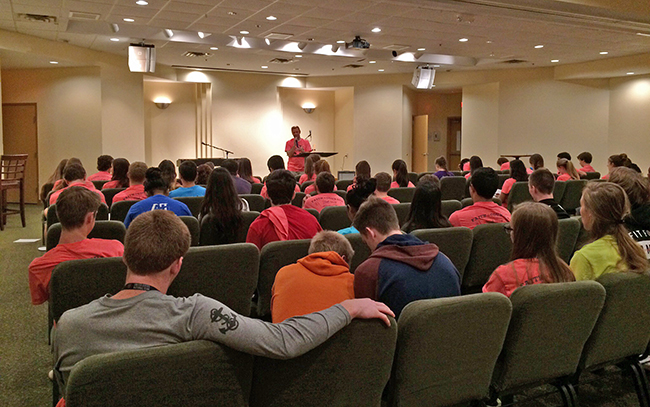 It's Youth Local Missions week, and about 70 youth and adult volunteers from Covenant Life are out getting to know our neighbors! We are serving kids and their families at three sites, playing a variety of games, hearing short talks, singing, and acting out skits related to what is taught.
The Joy Camp theme this year is "Faith Leads to Courage." Throughout the week we are learning that faith in God's promises helps us to have courage to obey God's Word. We will also be talking about how we can be courageous if we put our faith in Christ. We will specifically be learning about five examples from the Bible (Noah, Abraham, Moses, Joshua, and Daniel) who courageously obeyed because they had faith in God's promises.
God has already blessed us even on the first day of camp. Here are some specific ways God has been at work:
Johnson Park
A new site this year, pulling from the Washington Square, Emory Grove and surrounding neighborhoods
We had about 20 campers today.
We were blessed by many expressions of love from the kids.
The campers were involved and excited to learn from the Bible.

Laytonia
We had over 30 kids that came back today. This is amazing! Numbers are usually lowest on the first day of camp.
There are a lot of new families in the neighborhood who are also new to Joy Camp.
Campers jumped in and got involved right away.
It started raining a little bit during the Noah's Ark skit (right on queue!), and sure enough, it stopped at just the right part of the story, too!
Sometimes it's hard for campers to retain Bible knowledge from previous years, but as the lesson goes on, it all comes back.
South Lake Elementary School
Campers were ready and waiting when we arrived.
The volunteers were joyful and entered in with the kids despite the heat and not having air conditioning.
There were about 30 campers today, ages 4 to 21.
Although God is already doing a lot, we would still love your prayers!
Please pray for continued physical strength for the youth and leaders of Joy Camp. It is a very long, and busy week, and we all get extremely tired.
Pray for courage and boldness in sharing the gospel to others, for our youth specifically.
Pray for opportunities to share the gospel and that hearts would be softened.
Thank you! We look forward to sharing more about how God is working in our community.
—Andi Alonso
Share this on:
---
July 13 2015 at 1:09 pm
0 Comments
---
Dear Church,

Because I've been on a Management Team retreat this week, I asked Kenneth Maresco to share a report on the Dominican Republic missions trip he led recently with our youth ministry. I hope it edifies and inspires you to consider participation on a mission trip in the coming year. —Mark

---
During the final week of June, I had the privilege of participating with 34 young men and women and several parents in the first of two short-term mission trips to the Dominican Republic. The team led Vacation Bible Schools, went door-to-door to share the gospel, and took part in other outreaches.
Let me share two reasons why do we do short term missions and how I believe this trip accomplished these goals.
1. To Fulfill the Great Commission
The mission of God to make disciples of all nations is the mission of his church in the world today. Jesus sends us out as the Father sent him, by his grace and for his glory. Demonstrating and sharing God's love with others is something we're made for. We are not permitted to keep the good news of the gospel to ourselves!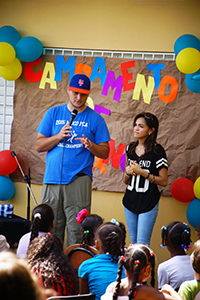 Can we serve God and others more effectively in Gaithersburg or Montgomery County? Quite possibly. But getting out of our comfort zone and working with fellow believers to reach the needy in their community often helps us see our lives at home through different eyes and better serve the people who live right next to us.

The first two days of our trip we worked with a church in San Francisco de Macorís, the country's eighth largest city. The pastor of the church wanted to do an outreach in one of the poorest neighborhoods where many children are neglected and mistreated. Chris Maresco did an amazing job leading a Vacation Bible School with skits and music and sharing the gospel. We were told to expect 200 kids, but almost 350 showed up! Needless to say, our team members were stretched as we led the children in crafts and activities. A team of four sisters from the San Francisco church (the Amarante sisters) joined us all week in leading the outreaches.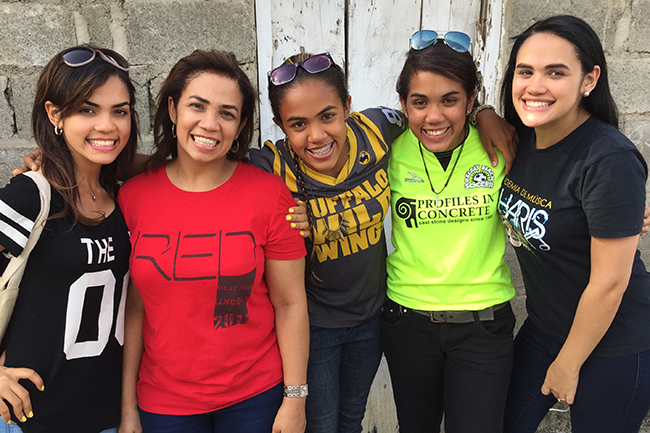 Afterwards the team participated in door-to-door evangelism in a neighborhood where several of the church members live. Translators accompanied each group of teens. That evening as we met as a team, you could sense the joy as we spoke about the fact that we were actually sharing the gospel in another nation!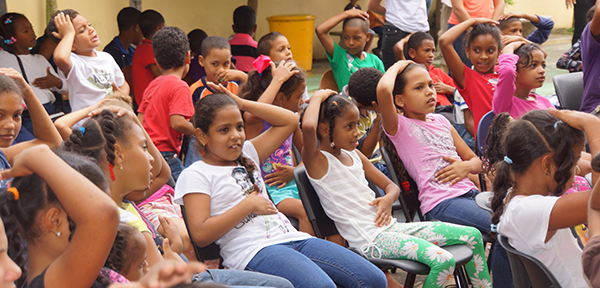 The latter part of the week we partnered with the Global Health Organization, a group of Christian medical professionals who led medical clinics with the church in Santo Domingo. We hosted VBSs for the children as they (and their parents) visited the medical clinics. Again we were told to expect around 250; this time over 450 kids attended the camp both days.
2. To Walk with God's People in Other Nations
Sometimes short-term mission teams are criticized for utilizing resources that could support long-term work and workers. Yet teams like ours work closely with local churches and mission partners in hopes of making a difference for the long term.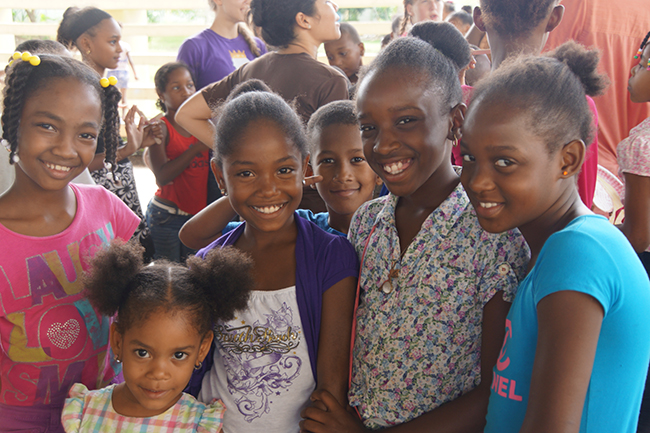 In Santo Domingo we partnered with Oasis Church along with the medical missions team they had invited. Our team was able to work alongside these global servants contributing to our shared mission. This kind of work gives us confidence that local churches in the community can harvest the seed we sow. It also enables our teenagers to gain a vision for what it is like to live and work outside of the United States. For many of our teens this was their first experience of life outside of the U.S.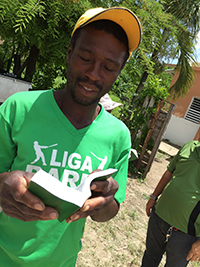 On our final day our team visited a sugar batay (plantation) tended by migrant Hatian workers living in abject poverty. We brought clothing and food donated by members of Covenant Life Church, and we worked alongside the medical clinic. Our team hosted VBSs, and did personal evangelism in the lines (giving out Creole Bibles). It was humbling realizing that unless something changes, many of these Haitian workers would be deported by the Dominican government within the next 40 days.

In the weeks before the trip, we told our team members to prepare to be stretched. You would have been proud of how hard they worked and how effectively and generously they shared the love of Christ.

Thank you for your prayers and support,
Kenneth Maresco
Share this on:
---
July 7 2015 at 1:15 pm
0 Comments
---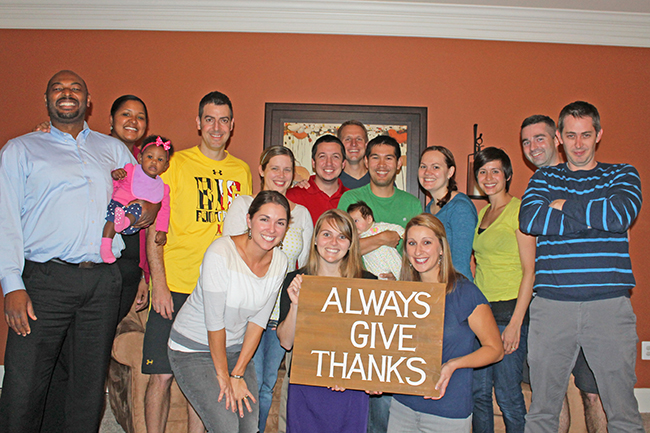 Long-time member Joe Giove sent in this encouraging testimony highlighting the long-term impact of being involved in a care group. Care groups are the backbone of our life together in community. Covenant Life members: Visit the Find a Care Group page to check out care groups that are open.
---
"I have noticed that I am most involved in the mission of the church, most consistent with my spiritual disciplines, and most on-fire and energized to live the Christian life when I am plugged into a good care group. Conversely, I am most apathetic and uninvolved when I am not."
---
I have been profoundly affected by being involved in a care group over the years, and by the many things I have been able to participate in with the group. A few of them that come to mind:
In 1998 our care group noticed that there were not as many opportunities as there should be to meet/fellowship with one another, especially to engage friends who may not be as comfortable in a church setting. So, our care group decided to plan an annual party. We called the party a "Bash" and we did it every summer. We borrowed a stage and had live music. We planned games and food and even "themes" where attendees dressed up to match the theme. It was a huge success. We had five of these parties between 1998 and 2003. I still occasionally encounter members who had their first interaction with Covenant Life through being invited to one of our Bash parties.
In 2005 our caregroup observed that our Care group Assistant was taking the bus to work so she could support her parents who were having financial difficulties. She was having a much longer commute because of the sacrifices she was making and her example of selflessness was inspiring to those in the care group. Around that time, we noted that one of the members of Covenant Life was selling their car in the Covenant Life classifieds. So, we took up a collection, bought the car and gave it to her at a caregroup meeting.
In 2006 we had a care group member who's computer died and he had no money to buy a new one. Someone else in the group knew someone in the church who had an extra one they were selling. So, we took up a collection and gave the computer to them at a care group meeting. That same year we noted there were two single mothers in the church that were having trouble making ends meet – we took up a collection and presented each with a check. We also had a care group member who wanted to re-train for a new career and had no money to do it. We took up a collection to pay for two college courses at Montgomery College to help the individual return to college.
In 2007 the members of our care group decided to bless our pastors and all chipped in money to give our two singles pastors a special gift.
In 2008 our care group had two couples relocate and finances were tight for both of them. We took up collections for them to have some extra funds to help ease their transitions to Nebraska and North Carolina.
In 2013 we had a needy member (a single mother) who was living paycheck-to-paycheck and had shown significant generosity by donating what little she had to several of her neighbors who were in need. We took up a collection which we presented to her at one of our care group meetings.
Beyond these examples, we helped countless people move, supported many missions trips and ministry events, worshipped God together, ministered and prayed for one another, studied the Bible together, and supported one another through the ups and downs of life.

I have been greatly blessed through "living life" with others in care group and see it as the "grass roots" of the church. Above all, I have noted that I am most involved in the mission of the church, most consistent with my spiritual disciplines, and most on fire and energized to live the Christian life when I am plugged into a good care group. Conversely, I am most apathetic and uninvolved when I am not. Thus, with respect to care group my position has always been: "How can you afford NOT to be a part of one?"
Covenant Life members: If you're not involved in a care group, visit the Find a Care Group page to get connected.
Share this on:
---
June 29 2015 at 12:15 pm
0 Comments
---

This past Sunday we made reference to a statement supported by many evangelical leaders in response to the recent Supreme Court decision to legalize same-sex marriage. Our quantity of hard copies disappeared pretty quickly, so we wanted to point to it here. You can download the statement or view it online.
The statement, posted by The Ethics & Religious Liberty Commission, is titled, "Here We Stand: An Evangelical Declaration on Marriage." It recommends six points of engagement by the church:
• Respect and pray for our governing authorities even as we work through the democratic process to rebuild a culture of marriage (Rom. 13:1-7);
• Teach the truth about biblical marriage in a way that brings healing to a sexually broken culture;
• Affirm the biblical mandate that all persons, including LGBT persons, are created in the image of God and deserve dignity and respect;
• Love our neighbors regardless of whatever disagreements arise as a result of conflicting beliefs about marriage;
• Live respectfully and civilly alongside those who may disagree with us for the sake of the common good;
• Cultivate a common culture of religious liberty that allows the freedom for those who live and believe differently to prosper.
The statement closes with a pledge to "...stand steadfastly, faithfully witnessing to the biblical teaching that marriage is the chief cornerstone of society, designed to unite men, women and children. We promise to proclaim and live this truth at all costs, with convictions that are communicated with kindness and love."
Share this on:
---
June 28 2015 at 3:13 pm
2 Comments
---
Each Sunday during our worship services the Holy Spirit moves on the hearts of different members to share words of encouragement with the congregation through the Ministry Mic at the front of the auditorium. To help clarify the biblical foundations for this practice and elaborate on how the Ministry Mic operates, the elders have written a paper called "Understanding the Ministry Mic."
The paper looks at:
The Purpose of Sunday Mornings
What We Believe About Spiritual Gifts
What We Believe About Prophecy
What Should the Use of Spiritual Gifts Look Like at Covenant Life Church?
Answers to Common Questions
Resources for Further Study
We hope this resource serves you and builds your faith for God's work in and through our Sunday gatherings.
Share this on:
---
June 23 2015 at 9:28 am
1 Comments
---
This school year just wrapped up, but Discovery Land, our children's ministry, is already busy preparing for the fall. The season to sign up to serve with the kids is here! Cara Wilcox gives us a joyfully honest look at serving with the 1st-5th grade class:

Just over two years ago, I received an email from Josh Cooley asking if I would consider serving as a Tree House Gang director in the 2013-2014 Discovery Land year. Tree House Gang is the student drama team that does skits to help illustrate the lesson in the first through fifth grade Adventure class each week. I was already acquainted with the responsibilities of a Tree House Gang director, which is why my immediate mental response to Josh's email was: No. Way.

Let me explain my exemplary attitude. First, I had just completed a seven-year stretch when I almost never participated in an entire church service. Because of my husband's work responsibilities here at church on Sunday mornings, and because we had four children in just over six years, I was usually either feeding a baby, strolling a baby, or trying to coax a terrified toddler to stay in his or her classroom. Serving? I'd been serving my family nonstop for a looooong time. So I was looking forward to some down time at church, some me time, some spiritual replenishment time.

Second reason for my "no way" outlook? Being a Tree House Gang director would require several hours of scriptwriting and rehearsal in addition to showing up very early on Sunday. And because of my husband's work schedule, I would need to bring my four, small, energetic children with me to rehearsals. How was I supposed to juggle parenting little ones and directing teenagers at the same time?

Oh, and speaking of teenagers, I was flat out scared of them. I had no experience with teens! I'm not cool! Would they like me? Would they listen? Lastly, if I was going to serve in Discovery Land, I wanted to be in the nursery, loving on some babies. The first through fifth grade class was huge, noisy and rambunctious. And I felt like my noisy and rambunctious quota was pretty much filled at home.

So when I got Josh's email, I felt vaguely justified in ignoring it, which is exactly what I did, all summer long. I did not reply when he sent a follow up email many weeks later, though I did start to consider it and pray. And then, late in August, in God's sense of humor, I ended up in a small room where I could not help but overhear some women who were in all innocence talking about… what else? The desperate need for Tree House Gang directors and the fact that nobody was stepping up. "Ok, Lord! I get it! I hear you! I'll obey!"

With no slight trepidation, I filled out my volunteer application and became the official Week 3 Tree House Gang director. I showed up that first weekend, wrote my script at home, rehearsed on Saturday, rehearsed again on Sunday, and oversaw the performance during class and it was love at first serve. I went home on Sunday afternoon exhausted and high as a kite. God met me with such joy in serving those children that I'm still marveling. Everything about it was fun and fulfilling for me: my team of irrepressible teens, the laughs we shared in pulling off our first skit (it involved a magic act and a dead parrot), and the first graders I led during breakout time at the end of class. Suddenly that noisy and rambunctious class of elementary kids had become a passion, and I wanted to help make the class better and better. It was a simple instance of Matthew 6:21, "For where your treasure is, there your heart will be also." I had begun to invest time and energy in Discovery Land, and where I invested, my heart quickly followed. In another year, in fact, the Lord opened a door for me to work part time planning the Adventure class breakout times.

Now is it always as glorious as that first week I served? No. We have weeks where my scripts aren't funny or actors forget their lines, weeks where I'm running late and my children are challenging, weeks where the class seems unresponsive. But when the work is dull, or the outcome seems dubious, I take heart from Paul's words in 1 Corinthians 15:58: "My beloved brothers, be steadfast, immovable, always abounding in the work of the Lord, knowing that in the Lord your labor is not in vain."

One other benefit of serving has been the relational encouragement and stability it provides. In the last five years, many of my closest friends have moved away or found other churches, and that has been difficult. Building friendships with others who serve in Discovery Land has been an anchor for me. My serving friends are not my closest relationships, but when I see their faces, I remember how we have labored and laughed together. And that makes them feel like family.

I asked to be able to share this story with you today in hope that you might be persuaded to join me. Please come serve with us in Discovery Land. We need many hands for this good work. Now maybe you're already maxed out. Maybe you have legitimate reasons not to serve. Or maybe you're like me, and God is extending his hand to you, inviting you to be part of what he is doing among our children. If so, if there's even a little stirring within, may I challenge you to act in faith? I don't promise that your experience will be just like mine, but unless you sign up, how will you ever know how God may meet you, or what good works He has prepared for you there?
Share this on:
---