March 19 2015 at 9:48 am
0 Comments
---
This post is shared courtesy of Keith Welton's blog "Everyday Truth." He shares his reflections on Scripture and other helpful topics regularly.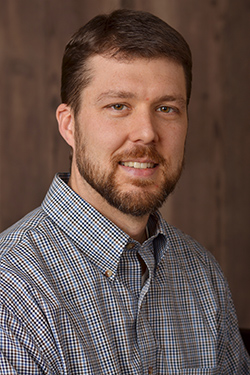 Psalm 145 is a song that rejoices in the greatness of God. It exhorts us to consider the Lord's incredible goodness and to voice our gratitude for his great works. If you are looking for a passage of Scripture to memorize, it is a great place to go. Meditating on the goodness and greatness of God can transform joyless attitudes and inspire faith where we lack it. Matthew Henry's commentary is excellent in expositing the meaning of the psalm. Here are some outstanding excerpts:
On the psalmist saying, "Everyday I will bless you and praise your name forever and ever" Henry says:
"No day must pass, though ever so busy a day, though ever so sorrowful a day, without praising God. We ought to reckon it the most needful of our daily employments, and the most delightful of our daily comforts. God is every day blessing us, doing well for us; there is therefore reason that we should be every day blessing him, speaking well of him."
The psalm mentions the Lord's greatness being unsearchable or unfathomable. Here David does not mean that we cannot know God. Clearly we can know God because he reveals himself to us, but what he means is that we will never grasp all of God's greatness. Henry says about this greatness:
"We must declare, Great is the Lord, his presence infinite, his power irresistible, his brightness insupportable, his majesty awful, his dominion boundless, and his sovereignty incontestable; and therefore there is no dispute, but great is the Lord, and, if great, then greatly to be praised, with all that is within us, to the utmost of our power, and with all the circumstances of solemnity imaginable. His greatness indeed cannot be comprehended, for it is unsearchable; who can conceive or express how great God is? But then it is so much the more to be praised. When we cannot, by searching, find the bottom, we must sit down at the brink, and adore the depth,"
And finally in conclusion of the psalm Henry astutely picks up how the concluding verse does not end the praise of God but rather encourages the continued blessing of God's great name:
"When we have said what we can, in praising God, still there is more to be said, and therefore we must not only begin our thanksgivings with this purpose, as he did (v. 1), but conclude them with it, as he does here, because we shall presently have occasion to begin again. As the end of one mercy is the beginning of another, so should the end of one thanksgiving be. While I have breath to draw, my mouth shall still speak God's praises. 2. With a call to others to do so too: Let all flesh, all mankind, bless his holy name for ever and ever."
Share this on:
---
March 17 2015 at 9:42 am
3 Comments
---

Pursuing Persians
by Almasih Kahdost
What he said caused my eyes to well up. It wasn't anything dramatic per se, but still I found tears coming to my eyes and a smile landing on my face. What he said was precipitated by a question.
"How often do you go back to visit your home country?"
He stumbled a little, calculating how best to answer. He finally said something to the effect of, "It's not really safe for me to return. You see, I'm a Christian and…"
That's when the tears came.
I almost cried because my new friend is from Iran and I have been praying for his people for years now. But my tears weren't because he can't safely return to his country. Nor were they for the fact that his relationship with his mother took a dramatic turn for the worse because of his decision to follow Jesus. While those things were indeed sad, my tears were tears of joy.
FREED FROM A REPRESSIVE REGIME
It made me immensely happy to hear that this Persian brother had escaped the oppression of an evil regime and was coming to enjoy new freedoms he'd not previously experienced. Whereas before he had been the subject of repressive tyranny, now he was out from under the thumb of his captor, free.
His story is mine. While I'm not from Iran, he and I both responded to Jesus' proclamation of freedom to the prisoners and were thereafter set free from oppression (Luke 4:18). Both he and I had been blinded by the god of this world (2 Corinthians 4:4), and were in fact following him (Ephesians 2:2). But now we're both free.
CAN'T SHARE OVER THERE
Of course, not all Persians are like my friend. Many are still in captivity to sin, lost in darkness (like anyone else outside of Christ). But what sets Persians who've moved to the States apart from your typical been-here-for-generations American is that they have had little opportunity to hear the gospel. In fact, according to the self-styled Iranian Christian News Agency, Mohabat News, Iranian president Rouhani's Advisor on Ethnic and Religious Minorities' Affairs has said that "...no one has the right to promote his or her faith…it is not acceptable, for instance, for a Christian to invite a Muslim to Christianity." (Incidentally, Iran has one of the fastest growing Christian populations in the world, albeit underground). While Advisor Younesi does say, "...everyone is free to practice his or her faith…" he seems to not grasp that inviting others to Christianity is part and parcel of practicing our faith.
WON'T SHARE OVER HERE
As believers, sharing our faith is non-negotiable and as Americans it is a privilege to be able to do it without fear of imprisonment (or worse). But many American believers won't do it. Too busy or scared or something. Yet the Persian people at our office, in our neighborhoods, or who we bump into at Starbucks are now in an environment where they can freely listen and respond to the gospel. Could it be that God has dispersed Persians to countries where evangelism is legal "...so that they would seek him and perhaps reach out for him and find him" (Acts 17:27)?
BUT I DON'T KNOW ANY PERSIANS
Of the 25,000-plus Iranian-born residents in the Baltimore/DC area, over 8,000 are in Montgomery County. Chances are you've met some, maybe even without realizing it. If you don't know any, why not change that and learn about their culture? One way to do this would be to head to Black Hill Regional Park in Germantown on April 12 for Sizdah Be-dar. (A similar event will be held at Bull Run Park in Centerville on April 5). On these days thousands of Persians will enjoy spending time with friends, families and maybe even people they've just met. (Hint: that's you!)
You can also meet some Persian folk around town AND get some really great food at the same time. Check out Caspian House of Kabob or Moby Dick, both in the Kentlands. Very warm, friendly staff and incredible food. Yekta in Rockville is wonderful as well. You can also stop by a couple of Persian stores (Caravan Deli or Potomac Gourmet) and meet folks there.
Persian's ancient culture and history has much to offer and the high value placed on hospitality is something many many western Christians could learn from. That being said, we believers have something to offer non-believing Iranians; that is Christ Jesus, who lived, died and rose again to redeem those from every nation.
"Almasih Kahdost" is a long-time friend of Covenant Life who desires to see the nations come to Christ. Though preferring to publish anonymously, Almasih Kadost welcomes your comments below.
See all the posts in this series.
Share this on:
---
March 6 2015 at 3:51 pm
1 Comments
---
Here are a few reflections from different elders on their winter retreat, February 26-28:
Kenneth Maresco: Next month Covenant Life Church will celebrate 38 years of making disciples of Jesus Christ through his glorious gospel.
This past week for the first time in those 37 + years, a group of non-staff elders, joined the staff elders for our winter retreat. What was it like?
From the first evening where the non-staff men took time to draw out the staff pastors, and ask them how the last few years have affected them, there was a sense of care, camaraderie and love that cannot be explained by anything other than a work of the Spirit.
As we tackled challenge after challenge, and as we discussed theological issues, the non-staff men brought wisdom and grace to each conversation. Numerous times I thought, "What a gift of grace these men are to our future ministry." These men have a diversity of gifts that seem to fit our church's needs. How kind of God to give us nine men who are able to teach, qualified in character and willing to serve Covenant Life Church at this time. Please thank these men if you get a chance.
I will be honest with you, the past few years have taken a toll on our pastoral team. It feels a bit cliché, but having attended these retreats for 25 years, it felt like the "cavalry had arrived." And at just the right time! What a wonderful group of men!
We had meals together and some casual time to simply talk and get to know one another better. It was both refreshing and encouraging.
Thank you for your prayers, and encouragement. God poured out his grace on our time together. Please continue to pray that we would continue to work together to fulfill our mission and complete the works God has prepared for us. (Ephesians 2:10)
---
Tim Harvey: "It was an outstanding time of worshiping together in many different forms. We worshiped God by singing and sharing Scriptures, by praying and caring for each other, by individual conversations, and by reviewing the church budget, org chart, and governing documents—all very different activities, but all carried out for God's glory and for the good of His people. The extended time we had was invaluable not only for discussing important matters in more depth than our usual meetings allow, but also for building relationships among our now expanded group of elders."
---
Jose Troche: "As a non-staff elder, I left the retreat with an increased respect and appreciation for the staff pastors and the work they do for our church, as well as a deeper desire to care for them and walk alongside them."
---
Dave Brown:"I thought the tone and pace of our time together was spot on. I thoroughly enjoyed hanging out with my brothers and appreciated our being like-hearted, like-minded yet with different gifts and personalities."
Share this on:
---
March 3 2015 at 9:51 am
2 Comments
---
As we slip and slog through the last few weeks of winter, we wanted to highlight this encouraging report from Dennis Castaneda on the good work the Every Day is Christmas ministry is doing to help the needy in our community during Christmas. We know this is a bit late, but trying to be true to the name of the ministry—we hope every day really is Christmas! I'm sure we could all use a little encouragement here in the depths of winter.
The Every Day is Christmas ministry seeks to bless single parents or families in need with resources (legal, budgeting, housing, and college info) and provide an opportunity to buy new toys (as Christmas gifts) at very low cost. Vanessa S. shares her experience attending the annual Christmas Store here at the church: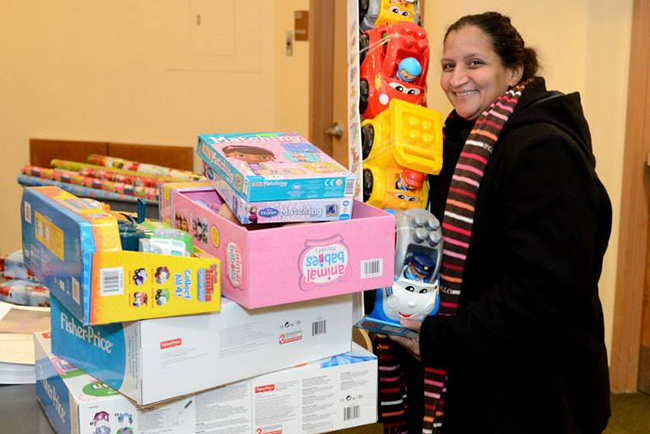 Photo by Gloria Estrada
When I first heard about Every Day is Christmas from my Sister in Christ Danielle, who attended high school with Dennis, I was excited to participate.
What attracted me to Every Day Is Christmas was the help it provides to single mothers. You see, I too am a single Mom after going through a difficult marriage which ended in divorce. That time was lonely and hard, and I struggled. I was blessed to have wonderful family and friends who helped my son and me through the storm. Every Day is Christmas is a way for me to remember that God pulled a weed from my life and gave me abundant blessings. Volunteering with this wonderful ministry makes me so happy!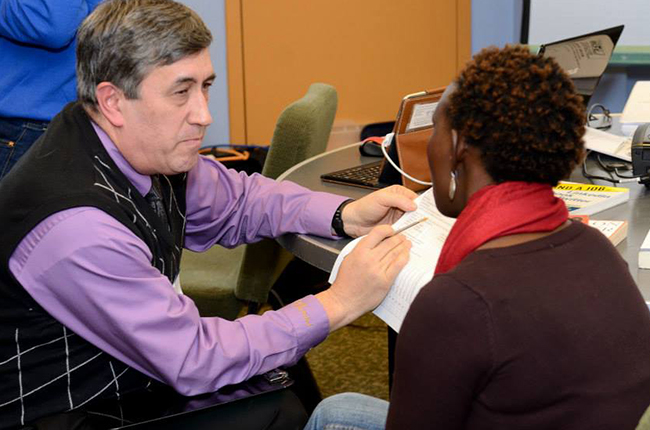 Art Shenk provides career guidance at the Christmas Store. Photo by Gloria Estrada
---
"I want to thank you from the bottom of my heart for letting my kids and I have a very special Christmas. I hope you know the impact you and your staff have created in our lives. Too often we become overwhelmed with the negative, and forget that there are still good people in this world. I hope to one day be able to give back as much as you have given my kids and me. God bless you guys."
-Iris M.
---
What a wonderful feeling it was to see the joy on the women's faces as they selected gifts. One woman said to me as I was wrapping presents that without Every Day is Christmas she didn't know what she would have done to get gifts for her children. On Saturday I saw smiles, I saw tears, I saw hugs, I gave hugs, and while the women receiving the items for their children were blessed - I was blessed even more!
It's funny, I planned to stay just a couple of hours to set up and see things get started. I ended up staying until the next to the last person came in to select their gifts. The joy was overwhelming!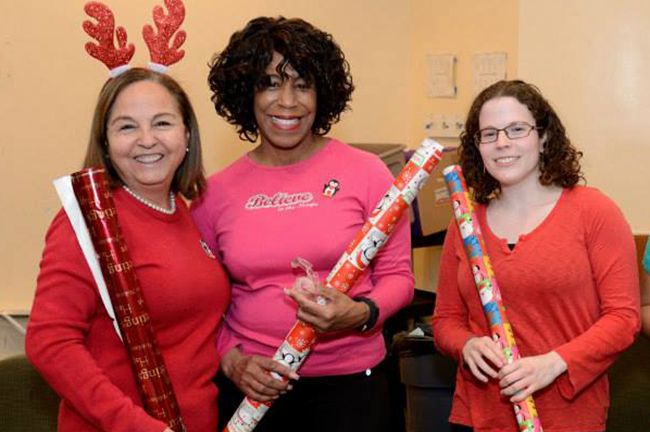 Photo by Gloria Estrada
---
"I want to say thank you so much for the time that you guys put in to bless all of us that came on Saturday and I personally was blessed, I thank God for those who volunteered their time to serve us in different ways. I thank God for those who donated, may God continue to bless all of you and meet all your needs. I am happy to say that I am ready for Christmas because of you all."
-Beth D.
---
Every Day is Christmas also helped me bless a young man named Aaron who I'm caring for though Angel Tree (a ministry which helps reach prisoners' children). I wanted to bless Aaron with not only the coat and hat his mother requested for him, but toys too! I thought purchasing the practical gift of a hat and coat was best. However after talking with some of the mothers at the Christmas store, I realized at six years old, you don't just like to get a warm coat and hat. I'd planned to go out after the event and purchase one or two toys – but with Dennis Castaneda's help I was able to get three! I am sure they will make Aaron's Christmas so much better. When you are living with your grandmother because your Mom is in prison – you need all the smiles you can get!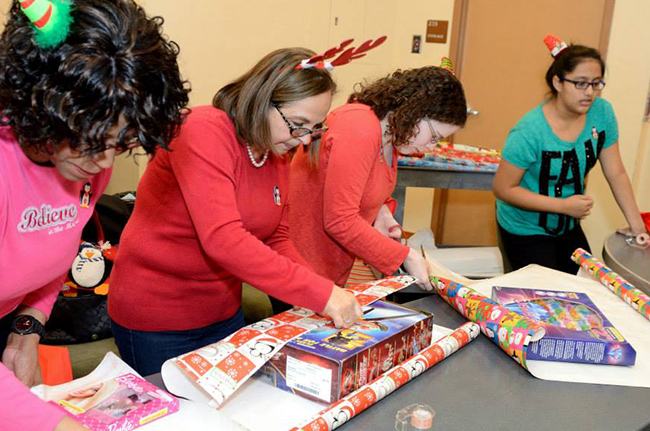 Photo by Gloria Estrada
Every Day is Christmas has a particular impact on single mothers and their children, but it touches so many other lives. Not only are the children who receive toys blessed, but also those who donate gifts and volunteer their time. I believe that Every Day is Christmas does what Jesus calls us to do—to love and give of ourselves in the strength he provides. I am so grateful to God for putting it on Dennis' heart to start and continue to lead this important ministry. —Jason Cunningham
Share this on:
---
February 23 2015 at 9:47 am
0 Comments
---
Review of Biblical Christian Ethics (David Clyde Jones)
By Robin Boisvert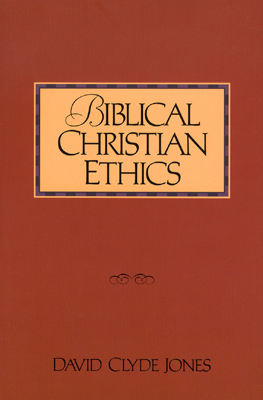 We can be grateful for our church's emphasis on the gospel of grace. It has been said that the only thing we contribute to our salvation is our sin. But once we're saved by grace does it matter how we live? It certainly does. We are not only saved by grace, but grace trains us, teaches us, instructs us.
"For the grace of God has appeared, bringing salvation for all people, training us to renounce ungodliness and worldly passions, and to live self-controlled, upright, and godly lives in the present age, waiting for our blessed hope, the appearing of the glory of our great God and Savior Jesus Christ." (emphasis added) Titus 2.11-13.
Biblical Christian Ethics is a book that covers the important area of how we live our lives in light of the gospel. David Clyde Jones does an excellent job in this brief (but not superficial) volume explaining how the Christian life is to conform to God's will revealed in the Bible.
Are you interested in knowing:
—How the 10 Commandments are relevant to our lives today
—What legalism really is (many use this word without understanding it)
—How love, grace and law work together—are they friends or enemies?
—How to think about resolving difficult moral and ethical conflicts
—How to understand and apply biblical principles to questions of divorce and remarriage
This is not a book that will tell you what to do, but a book that will teach you how to think about living the Christian life to the glory of God in the light of biblical truth. I highly recommend it.
Level of difficulty—moderate; takes some effort and generously repays it.
Read reviews of previous books of the month.
Share this on:
---
February 20 2015 at 3:52 pm
3 Comments
---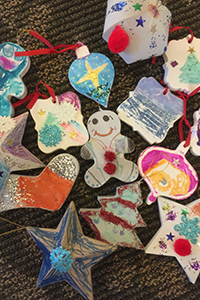 In 2013, Discovery Land changed the format some in the Adventure class (1st-5th grade) and implemented small group table time for the last 20-30 minutes of class each week. The goal was to provide the kids a more personal, hands-on time to interact with that day's lesson through questions, crafts, activities, etc.
That first year (2013-14), a team of 4-5 wonderful volunteer ladies created each week's activities midweek and implemented them on Sundays. It became clear that this was too large a load for volunteers (typically, busy moms with young kids). So we hired Cara Wilcox in October 2014 as our part-time small group planning coordinator. Since then, Cara has made me look brilliant as a hiring manager :)! She has brought fantastic enthusiasm, dedication and imagination to her role. Here are some recent examples of her creativity and outside-the-box thinking: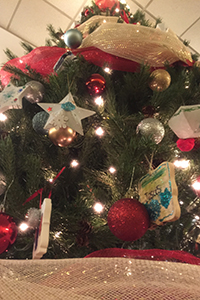 1. To supplement a lesson on being made in the image of God, we rearranged the class schedule so the kids could make thumb imprints on pliable polymer clay discs after the first teaching segment. Then we baked all the discs in the kitchen ovens to harden them while the rest of class went on, allowing the kids to take home their imprint necklaces at the end of class.

2. To supplement a lesson on creation, Cara collected dozens of nature magazines and assigned various small group tables to cut out pictures that represented the amazing variety and beauty of God's creation. Then the kids glued the pictures onto a huge collage sheet that we displayed for kids and parents the following Sunday.

3. To supplement a lesson on the Trinity, Cara had the kids make a simple, yet very effective, Trinity diagram and Trinity pyramid to help kids grasp the difficult three-in-one concept.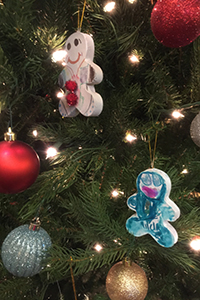 I think the 1st-5th grade class has always offered lots of fun, unique learning experiences for kids. But when I consider where the class was two years ago and where it is today (making and baking 150 polymer clay necklaces in class to illustrate "being made in God's image," I am so excited about the level of hands-on activities that the kids are enjoying to help reinforce the teaching they're hearing from God's Word! Cara, Becky Ferleman, our four once-a-month volunteers who implement Cara's plans each week (Jessica Kendal, Charlotte Deibel, Angela Patarozzi and Dienny Hooper) and many other volunteers have all done a great job in making small group activities happen each week!
—Josh Cooley
Discovery Land Director
Share this on:
---