May 4 2015 at 2:31 pm
0 Comments
---

by Almasih Kahdost

Sweat dripped down my back as I saw drapes sway in the breeze entering the gurdwara window. Given the ineffective nature of ceiling fans above, I was really hoping the breeze would make it my way, but no dice.
The occasional Sikh worshippers coming in and prostrating themselves didn't seem to mind the excessive temperature. I wondered if perhaps they were reminded of the weather in the Punjab region of northern India and eastern Pakistan, home of Sikhism, one of the youngest of the world's major religions.
ORIGINS
It was amidst this South Asian region, in 1469, a young boy was born who would become Sikhism's founder, eventually being known as Guru Nanak. Influenced by and frustrated with both Hinduism and Islam, Nanak shaped Sikhism, removing idol worship, polytheism, the caste system, gender inequality and other tenets of his day's prevailing religions.
Nanak would be the first of ten successive human gurus. (A guru is teacher who is full of knowledge). The eleventh guru, however is the Sikh holy book, called the Guru Granth Sahib. It contains the teachings and devotional hymns of the previous ten gurus, along with others.
BACK TO THE GURDWARA
Walking to the front of the gurdwara, I watched the granthi carefully uncover, open and fan the holy book, thereafter reading from it. His fanning brought some relief from the heat, but not as much as I was about to receive when he took us to a small room upstairs. Finally: AIR CONDITIONING! But it wasn't intended for visitors so much as it was for the Guru Granth Sahib; the holy book, honored and respected (not worshiped) as a living being and accommodated with sleeping quarters, food and other comforts.
Afterwards, I was taken downstairs where I was offered as much (amazing!) Indian food as my tummy could hold. Someone was manning the kitchen practically around the clock in this ever-open Sikh place of worship.
Between the prostrated worshipers, the air conditioned Guru Granth Sahib and the fantastic South Asian food and hospitality, I felt as though I was northern India. But this was in the U.S. In fact, you could probably have similar experiences at the corner of 124 and Warfield Road at the Washington Sikh Center. If you visit there for Sunday langar (a community meal) you may meet some very kind, generous people and even make a friend or two.
LIKEABLE BUT LOST
As kind as these folks are - as is true with so many in the world - they are equally lost. Sikhs agree one may potentially be united with God through meditation on his name, selfless service, living an honest lifestyle and sharing. There is a heavy emphasis on doing good.
Maybe you have Sikh friends or coworkers and don't even realize it. Although some have adopted a more western look, many of the men are still identified by a bearded face and a turban covering their uncut hair. They may also wear a silver bracelet.
If so, Tuesday, April 14 was a Sikh new years festival, Vaisakhi. Ask them about it. How did it go? What is the spiritual significance of the holiday? Ask them about their beliefs. Be a learner. You could ask specifically about the "five vices" of Sikhism (lust, anger, greed, emotional attachment, pride) and, after confessing that you've committed these, gently ask if they have. If so, ask how they will know whether or not they will be good enough to be united to God. Ask, "If there was a way to be rid of your bad deeds, would you want to know?" Tell them that Jesus has the ability to give the credit of his good deeds to his followers and remove from them their bad deeds.
WE ARE THE WORLD
In this emerging multi-cultural county of ours, the customs and dress of our new neighbors are becoming decreasingly out of the ordinary. On one hand, there is something nice about that. These folks are humans just like us. However, as we pass by their places of worship, or see long beards and turbans, may those little cues of cultural differences be a reminder: God has brought the nations nearby so we can love them with the love of Christ.
"Almasih Kahdost" is a long-time friend of Covenant Life who desires to see the nations come to Christ. Though preferring to publish anonymously, Almasih Kadost welcomes your comments below.
See all the posts in this series.
Share this on:
---
April 27 2015 at 9:50 am
0 Comments
---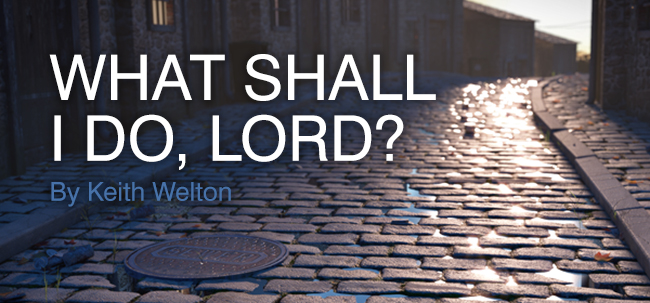 This post is shared courtesy of Keith Welton's blog "Everyday Truth." He shares his reflections on Scripture and other helpful topics regularly.
Saul had it all together. He was the religious of the religious and claimed no one was more so than he. He possessed many of the greatest privileges of his society and was schooled by the greatest teachers of his time. He probably could have been anything he wanted. He chose to be a Pharisee, a religious leader of his Jewish nation. In fact he was a Pharisee of Pharisees and was committed to persecuting the church of Christ. He had men and women Christians thrown in jail. He gave approval to the stoning of Stephen, the first Christian martyr. He was accomplishing much in his mission, until one day on the road to Damascus he was knocked off his horse by a blinding light. That's when Jesus appeared to him and said, "Saul, Saul, why do you persecute me?" (Acts 9:4). In this pivotal moment all his achievements came to an end.
Saul was no doubt a diligent and thoughtful man. He probably had everything "figured out" and had a perfect plan for life. But everything changed in an instant. When Jesus appeared it was not just Saul's plans that were brought to an end; Saul himself was brought to an end. Seeing the futility of opposing the Creator of the world, he knew his life needed realigning. This is when he uttered his life restructuring words of submission to Jesus, "What shall I do, Lord?"
The question shows the dramatic conversion Saul underwent—from refusing to serve the Lord, to attentive to his every command. This might remind you of your own conversion.
While Paul's words say something powerful about the nature of conversion, they also pertain to post-conversion. Jesus doesn't bring people to the end of themselves prior to conversion and then after conversion let them embark on a divinely mandated course without enlightenment or alteration. Jesus is in the business of revealing himself and bringing people to this point over and over again.
When we come to what might seem like an end, or even the end of ourselves, it is only an end if we don't throw our hands up in submission and faith and ask, "Lord, what shall I do?" These words were to Paul a pivotal turning point toward new life. His plans were coming to an end, but Jesus' plan was just beginning. At times we might feel as though we hit a wall, and our life is over. But Paul's words demonstrate hope and desire for a new purpose. After all, they are the words of one who has seen the Light. Don't give up. Embark on a new course with the Lord.
Share this on:
---
April 21 2015 at 12:29 pm
2 Comments
---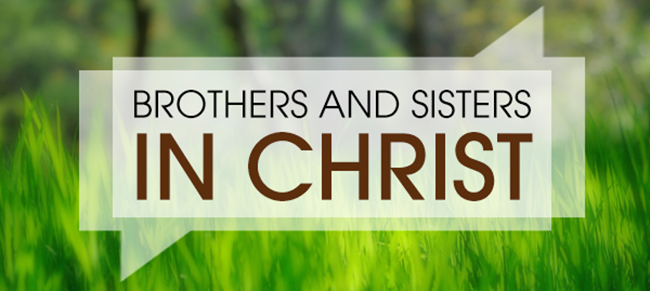 By Edith Guitilen
During the 50 Days Prayer and Fasting, I ran across this quote: "God...commands us to be re-oriented from our self-centeredness and join Him in His lavish love for others." I asked myself, how is this possible? I have trouble enough loving my own flesh and blood. This totally disoriented me, but when I regained composure God helped me.
Who are our brothers and sisters? As Christians how should we view our church family? According to Mark 3:35, "For whoever does the will of God, he is my brother and sister and mother." I would like to believe that if I die leaving a mother or sister or brother, I could (like Jesus) say to everybody, 'here is your mother or your sister.' For didn't God create us all, and isn't there only one Father of all?
Shortly after I was refelecting on this, I met a member on Sunday who laughingly said that I looked like her late mother. After the service we talked more and then decided to sit together again the next Sunday. We got to know each other better, we went out for lunch, and really enjoyed each other's company. We got to talk and pray for our families and the church, and even began to bear each others burdens. We love each other in Christ.
Though she is American and I am Asian (West meeting East), we have a wonderful bond made possible through Christ.

I encourage us all to listen to the words of Scripture and treat one another as brothers and sisters in Christ so that God's love will flow out to others.
Share this on:
---
April 6 2015 at 12:29 pm
1 Comments
---
By Corinne Glab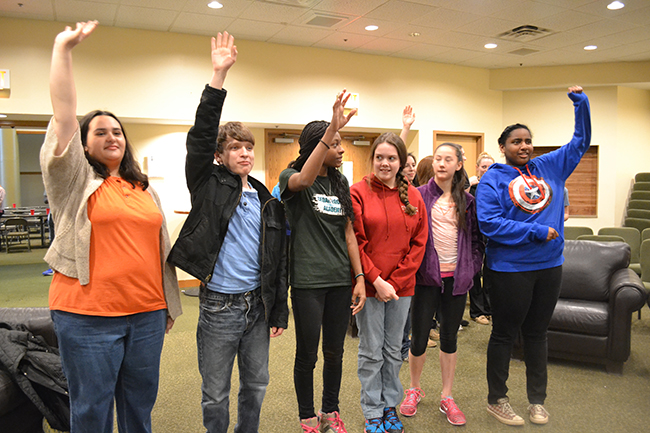 Back in January, we launched a new Wednesday night Bible Study for our 10:31 High School ministry. The goal of these weekly meetings was to study the Bible and build community together in the ministry.
During this four-week trial run we looked at different scriptures that would help us prove the validity of the Bible and understand God better. We considered questions like, "If men decided which books would be in the Bible, how can we trust it?" and "Is what we have today in the Bible what they had then?". Each week Dave Brewer and Angel Cabrera taught and provoked excellent small group discussions.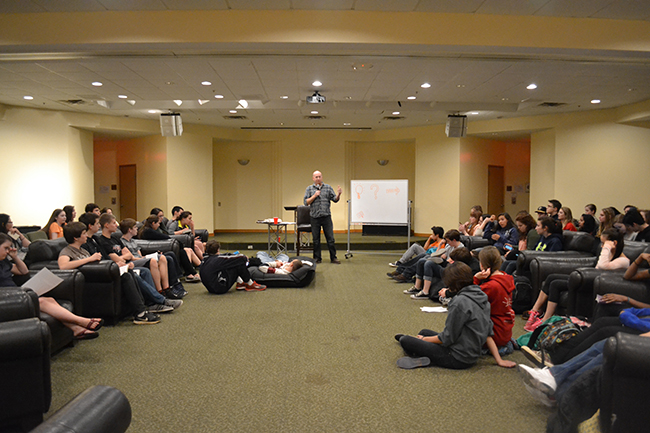 ---
"The weekly Bible studies have been a great addition to the ministry! Not only have the teens been given an opportunity to get into God's word and hear teaching on a regular basis, but we have been able to build friendships and community in the ministry and grow together."
---
We are excited by how the students are digging into these difficult questions together. Dave Brewer decided to keep the Wednesday night Bible study going and jump into studying the book of Mark. Now, each wednesday, more than 80 students are looking closely at the life of Jesus through the eyes of Mark and learning how to live like Jesus did.
In March, we also introduced our first ever weekly Middle School Youth Group meeting. Bob Buchanan, John Leach, and Chris Maresco have jumped in to lead the middle schoolers in their own study of the book of Mark.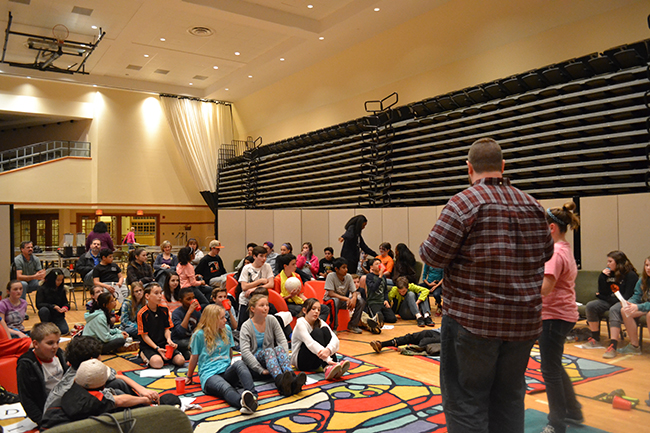 The goal for these meetings is similar to the high school meetings, study God's word and build relationships, and so far we've have seen God do that in amazing ways in our meetings. There were about 80 students that came to the first meeting and the numbers have only grown since.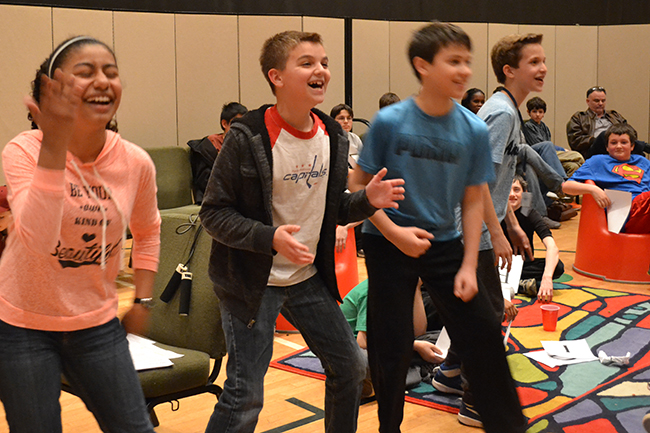 The evening starts with snacks, games and ice breakers that help the kids get to know each other better. Then the students spend time reading Mark and listening to teaching on the passage they are studying. Finally, the students break down into small groups led by 10:31 high school students who come over after their meeting to help facilitate discussion. These small groups are one of the most exciting parts of our weekly meetings for the High Schoolers and Middle Schoolers. The high schoolers are able to disciple and encourage the middle schoolers, and the middle schoolers are able to learn from the high schoolers as they study God's word together.
God is at work in the lives of the High Schoolers and Middle Schoolers at Covenant Life Church. We are excited to see how these meetings continue to grow these students, build friendships, and strengthen the Body of Christ and our church.
Share this on:
---
March 30 2015 at 1:14 pm
1 Comments
---
This story was submitted to the Every Day Is Christmas ministry to highlight Single Parents Awareness Month (March). Thanks, Lisa, for telling your story and encouraging your mother who was also a single parent.
Being the only girl of three children raised by a single mother, and eventually becoming one myself, life in a single-parent household was all I knew. I remember my mother working so hard as a waitress to provide for my brothers and me. I never knew how she was able to do it, but she always managed to provide us with three meals a day and a roof over our heads, and Christmas was always always amazing! To this day, I will never know how Mom pulled off the wonderful Christmases we had, setting traditions that continue today.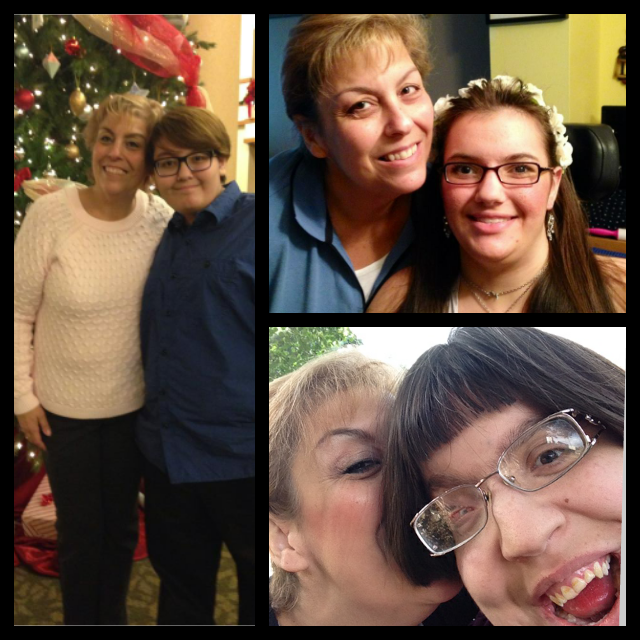 Growing up I never saw the strain that being a single parent put on my mother. I didn't notice until I was an adult in my twenties when I saw my mother go into a major depression. I remember that she never opened the curtains during the day, never got off of the couch, slept a great deal and didn't work. She would always ask me to run her errands, pick up her medicine, groceries, etc. I used to get so annoyed when she would ask me to do these things.
I don't remember her coming out of the depression until I got pregnant with my first child at the age of 25. It was as if she had something to live for again.
The next five years would be difficult to say the least. We lived with my mother; she called my oldest daughter Andi, "Gram's girl." Andi would have to see specialist after specialist, have numerous surgeries and was eventually diagnosed with brain abnormalities that would prevent her from ever being able to speak. I now had a child with severe disabilities.
When second daughter, Lea, was six months old and Andi was six, my mother was diagnosed with cancer. I took care of her during her last few months. I remember talking with her one night, and she said "Lisa, you've been a good daughter, be a good mother to your kids." She finally lost her fight on May 3, 1996.
After she died, I was totally alone. Alone raising a child with special needs and a toddler. I never forgot her words though, to always be a good mother. It was so hard at times, working, keeping a roof over our heads. Taking Andi from one doctor to another. Maintaining my sanity while Lea went through her "terrible twos." I was so alone.
On August 20, 1999 I gave birth to a beautiful daughter, Krysta. She had so much hair and was such a happy baby! So, there we were. Andi, Lea, Krysta and me trying to survive this thing called life.
When Lea got old enough to speak, she told me about an experience she had where Jesus came to her. I could never do her story justice, but as a result of her encounter she insisted we find a church. I'm not sure if you've noticed, but I never once mentioned a relationship with Christ. That's because I didn't have one and I didn't want one.
Lea was insistent. We were invited to Covenant Life Church by a member. I cried the entire service. I had never felt more unworthy in my entire life. That Sunday was a life-changing day for me.
I wanted to know more about Christ and the Word. I went to Introducing God and it was there that I gave my life to Him! My life hasn't been the same since. I have found a peace in my heart that I never knew could be had. I was content. There were still many struggles but I finally realized, I was not, and had never been alone.
I remember a friend saying to me "Lisa, there is no way you could have gone through what you've gone through without Christ." My friend was right. I was able to look back on my life and realize He was the answer to all of my questions and He was the reason I was still here!
I am still working two jobs and I am still taking care of my three wonderful children but now I know I am not alone.
Share this on:
---
March 23 2015 at 9:03 am
0 Comments
---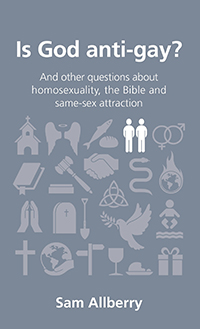 Shifts in our culture related to homosexuality have raised significant questions for Christians that are are now a part of everyday life. What do I do when someone close to me tells me they experience sam-sex attraction? How do I relate to people at my job, in my neighborhood, or in my family in a God-honoring way who are homosexual? What does the Bible really say about all this?
Once you get past the awkward title, Is God Anti-Gay? is a brief, thoroughly Biblical and practical guide to understanding Homosexuality. The author, Sam Allberry, is a British pastor and author who has experienced same-sex attraction himself and has a burden to help the church with this issue.
For more information, check out Tim Keller's review of Allberry's book, as well as another related (and recommended) book from the Gospel Coalition.
Share this on:
---