August 11 2014 at 1:23 pm
1 Comments
---
At 7:30 every Sunday morning — as plenty of folks are hitting the snooze button and the low-lying sun is still casting long shadows across dewy fields — the ceiling lights flicker on in the Events Center at Covenant Life Church. The first Discovery Land volunteer has arrived.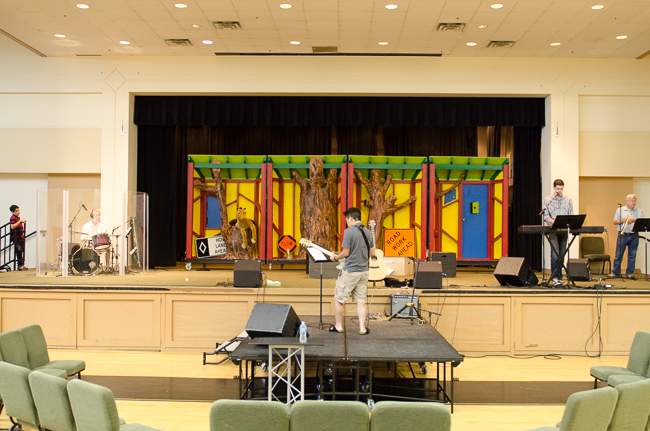 With the service still 2½ hours away, one of four monthly band leaders starts preparing for the day. Soon, the other band members join him, and the group begins preparing their equipment to lead 150 bouncy 1st-5th graders in live, loud worship music in the Adventure class later that morning. After they get in tune, lyrics, drumbeats and guitar rhythms begin to fill the air.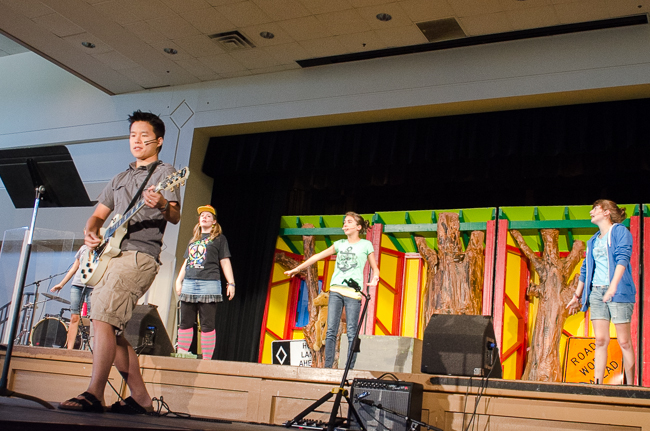 Discovery Land is the largest ministry, by far, at Covenant Life. Each week, 300-350 children ages 0 through 5th grade enter its classrooms. It takes 600-plus volunteers — roughly 150 per week — to staff the 16 childcare rooms on two floors and the many other departments within children's ministry. In military terms, a battalion of Christian soldiers is needed to effectively care for the precious little ones of Covenant Life!
And it all starts early each week — much earlier than Sunday, in fact. Midweek, there are volunteers who launder nursery smocks, purchase supplies at Sam's Club, plan lessons, select worship songs that fit the weekly teaching theme, create small group activities, write Tree House Gang scripts, direct Saturday evening Tree House Gang rehearsals, send out informative e-mails, and much more.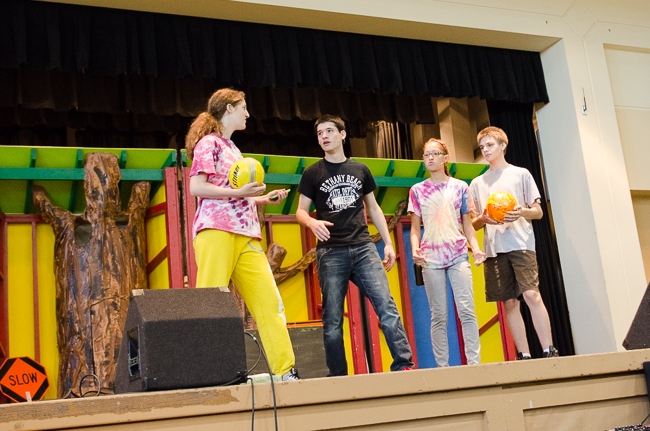 Back to Sundays … As the band sets up onstage in the Events Center, a small group of singers warms up their vocal cords in the Discovery Land office. Before long, they'll join the Adventure band to rehearse that day's four-song set.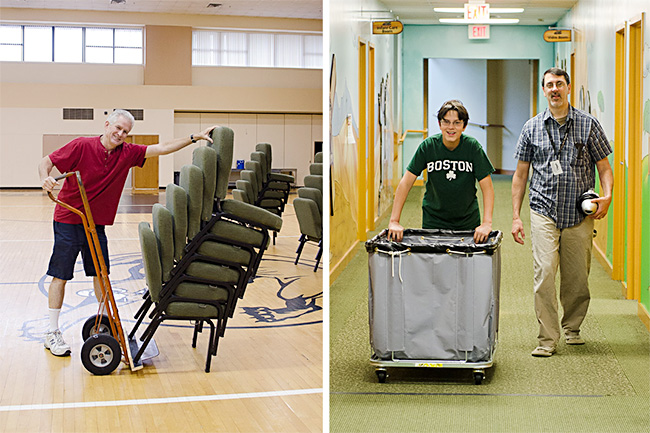 By 8 a.m., as rehearsal music echoes throughout the building, the supply team buzzes through the hallways. This amazing team of truly behind-the-scenes servants makes sure each Discovery Land classroom is stocked with all the necessary supplies — everything from diapers to saltine crackers to coloring sheets to double-A batteries for bubble-blowing machines.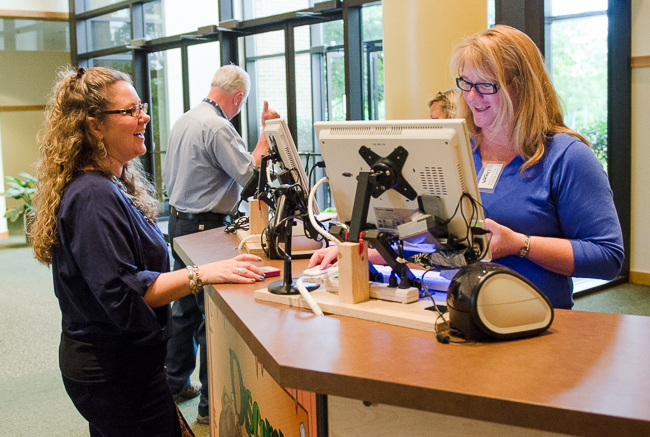 By 9 a.m., the building is really humming. The church's IT team is powering up all the automated child nametag printing stations and check-in machines. Welcome center volunteers have arrived in advance of the day's first families. And the Events Center is in full swing, with the worship team making way for a final Tree House Gang rehearsal and tech volunteers diligently keeping track of microphones, sound levels, and other audio/visual needs, etc.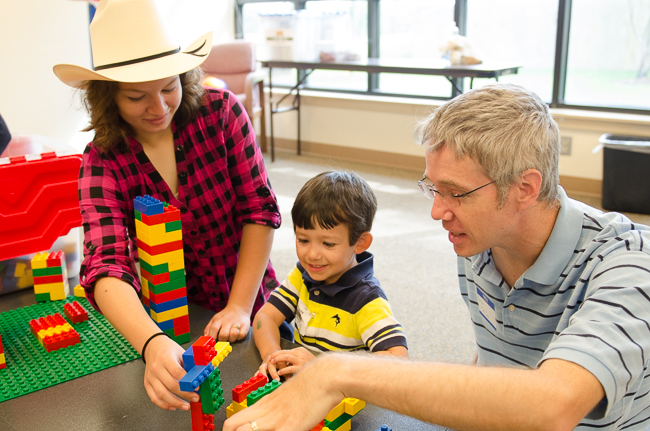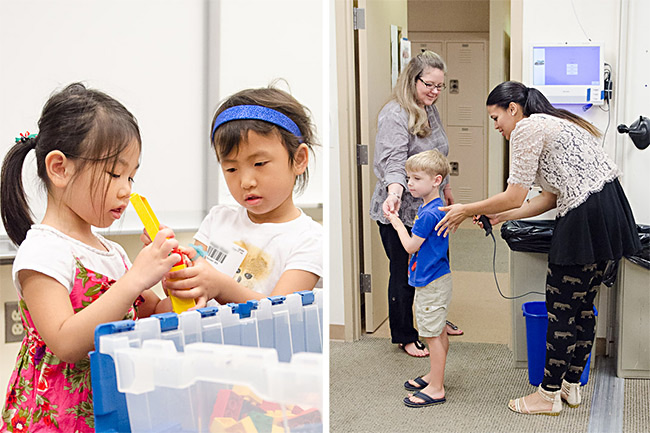 Shortly after 9:30, most volunteers have arrived. Adventure's doors are already open to accommodate the large influx of children it receives. Elsewhere, toys are being set out, baby gates are being locked in place, coordinators are meeting with their staff, last-minute preparations are being made and prayers are being lifted up all over the building for God to protect the children and let his Word be proclaimed in clear, powerful ways.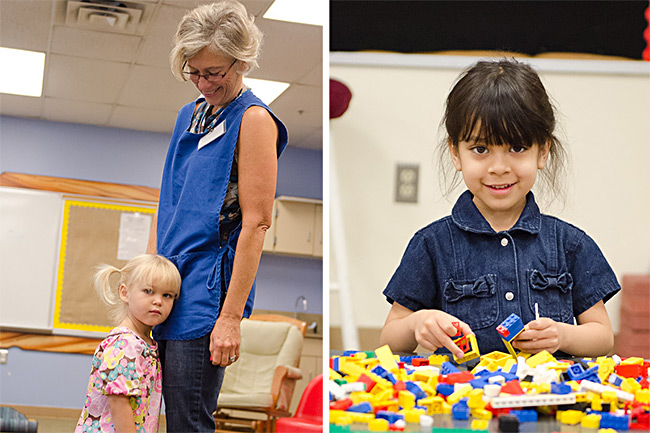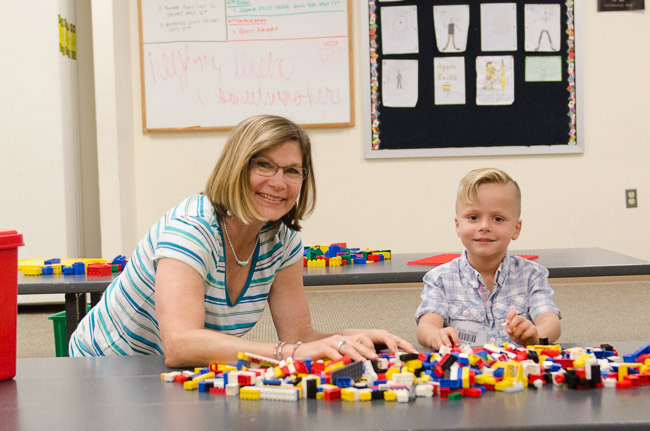 Before the very first child steps foot in class, scores of faithful servants have already been a shining example of 1 Peter 4:10-11: "As each has received a gift, use it to serve one another, as good stewards of God's varied grace: whoever speaks, as one who speaks oracles of God; whoever serves, as one who serves by the strength that God supplies—in order that in everything God may be glorified through Jesus Christ. To him belong glory and dominion forever and ever. Amen."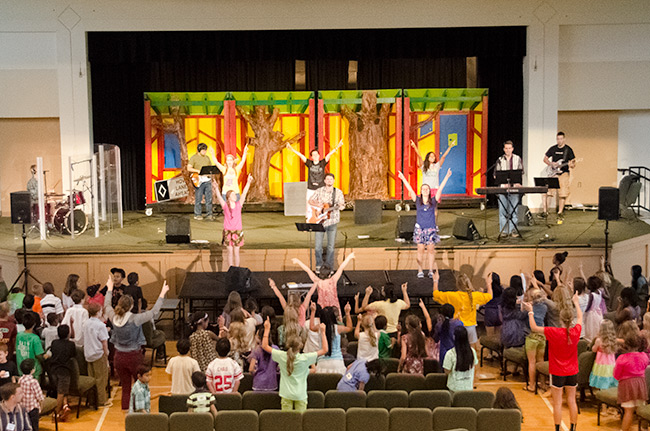 If you'd like to be part of this exciting ministry that directly affects the next generation with the life-changing gospel of Jesus Christ, please contact .(JavaScript must be enabled to view this email address) to sign up today!
Our new serving year starts Sept. 7, and we'd love for you to experience the joy that comes with serving the kids in Discovery Land.
Photo credit: Pam Wilbur
Share this on:
---
August 7 2014 at 3:22 pm
1 Comments
---

More information about the year-long, 2-A-DAY reading plan, including the readings schedule, can be found on the 2-A-DAY page.
FRIDAY, AUGUST 8 | Exodus 35 and Matthew 15
By Jessica Kendal
Lord, we lift our hands
Sometimes empty, sometimes with small offerings from willing hearts
Of gifts You've given
Or talents You've bestowed
Sometimes crying for mercy, really expecting crumbs only
From You, our Bread of Life.
And yet You have Bread for the five thousand, the four thousand, for any who ask…
Did we forget?
Because of Your compassion, the hungry are fed
the mute speak
the crippled heal
the lame walk
and the blind see.
We sing it often, but…has the astounding become cliché?
Nothing we face can deter Your powerful Love and Grace in our lives.
Nothing.
Heal our hearts, King Jesus!
Help us not seek you in vain and empty tradition,
Trying to impose "100 rules for salvation" on a broken-spirit world,
But with the faith of the Canaanite woman
The offering: a humble heart, and whatever else You ask us to give,
Faith great in Your eyes, bringing peace to our hearts,
rest for our souls
And glory to Your Name.
By Rhoda Dixon
Met by the Living God: We Respond With Worship
"And Moses quickly owed his head toward the earth and worshiped." (Exodus 34:8)
"And those in the boat worshiped him, saying, "'Truly you are the Son of God.'" (Matthew 14:32)
May we be encouraged now, by some of the ways that we see in today's text how God comes and meets His people, and why our hearts can respond in worship:
Exodus 34
1. God the Father is again giving His word and ways (v 1)
2. God has saved and set apart a people for Himself and His purposes; He reaffirms the covenant He has made with them (v 10, 27)
3. He is meeting with man, and speaking to him (v 5, v 28, 29)
4. God's continuing mercy to His people (v 6)
Matthew 14
1. God the Son's great compassion for the people (v 14, 16)
2. He gives daily provision, but it is also He who satisfies our souls, now and forever (v 20)
3. He answered Peter when he called (v 30)
4. He upholds Peter in the midst of the storm (31)
5. He calms the storm (v 32)
Dear Lord, may I consider how You came and met Your people with Your mercy, provision and grace. May the words from today's text direct my heart to respond in worship to You today.
Words from the hymn, "Praise To The Lord, The Almighty" have been a particular encouragement to me this past week, and I believe these words provide a helpful application and response for our text today:
Ponder anew, what the Almighty can do,
If with His love He befriend thee.
Praise to the Lord, O let all that is in me adore Him!
All that hath life and breath, come now with praises before Him.
Let the Amen sound from His people again,
Gladly for aye we adore Him.
Words: Joachim Neander, 1680; translated from German to English by Catherine Winkworth, 1863
Exodus 32 and Matthew 12
By Tim Harvey
"Come, make us a god…" - Exodus 32:1
"We want to see a sign from You." - Matthew 12:38
These two statements – one from the Israelites in Exodus and the other from the scribes and Pharisees in Jesus' day – are surprisingly similar. Or maybe it's not so surprising. There seems to be a fundamental human desire to have a god we can see and touch, and who does what we want when we want it. What does seem surprising, though, is how quickly both the Israelites and the Pharisees forgot what they had so recently seen. The Israelites were just 3 months out of Egypt (Ex. 19:1), and had seen firsthand the plagues and their miraculous deliverance from Egypt, the parting of the Red Sea, the pillar of fire and smoke by which God led them, and most recently God's awesome appearance in thunder and fire and smoke shortly after they arrived at Mount Sinai (Ex. 19:16-18). Yet somehow that wasn't enough – they wanted a god they could see and touch. And it wasn't enough for the Pharisees to see Jesus heal the man's withered hand (Matt. 12:13); they want a savior who would perform miracles on demand and on their terms.
How could people respond this way after having just seen such vivid manifestations of God's power? I think it's because both the Israelites and the Pharisees failed to recognize and respond in faith to what God had already revealed to them. In other words, the Israelites' idolatry didn't start with their request to Aaron in Ex. 32:1; it began in how their hearts had responded (or had failed to respond) to God's earlier revelations of Himself. Ditto for the Pharisees – their hearts were hardened against Jesus so that they failed to perceive the truths that had already been shown them, even the physical evidence of miracles done right in front of them.
I have to admit I have more in common with the Israelites and Pharisees than I would like. How often I forget that God sent His only Son to be punished for me so that I could become an heir to His kingdom, and instead I doubt His goodness and love because He isn't working out some situation as I would like it. How often I forget all the wonderful promises in His Word and instead reduce His character and goodness to just what my recent experience tells me. And maybe it's not so much forgetting, but rather that I haven't been deeply affected by these truths in the first place.
Lord, help me to return to the truths You have already shown me in Your Word, not in a superficial way as though I already know them, but as a needy person whose heart needs to be softened and pierced again by the reality of who You are.
Running to Christ To Find Rest for Your Soul
by Jose Troche
Do you feel tired, even exhausted? Maybe you have been running this race for a long time, and you feel the effects of fatigue. Maybe you know what the goal is, but no matter how much effort you are putting in, it still seems very far. Maybe you do not know where you are going, but you are still running very hard, like a hamster on a wheel, endlessly going nowhere.
Perhaps you are a single who has been rushing to find the love of your life, but the horizon looks empty and desolate. Or you are a middle age man who has been pursuing the promotion that never comes. Possibly you are a mom running here and there, juggling all those frenzied tasks, and yet the pile keeps growing without bounds. Perhaps you are a senior citizen who is fearfully and desperately trying to catch up on retirement savings and healthy habits, or wishing you had invested more time in what really matters. Or maybe you are a teenager seeking the hype that will give meaning to your life and pluck you out of senseless boredom. Maybe you are sick of your sickness, running behind physicians and medicines that promise much and yet never deliver…
What is your race? What is draining your life? What is consuming your energy? Would you stop your mad pace for a moment? Read Exodus 31 and Matthew 11. You will find refreshing, life-giving rest.
In Exodus 31:12-17, the Israelites were commanded to rest the seventh day after working six. One of the intents of this law was to provide refreshment and rest from labor. But we learn later, that this rest was pointing to a greater and more comprehensive rest that Jesus provides to those who come to Him.
In Matthew 11, we find this Jesus who gives sight to those who are blind, cleanses the lepers, and opens the ears of the deaf. He announces good news to the poor. He provides running feet to those who are lame and paralyzed. He can even raise up the dead! (11:5)
This is important. It is a life-or-death matter. The consequences will be unbearable and intolerable to those who do not pay attention and turn (11:20-24). We are all running the race of life. We all have our own objectives and goals. And, by default, we are all heading the wrong direction. We pour our souls into dashing towards our own targets, and we get tired, weary and exhausted…
Run to him who can give you rest. Run to him who can open your eyes and ears, and give you supernatural feet to run faster than ever before while you repose in Him. Go to him who can cleanse you forever and give you life. Run to him all who labor and are heavy laden, and he will give you rest. Run to Jesus and he will provide amazing, real, refreshing rest for your soul (11:28-29).
Share this on:
---
August 4 2014 at 4:32 pm
2 Comments
---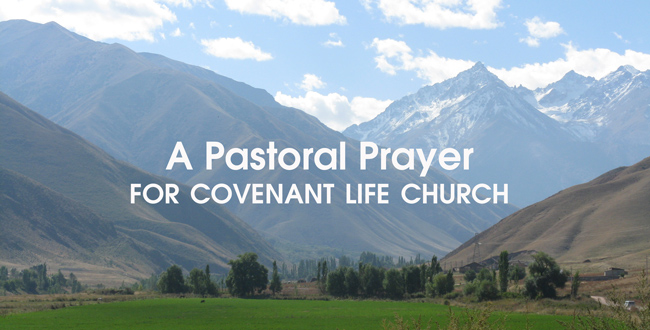 Kenneth Maresco offered this pastoral prayer during our Sunday service yesterday. Be encouraged in the Lord as you take time to read through it and agree in prayer as you go:
Heavenly Father, thank you and praise you that we can call you Father this morning. We are able to cry out to you because you are a God whose steadfast love never ceases, and your mercies are new every morning. Thank you that we are your children because of what Jesus Christ has done our behalf.

We pray this morning as an expression of our dependence on you for everything. We are dependent upon your grace, your mercy, your action—and we pray because we need you, we love you, and we want more of you in our church, in our lives, in our hearts and in our world.

Lord God, we pray that you would deepen the unity of the Spirit in Covenant Life Church. Help us to love one another.

Dear God, we pray for our church family, that we will be marked by the fruit of the Spirit and genuine love ... that we would love one another, just as you have loved us. Help us to live together in community as brothers and sisters in Christ. May our lives be different than they were before your Holy Spirit made us alive in Jesus Christ. Help us to live with one another in such a way that people will know Jesus is alive!

And today as we study the arrest and betrayal of Jesus, we are reminded of how all of our sins are a betrayal of your goodness and an affront to your holiness. We confess we have fallen short of the perfection your law requires; we have fallen short today and this week.

Thank you that, "For our sake you made him to be sin who knew no sin, so that in him we might become the righteousness of God" (2 Corinthians 5:21). Thank you for the assurance this morning that our sins are forgiven because Jesus bore them on the cross. What a costly sacrifice—thank you!

For the parents here, Lord, we pray you would encourage them as they seek to bring their children up in the discipline and instruction of the Lord. Give them strength, faith and courage. For the children, teenagers and young people, Lord, we pray you would protect them from the onslaughts of the enemy, guarding their hearts and minds in Christ Jesus, and help them to live for the glory of Jesus Christ as children of God in the midst of a twisted and crooked generation.

We pray you would help our young people to bear witness to Jesus Christ among our neighborhoods, schools, and friends, and that we would see many saved. We pray that you will bring fruit from the many outreaches this summer, and from the relationships you give us with those in our community.

Lord we pray for single parents in our community. Lord, for the men and the women seeking to raise their children without the benefit of a spouse, whether by death, divorce or any other reason, strengthen them, and fill them with joy today with the knowledge of your help. And may we be a redemptive community surrounding them with the love and care of the Lord Jesus Christ.

We pray for the two mission teams that have been sent out from among us, to Uganda and Japan … Lord, bless the men and women serving on these teams, and allow them to bear fruit in their ministries.

Lord, we pray for our brothers and sisters around the world, and in particular for those who are suffering persecution and threats. We specifically lift up the believers in Iraq this morning, and in particular those in the ancient city of Mosul. Give them courage and wisdom to resist the threats and violence being inflicted upon them. Help them to stand firm in their faith, and give them courage to resist the demand made by radical Muslims that they renounce the name of Jesus Christ. We pray you would be with them, and protect them both in life and in death.

Lord, fulfill your promise to Abraham that in his offspring all the nations of the earth will be blessed. We ask you to raise up men and women who will be willing to go to the uttermost parts of the earth, to proclaim your name where it is not known.

And finally, Lord, help us as we listen to your Word preached today … help us to hear, understand and to be changed by the gracious work of your Word and the Spirit … so that we will grow in our worship of you, our love for one another and our commitment to making disciples of the Lord Jesus Christ.
Share this on:
---
July 28 2014 at 2:48 pm
1 Comments
---

More information about the year-long, 2-A-DAY reading plan, including the readings schedule, can be found on the 2-A-DAY page.
FRIDAY, August 1 | Exodus 30
Reflection on Exodus 30
By Art & Jeannie Shenk
Today's passage contains detailed description of the Old Testament altar of incense, census tax, bronze basin, and anointing oil and incense which were all part of the holy activity of the tent of meeting, where God met with his people.
Focusing on just one of the above, the following is the significance of the altar of incense: Exodus 30:1, 6-8 —"You shall make an altar on which to burn incense; … And Aaron shall burn fragrant incense on it. Every morning when he dresses the lamps he shall burn it, and when Aaron sets up the lamps at twilight, he shall burn it, a regular incense offering before the Lord throughout your generations."
Matthew Henry comments:
30:1-10—The altar of incense represented the Son of God in his human nature, and the incense burned thereon typified his pleading for his people. The continual intercession of Christ was represented by the daily burning of incense thereon, morning and evening.
What a wonderful reminder of what not only has come true but remains true, that Jesus prays continually for us in three ways as summarized by Thomas Watson:
First, that the saints may be kept from sin (John 17:15). "I pray that thou shouldest keep them from evil." We live in the world as in a pest-house; Christ prays that his saints may not be infected with the contagious evil of the times.

Second, for his people's progress in holiness. "Sanctify them…" (John 17:17). Let them have constant supplies of the Spirit, and be anointed with fresh oil.

Third, for their glorification: "Father, I will that those which thou hast given me, be with me where I am" (John 17:24). Christ is not content till the saints are in his arms. This prayer, which he made on earth, is the copy and pattern of his prayer in heaven. What a comfort is this; when Satan is tempting, Christ is praying! This works for good.
TUESDAY, JULY 29 | Matthew 7
Caveat Lector - A Reflection on Matthew 7
By David Wilcox
In Matthew chapter 7, Jesus concludes the Sermon on the Mount with a completely unexpected twist: Simply listening to this sermon will do no good.
Had I been on the mountain with him, I'm sure I would have been quite satisfied to consume this wonderful message. What a breadth of material! Jesus covered anger, reconciliation, lust, divorce, honesty, love, pride, generosity, prayer, fasting, money, anxiety, hypocrisy, judgment and faith in just a few minutes. Not to mention the fact that the preacher was God incarnate, having just proven his power by healing every disease brought before him. And what authority in his words and manner! He was not like the other teachers of the day.
One could be quite satisfied, indeed. And quite deceived.
So Jesus concludes by confronting complacency with his story of two hearers:
Everyone then who hears these words of mine and does them will be like a wise man who built his house on the rock. And the rain fell, and the floods came, and the winds blew and beat on that house, but it did not fall, because it had been founded on the rock. Everyone who hears these words of mine and does not do them will be like a foolish man who built his house on the sand. And the rain fell, and the floods came, and the winds blew and beat against that house, and it fell, and great was the fall of it.
There were two hearers. Both heard. Only one acted.
There are two groups today.
Read. And go do.
Reflection on Exodus 27 and Matthew 6
By William Li
And you shall hang the veil from the clasps, and bring the ark of the testimony in there within the veil. And the veil shall separate for you the Holy Place from the Most Holy. —Exodus 27
But when Christ appeared as a high priest of the good things that have come then through the greater and more perfect tent (not made with hands, that is, not of this creation) he entered once for all into the holy places, not by means of the blood of goats and calves but by means of his own blood, thus securing an eternal redemption. For if the blood of goats and bulls, and the sprinkling of defiled persons with the ashes of a heifer, sanctify for the purification of the flesh, how much more will the blood of Christ, who through the eternal Spirit offered himself without blemish to God, purify our conscience from dead works to serve the living God." —Hebrews 9:11-14
When Jesus died, Matthew wrote, "At that moment the curtain of the temple was torn in two from top to bottom." The veil, which represented the separation between man and God, was torn. The Jews had always known God to be Holy, separated from sinners, and exalted in the heavens. In the past, only the high priest could enter the Holy of Holies to have fellowship with God. But in these last days He has revealed Himself to us in the person of Jesus. He did not wait for us to come to the Most Holy place. The Most Holy came to us. The veil of separation between man and God is now removed.
---
Do not lay up for yourselves treasures on earth, where moth and rust destroy and where thieves break in and steal, but lay up for yourselves treasures in heaven, where neither moth nor rust destroys and where thieves do not break in and steal. For where your treasure is, there your heart will be also." … "No one can serve two masters, for either he will hate the one and love the other, or he will be devoted to the one and despise the other. You cannot serve God and money. —Matthew 6:19-21;24
When Jesus describes treasure our natural inclination is to think of money. For many that is the case. However, Jesus connotes a greater meaning. Our 'treasure' is described as where our heart is.
Jesus calls us to examine the longings of our heart and the yearnings of our soul. That one thing we think is more important than anything else; that is what we must lay at His feet. He will accept nothing less. We trade the ephemeral for the eternal, the dead things of man for the living things of God.
He asks for that which a philosopher may often seek in vain at the hands of his friends, or a father of his children, or a bride of her spouse, or a man of his brother. He asks for the human heart; He will have it entirely to Himself. He demands it unconditionally; and forthwith His demand is granted. Wonderful! In defiance of time and space, the soul of man, with all its powers and faculties, becomes an annexation to the empire of Christ. All who sincerely believe in Him, experience that remarkable, supernatural love toward Him. —Napoleon Bonaparte
Share this on:
---
July 28 2014 at 6:02 am
1 Comments
---
Todd Keeler headed up the Local Missions Youth Outreach this past week and shared this with the church on Sunday:
This past week, we took a mission trip to Gaithersburg, Maryland.

THANK YOU SO MUCH for all of you who have been praying for us throughout the week! We could definitely tell that people were praying! Over 100 youth and adults reached out to four different neighborhoods within a 10-minute drive of the church. We were together from 8 a.m. to 8 p.m. everyday, praying, planning, studying God's Word, sharing meals, and providing a free Christian day camp in each of the neighborhoods—Laytonia (right across the street from the church), South Lake Elementary School, and a park in between Washington Square and Emory Grove.

In each location, we called the camp "JOY Camp" (for JESUS–OTHERS–YOU) to emphasize that true joy is found when we put Jesus first and others before yourself.

These camps offer a variety of activities including skits, singing, games, crafts, Scripture memory, and a short Bible lesson followed by an opportunity to discuss the lesson in small groups or one on one. During these discussions, which we often call "partner time", our young people had many opportunities to answer questions, show the love of Christ in a personal way, share the gospel, and even begin to disciple some of the kids who have made commitments to Christ in previous years.
This is our fifth summer doing this, and each year we have a theme for the week. Last year it was "The story of the Bible"; this year it was "Heaven". We have shirts designed with five questions and the Scriptures that answer the questions, one question for each of the five days of JOY Camp. So on Monday, we asked, "What is it?" (What is heaven?) The next question was "Who gets to go?" Then, "What do you do there?" "How do you get ready to go?" and finally, "Are you going?"

This gave us an opportunity to share the gospel multiple times while explaining how awesome heaven will be, making sure the kids know that it will be the exact opposite of boring.

In spite of and through our weakness, God used this ministry team to share the love and truth of Christ with over 150 children in all. In our final meeting on Friday night, we gave our young people an opportunity to share how they had seen God at work throughout the week. It was so exciting to hear all of the stories of how lives had been impacted … a lot happened in one week!

However, our desire is that this ministry will NOT be just one week out of the year. We want to find ways to continue to cultivate these relationships that God has given us so we can continue the work of making disciples of Jesus Christ.

Please be praying for God's will for all of us as we take Christ into our community. Also, please prayerfully consider how you can be part of reaching out to these neighborhoods. There are many ways you can be involved:

• consistently praying
• volunteering weekly during the school year at a homework club
• helping us lead additional one-day versions of JOY Camp every month or so
• mentoring in schools
• teaching English as a second language
• fulfilling a BIG need for administrative support to organize and coordinate these initiatives

One mom even started a Bible study with one of the camper's moms she met at a cookout we had in one of the neighborhoods.

And there are many other ministries that Covenant Life members are involved with to spread the gospel locally. If you are looking for a way to put your faith into action, stop by the LINK table in the lobby one Sunday after church and explain how you would like to offer your time, or e-mail .(JavaScript must be enabled to view this email address).
Here are the dates and times of a few of the upcoming one-day JOY Camps:
• Wednesday, August 9: Washington Square Park - 2 p.m.
• Saturday, August 23: Laytonia 10 a.m. - 1 p.m.
• Saturday, August 23: South Lake Elem. - 10:30 a.m. - noon
Finally, please check out the daily JOY Camp updates for more details and pictures from this past week.
Photo credit: Andi Alonso
Share this on:
---
July 25 2014 at 8:15 am
1 Comments
---
JOY CAMP - FRIDAY, JULY 25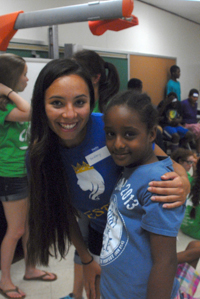 Today we concluded an extremely full week of Joy Camp. Every day our volunteers spent 12 hours planning skits, studying Revelations 1-3 as a group, enjoying fellowship with one another, prepping lessons and games, and serving the kids in neighboring communities. Even though some days this week called for rain, God kept the weather nice and sunny for us.
The lesson today asked the question, "Are you going?" In all of our sites the good conversations continued, and tonight we took time as a group to recount stories of how God worked this week.
Washington Square
• One of our volunteers was not feeling well and sat down. During the prayer before the cookout, she felt tiny hands on her shoulders. When the prayer was over she expected to see one of the girls she had on "one-on-one" time with. Instead, it was one of the little boys. This was particularly encouraging because this boy was having trouble getting along on other days at camp.
• Overall, there were reports of our volunteers having a genuine love for all of the kids. This was not just evident at Washington Square, but at all of our sites. None of our youth was trying to gain attention, but had soft, caring hearts. Because they trusted in the Lord, that led to being relaxed and being able to love the kids.
Emory Grove
• One girl camper was shy at the beginning of camp. During the middle of the week she went up to our volunteers saying, "I want you to be my one-on-one partner!" By the end of the week she was doing the hand motions to the memory verses and participating in the camp enthusiastically.
• Yesterday, one of our adult volunteers was the last to leave the cookout. As she was leaving she got cut off. It ended up being a family from the community. The mom got out of the car and made sure that they got our contact information. "We need to keep in touch with you guys," she said. There were several conversations with parents talking about how "there is something different" about our kids. They don't just do their own thing and talk to themselves, but they really make an effort to really reach out to the kids.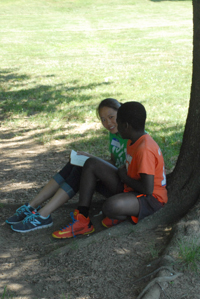 Laytonia
• There was a 4-year-old camper who at the beginning didn't seem to be understanding and was very fidgety. Today, when everyone else was getting ready for game time, he turned to his one-on-one partner and said, "Why don't we just sit down right here and talk about Jesus?"
• An 11-year-old girl camper expressed to one of our volunteers that she enjoyed any skit he was in because he was so happy, and that there wasn't a lot of happiness in her family. Seeing how happy the volunteers were made her realize that there is still happiness in the world. Later she asked Jesus to be her Lord and Savior!

South Lake

• By week's end, one boy camper who was very shy on Monday was running down the sidewalks when our team was pulling into the Elementary School exclaiming, "They're here! They're here!"
• Another girl came up to one of our volunteers and said that she saw on the flyer that Joy Camp was for ages 7-14. "I turn 15 next year," she said. "What happens next year when I turn 15?!" She then tried to convince the site leader that they needed to extend the ages from 7-21 or older.

Joy Camp could not have happened without your prayers! Let's continue to pray for our neighbors close by the church.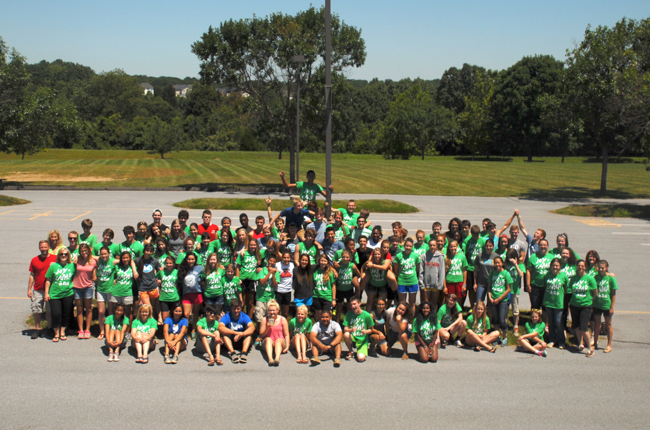 JOY CAMP - THURSDAY, JULY 24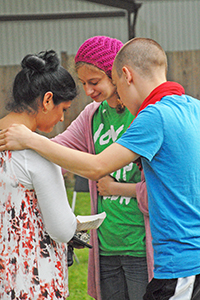 Day 4 of Joy Camp is complete! God has given us all super natural strength to get through the week, and His light is shining through us.
Today we talked about how we get ready to go to heaven. In 2 Peter 3:9 it says that the Lord is not slow to fulfill his promise, but is patient toward us. He does not wish that anyone should perish, but that all should repent and believe. In order to get ready for heaven we are called to live lives of holiness and godliness, hastening the coming of God. This includes no longer living selfishly for ourselves, waiting for heaven, and believing in God's promises.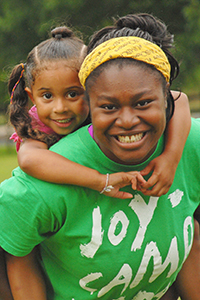 Tonight our sites all had community cookouts. This is not only a time for our volunteers to continue developing friendships with the campers, but it also gives us a chance to reach out to the communities around our church. Many parents of our youth came out for this cookout as well, and it was encouraging to see the conversations between the parents and the adults in the community. A few of our youth at Laytonia were even able to reconnect with a parent tonight, and she really opened up about her struggles. This allowed them to pray for her and her family to know the peace and love of God.
Tomorrow is our last day! We will be talking about Philippians 3 and if we are going to heaven. Please continue to pray that hearts would be softened and open to receive the gospel.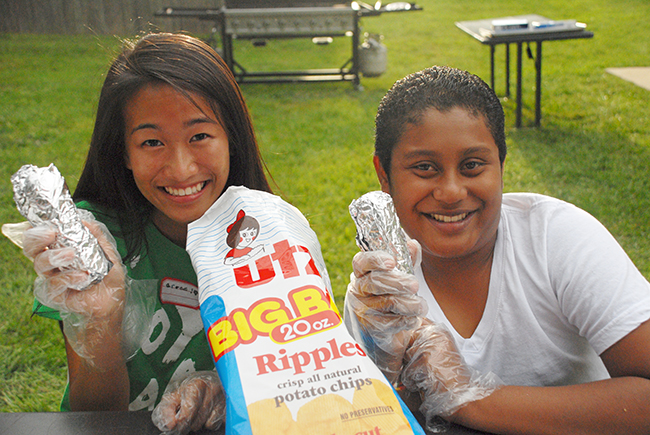 JOY CAMP - WEDNESDAY, JULY 23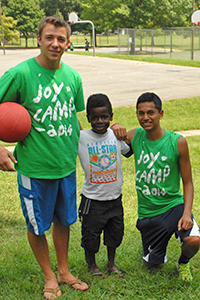 We are halfway through our week at Joy Camp. Exhaustion is starting to set in, but God has continued to give us strength and there are still great things going on at our sites. Thank you so much for praying for us these past few days!
Today, we talked about what exactly we do once we get to heaven. We have learned that we are God's children. In Revelation 22:3 we find out that God's servants will worship Him. We also learn that God's people will have fun helping God to run His kingdom.
In addition to learning more about heaven through skits, songs, and a short lesson, the kids enjoyed making sponge stars and participating in water games. This was quite wonderful with the weather being so hot today.
Here are a few updates on how our sites are doing:
South Lake
• Many of the kids at this site are feeling so cared for by our youth. The relationships are continuing to develop, and the kids' understanding level is increasing. They were even asking specific questions about the memory verse for the day.
• There were some older guys who came yesterday to camp who also came today and were really engaged in the games and throughout the time at camp.
• We had at least 30 campers join us today! Such an answer to prayer!
Washington Square
• There is one boy who is very close to accepting Jesus as His Savior. Continue to pray for Him and the rest of the campers that their hearts will be softened to the gospel.
Emory Grove
• One of our volunteers talked with a girl age 5 or 6 about what she thought heaven was like, which led to a conversation about the Garden of Eden. It was encouraging to hear how she eagerly engaged with these biblical stories at such a young age.
Laytonia
• One 13-year-old boy who only speaks Spanish and was apprehensive about joining camp on Monday. One of his friends was telling him about camp and how much fun it was, but this boy told him, "Why would I go to a camp if I can't understand it?" One of our volunteers speaks both Spanish and English and has been able to reach out to this boy. Now he is enjoying himself and participating in the games and activities. This boy has been in the United States for only a month, so it is exciting that we get to play a part and make a difference in his first few days here.
God has been doing wonderful things this week. Continue to pray that they will continue! Tomorrow we are talking about how we get ready to go to heaven. We are also having our traditional cookout at our sites. This is not only a time for our youth and the kids to have fun, but also a time to reach out to the families in the community. Thanks for your prayers!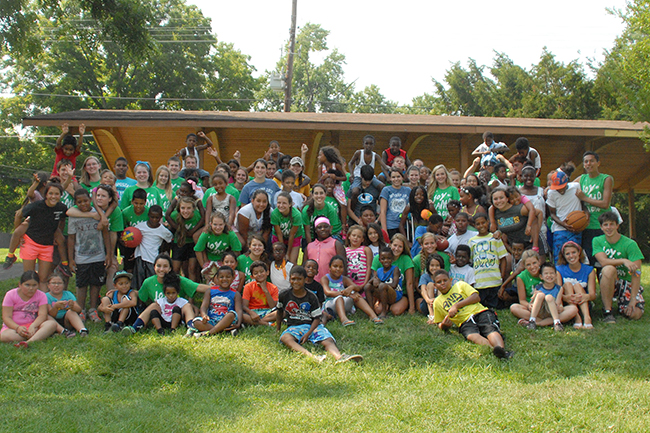 JOY CAMP - TUESDAY, JULY 22
After breakfast this morning, our volunteers started off the day worshiping God and spending time in His Word. By 10 a.m. our teams were at their sites serving in their neighborhoods.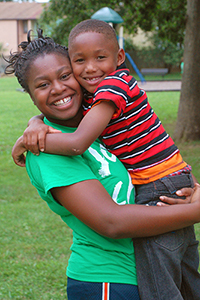 Today, we talked about who gets to go to heaven. We used John 14 to find out that Jesus is going to prepare a place for those who believe in God. How do we know the way to get to heaven? Jesus has said that only He is the way, and the truth, and the life. No one comes to the Father except through Him (vs 6). Overall, in all of the sites, the kids are understanding more and asking many deep questions. They are not just repeating back the "right answers" but actually know the answers and want to know more.
Here are a few highlights from the different sites:
Emory Grove
• It has been encouraging to see how the skits are helping to apply the lesson. Kids are really engaged in the skits and can tell you the main point of the skits.

• The older guys who were distant yesterday, were more engaged, understood more of the lesson, and wanted to know more about Jesus. This is such an answer to prayer!
Washington Square
• There was a girl camper who had surgery today, and some of our volunteers went to go check on her. She was sitting on the porch waiting for her parents to get back from the store. When her parents got home she begged them to let her go to camp. Even though her leg was in a cast and she had just had surgery she was excited to be at Joy Camp.

• There was another boy camper who expressed concerns about being afraid of dying. Our volunteers were able to talk with him about heaven and that if you put your faith in Jesus you can live eternally with Him. He wasn't sure if he wanted to go to heaven because he wasn't sure if his family or friends would be there. Through more conversations he volunteered that he wanted to follow Jesus. Because he heard of Jesus' death in his place to take his sin, he deeply expressed a desire to repent of his sin and accept Jesus as his Savior.
Laytonia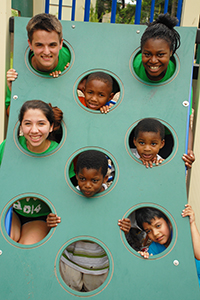 • At each site the teams do "one-on-one" time, where campers break up with our volunteers to have deeper conversations about the lesson. A 5-year-old girl camper was asked "How do you think you get to heaven?" Her response was certain, as certain as a 5-year-old can get. "Well, you go to a hospital. Then the people at the hospital call God, and then God comes and picks you up." She may not have this all straight, but it is exciting to see such conversations happening at such a young age!

• A 7-year-old girl camper during "one-on-one" time shared that to get to heaven you have to believe that Jesus saved you, and also do good works to please the universe. Our volunteer was able to sit down and talk with her and told her that it's not about what you do to get to heaven and that our works don't get us to heaven. The girl asked deep questions about it, which is encouraging because she wouldn't have done that in past years.

• There are a lot of Spanish-speaking families in this neighborhood. One of our volunteers noticed that there was an adult in the corner who was keeping to herself, pushing a small child on the swings. Our volunteer reached out to her and had a conversation with her in Spanish. When she heard her native language being spoken her face lit up. All the different generations are being reached in this community. Praise God!
South Lake
• Yesterday we did not have as many campers as we normally have in past years. But today we had 23 kids! Not only did the kids from yesterday come back, but they also brought friends!

• There was a girl camper whose friends were giving her a hard time about going to Joy Camp. But she stood up to them and said that she really enjoyed coming to Joy Camp and that it was fun.
The past two days have been exciting and exhausting. But God has been doing so many wonderful things in the past 48 hours. Our youth have been stretched and are willing to go where the people are, getting out of their comfort zones, and are reaching out. Please continue to pray for us and that more kids will respond to the Gospel.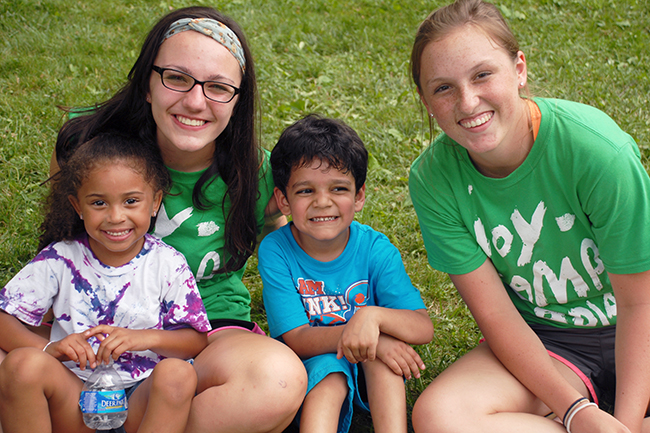 JOY CAMP - MONDAY, JULY 21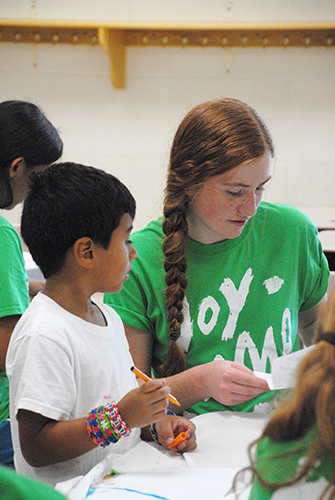 This week started a full week of youth local missions. We have over 100 youth and adult volunteers reaching out to four different neighborhoods in a 10 mile radius of the church. Our teams are spread out in the Washington Square, Laytonia, Emory Grove, and South Lake Elementary School neighborhoods. Every day each location does a variety of activities including skits, singing, a short lesson and a craft.
The theme for this week is heaven. Today we took time to discuss what heaven actually is. Using Revelation 21 as our text, we found out that heaven is a place where God will dwell with man and they will be his people. Heaven is also a happy place. God will wipe away every tear, and death shall be no more. There will not be any mourning or crying or pain.
At most of the sites we had over 30 kids, many of whom have attended Joy Camp before. And we expect more kids to come tomorrow and throughout the week. All of the youth were very eager to participate and were always busy doing something. Many of the kids who have attended camp before recall the friendships they have made and were excited to see our youth. Some expressed to our youth how it was evident that they really love Jesus.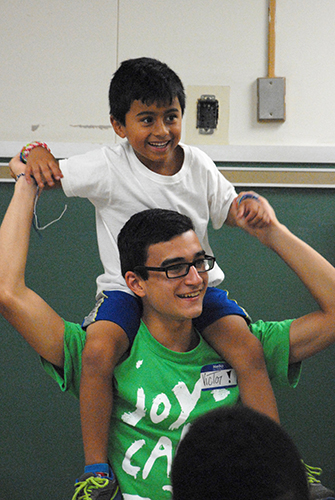 At every site many kids remembered information from previous years about Jesus, God, and the basics of the gospel. Throughout the afternoon many good conversations were happening between the campers and our youth. The campers are asking great questions, and this shows that they are engaged in the lesson and want to go deeper into Scripture.
As we continue the week we would still love your prayers:
Washington Square
• Pray for a girl who gave her life to God a few years ago, that our youth who interact with her will be able to effectively communicate the gospel and encourage her faith in the midst of obstacles.
Laytonia
• Kids were asking many excellent questions after the lesson, including questions about what heaven is and what hell is. Pray that they would continue to understand the message, and that our youth will be able to have fruitful conversations with these kids.
• Pray for strength in the heat. Laytonia is one of our sites that is outside for the whole time. Pray that our youth will stay hydrated.
Emory Grove
• Pray for our youth that they will be able to know how to talk to the kids about Jesus. Pray that it would be an easy transition from common conversations to conversations about the gospel.
• There are several older boy campers at this site who are not very interested in camp. There are not as many older boys from our group at the site who can reach out to them. Pray that their hearts will be open and that they would be interested in learning more about Jesus.
South Lake
• Pray for more campers!! Word about camp was not advertised a lot, so today there were 18 kids who participated. Pray that the flyers passed out would produce an increase in campers. • Pray that the campers would be more comfortable and be engaged in the lesson
It is evident that God has already blessed our first day of camp. In general, continue to pray that God will pour out His blessing on our week. Pray that the campers will be responsive to what we are sharing and that lives would be changed this week.
"To the praise of Your Glory, To the praise of Your mercy and grace. To the praise of Your glory, You are the God who saves!" (Come Praise and Glorify, Sovereign Grace Music)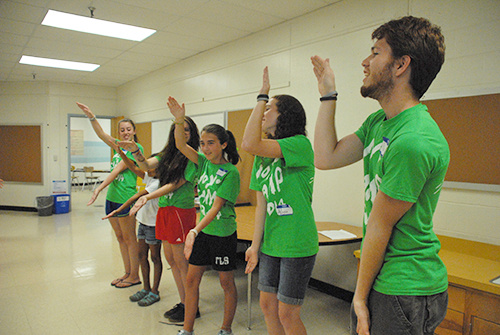 Share this on:
---