January 11 2016 at 9:32 am
0 Comments
---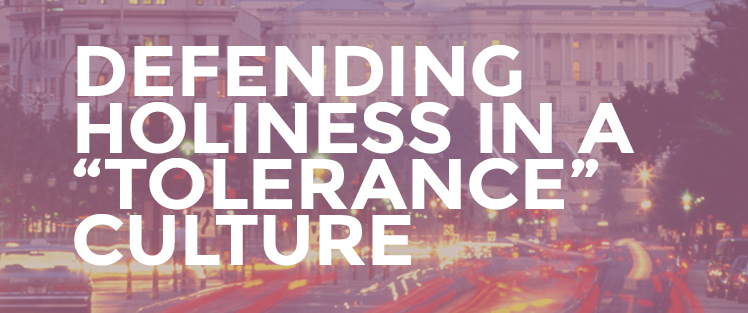 We always want to know the right thing to do in a situation, and yet it can be hard to determine and even harder to articulate a position. People frequently over simplify situations and think more of one thing is needed, and more of that thing is always better. This can wrongly flatten situations and cause problems. Aristotle had a "doctrine of the mean" that is helpful on issues like this, and J. Budziszewski explains the idea in his book Written on the Heart.
He says human actions can go in opposite ways like this:
Cowardice --------------- Courage
Stinginess ---------------- Generousity
Grouchiness ------------- Friendliness
Boorishness -------------- Wittiness
This common belief implies that as long as one is extreme in the right direction, being extreme is always commendable. But actually the paths come not in pairs but in triples, and the vices are usually in pairs on opposite sides of the virtue. It look more like this:
Cowardice --------------- Courage --------------- Rashness
Stinginess ---------------- Generousity ---------- Extravagance
Grouchiness ------------- Friendliness ----------- Obsequiousness
Boorishness -------------- Wittiness -------------- Buffoonery
One of the most common ways we see this extreme in our day is in the esteem of tolerance. People think the more tolerance the better. The current view is:
Intolerance --------------- Tolerance
In actuality the doctrine of the mean helps us see the real virtue and the real vices are more like this:
Narrowminded Repressiveness -------- Tolerance -------- Soft-Headed Indulgence
Christians are frequently labeled as intolerant because they do not believe every action should be permissible. They reject the soft-headed indulgence that says "do whatever makes you happy" and are labeled as narrow-minded. The doctrine of the mean shows narrow-mindedness is not what we are about. And by showing others the foolish scenarios that soft-headed indulgence lead to, we can demonstrate our shared quest for a balanced tolerance.

Next time you are stuck in a decision or trying to decide what is right and wrong consider if you have diagnosed the extremes accurately. Once you have done that consider what the real virtue is. And when looking for guidance on what is extreme, consult the Bible, because "the man who fears God will avoid both extremes" (Ecc 7:18).
This post is shared courtesy of Keith Welton's blog "Everyday Truth." He shares his reflections on Scripture and other helpful topics there regularly.
Share this on:
---
December 23 2015 at 4:45 pm
1 Comments
---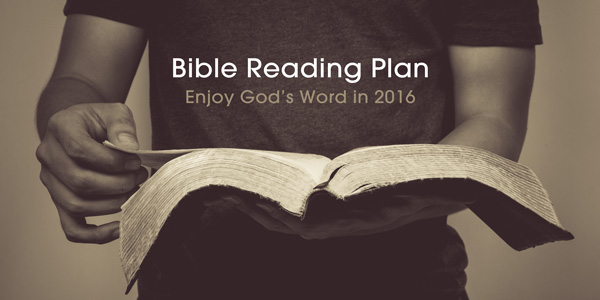 A Defined Schedule
As we like to share each year around this time, Scripture reading—the steady intake of God's Word—is pivotal to the stability and growth of every Christian. Reading the Bible according to a defined schedule is an option that helps many people. Like the physical necessities of our lives, spiritual needs require a proactive plan. As John Piper has said, "Nothing but the simplest impulses gets accomplished without some forethought which we call a plan."
For 2016, we will be highlighting the M'Cheyne One-Year Reading Plan available at esvbible.org, The Gospel Coalition and elsewhere. The plan's author is Robert Murray M'Cheyne, an early 19th century pastor and preacher in Scotland. More about M'Cheyne here.
Devotionals by D.A. Carson
To complement use of the M'Cheyne plan, D.A. Carson has penned two devotional volumes called "For the Love of God" with daily meditations on the readings. Both books are available as PDFs (vol. 1 and vol. 2), in our church bookstore, and at Amazon (vol. 1 and vol. 2). Carson suggests tackling two of the four M'Cheyne readings each day, which will take you through the New Testament and Psalms in a year and the Old Testament in two years.
The Readings
We have published the list of 2016 readings as a PDF. They are what M'Cheyne called the "Family" readings. You'll also find the list of readings for the week each Sunday in our bulletin (The Weekly).
—Don Nalle
Share this on:
---
December 21 2015 at 10:03 am
5 Comments
---

Atheistic Assumptions
by Almasih Kahdost
Thomas Mapother was born in Syracuse, New York, to a special ed teacher and an engineer. His family moved around so much that in 14 years, he attended 15 different schools. Perhaps it was his lack of roots combined with the socio-psychological effects of being abused and bullied by his father that led his classmates to vote him "least likely to succeed" and for him to ultimately change his name.
On the other hand, maybe he changed his name because "Thomas Mapother" is less catchy than his current moniker, "Tom Cruise."
His friends from back in the day must have been surprised to see the success (worldly, I know) that met this larger-than-life, Hollywood personality. Apparently, they never saw it coming.
WHO WOULD HAVE THOUGHT
We too can be like Cruise's childhood buddies. We look at our perception of a person today and assume, first, that our judgement is accurate and, second, that their current character is necessarily representative of their future character. We can make atheistic assumptions, acting as though God is absent from the equation.
In your heart of hearts, who do you nominate to be "least likely to follow Christ"? Who in your social network wins this prestigious award? Is it the guy three cubicles down with the long beard, no mustache and skull cap who tells you, "my friend, your Bible is corrupt"? Or maybe it's the lady at the sweets shop with small effigies of the Hindu gods Ganesh and Lakshmi on the counter. She's always doing puja and telling you,
"Yes, Jesus is God. One of many."
I've got to think that the name "Saul of Tarsus" probably appeared on this "least likely to follow Christ" list for some of the early believers. He was very much into his brand of Judaism and certainly had much to lose by giving it up. Approving of the death of believers and throwing them into prison also probably helped award him this infamous superlative in the minds of many.
Yet, God intervened and "Saul of Tarsus" became "Paul, a Servant of Jesus Christ."
NEVER FORGET
We can't forget that this still happens today. Sometimes the hardest person who you'd never expect to become a follower of Jesus does just that! If you haven't read it yet, check out Nabeel Qureshi's Seeking Allah Finding, Jesus. As you do, you'll read a modern-day story of a guy who people never would have guessed would come to follow Jesus.
Of course, Saul and Dr. Qureshi's story is ours too. If God can save us, is He not powerful enough to save your atheist buddy at the gym or your Buddhist neighbor? Yes, He can. We must believe†that He can so that we're faithful to share the powerful gospel of grace. Especially if we've personally nominated them to our "least likely to follow Christ" superlative. Fortunately, God has the final say on that.
"Almasih Kahdost" is a long-time friend of Covenant Life who desires to see the nations come to Christ. Though preferring to publish anonymously, Almasih Kadost welcomes your comments below.
See all the posts in this series.
Share this on:
---
December 9 2015 at 7:00 pm
0 Comments
---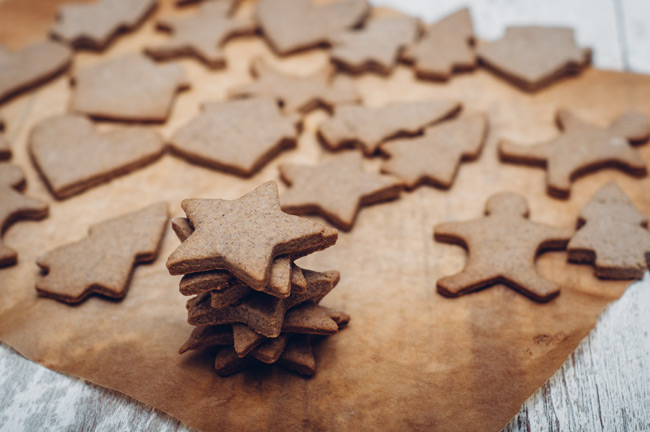 Part three of a three-part series on celebrating Advent from Kevin and Jami Rogers. (Part one, part two)
Here are some ideas we've picked up for taking advantage of common holiday activities to make a spiritual impression on our younger kids.
Involve the kids in baking something like Christmas cookies. Once they're baking and the smell starts to fill the kitchen, sit them down on the floor in front of the oven. Talk about waiting for something you want. We can't wait for those cookies! For hundreds of years the people of Israel waited for the Savior they were promised was coming. FINALLY, he came when Jesus was born! Read Luke 2:25-38 when Simeon and Anna meet baby Jesus in the temple and talk about how excited they were to finally see their Savior. Now we are waiting for Jesus to come again. If you really want to go full on, talk about the great feast we'll have with Jesus when he comes again while you're eating what you baked. Maybe even take guesses what might be on THAT menu!
Another way to impart this idea of eager expectation is to promise the kids that at some point you are going to do something special as a family. Don't tell them what or when, but regularly remind them of your promise. Then on the day you deliver, make sure it's good! And teach them about how Jesus had been promised and was eagerly anticipated. He's promised to come again.
On the promise that Jesus is coming again, you could make hot chocolate, bundle up in coats and hats with blankets or sleeping bags, and sit outside looking up at the sky at night. Read Acts 1:11 and talk about the promise that Jesus will come again through the clouds. Or talk about the night angels came to the shepherds in the pitch black of night.
The point in all this is to wrap truth in images and memories that will stick. You can probably come up with ideas that suit your family traditions and experiences. Jesus is the light of the world. How could you make an impression about this when putting up your Christmas decorations or going to see lights around your neighborhood? If you travel during the holidays, could you somehow make an impression about Joseph and Mary's travel to Bethlehem and how even as a man Jesus was driven out of his own home town? Jesus didn't come to live a life of comfort and ease. He lived his life "on the road" teaching and serving others. You get the idea.

This shouldn't be stressful. It should be fun. And when you think it bombs or your pre-teen thinks it's cheesy, don't underestimate the impact that moment could have. Our prayer is that you'll pause and enjoy reflecting on Christ with your family this season.
Share this on:
---
December 8 2015 at 7:00 pm
0 Comments
---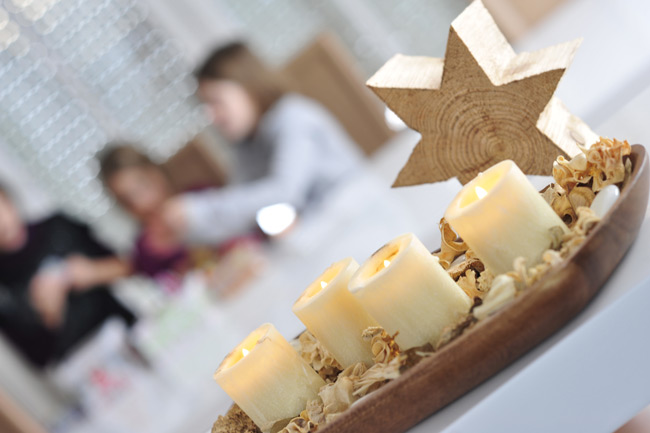 Part two of a three-part series on celebrating Advent from Kevin and Jami Rogers. (Part one here)

For family Advent devotions and activities, we have two main goals. First, help our children understand that Jesus is the focus of this season by making reading and talking and singing about him a regular part of our Christmas traditions. Second, by using the traditions and experiences and images that are already apart of our celebrations to teach spiritual truth.

You might notice that our goals and expectations do not include our children immediately bursting out in worship at the wonder of the Incarnation. We hope that happens someday, and there are occasional glimmers of it now. But most of our devotions, even the most creative and active ones, often include deep questions like, "Can I go play with my Legos now?" Our goal isn't that our dinner table become a place of peaceful meditation. It would be nice if when Dad opened the Advent devotional, our kids silently looked on with angelic faces eagerly waiting to meditate on Christ … but that rarely happens. Occasionally our dinner table is festive and fun and full of great Advent connections. But it's usually a flurry of elbows and food and commentary about recess.

As parents, we've learned to embrace this (I think). Here's why we have hope that what we're doing is worth it: We know that even the smallest moments and traditions in this season make an inordinate imprint on their little memories. The most trivial and random pieces of decoration or tradition can become of utmost importance to the kids when it's a regular part of what we do. That ornament they made in first grade or the ragged gingerbread doll become essential. We know they might not "get it" all right now. But years from now, we want their memories and expectations for Christmas to be inescapably full of reflections on who Jesus is.

The resource that has probably been the most helpful to us for this is the Advent guide produced by The Village Church in Dallas, TX. They produce a new one annually and make it available for free online. This year's is available here, but you could use any of the previous year's as well.

For the tech oriented, we've appreciated always having material available on our phones and tablet with the app by The Gospel Project (soon to be our Discovery Land curriculum). It's called "The Expected One." You can read about it and download it here. Both of these have readings, discussion questions, and ideas for activities that can be tailored to suit families with kids of all ages. Be intentional, but have fun and enjoy it. And more than likely your kids will too.

Tomorrow, we'll share some ideas for helping Advent truths stick, especially for younger kids.
Share this on:
---
December 7 2015 at 5:15 pm
0 Comments
---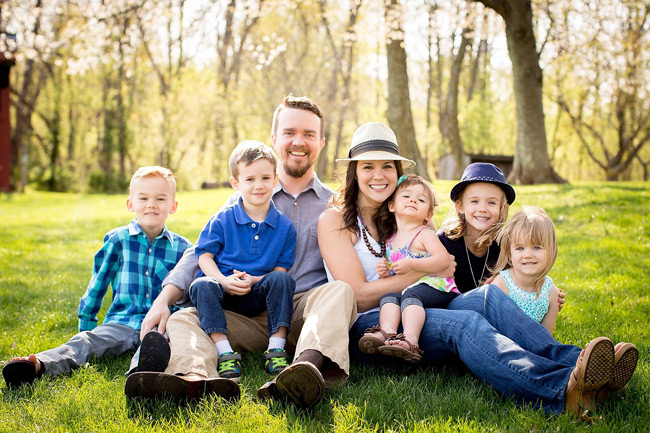 Part one of a three-part series on celebrating Advent from Kevin and Jami Rogers. (Part two here)

As our family has grown, we've enjoyed using Advent, the four weeks leading up to Christmas, as an opportunity to reflect on the profound truth that Christ has come. A Savior has entered our broken world bringing peace, hope, joy and love into our darkness. And we eagerly await the day He comes again to completely eradicate the sin and death that still plagues us.
Almost none of our ideas on how to do this are original. We've gathered resources, read and learned from other families. After 12 years and 5 kids (ages 2 through 9), we are starting to find a rhythm that works for our family. So we thought we'd take a moment to share some of the resources that have been helpful for us in the hopes that it might encourage you to pause often this Advent season and enjoy reflecting on the many facets and implications of the reality that Christ has come, both personally and with your family.
Typically, we read something in our own private devotions and also have something to help guide our times together as a family. For private reading, this year Kevin is using John Piper's daily Advent devotions, Good News of Great Joy, brief Scripture readings and reflections available in print or for free online or via the Solid Joys app. Jami is going through Born is The King published by She Reads Truth with the ladies in our small group. It's available in print, online, and via an app as well. Check out all the options at shereadstruth.com. Other's we've enjoyed are…
Tomorrow, we'll post with more thoughts on family devotions and activities.
Share this on:
---