March 3 2012 at 3:46 pm
1 Comments
---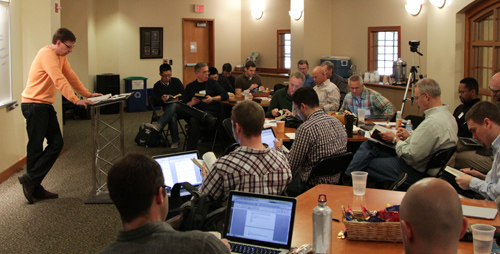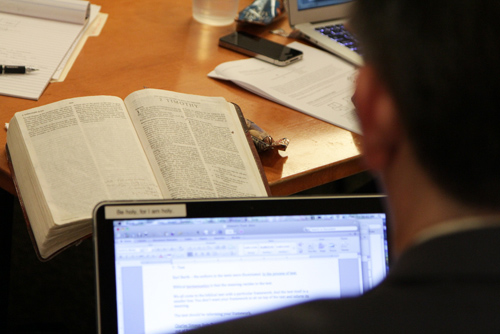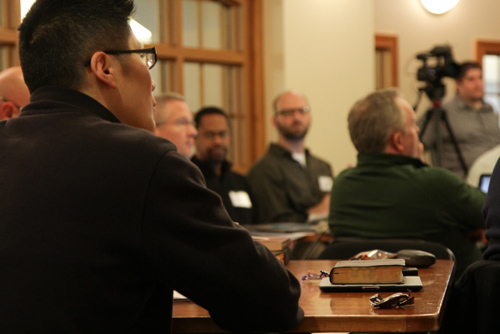 Thursday and Friday, most of our pastoral team, joined by pastors from the Arlington and Fairfax Sovereign Grace churches, participated in a hands-on preaching workshop led by David Helm and others from The Simeon Trust. Named after 18th century British evangelical preacher, Charles Simeon, the Trust has served for over a decade, equipping preachers through a series of workshops across the country.
David describes the mission of The Simeon Trust: "We are a one-trick pony. We do one thing. We try to help people increase their confidence and ability in handling God's word. So that's why we exist—to increase someone's confidence in the word of God and their ability to handle it well."
In addition to receiving instruction for interpreting and preaching Scripture effectively, the pastors worked in small groups for practical application. Each presented a prepared text and received feedback from his peers on how to hone his preaching skills. They also had an opportunity to hear expositions from Joshua Harris and Matt Maka and provide feedback.
Kenneth Maresco, who helped organize the event, said, "We were very excited to have The Simeon Trust in because the work of pastors is primarily Word work, and these men are committed to training pastors to handle Scripture rightly. The members of our pastoral team and brothers from Arlington and Fairfax are being inspired to work hard in the Word. It's refreshing once in a while to pull away and have this kind of training as a staff so that we can continually improve in our ability to serve the people of God."
Thankful for God's hand on the ministry, David states, "We used to do one of these [workshops] a year with about 30-40 people. Now we do 19. This year we expect over 800 pastors will go through it. So, a lot of churches are being positively influenced at a grass roots level."
Share this on:
---