March 22 2014 at 11:57 am
1 Comments
---
UPDATE, MARCH 28: Added skills list at the bottom of this post.
Do you love God? Love your neighbors? Love this community? This may be just the opportunity for you!
Since its formation in February 2013, the Global Missions Committee has been sharpening our understanding and practice of world missions. As a church we have much reason to be proud of the good work that the Global Missions Committee has been doing.
But the need for gospel witness and gospel service is not limited to other continents. Montgomery County needs Jesus! There are huge needs and opportunities right here in our own neighborhoods, nursing homes, schools and jails. That is why Covenant Life Church is forming a Local Missions Committee.
Like the Global Missions Committee, the new Local Missions Committee will include 12-18 members who represent a diverse cross-section of this church. They will work closely with the elders and the Missions Department to ensure that every church member has the motivation, training and opportunity to saturate our community with gospel influence.
To understand more about how this new committee will function, read the Local Missions Committee Charter (PDF).
If you have a love for God, a love for neighbors, and a love for this community, we would love to have you apply to serve on the new Local Missions Committee. Just download and fill out the Local Missions Committee Application (PDF).
Completed applications should be e-mailed or delivered to .(JavaScript must be enabled to view this email address), Local Missions Director, by April 6.
If you have questions or need more information, please .(JavaScript must be enabled to view this email address) or call him at the church office.
---
Local Missions Committee: Skills Needed
Researchers: People who love to gather information and do research. One of their contributions to this team would be to learn about and understand both our local community and our church community. Examples: census/ demographic research, local history research, creating and conducting surveys, interviews, etc.
Strategists: People who can take the research data gathered, discern needs and opportunities, and then formulate ministry strategies to address them. They might also serve by evaluating ministry teams and working with team leaders to make them more effective.
Connectors: People who are great at building friendships with people from all walks of life and at seeing opportunities for ministry. Using their knowledge of resources both inside and outside the church, they initiate strategic relationships with various organizations and institutions in the community in order to create new and more effective ministry.
Visionaries: People who have the ability to think at the 50,000-foot level and can imagine and shape what a culture of local missions could look like for our church and community. They can help develop long-term goals for community transformation for the church. They are able to articulate and transfer a vision for local missions to fellow church members.
Implementers: People who take big ideas and then create the structures and processes necessary to achieve them. They are planners who chart a clear path from the current reality toward the end goal.
Share this on:
---
February 10 2014 at 5:00 pm
0 Comments
---
On Sunday, February 9, we had the privilege of hearing from three members about their short-term mission experiences in Haiti, Central Asia and Uganda. Check out the above slideshow to view more photos from the Haiti and Uganda trips.
To stay connected with our church's global missions work, you can sign up for the monthly Missions E-Newsletter using the simple form below. If you're interested in being a part of an upcoming mission trip, contact .(JavaScript must be enabled to view this email address) at the church office.
Isn't the Lord good to give our church opportunities to participate in global Kingdom work?
Share this on:
---
December 31 2013 at 2:28 pm
0 Comments
---
See anybody you know in this photo? (If you can't make everyone out, try this larger version.)
This week 52 college students, along with six leaders, gave up five days of their winter break to be inspired and challenged to take the gospel to the ends of the earth at the CROSS conference in Louisville, Ky. It has been such an encouraging time. Speakers like John Piper, Matt Chandler, and David Platt have called us to see the greatness of God, treasure Christ, believe the power of the gospel, and proclaim it in love with confidence from our campuses to the nations. God has truly been at work in our midst. And we can't wait to get home and tell you all about it!
From the CROSS website: "CROSS exists for the global purpose of magnifying the kingly majesty of Jesus Christ. Our focus is on all the unreached peoples of the world where Jesus is not worshipped as God and Savior. To that end CROSS aims to mobilize students for the most dangerous and loving cause in the universe: rescuing people from eternal suffering and bringing them into the everlasting joy of friendship with Jesus."
Share this on:
---
November 25 2013 at 5:56 pm
0 Comments
---
"For the love of Christ controls us, because we have concluded this: that one has died for all, therefore all have died; and he died for all, that those who live might no longer live for themselves but for him who for their sake died and was raised." —2 Corinthians 5:14-15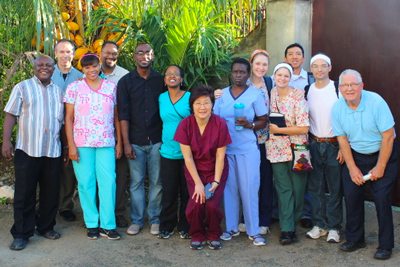 Those verses rang true for 12 members of Covenant Life Church on their medical mission trip to Cap-Haïtien, Haiti, November 2-9. When a young man asked why a team from the United States would travel such a distance to help people in a foreign country, team members were able to answer that Jesus' work in Christians' lives motivates us to love and serve others, both around our homes and around the world. Because of Christ's love for us we are able to value others and proclaim him through our words and actions.
As with previous trips, the team was warmly welcomed by believers from the House of Prayer & Worship, pastored by Isaac Albert, and Jesus Foundation ministry. The first event the team attended was a 6 a.m. worship service lasting three hours!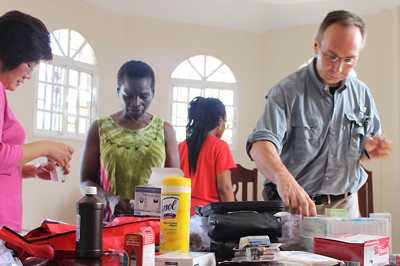 The team devoted the rest of their time in Haiti to medical and dental clinics and leadership training for pastors and small group leaders. They saw roughly 400 patients including 60 students from Pastor Isaac's school. They treated everything from toothaches and minor pains to more challenging cases like high blood pressure and diabetes. Some patients had to wait for hours to be seen, even having to return the next day, but there was patience and peace throughout the week. The team was also able to visit an orphanage and provide medical and dental checkups to the teenagers there.
All of the 20 men who attended the leadership training classes were hungry for biblical truth and committed to learning how to better disciple God's people. Some traveled as much as five hours!
Glory to God for the seeds that were planted. Between the medical clinic, leadership training, and time in the orphanage, the team had many opportunities to share the love of Christ and the good news of his death and resurrection with the people of Haiti.
Executive Pastor, Mark Mitchell said, "The Lord is wonderfully at work in Haiti. What a privilege it's been to have a front row seat in this small way to what the Lord has been doing!"
Thank you to those who prayed and supported this trip in other ways. We look forward to sharing more trip highlights and reflections from members of the team over the coming weeks.
For more information about how Covenant Life is seeking to participate in God's work among the nations, sign-up for the Missions Newsletter, or contact Beth at the church office.
Written by Jessica Harris
Share this on:
---
November 25 2013 at 3:30 pm
0 Comments
---
This past Sunday morning we shared a video about the dedication and official opening of the baby home at Rancho 3M Christian Orphanage and School, in Guadalupe, Mexico. The home was dedicated on May 20 of this year and recently received its first babies.
As Grant Layman conveyed on Sunday, many thanks to everyone who helped make the baby home possible by being part of one or more of the construction trips, by giving financially and by praying.
Also see our post from 2011 when construction was completed on the home.
Share this on:
---
May 5 2013 at 8:57 am
0 Comments
---

This morning in church Bart Hungerford gave an update on two recent team trips to rural western Uganda in support of Pastor Moses Nkwatsibwe and Kiburara Gospel Centre Church. In January, a team of 28 Covenant Life members ministered there (Covenant Life's eighth annual trip), and just last month Bart, John Emelio, Erin Emelio, Mary Foster and Cat Hoover made another trip. A third is planned for this summer.

Bart and Moses



January Team



April Team (Mary Foster not pictured)
Bart has founded a non-profit charitable 501(c)(3) company called Sustainable Missions Incorporated (SMI) that has purchased 32 acres of land in Uganda, started three new companies to farm, dry fruit, and raise poultry, repaired two bore-hole wells, and installed two 10,000 liter (2,600 gallon) Rainwater Collection Systems, all in a few months!
Read more about the April trip and the work of SMI on their blog or Facebook. To give toward future well digging and maintenance, visit GiveUgandaWater.org. Also, check out the many blog posts on this site about previous team trips. Let's continue to support and pray for this work!
Share this on:
---