May 18 2015 at 2:32 pm
1 Comments
---

Respectfully Ready
by Almasih Kahdost
It was my first time visiting the home of a friend and he was showing me around his suburban townhouse. It was a typical introductory run-through.
"Here's the kitchen. Our garage is over there. These are our gods. Here's our bedroom."
"Ah. Very nice."
Wait. What?!?
This was a casual, but intentional, introduction to his family's Hindu deities.
Polite Company and Culture
From the time of my youth I was taught (implicitly and explicitly) that certain subjects were out of bounds unless you knew someone really, really well. Making conversation of politics, a person's salary or (gasp!) religion was the social equivalent of eating with your hands at the table. (Something, as it turned out, we would do later in the evening!)
Understanding that religious discussion doesn't bring the uneasiness in many other cultures that it brings for westerners enabled me to ask, "Which is your favorite god and why?"
Dialogue or Discourse?
Hearing that Ganesh (who blesses new beginnings) and Lakshmi (who brings wealth) were his favorites gave me insight into his values and desires. Asking questions lets people know we're interested in a discussion rather than a diatribe. And discussion affords our friends respect as well as the opportunity to ask questions.
Paul modeled a similar approach in Athens where he found himself distressed by seeing so many idols in the city (Acts 17:16). "So he reasoned...in the marketplace day by day with whoever happened to be there" (v17). In fact, Paul is said to have conversed (NAS, ESV) or debated (NIV, NLT) with the Stoics and Epicureans (v18). It was a back-and-forth. Did Paul frequently engage in a unilateral fashion? Sure. But these verses indicate an occasion that was more of an exchange than a one-sided homily.
Primed but Gentle
So, if someone introduces you to their favorite deity, or tells you their present state is a reincarnated one, maybe it would be better to first draw them out before jumping down their throat with chapter and verse. Consider learning about their worldview so you can address it.
Back to Paul; the Spirit spoke through him telling us to always be ready "...to give an answer to everyone who asks you to give the reason for the hope that you have. " (1 Peter 3:15). We mustn't shy away from telling folks Who we believe in and why. But how we do so is important too. The verse continues, "but do this with gentleness and respect".
"Almasih Kahdost" is a long-time friend of Covenant Life who desires to see the nations come to Christ. Though preferring to publish anonymously, Almasih Kadost welcomes your comments below.
See all the posts in this series.
Share this on:
---
May 4 2015 at 2:31 pm
0 Comments
---

by Almasih Kahdost

Sweat dripped down my back as I saw drapes sway in the breeze entering the gurdwara window. Given the ineffective nature of ceiling fans above, I was really hoping the breeze would make it my way, but no dice.
The occasional Sikh worshippers coming in and prostrating themselves didn't seem to mind the excessive temperature. I wondered if perhaps they were reminded of the weather in the Punjab region of northern India and eastern Pakistan, home of Sikhism, one of the youngest of the world's major religions.
ORIGINS
It was amidst this South Asian region, in 1469, a young boy was born who would become Sikhism's founder, eventually being known as Guru Nanak. Influenced by and frustrated with both Hinduism and Islam, Nanak shaped Sikhism, removing idol worship, polytheism, the caste system, gender inequality and other tenets of his day's prevailing religions.
Nanak would be the first of ten successive human gurus. (A guru is teacher who is full of knowledge). The eleventh guru, however is the Sikh holy book, called the Guru Granth Sahib. It contains the teachings and devotional hymns of the previous ten gurus, along with others.
BACK TO THE GURDWARA
Walking to the front of the gurdwara, I watched the granthi carefully uncover, open and fan the holy book, thereafter reading from it. His fanning brought some relief from the heat, but not as much as I was about to receive when he took us to a small room upstairs. Finally: AIR CONDITIONING! But it wasn't intended for visitors so much as it was for the Guru Granth Sahib; the holy book, honored and respected (not worshiped) as a living being and accommodated with sleeping quarters, food and other comforts.
Afterwards, I was taken downstairs where I was offered as much (amazing!) Indian food as my tummy could hold. Someone was manning the kitchen practically around the clock in this ever-open Sikh place of worship.
Between the prostrated worshipers, the air conditioned Guru Granth Sahib and the fantastic South Asian food and hospitality, I felt as though I was northern India. But this was in the U.S. In fact, you could probably have similar experiences at the corner of 124 and Warfield Road at the Washington Sikh Center. If you visit there for Sunday langar (a community meal) you may meet some very kind, generous people and even make a friend or two.
LIKEABLE BUT LOST
As kind as these folks are - as is true with so many in the world - they are equally lost. Sikhs agree one may potentially be united with God through meditation on his name, selfless service, living an honest lifestyle and sharing. There is a heavy emphasis on doing good.
Maybe you have Sikh friends or coworkers and don't even realize it. Although some have adopted a more western look, many of the men are still identified by a bearded face and a turban covering their uncut hair. They may also wear a silver bracelet.
If so, Tuesday, April 14 was a Sikh new years festival, Vaisakhi. Ask them about it. How did it go? What is the spiritual significance of the holiday? Ask them about their beliefs. Be a learner. You could ask specifically about the "five vices" of Sikhism (lust, anger, greed, emotional attachment, pride) and, after confessing that you've committed these, gently ask if they have. If so, ask how they will know whether or not they will be good enough to be united to God. Ask, "If there was a way to be rid of your bad deeds, would you want to know?" Tell them that Jesus has the ability to give the credit of his good deeds to his followers and remove from them their bad deeds.
WE ARE THE WORLD
In this emerging multi-cultural county of ours, the customs and dress of our new neighbors are becoming decreasingly out of the ordinary. On one hand, there is something nice about that. These folks are humans just like us. However, as we pass by their places of worship, or see long beards and turbans, may those little cues of cultural differences be a reminder: God has brought the nations nearby so we can love them with the love of Christ.
"Almasih Kahdost" is a long-time friend of Covenant Life who desires to see the nations come to Christ. Though preferring to publish anonymously, Almasih Kadost welcomes your comments below.
See all the posts in this series.
Share this on:
---
March 17 2015 at 9:42 am
3 Comments
---

Pursuing Persians
by Almasih Kahdost
What he said caused my eyes to well up. It wasn't anything dramatic per se, but still I found tears coming to my eyes and a smile landing on my face. What he said was precipitated by a question.
"How often do you go back to visit your home country?"
He stumbled a little, calculating how best to answer. He finally said something to the effect of, "It's not really safe for me to return. You see, I'm a Christian and…"
That's when the tears came.
I almost cried because my new friend is from Iran and I have been praying for his people for years now. But my tears weren't because he can't safely return to his country. Nor were they for the fact that his relationship with his mother took a dramatic turn for the worse because of his decision to follow Jesus. While those things were indeed sad, my tears were tears of joy.
FREED FROM A REPRESSIVE REGIME
It made me immensely happy to hear that this Persian brother had escaped the oppression of an evil regime and was coming to enjoy new freedoms he'd not previously experienced. Whereas before he had been the subject of repressive tyranny, now he was out from under the thumb of his captor, free.
His story is mine. While I'm not from Iran, he and I both responded to Jesus' proclamation of freedom to the prisoners and were thereafter set free from oppression (Luke 4:18). Both he and I had been blinded by the god of this world (2 Corinthians 4:4), and were in fact following him (Ephesians 2:2). But now we're both free.
CAN'T SHARE OVER THERE
Of course, not all Persians are like my friend. Many are still in captivity to sin, lost in darkness (like anyone else outside of Christ). But what sets Persians who've moved to the States apart from your typical been-here-for-generations American is that they have had little opportunity to hear the gospel. In fact, according to the self-styled Iranian Christian News Agency, Mohabat News, Iranian president Rouhani's Advisor on Ethnic and Religious Minorities' Affairs has said that "...no one has the right to promote his or her faith…it is not acceptable, for instance, for a Christian to invite a Muslim to Christianity." (Incidentally, Iran has one of the fastest growing Christian populations in the world, albeit underground). While Advisor Younesi does say, "...everyone is free to practice his or her faith…" he seems to not grasp that inviting others to Christianity is part and parcel of practicing our faith.
WON'T SHARE OVER HERE
As believers, sharing our faith is non-negotiable and as Americans it is a privilege to be able to do it without fear of imprisonment (or worse). But many American believers won't do it. Too busy or scared or something. Yet the Persian people at our office, in our neighborhoods, or who we bump into at Starbucks are now in an environment where they can freely listen and respond to the gospel. Could it be that God has dispersed Persians to countries where evangelism is legal "...so that they would seek him and perhaps reach out for him and find him" (Acts 17:27)?
BUT I DON'T KNOW ANY PERSIANS
Of the 25,000-plus Iranian-born residents in the Baltimore/DC area, over 8,000 are in Montgomery County. Chances are you've met some, maybe even without realizing it. If you don't know any, why not change that and learn about their culture? One way to do this would be to head to Black Hill Regional Park in Germantown on April 12 for Sizdah Be-dar. (A similar event will be held at Bull Run Park in Centerville on April 5). On these days thousands of Persians will enjoy spending time with friends, families and maybe even people they've just met. (Hint: that's you!)
You can also meet some Persian folk around town AND get some really great food at the same time. Check out Caspian House of Kabob or Moby Dick, both in the Kentlands. Very warm, friendly staff and incredible food. Yekta in Rockville is wonderful as well. You can also stop by a couple of Persian stores (Caravan Deli or Potomac Gourmet) and meet folks there.
Persian's ancient culture and history has much to offer and the high value placed on hospitality is something many many western Christians could learn from. That being said, we believers have something to offer non-believing Iranians; that is Christ Jesus, who lived, died and rose again to redeem those from every nation.
"Almasih Kahdost" is a long-time friend of Covenant Life who desires to see the nations come to Christ. Though preferring to publish anonymously, Almasih Kadost welcomes your comments below.
See all the posts in this series.
Share this on:
---
February 17 2015 at 1:34 pm
1 Comments
---

One Way to Share God's Plan with Muslims
by Almasih Kahdost
Sitting barefoot in a sportsplex in Maryland, wearing traditional Pakistani attire given to me, I was enveloped by the chant of Allahu akbar, droning continuously. I watched as Muslims of various sizes, shapes and ethnicities assembled themselves in neat rows preparing for prayer; men filling the front of the field, women, the back. Once all (save one) gave praise to Allah while performing the various salat prayer positions, an imam taught that one lesson learned during the fast of Ramadan is gratitude. By denying oneself food during the daylight hours, a person is more grateful for it come evening. Having been fasting for my Muslim friends during this month myself, I learned this lesson firsthand and was grateful Ramadaan had come to a close.
As my Muslim friend and I left the sportsplex, I referred back to the imam's message, asking for what my friend was most grateful. After listening, I shared my own thoughts, saying I was most grateful for qurbani; that is, blood sacrifice. I related how a sacrifice was provided for Adam and Hawa (Eve) to cover their shame when they had sinned in the garden. I reminded my friend how when Ibrahim's (Abraham's) son was in need of a sacrifice, it was divinely provided. I continued that Musa (Moses) was inspired to order atoning sacrifices for the sins of the people and that many years later, the prophet Isaiah foretold the coming masih (messiah) Who would Himself become qurbani in the place of His people, taking their shame. Then I related that the prophet Yahya (John the Baptist) pointed at Isa (Jesus) and calling him, "the Lamb of God who takes away the sins of the world."
"Why do you think Yahya called Isa a lamb," I asked.
"I don't know."
I told my friend that prior to his death Isa had alerted his followers that He would lay down His life as a qurbani to set people free (Mark 10:45). Isa's subjection to public shame was all a part of Allah's loving plan to take away the sin and shame of His people. Just as He performed qurbani for Adam and Hawa to cover their shame, and just as He provided an animal for Ibrahim's son, and just as He told Musa the way of qurbani for the forgiveness His people's sin, now, in the death and resurrection of Isa, Allah was providing the ultimate qurbani - the ultimate sacrifice for sin. The shame and punishment that we deserved was laid upon Isa as a part of God's loving plan to restore honor to His people.
My friend didn't submit to Christ that day and is still a Muslim. We have had the family to our home and they have had us over as well. We have prayed in Isa's name for the healing for their children. We've helped them with English and with transportation. I still make visits from time to time. We continue to pray regularly for this family.
These dear people represent one of many Muslim families in our area who can be reached with the love of Christ. Please consider how you can extend love and friendship to the people God has brought here. Amidst headlines filled by the likes of ISIS et al, it is too convenient to lump your neighbor in with them. If you begin to pray and ask God for inroads and share your life with your Muslim co-workers, neighbors and friends, you might be surprised at the laid opportunities before you.
"Almasih Kahdost" is a long-time friend of Covenant Life who desires to see the nations come to Christ. Though preferring to publish anonymously, Almasih Kadost welcomes your comments below.
See all the posts in this series.
Share this on:
---
February 9 2015 at 12:31 pm
0 Comments
---
Interested in learning more about the Tokyo Mission? The Missions Team is hosting a Japan Mission Info Night on February 15 at the home of Linda B. where Seita Sakaguchi will discuss ways you can pray and get involved. Also see the Redeemer City to City website for a video feature about Grace Harbor Church where Seita is based.
Seita writes:
"As you may know, the Japanese people are one of the largest unreached people groups in the world. Of the 127 million Japanese people, the Christian population is only 0.22%. Most people will live and die without ever hearing the gospel of Jesus Christ, unless someone brings the gospel to them.
We have been in Tokyo for about a year, seeking to bring the gospel to the Japanese people through the planting of Grace Harbor Church. Grace Harbor is a new church planting initiative in an area called Toyosu in the Tokyo Waterfront area. Thousands of people live and work in this densely populated area, but there was no Christian church for these 120,000 people, until Grace Harbor started last year.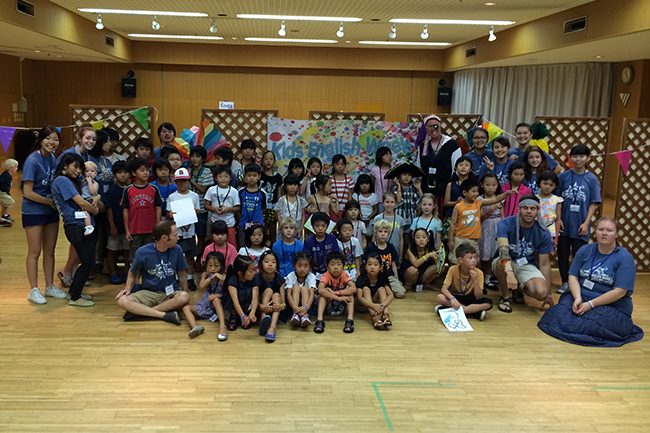 Even though so many people live in this area, it's not unusual to meet people who tell us that they have been living in this area for years, but they don't really know anyone and that we are the first ones they can actually call friends. We have been seeking to be a blessing to this community by connecting people to one another through various events, such as concerts and cookouts, and by serving the needs of our community through events like Kids English Camp. A team from Covenant Life made this event a success for us last year. We have made so many wonderful friends, and I don't have time to tell you all the stories, but I want to tell you about what we're most excited about recently.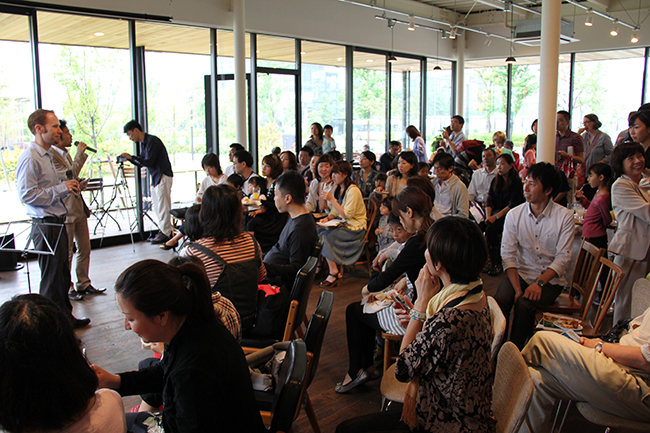 A few months ago, together with two other missionary families, we started meeting together with several of our non-Christian friends who showed spiritual openness weekly for dinner. At this weekly gathering, we not only share a meal together, but we also share our own struggles in our marriage and parenting and other relationships and how the gospel shapes our thinking and gives us hope in the midst of life's struggles and power for change. We are seeking God working in their hearts, opening their eyes to their own brokenness as well as to their need for God. We're praying that the beauty of Christ and the light of the gospel will break through soon.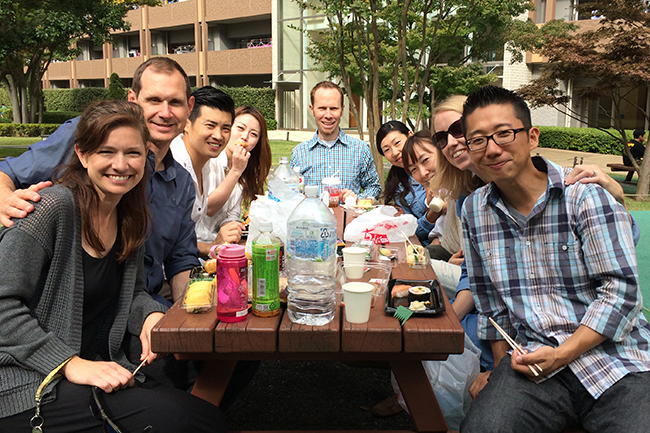 Jesus said, "The harvest is plentiful, but the laborers are few; therefore pray earnestly to the Lord of the harvest to send out laborers into his harvest." The harvest in Tokyo seems truly plentiful, so please pray that the Lord of the harvest will send more people to gather people into His kingdom. Pray also for us "that God may open to us a door for the word" to proclaim the glories of Jesus.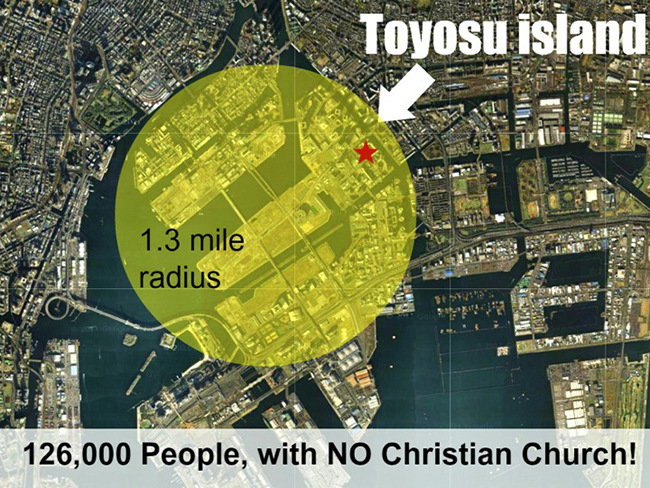 If you would like to know more about our mission in Tokyo and what God is doing there, please visit the Tokyo Mission website, and you can sign up to receive our prayer update e-mails.
Thank you so much for your partnership in the gospel with us."
Interested in learning more about the Tokyo Mission? The Missions Team is hosting a Japan Mission Info Night on February 15 at the home of Linda B. where Seita will discuss ways you can pray and get involved.
Share this on:
---
January 20 2015 at 9:30 am
0 Comments
---

The Sheep and the (Year of the) Goat
Ever been to Clarksburg? You know, just north of Germantown? With only around 14,000 people, it's not the biggest "burg" in the world. In fact, when compared to the population of any major city in the U.S., it seems quite dinky.
But what if you were tasked with contacting and evangelizing all 14,000? What if you had to reach each person in this town with the gospel? Suddenly, Clarksburg wouldn't seem so small any more, right?
Numbed by Numbers
When we talk demographics, we casually use words like "thousands" or "millions" without really grasping the weight of the numbers.
In Montgomery County, there are over 28,000* residents who were born in China. How do we wrap our minds around 28,000? Well, for starters, it's twice the population of Clarksburg. Second, think of it this way: If you were to have an hour-long gospel conversation with each Chinese-born person in Montgomery County it would take you over three years. 28,000 is a lot of people.
And yet God has brought them here. Why?
Why Are They Here?
If you ask them, they may tell you they are here for the career or educational opportunities. Just a couple of days ago I was speaking to a man from China who had come to the States to study. But it would seem that God's reason for bringing him here had less to do with education and more to do with salvation. He gave his life to Christ after participating in a Bible study with believers who had reached out to him.
Praise God for the brothers and sisters who reached out to this man! These people took Jesus' directive to "make disciples" seriously. All of us would do well to follow their example. I say all of us because I think the Great Commission of Matthew 28 (as well as his other commissions in Mark 13:10, Luke 24:46-49, Acts 1:8) was given to all of us. And I think one of the reasons it was given to all of us, is because the task is so big.
Why Are We Here?
In his book, What Is the Mission of the Church?, Kevin DeYoung answers the title's question by saying,
The mission of the church is to go into the world and make disciples by declaring the gospel of Jesus Christ in the power of the Spirit and gathering these disciples into churches, that they might worship the Lord and obey his commands now and in eternity to the glory of God the Father.
Now, setting aside the inherent danger of reducing the biblical mission of the church to a single sentence, we can all agree that if the above isn't all of the church's mission, it's certainly not less.
So, if "making disciples" and "being his witnesses" is really important, the question must be asked: are we doing that? Are we going into the world, declaring the gospel? Is this the trajectory of our lives? If we can be so bold as to presume that Jesus' "you will be my witnesses" was not only for the original audience, but for us as well, we must ruthlessly evaluate if we are obeying Him. We cannot be comfortable ignoring any of our Lord's commands—especially one that is so central to our purpose.
The Predictable Caveat
Look, I'm not saying we should be witnessing to every single person we see. Certainly, we could all be "witnessing more." However, for those of us who can't remember the last time we shared our faith, or for those who have been Christians for years and have never, ever made one disciple because reputation, leisure, money, fellowship, conferences, retreats and other things have taken precedence, we have to ask ourselves if we have lost sight of one of the main reasons we have the ability to communicate.
Mission Impossible (Sort of)
Reaching the 28,000 Chinese-born people in Montgomery County with the gospel is an impossible task apart from God's power and wisdom. As to His power, He has placed His Spirit within us and sends us out in His authority (Matthew 10:1). As to His wisdom, He has put us on a team. It's not just you seeking to reach the masses of people who don't yet know Christ. It is us.
All of us.
Rubber, Meet Road. Road, Meet Rubber
Consider praying that God would give you a relationship with a Chinese non-believer if you don't already have one. As providence would have it, the Chinese New Year season is upon us. You could make friends at any of the various activities in the area, including at Lake Forest Mall. If God has given you a heart for the Chinese, meet with friends to pray before hand and ask God to lead you to someone. You might be surprised to find that God has been working in someone (remember Saul and Ananias, Acts 9:10-19) before you even get to them.
"Almasih Kahdost" is a long-time friend of CLC who desires to see the nations come to Christ. Though preferring to publish anonymously, Almasih Kadost welcomes your comments here.
See all the posts in this series.

*Of the 28,000 people in Montgomery County who were born in China, there are indeed Christians. But—and this is anecdotal—I dare say the majority are not.
Share this on:
---