October 31 2014 at 12:17 pm
0 Comments
---

A mother and her daughter were at the mall when the mom silenced her kid by wildly exclaiming, "They're here!"
The embarrassed teen rolled her eyes, hoping the moment would quickly pass, but it was not to be.
"Listen! They're here," the mom repeated.
Moving from humiliation to concern and hoping mom hadn't completely lost her marbles, the daughter trepidatiously asked, "Who's here, mom?"
"The nations! Nobody here is speaking English. They're all speaking something else!"
Chance are, you've had a similar experience. If not, just go to the Costco in Gaithersburg. You will both hear and see that, indeed, the nations are here. People from multiple tongues, cultures and religious beliefs have found their way to Gaithersburg and the surrounding area.
Acts 17:26 and 27 says that God decides just where people should live so that people would seek and find him. So, the people of God (especially in this area!) have an opportunity to befriend and share Christ with the internationals God has sovereign brought nearby.
In efforts to keep these opportunities on our radar, we are creating a monthly series called Nations Nearby. It will explore topics like:
● Ways to serve and engage local internationals with the gospel
● Utilizing bridges between the church and people of other beliefs
● Avoiding barriers to sharing Christ with people of other backgrounds
● Culturally appropriate opportunities to leverage in loving our friends in the name of Jesus
● and more
May God use this series to encourage us that God desires and is able to use His people to reach them. See you next month!
Share this on:
---
September 15 2014 at 11:40 am
1 Comments
---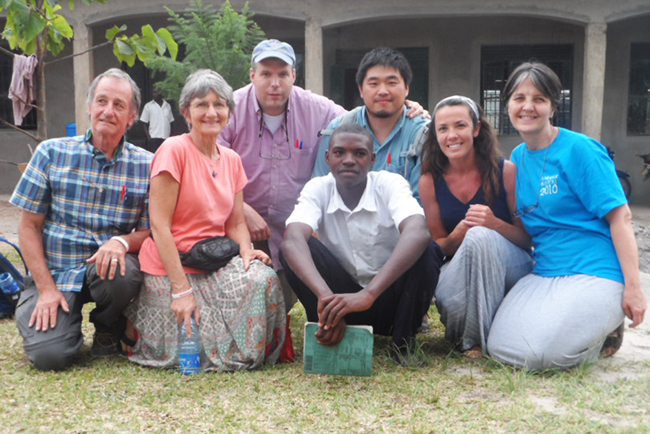 In late July Covenant Life sent a small team of educators to Western Uganda to spend 14 days at the Alpha and Omega Vocational Secondary School in the town of Kiburara. The team participated in a wide range of activities: classroom teaching, chapel worship and preaching, library organization, assessment of the school accounting system, and helping to conduct exams. The team's involvement went beyond school and administrative functions and included financial participation in a student outreach to Kamwenge town, enjoying Bible studies and prayer with the Kamwenge team, and afternoon activities like sports, debates, drama presentations and traditional dance.
Classroom Teaching
Founded in 2011, The Alpha Omega School is still in the throes of growth both as a Christian school and the physical campus, which started as a vacant plot. The students are incredibly well behaved and disciplined, and classes of 60-plus were very easy to teach, even doing lab practicals. These students have the opportunity to attend school that many of their peers will never have. The behavior evident in class reflects their gratefulness to receive such a blessing. A large number of the student body are born-again Christians and the fruit of the Spirit is evident in all school activities.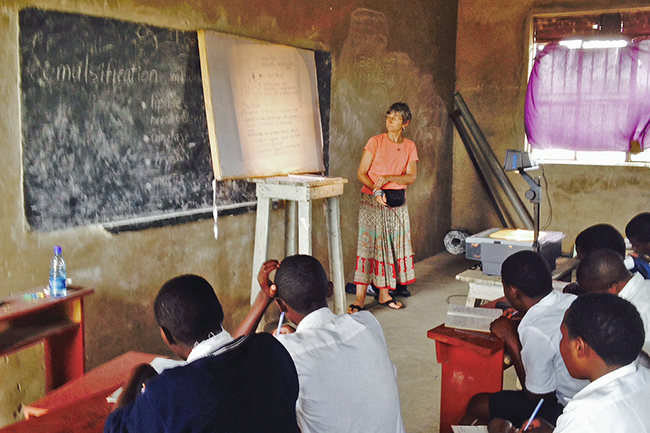 We were struck by the amount of time that the staff invests in students outside the classroom. Headmaster Frank is an incredible leader whose life demonstrates so much grace towards the staff and students. He leads with great wisdom and love following the vision that he has from the Lord to make disciples. His job description extends way beyond school hours as does that of all the teachers and staff. The teachers truly love the students and want them to succeed in life.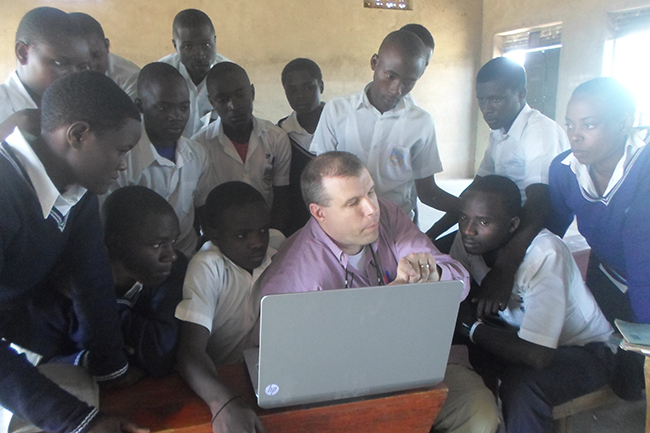 Chapel
Students are up at 4:30 a.m. preparing for their day, and every morning at 7:30 a.m. there is chapel. The students lead a time of worship, and then a Bible message is brought, usually by headmaster Frank, but our team all took turns bringing the message. It was so great to see the team members rising to the challenge and responding to the leading of the Spirit.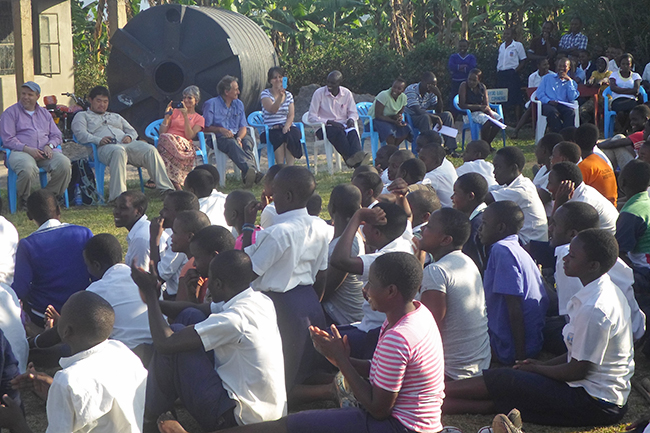 After-school Clubs and Activities
On one afternoon the debating society invited us to a very enthusiastic and well prepared debate on whether Uganda should have a woman for president. The students demonstrated great talent for presenting logical arguments, and it was a great time.
All of the team members were involved to varying degrees with administering and grading the examinations. Working closely with the teachers gave us the opportunity to interact and understand them and their roles. This time was invaluable and led to many gospel opportunities.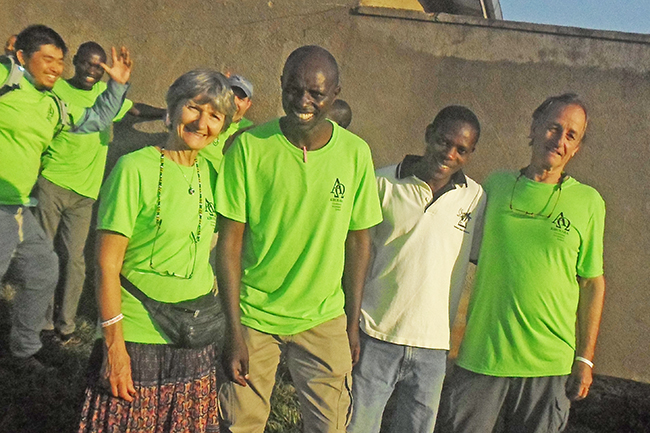 The team ladies took the initiative to meet with all the women staff members to understand their lives, roles and challenges. This further cemented friendships and was a very good time of fellowship and prayer. According to headmaster Frank, the Lord encouraged the ladies greatly as we talked through their struggles and prayer requests. He said the issues we discussed, unbeknownst to us, were the exact things that he had been wanting to address. It is very encouraging to be used by God in this way.
Another spontaneous event developed from the fact that we had purchased a goat to use in a biology dissection. The teachers then volunteered to roast the goat that evening and provide a meal for us all to enjoy! All decked out in the "Alpha Omega" T shirts that we had provided, we enjoyed a very relaxed time of fellowship.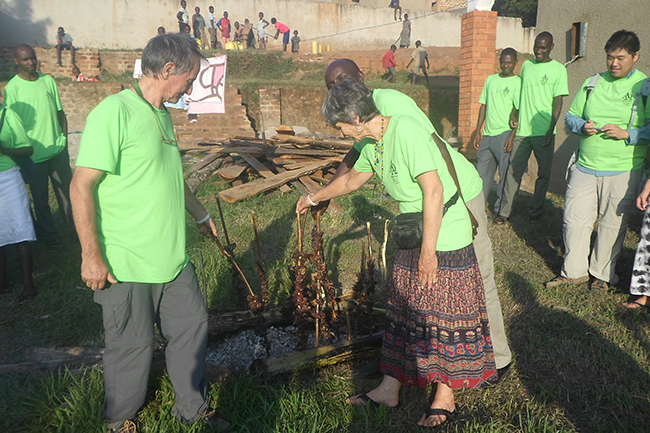 Women's Conference
We were able to participate in the teaching and testimony aspect of a women's conference that drew over 150 women. Sue shared one message on peace and trust and one on prayer, and Margie and Kendra shared their testimonies. These testimonies had a big impact on many of the attendees and it was so great to see the how God uses great pain and sorrow in His redemptive purposes.
Kamwenge Outreach
Although about 85% of Ugandans will profess Christianity, this belies the highly diverse spiritual condition of this nation. Many professing Christians will also participate in tribal animism and will rely on witchdoctors for healing and economic needs. The spread of the gospel is challenged by this deep-seated superstition.
After the majority of the students had gone home, a group of students along with headmaster Frank and one of the teachers, Gershom, remained at the school to prepare for a week-long outreach to Kamwenge town. This town is characterized by a strong Catholic and Muslim presence and in the past there has been much spiritual opposition there.
The preparation involved fasting every day for the week, and worship, intercession and sharing every morning and evening. We also met daily in small groups to implement the Bible study tool that we had developed and to study the book of Jonah. It was such a blessing to join with them and to observe their zeal, and it was so provoking to see the diligence with which they sought the Lord in prayer before venturing out. Our team also invested personally in this mission and provided finances for food and lodging for the outreach. We later heard that over 30 people made professions of faith during the outreach!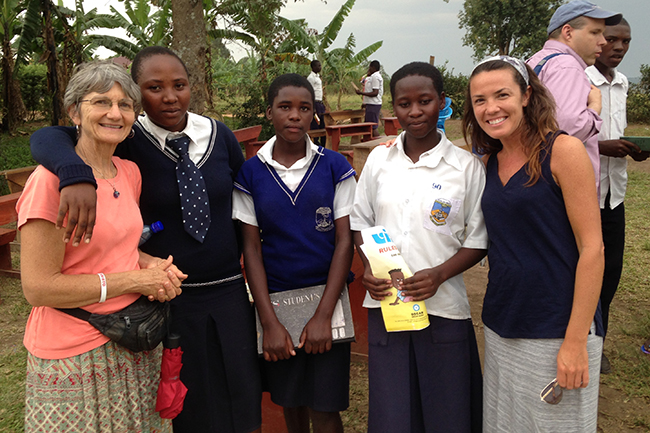 Conclusion
We were so impressed by what gets accomplished by the dedicated staff and students of Alpha and Omega. We saw first-hand the grace that is upon headmaster Frank to lead the staff and students. He has such a genuine love for the students and such a passion and reliance on the Lord to carry out his calling there. We want to help here as much as possible!
Though not an unreached nation, Uganda is a target of evangelism by Islamists and there is a great need is for doctrinal training and equipping of the evangelical churches. We see investment in this school as a Kingdom investment supporting the advancement of the Gospel in Africa.
Share this on:
---
September 8 2014 at 12:46 pm
1 Comments
---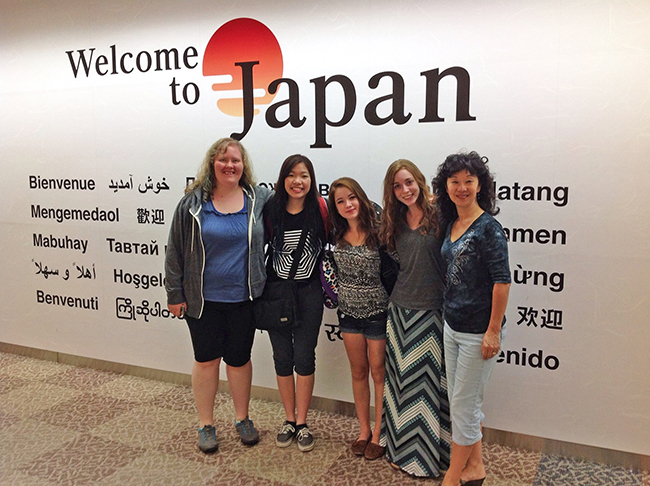 Here is a brief recap from Linda Benjamin of how God used members of our church to serve the people of Japan. Below that, is a brief note of thanks from the Grace Harbor Church in Tokyo with whom our team partnered to provide the classes.
You know so many people were praying when you felt like you were walking on the water the whole time you were on a mission trip!
On August 4 the five members of the Japan team made up of Linda and Christina Benjamin, Tori Chow, Kristen Emelio and Hannah Moore, traveled to Tokyo to serve Grace Harbor Church by assisting in their Kids English Week from Aug. 4-11.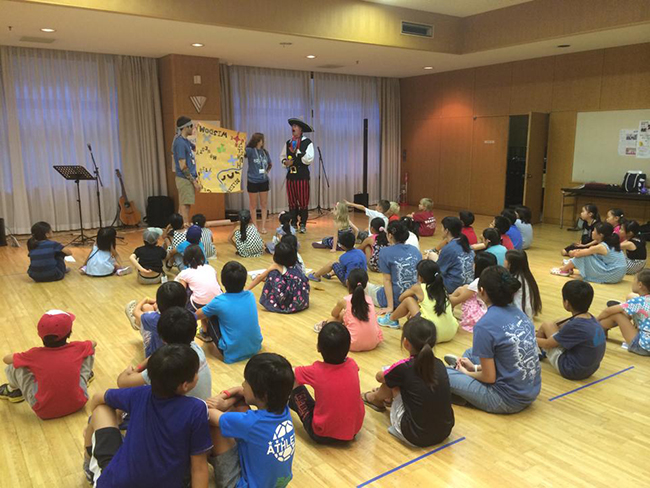 Despite having less than three weeks to plan, we couldn't have imagined a better outcome! We were able to bless about 100 children with songs, fun activities and crafts throughout the week. But, not only the children had a fantastic time; we were also able to connect and build friendships with many of the children's parents and the Grace Harbor Team. Even on our 'free' time, we were able to spend time with some of the kids, having deep, heart-to-heart talks.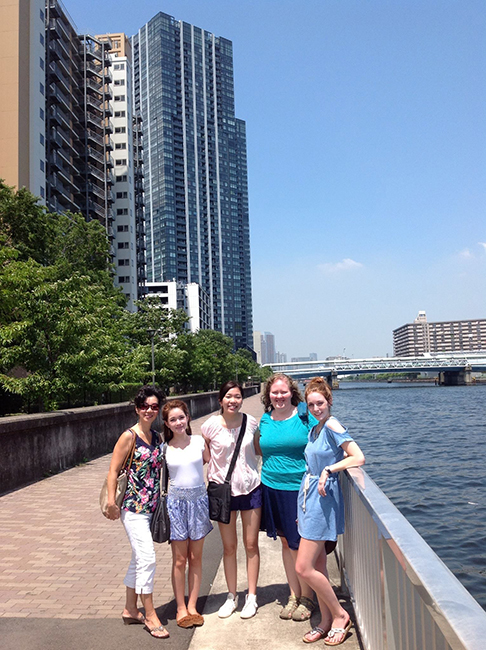 Through a Mom's tea time that was also held during the week, one of the Grace Harbor missionaries gave a short message on parenting, translated by a CLC team member. It was a powerful time where many women were affected by the wisdom and care that they heard. One woman was so touched that she is now going to host the a class on parenting at her home, and inviting more interested people. The Gospel work continues!
Even though we were not able to share the Gospel in words due to language barrier, the love of Christ was shown in many ways and some moms have expressed their gratitude in tears of joy. We are so grateful to be able to witness God's unfathomable love at work among the Japanese people as well as amongst our team, and the Grace Harbor team, through their selfless service, "being of the same mind, having the same love, being in full accord and of one mind."
One of the Grace Harbor Team commented: "Praise God! We hope you send them back!" Thank you so much for your support and prayers and please continue to pray!
---
Dear Covenant Life Church,

Thank you so much for sending this wonderful team to help with Grace Harbor Project's Kids English week! It was so well prepared and very lovingly executed by your team. Hannah amazed us with her creative and organizational skills. And ChiChi and Tori were real troopers to keep up with the demanding schedule. They enjoyed the children and reached out to them in warm and loving ways.

Your church blessed us in so many ways through them, and through your most kind generosity. First, by sending them to us — especially on such short notice! Also, by providing the refreshments for the moms of the camp kids over "Tea Time" as we, Linda and I and a few other staff, made ourselves available to have conversation. The staff loved being treated out to a Monja restaurant! Thank you!!! And Bob and I thank you for your personal financial blessing to us. God has dealt so kindly to us!

I wish I could stand before you now and tell you about these blessings and about how Linda was such a blessing to so many women she met — including me! For example, when I became sick and did not have strength to prepare a meal for some friends we had committed to have over, Linda took over and prepared the meal. She also blessed me and moms at the camp by translating for me when it seemed like the thing to do was to share some insights about parenting. Some moms at my table, the English table, were pouring their hearts out about their struggles with parenting and asking for advice. That Linda translated for me made it possible for all the moms to hear these insights.

It turned out that this resulted in a desire for some moms to attend a parenting class. So, now I am hoping to start up a parenting class in the fall. Moms who do not speak English signed up, too, so we need to pray God will provide a bilingual translator for this class.

Another heart Linda reached was the heart of a mom of a distressed boy we found when we got off the bus in front of our apartment. The boy was pacing and crying. Linda went over to find out his problem. His mom had dropped him off to meet a friend at a place. The friend was not there and the place was closed. Linda stayed with him until his mom was found!

Through Linda and the team the love of Christ was clearly shown to many. Praise God! We hope you send them back!

Love in Christ,
Sharon and Bob (Tokyo Team)
Share this on:
---
July 21 2014 at 4:55 pm
0 Comments
---
If you followed the recent Youth Missions Trip Dominican Republic daily updates, you have been reading about the team that served in Santiago. The Lord was also at work through a second group of our teens who ministered in and around Santo Domingo. Patrick Maresco shares some of his experience: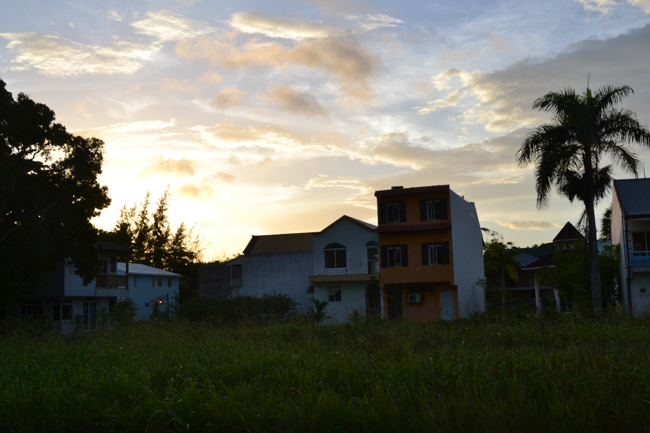 This trip was life changing and extremely beneficial to me. I feel a new fire for God and global missions and had many unique experiences with amazing people! It was emotionally and physically draining working from 7 a.m. to 7 p.m. every day, but there was beauty in giving literally everything we had and fully relying on God's strength to lead us.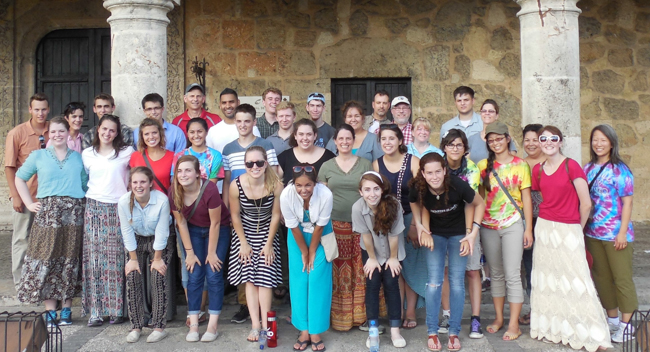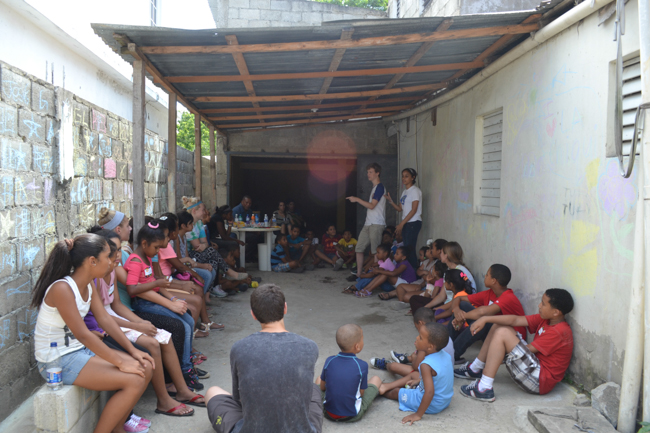 There were so many times when we were nervous that a skit or teaching or language barrier would stop us or not be well received by the kids, and God showed up and said, "Hey! I can work through it anyway and in a much bigger way than you expected." Every person had so many stories of God working, and it was so refreshing to share these experiences together. We grew so close to one another as a team, and it was beautiful to witness.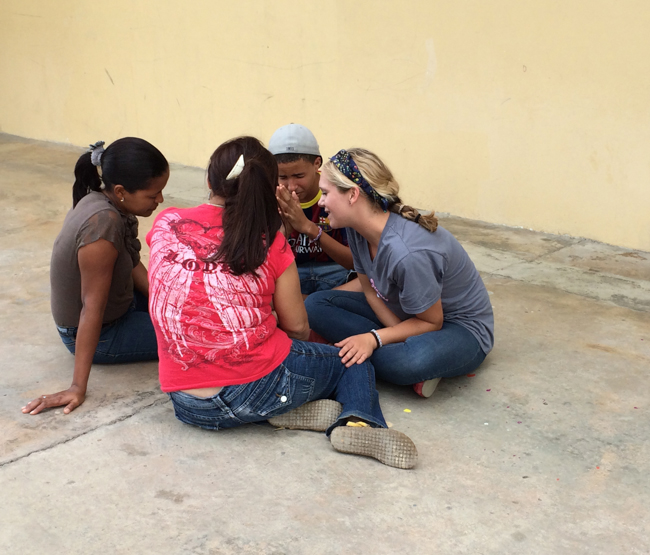 At both villages on our last day there, we gave all the residents a gospel bracelet. You may have seen one of these before. It is a simple bracelet with five beads that symbolize creation, the fall, the blood of Jesus that cleanses us of sin, new life in Christ, and heaven. It was our "goodbye present" of sorts, and our final reminder of everything we talked about. It was beautiful in particular because we were literally leaving every kid with the gospel on their wrist to remind them every day.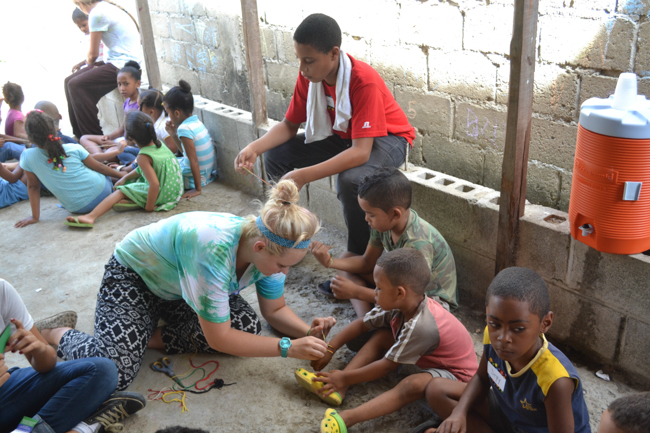 Even if they forget the people that came, they will still remember the message they brought. And that was the motivation behind the entire week for our team: serve in any way you can, give everything you have, and let God do the rest. And He used us in ways we could never have done on our own, and in the process brought us closer to Him at the same time.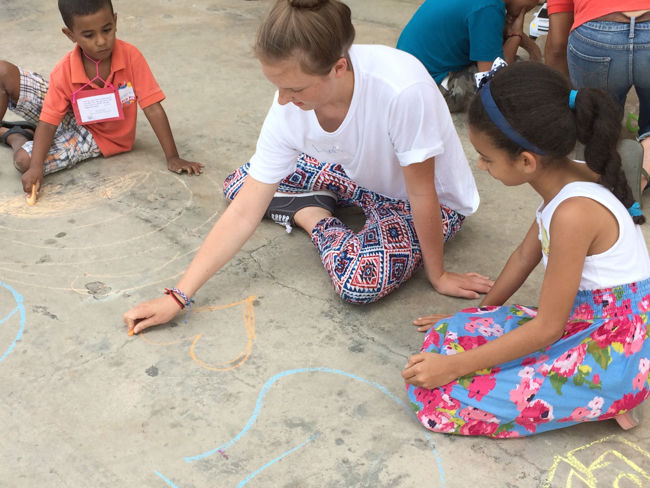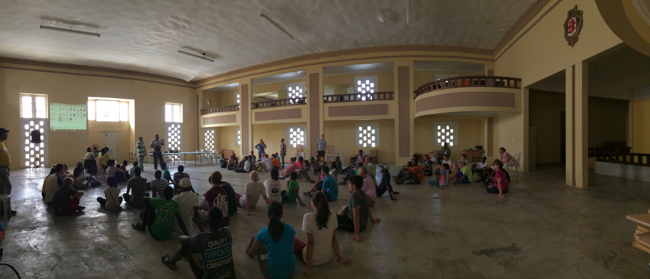 SOME DAY-TO-DAY STORIES
Like many of the other teens, it was my first trip out of the country. We witnessed things that you never see in a suburb of Washington, D.C. Our group traveled to at least five different sites for different evangelistic opportunities throughout the week.
When we went to church on Sunday, the church introduced us and even split the worship songs into half-Spanish, half-English for us. We made many new friends and were very warmly received.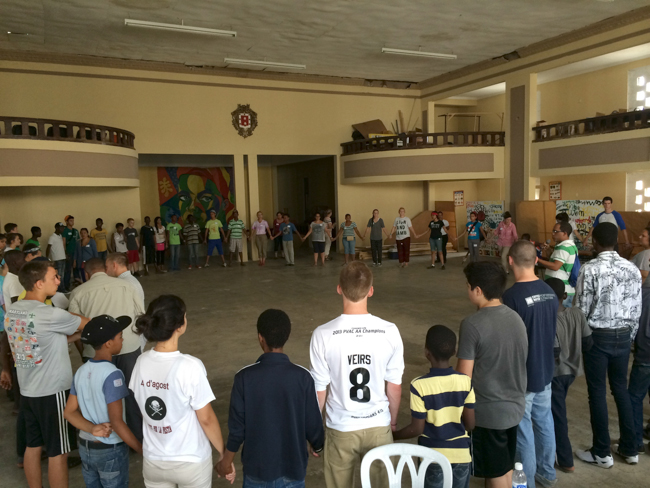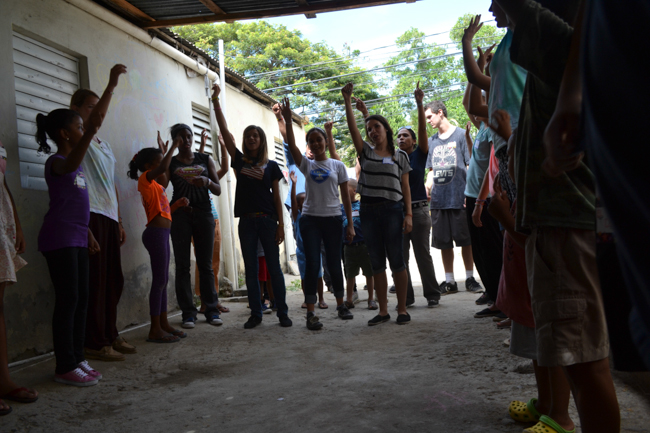 On Monday morning we helped lead a "Summer Celebration" -esque camp for 200 kids, ages 3 to 12. Because of the language barrier, the first day was the difficult for a lot of us, but we all agreed that as the week progressed it got better and better.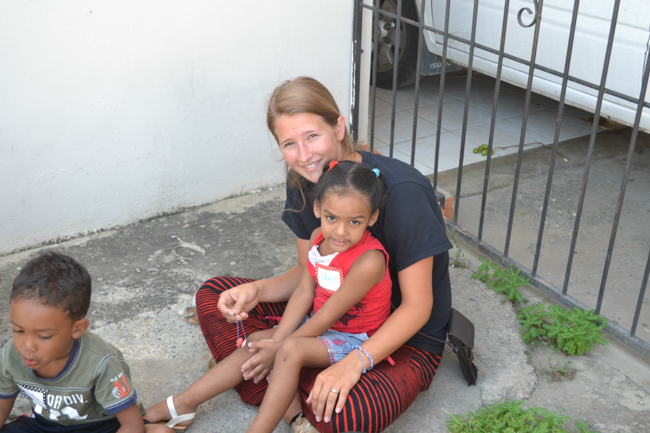 We visited a village later that afternoon, and that was when the culture shock of living in an American bubble for my entire life hit me harder than I've ever felt. These kids were sweet, gracious, loving, and extremely grateful for everything we did.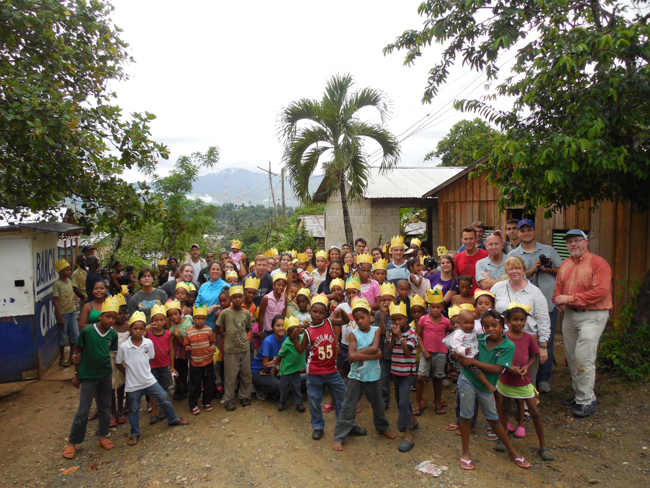 We led a Vacation Bible School (VBS) there, and they were so grateful to sing songs, watch skits, have snacks and make crafts with us. They were not greedy with the food or crafts; they were calm and patient. It was beyond beautiful. They did not have much, but they had each other, and they were content with what they had.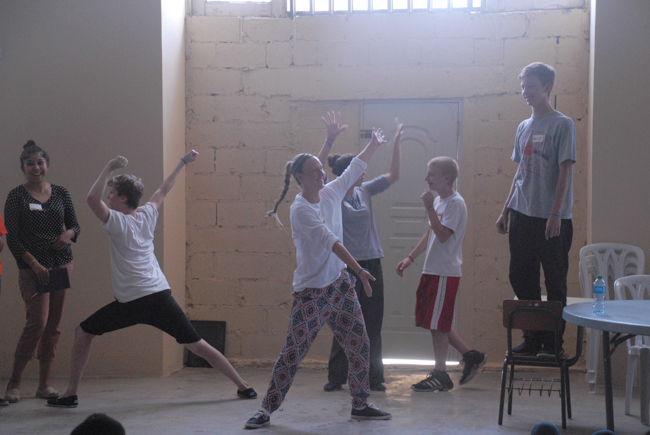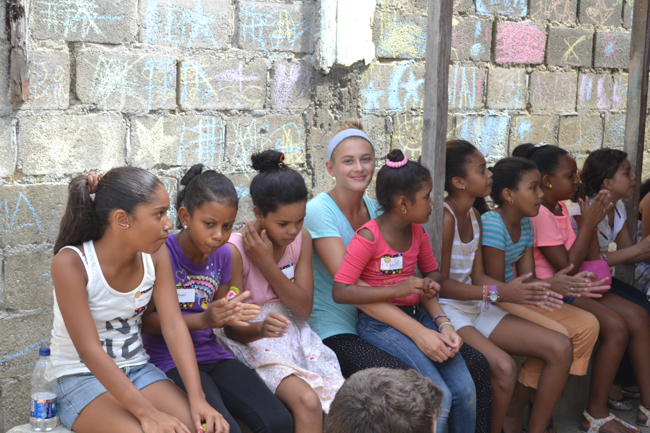 I led the skits for the week, and honestly, I was not expecting them to receive them so well because I had an "American kid reaction" in my head, but these kids do not usually see skits. They were laughing and enjoying it along with us. It was a beautiful experience.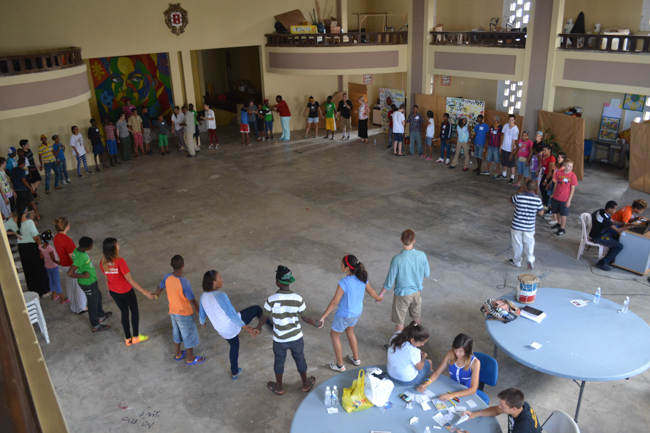 By Tuesday, we grew much more comfortable in conversations with the kids and began to gain their trust and have fun with them. That evening we had the privilege of going to a local mall to hang out with teens our age from the church community, and we drew close to them. We all wanted to stay in this village longer but we had to move on to another village. It was an emotional goodbye on Wednesday and we shed many tears together.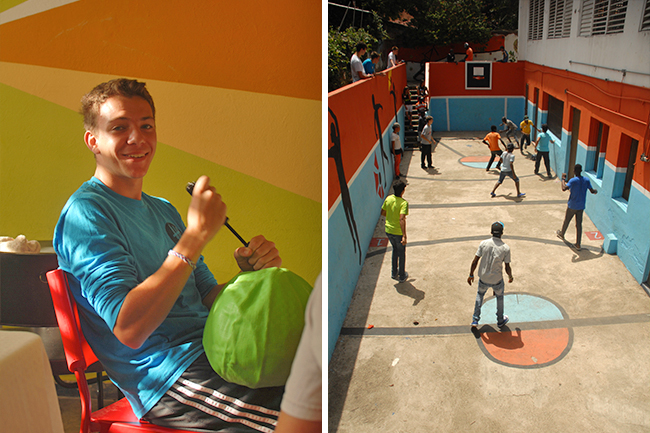 A group of five or six led by Angel Cabrera went to a local orphanage and led a VBS/hangout time for the kids there, while the rest of us went to a second village and held a VBS similar to the one at the first village. Another group of us did a basketball/soccer outreach at the church's court with the older kids. This was a blessing to them because they do not normally have competition to play against. This church also warmly received us, and the kids were again very blessed by us doing these skits, crafts, snacks and songs with them.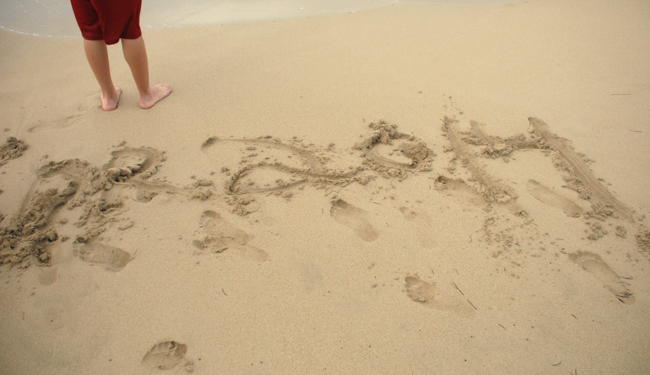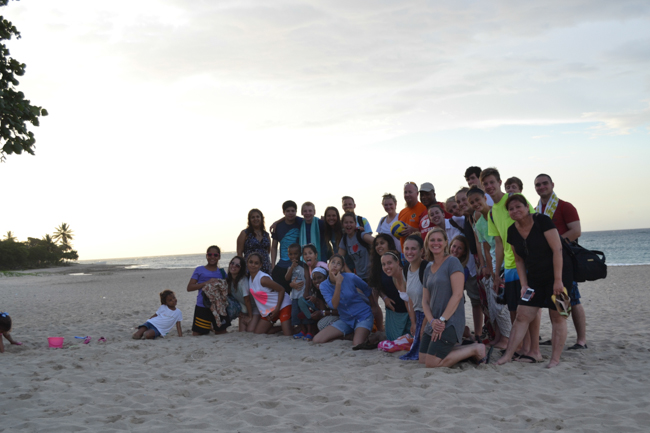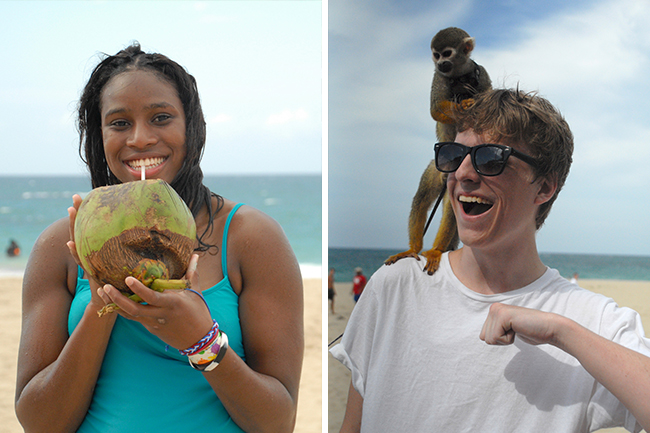 Saturday we woke up and headed to the beach to spend time with the teens again and have lunch together. It was a great time. Then we said goodbye and headed to the airport. This was extremely difficult. I cried a lot, and so did others on the trip. We were heartbroken to leave this beautiful country and its incredible people ... we grew so attached.
As one of the children shared, "You all marked my heart ... and I really had never met people like you all!"
Photo Credit: Andi Alonso, Corinne Glab & Beth Hill. Pictures are from both locations, Santiago and Santo Domingo.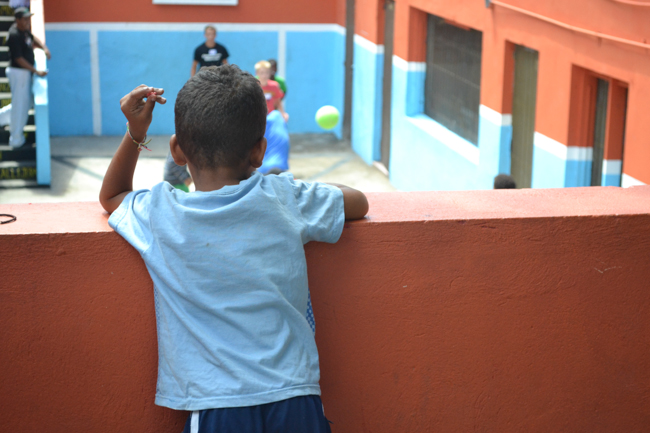 Share this on:
---
July 9 2014 at 8:46 am
1 Comments
---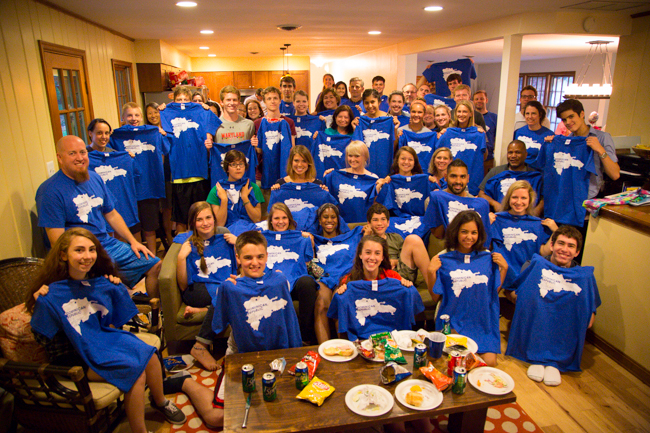 THURSDAY, JULY 10 - DAY 6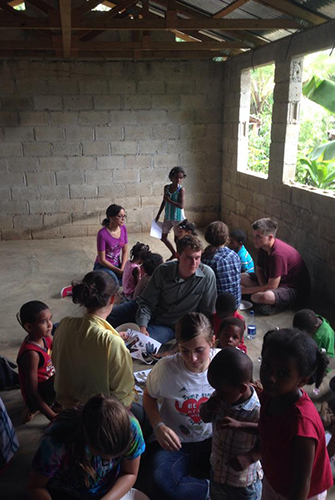 Both teams had great days of ministry and hanging out with the youth of their churches. We have really bonded with them in a special way and truly consider them partners in the gospel; sharing the love of Jesus all over the globe. It has been an amazing expereince worshipping, serving, praying, and fellowshipping together. Praying together has been an especially sweet reminder that God is the God of every tribe, tongue, and language and that he hears and answers all of our prayers, regardless of the language difference!
Last night Dave, Todd, and I met with youth leaders from Oasis, New Life (another church in the area), and Accion Callejera and had a discussion about our respective youth ministries. We gave ideas on how to encourage our teams and help them grow. We were really grateful for the opportunity to meet with these leaders and learn from them. In Santo Domingo, the team spent time in the evening with the youth and their parents as well. They split in to seperate groups and Kenneth spent time talking to the parents and Angel spoke to the teens. We have really connected with the teens here, and it is going to be very hard to say goodbye to them tonight.
We have full days ahead of us, so please be praying for strength! We are all tired and sad to be leaving all of the kids and friends that we have made here, so I'm sure it will be an emotional day. Thank you for holding us up in prayer this week. We have felt every single one!
WEDNESDAY, JULY 9 - DAY 5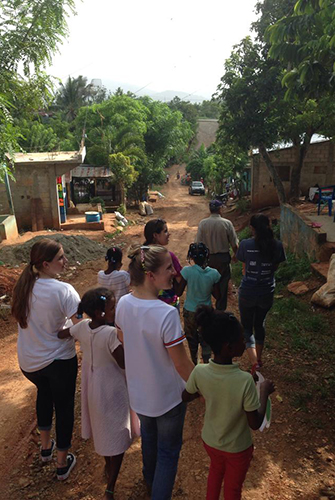 We had another great day of outreach and definitely felt God's Spirit at work! Here are a few highlights from the day:
In Santiago, we had some incredible opportunities to share the gospel with the kids at Accion Callejera. We have been making it our goal to get the gospel in front of the kids every day and today we gave them wordless gospel booklets. During the discussion time we asked all of the teens very serious questions like, "If you were to die today, where do you think you would go?" and "If you were to stand before God and he asked you why you should go to heaven, what would you say?" These questions opened up the opportunity for us to share the gospel again with these kids and even pray with a few of them as they asked Jesus into their hearts! It was an amazing experience. This morning we prayed for the Spirit of God to take hold of that building and open up the eyes of the kids there. One of the really neat things that happened today was that two of the rowdiest boys that we had yesterday, were actually the most attentive in the discussion time and even helped share the gospel story. It was wonderful and it was such an amazing reminder that Jesus is hearing and answering our prayers.
Santo Domingo had a great day as well. It was pouring raining today, but they still went out to the villages in the afternoons and did skits and sang songs with the kids there. The team shared with me that everyday that they have come, the kids have been sitting in the church and excitedly waiting for them to get there when they would pull up in the vans. Today was their last day in one particular city and the teens definitely had a hard time leaving them. Beth told me that there were many tears but that the teens' response was to worship and pray on their ride back to the guest house.

Now, the Santiago team is hanging out with the youth from Iglesia Cristiana Oasis at their weekly youth meetings. Todd gave a message on missions and we broke in to groups at the end and prayed for each other. We asked the Oasis teens to pray for our upcoming Local Missions week and for our youth ministry and we prayed for the Oasis teams and their future outreaches at Accion Callejera and in the neighborhood VBSs. The Santo Domingo team had a much deserved night off. They were able to rest and spend time hanging out together, playing soccer on the roof and card games.
I hope you can see that God is at work in the lives of our teens! He is using them and they are growing in amazing ways! And it's only Wednesday! We still have two more days of ministry! Please keep praying for us. We are all getting more comfortable here, but we are all starting to get a little tired. I am praying that everyone wants to go to bed at a reasonable time tonight.
Thank you again for praying for us! We are so excited to share all of our experiences with you all when we return!

TUESDAY, JULY 8 - Day 4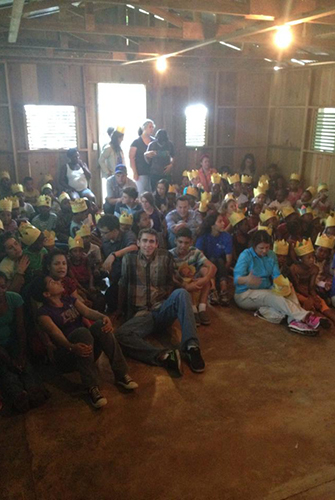 We had another great day of Vacation Bible School (VBS) and outreach! Thank you for praying for us!
God definitely blessed us in Santiago today. We were able to take the things that we learned yesterday and have an even better and more successful day today. The teens are also adjusting and are doing really well. Tonight we watched a movie with the Alpha group from last night, and once the video is over we are going to break into discussion groups. If you think of it, pray for us, that we would be able to draw these teens and young adults out and have meaningful gospel-centered discussions.
In Santo Domingo, the team had another successful day of VBS and village outreach. Beth texted me and said that everyone is doing really well and especially loving the village outreach in the afternoon. Tonight they are hanging out with the local youth at a very pricey mall. They will be experiencing two big extremes today, so please pray for them that they would be able to process all of that well and be able to feel the Holy Spirit with them and working in them.
Everyone is feeling a lot better today (especially in Santiago). I think I speak for my whole team in saying that the initial culture shock is starting to wear off, and we are really enjoying our team here, learning a lot, and loving the culture.
A quick story from Santiago:
We have two wonderful bus drivers who have been serving us all week. They are so great! We have about 10-15 teens from Iglesia Cristiana Oasis who are serving with us at Accion Callejera, and I'm not exaggerating when I say that we have fit all 49 of us into two (very small) 15-passenger vans! It has been quite the experience as we have traveled around the city! Today our drivers bartered with different street vendors as we were driving and picked up some fresh avacados for us to eat. We have all enjoyed the adventure of experiencing a new culture!
Thank you again for praying for us! We feel your prayers and are so grateful for them!
MONDAY, JULY 7 - Day 3
Hello Church!
We had long, full, and fun days today filled with Vacation Bible School (VBS) and sharing the love of Jesus with our new Dominican friends!
The Santiago team did two different VBS sessions today; one in the morning at Accion Callejera, a youth center that serves street teens, and one for children in 3 different homes of church members around Santiago. Both were exhausting, choatic (but organized of course!) and a whole lot of fun! We finished up the day at the church with a meeting with a group of teens and young adults who jsut finished an alpha program. Todd Keeler gave an excellent message and David Keeler, Joe Viers, Joe Ennis, and Jacob Patton all shared their testimonies. They did an excellent job sharing what God has done in their lives, and clearly stated the Gospel and how it changes everything!
The Santo Domingo team had a full day as well. In the morning they did a VBS program at the church and the in the afternoon they went to two different villages outside of Santo Domingo to do street evangelism and an open air VBS program. They are all doing well and in the words of Beth they had an "Excellent, excellent day. Amazing time doing village outreach. Everyone served well and both the villagers hearts and our hearts were touched".
Please keep praying for our teams. The travelling, lack of sleep, heat, and new (and very yummy and rich) food is starting to wear on some of the kids and they aren't feeling too great. Please be praying that they would be refreshed tonight and feeling the presence of their Savior with them. We have definitely felt God's presence with us and the kids did an amazing job. We have not heard one complaint from any of them.

SUNDAY, JULY 6 - Day 2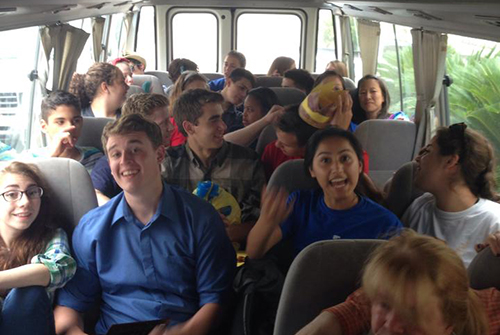 Hi, Church!

Just wanted to let you all know that we had a great day today, and everything is going well!

This morning we were all up bright and early for breakfast and church. Both services were wonderful, and in Santiago we enjoyed praising God in both Spanish and English (they sang a few songs/verses of songs in English for us!). After lunch our groups headed out for wonderful days of exploring the Dominican Republic and experiencing the culture. The Santiago team headed out for a day at the beach by the Carribbean Sea, and the Santo Domingo team went to the site where Christopher Columbus first landed in the new world and explored the rich history of this country. Both teams had full but fun days! Now we are all getting ready for our respective Vacation Bible Schools tomorrow and heading to bed early!

We had hoped to send out an update every night, but the schedule is packed, and we want to leave all of the good stories for the teens to share when they get home. :)

Please keep praying for us! That we would sleep well and be refreshed tonight, and that we would have a successful first day of VBS tomorrow, and that God would meet us and the kids that we are reaching out to. You can also be praying that God's grace would abound in each of our hearts. Things are still uncertain with the schedule (especially in Santo Domingo), and we would love your prayers for grace, peace, and wisdom for each day's activities.

Thank for your prayers! We love you all!

—Corinne Glab (on behalf of both of the teams)
Share this on:
---
June 24 2014 at 3:26 pm
0 Comments
---
We received these updates from those who are on the current missions trip in Ethiopia. Let's keep praying that God would bless their work and that lives would be changed for God's glory.
June 27
We thank God for your prayers, dear saints, and are feeling the spiritual support in tangible ways. We are in good health and good spirits. We see The Lord fulfilling His promise to strengthen us for service (1 Peter 4:11). And we are enjoying laughter and fellowship with Ethiopian brothers as well as other workers from the U.S.
On Tuesday and Wednesday I met with 14 leaders from throughout Central Ethiopia who gathered to strategize about children's ministry. As the Protestant church rapidly expands in this country, church leaders are recognizing the urgent need to equip the next generation. I had the honor of working with these leaders (who represent 500 churches) as we strategized together.
I heard some remarkable stories. One relatively large church hosted a festival for families in their town. Before the festival, they had 150 children in their church. Now 400 are gathering for children's ministry each week! Another leader described how a five-year-old girl in his church took the initiative to pray for a sick neighbor next door, who got healed and then put her trust in Christ. Another pastor told about a group of 28 mothers in his church who have banded together to pray earnestly for the children in their community.
As so often happens on trips like this, I feel like I am receiving a lot more blessing than I am giving. What these national believers lack in financial resources, they certainly make up for in faith and zeal. After some of the trials our church has faced, worshiping and praying with these brothers and sisters renews my confidence that Jesus Christ is building His Church and the gates of hell will not prevail against it!
I hope that these 14 children's ministry workers were encouraged and equipped in some small way by our time together. They are sending me back to Covenant Life with new ideas for recruiting an army of praying mothers ... and I'll be happy to sign up some five-year-old evangelists, too!
—Greg Somerville
June 24
We have the privilege of teaching English to high school children in Grades 8, 10 and 12 this week. We were expecting 80 students, but were pleasantly surprised to only have 40. We have divided them into three groups: an advanced group, an intermediate group and beginners. We teach half of them for three hours in the morning and the other half for three hours in the afternoon. So far, we have read and discussed books with our advanced students, reviewed vocabulary with our beginners and played learning games. One highlight today was when we taught them American kickball. We really got to see their personalities come out!
We are finding the students to be eager and engaged learners. The Lord has really met us as many unexpected challenges have come up. Working with limited resources and having to adjust lessons to meet student needs has been stretching, but it's neat to see how God has given us ideas every time. Please pray that we will continue to share the love of Christ with these students. On Friday, we have planned a lesson to share our testimonies with the students, some of whom are Muslim. Please pray for the Lord to work in the students hearts through this lesson.
Grateful for your prayers!
Share this on:
---