January 20 2015 at 9:30 am
0 Comments
---

The Sheep and the (Year of the) Goat
Ever been to Clarksburg? You know, just north of Germantown? With only around 14,000 people, it's not the biggest "burg" in the world. In fact, when compared to the population of any major city in the U.S., it seems quite dinky.
But what if you were tasked with contacting and evangelizing all 14,000? What if you had to reach each person in this town with the gospel? Suddenly, Clarksburg wouldn't seem so small any more, right?
Numbed by Numbers
When we talk demographics, we casually use words like "thousands" or "millions" without really grasping the weight of the numbers.
In Montgomery County, there are over 28,000* residents who were born in China. How do we wrap our minds around 28,000? Well, for starters, it's twice the population of Clarksburg. Second, think of it this way: If you were to have an hour-long gospel conversation with each Chinese-born person in Montgomery County it would take you over three years. 28,000 is a lot of people.
And yet God has brought them here. Why?
Why Are They Here?
If you ask them, they may tell you they are here for the career or educational opportunities. Just a couple of days ago I was speaking to a man from China who had come to the States to study. But it would seem that God's reason for bringing him here had less to do with education and more to do with salvation. He gave his life to Christ after participating in a Bible study with believers who had reached out to him.
Praise God for the brothers and sisters who reached out to this man! These people took Jesus' directive to "make disciples" seriously. All of us would do well to follow their example. I say all of us because I think the Great Commission of Matthew 28 (as well as his other commissions in Mark 13:10, Luke 24:46-49, Acts 1:8) was given to all of us. And I think one of the reasons it was given to all of us, is because the task is so big.
Why Are We Here?
In his book, What Is the Mission of the Church?, Kevin DeYoung answers the title's question by saying,
The mission of the church is to go into the world and make disciples by declaring the gospel of Jesus Christ in the power of the Spirit and gathering these disciples into churches, that they might worship the Lord and obey his commands now and in eternity to the glory of God the Father.
Now, setting aside the inherent danger of reducing the biblical mission of the church to a single sentence, we can all agree that if the above isn't all of the church's mission, it's certainly not less.
So, if "making disciples" and "being his witnesses" is really important, the question must be asked: are we doing that? Are we going into the world, declaring the gospel? Is this the trajectory of our lives? If we can be so bold as to presume that Jesus' "you will be my witnesses" was not only for the original audience, but for us as well, we must ruthlessly evaluate if we are obeying Him. We cannot be comfortable ignoring any of our Lord's commands—especially one that is so central to our purpose.
The Predictable Caveat
Look, I'm not saying we should be witnessing to every single person we see. Certainly, we could all be "witnessing more." However, for those of us who can't remember the last time we shared our faith, or for those who have been Christians for years and have never, ever made one disciple because reputation, leisure, money, fellowship, conferences, retreats and other things have taken precedence, we have to ask ourselves if we have lost sight of one of the main reasons we have the ability to communicate.
Mission Impossible (Sort of)
Reaching the 28,000 Chinese-born people in Montgomery County with the gospel is an impossible task apart from God's power and wisdom. As to His power, He has placed His Spirit within us and sends us out in His authority (Matthew 10:1). As to His wisdom, He has put us on a team. It's not just you seeking to reach the masses of people who don't yet know Christ. It is us.
All of us.
Rubber, Meet Road. Road, Meet Rubber
Consider praying that God would give you a relationship with a Chinese non-believer if you don't already have one. As providence would have it, the Chinese New Year season is upon us. You could make friends at any of the various activities in the area, including at Lake Forest Mall. If God has given you a heart for the Chinese, meet with friends to pray before hand and ask God to lead you to someone. You might be surprised to find that God has been working in someone (remember Saul and Ananias, Acts 9:10-19) before you even get to them.
"Almasih Kahdost" is a long-time friend of CLC who desires to see the nations come to Christ. Though preferring to publish anonymously, Almasih Kadost welcomes your comments here.
See all the posts in this series.

*Of the 28,000 people in Montgomery County who were born in China, there are indeed Christians. But—and this is anecdotal—I dare say the majority are not.
Share this on:
---
January 15 2015 at 10:31 am
0 Comments
---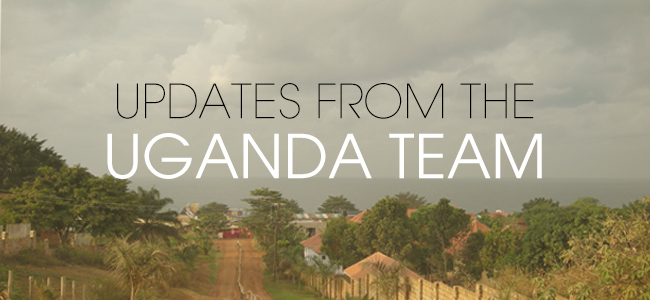 We received the following updates from the missions team currently serving the church in Uganda. Thank you for praying for them.
UPDATED: January 15, 2015
God is at work here! On Wednesday, the pastors and youth conferences started and have been going great. We are leading the youth conference with around 200 people attending. This year's theme is "Live and Love Like Jesus" based on 1 Timothy 4:12. He has been preaching through the book of Mark and showing how we can live and love like Jesus by looking at his life and ministry. We have enlisted the help of local young men to lead the discussion small groups and they are doing a fantastic job.

Members of our team have been leading the pastors through a study of 1Timothy. There are about 70 pastors and deacons that are attending the conference. We have been introducing some helpful hermeneutical tools to the pastors that they can take back to their churches and use in the future. Today, after teaching on 1Timothy 2:1-7, we introduced prayer cards for the unreached. What a powerful and sweet sound to hear the group praying in unison for scores of different people groups!

We have also been leading the children in different lessons and crafts during the conference as well. About 45-50 children have been hearing various Bible stories and a clear Gospel proclamation. After the conference each day, there has been an outdoor crusade in the village. Yesterday, a young man stepped forward and said he wanted to give his life to the Lord! Praise the Lord!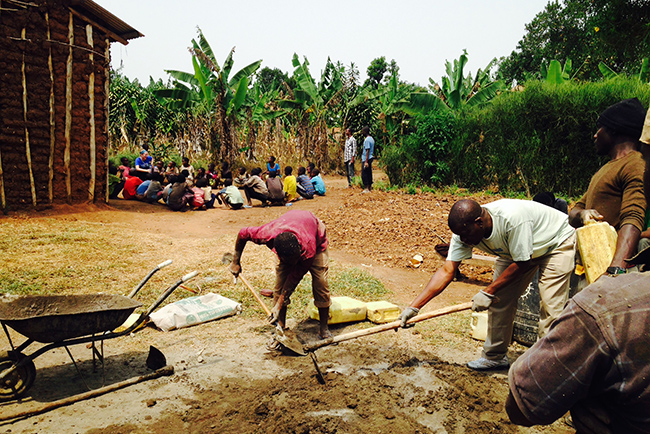 Another exciting story from the conference: there is a specific young man that has been attending the conference this week and hearing the Gospel. We have been able to talk to him, encourage him, and share the Gospel with him. Please pray for this young man! If he were to trust in the Lord, his family would most likely disown him and throw him out. Please pray for him; that God would move in his heart and give him courage to follow him!

The team is tired but doing well! Please continue to pray for strength, good health (we've had a few upset stomachs over the last few days), and that people would continue to be encouraged and drawn closer to the Lord through us! We are seeing God at work here and are excited to see what else he has for us.
Thank you for keeping the team in your prayers!
---
January 12, 2015
On Friday night, we hosted a dinner for the pastors and their wives who will be attending the conference this week. It was a great time of reconnecting with old friends and making new ones. We were able to bless the pastors with monogrammed ties and their wives with beautiful shawls.

Saturday was spent resting and preparing for the rest of our trip. We were grateful for the time to catch up on sleep, prepare for the outreaches and youth conference, and spend time with some of the teens in the church. The time spent with the teens was rich as they learned how to lead Bible studies for the conference this week, practiced crocheting, and learned the rules of basketball.

Sunday we joined the church for their Sunday service. It was lively and filled with worship! The team performed a few songs, but unfortunately, there is no video evidence. Our team leader preached an excellent message on how God views his children and his specific love for each of them. After church, we had lunch and then did a basketball clinic for the teens in the community. The men on the team led a clinic with about 25 teens, but at least 200 men, women and children came to watch and enjoy the games after the clinic. We shared the gospel when the clinic was finished, and we are hoping that many were affected by it. We all loved spending time with everyone at the clinic; whether it was teaching basketball or just talking with the locals. After the clinic we headed over to the local radio station with one of the local pastors to share his testimony over the radio. His testimony was excellent and very encouraging. The rest of the team enjoyed listening to it on the radio back at the guesthouse.

Monday we had a very good time repairing two widow's homes in nearby villages. The ladies played with children, carried water, and helped the women with cooking. The men shoveled sand, mixed cement and tried to keep the skilled nationals supplied with all they needed. Our team had a long talk with an unbeliever about Jesus. One of the widows whose home was repaired had just been saved and added to the church. She was very grateful!

The whole team is feeling well, although many have not adjusted to the time and are a bit tired. Pease continue to keep us in your prayers.
Share this on:
---
January 5 2015 at 9:12 am
1 Comments
---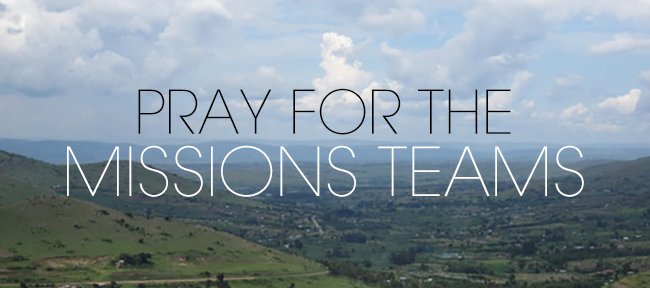 This month we are sending two teams to serve in western Uganda and Central Asia. One of the best ways we can participate in supporting these teams is to pray for them. Here are some points to help guide our prayers.
Uganda
For almost a decade our church has enjoyed a unique partnership with a group of churches in western Uganda. More than 200 members have traveled there and been powerfully affected by the work that Pastor Moses and his team are doing.
This Wednesday we will send out another group to continue the tradition. Here are some of the things they will be doing during their two-week trip:
—Teaching and sharing testimonies in 10 villages
—Serving hundreds of young people at a four-day youth conference
—Helping repair homes for several widows
—Sharing the good news door to door
—Teaching on the radio
—Teaching local leaders at a four-day seminar
—Loving and encouraging the members in these local churches
Prayer points:
—That everyone would be filled with the love of God and the boldness of the Spirit
—That our team would be given the right words to share in each context
—That they would see God's power triumph over sickness and evil spirits
—That they would experience the unity of the Spirit from start to finish
—That our team would grow stronger in faith as they step out to in obedience to the Great Commission
Central Asia
For the team headed over to serve:
—Health and safe travels
—Quick adjustment to time change and sound sleep
—Sensitivity to the Spirit
—Words of knowledge, prophetic songs
—Strength to serve with musical gifts
—Flexibility and ease in working with the sound system
—Overflowing hearts of God's love to share no matter how tried they are
Prayer points for the women attending:
—Pray against any feelings of guilt or comparison that the women attending might feel as they come together and share what God is going in their lives.
—Pray for traveling mercies for all who are coming to the meeting, for no travel delays and easy connections along the way.
—Pray for those leading small groups, break-out sessions, worship, teaching, prayer warriors, logistical helpers, and other volunteers coming to help with child care. Pray especially for our speaker, to be spirit-filled as she shares.
—Pray for this meeting to be a great encouragement to the women no matter what stage of life they are in presently.
—Pray that each woman will leave the meeting with one tool to use to share her faith and deeper motivation to proclaim the good news more boldly.
—That this would be a time of equipping for all of the women involved.
Share this on:
---
December 22 2014 at 11:49 am
3 Comments
---

"Please tell me about Christmas," said the young, smiling Persian woman, practically bouncing with curiosity. Her eagerness to learn the significance of this festive season surprised my friend.
"Would you like me to tell you the cultural significance or the religious significance," my friend asked.
"There's a religious significance?"
You might be thinking she was experiencing her first Christmas in the States, but the truth is that this well educated lady from Iran had been in the U.S. for four years. She was ignorant that Christmas was anything beyond a cultural phenomenon.
Icebreakers, Icebreakers Everywhere
Keeping in mind that westerners are typically more uncomfortable talking about religion than people from most other cultures, consider this: The Christmas season is the perfect excuse to share your faith with an international! Ubiquitous decorations, holiday food at the office and frenzied shoppers are all great conversation starters.
For your international friends or coworkers who have lived here for a while, make casual conversation asking them what they think about this time of year. Or, for those who have moved here recently, draw them out regarding their home country's festivals and their religious significance.
Listen, Learn, Share
Answers will vary of course, but really listen and learn about your friend and his/her beliefs. (As you listen, you are earning the right to share your beliefs). Depending on the conversation's direction, you may be able to interject the differences between the commercialized aspects of the holiday and the true meaning of Christmas. Explain that our culture has largely forgotten the original purpose of the holiday, and explain just what the true significance is.
The basic truths of Christmas aren't nearly as well known as they once were in the U.S. However, even our culture's blasphemously commercialized take on the incarnation can still be used by God to afford us opportunity to tell of the love and forgiveness offered in Christ.
"Almasih Kahdost" is a long-time friend of CLC who desires to see the nations come to Christ. Though preferring to publish anonymously, Almasih Kadost welcomes your comments here.
See all the posts in this series.
Share this on:
---
November 10 2014 at 9:04 am
0 Comments
---

Alone in a Strange Land
"My neighbor will talk to his dog, but he will not even say 'hello' to me."
As I sat in the living room of my new friend from India (we'll call him Rohit), the rawness of those words saddened me. Having lived in the United States for one year, working eighty hours a week, Rohit has yet to meet his neighbors or to have them even speak to him.
Just for a second, let's try to put ourselves in his shoes.
Imagine moving to a country where the social norms and mores were as foreign as the language. Your nice white collar job has been replaced by one with twice the hours and three times the physical demand; so much so that you have lost 40 pounds and need to live with another family to make ends meet. Though the weight loss might be nice, laboring on your feet 80 hours a week has exhausted you such that your few moments of family time are spent trying to rest for the next day. Then imagine getting suspended from one of your jobs because an act of hospitality (perfectly acceptable in your home country) is interpreted as something intolerable in this strange new land. Imagine that the holiday in which your family celebrates the triumph of light over darkness is overshadowed by a macabre night of vampires, blood, ghosts and children(!) dressed as such demanding candy as they incessantly ring your doorbell.
That is a taste of my friend's first year here.
God's Take On It
Long ago, God's people were told to look out for folks who were experiencing the above anxieties. He told his people to be proactive about caring for these folks and said:
"When a stranger sojourns with you in your land, you shall not do him wrong. You shall treat the stranger who sojourns with you as the native among you, and you shall love him as yourself, for you were strangers in the land of Egypt: I am the LORD your God."(Leviticus 19:33,34)
Now, before the devil whispers to you, "That was the old covenant. You're now in the new, no longer bound to such inconveniences," ask yourself if you've heard someone—a carpenter's son, perhaps—who said something very similar. Something like, "You shall love your neighbor as yourself." When Yahweh told the Israelites to treat the foreigner with kindness, he argued that they should do so because they too were once strangers in a foreign land. "Love your neighbors like you would want to be loved. Treat them like you would want to be treated. You remember how tough it was being in Egypt, right?"
Opportunity
With the holidays upon us, please consider reaching out to people like these in your relational network by inviting them into your home. It is a perfect opportunity to (1) show the love of Christ in action and (2) to tell of the love of Christ in word by explaining what you're thankful for, and/or why we celebrate Jesus' birth.
In working with international students and visiting scholars, I found myself constantly receiving gifts—ties, keychains and other assorted mementos—as a means of thanking me for teaching them English and/or the Bible. These giveaways were all clearly from the homelands of these dear people who had taken the time to pack their bags full of gifts for people who would invite them to their homes. More than once I heard stories of students returning home with the same gifts they had purchased in their country because no invitation had been extended.
Let's seize the opportunity of the holidays to give these folks reason to empty the tchotchkes from their suitcases. May we treat our international neighbors better than we do our pets.
"Almasih Kahdost" is a long-time friend of CLC who desires to see the nations come to Christ. Though preferring to publish anonymously, Almasih Kadost welcomes your comments here.
See all the posts in this series.
Share this on:
---
November 9 2014 at 9:00 am
0 Comments
---

The Light Shines in Darkness
Question: What holiday is nearly eclipsed by Halloween every year? If you said "Thanksgiving" you get credit because costumes and candy are more heavily marketed than turkeys. But your credit is only partial because that's not the answer I was looking for!
For Hindus in the U.S., the holiday Diwali (commonly known as "the festival of lights") often falls in October and, predictably, receives little attention compared to Halloween, a holiday of darkness if there ever was one.
Sometimes called Dipawali, this five-day holiday can mean various things to the diverse groups (Hindus, Jains, Sikhs and others) who observe it. Many see this as a celebration of the Hindu deity Krishna defeating the demon Narakasura. Others emphasize the defeat of Ravana (another demon) by the god-man Rama.
Differing interpretations notwithstanding, most at least see Diwali as a time to celebrate good's triumph over evil or light's victory over darkness. I think this is where we can humbly bring something to the conversation.
A Bridge
Do you have friends who might have recently celebrated Diwali? (This year it fell roughly between October 19 - 25). If so, consider asking them about it. Ask, "Do you celebrate Diwali? How was it this year?" Honestly listen and learn. Humbly ask for them to explain the holiday's significance to you. If they don't mention it, ask for them to explain what role "light" plays in the holiday.
After engaging them about the "festival of lights", let them know you too believe that "...the light shines in darkness, but the darkness has not overcome it" (John 1:5). But tell them Jesus identified Himself as this light saying, "I am the light of the world. Whoever follows me will not walk in darkness but will have the light of life" (John 8:12). Tell them that Jesus made another bold claim when He said, "I am the Way, the Truth and the Life. No one comes to the Father except through me"(John 14:6).
Later in this or another conversation, you may wish to ask more questions as to what they believe happens to a person when they die and what role karma plays. (Karma means action or deeds). Responses frequently lean towards good karma outweighing bad for a favorable post-death outcome. Consider asking how much good karma is enough? Humbly share with them Jesus' affirmation of good deeds, but that he taught what was most important was believing in Him (John 6:29). Let them know that Jesus had nothing but good karma and that He is both willing and powerful enough to remove your bad karma and give you his good.
More more could be said than can fit in a small article like this, but the above hopefully will get you started. Remember to be a genuine friend and frequently share what the Lord is doing in your life. Pray for your friend. They've been blinded by the god of this world, just as you once were. Pray that the Light of the World will shine in their dark prison to deliver them.
In closing, remember this: The self-identified Light of the World called you the light of the world, too (Matt. 5:13-16). Shine your light amongst the nations, brothers and sisters.
Additional resources:
• "Jesus Among Other Gods" by Ravi Zacharias
• "Sharing Your Faith with a Hindu" by Madasamy Thirumalai
"Almasih Kahdost" is a long-time friend of CLC who desires to see the nations come to Christ. Though preferring to publish anonymously, Almasih Kadost welcomes your comments here.
See all the posts in this series.
Share this on:
---