January 19 2016 at 12:43 pm
0 Comments
---
On Sunday, P.J. Smyth presented his 2016 "Outward Living Plan" to encourage us to make friends, build relationships with our co-workers, acquaintances and neighbors.
Download a PDF of the Outward Living Plan
Download the youth version of the Outward Living Plan
Step 1: Make Genuine Friends with Unbelievers
Think relatives, neighbors, colleagues, those with shared interests in your current rhythm of life. God has placed you!
Prioritize a few people and make it your aim to become a brilliant friend.
Pray for them.
No friends? Think about rhythms of life:
a) Gym, hairdresser, out walking, etc.
b) Hobby: running club / walking club / dog / kids sports team
c) Meals: 21 per week
Step 2: Naturally Engage on Spiritual Things
Let these friends know you are a Christian, in a natural, unforced way.
Live an attractive, authentic life, not perfect, but not high maintenance.
Be honest about your struggles: don't hold out Christianity as a self-improvement scheme. Share how your faith helps you.
Listen to your friend's problems; maybe offer to pray for them.
Ask about their faith, and just listen. You might say, "Are you a person of faith? What does that look like for you?" If they say, "I don't believe in God" say, "Tell me more about that" Don't show disapproval if you disagree with what they believe. Ask questions and listen with interest. This is what friends do! It is also an expression of love, respect and humility, and it will help you understand them better. It may also mean that in due course they are more open to hearing your view of faith.
Step 3: Draw people into your church community
Informally socially, or more formally socially, e.g., interest groups (book club, sport)
Can freeload on others' friendships. Fish as a team.
Step 4: Personal and Public Proclamation
Personal: Prepare and use personal tools:
a) Personal testimony: 30 sec and 3 min versions. Keep it real. Share how your faith helps you; e.g., stress, fear, drivenness.
b) Learn 2-4 ways to frame the Gospel
c) A stash of resources to give: "This helped me.", "I would be interested to see what you think of this."
Public: Think what's first: Social action or Introducing God course? Sunday? Particular preacher or series?
Our 2016 Goals
Invite at least one unbeliever to our Easter Service. (i.e. "A tradition we have is to go to church on Easter and then eat together, and we would love you to join us.", "Kids have a blast.", "We've got this new pommie pastor who I am still working out; would love your perspective.")
Have a couple of friendships developing nicely by the fall. This gives our church a chance to gear up in a few areas.
Download a PDF of the Outward Living Plan
Download the youth version of the Outward Living Plan
Share this on:
---
December 1 2015 at 3:06 pm
1 Comments
---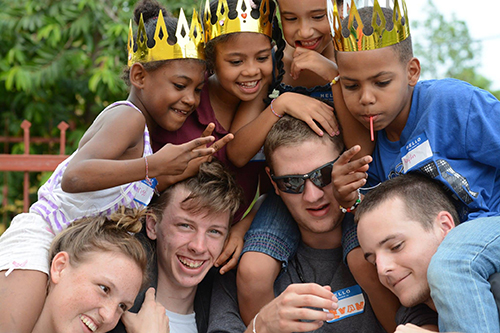 Covenant Life members: This week the first issue of Missio Dei will appear in your inbox. The Missio Dei is a new online newsletter produced quarterly by a team of church members and Missions Department staff. The title comes from a Latin phrase meaning "mission of God." As Timothy Tennent explains, "Mission is first and foremost about God and His redemptive purposes and initiatives in the world…To put it plainly, mission is far more about God and who He is than about us and what we do."
Amazingly, though mission begins and ends with God, He calls us to be part of His mission in the world. In each issue of Missio Dei you will find stories about people in our church who are joining God in His mission, both locally and globally.
Some missions demand the elite training and courage of "the few ... the proud ... the Marines." Fortunately for us, God calls and empowers all of his followers to join His mission. We hope the Missio Dei will both inspire and encourage you to play your part. And no matter how big or small that part might be, we look forward to the day when we can tell your story in Missio Dei!
First issue of The Missio Dei HERE.
Share this on:
---
October 6 2015 at 11:32 am
3 Comments
---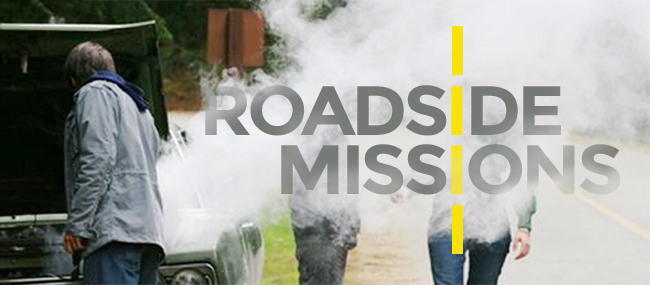 A couple weeks ago we recieved this encouraging story about how God can use simple acts of kindness to provide opportunities to advance the gospel. We want to thank Donna Banks for providing an encouraging example of being faithful in caring for others in our community and for sharing how God is at work.
This morning as I was driving in a steady rain on the way to Shady Grove Hospital, I came across a group of teens (possibly Indian or Pakistani) standing on the sidewalk in front of a disabled car along Snouffer School Road. The car had flashers on, so I pulled in front of it and asked if they needed to use a cell phone or some other assistance. They said that their Dad was in the car and all they wanted to do was push the car backward about 50 feet to get it off the main road. I told them I would block the traffic with my car so they could do that (people could still drive around us). Anyway, I did and it all worked out. They were able to push the car into a free parking spot (God plans everything).

Because of the rain and the crisis I was not able to meet the Dad but I said, "God bless you" to the young people.

This afternoon, amazingly, a man came up to me and asked if I was the lady who had helped them. I confirmed that I was. He said, "It may seem like a little thing to you, but it was a big thing to me. People were passing by all the time and did not stop. Why did you stop?" I told him that I am a Christian and as God has shown me so much love I want to show others His love too. I gave him one of my cards with my contact information and told him to contact me if he had any needs (and I wrote down the name of our church on the back).

Totally cool!

Blessings,
Donna
Share this on:
---
July 21 2015 at 9:16 am
0 Comments
---
God has blessed the last two days of Joy Camp tremendously. On Thursday evening we had our traditional site cookouts at Laytonia and Johnson's Park. We cooked hundreds of hot dogs and were able to interact with the campers and many of their families. At the Laytonia cookout the campers were even able to come up and share the "Gospel Chant" they had been learning all week.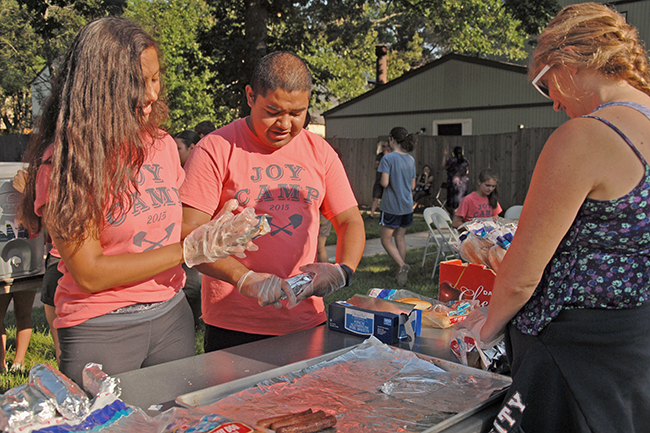 Friday was our last day with the campers. At South Lake they had a brief ceremony to celebrate the end of the week since they didn't have a cookout. Parents were invited, and we called each camper by name to receive their Bible and camp t-shirt.
Friday was also our last day together as a team. We took time in the evening to recount God's faithfulness by singing, listening to a short teaching, and hearing about how God worked at the different sites.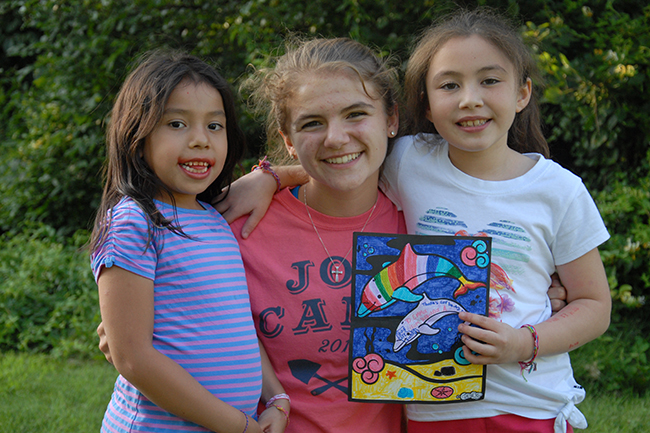 Johnson Park
Because renovations going on at Washington Square and Emory Grove, we weren't sure how many kids would show up to camp. The leaders visited surrounding neighborhoods on Saturday and handed out flyers to tell people about camp. By the end of the week we were up to 54 kids.
During one-on-one time one of the youth was explaining to a camper that in all the Bible stories throughout the week, each person had faith and God loved them. The camper responded, "Wait, God loves us? What if you don't love God back?" So our volunteer was able to explain the gospel to him.
Laytonia
We averaged between 40 and 50 campers.
Many campers at Laytonia have professed faith throughout the years, so it is encouraging to go back and remind them of truth.
Many of the campers have reached their middle school and high school years and have been coming since the beginning of Joy Camp. The experience is geared for younger kids, but by the second and third day the older kids were able to jump in and participate.
Laytonia has a very diverse group of kids, but it's a tight-knit community with a strong sense of love.

South Lake
Because this site is an elementary school, our youth went into different classrooms and helped with summer school classes.
We heard one first-time camper ask his friend, "Hey, do you believe in God?"
Even some of the high school students expressed an interest in coming back next year to Joy Camp, not as campers but as volunteers.
Many kids expressed that this was their favorite week of the whole year.
During the upcoming school year we are going to partner with the school's English for Speakers of Other Languages (ESOL) program by providing child care and mini Joy Camps. God is working in unique ways here at South Lake, so please continue to pray for us.
Overall, all of the leaders were encouraged by the youth who have grown up in the church their whole life and are very familiar with the gospel. But seeing them fully invested and being able to apply that knowledge to local missions was incredible. Our group demonstrated love toward each other as well as the campers and grew in unity. Many of the rising freshmen also stepped out of their comfort zones and were bold and courageous in sharing the gospel this week.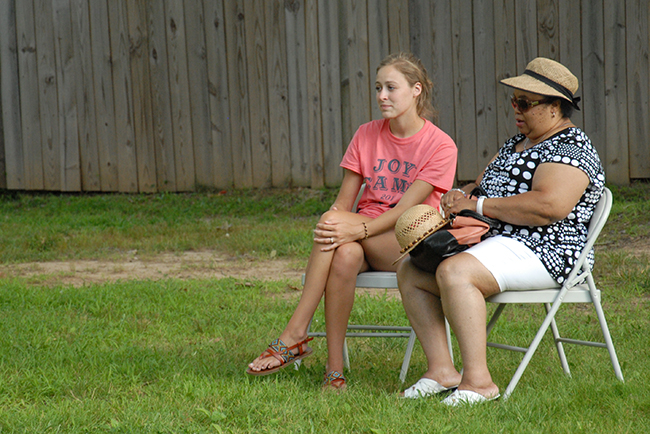 Now that Joy Camp is done, pray for each of the families and campers. Pray that they would be reminded of the gospel daily as they look at their Bibles and camp t-shirts. Pray that they would be able to share what they learned at camp with others in their community. Pray for the different churches in our area and around the world. Pray that they would send more laborers for the harvest and that the gospel message would go forth. The same Holy Spirit who helped us this week understand that faith in God's promises leads to courageous obedience, is the same Spirit working throughout the entire world.
We are looking to do follow-up ministry throughout the year. Here are some ways to get involved:
South Lake
-Monday nights (starting September 28), 6:30 p.m. - 8:30 p.m.
-Fun, games, Bible study, friendship and help with homework
-To sign up, email Travis Earles
Laytonia
-Saturday, August 15, 10 a.m. - noon, at the Laytonia Community Center
-Fun, games and Bible study
-To volunteer, email Carlos.
Johnson's Park
-Saturday, July 25 and August 15, 10:30 a.m. - noon, at the Emory Grove Playground
-Fun, games and Bible study
-To volunteer, email Neal Stuckenschneider.
Lastly, we want to thank you for praying for us. This week could not have happened without you interceding for us. We are grateful for you!
Share this on:
---
July 16 2015 at 1:47 pm
0 Comments
---
Today we focused on the life of Moses. The lessons started with a brief overview of Moses' life: how he was saved at birth, ran as fast as he could away from Egypt, seemingly was content with his new life as a shepherd, and then came across the burning bush where God speaks to him. Campers read different verses from Exodus and continued to learn about Moses through different skits.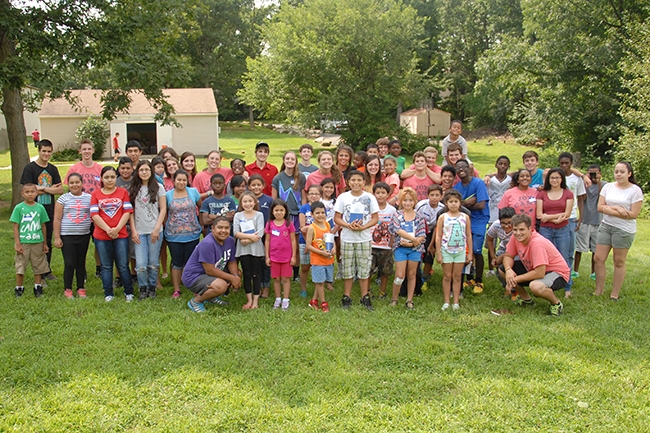 The story of Moses also references the Joy Camp theme: Faith in God's promises leads to the courageous obedience of God's commands. God commanded Moses to go to Egypt and tell Pharaoh to let God's people go. God promised Moses that he was going to deliver his people, and all he needed to do was go. Moses obeyed with courage even though his life might be at risk.
Planning is going well, and each site is doing a fabulous job reaching out to the kids and sharing the gospel. Despite our weary bodies God is giving us energy to persevere.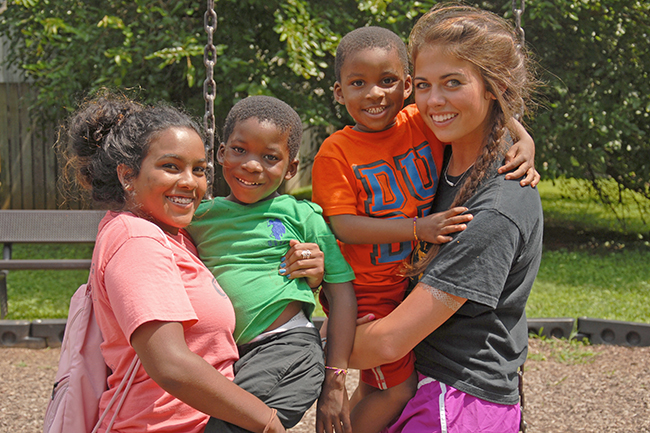 Tonight we had the privilege of attending the Wednesday Night Prayer Meeting. We gathered together with faithful prayer warriors from our church and took time to worship and pray. We prayed for our camp, for the specific communities, and for the glory of God to spread throughout the Gaithersburg area. It was refreshing to be together and be reminded of God's faithfulness to hear and answer our prayers.
Tomorrow are our traditional site cookouts. We would love for you to come, participate, and see how God is working!. There will be many parents and families from each community to talk to, and opportunities to share the gospel.. The cookout locations are Laytonia (diagonally across the street from the church) and Johnson's Park (behind the Flower Hill Starbucks).
If you are interested in coming, please feel free to email Corinne at the church office for directions.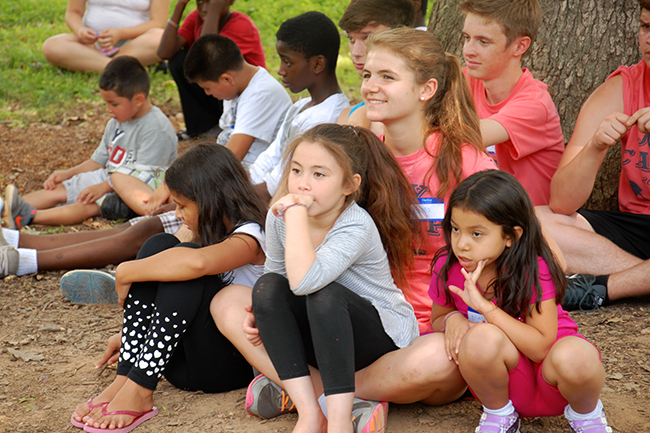 As we enter our last few days of camp, here are some ways you can be praying for us:
Physical and mental strength for leaders and youth
Sufficient sleep, energy and joy to persevere through our last few days of camp
Healing for minor scrapes and bruises that happened today
That our youth would have clarity during the one-on-one times in the afternoon and be able to communicate the gospel effectively to campers.
That God would send more laborers to the harvest in Gaithersburg and that the follow-up ministry of making disciples in our community would grow exponentially and thrive for the glory of God
Share this on:
---
July 15 2015 at 10:12 am
0 Comments
---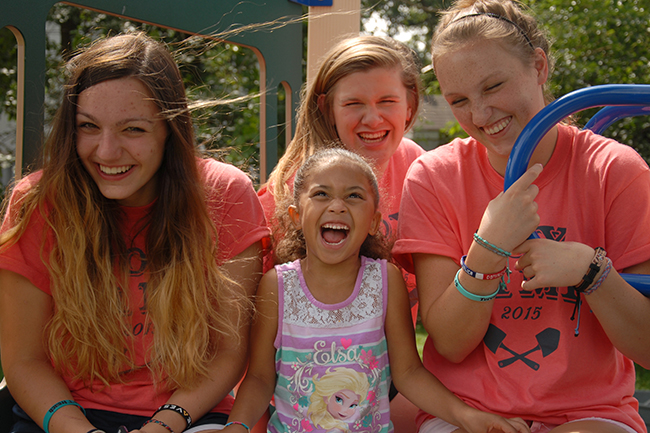 It's day two of Joy Camp, and God has continued to bless us. Today we focused on the idea that true faith is enduring faith by learning about Abraham. In the story God first calls Abraham and then gives him the promise of being the "Father of Multitudes." This promise to Abraham is repeated several times throughout the chapters in Genesis. Abraham believed and obeyed God, even as his faith was put to the test when God asked him to sacrifice his only son, Isaac.
Here are a few updates and prayer requests from each site:
Johnson Park
Praise report: There were double the amount of campers today and many teenagers!
Pray for a young girl camper who comes from a home of mixed faiths.

Laytonia
It was encouraging to see that many campers are bringing Bibles back to Joy Camp that they received previous years.
It is encouraging to see younger campers bringing their older siblings and vice versa.
There are many campers who are asking what it means to live an eternal life. A lot of the campers are believers.
Pray that our volunteers will continue to have deep, biblical conversations the rest of the week.

South Lake Elementary School
Praise report: There were a lot of new campers today. So it's evident that people are spreading the word.
During one-on-one time, one of the youth spoke with a girl who has already given her heart to God and goes to church. Her mom works long hours to support the family. Pray that God would provide and that their family would be able to go to church more often.
Share this on:
---