June 20 2016 at 1:31 pm
0 Comments
---
Several folks asked for a transcript of Tim Harvey's pastoral prayer this past Sunday, so we share it here:
Gracious Heavenly Father, we come before you this morning to agree with your evaluation of us, spoken through your prophet Isaiah. Like the people of Isaiah's day, we have rebelled against your laws and forsaken your ways, both inwardly and outwardly. So we come before you as your people to confess our many sins.
Lord, we have raised up other gods before you in our hearts and our lives, idols that we have looked to for joy and hope and meaning more than we have looked to you. And our idols are many – they are entertainment and social media where we have run for refuge and for joy rather than to you. Even your good gifts like work and family and children and marriage and friendships we have exalted as other gods above you by running after them and holding on to them as our ultimate sources of joy and hope instead of you.
Lord, we have disregarded and dismissed things of eternal value – the wonderful treasures of your word and of deep fellowship with your people – in favor of things that will not last – entertainments and diversions, or even a few more minutes of sleep.
We have prayed more for our own kingdoms and our own comfort than for your kingdom.
Lord, we have failed to love our brothers and our sisters as we ought to. We have made harsh judgments in our hearts without knowing or even caring about their situations. We have distanced ourselves from those in need, we have been too afraid or too concerned with our own comfort to embrace the hurting, the desperate, and the difficult people around us.
We have sought to be proven right more than we have sought to be loving.
And Lord, these things have come about because we have looked first to ourselves rather than to you. We've trusted in our own strength and wisdom and become fearful when those fail us. We've chased after our own comforts only to find those comforts are ruling over us.
And so we turn to you, Lord. We turn to you to ask your forgiveness for our many sins. And we turn to you to thank you for the great forgiveness that you purchased at such a cost – by turning your back on your own son as he died – and yet that you offer to us for free. We turn to you to rejoice that there is no condemnation for those who are in Christ Jesus, that you have set us free from the sin that once enslaved all of us.
And we turn to you, Lord, to cry out for your help to turn aside from our sinful ways and to live in a way that pleases you. We cry out, Lord, that you would give us not just an outward form of obedience, but that you would change our hearts. Take away our hearts of stone and give us hearts of flesh that are tender toward your ways. Fill us with your perfect love that casts out fear. And turn our eyes away from ourselves, away from the foolish idols that fill our view, to see more and more your kingdom and your glory.
We pray in the precious name of our Lord Jesus Christ who loved us and gave himself for us,
Amen
Share this on:
---
December 9 2015 at 7:00 pm
0 Comments
---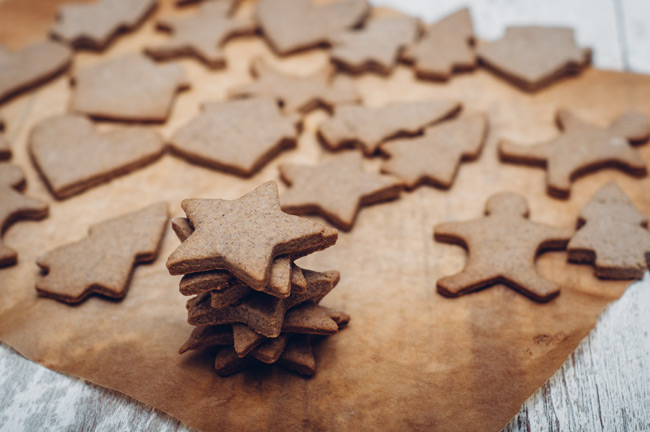 Part three of a three-part series on celebrating Advent from Kevin and Jami Rogers. (Part one, part two)
Here are some ideas we've picked up for taking advantage of common holiday activities to make a spiritual impression on our younger kids.
Involve the kids in baking something like Christmas cookies. Once they're baking and the smell starts to fill the kitchen, sit them down on the floor in front of the oven. Talk about waiting for something you want. We can't wait for those cookies! For hundreds of years the people of Israel waited for the Savior they were promised was coming. FINALLY, he came when Jesus was born! Read Luke 2:25-38 when Simeon and Anna meet baby Jesus in the temple and talk about how excited they were to finally see their Savior. Now we are waiting for Jesus to come again. If you really want to go full on, talk about the great feast we'll have with Jesus when he comes again while you're eating what you baked. Maybe even take guesses what might be on THAT menu!
Another way to impart this idea of eager expectation is to promise the kids that at some point you are going to do something special as a family. Don't tell them what or when, but regularly remind them of your promise. Then on the day you deliver, make sure it's good! And teach them about how Jesus had been promised and was eagerly anticipated. He's promised to come again.
On the promise that Jesus is coming again, you could make hot chocolate, bundle up in coats and hats with blankets or sleeping bags, and sit outside looking up at the sky at night. Read Acts 1:11 and talk about the promise that Jesus will come again through the clouds. Or talk about the night angels came to the shepherds in the pitch black of night.
The point in all this is to wrap truth in images and memories that will stick. You can probably come up with ideas that suit your family traditions and experiences. Jesus is the light of the world. How could you make an impression about this when putting up your Christmas decorations or going to see lights around your neighborhood? If you travel during the holidays, could you somehow make an impression about Joseph and Mary's travel to Bethlehem and how even as a man Jesus was driven out of his own home town? Jesus didn't come to live a life of comfort and ease. He lived his life "on the road" teaching and serving others. You get the idea.

This shouldn't be stressful. It should be fun. And when you think it bombs or your pre-teen thinks it's cheesy, don't underestimate the impact that moment could have. Our prayer is that you'll pause and enjoy reflecting on Christ with your family this season.
Share this on:
---
December 8 2015 at 7:00 pm
0 Comments
---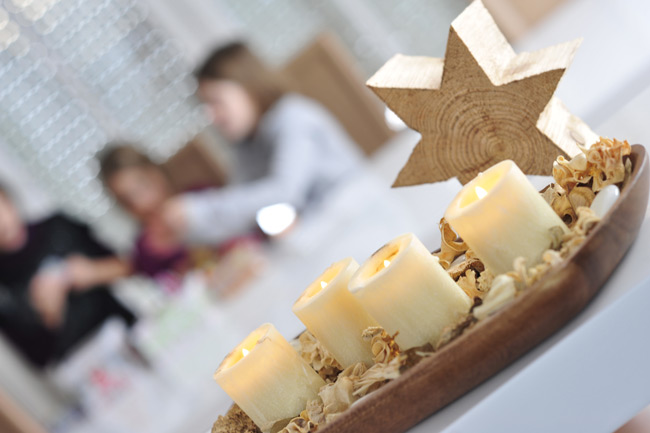 Part two of a three-part series on celebrating Advent from Kevin and Jami Rogers. (Part one here)

For family Advent devotions and activities, we have two main goals. First, help our children understand that Jesus is the focus of this season by making reading and talking and singing about him a regular part of our Christmas traditions. Second, by using the traditions and experiences and images that are already apart of our celebrations to teach spiritual truth.

You might notice that our goals and expectations do not include our children immediately bursting out in worship at the wonder of the Incarnation. We hope that happens someday, and there are occasional glimmers of it now. But most of our devotions, even the most creative and active ones, often include deep questions like, "Can I go play with my Legos now?" Our goal isn't that our dinner table become a place of peaceful meditation. It would be nice if when Dad opened the Advent devotional, our kids silently looked on with angelic faces eagerly waiting to meditate on Christ … but that rarely happens. Occasionally our dinner table is festive and fun and full of great Advent connections. But it's usually a flurry of elbows and food and commentary about recess.

As parents, we've learned to embrace this (I think). Here's why we have hope that what we're doing is worth it: We know that even the smallest moments and traditions in this season make an inordinate imprint on their little memories. The most trivial and random pieces of decoration or tradition can become of utmost importance to the kids when it's a regular part of what we do. That ornament they made in first grade or the ragged gingerbread doll become essential. We know they might not "get it" all right now. But years from now, we want their memories and expectations for Christmas to be inescapably full of reflections on who Jesus is.

The resource that has probably been the most helpful to us for this is the Advent guide produced by The Village Church in Dallas, TX. They produce a new one annually and make it available for free online. This year's is available here, but you could use any of the previous year's as well.

For the tech oriented, we've appreciated always having material available on our phones and tablet with the app by The Gospel Project (soon to be our Discovery Land curriculum). It's called "The Expected One." You can read about it and download it here. Both of these have readings, discussion questions, and ideas for activities that can be tailored to suit families with kids of all ages. Be intentional, but have fun and enjoy it. And more than likely your kids will too.

Tomorrow, we'll share some ideas for helping Advent truths stick, especially for younger kids.
Share this on:
---
December 7 2015 at 5:15 pm
0 Comments
---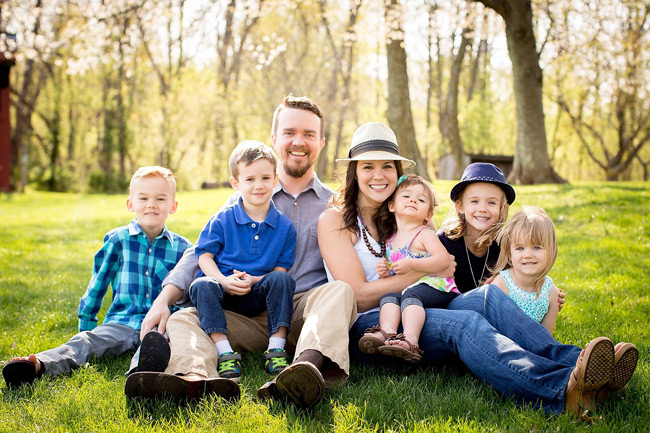 Part one of a three-part series on celebrating Advent from Kevin and Jami Rogers. (Part two here)

As our family has grown, we've enjoyed using Advent, the four weeks leading up to Christmas, as an opportunity to reflect on the profound truth that Christ has come. A Savior has entered our broken world bringing peace, hope, joy and love into our darkness. And we eagerly await the day He comes again to completely eradicate the sin and death that still plagues us.
Almost none of our ideas on how to do this are original. We've gathered resources, read and learned from other families. After 12 years and 5 kids (ages 2 through 9), we are starting to find a rhythm that works for our family. So we thought we'd take a moment to share some of the resources that have been helpful for us in the hopes that it might encourage you to pause often this Advent season and enjoy reflecting on the many facets and implications of the reality that Christ has come, both personally and with your family.
Typically, we read something in our own private devotions and also have something to help guide our times together as a family. For private reading, this year Kevin is using John Piper's daily Advent devotions, Good News of Great Joy, brief Scripture readings and reflections available in print or for free online or via the Solid Joys app. Jami is going through Born is The King published by She Reads Truth with the ladies in our small group. It's available in print, online, and via an app as well. Check out all the options at shereadstruth.com. Other's we've enjoyed are…
Tomorrow, we'll post with more thoughts on family devotions and activities.
Share this on:
---
December 7 2015 at 9:51 am
0 Comments
---
An Important Day for Covenant Life Church
As Mark Mitchell shared this past Sunday, December 13 is a very important day in the life and history of our church. That is the day we, as a church family, get to express whether or not we believe God has provided P.J. Smyth to be our next Lead Pastor.
Just to recap the process: The Search Team had their first meeting in late April, and the lead pastor job description was posted online in late June. By late September, the Search Team and the elders were in strong agreement to put P.J. forward not only as their single recommendation but a gifted, experienced and proven pastor and visionary leader who is well aligned with our theology and values.
To be at this place just eight months after we began is a remarkable expression of God's goodness and particular love for Covenant Life. We have a lot to give God thanks for!
Now, we're responsible to determine if indeed we believe P.J. Smyth is God's provision for our church. So, we are asking all adult members of Covenant Life Church to make every effort to be present next week and to participate in this vote of affirmation. We'd like to see member participation as close to 100% as possible.
Voting Details
One Voice
Jesus taught us to pray, "Our Father in heaven, hallowed be your name. Your kingdom come, your will be done, on earth as it is in heaven." And as Paul exhorted the Roman Christians, "May the God of endurance and encouragement grant [us] to live in such harmony with one another, in accord with Christ Jesus, that together [we] may with one voice glorify the God and Father of our Lord Jesus Christ."
The Elders encourage every member to pray for God's will to be done. And we're asking every member to participate in voting so that God's name is glorified and our vote next week reflects the harmony and accord that is ours together in Christ. Thank you, everyone!
Share this on:
---
November 3 2015 at 1:44 pm
0 Comments
---
Good morning!
I was born and raised in in a small town in west Texas. For most of my adolescence, I was the typical farmer's son; going to church since birth and being raised to follow a strict moral code. It wasn't until I was 13 that I actually heard that my sin was keeping me from communion with God when my church brought in a traveling evangelist for a revival weekend. I never really considered my situation as it was easy to do living in an environment in which everyone was a Christian and no one talked about sin or hell. I remember the clear call of the Lord on my heart to believe that Christ died for me, took on my sin on the cross, and that I would be saved from separation from my creator. From that point onward, I really connected with the youth ministry and began living a life dedicated to Christ.
It wasn't until my sophomore year at Texas Tech University that the Lord impressed on me to dedicate my life to the ministry in a local church. It was a clear answer to prayer and my friends and pastor affirmed my calling. Upon graduating from Texas Tech, I realized the next step in my life was to attend a Seminary. The next five years of my life would be a priceless pursuit in knowing Christ more by attending the Southern Baptist Theological Seminary in Louisville, KY. Through the dedication of each professor to adhere closely to the word of God as it related to theology, Christian history, and doctrine forever deepened my understanding of God and his church.
Although Seminary was a wonderful experience, it wasn't the best gift that God gave me during that season of my life. Louisville is also where I met my exquisite southern bride. I'll let Alyssa share a bit more.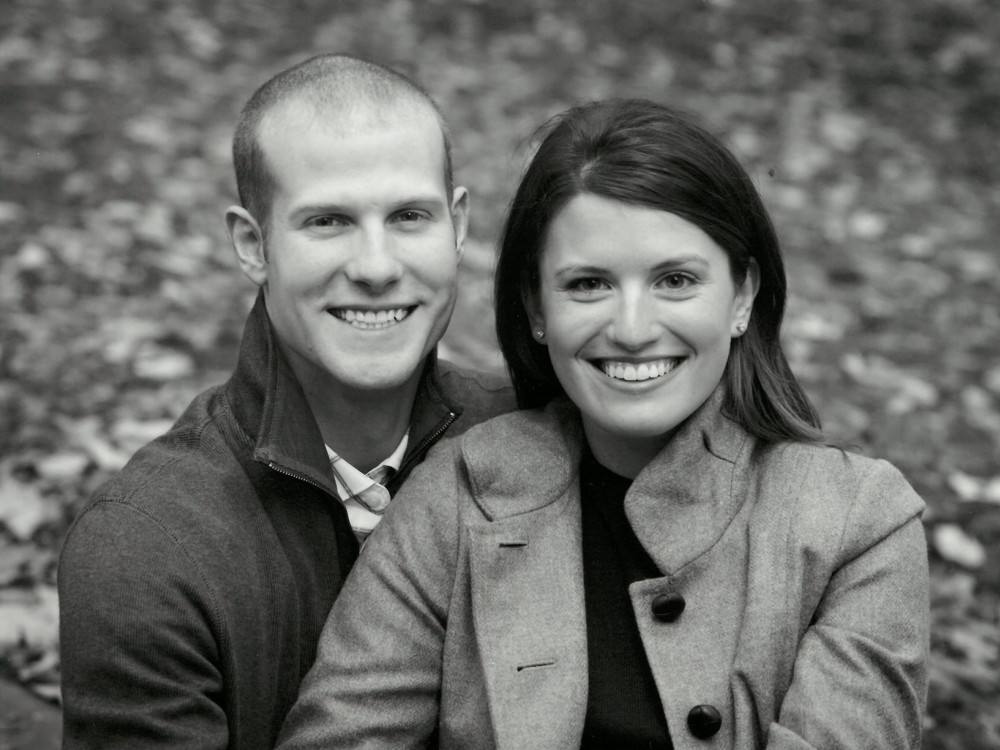 ALYSSA:
I was born and raised in Louisville Kentucky and grew up with my mom, dad and older sister. I realized my need for forgiveness from sin and the holiness of God at the early age of 5, God used my church, parents and grandparents to point me to Christ. I went on to attend Boyce College, which is the undergraduate school at Southern Seminary. It was in my freshman year that I met my handsome husband. We met through mutual friends and my good friend was dating his roommate so she would quite easily "drag" me along to hang out. Will pursued me and two years later we were married.
Our family has grown to include our first son Liam, who is five, and daughter Penelope, who now is three. And the newest addition to our family is due in June.
These past 7 years have been filled with external challenges. One of our children was born premature, we had a major house fire, and other various challenges. But God's faithfulness through our marriage has been such a gift! God has really taught us the goal is not an easy life, the goal is to know Jesus more!
WILL:
After I graduated from Southern, we moved to a small Florida town where I served as a youth pastor. I then did an internship at Sojourn Community Church in Louisville. My connection to Covenant Life came through Dave Brewer reaching out to me after some interest in my application. After interviewing at Covenant Life, both Alyssa and I knew this was the right church God was calling us to invest in. I stopped the hiring process with two other churches and decided to step out in faith that Covenant Life was where the Lord would make a path for us to serve the Middle School.
Needless to say, watching the Lord bring us through our house fire in Louisville, allow us to sell it, and then bring us here in a way that worked with both our timeline and Covenant Life's was nothing more than His wonderful work. Standing up here today, I can honestly say that He did this and we are honored to be among you. We are looking forward to growing together with you in community and serving with you in the days ahead.
Share this on:
---