May 23 2016 at 3:09 pm
0 Comments
---
Finishing Our Course With Joy
By J.I. Packer
It is one thing to be wise and another to be old and wise. J.I. Packer is the latter. He will be 90 in July. His physical eyesight is failing, but not the eyes of his heart. He issues a call to arms for senior saints and anyone else who will listen.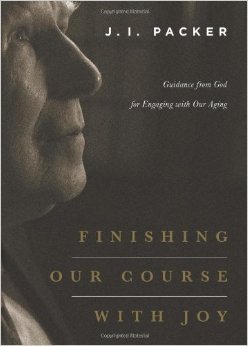 As many of us "live through the elongated aging process that modern medical services bestow upon us …" we find ourselves beckoned to ease up, kick back and in various ways retire from the Christian grace of zeal. But there is much we can and should do if we disentangle ourselves from the spirit of the age and engage the Spirit of LORD.
In this brief book (100 pages) Packer asks seniors to lead by example. Younger eyes are watching, knowing intuitively that if God is good to them they will one day be seniors themselves. Will they look forward to the ripeness of old age or be in dread of it? That may depend on you and me. God's grace is sufficient in all our weaknesses, including that of old age. But there are also strengths, great strengths that older saints possess and can pass on to next generation. Another worthwhile book from the pen of J.I. Packer.
Rated outstanding for all ages, including those under 18!
Review by Robin Boisvert
Share this on:
---
May 2 2016 at 2:58 pm
3 Comments
---

By Vern S. Poythress
Book review by Robin Boisvert
Okay, so it's not the most scintillating title. But it is a very helpful book. Dispensational Theology is a very pervasive theological system influencing many who may not even have heard of it. In its popular form it underlies the eschatology (doctrine of the end times) of The Late, Great Planet Earth by Hal Lindsey and the Left Behind novels by Tim LaHaye.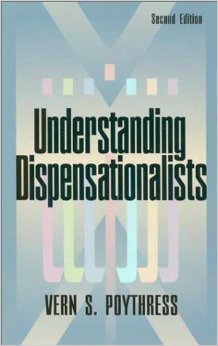 The characteristic feature of dispensationalism is the idea that God has two distinct peoples—His natural people, Israel, and His spiritual people, the Church. These are traveling along parallel but separate paths to their ultimate destinies.
At times I've heard our church criticized for teaching 'replacement theology'—the idea that the church has replaced Israel. Is that true? Or is it 'inclusion theology'— that God's promises to Abraham (Israel) have, through Christ, been opened up to include Gentiles (cf. Genesis 12:3; Ephesians 2:11-22).
Just how do Israel and the Church relate? What does it mean to interpret Scripture literally? Do Old Testament prophecies have more than one fulfillment? Tune in to this book to find out.
Poythress writes from the perspective of Covenant Theology but he is a sympathetic critic, always irenic and always searching for common ground. I've read this book twice in the last year and found it very helpful.
Share this on:
---
April 11 2016 at 3:26 pm
0 Comments
---

"Lord, you have been our dwelling place in all generations. Before the mountains were brought forth, or ever you had formed the earth and the world, from everlasting to everlasting you are God." —Psalm 90:1-2
Meditations by Charles Spurgeon like the one below were first published in weekly installments over a 20-year span. These individual articles have been assembed into a multi-volume book entitled "The Treasury of David." Benefit from Spurgeon's persective on the passage we heard preached on Sunday in Kevin Roger's message "Security", which is part two in our five-part series on the Psalms called "Restless".
Psalm 90:1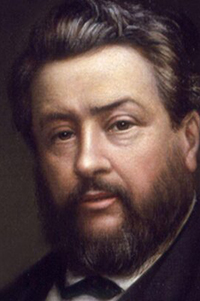 "Lord, thou hast been our dwelling place in all generations."
We must consider the whole Psalm as written for the tribes in the desert, and then we shall see the primary meaning of each verse. Moses, in effect, says—wanderers though we be in the howling wilderness, yet we find a home in thee, even as our forefathers did when they came out of Ur of the Chaldees and dwelt in tents among the Canaanites.
To the saints the Lord Jehovah, the self-existent God, stands instead of mansion and rooftree; He shelters, comforts, protects, preserves, and cherishes all his own. Foxes have holes and the birds of the air have nests, but the saints dwell in their God, and have always done so in all ages. Not in the tabernacle or the temple do we dwell, but in God himself; and this we have always done since there was a church in the world. We have not shifted our abode. Kings' palaces have vanished beneath the crumbling hand of time—they have been burned with fire and buried beneath mountains of ruins, but the imperial race of heaven has never lost its regal habitation.
Go to the Palatine and see how the Caesars are forgotten of the halls which echoed to their despotic mandates, and resounded with the plaudits of the nations over which they ruled, and then look upward and see in the ever living Jehovah the divine home of the faithful, untouched by so much as the finger of decay. Where dwelt our fathers a hundred generations since, there dwell we still.
It is of New Testament saints that the Holy Ghost has said, "He that keepeth his commandments dwelleth in God and God in him!" It was a divine mouth which said, "Abide in me", and then added, "he that abideth in me and I in him the same bringeth forth much fruit." It is most sweet to speak with the Lord as Moses did, saying, "Lord, thou art our dwelling place", and it is wise to draw from the Lord's eternal condescension reasons for expecting present and future mercies, as the Psalmist did in the next Psalm wherein he describes the safety of those who dwell in God.
Read more from Spurgeon's writings online.
Share this on:
---
March 7 2016 at 12:38 pm
1 Comments
---

I do a number of classes that introduce people to the Christian faith. Many who attend are not just exploring Christianity but religion in general. A regular question that comes up is: "How do I know what religion is the true religion?"
This is a hard question to answer because I know an answer loaded with Bible verses will not work. I try to give an objective answer and so here is what I often say.
First: Consider the place of personal satisfaction.
What gives you peace, comfort, and fulfillment? I start here because this is perhaps what draws most people to search for religion. People have a sense they were created for something, they have a sense they are not as happy as they should be. It is often the lack of peace, comfort, and answers to life that caused them to search for deeper answers.
Does this religion give suitable answers to why we lack peace, comfort, happiness? It's not enough to give joy and hope but does the reason for why these things are not present really make sense. This side of our personal satisfaction and existence is an important one to look at but it is also a category that often gets elevated too high. True peace and comfort do not come from themselves but is often a byproduct of other things.
Second: Consider the normative or authoritative basis of that religion.
This focuses on the basis of its beliefs as well as the rightness of those beliefs. Religions give explanations for how to find happiness, peace, truth, life, and much more. These explanations should be examined. Anyone can make claims, but what is the justification of those claims? I can say I am a world class athlete but is there any justification to believe that? The basis for the claims of the religion should be grounded in truth. If they are based on fable or musings that either are not true or do not have a basis then they are not worth trusting.
The rightness of the claims, commands, and justification should also be examined. Does the religion speak of rules and commands that are right and just? Religion gives a way of viewing the world and of knowing what is right and wrong. These things should make sense of the world and accord with what is right, good and true. If it gives commands that are morally wrong, how can we submit to it or trust in it?
The rightness of religion can be hard to judge. We all sometimes look at true facts and refuse to accept them. Our failure to acknowledge such facts does not negate their truthfulness. After all, the truth is true by itself and not because we recognize it. So certainly the true religion must be true even if we do not recognize it. And if we are not following the truth then it only makes sense our judgment of it will develop as we experience it. This is why a search for truth often results in a change of our own standards.
The aspect of the authority or justification is important because a religion based on falsities can not provide peace. Imagine if you were in a building that is structurally unsound. You feel it swaying in the air and the floor shaking under you. You could try to have all the inward peace you want but if the foundation is not secure there is no inward peace. The same is true of religion. If its basis is not true there can be no peace, comfort, etc.
Third: Religion should illuminate the situation we are in.
It ought to be satisfying when applied and lived. The true religion must make sense of our situation and shed light on how to live and act rightly. This can in part be a way we judge the truthfulness of it. True religion ought to make clear the right and wrong way to do things. If it doesn't illuminate these, how helpful is it? If it doesn't shed light on how to live and how the world works, then why would we believe its claims about God?
It ought to instruct what leads to happiness and peace. It ought to inform what is good and evil and also what is good and gooder. It ought to direct how we think, live, and feel. Here we see how the personal satisfaction and objective basis come together in how we live practically. If it is true then it ought to lead to a life that is desirable. If people are living according to the true God and in harmony with his plan and experiencing peace and joy then there should be something attractive about their life. We should see people, husbands, wives, children, workers, students, and so on knowledgeable about life and enjoying it.
And last...
If we want peace with God in our life then the true religion must instruct in how God is at the center of all we think, do, speak and feel. If we want his peace and comfort in every moment then there ought to be a way to experience his rule, guidance, and presence in all we do. The true religion must be personally satisfying, objectively true and circumstantially illuminating in all we do. It should give a view of all of life that is coherent and satisfying.
These are some reasons for determining the true religion. There are many others but these broad categories that you and your unbelieving friends or neighbors may find helpful.
This post is shared courtesy of Keith Welton's blog "Everyday Truth." He shares his reflections on Scripture and other helpful topics there regularly.
Share this on:
---
February 8 2016 at 2:24 pm
1 Comments
---
This past Sunday was "Super Group Sunday", a day dedicated to helping people connect with others by highlighting the many care groups, book clubs and Bible studies members have organized here in the church.
During the service we enjoyed a video from the Galeano Care Group where members talked about how much being part of a care group has meant for them. It was wonderful to see how God has used this group to build a sense of community, where friends strengthen and build each other up in faith.
After the service, several hundred people crowded into the gym to meet the leaders of different groups and ministries, enjoy laughs and fellowship and, of course, some delicous Super Bowl snacks.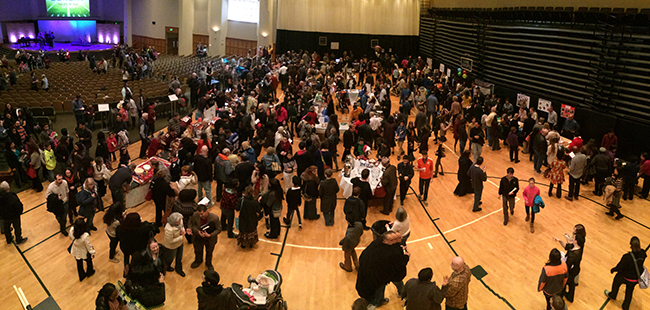 If you missed the event, it's not too late. You can still browse all the open care groups through the "Find A Group" page of this website. Reach out to one of the care group leaders there, and set up a time to check out their group.
Share this on:
---
January 22 2016 at 12:46 pm
0 Comments
---
Here's a greeting from Mark Mitchell for your snowed-in Sunday.

P.J. Smyth messages from the last two Sundays:
"God's Sovereignty and our Faith" (from January 10)
"Outwards" (from January 17)
Share this on:
---