July 21 2015 at 9:16 am
0 Comments
---
God has blessed the last two days of Joy Camp tremendously. On Thursday evening we had our traditional site cookouts at Laytonia and Johnson's Park. We cooked hundreds of hot dogs and were able to interact with the campers and many of their families. At the Laytonia cookout the campers were even able to come up and share the "Gospel Chant" they had been learning all week.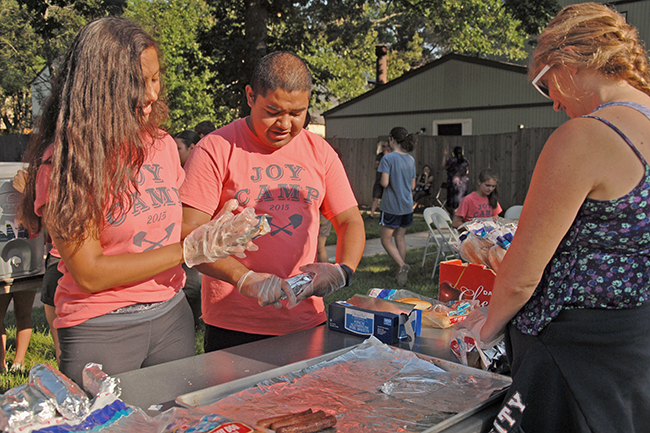 Friday was our last day with the campers. At South Lake they had a brief ceremony to celebrate the end of the week since they didn't have a cookout. Parents were invited, and we called each camper by name to receive their Bible and camp t-shirt.
Friday was also our last day together as a team. We took time in the evening to recount God's faithfulness by singing, listening to a short teaching, and hearing about how God worked at the different sites.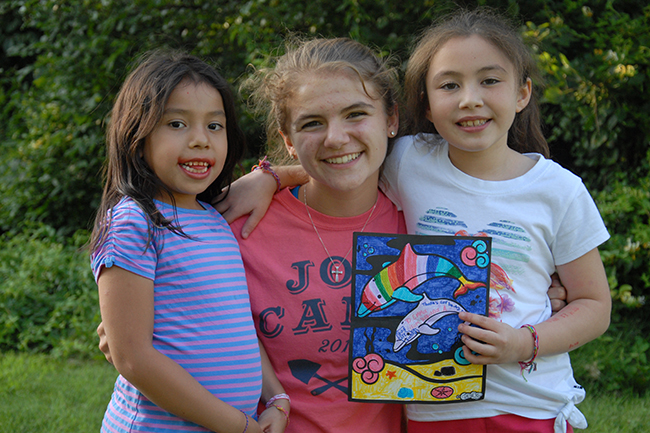 Johnson Park
Because renovations going on at Washington Square and Emory Grove, we weren't sure how many kids would show up to camp. The leaders visited surrounding neighborhoods on Saturday and handed out flyers to tell people about camp. By the end of the week we were up to 54 kids.
During one-on-one time one of the youth was explaining to a camper that in all the Bible stories throughout the week, each person had faith and God loved them. The camper responded, "Wait, God loves us? What if you don't love God back?" So our volunteer was able to explain the gospel to him.
Laytonia
We averaged between 40 and 50 campers.
Many campers at Laytonia have professed faith throughout the years, so it is encouraging to go back and remind them of truth.
Many of the campers have reached their middle school and high school years and have been coming since the beginning of Joy Camp. The experience is geared for younger kids, but by the second and third day the older kids were able to jump in and participate.
Laytonia has a very diverse group of kids, but it's a tight-knit community with a strong sense of love.

South Lake
Because this site is an elementary school, our youth went into different classrooms and helped with summer school classes.
We heard one first-time camper ask his friend, "Hey, do you believe in God?"
Even some of the high school students expressed an interest in coming back next year to Joy Camp, not as campers but as volunteers.
Many kids expressed that this was their favorite week of the whole year.
During the upcoming school year we are going to partner with the school's English for Speakers of Other Languages (ESOL) program by providing child care and mini Joy Camps. God is working in unique ways here at South Lake, so please continue to pray for us.
Overall, all of the leaders were encouraged by the youth who have grown up in the church their whole life and are very familiar with the gospel. But seeing them fully invested and being able to apply that knowledge to local missions was incredible. Our group demonstrated love toward each other as well as the campers and grew in unity. Many of the rising freshmen also stepped out of their comfort zones and were bold and courageous in sharing the gospel this week.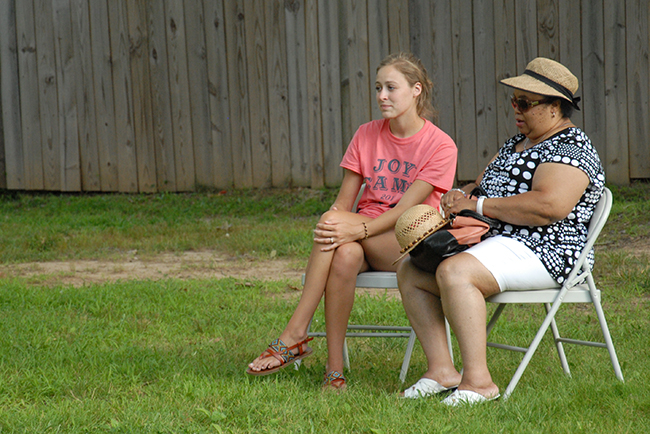 Now that Joy Camp is done, pray for each of the families and campers. Pray that they would be reminded of the gospel daily as they look at their Bibles and camp t-shirts. Pray that they would be able to share what they learned at camp with others in their community. Pray for the different churches in our area and around the world. Pray that they would send more laborers for the harvest and that the gospel message would go forth. The same Holy Spirit who helped us this week understand that faith in God's promises leads to courageous obedience, is the same Spirit working throughout the entire world.
We are looking to do follow-up ministry throughout the year. Here are some ways to get involved:
South Lake
-Monday nights (starting September 28), 6:30 p.m. - 8:30 p.m.
-Fun, games, Bible study, friendship and help with homework
-To sign up, email Travis Earles
Laytonia
-Saturday, August 15, 10 a.m. - noon, at the Laytonia Community Center
-Fun, games and Bible study
-To volunteer, email Carlos.
Johnson's Park
-Saturday, July 25 and August 15, 10:30 a.m. - noon, at the Emory Grove Playground
-Fun, games and Bible study
-To volunteer, email Neal Stuckenschneider.
Lastly, we want to thank you for praying for us. This week could not have happened without you interceding for us. We are grateful for you!
Share this on:
---
February 18 2015 at 10:43 am
2 Comments
---
Written with contributions from Beth, Rebecca Duberstein, Valori Maresco, and Sarah Stogsdill. Photos by Pam, Hannah Moore, and Hannah Stogsdill.
If you happened to walk into the church building last Saturday, you were couldn't help but notice the Women's Mission Teahouse, a true cross-cultural experience for the ladies of our church. Beth Kraatz and Hannah Stogsdill led the team that transformed the lobby into a Central Asian Teahouse.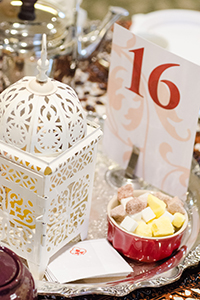 The church lobby was dressed with vibrant colors of tablecloths, oriental rugs, floor pillows, more than 50 teapots and hundreds of teacups, all volunteered by different ladies in the church. It was apparent this event was a labor of love for so many. Close to 200 women gathered and lounged around low tables set with a variety of teas and treats including Turkish Delight, dried fruit, almonds, and pastries. The mismatched china was a perfect reminder of the many different homes that had contributed to make it special. Hannah Stogsdill used her artistic eye to combine all these elements to create a beautiful, inviting space in the lobby for learning and fellowship.
---
"I was blown away by the sense of community I experienced as the women of Covenant Life came together to share their teapots, delicious food, sweet fellowship and prayers." —Beth
---
On the morning of the event, the lobby was bustling with ladies of all ages who had arrived early to help. They were filling teapots, stocking hor d'oeuvres, arranging the potluck dishes on the tables. You could feel their excitement and their ownership of the event.
After a time of worship, a missionary from Central Asia, shared about the many challenges facing the Muslim women she knows in the region where she and her husband live and work, and then led us as we prayed together for God to work in the lives of the women of Central Asia.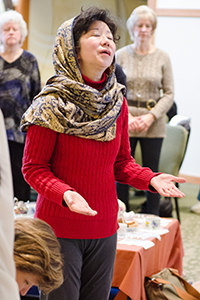 Following the talk, a magnificent buffet lunch of regional foods was waiting, and while eating, we heard about the experiences of the worship team who had recently traveled to Central Asia.
---
"The ladies also enthusiastically answered the call to contribute to the potluck lunch. Covenant Life Church is full of good cooks! Nine tables were practically sagging under the weight of the appetizers, entrees, and desserts these ladies brought. Every dish was unique and so tasty! —Rebecca
---
The testimony of the missionary from Central Asia provoked hearts as she shared about the challenges the women of Central Asia face, but many were encouraged knowing they could help by praying for them. The ladies were also reminded of the number of unreached internationals right here in Gaithersburg, and the opportunity to reach out by extending kindness and hospitality to the unreached in this area.
---
"It was a beautiful environment that fostered fellowship and gave us a glimpse of another culture. Interacting with the ladies there was so uplifting and inspiring to me. The Lord deeply met me during the extended prayer time and I walked away with fresh conviction to pursue evangelism." —Sarah
---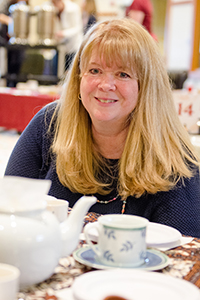 The atmosphere helped the ladies to lift their eyes and see the fields that are ripe for harvest in the community around us. Not everyone can or will go to these fields like the missionaries who spoke, but we can all take part in reaching the unreached. We can pray for those who are far off and about how we can reach the multitudes that God has brought to our front door!
---
"I left both refreshed by a sense of rich community at CLC, and excited to see how God can use that community to extend the good news of Jesus Christ to those who do not know him." —Rebecca
---
The time ended with another talk by a missionary with Global Gates, an organization working to bring the gospel to internationals in our own country. She shared about the amazing opportunity we have to reach women from unreached people groups right here in our community and ended by giving us ideas on how we could be more aware of opportunities around us.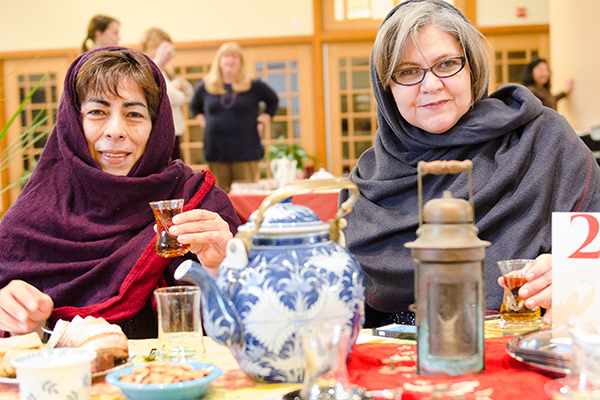 We are so grateful for how the Lord worked through the teahouse! He lit new fires of faith and boldness to reach out and pray for the lost around us, so that all "may believe that Jesus is the Messiah, the Son of God, and that by believing [all] may have life in his name." —John 20:31
Share this on:
---
February 18 2015 at 6:35 am
0 Comments
---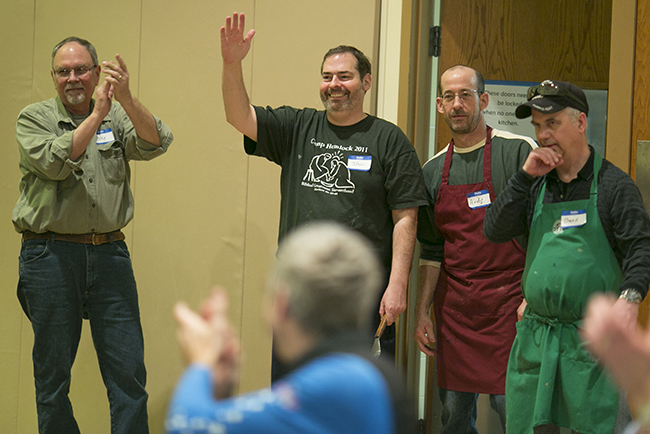 Joe Moorman led the team of men that cooked nine gallons of pancake batter, 60 pounds of bacon, and 560 eggs for the men's gathering on Saturday, February 7. Joe sent us this report honoring their work, and we wanted you to join us in thanking these servants.
If you're interested in joining these men and serving at events like the Men's Gathering, consider joining the Events Team.
I'm very grateful for each of these men, for their level of commitment to the event and how hard they worked, particularly when it looked like we were going to run out of pancakes.
It is a real sacrifice for them to give up most of their Saturday (and some of their Friday night) to serve, and to walk away completely exhausted, with pain in their back and feet. Many of these guys come back again, and again to serve at these big events. It is all of God's abundant grace that he would place on their hearts a desire to spend their lives and strength so generously in this way, when they could be with their families or just resting after a long work week.
---

"I would encourage anyone who feels like they are lonely, isolated or discouraged to actively and prayerfully seek a place where they can serve in this church. The ceaseless outpouring of grace that you experience in the midst of serving far exceeds the cost of your time, talents and efforts."
—Joe Moorman
---
I can tell you with certainty, that serving in this church is singular privilege, and is good for your soul. You experience the grace of deep fellowship, camaraderie and love for the people you serve with, as well as the people you serve. Here are some of the ways these men served sacrificially: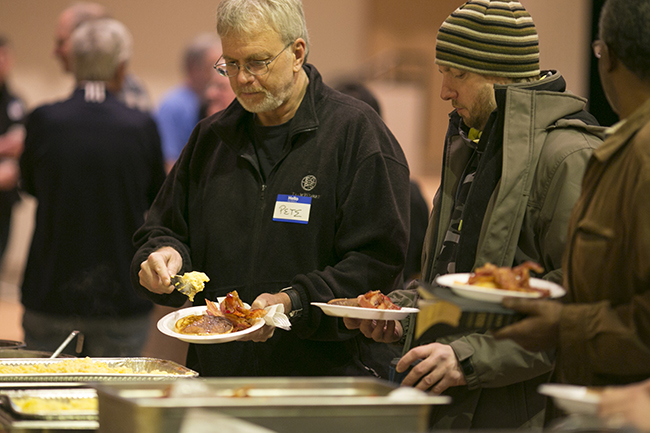 Andy McPhillips - Andy served on Saturday morning and helped in various ways with the bacon prep, the display setup, water and orange juice, and he tirelessly washed dishes during the morning and for more than 2 hours after the event. Because of the bacon there were over 20 greasy bakers sheets that needed to be scraped of fat and hand washed. So, Andy's contributions were invaluable.
John McSweeney - John served on Friday night, helping to prepare multiple buckets of pancake batter and scrambled eggs mix. He also came on Saturday morning and helped to prepare 2 more buckets of pancake batter when it was evident we were short on batter, and he stayed to the end to help with cleanup.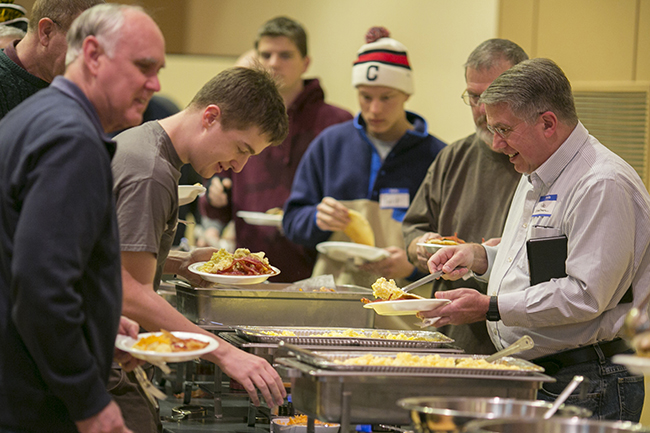 Jim Jones - Like John, Jim also served on Friday night, helping to prepare multiple buckets of pancake batter and scrambled eggs mix. He also came on Saturday morning and managed the preparation of the bacon (a greasy job!) from start (around 6 a.m.) to finish (around 9 a.m.) and stayed an hour after the event to help clean. Jim is the kind of guy that you can count on again and again to show up and joyfully serve.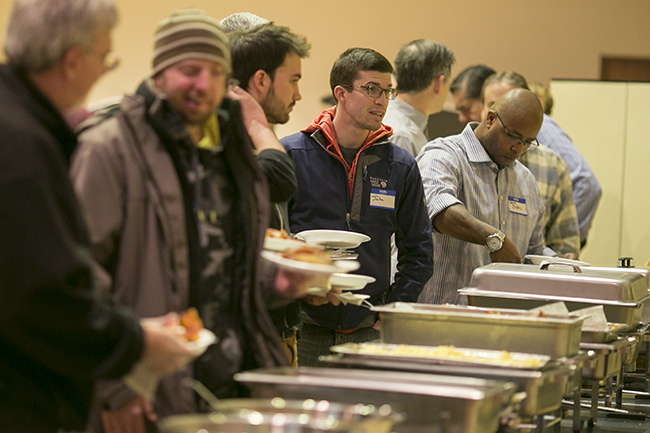 Bob Sardelli and Brad Baxter - Bob and Brad came in on Saturday and managed the pancake preparation from the time that they came in (at 6 a.m.) all the way through the end of the batter (around 9:15 a.m.). Both men stayed late to help clean up.
Lou Stavely was very helpful in setting up the display tables, fruit baskets, coffee sugar and creamer, and getting the coffee started on time and fully deployed. He also worked with Jim breaking open boxes of bacon, putting the bacon on parchment and bakers sheets for Jim (another really greasy job).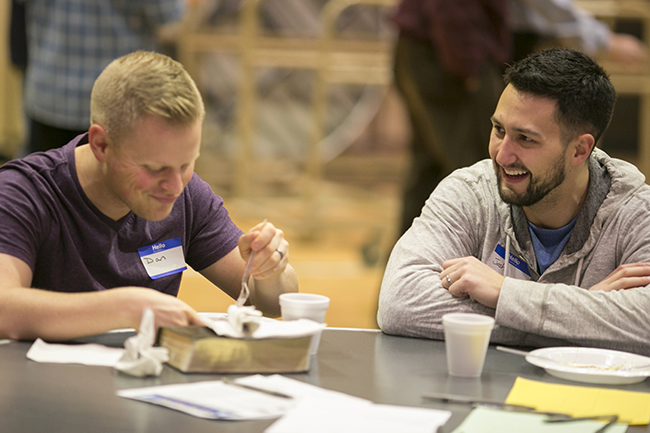 I would encourage anyone who feels like they are lonely, isolated or discouraged to actively and prayerfully seek a place where they can serve in this church. The ceaseless outpouring of grace that you experience in the midst of serving far exceeds the cost of your time, talents and efforts.
If you're interested in joining these men and serving at events like the Men's Gathering, consider joining the Events Team.
Share this on:
---
July 14 2014 at 3:06 pm
0 Comments
---
"The simple generosity of Covenant Life opening their building has left a huge ripple effect for the ministry, Fellowship of Christian Athletes, and people coming to know Christ around the globe," said Maryland State Director of Fellowship of Christian Athletes (FCA) Mark Stephens, after another successful FCA sports camp at Covenant Life this past June.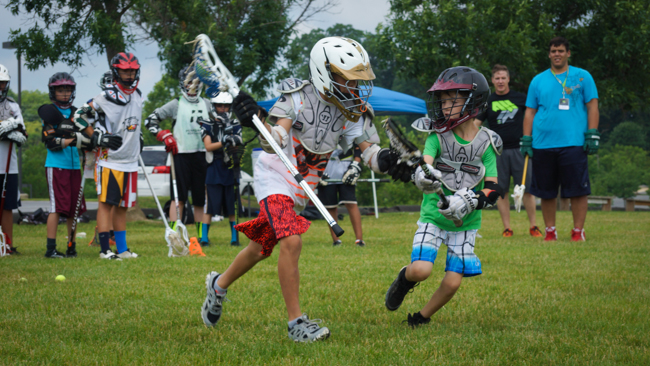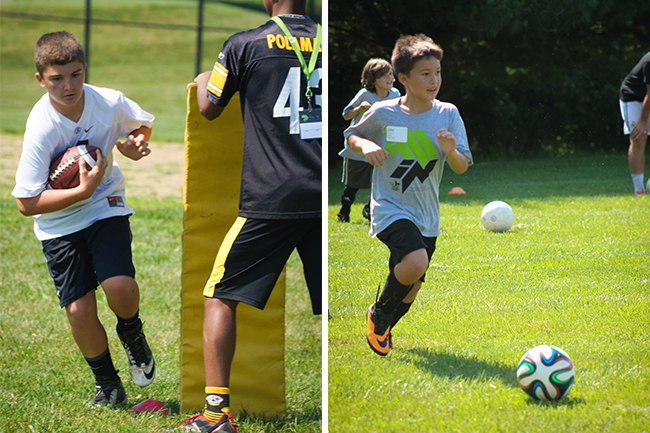 If you happened to be at the church during the week, you would have seen hustling lacrosse sticks and whizzing footballs in the fields, soaring volleyballs and squeaking basketball shoes in the gyms, and teetering cartwheels and running flips in the lobby. At this "All In" Power Camp, about 200 eight to thirteen year-olds, 50 high school small group "huddle" leaders, and 50 adults participated.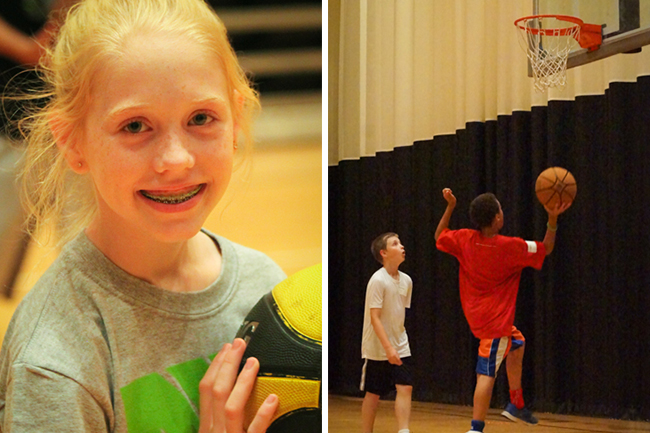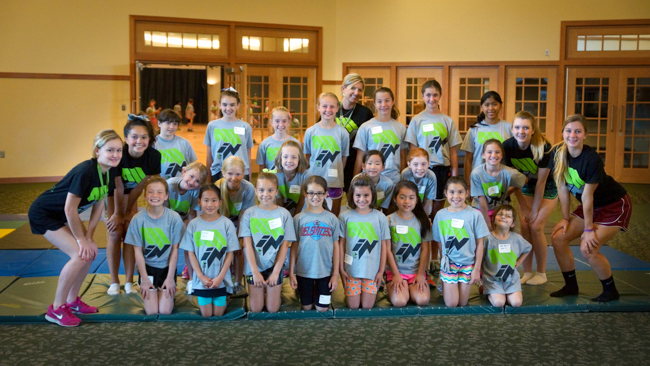 Four people from Laos, Singapore, and Korea also came to observe, learn, and be trained to lead these camps in their own countries.
"These guys are pumped up. They are really going to go back and do something. There's gonna be an incredible ripple effect from this camp," Stephens shared. "This FCA camp at Covenant Life Church is a model for the world."
A Vietnamese sports ministry leader came out to shadow Stephens a couple years ago and went on to lead two FCA camps in Taiwan and two in Vietnam. Since then, others have come for training: Reon from Singapore, Philip from Malaysia, and Suttisak from Thailand.
"Vietnamese kids left by the wayside that no one was going to interact with, kids who get one bowl of rice a day and have only the t-shirt on their back, were shown the love of Christ through sports," Stephens shared.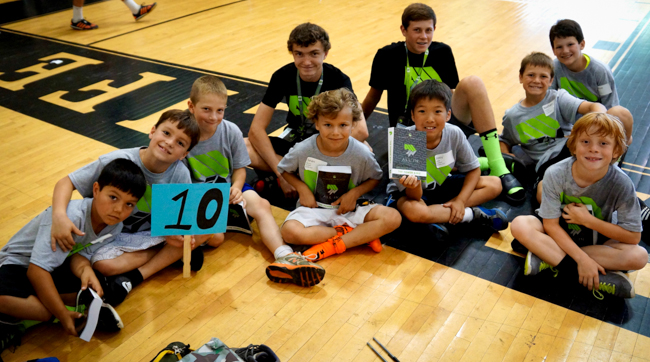 "I was a pastor for 15 years," Stephens said. "Sometimes as a church you think, 'Oh, we'll be nice and loan someone our building and not charge rent. We'll do a good deed.' This church has no idea the positive impact that it has made on this community and worldwide by their generosity of opening their doors. "
He shared that the hundreds of people who have come through Covenant Life's doors for FCA camps have nothing but positive things to say about this church.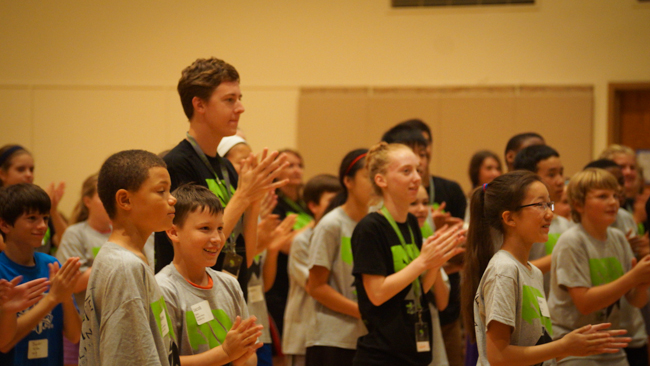 "Whether it's the location, or the kindness, or how the staff works with us, it just keeps getting better… I'm forever grateful for the partnership that we have with Covenant Life and how they've supported us," Stephens said. "I consider them friends, not just partners."
"It's been incredible to be here," said camp director Hannah Cheung. "Churches don't usually have three gyms and a couple fields. The facility has been perfect for the camp. It's the smoothest camp I've done in six years."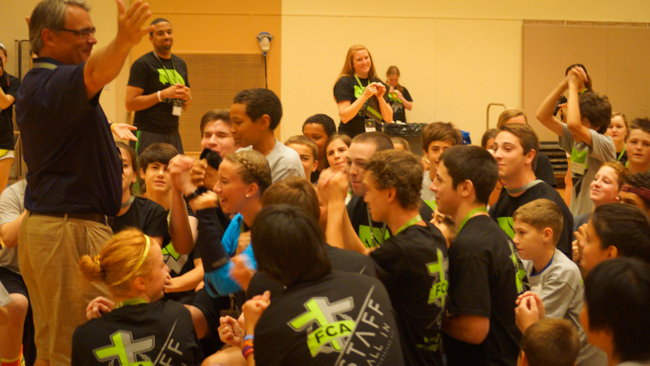 The Laos pastor explained that in Laos, where 98% of the seven million people are Buddhist, "the problem is getting the people to come to the church—they will not come." He is a part of the 2%.
While there are camps all across America, he has never seen a camp in Laos. His kids never attended camps. They're not a part of the culture. He said, "So, we are trying to find new ways to share the good news. To do a sports camp is one of best ways. When we ask people to come to play soccer, they come. That's why I came here. To learn, see, and experience the camp and how they do it here."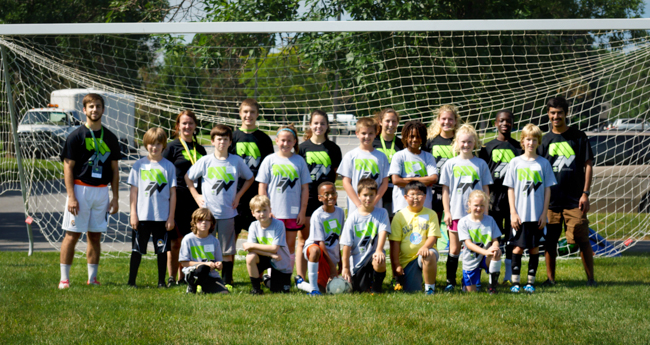 When he heard about FCA, he was excited. "You can share the good news to the non-believer and build the relationship between the kids and God through the sports camp, so it's a very powerful way to do a camp to reach the people, to share Christ, and to build up the faith of a believer."
"Please pray for us," he said. " We would love to have sports ministry in all 700 hundred churches to reach out to the young generation."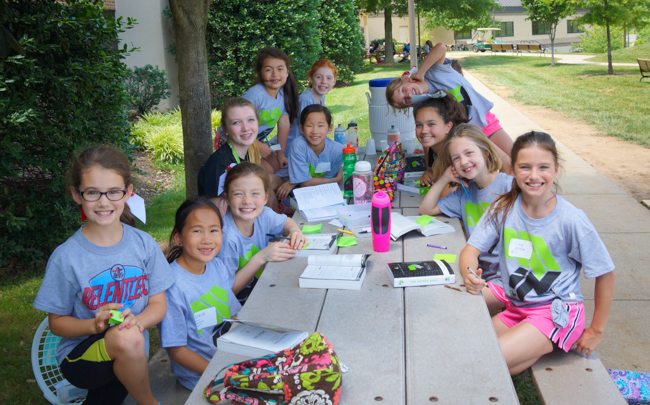 In Korea, when it comes to sports, "We are a top down, Olympian level, high profile level," explained Korean FCA director, Olympian Committee member, and Taekwondo master Hyung don Jung (Lion is his English name).
When he returns from observing this camp, Lion hopes to focus on high school level athletes. He has sensed discouragement in sports for young people who are not interested in high profile achievement. He wants to encourage them to come together and play.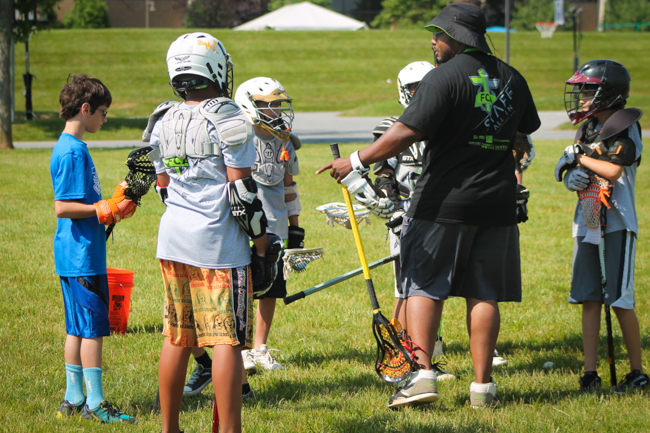 "FCA is an important thing. They really love Christ," Lion said. "Your church is doing great things. Nationality, race, everything is overcome for the sake of the kingdom. Everyone is for the same kingdom here. It will be a great influence on the next generation."
Stephens shared how after the first day, a mom and son were walking out when she asked how his day was, he said, "Mom, I love this camp."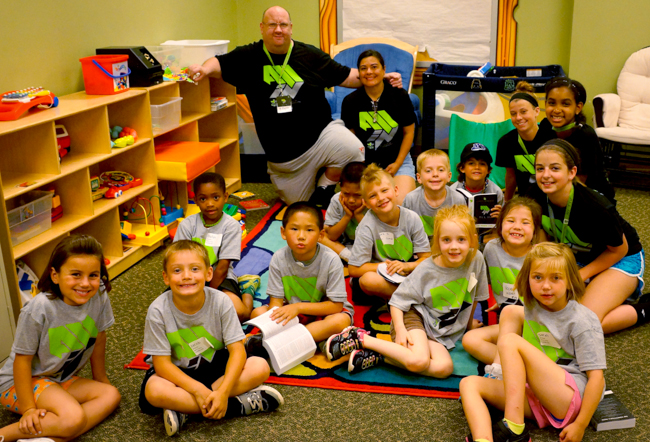 "That's what we want," Stephens said, tearing up. "We want kids to keep coming back. They're gonna come back if they love it, and they'll love it if they get loved."
"All for the glory of God. That's the important thing," Lion said. " 'All In' for the kingdom."
Photo Credit - MOCO FCA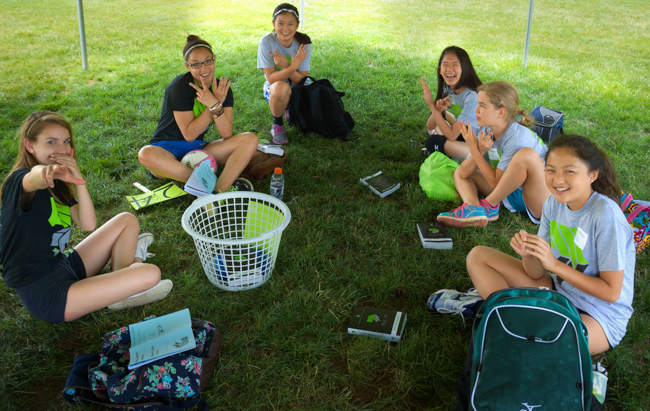 Share this on:
---
June 24 2014 at 3:26 pm
0 Comments
---
We received these updates from the people on the missions team who are on the missions trip in Ethiopia. Let's keep praying that God would bless their work and that lives would be changed for God's glory.
June 27
We thank God for your prayers, dear saints, and are feeling the spiritual support in tangible ways. We are in good health and good spirits. We see The Lord fulfilling His promise to strengthen us for service (1 Peter 4:11). And we are enjoying laughter and fellowship with Ethiopian brothers as well as other workers from the U.S.
On Tuesday and Wednesday, our team met with 14 leaders from throughout Central Ethiopia who gathered to strategize about children's ministry. As the Protestant church rapidly expands in this country, church leaders are recognizing the urgent need to equip the next generation. We had the honor of working with these leaders (who represent 500 churches) as we strategized together.
We heard some remarkable stories. One relatively large church hosted a festival for families in their town. Before the festival, they had 150 children in their church. Now 400 are gathering for children's ministry each week! Another leader described how a five-year-old girl in his church took the initiative to pray for a sick neighbor next door, who got healed and then put her trust in Christ. Another pastor told about a group of 28 mothers in his church who have banded together to pray earnestly for the children in their community.
As so often happens on trips like this, we feel like we are receiving a lot more blessing than we are giving. What these national believers lack in financial resources, they certainly make up for in faith and zeal. After some of the trials our church has faced, worshiping and praying with these brothers and sisters renews my confidence that Jesus Christ is building His Church and the gates of hell will not prevail against it!
We hope that these 14 children's ministry workers were encouraged and equipped in some small way by our time together. They are sending us back to Covenant Life with new ideas for recruiting an army of praying mothers ... and we'll be happy to sign up some five-year-old evangelists, too!
June 24
We have the privilege of teaching English to high school children in Grades 8, 10 and 12 this week. We were expecting 80 students, but were pleasantly surprised to only have 40. We have divided them into three groups: an advanced group, an intermediate group and beginners. We teach half of them for three hours in the morning and the other half for three hours in the afternoon. So far, we have read and discussed books with our advanced students, reviewed vocabulary with our beginners and played learning games. One highlight today was when we taught them American kickball. We really got to see their personalities come out!
We are finding the students to be eager and engaged learners. The Lord has really met us as many unexpected challenges have come up. Working with limited resources and having to adjust lessons to meet student needs has been stretching, but it's neat to see how God has given us ideas every time. Please pray that we will continue to share the love of Christ with these students. On Friday, we have planned a lesson to share our testimonies with the students, some of whom are Muslim. Please pray for the Lord to work in the students hearts through this lesson.
Grateful for your prayers!
Share this on:
---
April 17 2014 at 9:04 am
0 Comments
---
Ladies,
I hope this second excerpt above will give you another small taste of Kathleen Nielson's teaching.

I also have a testimony to share with you from Elise Finch who has benefited from Kathleen's ministry. Here is what she has to say:
I have read the Bible as part of my daily devotional practice since I was a child. However, over the last 5-7 years I began to look at different methods of study, seeking to better grasp God's Word in my own life.

During this search, I heard about Kathleen Nielson and read her book Bible Study: Following the Ways of the Word. In the book she talks about seeing the Bible as literature written to be understood by all of us, including those of us who would never be fluent in Greek or Hebrew or complete a seminary course. I read a quote at the beginning of chapter 3, "If we affirm meaning in the text, meaning intended by God who breathed it out, then it follows that God means for us to receive this meaning. He gave us words that he means for us to understand." God means for ME to understand his word! That's encouraging, but it's also sobering because if he means for me to understand it, that also implies he means for me to give it some sober-minded attention.

Reading Kathleen's book and now having the opportunity to learn more through several of her studies has been profoundly helpful. I've learned how to look at the various genres within the Bible and read them with an eye towards how God meant to use their form to illuminate his truth. I've spent less time pondering my own opinions or jumping to personal application prior to finding out what each author's intent was for their original audience. This approach makes sense. Although I will never "arrive", Kathleen's methods have provided a useful map which is helping me to better navigate the road of reading God's word.

I am so excited for this time to learn from Kathleen again and am looking forward to being freshly spurred on as we study the Psalms.
I hope you can join us on May 9-10! You can visit the conference website for more information and to register. To view a video of a complete message by Kathleen, please visit the Christian Conventions website.
Valori Maresco
Women's Ministry Director
Share this on:
---