August 17 2015 at 10:47 am
1 Comments
---

Prayer: A Fool's Errand?
by Almasih Kahdost
If you fly, the following words should sound familiar to you. "Should the cabin lose pressure, oxygen masks will drop from the overhead area. Place the mask over your own mouth and nose before assisting others." This is one of the few times in life where the right thing to do is to take care of yourself first. You're not going to be much help to your kids if you pass out while putting their masks on, right? Your physical well being will have a direct effect on the physical well being of those around you.
The same can be true for your spiritual well being. It really can make a difference in the spiritual well being of others.
When I ask people, "Have you ever prayed for someone and seen them come to Christ?" invariably the answer is affirmative and I hear stories that only God could author. There is a mysterious intersection of our prayers and God's plan to draw people to Himself.
In 2 Thessalonians 3:1 (NASB), Paul says,
"Finally, brethren, pray for us that the word of the Lord will spread rapidly and be glorified, just as it did also with you..."
Unless the Spirit inspired Paul to exhort the saints in Thessalonica to a fool's errand, it seems their prayers actually mattered as it related to the spreading of God's word.
Similarly, when Jesus looked at the multitudes with compassion he called his disciples to pray, asking that God would send laborers (Matthew 9:35-38). Would He tell His disciples to pray if those prayers ultimately didn't matter? Of course not.
Our prayers for the harvest and for the spreading and reception of God's word matter.
OUR FRIENDS HAVE BEEN PRAYING. ARE WE?
By the time you read this, our Muslim friends will have finished a month of prayer and (daytime) fasting called Ramadan. Millions of prayers will be recited by millions of Muslims worldwide. They have altered their lifestyle significantly in an attempt to, amongst other things, obey the command of Allah in Quran 2:185 and glorify him.
As followers of the One who prayed and fasted 40 days in the wilderness, can we pray that the word of the Lord will spread amongst Muslims as it has amongst us? Can we look at the multitudes of Muslims with compassion and pray that the Lord of the harvest will send laborers? Our spiritual lives - including our prayer lives - really matter and really can affect other people.
"Almasih Kahdost" is a long-time friend of Covenant Life who desires to see the nations come to Christ. Though preferring to publish anonymously, Almasih Kadost welcomes your comments below.
See all the posts in this series.
Share this on:
---
July 13 2015 at 1:09 pm
0 Comments
---
Dear Church,

Because I've been on a Management Team retreat this week, I asked Kenneth Maresco to share a report on the Dominican Republic missions trip he led recently with our youth ministry. I hope it edifies and inspires you to consider participation on a mission trip in the coming year. —Mark

---
During the final week of June, I had the privilege of participating with 34 young men and women and several parents in the first of two short-term mission trips to the Dominican Republic. The team led Vacation Bible Schools, went door-to-door to share the gospel, and took part in other outreaches.
Let me share two reasons why do we do short term missions and how I believe this trip accomplished these goals.
1. To Fulfill the Great Commission
The mission of God to make disciples of all nations is the mission of his church in the world today. Jesus sends us out as the Father sent him, by his grace and for his glory. Demonstrating and sharing God's love with others is something we're made for. We are not permitted to keep the good news of the gospel to ourselves!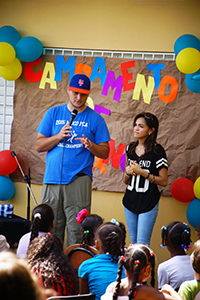 Can we serve God and others more effectively in Gaithersburg or Montgomery County? Quite possibly. But getting out of our comfort zone and working with fellow believers to reach the needy in their community often helps us see our lives at home through different eyes and better serve the people who live right next to us.

The first two days of our trip we worked with a church in San Francisco de Macorís, the country's eighth largest city. The pastor of the church wanted to do an outreach in one of the poorest neighborhoods where many children are neglected and mistreated. Chris Maresco did an amazing job leading a Vacation Bible School with skits and music and sharing the gospel. We were told to expect 200 kids, but almost 350 showed up! Needless to say, our team members were stretched as we led the children in crafts and activities. A team of four sisters from the San Francisco church (the Amarante sisters) joined us all week in leading the outreaches.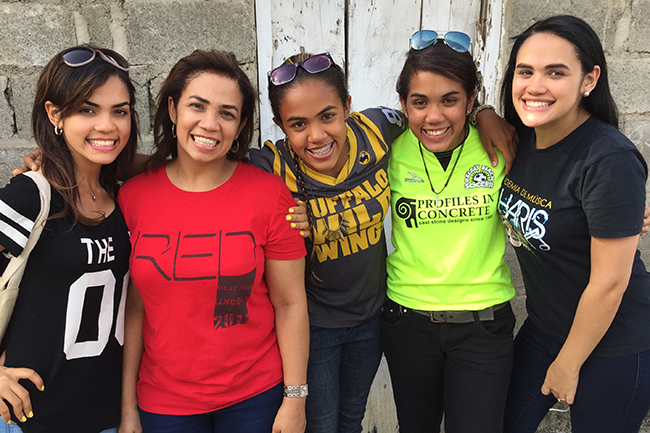 Afterwards the team participated in door-to-door evangelism in a neighborhood where several of the church members live. Translators accompanied each group of teens. That evening as we met as a team, you could sense the joy as we spoke about the fact that we were actually sharing the gospel in another nation!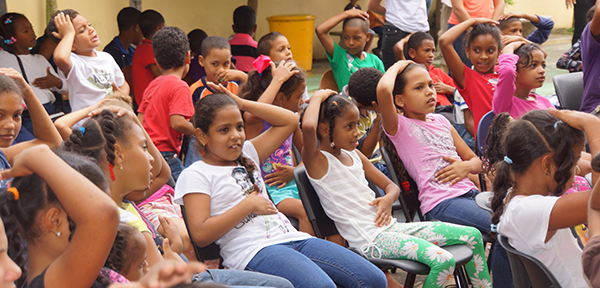 The latter part of the week we partnered with the Global Health Organization, a group of Christian medical professionals who led medical clinics with the church in Santo Domingo. We hosted VBSs for the children as they (and their parents) visited the medical clinics. Again we were told to expect around 250; this time over 450 kids attended the camp both days.
2. To Walk with God's People in Other Nations
Sometimes short-term mission teams are criticized for utilizing resources that could support long-term work and workers. Yet teams like ours work closely with local churches and mission partners in hopes of making a difference for the long term.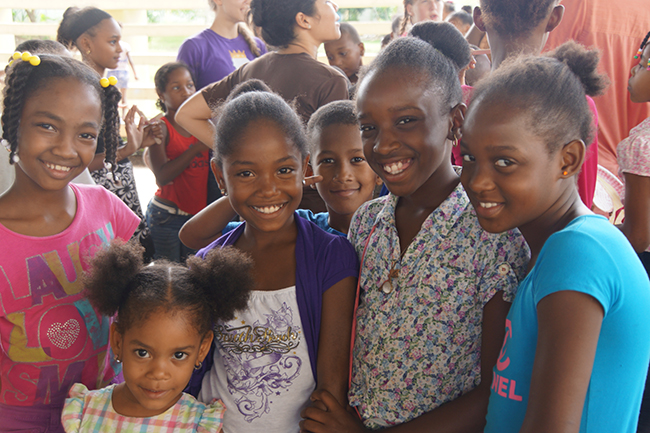 In Santo Domingo we partnered with Oasis Church along with the medical missions team they had invited. Our team was able to work alongside these global servants contributing to our shared mission. This kind of work gives us confidence that local churches in the community can harvest the seed we sow. It also enables our teenagers to gain a vision for what it is like to live and work outside of the United States. For many of our teens this was their first experience of life outside of the U.S.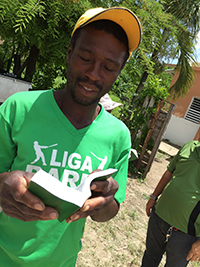 On our final day our team visited a sugar batay (plantation) tended by migrant Hatian workers living in abject poverty. We brought clothing and food donated by members of Covenant Life Church, and we worked alongside the medical clinic. Our team hosted VBSs, and did personal evangelism in the lines (giving out Creole Bibles). It was humbling realizing that unless something changes, many of these Haitian workers would be deported by the Dominican government within the next 40 days.

In the weeks before the trip, we told our team members to prepare to be stretched. You would have been proud of how hard they worked and how effectively and generously they shared the love of Christ.

Thank you for your prayers and support,
Kenneth Maresco
Share this on:
---
June 9 2015 at 1:52 pm
0 Comments
---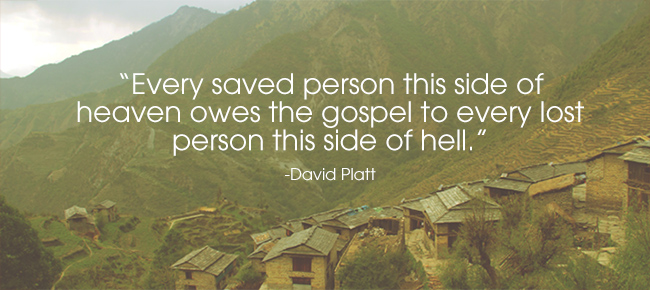 Last Sunday, guest speaker David Platt, President of the International Missions Board, shared a stirring message on the biblical call for Christians to share the gospel with unreached peoples around the globe. But before his sermon, Platt had a powerful word of encouragement for the members of our church. Here you can review both Platt's word of encouragement and his sermon as a whole.
Learn more about upcoming, short-term missions trips on the Serving Our World page. Also discover how you can get involved in serving our community by visiting our Local Missions page.
Encouragement to Covenant Life:
Share this on:
---
May 18 2015 at 2:32 pm
1 Comments
---

Respectfully Ready
by Almasih Kahdost
It was my first time visiting the home of a friend and he was showing me around his suburban townhouse. It was a typical introductory run-through.
"Here's the kitchen. Our garage is over there. These are our gods. Here's our bedroom."
"Ah. Very nice."
Wait. What?!?
This was a casual, but intentional, introduction to his family's Hindu deities.
Polite Company and Culture
From the time of my youth I was taught (implicitly and explicitly) that certain subjects were out of bounds unless you knew someone really, really well. Making conversation of politics, a person's salary or (gasp!) religion was the social equivalent of eating with your hands at the table. (Something, as it turned out, we would do later in the evening!)
Understanding that religious discussion doesn't bring the uneasiness in many other cultures that it brings for westerners enabled me to ask, "Which is your favorite god and why?"
Dialogue or Discourse?
Hearing that Ganesh (who blesses new beginnings) and Lakshmi (who brings wealth) were his favorites gave me insight into his values and desires. Asking questions lets people know we're interested in a discussion rather than a diatribe. And discussion affords our friends respect as well as the opportunity to ask questions.
Paul modeled a similar approach in Athens where he found himself distressed by seeing so many idols in the city (Acts 17:16). "So he reasoned...in the marketplace day by day with whoever happened to be there" (v17). In fact, Paul is said to have conversed (NAS, ESV) or debated (NIV, NLT) with the Stoics and Epicureans (v18). It was a back-and-forth. Did Paul frequently engage in a unilateral fashion? Sure. But these verses indicate an occasion that was more of an exchange than a one-sided homily.
Primed but Gentle
So, if someone introduces you to their favorite deity, or tells you their present state is a reincarnated one, maybe it would be better to first draw them out before jumping down their throat with chapter and verse. Consider learning about their worldview so you can address it.
Back to Paul; the Spirit spoke through him telling us to always be ready "...to give an answer to everyone who asks you to give the reason for the hope that you have. " (1 Peter 3:15). We mustn't shy away from telling folks Who we believe in and why. But how we do so is important too. The verse continues, "but do this with gentleness and respect".
"Almasih Kahdost" is a long-time friend of Covenant Life who desires to see the nations come to Christ. Though preferring to publish anonymously, Almasih Kadost welcomes your comments below.
See all the posts in this series.
Share this on:
---
March 23 2015 at 9:03 am
0 Comments
---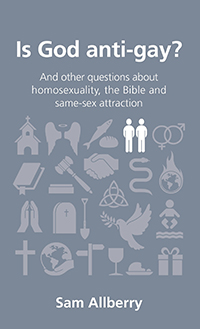 Shifts in our culture related to homosexuality have raised significant questions for Christians that are are now a part of everyday life. What do I do when someone close to me tells me they experience sam-sex attraction? How do I relate to people at my job, in my neighborhood, or in my family in a God-honoring way who are homosexual? What does the Bible really say about all this?
Once you get past the awkward title, Is God Anti-Gay? is a brief, thoroughly Biblical and practical guide to understanding Homosexuality. The author, Sam Allberry, is a British pastor and author who has experienced same-sex attraction himself and has a burden to help the church with this issue.
For more information, check out Tim Keller's review of Allberry's book, as well as another related (and recommended) book from the Gospel Coalition.
Share this on:
---
February 17 2015 at 1:34 pm
1 Comments
---

One Way to Share God's Plan with Muslims
by Almasih Kahdost
Sitting barefoot in a sportsplex in Maryland, wearing traditional Pakistani attire given to me, I was enveloped by the chant of Allahu akbar, droning continuously. I watched as Muslims of various sizes, shapes and ethnicities assembled themselves in neat rows preparing for prayer; men filling the front of the field, women, the back. Once all (save one) gave praise to Allah while performing the various salat prayer positions, an imam taught that one lesson learned during the fast of Ramadan is gratitude. By denying oneself food during the daylight hours, a person is more grateful for it come evening. Having been fasting for my Muslim friends during this month myself, I learned this lesson firsthand and was grateful Ramadaan had come to a close.
As my Muslim friend and I left the sportsplex, I referred back to the imam's message, asking for what my friend was most grateful. After listening, I shared my own thoughts, saying I was most grateful for qurbani; that is, blood sacrifice. I related how a sacrifice was provided for Adam and Hawa (Eve) to cover their shame when they had sinned in the garden. I reminded my friend how when Ibrahim's (Abraham's) son was in need of a sacrifice, it was divinely provided. I continued that Musa (Moses) was inspired to order atoning sacrifices for the sins of the people and that many years later, the prophet Isaiah foretold the coming masih (messiah) Who would Himself become qurbani in the place of His people, taking their shame. Then I related that the prophet Yahya (John the Baptist) pointed at Isa (Jesus) and calling him, "the Lamb of God who takes away the sins of the world."
"Why do you think Yahya called Isa a lamb," I asked.
"I don't know."
I told my friend that prior to his death Isa had alerted his followers that He would lay down His life as a qurbani to set people free (Mark 10:45). Isa's subjection to public shame was all a part of Allah's loving plan to take away the sin and shame of His people. Just as He performed qurbani for Adam and Hawa to cover their shame, and just as He provided an animal for Ibrahim's son, and just as He told Musa the way of qurbani for the forgiveness His people's sin, now, in the death and resurrection of Isa, Allah was providing the ultimate qurbani - the ultimate sacrifice for sin. The shame and punishment that we deserved was laid upon Isa as a part of God's loving plan to restore honor to His people.
My friend didn't submit to Christ that day and is still a Muslim. We have had the family to our home and they have had us over as well. We have prayed in Isa's name for the healing for their children. We've helped them with English and with transportation. I still make visits from time to time. We continue to pray regularly for this family.
These dear people represent one of many Muslim families in our area who can be reached with the love of Christ. Please consider how you can extend love and friendship to the people God has brought here. Amidst headlines filled by the likes of ISIS et al, it is too convenient to lump your neighbor in with them. If you begin to pray and ask God for inroads and share your life with your Muslim co-workers, neighbors and friends, you might be surprised at the laid opportunities before you.
"Almasih Kahdost" is a long-time friend of Covenant Life who desires to see the nations come to Christ. Though preferring to publish anonymously, Almasih Kadost welcomes your comments below.
See all the posts in this series.
Share this on:
---