October 31 2014 at 12:17 pm
0 Comments
---

A mother and her daughter were at the mall when the mom silenced her kid by wildly exclaiming, "They're here!"
The embarrassed teen rolled her eyes, hoping the moment would quickly pass, but it was not to be.
"Listen! They're here," the mom repeated.
Moving from humiliation to concern and hoping mom hadn't completely lost her marbles, the daughter trepidatiously asked, "Who's here, mom?"
"The nations! Nobody here is speaking English. They're all speaking something else!"
Chance are, you've had a similar experience. If not, just go to the Costco in Gaithersburg. You will both hear and see that, indeed, the nations are here. People from multiple tongues, cultures and religious beliefs have found their way to Gaithersburg and the surrounding area.
Acts 17:26 and 27 says that God decides just where people should live so that people would seek and find him. So, the people of God (especially in this area!) have an opportunity to befriend and share Christ with the internationals God has sovereign brought nearby.
In efforts to keep these opportunities on our radar, we are creating a monthly series called Nations Nearby. It will explore topics like:
● Ways to serve and engage local internationals with the gospel
● Utilizing bridges between the church and people of other beliefs
● Avoiding barriers to sharing Christ with people of other backgrounds
● Culturally appropriate opportunities to leverage in loving our friends in the name of Jesus
● and more
May God use this series to encourage us that God desires and is able to use His people to reach them. See you next month!
Share this on:
---
June 23 2014 at 11:52 am
0 Comments
---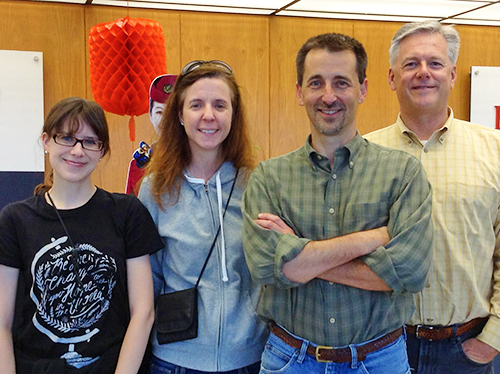 Between June 21 and July 2 a small team from Covenant Life will be traveling to Ethiopia to participate in a variety of missions activities. Though we can't pack you into our suitcases, we are eager to have you join us in your prayers! Here's what we will be doing:
Pastoral Training
I'll be participating with Pastor Moses (a dear brother and gospel partner from Uganda) in two training seminars for local pastors. It will be an honor to teach, model and encourage these men to handle God's Word wisely and faithfully. The church is growing rapidly in Ethiopia, but solid biblical teaching is scarce. Pray that we would lay good foundations. And pray also for the staff of Leadership Resources International (LRI), the U.S.-based organization that is coordinating this training.
Business Consulting
Ken Tarter, a businessman and member of our Global Missions Committee, will be helping our national partner, Christian Horizons Ethiopia, to evaluate several small businesses. Each of these businesses has been developed to help Ethiopian nationals find sustainable employment and to encounter the good news of Christ. Pray that Ken would have the discernment to offer useful advice in a cross-cultural context.
English Camp and Community Library
Charlotte Deibel and Elizabeth Flickinger, both 2nd-Grade teachers here in Montgomery County, will be offering a four-day English camp for 80 local teens. They will also be bringing a supply of donated books and establishing a new library for the local community. Please pray that Charlotte and Elizabeth would be filled with strength and joy as they serve LOTS of eager learners.
Children's Ministry Training
Greg will have a unique opportunity to equip a dozen children's ministry leaders who, in turn, will share what they have learned with hundreds of national churches. The future of the Ethiopian church lies with its children—please pray that Greg could impart clear, gospel-centered strategies that touch the lives of thousands of young believers.
Bible Distribution
Covenant Life Church has donated $5,000 to purchase Bibles in the Oromo language for distribution during this trip. (Students in the 12:13 Middle School class donated an additional $300.) In the churches our team will be visiting, it's common for only 1 in 50 believers to own a copy of the Bible. Many pastors do not even have their own copy! Please pray that each Bible will get into the right hands and transform the lives of these hungry saints.
Outreach To Muslims
Islam is on the rise in Ethiopia, but evangelical church planters associated with Christian Horizons Ethiopia are aggressively preaching the gospel. During this trip we will be learning from these church planters and seeking to encourage them in their efforts. A few team members will visit an unreached region and observe a community center that Covenant Life is helping to establish within a Muslim community. Please pray that the light of the gospel would shine brightly in this part of the world.
We cannot thank you enough for your interest in, and prayers for, this trip to Ethiopia!
Because our Savior is worthy of the praise of all peoples,
Share this on:
---
October 17 2012 at 11:50 am
0 Comments
---

Register now for The Gospel at Work conference, coming to Covenant Life January 11-12, 2013. The conference was born out of a desire to help Christians think and live differently in the workplace. If you work a 9 to 5, will someday be working a 9 to 5, or are in between working a 9 to 5, this conference is designed for you and will build you up.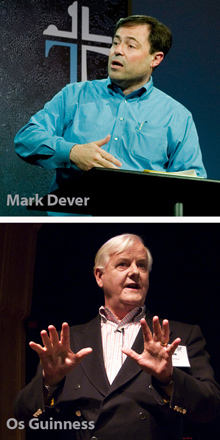 Come and be taught and encouraged by Os Guinness, Mark Dever, Bob Doll, Michael Lawrence and more fine speakers.
Despite the fact that most Christians spend half of their waking lives at work, most have been taught very little on Sunday mornings about how to apply the truths of the gospel to the practicalities of their Monday to Friday work life. It is not uncommon for Christian professionals to hold an undeveloped, if not flat-out unbiblical, theology of work.
The conference will address questions like:
• What is God's purpose for my work?
• How does the gospel change my work?
• How does applying the truths of the gospel help me manage differently?
• How does a Christian strategize and plan his or her career?
We hope you'll make plans to attend. Register online and begin to pray that God would be glorified, that employees would be built up, and that our workplaces will be an area of extraordinary, gospel-centered, faithful and fruitful living. Visit thegospelatwork.com to learn more.
Share this on:
---
August 19 2012 at 1:20 pm
2 Comments
---
Today in church we heard a live rendition of the poem in the above video by Jefferson Bethke, a young man God has used to spread biblical truth through "spoken word" poetry, both live and recorded. Jefferson is a member of Mars Hill Church in Seattle, Wash. Some of his videos have received millions of views on YouTube. He is boldly sharing the gospel in a new media format and reaching a wide audience.
Jefferson spoke this weekend at the Worthy12 Youth Retreat, and while he was in the area, we asked him to share his poem, "The Death of Y.O.L.O (You Only Live Once)," during our church services. In the description of the video on YouTube, he explains the thinking behind his poem:
[The Death of Y.O.L.O.] was a poem I wrote for my church's Easter service this past April. My hope is that someone watching this will walk away with a deeper sense of the grace of God and just how monumental Jesus death, burial and resurrection truly were. If Jesus is still dead, we are to be pitied, but if He really rose, we have to face up with the implications. Nothing is more precious than the fact that when we trust in Jesus, we are united with Him as one. Because of that, whatever is true of Him, instantly becomes true of us. "Spotless," "blameless," "perfect," "righteous," etc. all are accounted to us since we are "in Him."
Enjoy! And let's pray that God will continue to bless Jefferson and use him for his glory.
Share this on:
---
July 27 2012 at 6:14 pm
0 Comments
---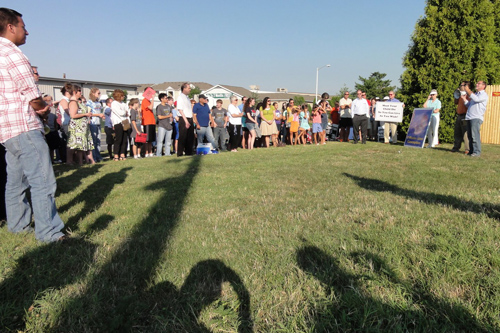 People gathered for prayer last summer along Wisteria Drive in Germantown
Covenant Life is taking part in the "Pray for Germantown" effort in which local churches have begun gathering to pray on Sunday afternoons that second and third-trimester abortions—indeed all abortions—would cease being performed in Germantown, Md. Our church has adopted next Sunday, August 5, to gather near the late-term abortion clinic at Wisteria Drive and Executive Park Terrace in Germantown from 3-5 p.m. to pray. We want to ask the Lord to work in women's hearts and turn them from pursuing an abortion. We asked Covenant Life member, Yvonne Wyzga, to write about her experience of volunteering to pray in Germantown:
Have you ever prayed for God to give you a heart of mercy? Tim Keller's book, "Ministries of Mercy," challenged and convicted my heart from the Prologue that retold the Good Samaritan story to the last page of how to practically incorporate mercy ministry into one's individual life and church life.

In the past, I had told myself that mercy was not my spiritual gifting, yet began to pray that God would change my heart to be more like his (Ps.103:8-10, Ex. 34:6). I had been guilty of avoiding mercy ministries out of fear: Fear of being overwhelmed by the needs of others and of losing control of my schedule. I could be OK with being merciful … if I had planned for it.

Over the years, my avoidance had led to a complacent and hardened heart when it came to the suffering of others. I had forgotten how spiritually poor, destitute and needy I was from God's perspective, although I was rich in health, material necessities and fruitful relationships.

The Lord reminded me of this in January 2011, when late-term abortions began in Germantown. About that time, a neighbor of a prayer partner invited our small prayer group to join other brothers and sisters in asking the Lord to shut down the abortion clinic. I agreed to go once to support this homeschooling mother of six in her weekly, uphill outreach to speak to suffering women, offering them alternatives to abortion. I thought I should not just pray for someone to "be warm and well fed" if there were additional resources God had given me to offer.

My planned one-time visit turned into most Monday mornings. God's Spirit helped this very reluctant person to go where I did not want to go! I was provoked each week by the other participants' dedication, commitment to prayer and rescue efforts. A prayer partner and I also went on a Tuesday to represent Covenant Life and were disheartened to see how few people prayed on Tuesdays (5 or 6) compared to the number on Mondays (50-200).

Although I felt ill-equipped on that Tuesday in knowing what to say and do, I cautiously approached a 21-year-old woman who was crying at the corner near the clinic and learned she was waiting for someone to bring her "the rest of the [cash] money" to get an abortion. As I broached the conversation she said, "You are going to hate me." I assured her otherwise, and she spoke about her family and how they would reject her if they learned about the pregnancy. I attempted to share God's love for her, some available resources and pleaded that she consider the future consequences of her choice. After she allowed me to pray she walked away … abortion-bound.

As I sadly returned to my friend and those fervently praying, I became overwhelmed with unstoppable grief. My whole body began shaking as I heard myself crying audibly. I never had experienced anything like that before. I was powerless to help this young woman or the baby she carried, and all I could do was cry out to the Lord.

Will you join me and others in crying out for the Lord's mercy? He is listening. Since those cold January days of 2011, more than 60 women have chosen not to abort, an abortion-alternatives' site has opened nearby, state regulations have been enforced and Monday business at the abortion clinic has been reduced. Praise God!

Now, instead of praying on Mondays or Tuesdays, my husband and I pray from 3 to 5 p.m. on the sidewalk along Wisteria Drive in Germantown each Sunday we are in town. We hope others in our church will join us, especially Sunday, August 5, when Covenant Life will be leading a worship service and organized prayer to be a witness to hurting women and those in our community. In this outreach, will you consider being the hands and feet of a merciful Savior?
Share this on:
---
June 11 2012 at 7:01 pm
2 Comments
---
In his message yesterday Joshua Harris reminded us that Christians need to think carefully about what it means to love our neighbors as we take a stand on the issue of so-called same-sex "marriage."
Mark Mitchell has compiled a list of helpful articles and videos that speak to this subject:
On the church's response to homosexuality and same-sex "marriage":


On the definition of marriage:


Sherif Girgis, Robert George and Ryan T. Anderson, "What is Marriage?" Social Science Research Network

On the important connection between marriage and children:


On biological tendencies toward homosexuality
Look for audio and an outline of Joshua's message in the Resource Library.
Share this on:
---