January 20 2015 at 11:03 am
0 Comments
---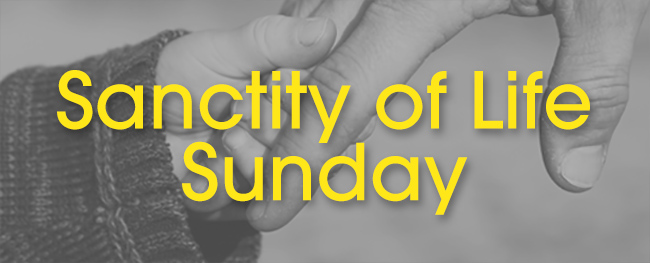 We were reminded in our service yesterday, that every human life is sacred because we are made in God's image. And every Christian has a responsibility to defend this truth in our culture. Please consider Terry Wilcox's testimony below, and the list that follows it, of ways you can take a stand for the rights of the unborn.
I am here today to share the story of how God has worked in my life through the Forgiven and Set Free Bible Study. The end of this month marks the 34th anniversary of my abortion.

My story starts a long time ago. I was raised in a "good" Catholic family in the San Francisco Bay area. I was the middle of seven children (six girls and one boy). It was your typical dysfunctional family. My dad provided for our family but didn't say a whole lot, and my mother drank to make it through her days. By the time I graduated from high school, my mom had finally stopped drinking, but the relationship between my parents wasn't going too well. As I saw that happening, I turned to boys in search of love and acceptance. I didn't really care what happened to me, so I ended up getting pregnant.

Being a "good" Catholic girl, I knew abortion was wrong, but I had just started college, and a baby didn't fit into the picture. I was over 18 so I was able to set up the procedure without my parents ever knowing about it. My friend and I skipped school and drove to the clinic.

I chose not to think about what I was doing. I just kind of went into auto-pilot and went through the motions.

About a day and ½ later I started having some complications, but I was too afraid to get help. Looking back now I see God's hand on me to protect me. I felt the Lord drawing me to himself after the abortion. I gave my life to the Lord shortly after the abortion and found a group of believers to help me learn about the Lord.

Fast forward three years, and I met my husband to be, Barry. My abortion had left me with a great desire to have children and a sense that a child would right the wrong of killing my first child. We were married for seven years before we had our first, and somehow the hole left by the abortion didn't fill up. Every January, on Sanctity of Life Sunday, I would be there trying to fight back the tears as they talked about the millions of babies that had been aborted.

We continued to be blessed with child after child, and the hole just kept getting bigger. In 1999, we lost a baby girl to a chromosome disorder, and I felt like I didn't know how to mourn the loss of our little girl. I realized that I had so much going on that I just jumped back into auto-pilot and kept on going.

Then a couple of years ago, I found out that Covenant Life was offering the Forgiven and Set Free Study. Being so tired of not dealing with the feelings of shame and condemnation, I looked into it. I joined the group, and as I began the study, I found the hope, grace and support that I needed.

I discovered that it was OK to grieve the loss of my first child and of the loss of our stillborn and the three other miscarriages I have had over the years. And just as important I found a fellowship, albeit a "secret society" of sisters, where we all share the same shameful past but who are forgiven and set free! We have grown to love each other and to share in life's ups and downs. I love them all, and I know that I can reach out at any time, and they will be praying for me and lifting me up.

If you have had an abortion, there is hope, grace and healing available to you, too. This Bible study has been life changing for me, and I'm confident it can be life changing for you. There will be an intro night on Tuesday, February 10 from 7:30 to 9 p.m., and the actual study will on Tuesdays from March 3 to April 21. This is a confidential study and held in a home not far from church. Please call the church office or check the Forgiven and Set Free webpage for more information.

Thank you for letting me share. God Bless.
---
March For Life | Thursday, January 22, National Mall - Noon rally, 1 p.m. march
The March for Life began in 1973 as a small demonstration to peacefully protest the United States Supreme Court's decision in Roe v. Wade to legalize abortion. The march is organized by the March for Life Education and Defense Fund. The overall goal of the march is to overturn the Roe v. Wade decision. It has rapidly grown to be the largest pro-life event in the world.

40 Days for Life | Ash Wednesday, February 18 through Palm Sunday, March 29
40 Days for Life is an international group that campaigns against abortion. The campaign is active in the fall and spring of each year. The fall 2010 campaign launched in 238 locations around the world, including the United States, Canada, Australia, England, Northern Ireland, and Denmark. Should you be interested in participating, please contact the Pro-Life ministry for more information.

Maryland March for Life | March 9 at 6:30 p.m. in Annapolis
On January 22, 1974 thousands of pro-lifers participated in the first March for Life to stand up for the unborn. Since that time, a yearly march to the State House to redress the State of Maryland's stance on the issue of abortion has been held. After over 30 years the Maryland March for Life has grown to dozens of organizations, churches and schools. It has become a centerpiece of the pro-life movement and has grown from a rally to a full social and religious event where pro-lifers from around the state can work together toward a common cause.

"Forgiven and Set Free" Post-Abortive Bible Study | Tuesday, February 10, 7 - 9 p.m.
Find healing and wholeness in this post-abortion Bible study which effectively ministers God's healing grace. You will be guided gently into bringing your emotional scars from abortion "out of the dark past and into His holy light," where true and lasting healing can take place. This is a confidential 12-week Bible study offered in a safe and understanding environment.
Prayer at Covenant Life Church | Wednesday, January 21 at 7:30 p.m.
A prayer meeting is held every Wednesday evening at 7:30 in the Spurgeon Room. On January 21 the prayer will focus on the sanctity of life and all issues pertaining to the protection of life.

Monday Morning Prayer | Every Monday morning from 8 - 10 a.m.
Residents of Germantown, Gaithersburg and the surrounding areas in the metropolitan Washington area have been called to take a public stand against LeRoy Carhart's late term abortion clinic through a weekly prayer vigil on Monday mornings from 8-10 a.m. Please join us. The address is 13233 Executive Park Terrace, Germantown, MD.
The Pro-Life Ministry Team
Our focus is to hear and obey the Lord's heart regarding life issues, including all stages of life from conception to natural death. If you are interested in joining this ministry, contact:
.(JavaScript must be enabled to view this email address)
.(JavaScript must be enabled to view this email address)
.(JavaScript must be enabled to view this email address)
We would love to have you join us!
Share this on:
---
November 6 2014 at 8:57 am
0 Comments
---

For years, my job required that I commute from Maryland to Virginia. As such, I joined thousands of other locals in experiencing the daily joy (read "horror") of crossing the American Legion Bridge. I'm sad to say that I came to view that bridge as a real force of evil until I realized its absence would create a far less desirable alternative: no way of getting across. Bridges, I came to see, are good.
In many ways, Muslims and Christians seem to be on opposite sides with no common ground between them. Indeed our differences are many and pronounced. Take, for example, the fact that Christians believe Jesus to have been crucified (1 Peter 2:24), while Muslims object that it was only made to appear so (an-Nisa (4) 157*).
It seems the bridge is out.
But is it?
October 4 and 5 mark an opportunity for Christ-followers to build a bridge of conversation with our Muslim friends. The Islamic calendar calls these days Eid al-Adha, which is Arabic for Festival of the Sacrifice. This time commemorates Abraham's willingness to sacrifice his son. (as-Saaffat (37) 100-107)
So there is some common ground amidst all of the differences between us. Along with Christians, Muslims also believe in Abraham, Adam and Eve, Moses, John the Baptist, Jesus the Messiah and more (Ibrahim, Adam and Hawa, Musa, Yahya, and Isa al-Masih, respectively).
Begin to build a bridge to your Muslim friends by asking them about this holiday. Typically, it is westerners who are uncomfortable discussing religion, so don't shy away from bringing it up. Remember to come as a learner and not one who is going to set them straight. Dialogue rarely occurs this way. Ask them about the story behind the holiday, how they will celebrate and with whom.
After your friend has explained to you the story of Abraham's near-sacrifice of his son, you can segue into telling them that true followers of Isa (Jesus) also believe in sacrifice. We believe in the Taurat (the Torah) which tells the story of Ibrahim, and we too believe God provided a sacrifice to take the place of Ibrahim's son as does the Qur'an (as-Saffat (37) 107).
Tell your friends that God has used sacrifice throughout history. Tell them how God used sacrifice to cover the shame of Adam and Hawa's sin (Gen. 3:21). Tell them how God used the prophet Musa to instruct the people to bring sacrifices for the forgiveness of sins (Lev. 4). Tell them how, through the prophet Isaiah, God foretold of the coming masih (Messiah) who himself would be a sacrifice. Tell them how the prophet Yahya (John the Baptist) identified Isa, as "the Lamb of God who takes away the sin of the world." Why would Yahya call him a lamb? Tell them that Isa said he would lay down his own sinless life as a sacrifice for the sins of his people (Mark 8:31, 9:30-32, Matt. 20:17-19). Explain to them that it was not a dishonorable death for a prophet, but the most honorable thing anyone could do for another.
Reach out a hand to your neighbor by asking them about Eid al-Adha this year. Dialogue with them about their beliefs and share with them yours.
Bridges to your friends exist. By God's grace, look for them and cross them. Doing so embodies the heart of Jesus who crossed (pun intended) the ultimate bridge to reach us.
*Unlike the Bible, the Qur'an is not a compilation of books, so when citations are used, the numbers refer to a sura (chapter) and verse (ayah). Another distinction is that the suras are more widely known by their names rather than numbers. Hence "an-Nisa (4) 157" means "verse 157 of the fourth chapter, which is called an-Nisa."
"Almasih Kahdost" is a long-time friend of CLC who desires to see the nations come to Christ. Though preferring to publish anonymously, Almasih Kadost welcomes your comments here.
See all the posts in this series.
Share this on:
---
October 31 2014 at 12:17 pm
0 Comments
---


By Almasih Kahdost
A mother and her daughter were at the mall when the mom silenced her kid by wildly exclaiming, "They're here!"
The embarrassed teen rolled her eyes, hoping the moment would quickly pass, but it was not to be.
"Listen! They're here," the mom repeated.
Moving from humiliation to concern and hoping mom hadn't completely lost her marbles, the daughter trepidatiously asked, "Who's here, mom?"
"The nations! Nobody here is speaking English. They're all speaking something else!"
Chance are, you've had a similar experience. If not, just go to the Costco in Gaithersburg. You will both hear and see that, indeed, the nations are here. People from multiple tongues, cultures and religious beliefs have found their way to Gaithersburg and the surrounding area.
Acts 17:26 and 27 says that God decides just where people should live so that people would seek and find him. So, the people of God (especially in this area!) have an opportunity to befriend and share Christ with the internationals God in his sovereignty has brought to the area.
In efforts to keep these opportunities on our radar, we are creating a monthly series called "Nations Nearby." It will explore topics like:
● Ways to serve and engage local internationals with the gospel
● Utilizing bridges between the church and people of other beliefs
● Avoiding barriers to sharing Christ with people of other backgrounds
● Culturally appropriate opportunities to leverage in loving our friends in the name of Jesus
● and more
May God use this series to encourage us that God desires and is fully able to use his people to reach the nations nearby. See you next post!
See all the posts in this series.
"Almasih Kahdost" is a long-time friend of CLC who desires to see the nations come to Christ. Though preferring to publish anonymously, Almasih Kadost welcomes your comments here.
Share this on:
---
June 23 2014 at 11:52 am
0 Comments
---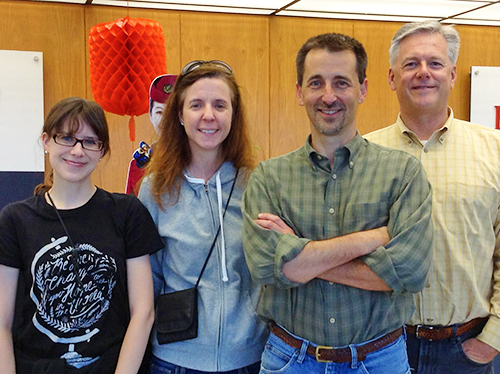 Between June 21 and July 2 a small team from Covenant Life will be traveling to Ethiopia to participate in a variety of missions activities. Though we can't pack you into our suitcases, we are eager to have you join us in your prayers! Here's what we will be doing:
Pastoral Training
I'll be participating with Pastor Moses (a dear brother and gospel partner from Uganda) in two training seminars for local pastors. It will be an honor to teach, model and encourage these men to handle God's Word wisely and faithfully. The church is growing rapidly in Ethiopia, but solid biblical teaching is scarce. Pray that we would lay good foundations. And pray also for the staff of Leadership Resources International (LRI), the U.S.-based organization that is coordinating this training.
Business Consulting
Ken Tarter, a businessman and member of our Global Missions Committee, will be helping our national partner, Christian Horizons Ethiopia, to evaluate several small businesses. Each of these businesses has been developed to help Ethiopian nationals find sustainable employment and to encounter the good news of Christ. Pray that Ken would have the discernment to offer useful advice in a cross-cultural context.
English Camp and Community Library
Charlotte Deibel and Elizabeth Flickinger, both 2nd-Grade teachers here in Montgomery County, will be offering a four-day English camp for 80 local teens. They will also be bringing a supply of donated books and establishing a new library for the local community. Please pray that Charlotte and Elizabeth would be filled with strength and joy as they serve LOTS of eager learners.
Children's Ministry Training
Greg will have a unique opportunity to equip a dozen children's ministry leaders who, in turn, will share what they have learned with hundreds of national churches. The future of the Ethiopian church lies with its children—please pray that Greg could impart clear, gospel-centered strategies that touch the lives of thousands of young believers.
Bible Distribution
Covenant Life Church has donated $5,000 to purchase Bibles in the Oromo language for distribution during this trip. (Students in the 12:13 Middle School class donated an additional $300.) In the churches our team will be visiting, it's common for only 1 in 50 believers to own a copy of the Bible. Many pastors do not even have their own copy! Please pray that each Bible will get into the right hands and transform the lives of these hungry saints.
Outreach To Muslims
Islam is on the rise in Ethiopia, but evangelical church planters associated with Christian Horizons Ethiopia are aggressively preaching the gospel. During this trip we will be learning from these church planters and seeking to encourage them in their efforts. A few team members will visit an unreached region and observe a community center that Covenant Life is helping to establish within a Muslim community. Please pray that the light of the gospel would shine brightly in this part of the world.
We cannot thank you enough for your interest in, and prayers for, this trip to Ethiopia!
Because our Savior is worthy of the praise of all peoples,
Share this on:
---
October 17 2012 at 11:50 am
0 Comments
---

Register now for The Gospel at Work conference, coming to Covenant Life January 11-12, 2013. The conference was born out of a desire to help Christians think and live differently in the workplace. If you work a 9 to 5, will someday be working a 9 to 5, or are in between working a 9 to 5, this conference is designed for you and will build you up.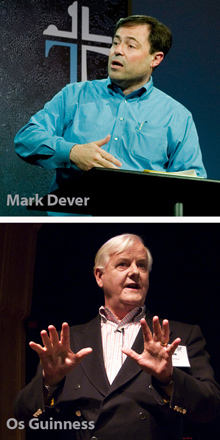 Come and be taught and encouraged by Os Guinness, Mark Dever, Bob Doll, Michael Lawrence and more fine speakers.
Despite the fact that most Christians spend half of their waking lives at work, most have been taught very little on Sunday mornings about how to apply the truths of the gospel to the practicalities of their Monday to Friday work life. It is not uncommon for Christian professionals to hold an undeveloped, if not flat-out unbiblical, theology of work.
The conference will address questions like:
• What is God's purpose for my work?
• How does the gospel change my work?
• How does applying the truths of the gospel help me manage differently?
• How does a Christian strategize and plan his or her career?
We hope you'll make plans to attend. Register online and begin to pray that God would be glorified, that employees would be built up, and that our workplaces will be an area of extraordinary, gospel-centered, faithful and fruitful living. Visit thegospelatwork.com to learn more.
Share this on:
---
August 19 2012 at 1:20 pm
2 Comments
---
Today in church we heard a live rendition of the poem in the above video by Jefferson Bethke, a young man God has used to spread biblical truth through "spoken word" poetry, both live and recorded. Jefferson is a member of Mars Hill Church in Seattle, Wash. Some of his videos have received millions of views on YouTube. He is boldly sharing the gospel in a new media format and reaching a wide audience.
Jefferson spoke this weekend at the Worthy12 Youth Retreat, and while he was in the area, we asked him to share his poem, "The Death of Y.O.L.O (You Only Live Once)," during our church services. In the description of the video on YouTube, he explains the thinking behind his poem:
[The Death of Y.O.L.O.] was a poem I wrote for my church's Easter service this past April. My hope is that someone watching this will walk away with a deeper sense of the grace of God and just how monumental Jesus death, burial and resurrection truly were. If Jesus is still dead, we are to be pitied, but if He really rose, we have to face up with the implications. Nothing is more precious than the fact that when we trust in Jesus, we are united with Him as one. Because of that, whatever is true of Him, instantly becomes true of us. "Spotless," "blameless," "perfect," "righteous," etc. all are accounted to us since we are "in Him."
Enjoy! And let's pray that God will continue to bless Jefferson and use him for his glory.
Share this on:
---