August 15 2009 at 2:50 pm
1 Comments
---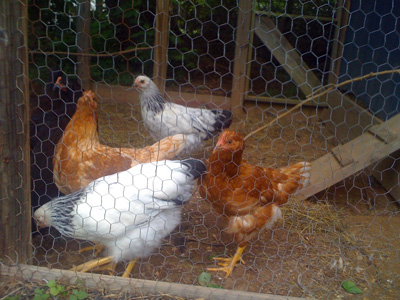 Here's a picture of our chickens. True to form, Calamity isn't in
the picture because she ran away when I got close.
I think I get more e-mails from members about our chickens than any other subject. Here are two I got after I talked about my chicken Calamity in last Sunday's message. By the way, I named her after a chicken in one of our family's favorite books, Chancy and the Grand Rascal.
---
Dear Josh,

In your message today you mentioned the issues you are having with your chicken, Calamity. The answer is so obvious ... you have given her a name that alienates her! I don't think she feels the love ... naming her Calamity just was a set up for a bad relationship. Really, if you were her, would you want to run to someone who thought you were a calamity? Clearly you need to rename her ... how about, Charity? 

Hope this helps.

—Melanie
---
Dear Josh,

I've been studying Psalm 23 this week—have avoided this for a long time because it was so "popular." And I've found it to be so rich!! Definitely worth its reputation!!

However, in writing it out for a friend, I noticed that just a small slip of a finger could render it even more meaningful for your family!
 
Psalm 23:5
You prepare a table before me in the presence of my enemies;
You anoint my head with oil; my coop overflows.
 
Praying for you today. May your coop overflow!

(Perhaps church goers could have coffee and scrambled eggs between services next Sunday? :-)

—Beth
Share this on:
---