May 25 2010 at 5:21 pm
6 Comments
---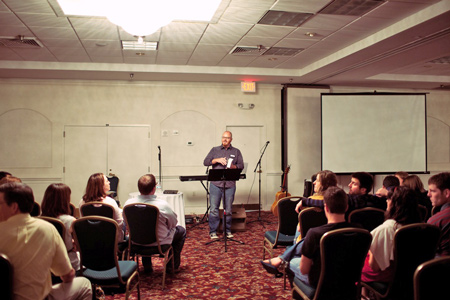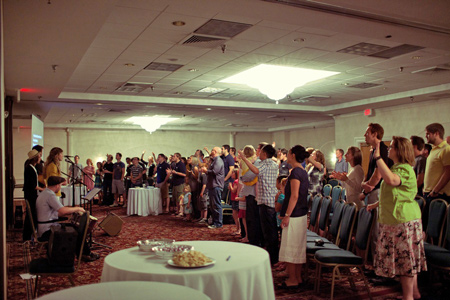 UPDATE (October 5, 2010): Redeemer Church of Arlington now meets at Central United Methodist Church in Ballston. The address is 4201 Fairfax Drive, Arlington, VA 22203.
---
As a Covenant Life member, you may feel unconvinced when you hear statements like, "It is your obedience and faithfulness that make church planting possible." You may find it hard to see the direct connection between your faithfulness at home and the advance of our church planting efforts. But let me encourage you with this story:

On Sunday evening, May 16, Redeemer Church of Arlington held its first public meeting at the Arlington Holiday Inn with about 135 people attending. As I sat and observed the preaching of the Word, the singing, and people sharing in communion, I realized that a church was taking shape around me.


I looked around the room and saw some of our best people from Covenant Life Church. There was Eric Simmons, sent out by Covenant Life, leading and preaching effectively. I saw a number of people from Sovereign Grace Church of Fairfax and Grace Community Church of Ashburn—both churches have sent quality people.

A strategic advance of the gospel was taking place. It was a small gathering in numbers, but it struck me—what we have done as a church is to take some of our best people, transplant them into a location that is ripe for the harvest, and humbly ask God to bless our efforts.


It was amazing to see 50 new faces—young men and women who have been added to this gathering over the last several months as the new church plant team was forming. These are men and women who live in and around Arlington, Va., and Washington, D.C., who in all likelihood would never travel to Gaithersburg, or Fairfax or Ashburn for church.


I wondered what it must have been like for the church in Antioch in Acts 13 when the Holy Spirit told them to send Saul and Barnabas, probably their two best teachers, into the mission. Thriving church, center of teaching, first place the believers were ever called Christians. They probably said, "Come on Holy Spirit, send some young guys, not the best teachers we have!" The teachers, prophets and elders, must have thought, "Let's double check that word."


But they listened, and they sent out their best. Just like we did with Ashburn, Frederick, Solid Rock (where we sent not a team, but John Loftness—a great sacrifice), and now Arlington (just as Grace Community Church sent Jose Mercado, one of their best, to lead Gracia Soberana de Gaithersburg). We have done this with many other church plants, too; I am highlighting just the last 10 years, and not including Ethiopia!


And I think we as a church will continue and must continue to send out gifted pastors into the harvest. And along with them will go some of our most gifted and godly care group leaders and servants.


What I saw in Arlington was those 50 newcomers surrounded by close to 70 of our best—people who have been faithfully taught and counseled by their pastors, who have served their churches diligently. They are primed to come alongside Eric in evangelism, speaking God's Word, and helping other Christians grow. This idea of church planting with strong pastors and strong teams is painful, but it is so wise! The Holy Spirit knows what he is doing! And honestly, I can't wait to see the fruit that this church is going to produce!


And seeing Isaac Hydoski, Braden Greer, Joe Lee, Jon Smith and so many new care group leaders here at Covenant Life serving the Lord in the space left by Eric and others who are part of the Redeemer church plant makes one thing clear:


We are going to do this again and again.


I felt the pleasure of God watching the church at work Sunday evening. I anticipate with eager excitement many future plants where we as a church, along with the other churches, send out some of our best leaders and some of our best care group leaders. Thank you for your sacrifices and your partnership in this mission together. (And let's pray that God will help us send some of our best to regions where Christ has not already been named!).


As was the case for some of the brothers and sisters in Acts 13, many of us will remain in our home churches carrying out a different aspect of the mission. We'll be doing the same things the men and women on the church planting teams do. We will serve and evangelize as we live in the grace of the gospel in our neighborhoods, workplaces and schools.

It is your humble obedience to the mission of the gospel in Covenant Life Church that allows church planting like this to take place. Please see the connection, and give thanks to God for his grace!

Thank you for being the kind of church that is willing to send out its best and invest so much into the harvest!

For the harvest,


—Kenneth Maresco
Share this on:
---