July 21 2012 at 11:47 pm
2 Comments
---
This past Sunday I was greatly encouraged by God's Word and how he is using it in the life of our church.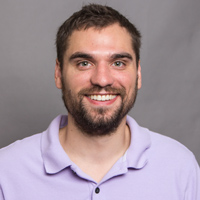 J.J. Pyche
On Sunday morning Joshua brought a strong word once again from our Matthew series and brought home the truth that Jesus is the fulfillment of all of Scripture. Downstairs the same morning and going hand with Josh's message was a Sunday class with seminary student and summer pastoral intern J.J. Pyche called "Christ: The Whole Story of Scripture." J.J.'s class is exploring passages of Scripture from Genesis to Revelation showing that Christ is the center of the story, a method of study called "Biblical Theology." I am excited for the coming weeks of the class as we understand more and more of the history of God revealing himself to humanity in both the Old and New Testaments.
If you want to join in, come out on Sundays July 22, 29, and August 5 at 11 a.m. in Classroom 156 (on the lower level).
Share this on:
---