June 28 2012 at 9:00 pm
3 Comments
---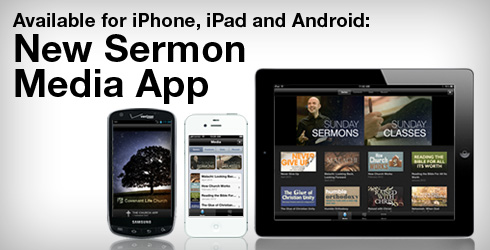 As Josh announced tonight at the Members Meeting, we have just released a new mobile app for both Apple and Android devices. The app is available in the iTunes app store and at Google Play.
The app works on iPhone, iPad Touch, iPad and Android smartphones and tablets. It features video of Sunday sermons (going back about a year-and-a half), and audio of Sunday sermons, Sunday classes, seminars and more. You can also browse this blog. We hope you'll enjoy sharing messages that encourage you with others via Facebook, Twitter or e-mail.
Covenant Life's preaching and teaching ministry is now much more accessible to a worldwide audience. Thank you for your giving that helped make it possible to create this resource!
Share this on:
---