January 15 2013 at 10:42 pm
1 Comments
---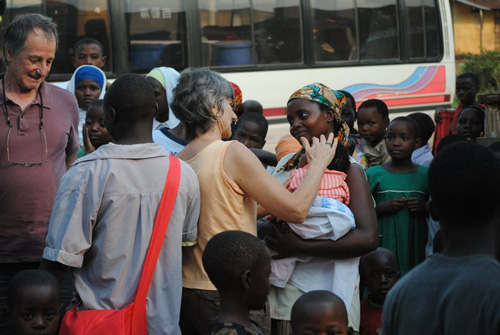 The team spent another day ministering in local villages through the preaching of the gospel and repairing three different widows' homes. In one of these villages nine people prayed to receive Christ! Drew writes that the team is "deeply moved by the joy, faith and warmth of the Ugandans."
Robin Boisvert also began teaching at the Leaders Conference today, where over 50 pastors and a handful of their wives, from various villages and districts, were blessed by his equipping and teachings from Scripture.
The Youth Conference starts tomorrow morning. This unique conference has been a highlight to hundreds of young people (ranging from ages 15 - 30) for the past six years. Many of these young men and women travel many miles by bus or on foot to attend and hear our team preach from the Bible. Pray for the guys on our team, as they preach the gospel of Christ to these youth who hunger for God's word. Pray for the ladies on the team, as they share testimonies and exhortations to the people attending the youth conference.
Also, tomorrow, our team will begin a vocational training workshop for the men and women in Kiburara. It is our hope to be able to help provide men and women with the skills of a trade to build up the community and the economy. Some of the skills that will be taught tomorrow include: automobile repair, art, sewing, and bricklaying. Pray that this would be a fruitful time and be a blessing to men and women as they seek to learn new things to better support their families.
Read the Day 3 update.
Share this on:
---