February 25 2009 at 3:40 pm
2 Comments
---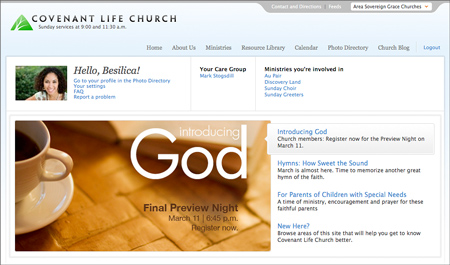 Noticed anything different around here lately? Last Friday, in the wee hours of the morning, our Web team launched a revamped home page for this website. I hope you're enjoying and benefiting from the changes.
The main idea of the site refresh is to give users easier access to more information from the home page. So now, in addition to this blog, you'll find "Events" and "News" tabs right on the home page. Check these tabs often for current info. You can also select from several recent blog posts, or choose from a longer list of options under "Recent Media."
Some of the other changes have to do with bringing member features to the forefront. Now, if you're logged in as a member, you'll see a number of member options right at the top of the page. You can go straight to your member profile to make sure it's current, or go to "Your Settings" where you can easily adjust your password as needed. You can also quickly get to your care group and ministry teams in the Member Photo Directory.
Incidentally, if you see anything that's out of date or inaccurate in the way your or your family's photos show up, or your ministry team information looks wrong, please use the "Report a Problem" form to notify our Web team. They love working hard to get this stuff right!
I'd like to thank our Web team, Ryan James, Aaron Simmons and Don Nalle in particular, for the fine work they've done to continue to refine the website. It's a valuable resource for our church family and many guests and inquirers around the world. Thanks, team!
Share this on:
---