Welcome to Discovery Land, where kids explore God's story. We truly want to make the 90 minutes your child spends with us the best time of their week!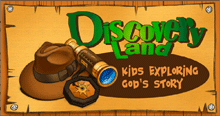 How do we do this? Through age-appropriate teaching in safe environments, we partner with you to teach your child God's Word and his amazing plan of salvation through Jesus. We want to assist you in the work you are already doing at home (Deut. 6:5-7). Your child will be taught through The Gospel Project curriculum, along with music, drama, object lessons, games and more. It truly is a lot of fun!
Attending for the First Time?
Use this form for faster check-in. Also, check out the Discovery Land links (above right) for further information. See you on Sunday!
Child Safety
Our staff and volunteers take child safety very seriously. Feel free to review both our Children's Ministry Policies and our Policy for Reporting Potential Child Abuse and/or Neglect. All of the same information is available in hard copy format at the Discovery Land office (Room 246). Also see the guidelines for reporting suspected child abuse or neglect on the Maryland Child Protective Services website.