Welcome!
Welcome to Discovery Land, where kids explore God's story. We truly want to make the 90 minutes your child spends with us the best time of their week!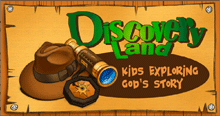 How do we do this? Through age-appropriate teaching in safe environments, we partner with you to teach your child God's Word and his amazing plan of salvation through Jesus. We want to assist you in the work you are already doing at home (Deut. 6:5-7). Your child will be taught through The Gospel Project curriculum, along with music, drama, object lessons, games and more. It truly is a lot of fun!
Attending for the First Time?
Use this form for faster check-in. Also, check out the Discovery Land links (above right) for further information. See you on Sunday!
Child Safety
Adult volunteers are required to receive video training from our ministry partner, Ministry Safe, on child abuse awareness, as well as training on Discovery Land policies. Once you've applied to serve, you will receive information on how to access the Ministry Safe videos free of charge, and take a quiz on the content.

Discovery Land policies are available in PDF and condensed video formats. All adult volunteers must familiarize themselves with these policies and take a quiz prior to serving. Also see the guidelines for reporting suspected child abuse or neglect on the Maryland Child Protective Services website.
For more information, please contact Becky Ferleman.
Serving in Discovery Land
It takes almost 100 volunteers each week to serve the children and families of Covenant Life. We welcome church members to apply and especially encourage parents who have children in the program to volunteer.