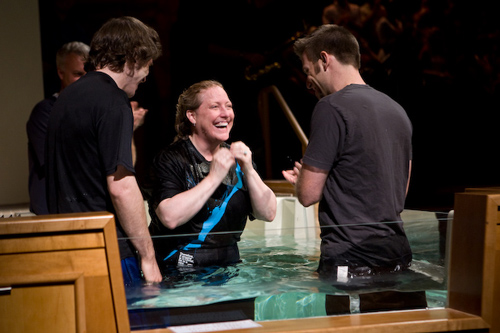 What are the Sacraments?
Having responded to the gospel with repentance and faith in the finished work of Christ, believers are also to observe the sacraments of baptism and the Lord's Supper.

A sacrament is a blessing from Christ which is a sign (a picture) and a seal (a mark of being set apart) given to teach and assure believers of their salvation. The sacraments serve as visible signs of an invisible grace which has already taken place in the life of the believer. The Lord Jesus ordained two sacraments: baptism (Matt. 28:19) and the Lord's Supper (1 Cor. 11:23), also known as "communion." Participation in the sacraments does not bring salvation; this comes only by grace alone through faith alone in Christ alone (Eph. 2:8-9; Gal. 2:16).
What Baptism Symbolizes
Baptism uniquely portrays the believer's union with Christ in his death, burial, and resurrection (Rom. 6:3-5). Therefore, at Covenant Life we practice baptism by immersion, which vividly pictures these realities.

Romans 6:4: "We were buried therefore with him by baptism into death, in order that, just as Christ was raised from the dead by the glory of the Father, we too might walk in newness of life."
Who Should Be Baptized
Baptism points to the beginning of the Christian life (Matt. 28:19; Acts 2:38) and displays one's commitment to turn from sin and trust in Christ for salvation. For this reason, we do not baptize infants. If you were baptized as an infant, we would ask that—in obedience to Scripture and as part of becoming a member of Covenant Life Church—you be baptized as a believer. Acts 8:12: "…when they believed…they were baptized, both men and women."
A Candidate for Baptism Should Be Able To:
a. Communicate the content of the gospel as well as an expression of faith in Jesus Christ for salvation.
b. Evidence godly sorrow over sin, followed by repentance which leads to the fruit of the Spirit.
c. Examine himself and the condition of his soul (1 Cor. 11:27-32).
d. Demonstrate a willingness to turn away from the world and instead live a life keeping God's commands and loving God's church (1 John 2:15-17; 5:1-5).
e. Exhibit fruit which proceeds from regeneration (Gal. 5:22-23).
The Baptism Process
Adults
Attend the baptism class held Sundays from 9 - 10 a.m. in the Luther Room. See Upcoming class dates. At class you'll receive instruction on baptism and help preparing your testimony. Each person being baptized is required to give a testimony or a brief profession of faith as part of their public identification with Christ.
Complete our online application for baptism. Once we receive your application, we will contact you with further details and answer any additional questions you may have. At this time we will also talk with you about dates, services, reserved seating for guests, and send you information about what to bring.
Get baptized. We will have a baptism rehearsal meeting the morning of your baptism to pray for everyone being baptized and walk through all the details of the morning. This is an exciting time for everyone to celebrate God's work in and through his people!
Youth (Teens)
Our process for youth/teen baptism slightly varies from adult baptism. Parents of youth who would like to be baptized: Please see the Youth Baptism page for more information.
 Teens attend a Youth Baptism Class, currently offered twice a year, followed by a pastoral interview and baptism during a Sunday service.
The Lord's Supper
We also make it a regular practice to share in the Lord's Supper together as a congregation at our Sunday morning meetings. Parents who have questions about the appropriate timing of baptism and its relationship to participation in the Lord's Supper will benefit from reading "The Sacraments: Questions and Answers for Parents." (PDF, 1mb)