Uganda Trip 2016 Recap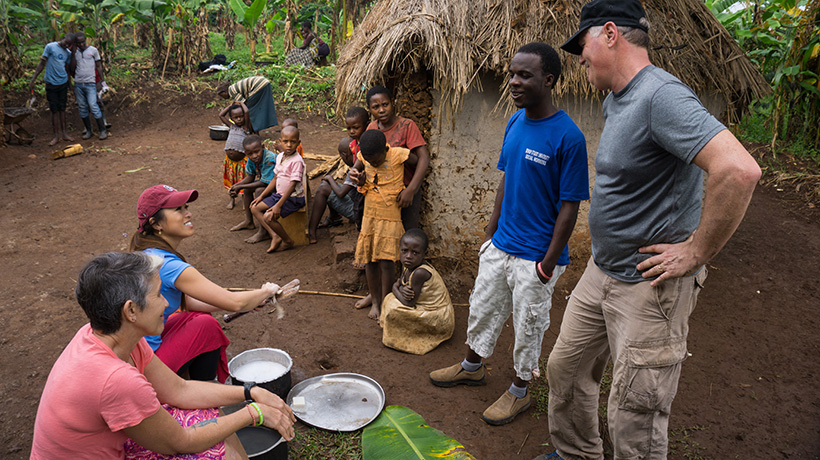 Date:
Author: Uganda Team Members
Friday
Greetings from Uganda!

Our travel was perfect—no delays, no sickness, no lost baggage. We touched down at 10:20 last night and were in our rooms by midnight.
Pastor Moses gave us a very encouraging report about the first round of pastoral training that took place in August. The pastors have understood, applied, and retained the key principles. Glory to God! They are primed and ready to receive a second round of biblical teaching as we work through 2 Timothy on Monday thru Wednesday.

The birds are making all kinds of exotic noises outside my room and gray clouds are giving way to blue sky and sunshine. It's a beautiful day to be part of God's global mission!
Saturday
Yesterday we had a smooth 7-hour trip (despite unseasonal rain) to our guesthouse in the western part of the country. After settling into our rooms, we got dressed and enjoyed dinner with all of the pastors and wives who are affiliated with Pastor Moses. They have come from villages throughout the district, including two from churches within the nearby refugee camp. It was moving to hear about children delivered from illness and injuries, for churches that had been enabled to purchase land (with help from the other churches), and for transportation needs met through the gift of bicycles.

Today has been a day of rest and preparation. Paul and Mary, who came a few days before the rest of the team, described meeting with a group of women for Bible study on Friday. Mary was almost speechless as she described their enthusiastic interaction with God's Word. Such small-group study among the village women was unheard of before she spent 8 weeks with them in 2014.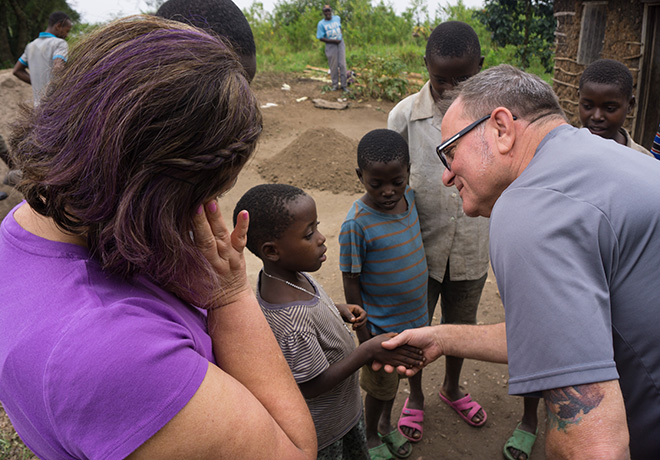 Sunday
It's 9 PM on Sunday evening. We have had another rich day. This morning we broke into teams and visited five village churches. Each of the guys got to preach and the gals shared their testimony or a word of encouragement. In one church, the interpreter pointed out a girl who he said had been deaf and mute before the service and now was singing. Though the team members did not personally hear her speak, this was exciting news!

Before dinner two of us had the privilege of sharing on the radio with Pastor Moses. Bao shared her testimony and I got to preach about the Kingdom of God. The radio station reaches 8 million listeners in this part of Africa! Pray that the seeds we shared would fall on rich, responsive soil.
Tuesday
Today we repaired two widows' homes in nearby villages. I came back with a fresh set of blisters and a deep sense of the Lord's blessing. He gave us so many opportunities to declare and demonstrate his love today!
My team arrived at the widow's home shortly after 9:00. Paul, Tayo, and I joined the men who were adding a protective layer of cement to the interior and exterior of the small 4-room house. We filled and pushed wheelbarrows of sand. We mixed the sand and cement. The local men did all of the skilled labor, fortunately, but I think they were blessed by our willingness to sweat and get dirty along with them.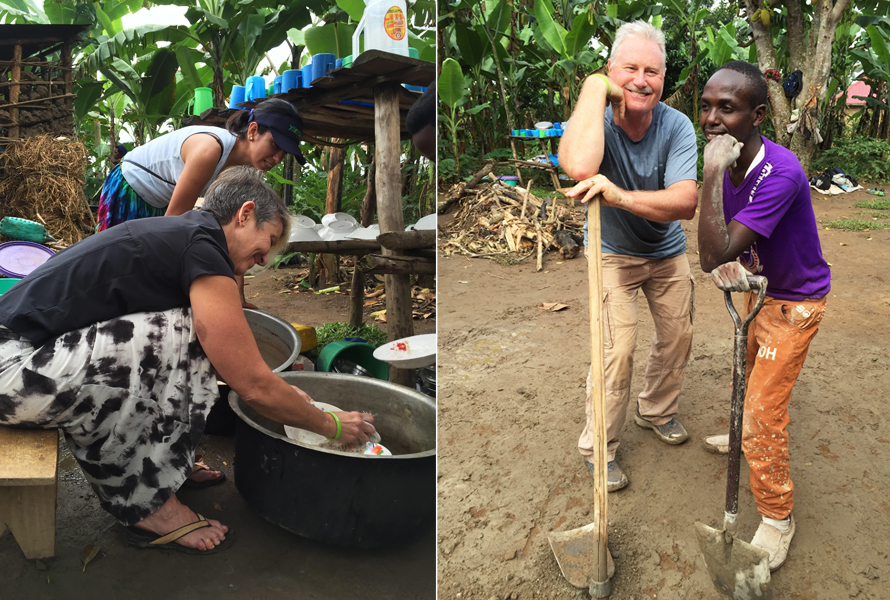 Mary and Ana helped wash a big stack of dishes for lunch and joined the women as they made huge pots of beans and maize porridge. Ana shared some Scripture with the group of 30 children who had gathered and encouraged each of them to share the love of Jesus with others.
After lunch I told the story of Zacchaeus to the kids, which gave me a great excuse to put the smallest boy in the village up in a tree. We celebrated the fact that salvation came to the house of that greedy tax collector and could come to them, too. We then transitioned right into a giant game of "Duck, Duck, Chicken!" (since there was no local word for goose). What a blast! The smiles and laughter were worth every minute of the 25 hours we spent (via plane and bus) to come to this part of the world. And to watch the adult women laughing at our antics (and joining in the jump rope game) was icing on the cake.

When the house repair was complete, we asked the villagers to gather so we could say a few words. Paul and Mary expressed our gratitude for their hospitality and our love for them and their country. We took a few minutes to pray for those who were sick and then to pray a blessing over the widow and her new home. It was very humbling to have her come and kneel at our feet for prayer.

Because the bus had not yet arrived, Mary suggested we sing a song. You don't have to say that twice to Ugandan believers! Within a minute a man was leading out in a praise song, a girl was beating the plastic water bucket like a drum, and half of the crowd was dancing.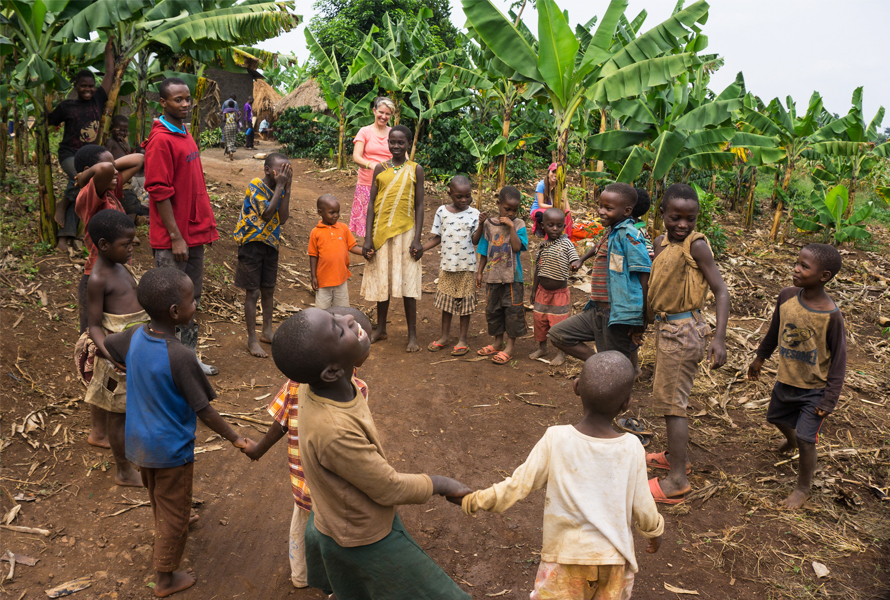 We returned to the guest house, enjoyed a hot sponge bath, then welcomed Pastor Moses and his wife, Sarah, for dinner. We were humbled to hear Moses say he would much rather have us come in person rather than save the airfare and send the money. He and his wife are deeply blessed to have this team come each year. And that, of course, blesses us.
Friday
On Thursday, we kicked off the youth conference held in Pastor Moses's church. When the team arrived at 9:00 am, we found the entire church filled with exuberant music and dancing bodies, singing and giving praise to our Heavenly Father. The workshop leaders on stage were infectious and their back-up dancers moved and swayed effortlessly in rhythm. Our team of "Mzungus" (foreigners) put in a good effort to keep up, and judging by the sweat stains, we left it all on the floor for the Lord! Who would have known that Ugandan worship could be the best form of cardio?
The Youth Conference program has been cohesive, engaging, and (of course) fun! Teachings have focused on election, regeneration, justification, conversion, and other topics related to salvation. We wove in skits and games (including the "Trust Fall" and "Sin Detector") to reinforce the themes. Paul delivered a message on Genesis and the story of creation and salvation. He got everyone laughing as he demonstrated eating a very juicy mango using exaggerated gestures.
It was heart warming to see the crowd break down into small groups to discuss the Scriptures. I was told that small groups were not very effective when first introduced a couple of years ago, but now the participants were engaged and responsive! The youth leaders did a wonderful job generating discussion.
Sherly led the children's ministry and taught them the fruits of the Spirit, focusing on gifts such as love, patience, peace, and joy. The children took some time to color and enjoyed a fun scavenger hunt outside.
Thank you for all your prayers! They have helped the team stay healthy, in good spirits, and energized to do God's work.
Saturday
While you are being pounded by the Blizzard of 2016, we are enjoying some well-deserved equatorial sunshine at the end of a busy week. The skies are blue. The temperature is about 75 degrees with a light breeze. Weaverbirds are noisily building their colony of teardrop-shaped nests in a nearby tree. It's very restful.

The youth conference ended today and we are very satisfied. We shared two messages, sang two songs (including a pitiful attempt at the Electric Slide, which the crowd loved), facilitated a small group discussion, and led an outdoor craft activity on the Fruits of the Spirit for a big group of children. The final message was on the spiritual disciplines. Just for fun, we did a jump rope contest for the girls. The winner jumped 83 times. Pastor Moses made it to 3. :-)

After lunch we drove to the river for a baptism. Because of all the recent rain, the water was cold! Seven got baptized -- two older women, three younger girls (including Moses's daughter), and two boys. Only afterwards did I realize that one of the boys had professed faith at last year's conference. He was from a Muz background. He had walked for hours to attend last year's conference (without his parents' knowledge). Through the Spirit's regenerating work and the pastors' faithful follow-up, one year later this boy has publicly professed his faith through baptism. What sweet fruit!
Sunday
We all attended Pastor Moses's church this morning. It was encouraging to begin with small group Bible study (using discussion methods that we have shared with the church in years past). They get it!
After lunch, we piled into the bus with a number of local believers who joined us for the outreach at the refugee camp. I'll be honest - even though I visited the same camp two years ago, I was apprehensive. I didn't know what they might expect of us. I had no control over the agenda or schedule. (It's funny how often missions trips force you to relinquish control! And that's right where God meets you...just as you swing your foot over the side of the boat and plant it on the surface
of the water.)
Our team got dropped off in groups at three different churches (led by pastors in Pastor Moses's network). At each stop we were greeted by singing, dancing, and affectionate hugs. These churches were ready to show us how to praise The Lord! Rather than being overwhelmed by the suffering and sadness of these refugees, we were marvelously provoked by their joy and faith.

At the church where Tayo, Ana, and I went, a 20-person choir with bright yellow matching shirts danced in unison and sang to the accompaniment of an electric guitar (with a sound system powered by a car battery.) As I watched these brothers and sisters worship, I tried to imagine what atrocities they must have experienced to drive them to this place.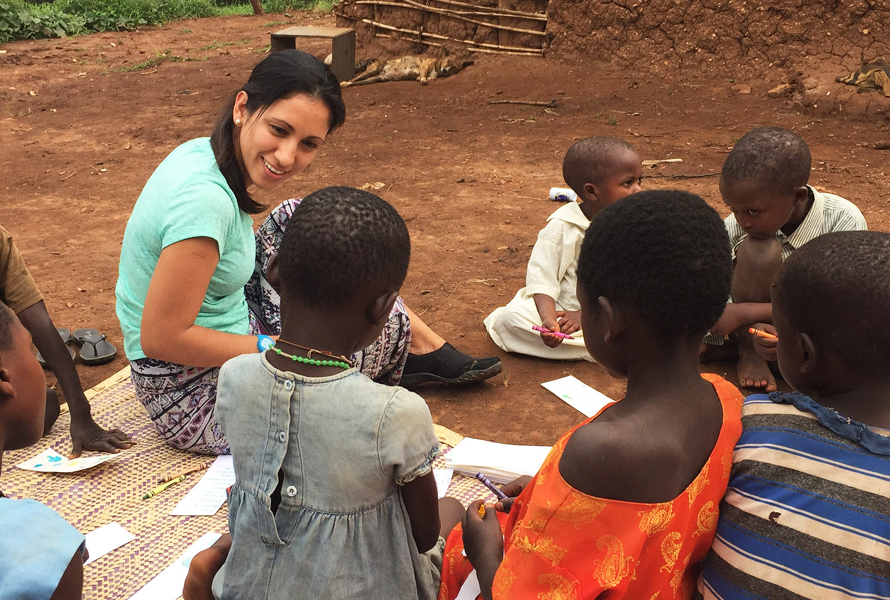 While Ana colored with a group of children in the shade of a tree, Tayo and I shared the Word with these saints (refugees from Rwanda and the Democratic Republic of Congo). I reminded them that as believers we are all exiles and strangers, and I thanked them for modeling what it means to know that, as the old spiritual says, "This world is not my home, I'm just a-passin' through..." Tayo preached on the Parable of the Sower.

On the way to the camp, I was tired and nervous. I would have preferred to be going back to our guesthouse. I was ready to be done with ministry and start packing for the trip home. But God had something different, something better, in store for us.
We leave tomorrow morning at 7:00. As we throw our suitcases on the bus in the morning and start the long trek toward home, we will be simultaneously exhausted and elated. This has been a phenomenal trip - exactly what I wish every short-term trip could be. Any heavenly rewards awaiting us will be split with you, because your prayers on our behalf have made all the difference.