Have you ever seen the retirees that hang out together over coffee at McDonald's during the week telling stories and sharing life events? Over time they get to know and regard one another with a connection deeper than just acquaintances. They know each other's lives on a personal level, have concern for one another, and often help one another. They look forward with relish to the mornings when they meet and are concerned if someone doesn't show up. This is the kind of deep community that a team of Covenant Life Church members is building at the Forest Oak Towers retirement community.
I disagree with the well-known saying that 'familiarity breeds contempt'. In my experience, familiarity with these seniors has bred trust, warmth, friendship and appreciation for one another. - Denny Cook Sr.
The experience serving at Forest Oak Towers is much akin to the "morning at McDonald's" experience. After years of just showing up regularly, hanging out and chatting, the volunteers have developed a familiarity with many of the folks there that could not happen with sparse or unpredictable visits.
I appreciate how low-key the ministry is. I like to say 'it's not what I am doing, but who I am with.' Simply sitting and talking with the seniors brings me joy. It has been nice getting to know them all. - Simone Castro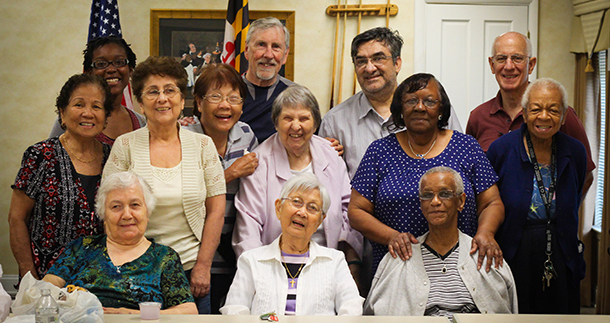 Their team helps initiate and build relationships so that the community might be blessed and strengthened and there would be genuine friendships in which the good news of Jesus Christ might be shared. They seek to connect lonely, isolated residents with church members, and create new contexts that cultivates community.
I get the opportunity to meet weekly with elderly seniors and share the love of Christ through fellowship. Sometimes they have prayer requests or concerns that we can pray for. Occasionally I am able to help them with a physical need. They often through their kindness and appreciation lift my spirit. - Bob Merryman
Volunteer Details
Ideally, team members would commit to a year and a minimum of visiting once a month. Weekly visits are ideal. A small group of members visit each Wednesday around 11:30 AM - 1 PM but visiting times can be arranged that work for both the volunteer and the resident. The team particularly needs multi/bilingual volunteers who speak Spanish, Russian and Chinese.
Requirements:
Volunteers must fill out a HOC Volunteer Form that includes a background check.
---
Additional Information