A Mustard Seed Grows in Africa
How a Ugandan Women's Bible Study Took Root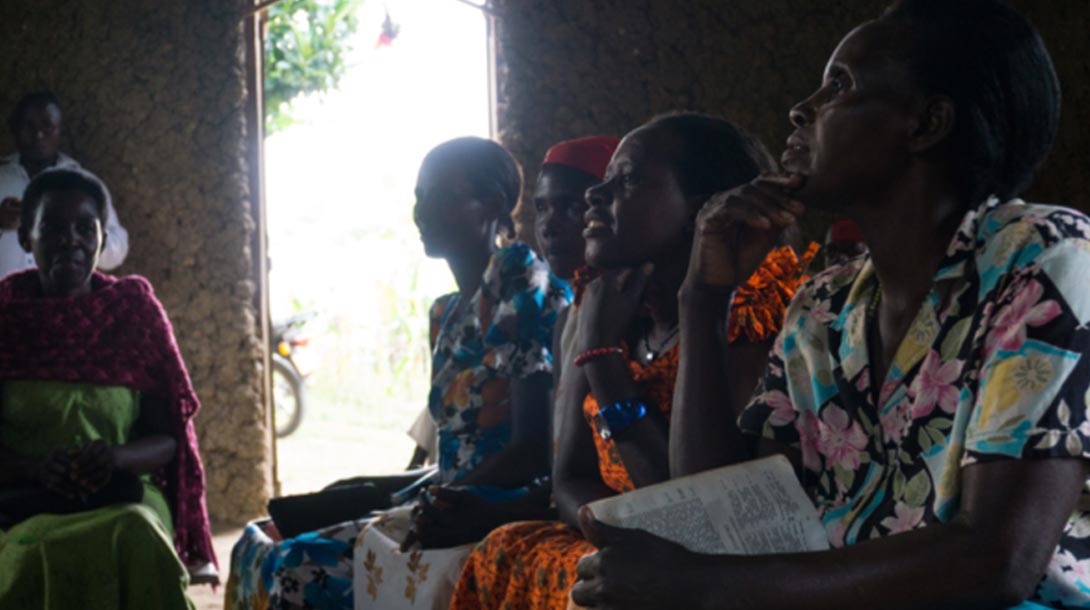 On a Wednesday afternoon in January, we found ourselves driving down a dirt path in western Uganda so narrow that, at times, the branches scraped the sides of the vehicle. At one point, we pulled as far left on the path as possible to permit cattle and a young boy, who followed the herd barefoot, to pass us to our right. We eventually reached the small church in the village of Nyampikye. As soon as our driver turned off the car, Mary Foster exited and was greeted by the village women who surrounded and embraced her. Though Ana, Bob, and I were strangers to the women, they likewise received us with warm smiles and hugs. We were led into the church and seated on wooden benches, arranged in a circle.
The village children sat on woven mats and eyed us curiously. I looked around and soaked in the sights of the church's mud walls, dirt floor, and the women who came dressed up for us, adorned in brightly colored dresses. The God-blessed earthen beauty of the Ugandan people stirred us. As Mary prepared to facilitate a small group discussion, she asked the women to open their Bibles to the book of Job. If you had been able to observe the women talk about the selected scripture, you would have likened it to any other ordinary small group discussion back at home, which is exactly what makes this story extraordinary.
Conference Speaker? Not Me!
Mary and her husband, Paul, made their first missions trip with a CLC Uganda Team in January 2011, befriending Pastor Moses Nkwatsibwe, the founder and President of Covenant Global Ministries and Lead Pastor of Kiburara Gospel Center. That trip impacted both of them so they returned to Uganda the following year with the CLC team.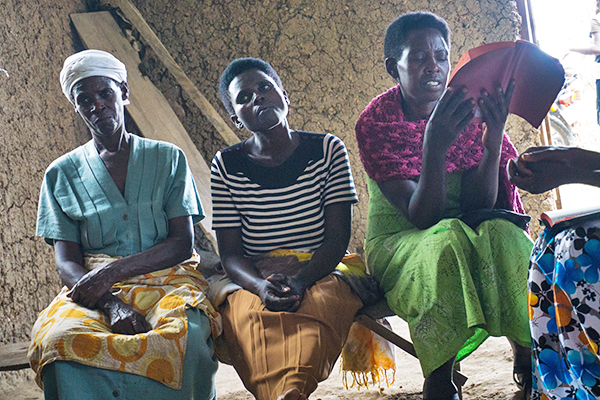 The conviction that God was calling Paul and Mary to minister in Uganda grew with each visit, as did their friendships with the local believers they were meeting. In April 2013, Mary returned to Uganda for her third visit with a handful of others who were doing water projects for Sustainable Missions Incorporated (SMI) in the Kiburara region. It was during this more intimate visit that Mary was impressed by a real need for deeper scriptural training for the Ugandan women. Their discipleship opportunities were scarce, and God gave her the desire to help equip the women to learn directly from God's Word and hopefully create a ripple effect to teach their children and mentor others in the church.
After getting counsel and forming a plan with Pastor Moses on their January 2014 team trip, Mary returned to Uganda in the summer of 2014 with hopes of implementing an 8-week women's Bible study coupled with small group discussions. Three villages and Kiburara participated in the study. The concept of small group discussion, however, was so foreign to the Ugandans that they mistakenly expected Mary to serve as a conference speaker and teach biblical study techniques to the women as passive listeners. She quickly cleared up the confusion. She wanted to avoid approaches that would stifle engagement, interaction, and empowerment among the women or that would imply that she was some great biblical scholar.
Asking The Right Question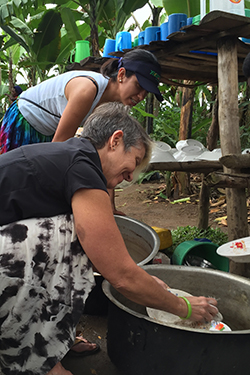 In the first four weeks, Mary encountered challenges to the small group discussions as the village women did not appear to understand the format or intention. "After reading a passage," Mary says, "I would ask the women, 'What have we learned about God?' No matter what we had read, they would repeat the same answer each time, 'Jesus loves us and died for our sins.'" The women did not appear willing or able to generate responses that demonstrated critical analysis of the readings and Mary felt disheartened. She recalls, "I thought, I blew 
it. Lord, maybe I heard you wrong."
In the fourth week of small group discussions, Mary and her interpreter, Mabel, visited the village of Kanara. Adding to the challenges that Mary faced, each week the number of participating women grew. The original intention was to have a small number of 10 or so women involved in intimate group discussions, but on that particular day, Mary faced a packed church of women. Devising a quick solution, Mary and Mabel decided to split the women into two groups with each woman leading their own group.
As usual, Mary struggled to get the seemingly quiet women to engage in discussion. However, she noticed that Mabel had managed to spark lively discussion among her group. "I was so surprised that Mabel's women were not only talking but talking a lot!" Mary says with a smile. "I asked her what she did, and she said that she asked the women, 'What have we learned?' And I
 realized that what I had been asking, 'What have we learned about
 God?' was not a question that allowed them to engage."
Mary realized that in this very deferential culture, asking women to share their knowledge of God led 
them to default to modest answers. The Ugandan values in humility prevented them from professing knowledge of God, particularly in the presence of Mary, a respected mzungu (foreigner). Broadening the question to "What have we learned?" led to dramatic changes, and at the end of the 8 weeks, Mary observed the women open up and eagerly discuss the assigned biblical passages during the small group discussions.
Blooming Into Something of Beauty
The unexpected impact of this new small group paradigm was revealed when Mary returned to the village of Nyampikye in April. She discovered that in her absence, the women had continued to meet for Bible studies and small group discussions! To Mary's delight, the Spirit had done His work and these humble, often timid women had been emboldened and empowered to lead and mentor one another in the study of God's word. God had done a "mustard seed operation" by planting a tiny seed in Mary, who took it to His church in Uganda where it bloomed!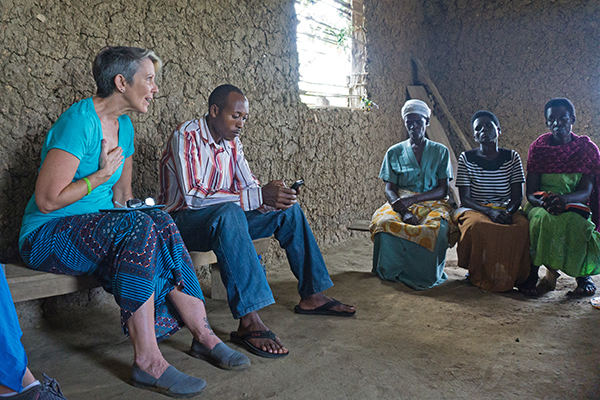 As I sat in that small church on a Wednesday afternoon nearly a year later, I was inspired to see the women actively engaged in discussion about our amazing God and the patient and faithful characteristics they saw in
 Job. Indeed, the Lord oftentimes calls us to persevere patiently and
 not to become disheartened when we cannot see the immediate fruits of our labor. Mary learned that in Uganda. More importantly, she saw how her God took her small act of service (even when it was difficult or confusing) and planted it in His church there and grew it into something of beauty...the beauty of women and then families growing in knowledge and wisdom as they study God's Word and are transformed to reflect His glory.
To browse all the missions trips coming up this year, visit the "Take a Trip" page.